Near Southeast DC: Past News Items
Go to Full Blog Archive
---
Landmark Designation for Pumping Station; New Structures Coming
Feb 3, 2012 2:38 PM
I'm a week or so behind on this, but, honestly, I've moved slowly because I just can't believe that only now is the beautiful Beaux Arts
WASA O Street Pumping Station
being moved through the city's historic landmark designation process.
But it's true, and on Jan. 26 the Historic Preservation Review Board voted 8-0 to designate the 1907 building a landmark to be entered into DC's Inventory of Historic Sites. Then, after being "enhanced by additional research and context," it will be forwarded to the National Register of Historic Places.
The
staff recommendation report
describes the building, designed by local architect Clement A. Didden, as "an example of a high-style public works project and ... a premier example of Beaux Arts architecture and an important manifestation of the City Beautiful Movement." If you have spent much time looking at it, my refreshed
DC Water page
has photos from many angles (except inside!).
The first few minutes of the hearing actually are
very much worth watching
if you want to learn about the building's history and architecture. (Kind of like getting a building tour without going inside.) And it was good to see a representative of DC Water testify that it "stands ready to help" the landmarking: "we are proud of this beautiful building and its prominence on the waterfront." The
staff recommendation report
gives more information about the application, and you can even wander through the
original 2005 (!?!) application
.
This was not the only action taken in regards to the Pumping Station, however. DC Water needs to build two new structures--the Shaft Structure and the Tide Gate Structure--on the building's north side (facing Tingey Street) as part of the
DC Clean Rivers/Combined Sewer Overflow
project. Unfortunately, there are no drawings of these designs in the
HPRB's staff report
, but there are some descriptions, indicating that DC Water and city staff have worked to make them smaller and placed farther apart from each other to lessen the impact on the view of the main building from Tingey. "Overall, staff believes the new structures have been designed to be as compatible as possible with the Main Pumping Station given the significant design constraints." The conceptual designs were approved by HPRB 7-0. (You can
watch that part of the hearing, too
, should you wish.)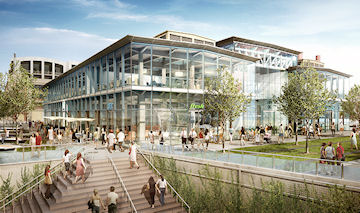 That wasn't the only neighborhood decision on the board's agenda. The HPRB also approved
on its consent calendar
Forest City's plans for rehabbing the
Lumber Shed at the Yards Park
, about which I've written much
during its trip through the ANC and Zoning processes
.
The board did request that Forest City work "to develop and incorporate interpretive signage for the site that will feature historic photographs of the Lumber Shed and narrative information about the history of the structure."
Florida Rock Zoning, Take 356: Concerns About New Design
Feb 2, 2012 5:43 PM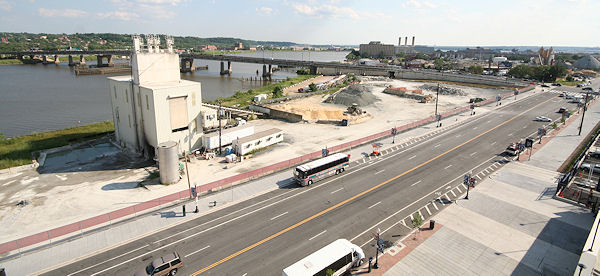 On Monday night, the city's Zoning Commission had its first crack at the new
request for modifications
to the existing Planned Unit Development (PUD) for the
Florida Rock site
across the street from Nationals Park, as the commissioners deliberated on whether to "set down" the request for a hearing. As
mentioned previously
, the developers want to change the site's first phase from office to residential, and also have done some reworking of the rest of the design for the six-acre site that the Zoning Commission approved after much deliberation and tweaking
back in 2008
.
Commissioner Michael Turnbull was first out of the gate with comments about the new designs, and he was not at all happy, calling it a "major gut" to the original PUD, saying that he felt the applicant should start the PUD process all over again. Describing the new plans as "bastardized," "stick architecture from the suburbs," "boxy," "10 steps backward," and "an affront to the Zoning Commission" and city residents, Turnbull pledged to be "so damn critical" if the new design moves forward. (If you've got a few minutes, you can
watch his remarks for yourself
.)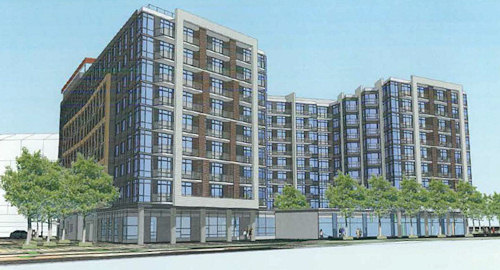 Commissioner Peter May, on the other hand, said that he is actually more comfortable with the new design, given that there were features he "really questioned" in the 2008 design, but that the latest filing is "pretty simplistic" in terms of the drawings, and did say that the architecture is "kind of boring," especially from the waterside view. (The image at right is the Phase 1 residential building, as seen from the river.) He also wanted to see more comparisons to the previously approved design so that they could understand more what they may be giving up with the new design, but that he found the overall plan "more appealing than before."
Vice-chair Konrad Schlater's biggest concern was over the scaling back of the retail component, which has gone from 80,000 square feet of "retail and service uses" in the 2008 PUD to about 23,400 square feet in the new filing, with 7,000 sf of that being turned over to residential amenities "until a retail market is established." "It seems like a missed opportunity to have space on the boardwalk that is not retail," Schlater said, adding that the city does not have a lot of projects right on a waterfront like this, and that the entire development really should be a retail destination. (He also caught that, while the 2008 PUD called for LEED certification for each phase, the new filing says that the project "will be LEED certifiable for each phase." Semantics, or...?)
With commission chair Anthony Hood not in attendance, the four commissioners decided to defer a decision on the set-down request until Hood can weigh in with his thoughts; this would also give the developers time to file additional information, such as comparing the new designs with the 2008 plans. This could come up at the next public hearing, on Feb. 13.
So, what
are
the differences?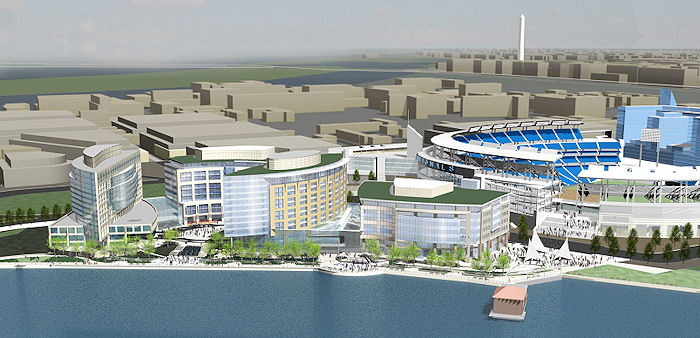 With the entire filing available online (if you
search
), I was able to go through and cull out some of the
most representative drawings from this new design
, which I've put on my Florida Rock project page. At the bottom of that page you can also see some images of the designs that were approved in 2008. The first image at left, from 2008 (click to enlarge), shows the four buildings and the public spaces with a lot of curves and glass and "articulation."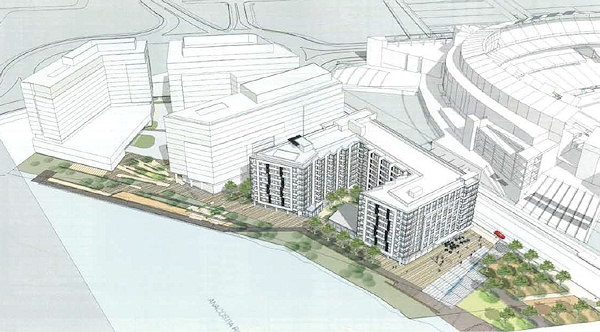 Compare that to the latest design. While this is clearly a very early drawing, it does show four much more boxy structures, as commissioner Turnbull said. You can also see the curves-versus-corners differences in the
site-plan comparison graphic I created
, which also shows the differing layouts of the public spaces, again going from a lot of flowing, rounded paths and open areas to straighter-edged movements, with the total amount of "lot occupancy" going down to 44 percent in the new design from 58 percent in the old. The phase 1 apartment building is the most fleshed out in the
renderings
, but there are additional drawings giving a general sense of the site layout.
The Office of Planning's
setdown report
goes through the changes requested in a fair amount of detail.
It will be interesting to see how this the Zoning Commission handles this, as well as ANC 6D, which has always been very supportive of this project during its long gestation but has not yet had an opportunity to weigh in/vote on the new design. (And of course, we here at JDLand want to know what YOU think!) The developers are hoping to begin construction on the first phase apartment building in Spring 2013, but it would appear that this zoning process, like everything else tied to this project up to now, may not be as speedy as they might want.
Some New Details on Park Tavern, Willie's Brew and Que
Jan 31, 2012 10:03 PM
At a meeting of ANC 6D's ABC committee on Tuesday night, we got some new details on two restaurants coming to Near Southeast in 2012, the Park Tavern at
Canal Park
and Willie's Brew and Que in the
Boilermaker Shops
at the Yards. Both are from Xavier Cervera of Lola's/Molly Malone's/Boxcar/Hawk n Dove/etc. fame, and Cervera was in attendance to answer questions from the committee. Let's go to the bullet points, shall we?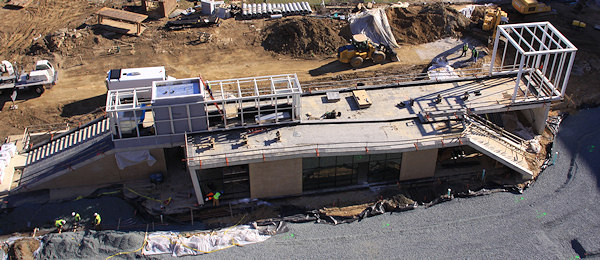 Park Tavern
-
This casual restaurant in the pavilion on the south block of
Canal Park
near M Street is aiming to be the city's first LEED Gold restaurant, thanks to a green roof, solar panels, and the various stormwater management aspects built into the park itself. And:
* There will be fewer than 100 seats inside the glass-and-steel structure, but outside Cervera expects another 75-125 seats, both in a private "summer garden" area by the park's skating rink/water feature and in a sidewalk cafe on the eastern side, along 2nd Place. Because the building is long and narrow, Cervera said that all of the inside tables will be along the windows. There will be additional space on the roof, where visitors can go to look out over the park or walk through the big light cube, but Cervera isn't planning service up there except for private functions.
* The menu will include Neopolitan pizzas and flatbread offerings along with seafood, steaks, and more, along with full liquor service; Cervera is asking for a CR license, with hours until 2 am Sunday through Thursday and 3 am Friday-Saturday.
* The restaurant is planning to offer breakfast service beginning at 8 am, though Cervera sounded a little skeptical of whether there will be enough business to support it. (Maybe via Congressional-type breakfast business meetings?)
* June 15 is the target opening date for both the park and the Tavern.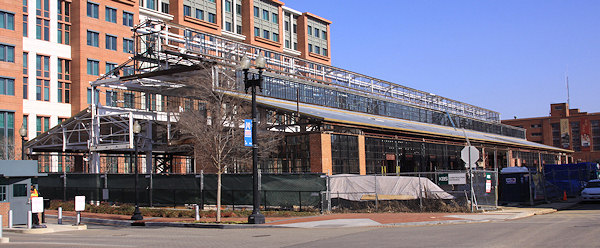 Willie's Brew and Que
- A few blocks to the south, Cervera is waiting for Forest City to finish construction on the
Boilermaker Shops
renovation so that he (and other tenants) can then begin their build-outs. It will occupy the western end of the building, at 3rd Street (seen at right), where the full two-story space to the roof will be open. Details:
* There will be 230 seats inside the restaurant, with another 125 or so at outdoor tables in front of the building at 3rd Street.
* It will have "live" barbeque: Cervera said that he has put a lot of money into the kitchen, with charbroilers and custom-made smokers to churn out authentic North Carolina barbeque.
* And there will be plenty of booze to go with the food, as Cervera will be requesting a CT ("tavern") liquor license, mainly, he says, because with 81 home Nats games a year two blocks away at the ballpark, he can't envision being able to meet the requirements of a CR license where 47 percent of sales must be food. (Tavern licenses don't usually go over very well with ANCs, so this will be interesting to watch.) Full operating hours until 2 am Sunday-Thursday and 3 am Friday-Saturday will be requested on the license, along with an "entertainment endorsement" to allow live music inside until 11 pm Sunday-Thursday and 1 am Friday-Saturday and recorded music on the patio. (The entertainment endorsement discussion for both locations sidetracked into whether dancing will be part of the endorsement, with Cervera bemused at the notion of having to make people stop dancing if the music has moved them: "This isn't 'Footloose.' ")
* Cervera has no opening date for Willie's, but he says he expects Forest City to release the space to him for build-out within 2-3 months.
The discussion surrounding Willie's showed the committee members being a bit hesitant to make decisions for this restaurant that then will set the standard for the other Boilermaker Shops tenants who aren't yet applying for their liquor licenses, such the
brewery
from the Churchkey team. The issue of noise, especially from the outdoor seating space, and how it will effect residents of the
Foundry Lofts
across the street was brought up, though 6D commissioner David Garber said that no one is moving into this area without knowing that it's going to be an entertainment destination of sorts. Cervera, in arguing his cause, said that he fully expects himself and the Churchkey operation to be "good stewards" of the new nightlife in the neighborhood. The first three years of operations will be "painful fiscally," he said, but they want to be here first and be good tenants.
In the end, for both operations, the committee voted to recommend approval of the license applications to the full ANC, subject to the successful negotiation of a voluntary agreement between the commission and Cervera. (Note that neither liquor license application has actually been filed yet, but Cervera says he expects all paperwork to be completed by early next week.) The full ANC could take these applications up at its Feb. 13 business meeting, if papers have been appropriately shuffled by then.
Sales Apparently Pending on Three JPI Apartment Buildings
Jan 30, 2012 9:10 PM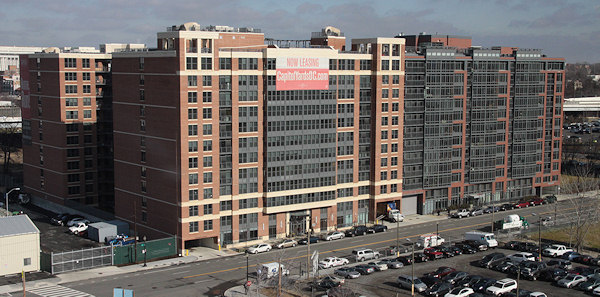 Residents at three of the neighborhood's "new" apartment buildings--the Jefferson and Axiom at
70 and 100 I Street
, and the
909 New Jersey Avenue
building, branded together as "Capitol Yards"--are reporting the posting today of public notices, along with e-mails from management, announcing that the buildings are under contract to be sold.
Who is (are) the buyer(s)? As of now I've only seen the paperwork for 100 I (thanks to reader B.), which says that it's "100 Eye Street Acquisition LLC c/o J.P. Morgan Investment Management."
UPDATE:
Plus, via reader S., I hear the buyer for 909 New Jersey is, as suspected, "909 New Jersey Ave Acquisition LLC," and reader M. says that the buyer for 70 I is, you guessed it, "70 Eye Street Acquisition LLC."
So,
as required by DC law
, the buildings are now being offered for sale to the tenants, which happens "after the owner has accepted (ratified) a third party sale contract for the housing accommodation."
That paperwork says that the price of 100 I for any tenant organization that may form to purchase the 246-unit building would be $93,879,000; readers report that the number for 70 I (448 units) is about $165 million, and 909's price (237 units) is around $95 million, which presumably are all somewhere in the neighborhood of the contract sales prices.
Apparently the buildings
went up for sale
sometime
over the summer
(can't believe no one blabbed!), joining the
Onyx on First
apartment building a few blocks south
on the sales block
.
JPI East, which developed the three buildings during the high-flying mid-2000s, was already a wounded casualty of the Economic Difficulties when two of its executives took what was left of the company and partnered with folks from Akridge
to form
the
Jefferson Apartment Group
. But 70/100/909
apparently
remained part of
JPI
's holdings, as did the empty lot at 23 I Street where JPI's fourth apartment building had been planned, until
it was foreclosed upon
and picked up by Ruben Companies in late 2009. The three buildings, completed in 2008 and 2009, have been managed by
Greystar
ever since JPI sold its property management division to the company.
I'm sure there's much more to be told, and I'm hoping this barebones blog post (written by a very bleary blogger back from an unexpected 36-hour road trip) will shake out a bit more info. If anyone from 909 NJ or 70 I wants to check the paperwork to see if the buyer listed is some similar variant to 100 I's LLC/JP Morgan entry, that'd be fab.
Also, if any tenant groups are planning to form and shake out their collective sofa cushions in search of $95 million or more, be sure to let me know.
UPDATE: I've reworked the opening of this post a bit after getting some additional information. And an e-mail going out to residents about the sale reminds tenants that "your tenancy, including your rent, lease term, and the services and amenities you receive, are governed by your lease."
Another Look Inside the Foundry Lofts, Nearing Completion
Jan 26, 2012 11:15 AM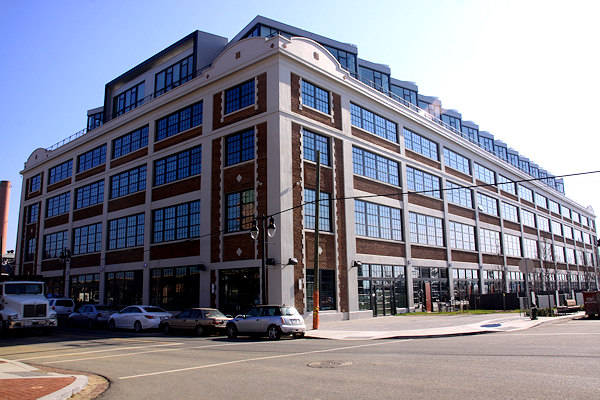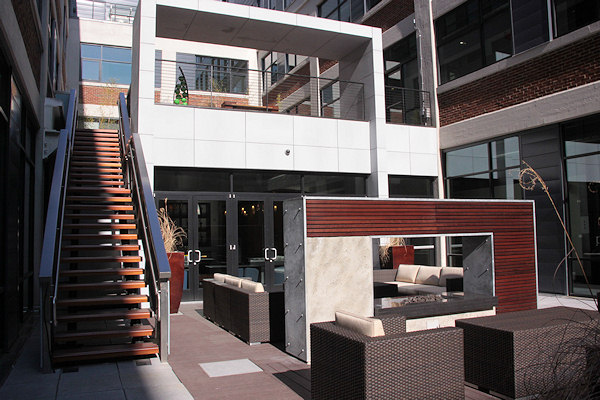 When last I visited the
Foundry Lofts
, it was about a month before the first residents moved in. I took a pile of photos, but while model units were furnished, a lot of the shared spaces were still being worked on. So I finally made a return visit this week to see all the finishing touches on the interior courtyard, lobby, community room, etc. And
I took one or two photographs
, of course.
The leasing office tells me that the 170-unit building is now about 65 percent leased and 40 percent occupied, and construction on the non-retail spaces is not far from 100 percent completion. The four priciest units--the corner penthouses, which were announced with rents in the $4,500 range--are all taken. And the two eateries in the ground floor--Potbelly and Kruba Thai and Sushi--have their building permits and are working toward opening within 90 days.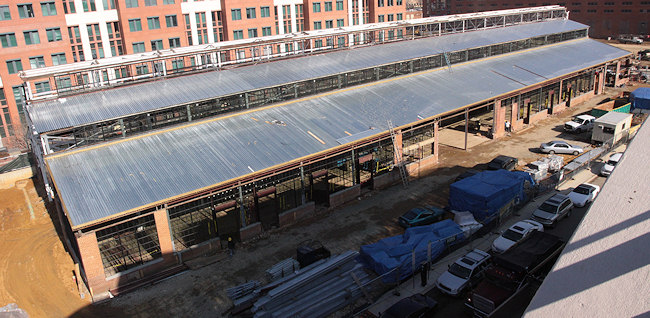 Also, because I can't walk past the
Boilermaker Shops
without taking pictures, I added a few new shots to that page, including the panorama at right that I got from one of the Foundry Loft patios.
As if this all isn't exciting enough, here's a first
terribly not exciting photo of the excavation underway
at the
1212 4th/Teeter site
a block east of the Foundry Lofts and across the street from Boilermaker.
Plus, since I had to walk down 4th Street to get to all of this, I snapped some shots of the continuing
Capitol Quarter
progress at
K
and
L
.
More Beer News! License Process Starting for Two Eateries
Jan 25, 2012 3:38 PM
If
yesterday's news about the brewery
coming to the
Boilermaker Shops
in the Yards wasn't enough, today I can pass along that the liquor licensing process looks to be getting started for Xavier Cervera's two upcoming locations in Near Southeast, the
Canal Park Tavern
planned for the pavilion at
Canal Park
and the
Willie's Brew and Que sports bar
also at the Boilermaker Shops.
Both have been added to the agenda for ANC 6D's ABC Committee next meeting, on Jan. 31 at 7 pm at King Greenleaf Rec Center. Hopefully at this meeting there will be some details on both places (seating capacity, hours, when they expect to open, general menu concepts, etc.).
With the Tavern expected to open along with Canal Park sometime this summer and WBQ probably not until late fall or beyond, this is a pretty early start to the ABC process, so don't get your taste buds primed just yet. But all evidence of forward progress is worth noting.
Tuesday Tidbits II: Some Info on the Boilermaker Shops Brewery
Jan 24, 2012 7:43 PM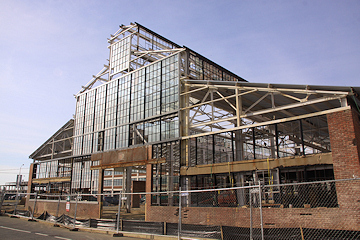 There hasn't been much said so far about the restaurant planned for the
Boilermaker Shops
at
the Yards
by the Birch and Barley/Churchkey team, but the Post's
All We Can Eat blog posted some morsels
today:
* The still unnamed venture will "contain a full-scale production brewery, a brewpub-like tasting room [...] and a 200-plus-seat restaurant."
* A head brewer has been hired: Megan Parisi, former lead brewer at the Cambridge Brewing Company in Massachusetts. And, as a fun side fact, Parisi used to play clarinet for the US Navy Band, right next door at the Navy Yard.
* "Barrel-aged sour beers" will be a major focus. A comparison is made to Belgium's lambic beers, which means I'll be camping on the doorstep (Lindeman's Peche is a personal favorite). Owner Greg Engert called it all "a giant experiment."
* The operation will "open in about a year."
The brewery's neighbors in the building at 4th and Tingey SE,
as announced so far
, will be an Austin Grill Express, brb ("Be Right Burger"), Buzz Bakery, Huey's 24-7 Diner, and Willie's Brue and 'Que sportsbar, which will be another option for drowning any Prince Fielder-related sorrows, though by the time these places open the Nats will have had a fabulous 2012 season and no one will remember any of the recent drama. Right? Right?
Bikeshare Data Goofing Around: Mapping Bike W01000's Trips
Jan 24, 2012 3:55 PM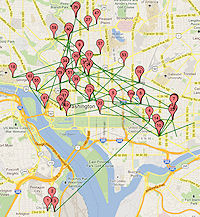 This is little more than an off-topic I-want-to-try-it exercise, but after reading JD Antos's
latest crunching
of the
Capital Bikeshare trip data
that came out last week, I decided to see what it would be like to map the movements of a particular bike.
I picked bike
W01000
, for no reason other than I saw it while I was browsing through the tables and thought it looked like a nice round number--I make no statements as to how representative it is of other bikes, except that it was in the system for all of 2011, except for a few brief periods when it either didn't hit the rider lottery or was out for maintenance. (And I ignored trips less than a minute long.)
So, want to know where Bike W01000 went on
December 1, 2011
? Or
July 4
? Or
my birthday
? Or any day of your choosing? Take a look and see. Of course, the green lines for "trips" are just as-the-crow flies, and are not the actual routes taken by riders (since the bikes don't have GPS transponders
THAT WE KNOW OF!!!
).
There's also a table below the map that shows the trips broken out in order for that day, which is handy on days with a number of trips where sometimes the push pins on the map get piled up on each other. Also, note that some trip lines end without a push pin--that's because the pins mark the start of trips, and so if a bike got re-balanced to another station, that ride's endpoint will be pin-less.
You can also
browse by month
, but it's pretty spaghetti like.
This is quick-and-dirty, so there are probably bugs.
Tuesday Lack-of-Tidbits Post: Yards Park Kudos, 200 I Progress
Jan 24, 2012 9:52 AM
I guess I'm not unhappy that there's not much to pass along right now, given the firehose of content sprayed from these parts last week. So, while we all wait to find out whether Prince Fielder is going to be a new neighbor, here's the best I can come up with:
* The
Atlantic Cities writes a paean
to the
Yards
and the
Yards Park
, noting that Washington "is finally getting a green waterfront to be proud of," after years and years of poor waterfront access throughout the city for residents.
UPDATE:
I'll toss this in, since I'm short on content: a writer at the Hill is Home is bummed that the Lumber Shed is going to be enclosed for retail space (and Forest City's offices upstairs), and is
taking a poll
to find out who does or doesn't agree.
* Exterior work continues to wrap up at
225 Virginia/200 I
, with the new parking deck at
3rd and I
mostly completed. Visitors to the building will park on the deck's upper level, via an entrance on 3rd just south of Virginia, while staff will enter the deck's lower level on I Street; there is also employee parking in the building's basement. I imagine traffic on 3rd is going to get even more interesting when the building opens to three city agencies later this year.
Canal Park Work Seen from On High, and Other On-High Shots
Jan 20, 2012 11:34 AM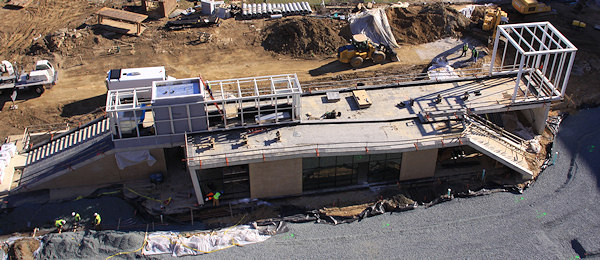 From ground level, it's not especially easy to see (or photograph) the current state of
Canal Park
's construction--lots of fences, equipment, and bad winter sunlight, and the only above-ground action is hard to photograph through cyclone fencing. But on Thursday I got to see the progress from higher up, where not only is it easier to get a good overview of the site, but you can now see the outline on the southern block of both the plaza *and the ice rink*. (Shadows still wreaked some havoc, alas.) I added a number of these images to my
Canal Park progress page
, for your perusal.
As I worked on these, I got to thinking about some photos from high up in 1100 New Jersey many moons ago, when the surrounding landscape looked very different. A few have been sprinkled throughout the site, but I was a little embarrassed to find out I'd never put them in my Overhead Photos Archive, which has now been rectified, and
you can see them here
. They are from September 2004, so most of the old Capper buildings are still visible, and the USDOT and Capitol Hill Tower lots are just holes in the ground. (And there's
one cool view of the buildings at the Yards
that sure won't ever be replicated.) I paired them with shots from Thursday where possible.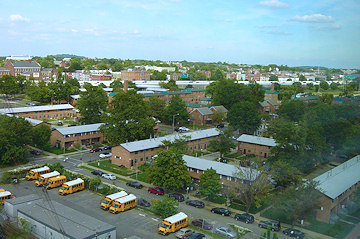 Then I remembered all the photos I took from the
top floor of 1015 Half Street
during the BID's annual meeting last week (there were a bunch besides just the "
majestic
" one). Not exactly a trip down memory lane, but they're now posted as well.
At this point, with a deep breath, I ventured into the folder where I've been dumping my rooftop/on-high photos "to deal with later," and found: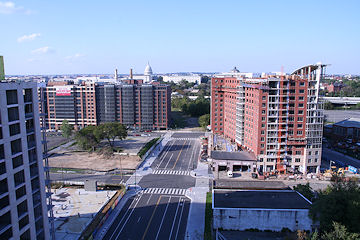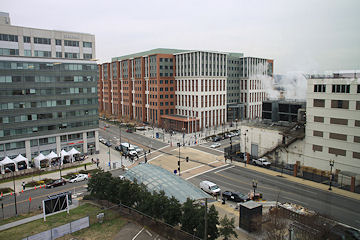 * A series of strangely blue pictures I took from the
roof deck at Onyx in October 2008
, just as the building was opening;
*
Shots from 100 M Street
taken at the BID's annual meeting on a dreary day in December 2008; and
*
Photos from 55 M
taken during the kick-off for Artomatic in May 2009. (Nyaah, nyaah, National Geospatial Intelligence Agency, I was taking pictures of you!)
For those of you who live and work in the "high-rise" buildings in the neighborhood, many of these views won't be anything exciting, and given the lack of new projects on the west end of the neighborhood, not really much has changed since the 2008-2009 shots. But now they're in the
Permanent Collection
, to be paired with more photos down the road someday.
If you haven't wandered through the overhead archive before, there's a ton of other photos, including the pictures from
atop the Courtyard by Marriott taken from 2006-2010
that really highlight the demolition-and-construction that happened west of New Jersey Avenue. There's also a series of images taken from the
roof of the old Capper Seniors building
right before it was demolished
in 2007, plus all manner of pictures of the waterfront taken from the
ballpark's southeast viewing platform
starting in 2007 (which I can't wait to update in a few months). And other locations, too.
Hope you find them enjoyable, especially on a Friday afternoon when you might happen to be looking for something to do other than work.
DCPS Nixes Idea of Bringing School Within School to Near SE
Jan 19, 2012 3:16 PM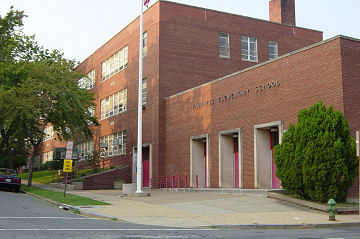 While there has been lots of news over the past few months about Near Southeast getting some of the amenities that it has lacked for a long time (restaurants, grocery), one service that the neighborhood continues to be without is an open elementary school within walking distance. DC Public Schools
closed Van Ness Elementary
at 5th and M SE back in 2006 because of a lack of school-aged children in the neighborhood thanks to the emptying of the
Capper/Carrollsburg
public housing project in advance of its reconstruction as
Capitol Quarter
, but kept the building in its inventory knowing that eventually the neighborhood would fill back up and a school would again be needed.
Fast forward a few years, and the neighborhood now has a number of families with small children, who get to look at unused Van Ness every day while sending their children across South Capitol Street to Amidon/Bowen Elementary in Southwest. So the Parents of the Capitol Riverfront organized themselves to
advocate for getting Van Ness reopened
, and put together
a "delightful" public meeting
with then-interim chancellor Kaya Henderson. But DCPS
announced last March
that the numbers didn't yet support the reopening of Van Ness, saying that it was most likely the school would not reopen before 2015.
But area parents have continued to try to find a solution, and when word got out a few months ago that the well-regarded
School Within School
at Peabody Elementary was looking to expand its program and would need a new and larger space, Near Southeast parents began to investigate what it might take to get SWS into the neighborhood, whether in the Van Ness building or in some other solution, perhaps even using the modular classrooms (i.e., trailers) that Capitol Hill Day School has been occupying at 5th and K during its building's renovation.
But today a statement from Henderson being sent out to various neighborhood mailing lists seems to put the kabosh on this movement. While the notion of using the CHDS trailers is "an interesting one," Henderson says that school system "already has too many schools that are too small to sustain themselves," and so it would be a "poor stewardship of the public's resources" to pay rent to put SWS in trailers or wherever if there are already a number of available facilities that could be used. Plus, those other facilities are located where placing SWS "could have an equally or potentially greater positive impact."
The statement doesn't specifically explain why Van Ness itself is not an option to house SWS, and perhaps someone who's been close to the many meetings that parents have apparently had with DCPS could explain that in the comments. It seems to still boil down to the neighborhood just not having enough students to support a school, whether it's SWS or a "normal" elementary school. Van Ness is currently home to some administrative offices, plus needs what has been rumored to be a couple million dollars in renovations to get it ready, and it does appear that DCPS is holding fast to its previous ruling that Van Ness won't be back in the system before 2015. But it's also not hard to imagine that neighborhood parents will continue to try to get a school, any school, as soon as they can.
Nine Years? You've Got to be Kidding
Jan 19, 2012 10:10 AM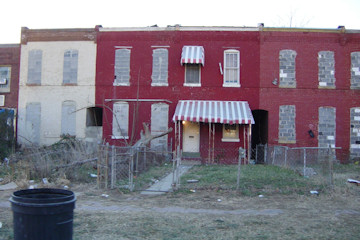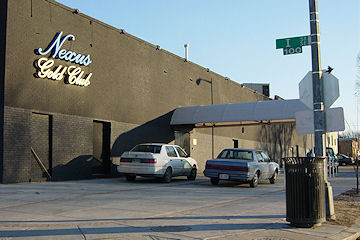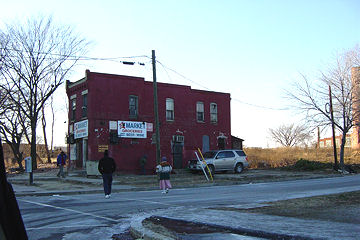 Uh oh, the old bat is
bringing out the photo albums
....
Yup, it's time for me once again to mention that it was on January 19, 2003 when I made my husband drive me around that neighborhood south of the freeway, which we rarely ventured into, so that
I could take some pictures
(without getting out of the car, of course), since I'd heard there were some plans to revitalize the public housing and also the areas right along the Anacostia River. (Yeah, right, that'll be the day, we said to each other.) I had no grand plans to launch an all-consuming project that would document what might be coming--I just felt like getting some photos.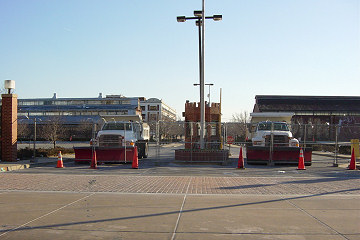 And now here we are, starting Year 10 of this.
I'm saving deep ruminations on the journey until (if?) I successfully cross the First Decade finish line, so for now I'll just say my heartfelt thanks to everyone who reads, comments, passes along information, and provides assistance, because there's no way I'd still be here without all of you.
And I think folks should prepare themselves for the coming avalanche of posts and photos, because 2012 looks to be Near Southeast's busiest year since the golden Nationals Park construction/opening era.
(I need a nap already.)
Tidbits: BID Reports, Artomatic to Crystal City, Tunnel Items, More
Jan 18, 2012 2:33 PM
There's been a whirlwind of "big" posts as 2012 has gotten underway, so here's a few items I've neglected:
*
BID Reports
: At its annual meeting last week, the
Capitol Riverfront BID
released both
its annual report
and the "Green Print of Growth" study they commissioned, which showed that the portion of the Green Line from the Navy Yard station to Georgia Avenue/Petworth has become over the past 10 years a "regional leader" in "capturing highly-prized young professional housing demand and high-wage employment," just nosing ahead of the Orange Line's Rosslyn-Ballston corridor and outstripping the Red Line's stretch in Northwest DC when looking at household growth in the 18-to-34 demographic. The report also says (shocker!) that "the analysis conducted suggests that the Capitol Riverfront--given its Green Line access at the Navy Yard Station and its significant amount of development capacity--is among the most competitive locations in the region for households, companies, and retailers."
You can read the
executive summary
, the
complete version
, and the
slides
that RCLCO's Shyam Kannan displayed during his presentation at the meeting. (Additional coverage from
WBJ
and
CapBiz
.)
This was followed by a
commentary
by BID chief Michael Stevens in Monday's Washington Post/Capital Business in which he argued: "It's time for business and residents to recognize and acknowledge a new reality: The Green Line corridor has emerged as a powerful economic engine for the District and the region. And it's time for Metro, the city and the private sector to invest more in the area to support this growth trajectory."
UPDATE:
Also coming out of the annual meeting, the BID
voted to change how it handles its taxes
, which still needs to be approved by the city council to take effect. (WBJ)
* On a parallel track, though it doesn't have to do with Near Southeast specifically, the Post's
Steve Pearlstein wrote
over the weekend about how signs suggest "that the next phase of growth in the Washington region will focus on these underdeveloped areas in the eastern quadrants of the District and some of the region's older, closer-in suburbs."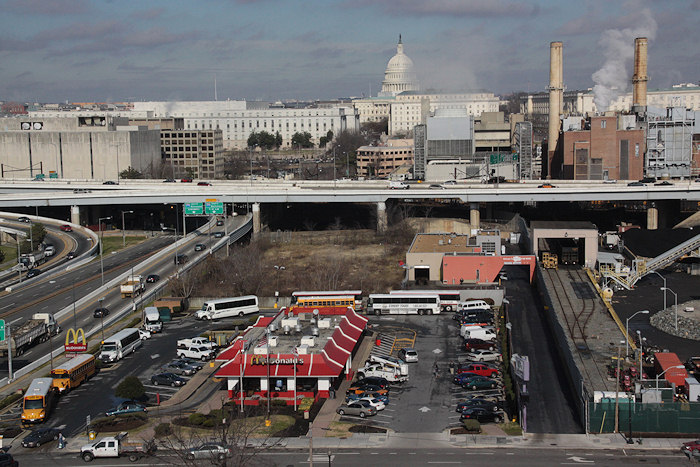 *
New Views
: While I was at the BID's meeting, I took the opportunity to get some photos
of the inside of 1015 Half Street
, plus
one shot looking out
that shows not all views of the U.S. Capitol dome are, by default, "majestic." (Alternate caption: "Would you like fries with that democracy?") One
Twitterer suggested
that the rock circle at far right, on the Capitol Hill Power Plant's property, is where the ritual sacrifices are held. So, if you see the Congressional leadership skulking around I Street late at night....
*
Artomatic Decision
: The Post's Jonathan O'Connell
tweeted this morning
that
Artomatic is headed to Crystal City
. Organizers
had been looking
at both 1015 Half and the old National Geospatial Intelligence building at
101 M
.
*
CSX
: The Virginia Avenue Tunnel web site now has
public comments
on the
Nov. 30 "concepts" meeting
, as well as the
transcript
of that session. Comments are still being accepted through the end of January.
*
Protest
: A reader who lives on 7th Street just across from the Marine Bachelor Enlisted Quarters has passed along that the neighbors on that block have decided to lodge a formal protest at the liquor license renewal of the
7th and L Market
, thanks to having witnessed multiple examples over the past few years of public drunkenness and urination, loitering, littering, drug dealing, indecent exposure, and even one proposition by a prostitute. There's no doubt that that market is a bit of a throwback to the neighborhood's previous incarnation; it will be interesting to see how this proceeds, and also how the
eventual arrival of the National Community Church on that block
changes (or doesn't change) things.
*
AIIIEEEE!
: Don't have enough to worry about these days? How about
rising sea levels inundating
areas along DC's waterfronts? (WaPo/Capital Weather Gang)
*
Neighborhood News Roundup
: The Post's new Where We Live real estate blog has a
rundown
and
photo gallery
today on the latest progress on the development and food fronts in Near Southeast. If it all looks and sounds strangely familiar, that shouldn't be a surprise.
Near Southeast's 2011 Bikeshare Data, Mapped and Tabled
Jan 17, 2012 11:26 AM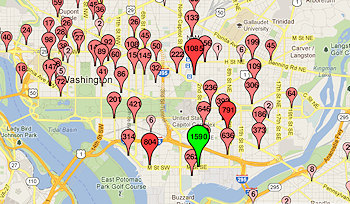 When word gets out that some
new data set
has been posted in an easily digestible format, I am pretty much helpless before its power. So I spent the Friday night of a holiday weekend knee deep in
Bikeshare
Trip History Data, culling out the
nearly 30,000
more than 28,000 records for trips that either originated or ended at Near Southeast's two docks in 2011. Then I fired up up the Google Maps API to bring it all to you
in interactive map form
.
You'll choose whether you want to see inbound or outbound data for the dock at New Jersey and M in front of the US Department of Transportation or the dock at 1st and N just across the street from Nationals Park. Optionally, you can filter by month of the year or even a specific date. (Tip: green means starting point, red means ending point.) Then there are tables beneath the map that show, for your chosen data set, the number of registered vs. casual users and the top usage days.
It shouldn't be surprising that the docks at the Eastern Market Metro Station and at 4th and M SW (Safeway) are very popular destinations/starting points for the Near Southeast docks, but I'm surprised to be surprised that the top dock for New Jersey & M trips in both directions is Union Station.
Capital Bikeshare is apparently going to release this data quarterly, so I plan to keep
the map/search app
updated as long as there's data coming. And there
should be
a new dock in the neighborhood sometime in 2012, at 3rd and Tingey.
PS: Speaking of Bikeshare, read this fascinating piece on
one man's transformation into a bicycling commuter
thanks to Capital Bikeshare being a "gateway drug." (Any full disclosure I need to make about this link should be pretty clear in the second and fourth paragraphs.)
UPDATE:
After
reading this great post by JD Antos
with scads of analysis of the city-wide Bikeshare trip data, I dug into my tables a little more closely to clear out "rides" of less than 60 seconds' duration at a single station and found that I had inadvertently doubled the records where the both start and stop stations were the two Near Southeast stations. (Argh.) Not a huge change in the data (about 1,250 records out of nearly 30,000), and most likely the data people would have been looking at today would have been for the trips outside of the neighborhood, but I have now cleaned out that boo-boo. And I've deleted 167 sub-60-second trips at a single station as well, just because.
UPDATE II:
I added both Union Station and the new dock just north of the freeway at 3rd and G to my
Live Transit Data page
, which includes a table of the closest docks and their capacity status, along with other live data like Next Train, Next Bus, and Where's My (Circulator) Bus?
Final 2012 Tax Assessments: Back Over $6 Billion in Value
Jan 16, 2012 10:06 AM
In March 2011, I posted on the
proposed 2012 tax assessments
for the 900-plus tax parcels that I track as Near Southeast properties, which valued the neighborhood at just a teensy bit under $6 billion ($5.994B). But there's a reason those are just "proposed": property owners need a chance to prostrate themselves before the city to try to get their assessments revised. In addition, new properties come onto the rolls during the year as projects get completed.
So, I can now report that the 2012 tax assessment total for Near Southeast is: $6.06 billion. Since the final assessments for 2011 came in at about $5.81 billion, 2012's number is a $248 million increase for actual assessments year-over-year.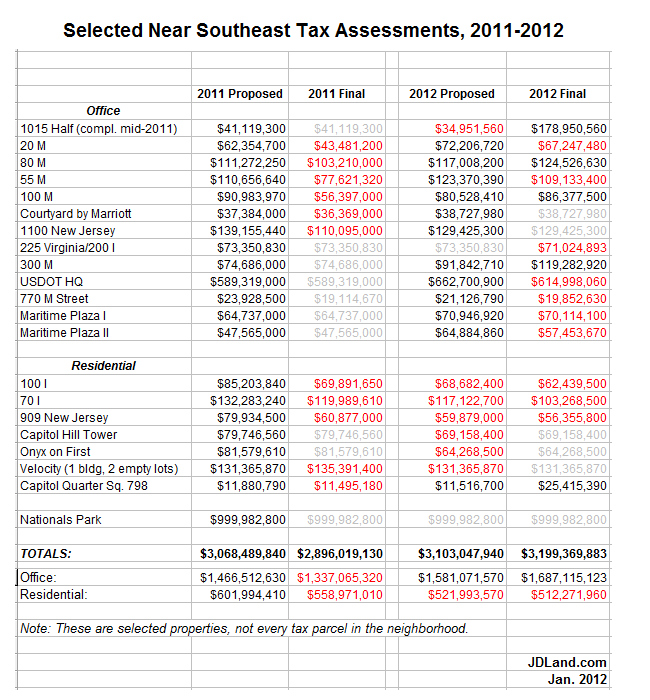 There were 15 properties that received reductions for their 2012 bills, totaling about $148 million. The big property owners managed a few hefty cuts, with JBG's
US Department of Transportation
building leading the way with a $47.7 million reduction to just under $615 million, followed by CSX's empty lots near the freeway north of I Street getting a $46.3 million haircut down to $66.2 million. Many of the other shiny new-ish buildings of the neighborhood also got their tallies reduced, such as apartment buildings
70/100 I
and
909 New Jersey
and office buildings 20 M,
55 M
,
225 Virginia
, and Maritime Plaza I and II.
But these reductions were offset by $216 million in upward revisions. Most of this is thanks to
1015 Half Street
finally being completed, taking that parcel's assessment from last year's $41.1 million to just a hair under $144 million. Three other buildings (80 M, 100 M, and 300 M) received higher final assessments as well. Plus, 32 townhouses in Capitol Quarter came onto the rolls as completed buildings, bringing just under $14 million in new tax revenue. (Yes, yes,
PILOT/payment in lieu of taxes
--don't stop me when I'm on a roll.)
And, because people always want to know, the ballpark's assessment for 2012 remains the smidgiest smidge under $1 billion, unchanged from 2011, at $999,982,800.
Alas, I can't give good year-to-year comparison numbers on final assessments in previous years because I didn't really grasp this whole revision thing until last year (oops), but I can say that proposed assessments were just a mite over $6 billion in both 2010 and 2011, after having been at $4.47 billion in 2009. My March post has the
year-by-year proposed assessed values
for the neighborhood, if you want those numbers.
If you feel like digging deeper (since you don't pay me enough to just post all my numbers for you to use), here's the
the current assessments database
, which you can search yourself. Tune in this March to see what the city proposes for 2013 values, and then in January for what the values really end up being....
WC Smith Announces 880 New Jersey as Park Chelsea Apartments
Jan 13, 2012 10:31 PM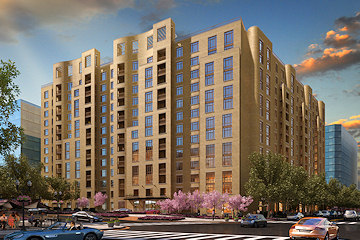 Developer William C. Smith is announcing today that the apartment project we've been referring to as
880 New Jersey
will be called the Park Chelsea, and is expected to get underway sometime during the second quarter of this year. And there's
even a rendering
now, and an
official web site
.
As
I reported a few months ago
, it will be 13 stories, with 433 units, which I understand will be broken down as 58 studios (about 466 avg sq ft), 281 one-bedrooms (606-738 sq ft), 92 two-bedrooms (1094 sq ft), and 2 three-bedrooms (1788 sq ft). There will be a courtyard garden, club room, gym, pilates/yoga studio, Jacuzzi, and 75-foot indoor lap pool on the ground floor. Then, up on the roof there will be a second pool along with the now-ubiquitous lounging/grilling area, as well as a "community garden" and dog exercise area. There will also be 1,500 square feet of "convenience" retail space on the ground floor, and three levels of underground parking. (They previously mentioned to me a bicycle entrance to a sizeable storage room separate from the car parking areas--I'm assuming that's still part of the plans, but I haven't confirmed.)
It's easy to notice
that site clearing that has begun along New Jersey--this is the start of the pre-construction infrastructure work that Smith needs to do in order to relocate some very very deep pipes beneath the block. The company also tells me that they expect DPW to be moving out of their site just to the south of 880 New Jersey about a month from now, which can begin the chain reaction of getting the old trash transfer building demolished so that lots can be split and land transferred along the to-be-built I Street axis. Vertical construction on 880 NJ can't begin until all of that happens, so that will be a pretty easy-to-watch guide to when real work on the new apartment building can begin.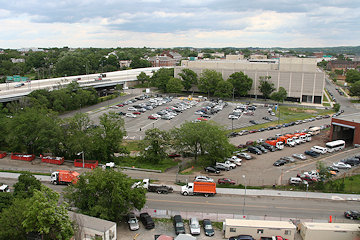 Once started, construction should take about two years.
This is the first phase of Smith's plans for
Square 737
, seen at right back in 2008. Originally the company had planned two residential buildings and two office buildings, but now they're looking toward filling the block with apartments, totalling around 1,200 units in four buildings. (And note that the entire four-building project is "matter of right," so there will be no zoning reviews or PUDs.) It's anticipated that there will be greater amounts of retail in the two buildings that will front 2nd Street, near
Canal Park
and across from
225 Virginia
.
If you want to see more photos of Square 737 and get additional background, check my
project page
and
previous posts
.
While this will be William C. Smith's first apartment project in Near Southeast, they have been working in the neighborhood for a number of years, and literally working here since 2004 (when they opened 1100 New Jersey Avenue and moved their offices there). They have also been a big player in the creation of
Canal Park
, and are part of the
Capper
PUD team as the developers of the planned
250 M Street
office building.
M Street Transportation Study Meeting Documents
Jan 12, 2012 8:27 PM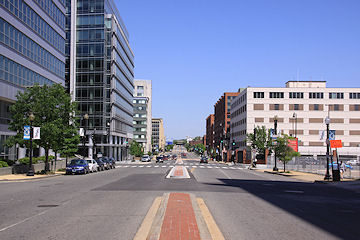 The meeting probably isn't even finished yet, but if you didn't (or did) stop by the first of DDOT's public meetings on their nine-month M Street SE/SW Transportation study, you can browse the
presentation slides
and take the
stakeholder survey
, already posted on the new
web site for the project
.
There were a pile of
high-powered
bloggers
and
transportation
geeks
in attendance, so I'm sure there will no shortage of coverage of both this meeting and the entire study that I will happily link to, but there wasn't much news coming out of this first session--it was mainly to introduce the study, talk about the methodology (which you can see in the
slides
) and then break up into small groups to stand around maps and give feedback about what attendees see as issues that need addressing. (But first, just as at the 2010 meeting, one woman who is particularly anti-bike once again
made
her
feelings
known.)
DDOT's representatives say they will be using some 33 other studies that have been done on the area in question as part of this overall study, covering the area from 14th St. SW to 12th Street SE south of the freeway down to the waterfront(s), though that then brought a comment from the audience about when studying is going to stop and there's going to be action.
There will be two more public meetings, one in March-ish and another in June-ish, with the study expected to be completed in August-ish.
UPDATE:
Here's
DCist's report
on the meeting. And
SWill's
.
Reminder: M Street SE/SW Transportation Study Meeting Thursday
Jan 11, 2012 9:27 PM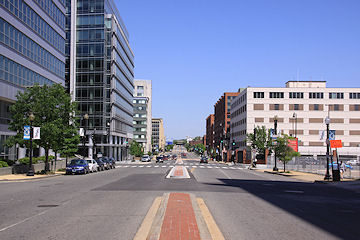 Just a reminder that Thursday night (Jan. 12) is the first public meeting for DDOT's M Street SE/SW Transportation Study, from 6:30 pm to 8:30 pm at Westminster Presbyterian Church at 400 I St., SW.
As the meeting announcement says
, "The purpose of the public meeting is to provide an overview of the transportation study, outline the study process/schedule and gather public feedback. Following a brief presentation, attendees will be asked to help identify concerns and issues on maps of the study area and also via a brief survey."
It isn't just about the six lanes on
M Street
, either: the study area goes from the Southeast/Southwest Freeway south to the Anacostia River and Washington Channel, from 12th Street SE all the way to 14th Street SW.
So, if you think there should be fewer lanes, more lanes, less parking, more parking, more bike lanes, fewer bike lanes, more pedestrian-friendly changes, fewer pedestrian-friendly changes, or just like watching people with wildly divergent views all trying to get their position to be the "right" one, come on down.
Boilermaker Shops, Now With More Windows and a Mezzanine
Jan 11, 2012 10:49 AM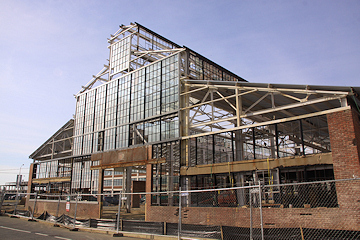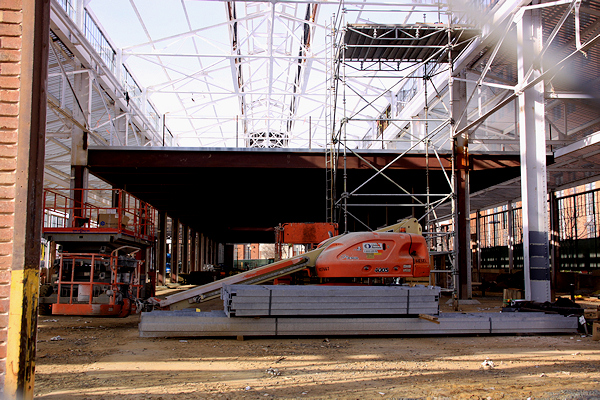 Do you get excited about new windows? Then this latest batch of
photos of the Boilermaker Shops rehab
is for you!
But, in addition to all the new glass, you can also see that the construction of the mezzanine level has begun as well. (There's a rendering midway down the page of how the mezzanine level will look, if you're having a hard time envisioning it.)
If you're just joining us, this is the project at
the Yards
that will bring
six restaurants
to this historic building by the end of 2012: a brewery by the Birch and Barley/Churchkey Folks, Austin Grill Express, BRB burger joint, Huey's 24/7 Diner, Buzz Bakery, and Willie's Brew and 'Que.
And, speaking of restaurants at the Yards, interested parties will like to hear that construction has begun on the
Potbelly Sandwich Works
shop in the ground floor of the
Foundry Lofts building
, just south of Boilermaker on the southeast corner of 3rd and Tingey. It is expected to open this spring, as is Kruba Thai and Sushi, which just received its building permit last week for its space in Foundry's southwest corner, just north of the
Yards Park
.
11th Street Bridges Construction Photos (Ramps and Whatnot Too)
Jan 10, 2012 1:02 PM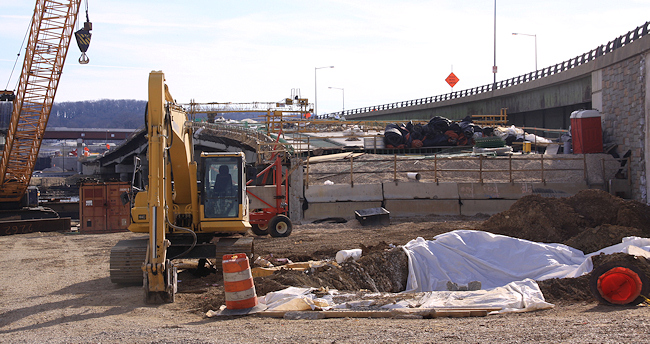 The news of the two freeway spans of the
11th Street Bridges
opening
over the past few weeks
is of course the most interesting part of the current state of the project's construction, but there's plenty of work still happening on the Near Southeast side of the Anacostia River, from the new "11th Street Local" bridge that will open this summer (seen at right) to various other new ramps and flyovers.
So on Sunday I did a lot of hoofing and driving to bring you this new
11th Street Bridges Project Photo Gallery
, showing the most interesting views I came across. I walked up onto the old outbound bridge (totally legal! sidewalk and everything!), I ventured down to N and then O streets, and I went north to where the new girders have been installed above 11th Street to connect the inbound freeway traffic to the Southeast Freeway and where the new ramp up to 11th Street from the old Pennsylvania Avenue/Barney Circle connector is under construction.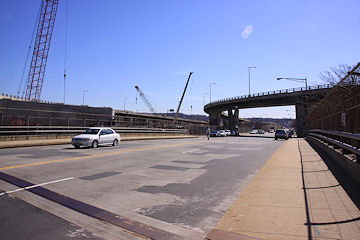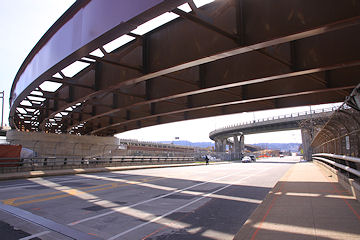 I also updated a lot of intersection shots in my official Photo Archive, so if you're wanting to see before-and-afters from the streets surrounding the bridges project, check out
11th & M
,
12th & M
,
11th & N
,
12th & N
,
11th & L
, and
11th & the freeway
(the shots above are a teaser) for all your change-is-a-comin' images. (Though not every photo was updated, so look for the

icon.)
And, because I'm a goofball, I also tossed together this
quick montage of the photos
I took on my first trip across the new outbound freeway bridge. (Yes, that's on a
JDLand Google+ page
. I haven't done anything with it, but if you want to show me there's interest in my getting more active there, you can follow the page and we'll go from there.)
Plus I freshened up the
photo portion
of my
11th Street Bridges project page
, which is the place to go if you're not up to speed on exactly what all this construction is going to accomplish. (
DDOT's recent video
will help you with that too.) But really,
start with the photo gallery
.