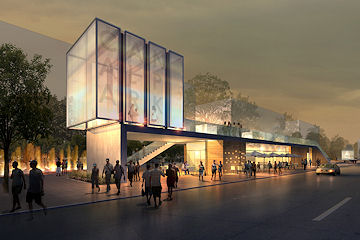 This was rumored
a number of weeks ago
, but today it is official that Capitol Hill restaurateur Xavier Cervera will be opening a restaurant in the pavilion space at
Canal Park
. I hope to have more details later today, so check back for updates, but for now I'll repeat what the last rumors were, that the menu would feature "Neopolitan pizzas and a raw bar." (We'll see if that holds up.)
(This is a can't-wait-an-instant-to-get-the-news-out post, so like I said, I'll have more later today, including hopefully timelines and whatnot.)
UPDATE: The restaurant will be named the Park Tavern, and Chris Vanarsdale of the Canal Park Development Association says they are "still working out the details of the menu." Cervera will be designing the 3,500-square-foot LEED gold or platinum space over the next couple of months, and it will open at the same time the park is completed, which is now expected to be June 2012. There will also be outdoor seating.
And, probably less exciting news but news nonetheless is that the CPDA also now has an agreement with
Rink Management Services
to operate the ice skating rink in the park's southernmost block, near M Street. (They operate the Reston Town Center rink along with lots of other seasonal and year-round rinks across the country.) Needless to say, that part of the park probably won't be functioning when the park opens next summer, but look for it in the winter of 2012/2013.
Construction on the park continues, with lots of infrastructure work still being done (though the pavilion where the Park Tavern will be continues to rise up). My
Canal Park page
has more information, renderings, and some not-altogether-outdated photos.