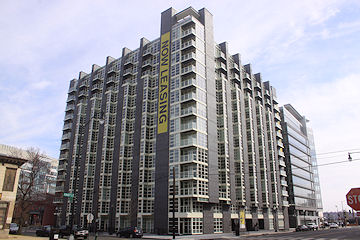 With an instruction to residents to Please Don't Panic, I'll pass along the news that
Onyx on First
, the 266-unit apartment building at 1100 1st St. SE, is
up for sale
. With a
brochure
touting "Excellent Transportation Infrastructure, Phenomenal Employment Opportunities," and "Shopping and Entertainment Options Abound," the sellers look to be trying to get in on what is clearly a
rebounding multifamily market in DC
.
Apparently there's no price set for the sale, and with a building that's 92 percent occupied with what looks like pretty high average rent numbers, I imagine investors will be taking a close look. The eventual sale (should there be one) could also be an interesting barometer of how "the markets" view the neighborhood. Proposals are due April 14.
The building, originally planned to be condos but converted to apartments during the construction phase, was developed by Faison and the Canyon-Johnson Urban Fund and completed in 2009. It was built the same time as its neighbor
100 M
, the office building that recently
bought for $57 million
in a foreclosure sale. Onyx is on the same block as the New Jersey Avenue entrance to the Navy Yard Metro station, two blocks north of
Nationals Park
, and one block west of the Courtyard by Marriott that is being
bought for $68 million
. And, of course, just across the street from the
Market Deli
.