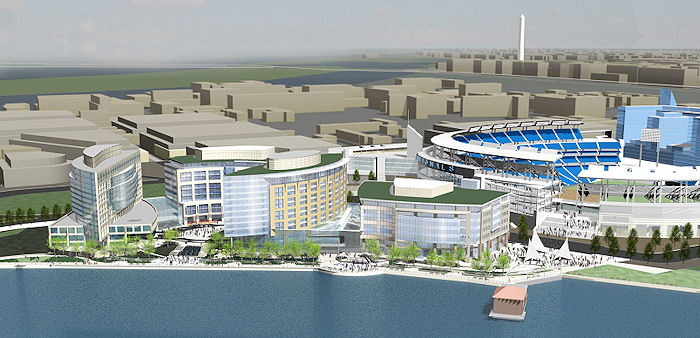 With a unanimous 5-0 vote after a brief discussion, the Zoning Commission approved last night the plans for "
RiverFront
," the 5.8-acre mixed-use project on the Anacostia River south of Nationals Park, ending the decade-long trip through the zoning process for the site long known as
Florida Rock
.
Before the final vote, chairman Anthony Hood quoted from the
recent ruling
by the National Capital Planning Commission that the RiverFront project "would not adversely effect" any federal interests. Remarking that the passage "says it all," Hood read: "This project is expected to bring activity and amenities to the Anacostia waterfront and is respecting the planning for the
South Capitol Street
corridor and the new
Frederick Douglass Memorial Bridge
. Furthermore, it is enhancing the connection of the
Nationals Baseball Park
and surrounding district to the Anacostia waterfront, goals supported by the Anacostia Waterfront Initiative[.]"
Now it's onto construction drawings and a trip through the city's permitting process. It's not expected that work will begin until sometime in 2009 on the first phase of the site, which includes an office building with ground-floor retail and a public plaza across Potomac Avenue from the ballpark's grand staircase. [see update below for caveat]
If you want to know more (dear heavens, I'm not going to go through all the details AGAIN), look at
my project page
for renderings and also
scroll through five years' worth of news items
on it all.
UPDATE:
The
press release is out
, and I'll note that it gives no indication of when the first phase could start. Given the
Monument Realty news
of financing troubles,
Camden's pause
at 1345 South Capitol, and the commercial real estate biz in general, it's probably best to now be pretty skeptical of start dates until permit approvals start popping up and shovels start digging into the ground.