Near Southeast DC: Past News Items
Pedestrian/Cycling Issues
Go to Full Blog Archive
---
Live Transit Page Returns to the Living
Oct 24, 2013 10:16 AM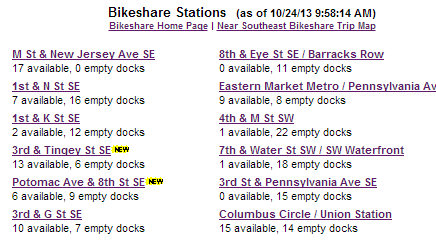 For the two or three people who use it, I've done some cleaning up of the five million lines of code on my
Near Southeast Transit Options
page, and it should now be more or less functional again.
If you haven't seen it, this page gives you a quick look at the status of the neighborhood's five
Bikeshare
stations, including the two new ones at 3rd and Tingey & 8th and Potomac, along with other nearby stations of interest. It also shows upcoming arrival times for the
Green line at Navy Yard-Ballpark
, the
Union Station-Navy Yard Circulator
bus at New Jersey and M, and
Metrobus lines at New Jersey and M
.
You can access this page from the "Live Transit Info" link on the JDLand home page menu bar, or by clicking the little Metro icons on the home page map. It's also available via a link from the JDLand mobile home page at m.jdland.com.
Latest 11th Street Bridges Overlook/Trail Renderings
Mar 19, 2013 3:58 PM
The latest
presentation slides
from last week's
11th Street Bridges
project's Community Communications Committee Meeting have been posted, and a few of them caught my eye (or bought my eye, for you fans of obscure Monty Python references).
TheWashCycle recently posted a photo
of the work underway on the overlooks that are now under construction just down-river of the new local bridge, using the old piers as their bases, and this is what they are expected to look like when completed (click to enlarge):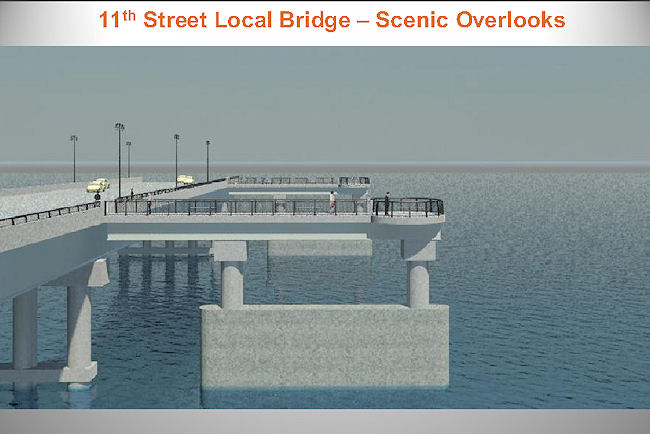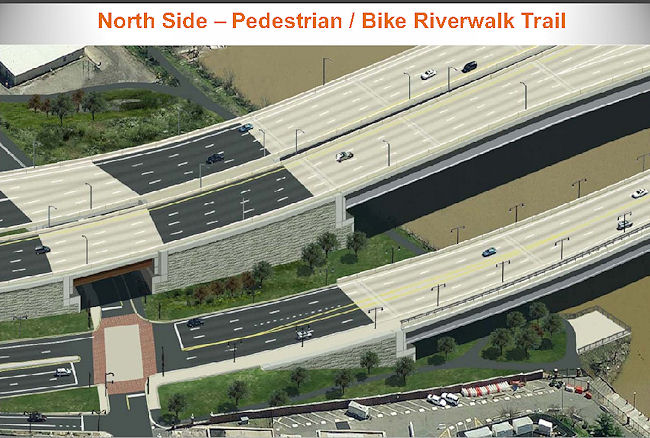 There is also a rendering (seen at right) of how the
Anacostia Riverwalk Trail
will run both under the bridges and down from O Street when finished; it also shows the small overlook that will be built out into the river just to the east of the entrance gate to the Navy Yard Promenade.
WashCycle also got a recent photo
of the path under construction, where you can see the outlines of what the rendering shows is coming.
The
presentation slides
also have some photos of the demolition underway on the old outbound freeway flyover, and aerial photos of the work that's completed and still underway on the east side of the river. There's also, on page 21, an image which looks like they've already almost completed the filling-in of the portion of the Southeast Freeway between 8th and 11th, since it shows dirt almost up to the underside of the existing bridge that takes 11th Street across the sunken freeway between I and L.
What all of this really means is that I need to get back to 11th Street with my camera pretty soon, since
my last batch of photos
is now a bit dated (waaah!).
Updated Bikeshare Usage Maps for Near Southeast's Three Docks
Sep 26, 2012 8:53 AM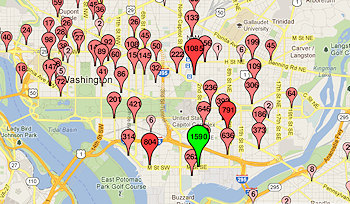 With some free time for the first time in quite a while, I finally got around to including Bikeshare's Trip History Data for the first half of 2012 in
my app that maps the usage
of the neighborhood's three docks at 1st and N, New Jersey and M, and the 1st and K station that came online in February.
You can
choose
a station, a year, a month, or an exact date, and whether you want to see outbound or inbound traffic, and you'll get presented with a pile of pushpins showing the other stations that people rode to or from.
As with the
2011 data
, Union Station is the top destination/origin, followed by 4th & M SW, and Eastern Market Metro Plaza, with the two stations north of the freeway on 3rd Street SE and the south Barracks Row/8th and I dock also getting a fair amount of use. (News flash: Bikeshare is used most often for short trips!)
This Week: Virginia Ave. Tunnel, M St. Meetings, First Front Flick
May 20, 2012 11:30 AM
To allow you to properly plan your calendar for the week, I'm posting this nice and early:
*
Virginia Avenue Tunnel
: Monday night is
another public meeting
on the
planned Virginia Avenue Tunnel reconstruction
, at which it's expected that DDOT, FHWA, and CSX will be presenting the concepts that have been chosen from the
original batch
to study in detail as part of the
project's EIS
. The meeting is at
Nationals Park
at 6 pm.
And, speaking of the tunnel, the noise and vibration field studies required as part of the EIS
will be happening this week
. (But no fair stomping on the ground and gunning your car's engines for hours at a time.)
*
M Street SE/SW Transportation Study
: The meeting to update the public on the progress of the
M Street SE/SW Transportation Study
is on
Thursday, May 24, from 6:30 pm to 8 pm
at the Capitol Skyline Hotel, 10 I St. SW. The
study area covers
the stretch of M from 12th Street, SE to 14th Street, SW, along with the adjacent areas from the Southeast/Southwest Freeway south to the Anacostia River/Washington Channel. DDOT is looking at "how to integrate transit, bicycling and walking with motor vehicle traffic," while also trying to figure out how to balance residents' preferences for how M Street should be configured versus how visitors, workers, and commuters expect it to flow. The
first meeting was in January
, and the final report is expected in the fall.
*
Front Flicks
: If you are looking for something slightly more entertaining than either of the week's meetings, don't forget that the Capitol Riverfront BID's free
Front Flicks Summer Outdoor Movie Series
begins this week on Thursday, with "Lara Croft: Tomb Raider" leading off the lineup of treasure hunt-themed offerings. Movies start either at 8:45 pm/sundown at Tingey Plaza, just behind
USDOT
at New Jersey and Tingey.
Alas, I won't be at any of these events, because first thing Tuesday I'm headed to the disabled list, to get some health issues dealt with that have been dragging me down for awhile now. There will be a few weeks of recovery time, so I ask all parties to please refrain from making any news before, say, mid-June, or at least make it something simple and/or something that won't require my attendance. (DDOT is already On Notice if they do indeed
partially open the 11th Street Local bridge
when I can't document it.)
I imagine I'll reappear on
Twitter
fairly quickly, since I know better than to think I can stay off the Internet while I'm doing little but laying around. But most likely the bulk of my narcotics-tinged/boredom-induced missives will be via my non-official
@jacdupree
account, if you want the entertainment.
In the meantime, feel free to use this post's comments to discuss this week's meetings and as a general open thread, but I will be watching and popping in, so don't you kids think you can throw a wild party while Mom's not looking! And hopefully I'll be back to photo taking and other obsessive-compulsive pursuits before too long.
M Street SE/SW Transportation Study Public Meeting May 24
May 8, 2012 9:08 AM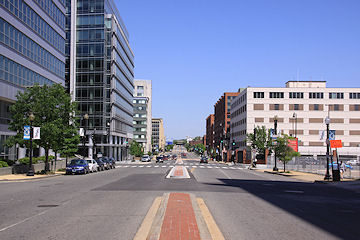 DDOT has
announced
that a meeting to update the public on the progress of the
M Street SE/SW Transportation Study
has been scheduled for May 24, from 6:30 pm to 8 pm at the Capitol Skyline Hotel, 10 I St. SW.
The
study area covers
the stretch of M from 12th Street, SE to 14th Street, SW, along with the adjacent areas from the Southeast/Southwest Freeway south to the Anacostia River/Washington Channel. DDOT is looking at "how to integrate transit, bicycling and walking with motor vehicle traffic," while also trying to figure out how to balance residents' preferences for how M Street should be configured versus how visitors, workers, and commuters expect it to flow.
The first meeting,
back in January
, included an introduction to the study before attendees broke up into small groups to give feedback about the issues they feel need addressing.
According to the
web site
, a draft study report is expected this summer, with the final report and a final public meeting coming in the fall.
Wednesday Tidbits: Osteen, Groundskeeping, and More
Apr 25, 2012 10:09 AM
After the flurry of the past few months, real news is taking a bit of a breather. In the meantime, here's some reading material I've scraped up, so that it doesn't look like I've completely quit working:
* Joel Osteen Ministries' "
America's Night of Hope
" is coming to
Nationals Park
on Saturday--here's the Washington Post's story
on Osteen and the plans for the event
. Doors open at 5:30 pm and the festivities start at 7 pm, if you're wanting to plan your evening around the crowds. If you're coming to the neighborhood for it, my
Visiting Nats Park page
can help you find your way.
* Want to know how the Nats Park field is cared for, and who takes care of it?
The Post profiles head groundskeeper John Turnour
and his work.
*
A reader tells WashCycle
about being stopped from biking on the Navy Yard portion of the
Riverwalk
. That promenade has always been signed as prohibiting bicycling, but with increased publicity for using the Riverwalk as a biking trail (including Tuesday's
ribbon cutting of the new bridge across the CSX tracks
), the issue of bicycles along the
Navy Yard
/
Yards Park
/
Teague
stretch is going to keep bubbling up, perhaps even moreso when the new
11th Street Local bridge
opens soon with its wide pedestrian/cycling paths making the connection between both sides of the river even easier.
* Speaking of that new
11th Street Local bridge
, much streetscape work has been done recently on O Street (new pavement, curbs, and brick paver crosswalks), and it looks like the concrete should be poured before too long to complete the connection from O to where the bridge begins to rise above the river. Maybe I'll actually get over there with my camera soon.
* Speaking of streetscapes, there's
a new sidewalk on L Street
between 1st and New Jersey, to go with the
new sidewalk on Half between I and K
.
* The Capitol Riverfront BID would love it if you'd fill out either their
residential survey
(if you live in the neighborhood) or the
employee survey
if you work here.
* Jonathan O'Connell at WaPo looks at
how developer Opus East hit the skids
, right as it was trying to finish
1015 Half Street
. (Opus was also the developer behind
100 M
, but it was completed before everything truly fell apart.)
* The Mayor is having a Ward 6 Fiscal Year 2013 Budget Town Hall Meeting tonight (April 25) at 6:30 pm at Eastern High School, 1700 East Capitol Street.
* The next meeting of
Police Service Area 106
is on Saturday, April 28, at 10 am at the Capper Seniors building at 900 5th St., SE.
What else is going on?
UPDATE:
Adding a link to
Washington City Paper's profile
of "The Nautical Yards", a "site-specific dance and theater piece inspired by the Washington Navy Yard" being performed at the
Yards Park
Thursday through Saturday (April 26-29) at 7 pm.
Premium seating is $30
, general admission is free.
And I should probably remind that tickets for Springsteen at Nats Park on Sept. 14
go on sale Friday
(April 27) at 10 am.
Tidbits: Miles Glass Raze Permits, Navy Yard-Ballpark, More
Mar 19, 2012 11:57 AM
Couldn't leave all these morsels until the normal Tuesday Tidbits slot:
*
More Demolitions Coming
: Raze permits have now been approved for the Miles Glass building at
8th and Virginia
and its next-door neighbor, the closed auto repair shop at
7th and K
.
National Community Church
, which owns the lots and others on the same block, said
back in January
that a temporary parking lot and "community green space" will be coming to the site while the church continues to work on its final plans for the site, which in the past
have been described as
being a combination of coffee house, performance space, and church offices.
*
Yup, Navy Yard-Ballpark
. The
new Metro subway map is out
, and confirms that
Navy Yard-Ballpark is official
.
*
Bike to Work
: May 18 is DC's
Bike to Work Day
. One of the
pit stops
is the
Yards Park
, from 7 to 9 am, and you get a t-shirt if you register and then stop at your designated pit stop.
*
Bridge Recreation
: If the notion of the "
11th Street Recreation Bridge
" captured your fancy, you can see some additional stories on the idea by
Lydia DePillis
,
BeyondDC
, and
WJLA
.
DePillis
notes that the city isn't intending on paying for this entire thing itself, and a decision needs to be made by May whether or not the new
11th Street Local bridge
will have the bulb-out viewpoints built (they'd be unnecessary if the current downstream bridge was being kept).
WJLA
, on the other hand, mentions that "some" are concerned it "could become a hotbed for crime"--which led to a fun Twitter
back
-
and
-
forth
that devolved into using the new bridge for a Jason Bourne/James Bond-type chase sequence.
*
Mobile 'Hood
: The Capitol Riverfront BID has launched a mobile version of its
web site
, which uses your phone's GPS to give you information on food, developments, and events near your location.
And, of course, if you want to know what your current location looked like before all the changes started happening, you can go to my mobile site (
m.jdland.com
) or
jdland.com/here
on your phone and you'll get my oldest photos looking in each direction from the corner nearest to where you're standing. (
Read more about how that works
.)
*
Fairgrounds
:
DCMud looks
at the plans for the
Half Street Fairgrounds
(which I
broke the news of
back in February), with a few neat new renderings. And then the piece drops a mention at the very end that "DCRE Real Estate" is handling the retail leasing for the project--that's DCMud's company, and the writer of the blog post is also the agent handling the leasing. (Just in case you like to be aware of those sorts of things when getting your news.) In the meantime,
a few shipping containers were spotted
on the site last week.
Tuesday Tidbits: Best Evaluated by Volume, Not Weight
Mar 13, 2012 9:19 AM
So many
Tweets
recently, such small items. Let's see how short I can keep them:
*
Justin's Cafe is looking to have a block party
on Saturday, April 14 (when the Nats and the Reds play at 4:05 pm), and ANC 6D has supported the request to close 1st Street between K and L. (
Thanks to SWill
for, once again, picking up my slack.) Still probably some bureaucratic hoops to jump through before all is confirmed. This was moved
from
Opening Day so it would be on a weekend, Will says,
* Looks like
DPW's trucks
have
departed a couple weeks earlier than expected
from the agency's longtime home at
New Jersey and K
, although all the lights may not be turned out just yet. Demolition is in the cards, though some environmental abatement has to happen first.
* New
striping and bike lanes
were installed Monday on I Street SE between South Capitol and New Jersey.
* Start starving yourself now to prepare for the
Red Porch's eight-pound "StrasBurger
."
*
Photographic evidence of fences down
at the old
Bullpen
, clearing the way for
Fairgrounds
.
* Only
four houses left for sale
at
Capitol Quarter
.
*
Bank of America
is now
building out its new space
in the ground floor of 55 M south of the Metro entrance,
informed sources say
. (They're closing their Southwest location
in June
.)
* Could
DC United be setting up shop
just a few blocks up Potomac Avenue from Nationals Park?
* Near Southeast gets off relatively easy in this Sunday's
National Marathon Street Closure Sweepstakes
(just South Capitol south of L, and the Douglass Bridge).
Anything else going on these days? Besides that sandwich shop opening?
UPDATE:
Let's add the
elephant parade
! Starting tonight at 8 pm, on the southern edge of Garfield Park at the train tracks where Virginia crosses under New Jersey, says
WTOP
.
UPDATE II:
And, from the Hill is Home, a
Q&A with ANC commissioner David Garber
.
UPDATE III
: I sent a
lackey
down to Potbelly to get a
few
opening-day
shots
. Hope he's not expecting to get reimbursed for his lunch.
New Bikeshare Station Now Operating at 1st and K SE
Feb 9, 2012 10:37 AM
As announced by David Garber
over
the
past
few
days
, the neighborhood's third
Capital Bikeshare
station was installed yesterday, on the northwest corner of 1st and K, SE. It has 15 docks, and is now the closest station for residents of the neighborhood's large residential buildings. It's also three blocks north of Nationals Park, for people concerned gameday dockblocks at 1st and N.
I've added its status data to my
Live Transit Page
, where in one shot you can get neighborhood and nearby Bikeshare capacity information, Navy Yard Metro Next Train status, Circulator "Where's My Bus?" information for the Navy Yard-Union Station route, and WMATA Next Bus times for the P2 and V7 buses.
Plans have been announced
for one more neighborhood dock, at 3rd and Tingey, SE, but there's been no news on when that one might arrive.
Bikeshare Data Goofing Around: Mapping Bike W01000's Trips
Jan 24, 2012 3:55 PM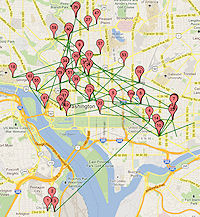 This is little more than an off-topic I-want-to-try-it exercise, but after reading JD Antos's
latest crunching
of the
Capital Bikeshare trip data
that came out last week, I decided to see what it would be like to map the movements of a particular bike.
I picked bike
W01000
, for no reason other than I saw it while I was browsing through the tables and thought it looked like a nice round number--I make no statements as to how representative it is of other bikes, except that it was in the system for all of 2011, except for a few brief periods when it either didn't hit the rider lottery or was out for maintenance. (And I ignored trips less than a minute long.)
So, want to know where Bike W01000 went on
December 1, 2011
? Or
July 4
? Or
my birthday
? Or any day of your choosing? Take a look and see. Of course, the green lines for "trips" are just as-the-crow flies, and are not the actual routes taken by riders (since the bikes don't have GPS transponders
THAT WE KNOW OF!!!
).
There's also a table below the map that shows the trips broken out in order for that day, which is handy on days with a number of trips where sometimes the push pins on the map get piled up on each other. Also, note that some trip lines end without a push pin--that's because the pins mark the start of trips, and so if a bike got re-balanced to another station, that ride's endpoint will be pin-less.
You can also
browse by month
, but it's pretty spaghetti like.
This is quick-and-dirty, so there are probably bugs.
Comments
(1)
More posts: Pedestrian/Cycling Issues
Near Southeast's 2011 Bikeshare Data, Mapped and Tabled
Jan 17, 2012 11:26 AM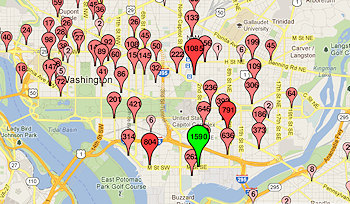 When word gets out that some
new data set
has been posted in an easily digestible format, I am pretty much helpless before its power. So I spent the Friday night of a holiday weekend knee deep in
Bikeshare
Trip History Data, culling out the
nearly 30,000
more than 28,000 records for trips that either originated or ended at Near Southeast's two docks in 2011. Then I fired up up the Google Maps API to bring it all to you
in interactive map form
.
You'll choose whether you want to see inbound or outbound data for the dock at New Jersey and M in front of the US Department of Transportation or the dock at 1st and N just across the street from Nationals Park. Optionally, you can filter by month of the year or even a specific date. (Tip: green means starting point, red means ending point.) Then there are tables beneath the map that show, for your chosen data set, the number of registered vs. casual users and the top usage days.
It shouldn't be surprising that the docks at the Eastern Market Metro Station and at 4th and M SW (Safeway) are very popular destinations/starting points for the Near Southeast docks, but I'm surprised to be surprised that the top dock for New Jersey & M trips in both directions is Union Station.
Capital Bikeshare is apparently going to release this data quarterly, so I plan to keep
the map/search app
updated as long as there's data coming. And there
should be
a new dock in the neighborhood sometime in 2012, at 3rd and Tingey.
PS: Speaking of Bikeshare, read this fascinating piece on
one man's transformation into a bicycling commuter
thanks to Capital Bikeshare being a "gateway drug." (Any full disclosure I need to make about this link should be pretty clear in the second and fourth paragraphs.)
UPDATE:
After
reading this great post by JD Antos
with scads of analysis of the city-wide Bikeshare trip data, I dug into my tables a little more closely to clear out "rides" of less than 60 seconds' duration at a single station and found that I had inadvertently doubled the records where the both start and stop stations were the two Near Southeast stations. (Argh.) Not a huge change in the data (about 1,250 records out of nearly 30,000), and most likely the data people would have been looking at today would have been for the trips outside of the neighborhood, but I have now cleaned out that boo-boo. And I've deleted 167 sub-60-second trips at a single station as well, just because.
UPDATE II:
I added both Union Station and the new dock just north of the freeway at 3rd and G to my
Live Transit Data page
, which includes a table of the closest docks and their capacity status, along with other live data like Next Train, Next Bus, and Where's My (Circulator) Bus?
M Street Transportation Study Meeting Documents
Jan 12, 2012 8:27 PM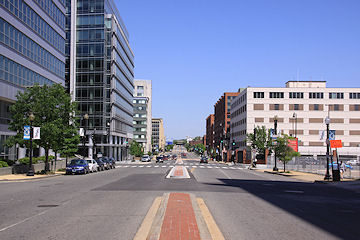 The meeting probably isn't even finished yet, but if you didn't (or did) stop by the first of DDOT's public meetings on their nine-month M Street SE/SW Transportation study, you can browse the
presentation slides
and take the
stakeholder survey
, already posted on the new
web site for the project
.
There were a pile of
high-powered
bloggers
and
transportation
geeks
in attendance, so I'm sure there will no shortage of coverage of both this meeting and the entire study that I will happily link to, but there wasn't much news coming out of this first session--it was mainly to introduce the study, talk about the methodology (which you can see in the
slides
) and then break up into small groups to stand around maps and give feedback about what attendees see as issues that need addressing. (But first, just as at the 2010 meeting, one woman who is particularly anti-bike once again
made
her
feelings
known.)
DDOT's representatives say they will be using some 33 other studies that have been done on the area in question as part of this overall study, covering the area from 14th St. SW to 12th Street SE south of the freeway down to the waterfront(s), though that then brought a comment from the audience about when studying is going to stop and there's going to be action.
There will be two more public meetings, one in March-ish and another in June-ish, with the study expected to be completed in August-ish.
UPDATE:
Here's
DCist's report
on the meeting. And
SWill's
.
Reminder: M Street SE/SW Transportation Study Meeting Thursday
Jan 11, 2012 9:27 PM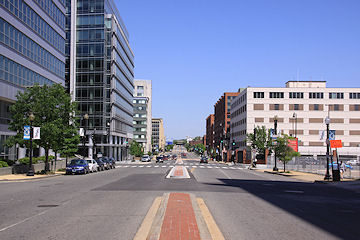 Just a reminder that Thursday night (Jan. 12) is the first public meeting for DDOT's M Street SE/SW Transportation Study, from 6:30 pm to 8:30 pm at Westminster Presbyterian Church at 400 I St., SW.
As the meeting announcement says
, "The purpose of the public meeting is to provide an overview of the transportation study, outline the study process/schedule and gather public feedback. Following a brief presentation, attendees will be asked to help identify concerns and issues on maps of the study area and also via a brief survey."
It isn't just about the six lanes on
M Street
, either: the study area goes from the Southeast/Southwest Freeway south to the Anacostia River and Washington Channel, from 12th Street SE all the way to 14th Street SW.
So, if you think there should be fewer lanes, more lanes, less parking, more parking, more bike lanes, fewer bike lanes, more pedestrian-friendly changes, fewer pedestrian-friendly changes, or just like watching people with wildly divergent views all trying to get their position to be the "right" one, come on down.
ANC 6D January Agenda: M Street Study/BID Previews, More
Jan 4, 2012 4:02 PM
ANC 6D has sent around (and
posted
! yay!) the agenda for its January meeting, scheduled for Monday, Jan. 9 at 7 pm at 1100 4th St., SW in DCRA's second-floor meeting room.
The Near Southeast items of interest could mostly be looked at as sneak previews, or perhaps as items that could be missed if you are better able to fit other upcoming meetings into your calendar (especially, if, say, you were looking for an escape hatch because you'd kinda rather be watching the BCS championship):
* There's a M Street SE/SW Transportation Study agenda item, in advance of the
DDOT public meeting on the study
coming three days later, on Jan. 12;
* There's an update on Capitol Riverfront BID doings, in advance of the
BID's annual meeting
three days later, on Jan. 12; and
* There's the application for historic landmark status for the
DC Water main pumping station
, which will be heard by the Historic Preservation Review Board at its January 26 meeting.
M Street SE/SW Transportation Study Meeting on Jan. 12
Dec 20, 2011 12:01 PM
Just sent out by DDOT:
"The District Department of Transportation (DDOT) will hold the first in a series of public information meetings for the M Street SE/SW Transportation Study from 6:30 to 8 p.m. on Thursday, January 12, 2012 at the Westminster Presbyterian Church, 400 I Street SW.
"The nine-month study, being conducted as part of the larger Anacostia Waterfront Initiative, seeks to identify current and future transportation issues and possible mitigation strategies along the M Street SE/SW Corridor and Southwest/Southeast Waterfront areas from 12th Street SE west to 14th Street SW and from the Southwest/Southeast Freeway south to the Anacostia River/Washington Channel.
"The purpose of the public meeting is to provide an overview of the transportation study, outline the study process/schedule and gather public feedback."
Some Very Small Items: Velodrome, Bikeshare, 11th Street Bridges
Dec 7, 2011 11:14 AM
* There was a "Wait, what?" moment on Tuesday when
DCist reported
that a velodrome would be coming in 2012 "in the shadow of Nationals Park in Southeast DC." I did some quick sleuthing, looking at the
organization's web site
and seeing Akridge as a partner, but I just couldn't place the design as being along Half Street. Then, thinking about how people so often can't get Southeast and Southwest straight when it comes to anything near the
ballpark
, I took a look at the
Google Maps view
of Akridge's Buzzard Point land at 1st and V SW, and
Ta-Da! A pretty clear match.
But this morning, Akridge is no longer listed as a partner on the web site, and the site rendering is gone, too. Perhaps this is all just because final leases and paperwork hadn't quite yet been signed. (A not uncommon tale, young upstarts getting all excited about a pending deal and blabbing just a little too much info for the comfort of the big company they're dealing with. Though it doesn't necessarily mean the deal is dead.) Of course, this is all actually outside my territory, so you'll want to go to
SWill
for updates.
UPDATE:
Jonathan O'Connell has
tweeted this out
: "Akridge spokeswoman on velodrome: 'We don't have an agreement.' And: 'I would say that putting Akridge on the site was probably premature'."
* Last Wednesday,
DDOT installed the new Bikeshare station at 3rd & G, SE
, on the north side of the Results parking lot. This is technically outside of Near Southeast, but it's probably now the closest station for Capitol Quarter folks (and me!). It has 19 docks.
* DDOT is
shooting for the weekend of Dec. 16
to open the new inbound/outbound freeway spans of the
11th Street Bridges
, and they
tormented me
with some
helicopter shots of the current progress
. (Though remember that it's just the spans opening--they still have work to do on the ramps and flyovers to add the new movements to and from DC-295.) They also
tweeted
that the 11th Street Local bridge is ahead of schedule and will open spring/summer of next year. My
construction progress photos from Nov. 1
are a smidge out of date by now, but still worth looking at.
*
Foundry Lofts
now has
19 moved-in residents
.
New Yards Park/Teague Park Bridge Dedication Scheduled for Nov. 22
Nov 7, 2011 3:27 PM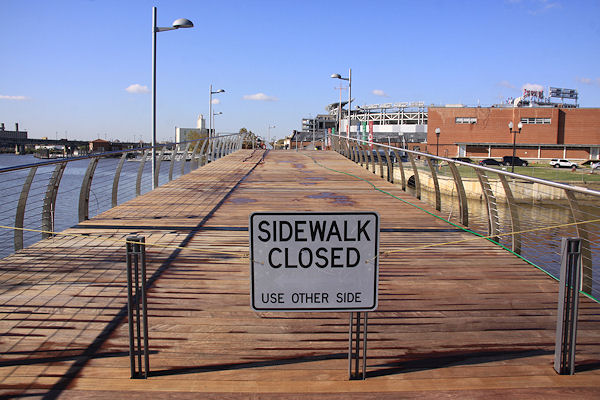 The word is going out that the official dedication of the new pedestrian bridge connecting the
Yards Park
and
Diamond Teague Park
will be held on
Tuesday, Nov. 22, at 1:30 pm
. The mayor is expected to be there, along with George Hawkins of DC Water (since the bridge runs right past the
main pumping station
) and I'm sure a slew of other dignitaries.
This is the bridge that will allow for an easier and more enjoyable stroll between the Yards Park and
Nationals Park
, depositing stadium-goers right across the street from the Grand Staircase/1st Base Gate at 1st Street and Potomac Avenue. And it will also allow water taxi customers disembarking at Teague Piers to get to the Yards Park without having to hike up to Tingey Street and then over a few blocks. (Eventually the Yards Park will have its own marina and water taxi piers, but not for another few years.)
It is part of the
Anacostia Riverwalk Trail
, and eventually will also connect to a larger public plaza adjacent to Teague Park, as part of the easternmost development of the
FloridaRock/RiverFront
project.
Hope they have good weather for the ribbon cutting!
Getting Around Tidbits: Circulator Route Change, Bike Racks
Sep 27, 2011 1:53 PM
* On October 3, the
following changes will be made
to the Navy Yard-Union Station Circulator route: "[B]uses will no longer travel west on Constitution Avenue and north on Louisiana Avenue to reach Union Station. Buses will instead stop adjacent to Union Station on Columbus Circle at the flag poles before turning right on F Street, NE and right on 2nd Street, NE to Constitution Avenue. The route will no longer serve the Union Station garage level and the stops located at Louisiana and D Streets, NE will no longer be served." Other Circulator changes--including the end of the SW-Convention Center route and the beginning of an east-of-the-river route that will run down Barracks Row--
are listed here
.
* DDOT and the Washington Area Bicyclist Association (WABA), along with ANC commissioner David Garber, have launched "
Rack Attack
," which will result in the installation of 36 new bike racks around Near Southeast. The first one
was installed this morning at Cornercopia
.
South Capitol Street Final EIS Unveiled, Public Meetings Scheduled
Apr 18, 2011 5:10 PM
It's been
so long
since I've written about this that I forgot it was even still in progress, but DDOT has announced two public meetings to present the "preferred alternative" and the
Final Environmental Impact Statement
for the
South Capitol Street
Corridor, first on
April 26
at Amidon-Bowen Elementary School in SW and then
two days later
at Savoy Elementary School in SE. This is the long-term study of how to improve South Capitol Street on both sides of the Anacostia River to better address safety, traffic, pedestrian, and streetscape issues, and includes the construction of a
new Frederick Douglass Bridge
.
If you are interested in this subject, there is
more verbiage and documentation
accompanying the plans than you could ever dream of. (Traffic studies! Environmental consequences! Technical reports!) And I've
written a lot about the process
, which began more than a decade ago with other studies before the EIS got underway. And I'm sure there will be posts on other blogs delving more specifically into portions of the plans. But, since most people probably want to know "what does this mean for me?", you can see
this graphic
(from the 224-MB
chapter 2
of the FEIS) giving a quick overview of what changes are planned along South Capitol Street if the final EIS is signed off on (and, more importantly, if funding is secured). The short version, for the west side of the Anacostia:
* Add "pedestrian amenities" and enhance the streetcape along South Capitol north of I and along New Jersey Avenue SE north of the freeway.
* Replace the existing ramp to the freeway from South Capitol and I with an at-grade intersection. (This would be a left turn onto a ramp to the freeway from under the freeway, near the current Nats HH economy parking lot.)
* Bring
New Jersey Avenue SE
back to a 160-foot full right-of-way, and add streetscape enhancements.
* "Reconstruct South Capitol Street as an urban boulevard." This means bringing M Street up to an "at-grade" intersection (no more tunnel), and would include new signalized at-grade intersections to allow traffic to cross South Capitol on K and L streets. (M Street would also get reconstructed between the Halfs [SE and SW].) The section of South Capitol north of M would have the same streetscape that the south portion received during its 2007/08 makeover, with wide sidewalks and a tree-lined median.
* Build a traffic oval at South Capitol, Potomac, Q, as the gateway to a new arched bascule-design
Douglass Bridge
that would have wide "multi-use trails" (i.e., sidewalks!) in both directions. The existing bridge would be demolished, after the new bridge is built somewhat downriver of the current location.
The
Executive Summary
(220 MB PDF) gives a good overview of the
FEIS
and preferred alternative (as it should!), but I also suggest wandering through the
Chapter 2: Alternatives
section, especially if you came to the neighborhood or JDLand after 2008 and didn't get to follow along during the EIS process, or if you're interested in the additional plans for east of the river, which I'm going to leave to others to discuss. My
previous posts on all of this
may be of interest as well. If you're wanting to see some of the earlier studies referenced in the FEIS, there are links to them at the top of my
South Capitol Street project page
.
How much would this all cost? The preferred alternative is priced in this final EIS at $806 million (not billion! yeesh) in FY 2014 dollars. (New bridges are expensive, you know.)
(I know that this is a very quick overview of a big study and plan, but there will be plenty of time to talk more about it, especially with the upcoming public meetings.)
Performance Parking Brings Monies for New Bikeshare Station(s), Transportation Study; Some Parking Costs Going Up in 2011
Mar 24, 2011 1:38 PM
Michael Perkins
at GGW got his hands on the draft version DDOT's
2010 Ballpark District Performance Parking Report
, and while I'll leave it to him to handle the
in-depth discussion of pricing and meter use
in Near Southeast as well as other neighborhoods, there are a few action items in the report that might be of general interest (you should read all 31 pages if you want the nitty-gritty).
Now, this is a
draft
report, but assuming it becomes final...:
Revenues from the
parking program
have been able to provide $812,100 for "non-automotive transportation improvements" in 2011, which will include a new Capital Bikeshare location at the
Yards Park
and $135,000 for a new fence along New Jersey Avenue by the railroad tracks (presumably it won't hide the
"Water Pylons" public art
coming to the freeway underpass). There will also be two or three other new bikeshare stations somewhere in the Ballpark District parking zones (Near Southeast, Southwest, and southern Capitol Hill), but those haven't been announced.
There will also be a $70,000 grant to partially fund a Capitol Riverfront BID Transportation Study, which the page 25 of the report says will happen during this fiscal year and will look at:
* The need for additional traffic signals and stop signs based on pedestrian and vehicular patterns (and recent accidents);

* Neighborhood traffic circulation patterns including one way street circulation and freeway access and turning movements onto the freeway frontage roads;

* How the CSX tunnel reconstruction will impact traffic flow and SE/SW freeway access/egress;

* Existing and future parking demand and the proposed parking supply to meet that demand;

* On street parking strategies and supply for commercial, residential and visitor populations;

* Optimum Circulator routes and hours of operation;

* Recommended routes for bike lanes that tie into the Riverfront Trail system;

* The optimum route for a streetcar line in the M Street right of way and how it would service the Buzzard Point subdistrict; and

* How M Street is designed and works as a multi-modal transit corridor while exhibiting a high quality of design in the public realm.

Gosh, I'm just not sure if residents will be interested in any of these! If perchance a reader or two might have an idea or data point for the above items, feel free to discuss in the comments.

Note that this study doesn't quite seem to match the overarching Near Southeast/Southwest combined traffic study that got

some discussion late last year

, but perhaps there's more going on than what's mentioned in the DDOT report.

DDOT is also proposing that non-gameday parking rates at the multispace meters between South Capitol and 2nd Streets from the freeway to M Street go up to $6 for three hours (first hour $1.50, second hour $2.50, third hour $3). Plus, the boundaries of the parking zone will move eastward to 11th St. SE from 9th St.

By the way, if you have a fab idea for how some of the proceeds from the parking revenue can be spent on the aforementioned non-automotive transportation improvements, you can submit a written proposal to DDOT (further information on page 26 of the

report

). And if you want background on how the Performance Parking Pilot came into existence back in 2008, my

Stadium Parking page

can help with that.