Near Southeast DC: Past News Items
Twelve12/Teeter/Yards
Go to Full Blog Archive
---
36 Blog Posts Since 2003
Go to Page:
1
|
2
Sweetgreen Confirmed For Twelve12 at the Yards
May 21, 2013 1:20 PM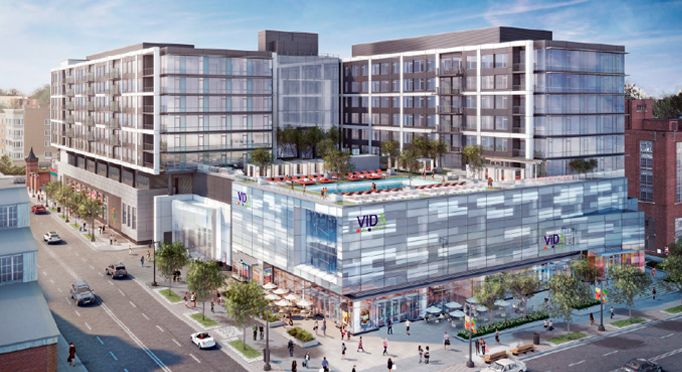 With
this photo
yesterday from the little Yards tent display at 1st and N lighting the fuse, the announcement was made today that local salad chain
Sweetgreen
will be coming to
Twelve12
, the new 218-unit apartment building now under construction at 4th and M SE that will also be home to Harris Teeter and Vida Fitness.
Sweetgreen is currently expected to open in mid-2014, and will be located right on the corner of 4th and Tingey, with "exposure" on both streets, as seen in the
image
at right.
Forest City's press release for today's news also gives some timeline updates for the
Boilermaker Shops
, saying that
Bluejacket
and
Buzz Bakery
are expected to open in
June
late July/early August,
Nando's Peri-Peri
"this summer," and
Willie's Brew and Que
"in late summer." Over at the
Lumber Shed
,
Osteria Morini
is expected "in mid-late summer of this year," and
Agua 301
is coming "this summer." And, as reported last week, year-round pizzeria
Nicoletta
will be coming to the Yards Park boardwalk "in late 2013." In the non-food category,
Desi Living Loft Furniture
is still expected in June.
UPDATE: Forest City sent an update to the expected opening date for Bluejacket/Buzz Bakery.
Teetering Along, So To Speak, at Twelve12
May 7, 2013 11:48 AM
I think I've mentioned before my understanding that construction photos consisting mostly of rebar and concrete pillars are not for everyone. But I can't shirk my duty to capture the progress at the
Twelve12 project
at the Yards, the building at 4th and M that will be home to Harris Teeter and Vida Fitness (and 220ish rental units) when it is completed in 2014. The vertical construction on the north/Teeter end of the site is now peeking above the historic brick wall along M: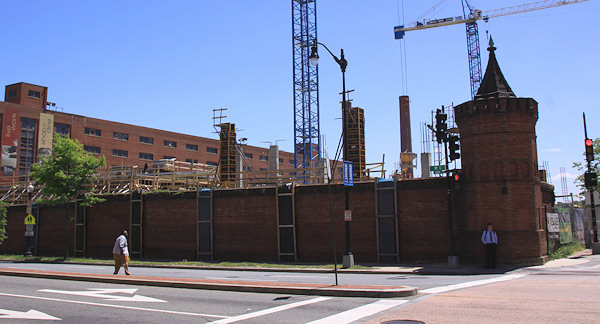 But it's better to look north from Tingey to really get a feel for where construction is currently at:
More photos, and information and renderings of the project, are on my
Twelve12 page
.
In the meantime, I'm thinking that if you had told me when I stood at 4th and M in October 2003 to take this photo that in 10 years there would be a Harris Teeter rising behind the turret, I might have snickered at you: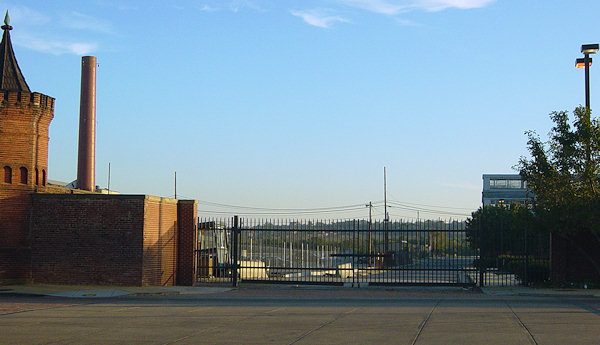 (And, speaking of the Yards, I should also mention that when I took these photos last week I saw workers in both the Nando's Peri-Peri and Willie's spaces at the
Boilermaker Shops
. And I also snuck a peek through the Bluejacket window and
got a glimpse of these
.)
Tidbits from the Multi-Unit Residential Dwellings Department
Apr 10, 2013 9:11 AM
A few items that are small, but worth passing along: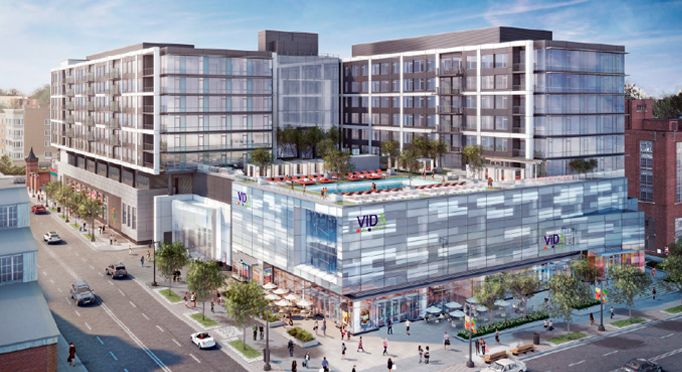 * Forest City has put up fence signs around the
Twelve12
construction site, showing new sleeker renderings of the exterior. The signs also announce the official web site,
Twelve12dc.com
, which is pretty much just a placeholder at this point, but does at least show two of the new renderings, including the one at right that I pilfered. (I asked for the other drawings on the signs, but Forest City isn't ready to release them yet. Waah.) This is the
220ish-unit rental project
at 4th and M that will be home to both Harris Teeter and Vida Fitness when it's completed in spring 2014. And if you look through the fences, you can see that the northern end of the construction, near M Street, is already about up to ground level.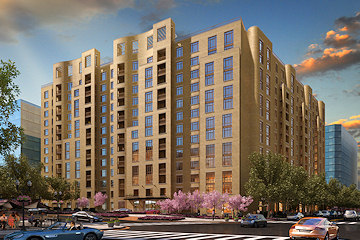 * Construction at the 432-unit
Park Chelsea
at New Jersey and I continues to move along, and the two tower cranes should be up on the site by late May/early June. While the increasingly large hole on the site makes it look like they are excavating the entire block, folks at William C. Smith tell me that they dug beyond the building's actual footprint to make excavation easier, and will be filling it back to the property line as construction continues. Also, they have now cleared and smoothed out the small hill that used to exist between the old Canal Street and New Jersey Avenue, so that you can even see a dirt-road version of H Street running from 2nd Street west to New Jersey. (It would help if I had new pictures of what I'm talking about to match to the
old ones
, but soon.)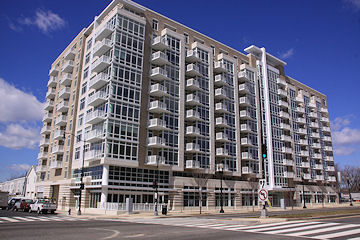 * Technically outside of my borders, but yesterday there was a
ribbon cutting
at the new
Camden South Capitol apartment building
at South Capitol and O, across from Nationals Park. The 276-unit building begins leasing its lower floors today, with rents ranging from $1288 per month for the smallest studio to $3225 per month for a 2BR/2BA unit. The web site, which includes floor plans, is available
here
. I used to follow this project back when it was getting underway, so you can
see my before-and-afters of the site
going back to 2006, though I haven't gotten into the ballpark yet to get the true "afters" from there.
Vats, Nats, Glass, Concrete, and Rebar
Mar 14, 2013 8:16 PM
I wandered around on Thursday, it was sunny, I had my camera in hand, etc., etc., yadda yadda yadda.
Some items of note (click photos to embiggen):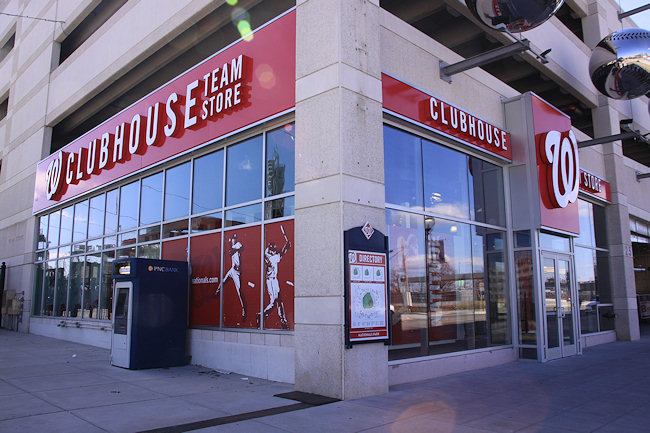 On your left, hard-to-get evidence of the ongoing work at Bluejacket at the
Boilermaker Shops
. They've covered up all the eye-level windows, but peeking through the (dirty!) glass above the large door on 4th shows the fermenters now installed on the mezzanine level.
At right, my first viewing of the renovated Team Store at
Nationals Park
's Center Field Gate.
Below, the
Lumber Shed
in the sun.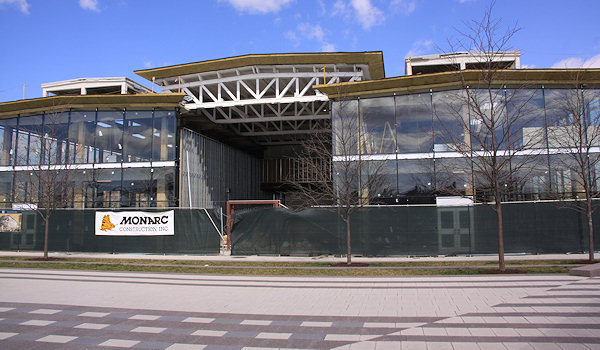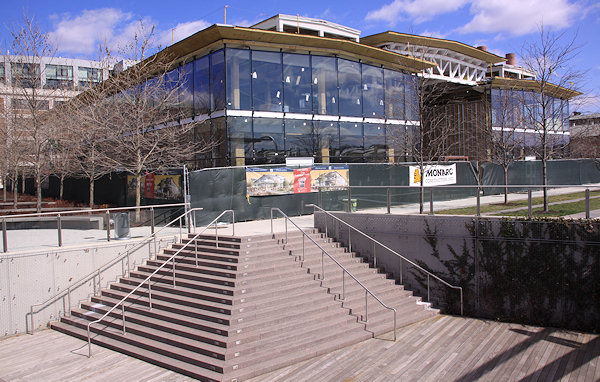 Agua 301
's space is to the left, and
Osteria Morini
's is to the right. (On the ground floor.)
And, everyone's dream come true, a parking garage being born: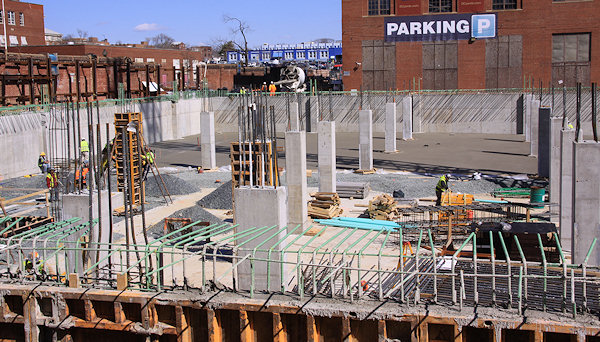 Of course, it's actually the parking garage that will be underneath the
Harris Teeter
in the Twelve12 apartment building at 4th and M, so it's probably allowed. If you want even more photos of rebar and concrete,
my Twelve12 page
has them.
Progress Check: Lumber Shed and Twelve12 at the Yards
Jan 29, 2013 1:55 PM
Some quick shots from today of the other projects underway at the Yards, in case
a new dry cleaners
just isn't exciting enough for you.
The new exterior glass is now almost completely on the
Lumber Shed
at the Yards Park, where
Osteria Morini
and
Agua 301
are slated to be tenants when it opens later this year (along with Forest City Washington on the second floor):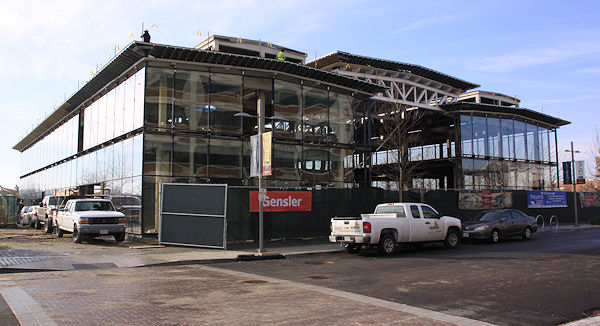 A before-and-after that can't possibly be resisted: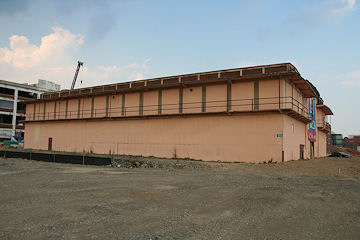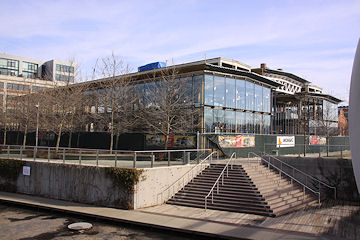 Facing the Anacostia:
Meanwhile, over at the
Twelve12 apartment building
project on 4th Street (more popularly known as the Harris Teeter/Vida Fitness building), the progress isn't quite as showy, unless you're a construction nerd and you know what the arrival of a tower crane means: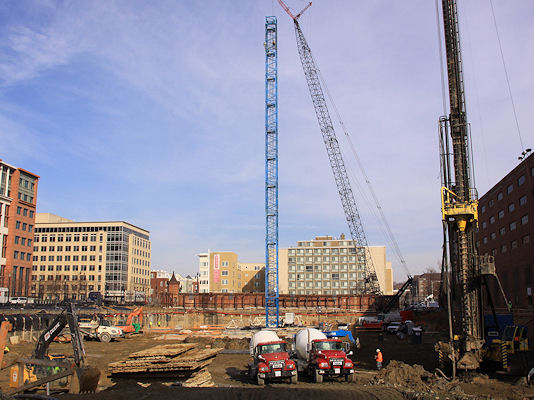 Yes, it means that vertical construction is not far off. The building is expected to be completed in 2014. And in case you want one more shot of the hole in the ground: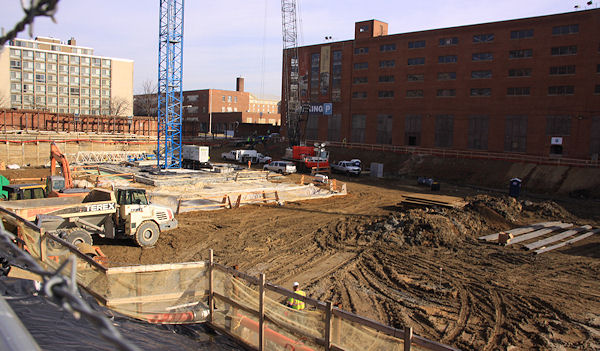 Vida Fitness Finally Confirmed for Twelve12 at the Yards
Oct 23, 2012 11:18 AM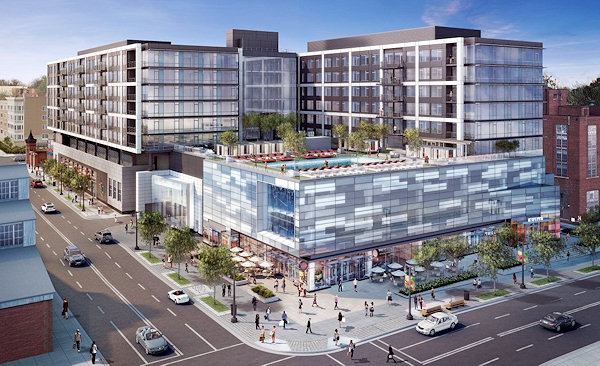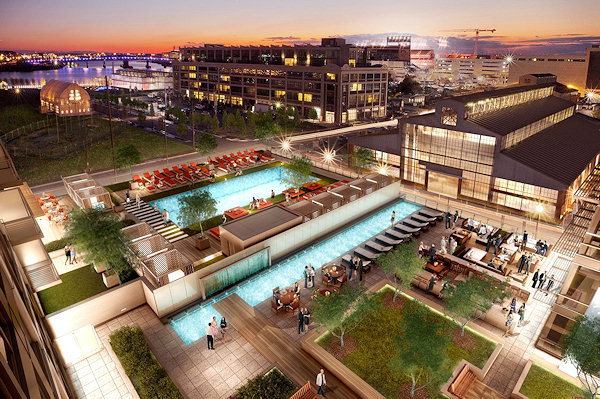 It took a loooong time to get past the unconfirmed stage (and even included an
oopsie cat-out-of-the-bag last year
by some PR folks), but today Forest City Washington is finally officially announcing that
Vida Fitness
is coming to the south end of the
Twelve12 apartment building
, now under construction on 4th Street SE between M and Tingey in
the Yards
.
Also in the 28,000-square-foot facility will be Vida's "affiliated concepts"
Bang Salon
and
Aura Spa
, and will also feature Vida's Penthouse Pool Club and Lounge, shown in the above-right drawing and described as a "membership-only urban resort featuring a rooftop pool deck with city and riverfront views and a variety of poolside lounging options and amenities."
Twelve12
, when completed in mid-2014, will also be home to the neighborhood's first grocery store, a 50,000-square-foot Harris Teeter located on the north end of the block at 4th and M, in addition to the building's 218 apartments. There is also still 10,000 square feet of as-yet-unleased retail space. It is across the street from the
Boilermaker Shops retail pavilion
, set to open in early 2013, and kitty corner from both the
Foundry Lofts
and what will be
a new 325ish-unit apartment building
on the southwest corner of 4th and Tingey, expected to start construction in 2013.
Updated Photos From Under-Construction Projects, Finally
Sep 12, 2012 9:28 AM
Isn't it great that the icky humid cloudy weather of the past few weeks finally broke? Aren't the skies glorious and blue? Does that mean I finally got to get out to take some photos? Why, yes!
First up are new photos from ground level at
Canal Park
, including the new L Street streetscape and the sculptures: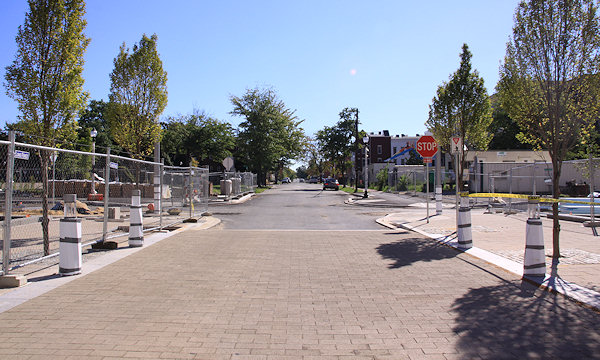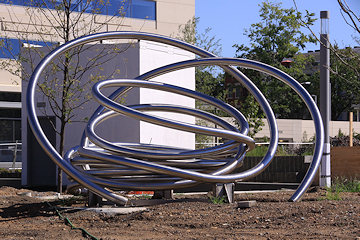 If you're big on Canal Park, you may also be interested in the many before-and-afters in the
Canal Park Expanded Photo Archive
, which leads off with the first decent bunch of photos from
2nd Place and L Street
since construction started on the park many moons ago and then takes you on a before-and-after walk around the park's perimeter.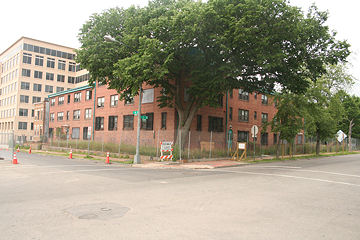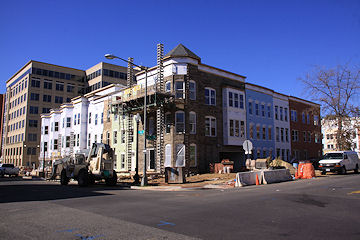 I also added a few sunny-day
Boilermaker Shop exterior photos
and a shot of the hole in the ground at the
Twelve12
apartment/Teeter project, because the ones I took on back Gloomy Thursday, when
I got to go inside the Boilermaker building,
drove me nuts: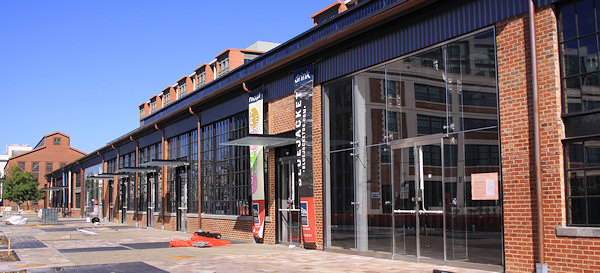 External construction has pretty much wrapped up at
200 I/225 Virginia/Old Post Plant/Old Star Plant
, especially on the south side of the building, facing Canal Park. There was a ribbon-cutting on Friday for the
DC Commission on the Arts and Humanities
gallery in the building's new lobby on I Street, but unfortunately I wasn't able to make the event. Hope to get photos inside before too long. In the meantime, you'll just have to look at the outside, and compare it to the White Monolith that it used to be: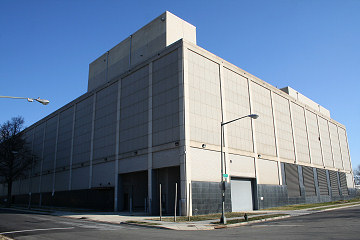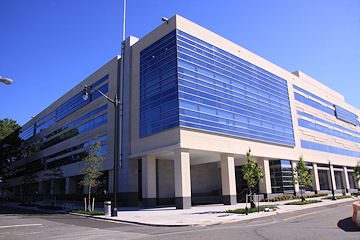 If these all aren't enough for you, you can spend some time in the
Photo Archive
, where you pick the intersection you want to see and then you can see the entire range of photos I've taken for all angles or just the ones of your choice. You may even end up in the Photo Archive without realizing it, if you click on the
icon on any of the pages above, which also will give you the full range of photos for that angle. It's pretty much the Near Southeast equivalent of heading down the rabbit hole.
A Little Present Left Over from the Old Days at 1212 4th
Mar 21, 2012 2:51 PM
When a "suspicious package" alert
went out on Twitter
this morning about the 1200 block of 4th St. SE and 400 block of Tingey being closed, my Spidey sense tingled a bit, given the recent speculation in
comment
threads
that the halt in digging at the planned
1212 4th St. apartment building/Teeter
project at
the Yards
was because of an "UXO" (unexploded ordnance).
One reader sent me both
videos
and
a series of iPhone photos
showing the activity, but it was DCIst that got the money shot:
a photo clearly showing a big ole' UXO
(oh, heck, let's have fun and call it a bomb). This site is of course part of the old Navy Yard footprint, where all manner of exploding items were manufactured for many years.
Since no one's reported any big BOOMs in the intervening time, the clean-up must have proceeded according to plan. The question is, will there be any more surprises once digging resumes?
UPDATE:
Here's
WJLA's report on the day's festivities
, and then DCist unearthed these
two
videos
of the gun factory from 1952.
UPDATE II:
While we're all enjoying being a bit flip about all of this, it is of course a serious business to be doing this excavation with such items laying around. Forest City tells me that the work is being done in accordance with guidelines from the Army's Explosive Ordnance Division, and that indeed over the past several weeks sitework has needed to be stopped temporarily because of the unearthing of "munitions debris." Each time, the police department's bomb squad is called in, who then determine whether the EOD folks from Ft. Belvoir should be called in, as they were today.
Forest City also says that it's anticipated that most buried artifacts and debris are found within the first 10 to 15 feet of soil when excavation, so once they get past that level, they expect the finds will trail off. And, it's not just munitions being found--foundations of several homes that were on site prior to the lot being used by the Navy have been found, as well as a Civil War-era cannon.
But the company does want to emphasize that "public safety and the safety of the site workers are paramount for Forest City, so we will continue to strictly abide by the established practices and involve the qualified technicians whenever and as soon as necessary." This includes having a former Navy munitions expert on site at all times as a "spotter," and using a two-part method when excavating, scooping the dirt from the hole in small quantities and spreading it out to be looked at and cleared before it's then scooped into a truck for removal from the site.
Whether this will impact the timeline for 1212 4th's construction depends on how many stoppages there end up being.
Tuesday Tidbits: Briefer-than-Brief Briefs
Feb 7, 2012 9:26 AM
I'm a bit under the weather these days, so I'll go with a minimalist approach of mostly
Tweeted
items:
* Lost in the digital piles on my digital desktop was the
CapBiz tidbit about a Bang Salon
being housed in the new Vida Fitness gym that is supposed to be coming to the neighborhood as part of the Yards'
Teeter/Residential project
on 4th Street. (As for the "at the Navy Yard" description, I'm pretty sure that this project isn't happening inside the walls of the Washington Navy Yard.) Note that Forest City has yet to officially announce Vida as a tenant for the project, though
they sure came close
a few weeks back.
* If the neighborhood seems locked down on Wednesday, it's probably because of
this little get-together
at
Nats Park
.
* Speaking of the stadium, the
Nats have launched "Take Back the Park"
to try to head off the Philly Fan Invasion for the May 4-6 games.
* The
agenda for ANC 6D's next meeting
is out, with the only Near Southeast item being "Half Street Shipping Container Fairgrounds Concept," which
according to David Garber
will be on the Das Bullpen site at Half and M and is
something along the lines of this
. Looks hipster-riffic! The meeting is Feb. 13 at 7 pm.
* Outside the boundaries updates from SWill:
Z-Burger is supposed to be opening
over yonder today, and
a juvenile facility
will be moving into that long low gray building on the west side of South Capitol between M and N.
*
DDOT tweeted
that the
11th Street Local Bridge
"is expected to open in late spring." This is the bridge with the pedestrian/cycling path that will run from 11th Street south of N by the Navy Yard into downtown Anacostia.
Another Look Inside the Foundry Lofts, Nearing Completion
Jan 26, 2012 11:15 AM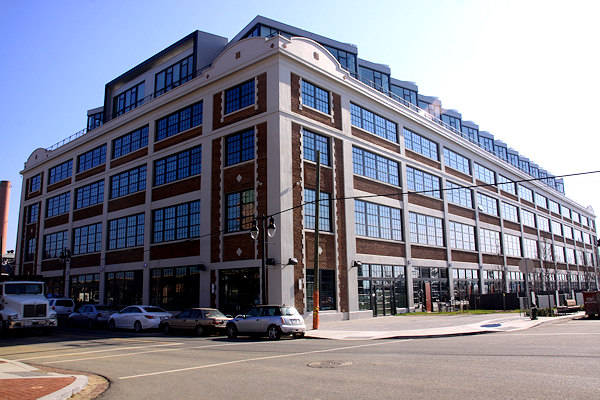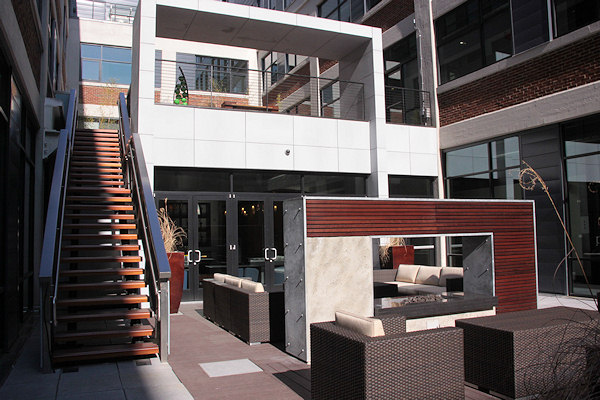 When last I visited the
Foundry Lofts
, it was about a month before the first residents moved in. I took a pile of photos, but while model units were furnished, a lot of the shared spaces were still being worked on. So I finally made a return visit this week to see all the finishing touches on the interior courtyard, lobby, community room, etc. And
I took one or two photographs
, of course.
The leasing office tells me that the 170-unit building is now about 65 percent leased and 40 percent occupied, and construction on the non-retail spaces is not far from 100 percent completion. The four priciest units--the corner penthouses, which were announced with rents in the $4,500 range--are all taken. And the two eateries in the ground floor--Potbelly and Kruba Thai and Sushi--have their building permits and are working toward opening within 90 days.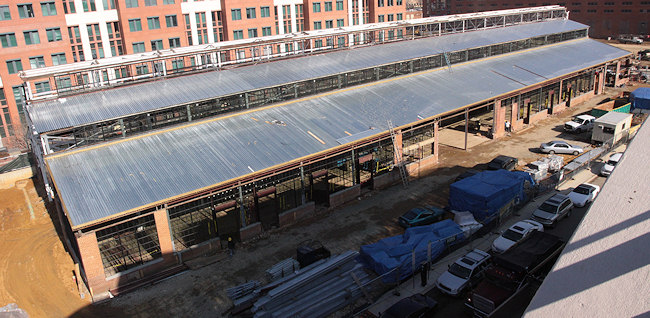 Also, because I can't walk past the
Boilermaker Shops
without taking pictures, I added a few new shots to that page, including the panorama at right that I got from one of the Foundry Loft patios.
As if this all isn't exciting enough, here's a first
terribly not exciting photo of the excavation underway
at the
1212 4th/Teeter site
a block east of the Foundry Lofts and across the street from Boilermaker.
Plus, since I had to walk down 4th Street to get to all of this, I snapped some shots of the continuing
Capitol Quarter
progress at
K
and
L
.
Great Moments in Social Media Boo-Boos
Dec 20, 2011 11:18 AM
There's always a lot of interest in what retail establishments will be coming to the many spaces at
The Yards
, but developer Forest City Washington is usually pretty good at keeping its cards close to its vest on potential tenants until lease agreements are signed.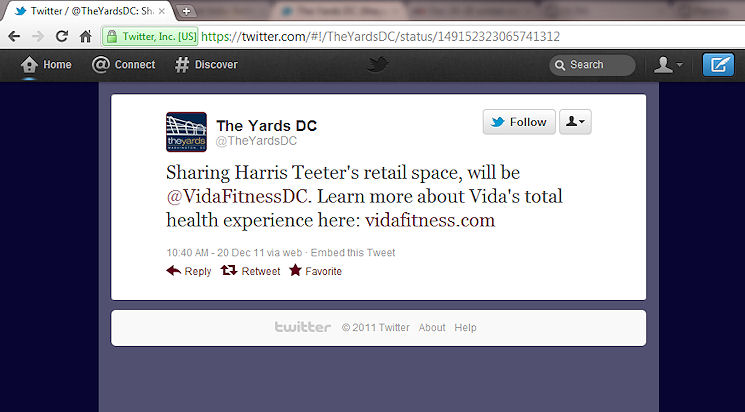 But sometimes the PR arms of companies can't help themselves--especially in the Twitterverse--and
get a little ahead of the game
. At which point (as the Post's Jonathan O'Connell
then commented
) it's pretty hard to put the toothpaste back in the tube.
Teeter/Residential Building Really About to Start Construction
Dec 2, 2011 11:37 AM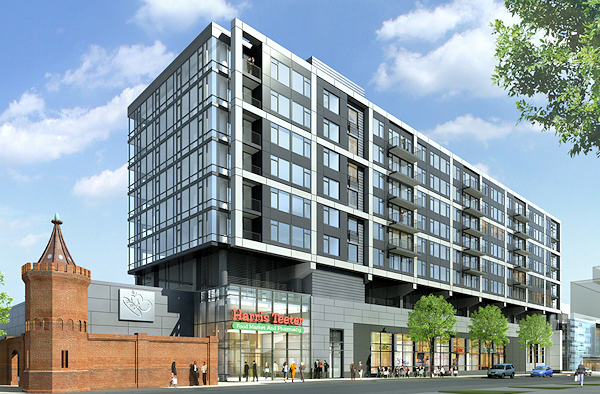 You know how I always like to say that something is expected to happen
Any Minute Now
? In the case of construction getting started on the southeast corner of 4th and M on the
new residential/Teeter/retail building
in
The Yards
, that's now actually a pretty true statement. On Thursday Forest City received the shoring/sheeting permit approval that the project has been waiting for, which will allow the start of digging at the site as soon as some other i's are dotted and t's are crossed.
Also, on Monday night, with almost no discussion, the Zoning Commission approved 5-0 the project's
itsy bitsy teeny weeny design modifications
discussed recently.
Getting construction started Any Minute Now should allow the Harris Teeter to open in late 2013 or early 2014, if all goes according to plan, though hopefully once the shovels hit the ground, we can get a more detailed timeline as to when the entire project will be finished.
LATE UPDATE: And, just like that, i's have been dotted and t's have been crossed, and Forest City tells me that this project is now considered "commenced."
Most Minor of Modifications to Yards' Teeter Building OKed by 6D
Nov 15, 2011 10:23 PM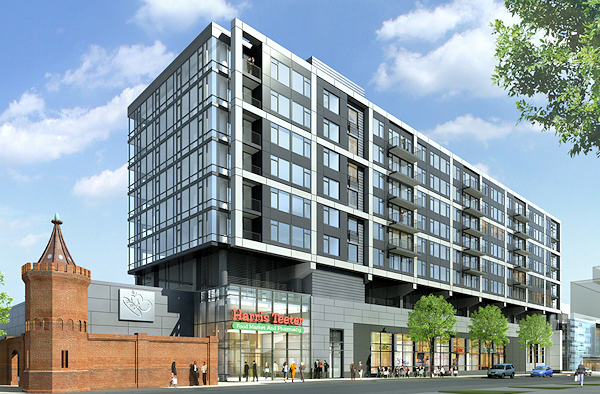 On Monday night, ANC 6D gave its support to a series of minor modifications (very minor--did I mention they were minor?) to the
previously approved design
of the new
residential/retail/grocery development
planned for the southeast corner of 4th and M, SE.
Because the lease with Harris Teeter has been executed since the project's zoning approvals were received, Forest City needs an okay for the company's signage, which you can
see in the updated rendering
. An outdoor seating area on 4th Street has also been added, and the design of the residential building's vestibule on 4th has been altered in order to use "structural glass." There were also slight changes to the roof structure, the sunscreens on the residential windows, the design of the trellises shielding the parking deck, and other items that should probably just be read about in the
Office of Planning report
that supports the proposed changes. (If you want the real nitty gritty of the updated design for this block, you can look through the
full submittal to the Office of Zoning
.)
Alex Nyhan of Forest City told 6D that he expects excavation on the site to start in about a month, with superstructure work beginning in the spring. This would bring the opening date to late 2013 or early 2014. (The entire block, consisting of the 55,000-square-foot Teeter, 218 apartments, and the as-yet-unnamed health club and other retail spaces at the south end of the site, is being built at the same time.)
There weren't many questions from commissioners. David Garber, who said that this was the first project reviewed by his new 11-member Near Southeast Citizen Development Advisory Committee, did question the project's representatives about the plans for bike parking. (Shocker!) Nyhan said there would be racks on 4th Street, and that they would be working with Harris Teeter to allow bikers to bring their bikes into the store and take them down to the parking level via elevator, but that no biking would be allowed into the parking garage. There was also discussion of whether the entrance to the garage could be expanded to allow for bike racks at street level, but Nyhan said there is not enough room in the design to widen the entrance.
The ANC then voted unanimously to support the project. It will be taken up by the Zoning Commission at its Nov. 28 meeting, having been removed from the Monday night agenda so that the ANC could be allowed to weigh in before the ZC voted.
Teeter/Residential Building at the Yards on 6D November Agenda
Nov 10, 2011 5:08 PM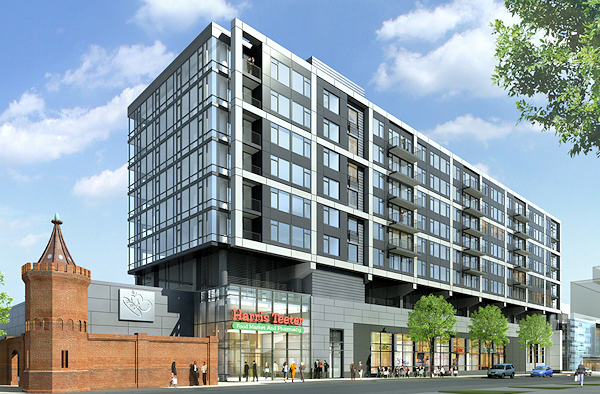 While you're spending your weekend trying not to head toward the
Navy Yard Metro station by mistake
, you can take a moment or two to add Monday's ANC 6D meeting to your calendar. The
agenda
doesn't seem to be getting updated online these days, but an e-mailed version shows that the only Near Southeast item to be discussed will be the
Harris Teeter/residential building
in the
Yards
, on 4th Street south of M. There are few minor modifications to the
design approved by the Zoning Commission nearly a year ago
that need new approvals (including an "upgraded" design for the entrance to the residential building), and so those are what will be presented to the ANC.
There was a bit of a flurry on Thursday morning when a
tweet
from a local business symposium indicated the work would begin on this project "next week." However, I checked with Forest City, and there's still a building permit that hasn't yet been approved, so while they hope to start construction reallyreallyreally soon, "next week" might be a bit optimistic.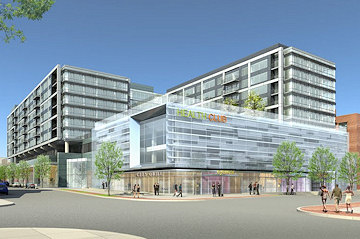 If you're just joining us, this project originally was planned to be an office building on top of the Harris Teeter, but will now instead be two long and narrow apartment buildings with a total of 200ish-units, with their entrance at 1212 4th St. SE. The Teeter will be 55,000 square feet and will have its main entrance near M Street. While the executive architect for the entire project is
Shalom Baranes
, the interior designer for the apartments is
Core Architects
out of Toronto, and you can see
a few renderings
on their site as being for "The Yards" (looks like a lobby or community room space, maybe?) , along with their many other projects.
On the south end of the block, at 4th and Tingey, there will be a four-story building with another 55,000 square feet of retail space, with what's expected to be a spa/fitness center/gym tenant on the top two floors and retail on the bottom two (seen at above left). There will also be a new narrow service road running south from M between this new development and Building 202 for loading zone access. Access to residential parking will be from Tingey, and the grocery and retail parking entrance will be on 4th, next to the residential lobby entrance. The retail spaces are being designed by
Kenneth Park Architects
.
You can check out my
Yards 401 M/Parcel D page
for more information, photos, and renderings. (Plus, in case you're wondering, this building site is just across 4th Street from the
Boilermaker Shops retail space
, about a block to the northeast of the
Foundry Lofts
, and a block from the
Yards Park
.)
The ANC 6D meeting is on Monday Nov. 14 at 7 pm at 1100 4th St., SW (the Safeway building), in the 2nd Floor DCRA meeting room.
Zoning Commission Approves Office Space in Yards Lumber Shed
Jul 7, 2011 7:33 PM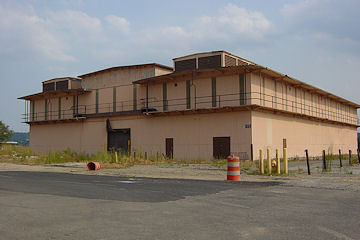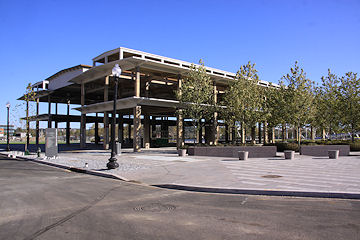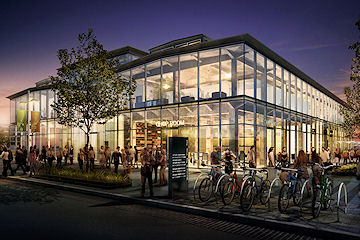 In a wonderfully short hearing on Thursday night, the Zoning Commission voted 5-0 to approve Forest City Washington's
request
for an amendment to the current
Southeast Federal Center Zoning Overlay
to allow the company to temporarily move its offices to the second floor of the historic Lumber Shed building at the
Yards Park
.
The company made the request because, while there has been "great interest" from potential retail tenants for the first floor of the building, the second floor has not as yet been as enticing, and filling the ground-floor spaces alone is not enough to get construction financing secured. Because Forest City is "anxious" to get the building started, their move to occupy the second floor can settle the financing issues and finalize deals with interested tenants, which means that construction on the 34,000-square-foot building could begin this year and be open by early 2013.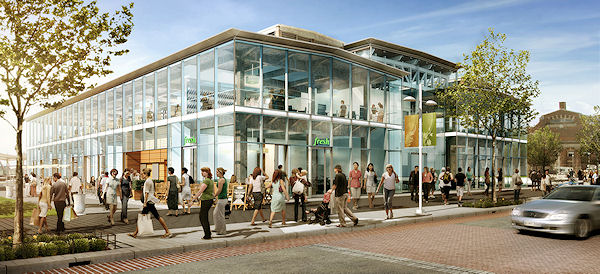 There had been some concerns at the setdown hearing
back in April
about the "temporary" request being for a period of 20 years, but Forest City's representatives emphasized (as they also
did to the ANC
in April) that their intent is to be in the Lumber Shed only until there is office space elsewhere in the Yards to which they can move. Alex Nyhan of Forest City explained that getting retail uses into the second floor is currently "challenging" because the building is "by itself" at the Yards (without much built out around it), which is exacerbated by the fact that it's a somewhat seasonal destination. But Forest City feels that once the other projects in the first phases of the Yards are built out, there will be a demand for the second floor, plus "the onus is on us" to make the Yards into a location where second-floor retail not only at the Lumber Shed but
in
other
Yards buildings is attractive to tenants.
The discussion seemed to satisfy the zoning commissioners, and with the
Office of Planning in support
of the change and no voices in opposition, the unanimous vote came quickly.
Nyhan also gave the commission a quick update on the status of the other first-phase Yards projects, to help illustrate that "after many years of planning" things are starting to move:
* The
Foundry Lofts
170-unit apartment building will
begin pre-leasing in August
, and will open in October;
* The
Boilermaker Shops
retail space has
announced five restaurant tenants
, and will begin construction this month, opening in Fall 2012;
* And
401 M Street
, home to a
planned Harris Teeter
and 200ish-unit apartment building, is expected to start construction this fall.
Forest City Announces Restaurants at the Yards; Teeter Confirmed
Jun 27, 2011 8:48 AM
A press release went out this morning with the news that so many residents and office workers have been waiting for: the initial list of restaurants that will be opening at
the Yards
, along with confirmation that Harris Teeter is coming to the building at
401 M Street
.
At the
Foundry Lofts
apartment building currently heading toward completion, there will be a
Potbelly
, plus
Kruba Thai and Sushi
, from the
operators
of Teak Wood Thai and Sushi, Regent Thai, and Galae Thai and Sushi. Both are expected to open in the first quarter of 2012. (Pre-leasing of the residential units is expected to
begin in August
, with move-ins starting in October.)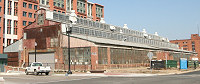 The
Boilermaker Shops
, the 1919-era building nestled between the Foundry Lofts and the US Department of Transportation, will have a number of different offerings:
* There will be
Buzz Bakery
, a full-service bakery, coffee shop, and "dessert lounge," plus an as-yet-unnamed
craft brewery
, both operated by the
Neighborhood Restaurant Group
, the people behind the Evening Star Cafe, Vermilion, Rustico, Tallula, EatBar, Columbia Firehouse, Birch and Barley, and ChurchKey.
*
Austin Grill Express
, a "casual, funky Tex-Mex restaurant drawing on the experience of Austin Grill to deliver a unique menu and environment."
*
BRB
("be right burger").
*
Huey's 24/7 Diner
, a "classic diner experience." (But will it actually be open 24/7?)
It's expected that Huey's, Austin Grill, and BRB will open in the fall of 2012, with the others in "late 2012."
And, at the
401 M Street
residential building (the only one of the three buildings that is 100 percent new construction), a
Harris Teeter
will be coming to the ground floor, which has been rumored for a number of years but is now finally confirmed. The press release says it will open in 2013, though for that to be the case, they need to start work on the building pretty much, um, now.
More as I get it, and you can read the
official press release
for additional details. For more on each project, see my
Foundry Lofts
,
Boilermaker Shops
,
401 M
, and main
Yards
project pages, or see the
official Yards web site
. Especially don't miss the photos from the interior of the
Boilermaker Shops
, which is a space very much unlike anything else in DC.
UPDATE, June 2012:
Because this post is linked to in so many places, it's necessary to update that in late June 2012 it was revealed that Austin Grill Express and BRB would not be coming to the Boilermaker Shops after all. However, Willie's Brew and Que sportsbar had been announced as another tenant in
late 2011
.
Zoning Approvals for 401 M (Yards Parcel D)
Dec 2, 2010 10:03 PM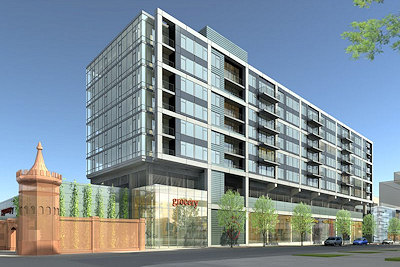 Tonight the Zoning Commission gave its approvals to Forest City's
401 M Street
, the planned residential/retail/grocery project on the southeast corner of 4th and M at
The Yards
. The votes were 4-0-1 and 3-1-1 (more on that below), and with chairman Anthony Hood's new *streamlined* (read: speeded up) hearing process, the presentations, questions, and vote took less than 90 minutes.
In the past I've used Zoning Commission meetings to learn more about proposed projects, but I've already written
a fair amount
about 401 M, and there wasn't really much new tonight. The issues that the commissioners wanted to discuss got pretty far into the weeds of zoning law, particularly Commissioner May's concerns about whether Forest City's request to allow balconies along 4th Street to hang over into the required setback area was something that could be handled under a special exception. (If you really REALLY want to know about this zoning rule, see page 11 of the
Office of Planning's report
.)
May's fellow commissioners didn't feel quite as strongly, but in the end they voted on two motions to approve the project, unanimously to approve all of the project except the special exception request, and then 3-1-1 to approve the special exception request. (The best moment might have been during the discussion of whether refusing to allow balconies would impact the project, when chairman Hood said, "If it didn't have a balcony, Anthony Hood wouldn't buy one.")
For those just joining us,
originally
401 M was going to be an office building with a ground-floor grocery store, but market forces have intervened and earlier this year Forest City unveiled a new design, featuring two long and thin residential buildings (connected by an elevator tower) with between 200 and 225 rental units (20 percent of which would be set aside for people making less than 50 percent of the area median income). The grocery store, with no tenant officially announced (*cough*
Harris Teeter
*cough*), would be 55,000 square feet on two floors, with its main entrance on 4th Street (as well as a previously approved cut in the historic brick wall on M).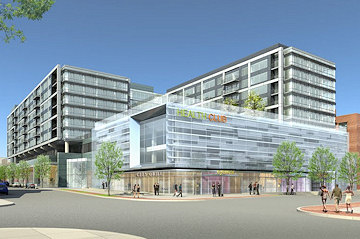 On the south end of the block, at 4th and Tingey, there will be a four-story building with another 55,000 square feet of retail space, with what's expected to be a spa/fitness center/gym tenant on the top two floors and retail on the bottom two (seen at left). There will also be a new narrow service road running south from M between this new development and
Building 202
for loading zone access. Access to residential parking will be from Tingey, and the grocery and retail parking entrance will be on 4th, next to the residential lobby entrance that will be directly across from the "Transportation Walk" behind
USDOT
.
Forest City is hoping that construction could possibly start in early 2012, with a delivery in late 2013 or thereabouts. (But, repeat after me: dates like this are not written in stone.) ANC 6D voted unanimously to support the project
back in October
.
Phone Survey on Harris Teeter M Street Store
Nov 17, 2010 10:06 AM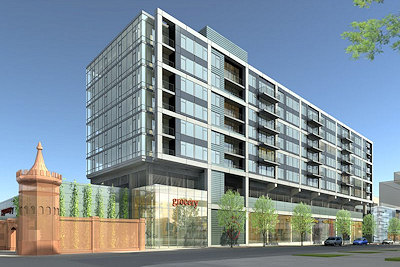 I received a report from reader K on being part of a telephone survey on Tuesday night about neighborhood grocery stores. It apparently started with generic questions on where K shops, followed by questions about what kind of new grocery store K would like to see in the neighborhood, with options like Harris Teeter, Trader Joe's and Yes! being on the list. (Interestingly, given last night's
Twitter eruption
on
Wal-Mart perhaps coming to DC
, K says there were lots of questions about whether the neighborhood would support a "low-price" store.)
The interview then moved to specific questions about what K "would like to see at the new Harris Teeter at
5th and M
by the Navy Yard." K said that the interviewer made the store sound like a done deal--which it certainly has seemed to be for a while now given all the hints and
not-confirmed media stories
about letters of intent, but there still has never been an official announcement from either Forest City or Harris Teeter that HT is indeed coming to the
new residential building
planned for 401 M St., SE at
The Yards
. One way or the other, it appears that construction on this building may be getting started next year--
see my recent entries
for details.
Quick ANC 6D Meeting Report
Oct 18, 2010 10:29 PM
A few items from tonight's ANC 6D meeting, which is still going on (I bailed after the last Near Southeast agenda item).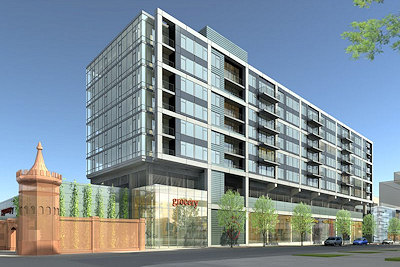 * The commission voted 7-0 to support Forest City's zoning requests for its
Parcel D
project, the combination residential and retail (and grocery store) development on the southeast corner of 4th and M, SE. I
wrote about it in detail
a few weeks back, and you can see my
Parcel D
project page for renderings and additional information, but the short of it is it's a 220ish-unit residential building (with 20 percent affordable housing), a 50,000-square-foot grocery store, and an expected 24,000-square-foot fitness/spa company.
The Zoning Commission hearing will be on December 2, and Forest City is asking for two special exceptions (having to do with roof structures and the proposed 110-foot building height, which will be above the 90 feet that's allowed) and two variances (for a curb cut on M east of 4th for a new private service drive east of the new building and also for some balconies overlooking 4th). Forest City's Alex Nyhan also told the commission that, while the entire Yards project is designed to be LEED Gold, they are going to shoot for LEED Silver on this particular portion.
ANC 6D07 commissioner Bob Siegel commended Forest City on the plans, though he made very clear that he and his constituents want a sit-down restaurant more than anything. Nyhan replied that the
Boilermaker Shop
project one block to the west on Tingey will have four or five restaurants including at least one sit-down one when it opens next fall. Siegel then made the motion to the support the project, Commissioner Sobelsohn seconded, and the vote was unanimous. The National Capital Planning Commission and the US Commission on Fine Arts have both recently voted to support the plans and designs.
* During the public safety report, Capt. Gottert of MPD mentioned that while there were a rash of car thefts in PSA 105 (and 106 and 107) during the past few months, the police had a suspect in mind, and now that he's been apprehended, the thefts have stopped. Gottert had no additional information on
Saturday's carjacking
at 1st and L, SE.
* The agenda had as one of its items a request by the Nationals to add the
stadium
to the Navy Yard Metro station name (coming on the heels of the Capitol Riverfront BID's
request last month
to add their name to the station). However, ANC chair Ron McBee said that the Nationals hadn't yet been able to get their request completely lined up yet, and so the item was postponed.
* Next month's meeting will be on Nov. 8, and will be held at the Courtyard by Marriott at New Jersey and L, SE. Expected agenda items include an update from CSX about the Virginia Avenue Tunnel project, a plan to give historic landmark status to St. Paul's church on the
southeast corner of 4th and I, SE
, and an update on the
11th Street Bridges construction
.
ANC 6D Agenda Posted; Another Navy Yard Metro Station Name Change Request
Oct 15, 2010 1:44 PM
The
agenda
for Monday's ANC 6D meeting is now being circulated (slightly revised from one that went out earlier today). One item of Near SE interest is an update on the
Yards Park
and also the
Parcel D
residential/grocery project, which is now scheduled to go before the Zoning Commission on Dec. 2.
The revised agenda also now shows a new request to change the name of the Navy Yard Metro station; while
last time
it was the Capitol Riverfront BID requesting that the name be changed to Capitol Riverfront/Nationals Park/Navy Yard (which the ANC supported as long as "Capitol Riverfront" wasn't first), this time it's the Nationals themselves requesting that "Nationals Stadium" be added to the Navy Yard name. (I wouldn't put 100% confidence in the request being for "Nationals Stadium" and not "Nationals Park," but that's what the agenda says.) I'm trying to find out whether the first request has bitten the dust, or if these are competing requests, or what. Stay tuned. (See below for clarifications.)
There's also a request to add "Banneker Memorial Park" to the L'Enfant Plaza Metro station name. As well as a bunch of other stuff happening on the other side of South Capitol Street, which I leave to other people to pay attention to!
UPDATE:
The BID has told me that this is just the Nationals requesting to be added so that they can be part of the Capitol Riverfront/Nationals Park/Navy Yard new name, though I'm not sure why they would need to have their own request separate from the one that the BID is already working on. Still trying to find out more, but may need to wait until Monday's meeting for clarification.
UPDATE II: Apparently the BID's request was officially just to add "Capitol Riverfront," but they recognized that the Nats would want the stadium included as well. So this ANC action will be to get whatever official name the Nationals want added to the station name into the mix.
36 Posts:
Go to Page:
1
|
2