Near Southeast DC: Past News Items
Retail
Go to Full Blog Archive
---
Sweetgreen Confirmed For Twelve12 at the Yards
May 21, 2013 1:20 PM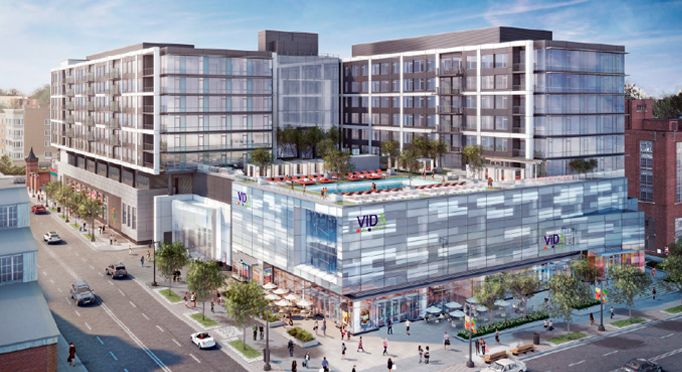 With
this photo
yesterday from the little Yards tent display at 1st and N lighting the fuse, the announcement was made today that local salad chain
Sweetgreen
will be coming to
Twelve12
, the new 218-unit apartment building now under construction at 4th and M SE that will also be home to Harris Teeter and Vida Fitness.
Sweetgreen is currently expected to open in mid-2014, and will be located right on the corner of 4th and Tingey, with "exposure" on both streets, as seen in the
image
at right.
Forest City's press release for today's news also gives some timeline updates for the
Boilermaker Shops
, saying that
Bluejacket
and
Buzz Bakery
are expected to open in
June
late July/early August,
Nando's Peri-Peri
"this summer," and
Willie's Brew and Que
"in late summer." Over at the
Lumber Shed
,
Osteria Morini
is expected "in mid-late summer of this year," and
Agua 301
is coming "this summer." And, as reported last week, year-round pizzeria
Nicoletta
will be coming to the Yards Park boardwalk "in late 2013." In the non-food category,
Desi Living Loft Furniture
is still expected in June.
UPDATE: Forest City sent an update to the expected opening date for Bluejacket/Buzz Bakery.
Baseball Not Far Off; A Visitor's Guide to the Neighborhood
Mar 21, 2013 10:38 AM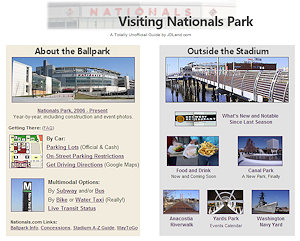 It seems like it's been forever since baseball was at
Nationals Park
(except for that Game 5, which feels like yesterday), and now we're in the final homestretch before the team returns to town, first for an exhibition game against the Yankees Friday, March 29, at 2 pm, followed by the season opener at 1 pm on Monday, April 1.
So, once again I highlight my
Visting Nationals Park
page, which I built last year to bring together links and information both about the ballpark itself and what's available and interesting outside the stadium.
For those wanting to know what's happened in the Near Capitol Ballpark River Yards (#NeCaBaRY) neighborhood since last season, my
What's New and Notable
list fills in the headlines, while the Google Map of
Food and Drink options
shows both the currently opened eateries and the ones coming soon.
There's also links to information on the
Riverwalk
, the
Yards Park
and new-to-you
Canal Park
, and the
Navy Yard
, for people looking for other ways to pass the time before and after games.
As for the ballpark itself, there's my
map of official and "cash" parking lots
, a "
Getting There
" guide, and of course all of my
photos of the stadium's construction and milestones
.
But, for people who can't even bear to
click a link
, I'll give the headlines that I know are most of interest:

*
Brewery/Restaurant Gordon Biersch
should open on Opening Day
at 1st and M.
* The
Park Tavern
at 2nd and M
could be opening Any Minute Now.
*
Kruba Thai and Sushi
at 3rd and Water in the Foundry Lofts has been open since November.
* Highly anticipated brewery
Bluejacket
is expected to open at 4th and Tingey in the
Boilermaker Shops
in late spring or early summer, as will
Nando's Peri-Peri
,
Buzz Bakery
, and (maybe)
Willie's Brew and 'Que
.

* Later in the summer should see the opening of the first two restaurants in the
Lumber Shed
at the
Yards Park
: Agua 301 (which
has just begun its buildout
), and
Osteria Morini
.
There's also still Justin's Cafe, Five Guys, Subway, Potbelly, Lot 38 Espresso, McDonald's, and the Fairgrounds.
And, alas, there's also still the hole in the ground at
Half and N
.
On the bright side, there are two new holes in the ground where work is actually underway, for new apartment buildings the
Park Chelsea
at New Jersey and I and
Twelve12
at 4th and M, both expected to open next year.
And the
Camden South Capitol
apartments directly across South Capitol from the stadium are opening in just a few weeks.
In other words, believe it or not, good things are actually happening outside the ballpark. And it seems like good things should be happening inside the ballpark this year, too.
So
bookmark the guide
and use it whenever you come down to Near Southeast/Capitol Riverfront/Navy Yard/Nats Town/#NaYa/#NeCaBaRY.
Desi Living Loft Furniture Store Coming to Foundry Lofts
Mar 19, 2013 1:12 PM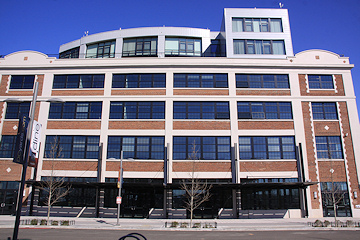 The Yards has announced on its
Twitter
/
Facebook
feeds that furniture store
Desi Living Loft Furniture
is coming to the
Foundry Lofts
in June.
The company, which according to its web site currently has locations in Rockville, Arlington's Pentagon Row, and Annapolis Towne Center, bills itself as "the DC area's premier stop for the most affordable, stylish, and unique concepts in living room furniture." Presumably this is coming to the retail space on the building's southeast corner, next to Kruba Thai and across from the Lumber Shed at the Yards Park.
This would be the first non-food non-services retailer to open in the neighborhood (other than CVS).
I've reached out to Forest City for more information, and will update when I get it.
UPDATE:
The store will be a 3,000-square-foot showroom, and the official press release says "late spring" for opening. The release also gives a slightly different name for the company than its own web site, calling it "Desi Living Loft Furniture," apparently because this will have a slightly different type of furniture mix, so I've changed the title of this blog post.
Movie Theater Zoning Plans Submitted; Late '15 Opening?
Mar 1, 2013 11:06 AM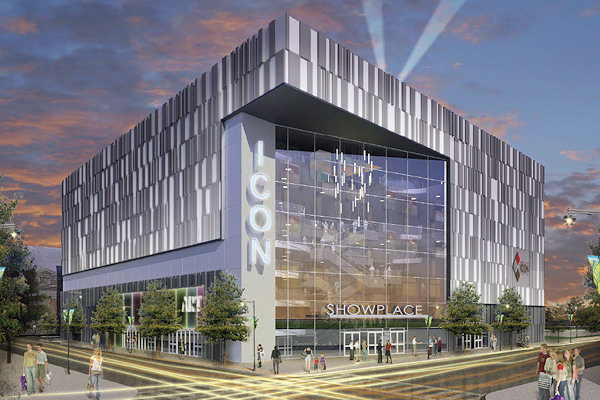 Forest City Washington is moving forward with the plans for a
sixteen screen movie theater
near
Nationals Park
, having submitted a truckload of documents this week to the Zoning Commission for its plans to redevelop more than five acres of land currently occupied by DC Water.
This
site
, which sits between the current footprint of
the Yards
and the ballpark, would be turned into four new city blocks with 600 residential units in two buildings, an expansion of Diamond Teague Park, and somewhere around 50,000 square feet in retail, which would include the theater that we first heard about a few months ago.
The plan apparently would be to build the theater first (and in fact FCW is requesting second-stage PUD approval for the theater plans, for those of you who know what that means), and in the zoning filing FCW says that they intend to file for building permits by this fall and start construction by the beginning of 2014, with an expected opening of the theater by late 2015.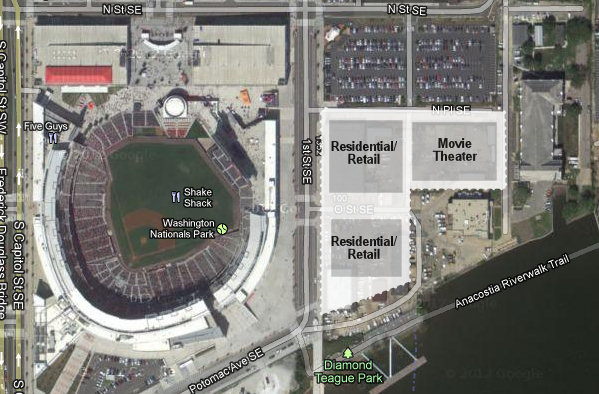 There would be 337 parking spaces at the theater, which would be above-ground and contained within the first four floors of the theater building. DC Water would continue its operations on the other three blocks that are part of this plan while the theater is constructed and operating, with the development of those blocks waiting until those operations can be relocated (and, of course, "subject to market conditions)."
A few months ago I
wrote in great detail about the plans for the theater itself
, expected to be operated by Showplace Icon, after a public meeting was held for residents about the crowds that might be drawn, who seemed mostly mollified by the "policies to encourage courteous behavior."
Read that post for more
.
There should be a hearing on these plans within the next few months. And I'll dig through the documents to look for more tidbits, but mainly I wanted folks to finally see a rendering!
Retail, Restaurant, and Recreation News (New and Old)
Feb 11, 2013 11:40 AM
A hail of bullets on various retail, restaurant, and recreation-type items, some of which are relatively new, but some of which decidedly aren't:

* The boxing and fitness club
DCBFIT
opened last week in the ground floor of
Capitol Hill Tower
, at the corner of New Jersey and L SE. While their web site makes me tired and sore just looking at it, I'm sure there are plenty of folks who will find this offering intriguing.
* Gordon Biersch,
coming soon
to 1st and M, has
"Now Hiring" signs up
: go to
Work4GB.com
.
* Also hiring, according to commenter JT who passed along
the Craigslist link
, is the Park Tavern at
Canal Park
. The Hill is Home
says that it's opening "very soon,"
even saying "around the 20th of February," but We Shall See.
*
Nando's Peri-Peri now has signage up
at the
Boilermaker Shops
--it's a little more than halfway down Tingey between 3rd and 4th, closer to the Bluejacket end of the building. It's supposed to be
opening this spring
.
* The Navy Yard portion of the
Riverwalk
was supposed to reopen today--anyone give it a shot yet? And, if so, is there any actual trail once you go out the east gate? As I showed a couple of weeks ago, the
old asphalt had been ripped up
as part of the 11th Street Bridges work, though of course it will be back at some point.
* Maybe now is finally a good time to mention the opening of petcare store
Wagtime Too
at 900 M Street, where it has been for a number of weeks now, offering boarding, daycare, grooming and "cool stuff." And I
actually have taken a photo of it
.
* Apparently the Quizno's at 8th and Potomac closed permanently back in December. And Chicken Tortilla at 8th and L was closed when I walked by a few weeks ago, though I don't know the story on that.
Comments
(12)
More posts:
100 M
,
900m
,
biersch
,
Boilermaker Shops/Yards
,
Canal Park
,
Capitol Hill Tower
,
dcbfit
,
Restaurants/Nightlife
,
kruba
,
parktavern
, Retail,
riverwalk
,
wagtime
,
The Yards
Sneaking a Quick Peek Inside the Gordon Biersch Space
Feb 2, 2013 5:33 PM
When wandering by the Gordon Biersch space earlier today, I managed to
sneak a peek inside
: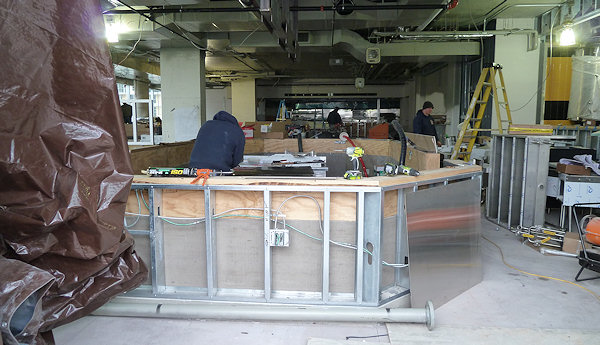 I also
caught some more fermenters arriving
, plus some signage (click to embiggen):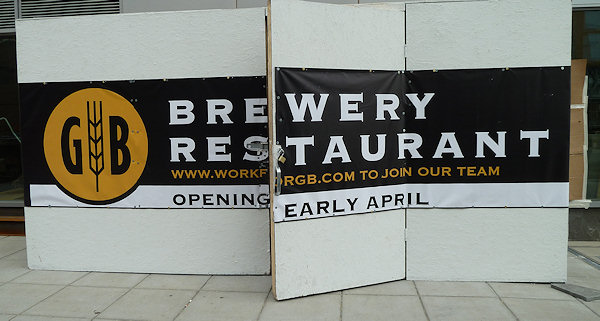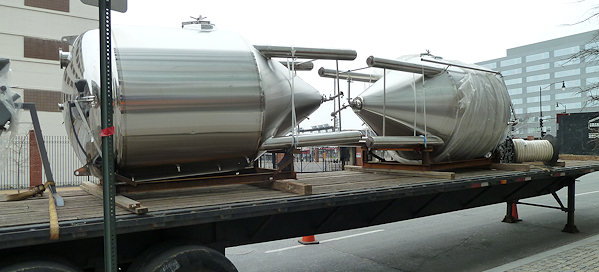 The sign kind of says it all, right? "Early April" -- will they manage to make Opening Day?
Seems hard to believe this is actually coming. There is also a public space permit application in the window for unenclosed sidewalk seating, so you can look forward to dining al fresco at 1st and M while hordes of Nationals fans traipse past in the summer.
(I also added these photos, and a few others, to my
100 M page
, which I kind of hadn't really looked at since the building opened in 2008.)
Progress Check: Lumber Shed and Twelve12 at the Yards
Jan 29, 2013 1:55 PM
Some quick shots from today of the other projects underway at the Yards, in case
a new dry cleaners
just isn't exciting enough for you.
The new exterior glass is now almost completely on the
Lumber Shed
at the Yards Park, where
Osteria Morini
and
Agua 301
are slated to be tenants when it opens later this year (along with Forest City Washington on the second floor):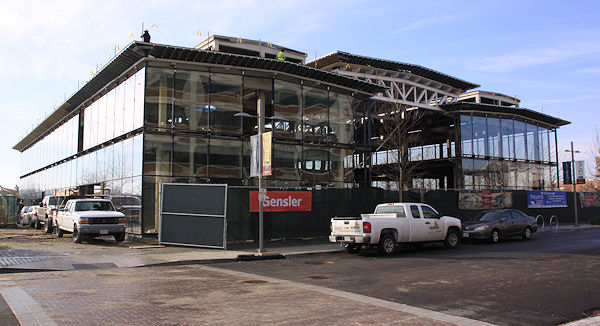 A before-and-after that can't possibly be resisted: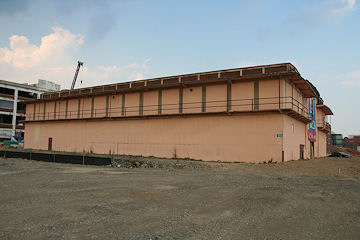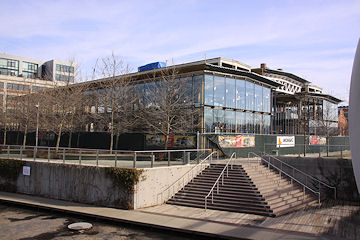 Facing the Anacostia:
Meanwhile, over at the
Twelve12 apartment building
project on 4th Street (more popularly known as the Harris Teeter/Vida Fitness building), the progress isn't quite as showy, unless you're a construction nerd and you know what the arrival of a tower crane means: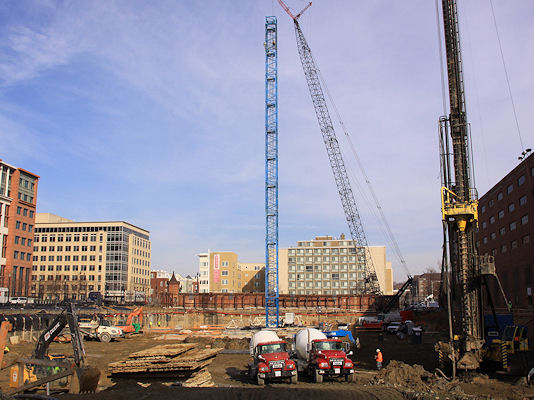 Yes, it means that vertical construction is not far off. The building is expected to be completed in 2014. And in case you want one more shot of the hole in the ground: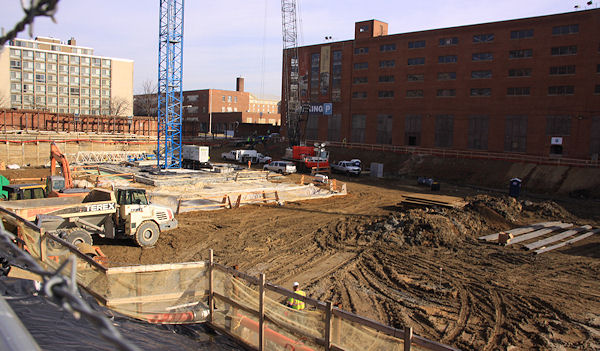 Wells Cleaners Now Open in the Boilermaker Shops
Jan 29, 2013 11:16 AM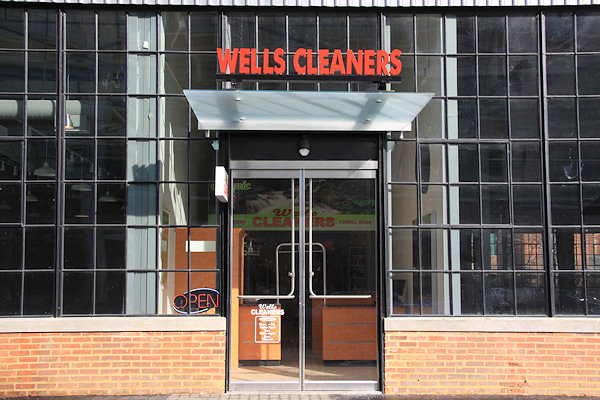 The
Boilermaker Shops
at
the Yards
now has its first operating retail tenant, with
Wells Dry Cleaners
having at last opened its doors to the public. (Note that I avoided any "it's about to open" posts, having learned my lesson the hard way too many times in the past!)
It's open from 7 am to 7 pm Monday through Friday and 8 am to 6 pm on Saturdays, and is closed on Sundays. It's right next door to the Willie's Brew and 'Que space, much closer to 3rd Street than to 4th.
(Fun signage, too! Check out another view of it
from the side
, to see the smaller sign sticking out for easy reading when walking the long length of the building.)
Nando's Peri-Peri Coming to the Boilermaker Shops
Jan 22, 2013 10:28 AM
A press release sent out this morning says that "fast-growing international chicken restaurant"
Nando's Peri-Peri
will be coming to the
Boilermaker Shops
at the
Yards
, with an expected opening in June of this year. It will be the restaurant's 12th US location, including the one on 7th Street NW in Chinatown and eight others in the DC area.
Nando's would join planned restaurants Bluejacket brewery, Buzz Bakery, and Willie's Brew and 'Que, along with opening-any-second-now Wells Cleaners at the Boilermaker Shops.
If you haven't tried it, "Nando's is known worldwide for its succulent Peri-Peri chicken, marinated for 24 hours, flame-grilled to perfection, and basted to the customer's preferred flavor and spice."
The press release did not come from Forest City, but they have confirmed the lease.
(And props to reader Jaybird who had this rumor a few months ago, and mentioned it in a recent JDLand comment thread.)
Vats of Beer! Or At Least the Vats to Make Vats of Beer
Jan 15, 2013 12:32 PM
Within the past few days, readers have sent tweets with photos of
brewing equipment being delivered
to soon-to-be-
Gordon Biersch
at 100 M and
inside the space
at the
Boilermaker Shops
that will become
Bluejacket
.
No official timeframe on when either of these restaurants will open, though a Biersch employee
told the Post
that he "expects the new Biersch branch to be operating in time for the Craft Brewers Conference in March and the Nats' home opener in April."
As for the other beer joint on tap for the neighborhood (see what I did there?), there doesn't appear to be any action so far in the Willie's Brew and 'Que space at the Boilermaker Shops, but with owner Xavier Cervera's long-in-the-works redo of the Hawk 'n' Dove
reportedly about to debut
, perhaps he'll then be able to shift resources both to Willie's and to the Park Tavern at
Canal Park
.
UPDATE, 1/17:
This
Esquire interview
with Bluejacket bigshot Greg Engert says that the bar will open "in May."
Agua 301 Restaurant Coming to Yards Lumber Shed
Nov 29, 2012 3:05 PM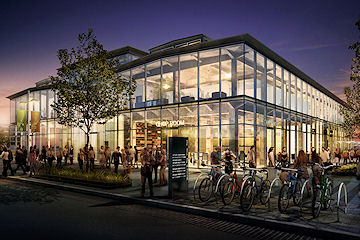 Forest City Washington is announcing today that a "modern Mexican" restaurant to be called
Agua 301
will be coming to the
Lumber Shed
building at the
Yards
next summer.
The 3,600-square-foot restaurant, to be located on the Shed's southwest corner (nearest to the
Yards Park
's pedestrian bridge) is coming from the creators/owners of
Zest Bistro
on Barracks Row, and takes its name from the address of the Lumber Shed, at 301 Water St., SE. The menu is being developed by Zest's executive chef, Dot Steck.
The Lumber Shed is already the announced location of
Italian restaurant Osteria Morini
(on the building's southeastern corner) and has spaces still to lease for three additional restaurants.
The press release from Forest City also says that Bluejacket and Buzz Bakery are still expected to open in the
Boilermaker Shops
in the "first quarter" of 2013, with Willie Brew and 'Que opening there "by spring."
UPDATE:
But one thing I am noticing that isn't mentioned in the press release: any reference to Huey's 24-7 Diner, which was one of the
originally announced restaurants
for the Boilermaker Shops. Hmmm. Anyone close by want to check and see if that banner has been pulled down from the Boilermaker facade?
Prospective Yards Movie Theater Operator: Showplace Icon
Nov 15, 2012 10:39 PM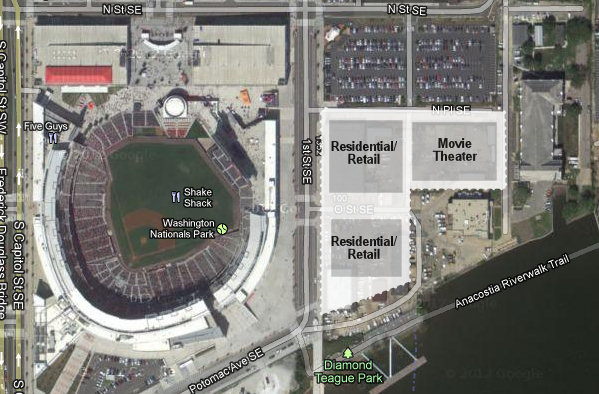 At a public meeting on Thursday night, Yards developer Forest City Washington presented very early plans for the portion of the
DC Water/WASA
site on 1st Street that the company is currently working to secure the development rights for.
While people are always interested in projects for more residential buildings with ground-floor retail, it was the
plans for a movie theater
on the site that drew a decent-sized crowd to the meeting, and the attendees learned that
Showplace Icon
is the heretofore unnamed operator that Forest City is currently in negotiations with.
It would be a 16-screen theater with more than 2,000 seats on N Place SE (see
my quickie map
for placement in regards to Nats Park and the main WASA pumping station), and Icon's more upscale amenities and approach to movie-going were extensively touted, including all reserved seating, VIP areas in each theater with extra-wide seats and person tables, wall-to-wall and ceiling-to-floor digital screens, no on-screen pre-show advertising, fresh-not-frozen food prepared on site, and their "
lobby lounge
," with about 100 seats and 21-and-over-only admittance.
But it was Icon's "policies to encourage courteous behavior" that seemed to defuse the "ZOMG GALLERY PLACE" concerns about the theater that had been cropping up on neighborhood mailing lists and
elsewhere
over the past few weeks. The theaters will not allow children under 17 after 7 pm without an adult, no one is admitted after the movie starts, no children under seven are admitted to PG-13 or R movies after 7 pm, and the adult admission price also applies to children.
Bob Gallivan of Kerasotes Showplace Theaters said that the company's theaters in Chicago and suburban Minneapolis are "bringing people back to the movies who haven't been for awhile" thanks to these policies, because they are trying to "create a civilized atmosphere." ("We're not a babysitting service," he also said.)
Thanks to being an all-digital theater, the venue would also be able to offer other content, such as simulcasts of the Metropolitan Opera, sporting events, and other events. And the theater would also have some small retail and maybe artist space along N Place.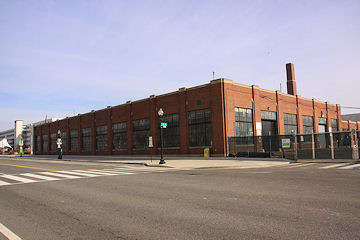 As for the rest of the plans for the site, along 1st Street across from Nationals Park there would be two residential buildings, totalling 625ish units, each with ground-floor retail; and the northern one of the two would incorporate the brick/industrial facade of the existing DC Water fleet management building on 1st between N Place and O (seen at left).
O Street would be re-established from 1st east to the new 1 1/2 Place, and Potomac Avenue would be extended east from 1st as well to 1 1/2 Place.
Forest City's planners envision a "lower-scale" retail experience along 1 1/2 Place (smaller "eclectic" retailers, not "low-end"), with more "large-scale" offerings long 1st thanks to the size of the street and its location across from the ballpark. All told this area of the Yards would have about 50,000 square feet of retail.
Diamond Teague Park
would also be expanded somewhat to the north of its current footprint, up to the new Potomac Avenue. It's possible that Potomac Avenue and the lower part of 1 1/2 Place could be closed at times for street festivals, etc.
As for any timeline on all of this, first Forest City has to actually acquire the land from DC Water and the city, and then has to complete the negotiations with Showplace Icon. (The fact that Forest City has even named Icon before executing the lease is a pretty big departure for the company, and shows an understanding of the need to clearly define what sort of theater experience would be on the boards.) Then the project has to go through the zoning process (it will be a PUD), and then get building permits. Forest City "hopes" to begin the approximately two years of construction for the theater in 2014, but that's a lot of ducks to get in a row first. (The residential buildings would come later.)
Audience members had questions about security (Icon uses off-duty police in Chicago, and Forest City would have its own security as well), types of films that would be offered (art-house and blockbusters), worries that the Lobby Lounge might become a club (not an issue, Icon says), and how traffic generated by the development would co-exist with 40,000 fans one block away at Nationals Park 81 nights a year (or more!). Because it's still early in the process, there weren't concrete answers to some of the concerns, but this project still has to go before ANC 6D and the Zoning Commission before being approved, so there will be plenty of opportunities for additional detail to be insisted upon.
Should I mention again that this is all still subject to both the DC Water land deal and the lease with Icon getting finalized?
Much more to come on this, obviously. And, for people who weren't at the meeting who didn't get to see any of the EARLY CONCEPTUAL NOT FINALIZED drawings, I have asked for at least the EARLY CONCEPTUAL NOT FINALIZED rendering of the glass-walled theater exterior to post, and hopefully before too long Forest City will be ready to share it.
Public Meeting Thursday on Proposed Yards Movie Theater
Nov 13, 2012 1:30 PM
This Thursday, Nov. 15, at 7 pm, there is a
public meeting
being hosted by ANC commissioner David Garber about the
proposed movie theater at the Yards
.
Yards
developer Forest City Washington will be there, plus their planners and architects. Also in attendance will be what Forest City took pains to emphasize to me is the
prospective
theater operator, because no deals have been signed, and because (as we all found out with Vida Fitness), Forest City never confirms a specific tenant until a lease has been executed. (They're not even naming who this prospective operator is in advance of the meeting.)
There will be some draft images of potential designs for discussion and feedback, but this is earlier in the process than these sorts of presentations are often given, so don't be looking for firm plans just yet.
As I wrote when
this news first broke in September
, developer Forest City Washington is working on bringing a theater operator offering an "elevated experience" to land currently controlled by
DC Water
along First Street SE between
Nationals Park
and the Yards, along with residential and retail. But the deal with DC Water for the site is still not finalized, let alone the theater lease, so none of this is happening next week.
The meeting is at
200 I Street SE
(aka 225 Virginia Avenue, aka the old Post Plant, aka the old Star Plant) at 7 pm.
WBJ: Gordon Biersch Confirmed for 100 M
Oct 31, 2012 6:01 PM
The
Washington Business Journal confirms today
what I've been
chasing
and
rumoring
for just over a year now, that brewery/restaurant Gordon Biersch is indeed coming to
100 M
, the office building on the
northeast corner of 1st and M, SE
, one block north of Nationals Park.
No timetable was announced, but you'd think Opening Day 2013 would certainly be a goal. (Then again, we
once thought
that Opening Day 2012 would be a goal.)
The building permit application
I saw a few weeks ago
that I assumed was Biersch indicated the restaurant will have up to 236 seats indoors, and 94 outdoors.
Vida Fitness Finally Confirmed for Twelve12 at the Yards
Oct 23, 2012 11:18 AM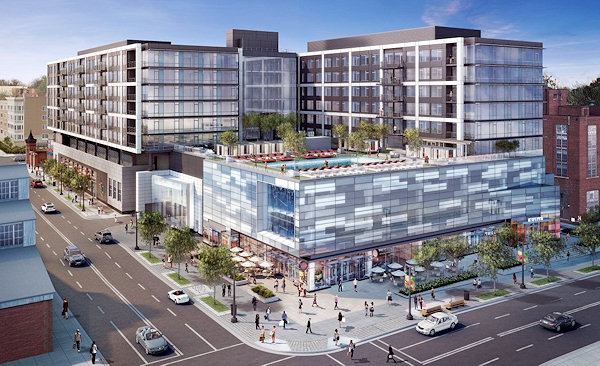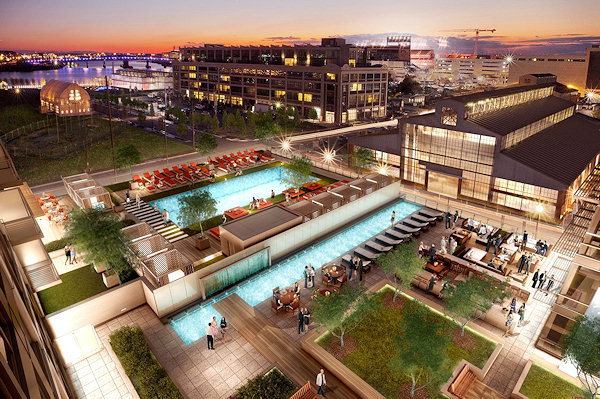 It took a loooong time to get past the unconfirmed stage (and even included an
oopsie cat-out-of-the-bag last year
by some PR folks), but today Forest City Washington is finally officially announcing that
Vida Fitness
is coming to the south end of the
Twelve12 apartment building
, now under construction on 4th Street SE between M and Tingey in
the Yards
.
Also in the 28,000-square-foot facility will be Vida's "affiliated concepts"
Bang Salon
and
Aura Spa
, and will also feature Vida's Penthouse Pool Club and Lounge, shown in the above-right drawing and described as a "membership-only urban resort featuring a rooftop pool deck with city and riverfront views and a variety of poolside lounging options and amenities."
Twelve12
, when completed in mid-2014, will also be home to the neighborhood's first grocery store, a 50,000-square-foot Harris Teeter located on the north end of the block at 4th and M, in addition to the building's 218 apartments. There is also still 10,000 square feet of as-yet-unleased retail space. It is across the street from the
Boilermaker Shops retail pavilion
, set to open in early 2013, and kitty corner from both the
Foundry Lofts
and what will be
a new 325ish-unit apartment building
on the southwest corner of 4th and Tingey, expected to start construction in 2013.
Negotiations Ongoing to Bring Movie Theater to DC Water-Yards Site
Sep 27, 2012 11:57 PM
The cat got let out of the bag
during a recent neighborhood walking tour
(probably a bit sooner than desired) that
Yards
developer Forest City Washington is working on bringing a "high-quality theater operator" offering an "elevated experience" to land currently controlled by
DC Water
along First Street SE between
Nationals Park
and the Yards.
FCW tells me that it is still early in the process, that an overall deal with the city and DC Water for the land needs to be finalized first, but that if it all moves forward, "the theater operator would be new to DC and would offer a premium quality option that is differentiated by quality of design, food and customer service."
It's probably worth noting that Forest City was awarded the right to "enter into exclusive negotiations" for a six-acre portion of the larger then-WASA site by the now-defunct Anacostia Waterfront Corporation in
December 2005
, at a time when a development strategy was being formulated by Forest City, Western Development, Cordish, and Monument Realty for the "Ballpark District" (
remember that
?)
Forest City's plans for the DC Water site would also include residential and retail in addition to the theater, and with this site being close to the possibly-getting-started-next-year residential building and plaza at the foot of 1st Street that will be
Florida Rock
's first phase, the ballpark's eastern and southern sides would certainly begin to be "activated," even on the 280ish days of the year when the Nats aren't playing.
However, despite the oft-stated desire of residents to have a movie theater in Near Southeast, as well as the continued yearning for more development in general, there has been a bit of trepidation about this particular plan in some comments on a
neighborhood mailing list
, especially given that it could be a pretty large theater. Would it bring too much traffic, would it be
too
much of a draw for boisterous crowds--Gallery Place was mentioned a number of times as an example to avoid at all costs. For others, of course, the notion of a theater so close to home is exciting news, and a plan to be supported.
Forest City anticipates it will go before ANC 6D sometime this fall to brief the community on the plans and to get feedback.
Earlier this year, there
was an item
about Landmark Theatres wanting to open a second DC location, with the Yards being a possible destination (though city officials apparently were/are for something east of the river). However, Forest City's statement saying that the operator they are talking to "would be new to DC" seems to take Landmark out of the running, along with AMC and Regal, the two largest chains in the US.
Inside the Boilermaker Shops, Under Construction
Sep 6, 2012 12:52 PM
Construction continues
at the Boilermaker Shops, the World War I industrial building at
the Yards
that Forest City is adapting into a retail and office space. And today I was able to
see the interior
for the first time since 2007, with camera in hand, of course.
None of the tenant spaces are looking like their final versions yet, but it's still cool to check out the bones before the spaces really get going with their installations. Though I sure wish it hadn't been pouring rain, to get a better sense of how much more natural light will come into these spaces when the sun is out. Next time....
The
photo gallery
shows the spaces where Bluejacket Brewery (above), Buzz Bakery, Willie's Brew and Que (below left), Huey's 24-7 Diner, and Wells Dry Cleaners will be, along with the office space being built out on a new second floor that runs along much of the interior of the building (below right) and some of the as-yet unleased sections.
The photos you see here are just a smattering, so be sure to
check out the whole gallery
.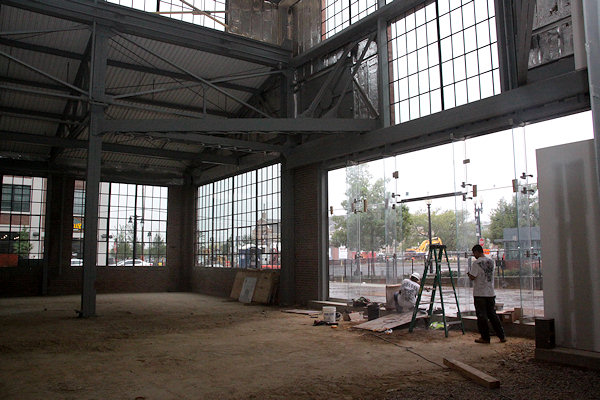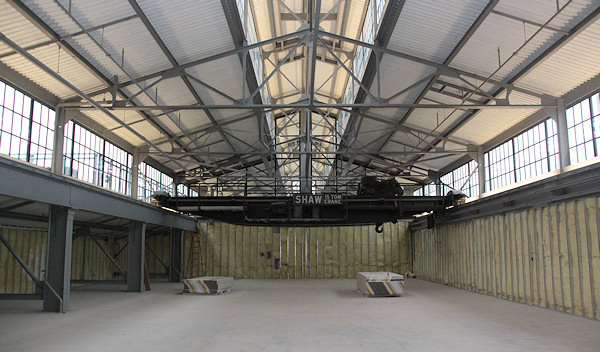 It's too bad that the mondo-cool
Shaw 15 Ton Crane
left from the
building's original incarnation
is up in the office space, rather than somewhere in the public areas, but hopefully the office workers will take good care of it.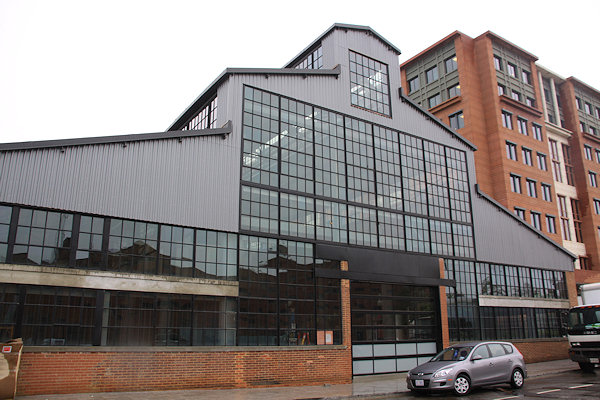 There are no official opening dates for any of the tenants, though it sounds like the dry cleaners will be the first to open (yay...?). Bluejacket has previously announced they are shooting for an early 2013 opening.
For additional information, including lots of (not especially new) photos of the exterior from when the sun is actually out, see my
Boilermaker Shops project page
.
I also tossed in a photo of the
hole in the ground
where
Twelve12 4th
will be sprouting, to be home to apartments and Harris Teeter. I was told that they've dug as deep as they're going to go, and pile work is next on the agenda.
UPDATE:
Also, I was going to grouse about why I don't take photos when the weather is bad by pointing to this
batch I shot along L Street
catching the homestretch progress at
Capitol Quarter
, but strangely enough most of the "before" shots aren't exactly under bright blue skies. Juggling a camera and an umbrella is not my cup of tea, though.
Restaurant Permit Application at 100 M; Gordon Biersch, Finally?
Aug 31, 2012 10:38 AM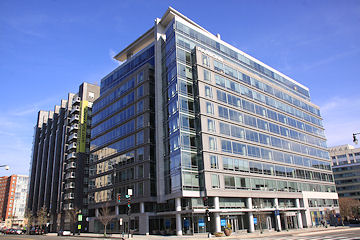 A building permit application has been filed with DCRA for an "interior alteration for new restaurant" at
100 M Street
, one block north of Nationals Park at the corner of 1st and M SE.
The application information as seen online doesn't give any specifics of the applicant, but I wouldn't be surprised that this is at last the signal that brewery/restaurant
Gordon Biersch
is indeed coming to this corner ground-floor retail space in the 220,000-square-foot office building,
as was first rumored last October
.
I know absolutely nothing more than this, and perhaps now the hounds will now be released to get something confirmed. But no matter what tenant ends up in there, a restaurant in that space will be most welcomed by residents and fans.
(I'm guessing a by-the-playoffs timeline might be a bit aggressive, though.)
UPDATE: Meant to include that the application mentions 236 seats indoors, and 94 outdoors. And remember, this is still just an application, it's not approved yet.
Fitness Club Files Building Permit Application for Capitol Hill Tower Retail Space
Aug 23, 2012 2:26 PM
Today a building permit application was filed for a new tenant layout in the retail space on New Jersey Avenue at
Capitol Hill Tower
between the Georgetown medical space and the Courtyard by Marriott. The permit application says: "Construction of Boxing-Fitness Club located on the lobby level approx 2685 sq. ft. as per plans." Whispers I'd been hearing about this have said that the boxing is kickboxing, but until the (as yet unmasked) tenant steps forward, people will probably have to settle for wild speculation. So have at it!
More as I get it.
Bank of America Branch Opens at 55 M Today
Jul 23, 2012 12:14 PM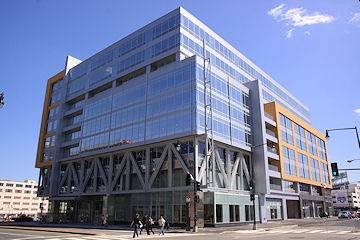 Readers are reporting that, on schedule, the new Bank of America branch in the ground floor of
55 M Street
opened today. The
BoA web site also now lists it
as well, though it doesn't include the lobby hours yet. It's still called the "Waterfront" branch, since this is technically a move of the branch that was at 4th and M SW for many years, in the old Waterside Mall/new Waterfront development.
This is also the first retail tenant in 55 M, the building right on top of the west entrance of the Navy Yard Metro station.
If I were a good blogger, I'd run over there and get a photo, but, given that this is the fourth bank to open in the neighborhood, my Financial Services Excitement Meter is not exactly exploding off the charts. (
UPDATE:
But the
Twitterverse comes through
and makes up for my malaise.)