Near Southeast DC: Past News Items
artomatic
Go to Full Blog Archive
---
12 Blog Posts Since 2003
Tidbits: BID Reports, Artomatic to Crystal City, Tunnel Items, More
Jan 18, 2012 2:33 PM
There's been a whirlwind of "big" posts as 2012 has gotten underway, so here's a few items I've neglected:
*
BID Reports
: At its annual meeting last week, the
Capitol Riverfront BID
released both
its annual report
and the "Green Print of Growth" study they commissioned, which showed that the portion of the Green Line from the Navy Yard station to Georgia Avenue/Petworth has become over the past 10 years a "regional leader" in "capturing highly-prized young professional housing demand and high-wage employment," just nosing ahead of the Orange Line's Rosslyn-Ballston corridor and outstripping the Red Line's stretch in Northwest DC when looking at household growth in the 18-to-34 demographic. The report also says (shocker!) that "the analysis conducted suggests that the Capitol Riverfront--given its Green Line access at the Navy Yard Station and its significant amount of development capacity--is among the most competitive locations in the region for households, companies, and retailers."
You can read the
executive summary
, the
complete version
, and the
slides
that RCLCO's Shyam Kannan displayed during his presentation at the meeting. (Additional coverage from
WBJ
and
CapBiz
.)
This was followed by a
commentary
by BID chief Michael Stevens in Monday's Washington Post/Capital Business in which he argued: "It's time for business and residents to recognize and acknowledge a new reality: The Green Line corridor has emerged as a powerful economic engine for the District and the region. And it's time for Metro, the city and the private sector to invest more in the area to support this growth trajectory."
UPDATE:
Also coming out of the annual meeting, the BID
voted to change how it handles its taxes
, which still needs to be approved by the city council to take effect. (WBJ)
* On a parallel track, though it doesn't have to do with Near Southeast specifically, the Post's
Steve Pearlstein wrote
over the weekend about how signs suggest "that the next phase of growth in the Washington region will focus on these underdeveloped areas in the eastern quadrants of the District and some of the region's older, closer-in suburbs."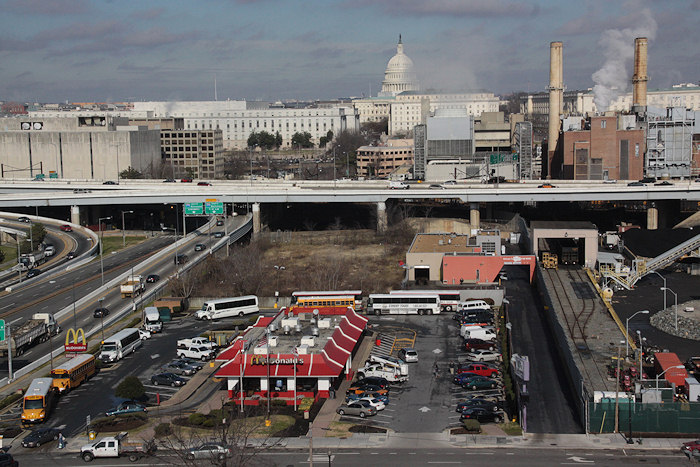 *
New Views
: While I was at the BID's meeting, I took the opportunity to get some photos
of the inside of 1015 Half Street
, plus
one shot looking out
that shows not all views of the U.S. Capitol dome are, by default, "majestic." (Alternate caption: "Would you like fries with that democracy?") One
Twitterer suggested
that the rock circle at far right, on the Capitol Hill Power Plant's property, is where the ritual sacrifices are held. So, if you see the Congressional leadership skulking around I Street late at night....
*
Artomatic Decision
: The Post's Jonathan O'Connell
tweeted this morning
that
Artomatic is headed to Crystal City
. Organizers
had been looking
at both 1015 Half and the old National Geospatial Intelligence building at
101 M
.
*
CSX
: The Virginia Avenue Tunnel web site now has
public comments
on the
Nov. 30 "concepts" meeting
, as well as the
transcript
of that session. Comments are still being accepted through the end of January.
*
Protest
: A reader who lives on 7th Street just across from the Marine Bachelor Enlisted Quarters has passed along that the neighbors on that block have decided to lodge a formal protest at the liquor license renewal of the
7th and L Market
, thanks to having witnessed multiple examples over the past few years of public drunkenness and urination, loitering, littering, drug dealing, indecent exposure, and even one proposition by a prostitute. There's no doubt that that market is a bit of a throwback to the neighborhood's previous incarnation; it will be interesting to see how this proceeds, and also how the
eventual arrival of the National Community Church on that block
changes (or doesn't change) things.
*
AIIIEEEE!
: Don't have enough to worry about these days? How about
rising sea levels inundating
areas along DC's waterfronts? (WaPo/Capital Weather Gang)
*
Neighborhood News Roundup
: The Post's new Where We Live real estate blog has a
rundown
and
photo gallery
today on the latest progress on the development and food fronts in Near Southeast. If it all looks and sounds strangely familiar, that shouldn't be a surprise.
Artomatic Looking for 2012 Space, Eyeing 1015 Half, 101 M SE
Nov 27, 2011 5:00 PM
Jonathan O'Connell has a piece in Monday's WaPo Capital Business
about Artomatic's search for a 2012 home
, and how the organization wants to replicate the success of
the 2009 version
at the then-vacant
55 M St., SE
: "This year's search is down to about four buildings, two near Nationals Park:
1015 Half St. SE
, an empty 414,000-square-foot building being purchased by Prudential Real Estate Investors; and the former offices of the National Geospatial Intelligence Agency, at
101 M St. SE
. Artomatic also is considering the People's Building in Northeast, and another location in Crystal City."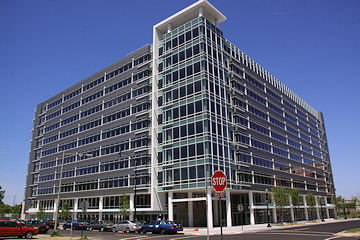 1015 Half Street
(left), on the site of the old Nation nightclub, is currently home to more than 400,000 square feet of Class A office space emptiness right now. The
NGA recently departed
1st and M (right), and while I would love for Artomatic to come to this spot merely for the chance to finally get inside the formerly armed encampment before its inevitable demolition as
The Yards
moves forward, I wonder how excited the organizers would be to have a building with almost no windows, except on the top floor. (I know that 55 M's
large windows and great views
of Nationals Park, Near Southeast, Southwest, and north to the Capitol were a big hit with 2009 Artomatic attendees.)
It was
in December 2008
that word first began to trickle out on the 2009
Artomatic
location, so perhaps the decision one way or the other won't be too long in coming.
Tenants Coming to 20 M and 55 M?
Jun 5, 2009 12:17 PM
From
today's print edition of the Washington Business Journal
(subscribers only), news that two as-yet-unoccupied office buildings in Near Southeast may be close to securing tenants. WBJ says that Monument Realty is "in discussions" with Booz Allen Hamilton to lease more than 30,000 square feet of space at
55 M
(currently home to
Artomatic
), though Booz is apparently also looking at Lerner's
20 M
across the street and the under-construction
1015 Half
a block to the north.
The article also says that an "undisclosed federal agency is on the cusp of announcing" a 100,000-sq-ft lease at
20 M
. I have heard murmurings of some outfit moving to 20 M--if someone wants to whisper in my ear who it is,
I'm listening
!
A Slew of Tweets, Links and Little Items
Jun 2, 2009 9:41 AM
Some recent items of note, some
Tweeted over the past few days
and some I just lazily haven't gotten around to mentioning until now:
* Several readers wrote in to mention the awnings now in place at the
Cornercopia Deli at Third and K
, which were installed on Friday. Still no word on when it might open--but to make sure that I hear about it ASAP when its doors do open, I pledge to buy a sandwich there for the first reader who alerts me that the deli is open to customers.
* If you haven't been in the unit blocks of either I or K streets--the Wendy's (on the site of the on-hold
23 I Street
apartment building by JPI) is now completely demolished, and glass is now being hung on
1015 Half Street
. If you're wondering why the west side of 1015 Half is not glassed but has just a plain beige exterior--remember that that side will just be facing an alley, with
1000 South Capitol
someday rising between it and South Capitol Street. (Emphasis on the *someday.*)
* The
Obama Five Guys
on Second Street has seen a 50 percent jump in business since the president's visit on Friday, says
Politics Daily
. And plenty of people are ordering the "Obama Burger," a cheesburger with lettuce, tomato, mustard, and jalapenos.
* A little excitement at
USDOT
on Monday when a suspicious package
forced the evacuation
of the Fourth Street building. According to
DC Fire and EMS's Twitter feed
, it was a package leaking diesel fuel.
*
Greater Greater Washington spent some time
looking more closely at
the schematic
of the new
11th Street Bridges
that I posted about last week.
*
The Post had a good report
on Saturday's high school baseball Congressional Bank Classic at
Nationals Park
.
*
UrbanTurf.com took a look
at
Capitol Hill Tower
.
* "
Artomatic Moves to DC's Empty Ballpark District
."
* The Mayor wants to clean out the Community Benefits Fund funded by the ballpark to pay for 10 weeks of his summer jobs program,
says the Examiner
. Members of the council say that six weeks (the amount that can be paid for by the original amount budgeted for the program) is good enough, and that money should go to various projects they've earmarked. (
UPDATE:
The
council voted today
*not* to cut the program to six weeks.)
Comments
(0)
More posts:
1000 South Capitol
,
1015 Half
,
11th Street Bridges
,
23 I
, artomatic,
Capitol Hill Tower
,
cornercopia
,
Restaurants/Nightlife
,
Retail
,
square 697
,
Square 697n
,
Nationals Park
Quick Pics from Artomatic Sneak Preview
May 29, 2009 3:02 PM
Hard to believe, after the weeks of buildup, that the opening of
Artomatic
is going to turn out to be the
*second* most exciting event
in Near Southeast today, but it should still be noted that it did indeed open its doors at noon today, running for hours and hours between now and July 5. You can get all the specifics at the
Artomatic web site
, and I'm sure many local blogs and media outlets will give it coverage far beyond what my left-brain-ness is capable of providing, but I did take a
few photos at the kick-off this morning
that might whet your appetite to go give it a visit. And these shots were from just one of the eight floors' worth of offerings, so there's plenty that I plan to go back to see. (I also took a few photos of the surrounding skyline, since this was my first visit inside Monument's
55 M
.)
Upcoming Events, Updates, and Whatnot
May 27, 2009 4:22 PM
* Tomorrow (Thursday, May 28) at 10:30 am is the groundbreaking ceremony for the
Park at the Yards
, the first phase of which is scheduled to be completed next spring. The mayor is supposed to be in attendance--I may have to create a
Shovel-Wielding Fenty
photo gallery, since I now have
quite
a few of
those
shots.
* Friday (May 29) at noon is the opening of
Artomatic
at
55 M Street
. I'm giving everyone advance warning that I am hopelessly left-brained, so I won't really even be trying to cover it much beyond wandering through to get the flavor. It runs until July 5, so everyone has plenty of time to get there and check it out. (You can see some of the installations already through the windows.) See
my calendar
for the specific days and hours (it's closed Mondays and Tuesdays).
* An extremely helpful commenter
in this thread
has explained why some of the flyovers and ramps are missing from the new
Skanska/Facchina schematic
of the new
11th Street Bridges
design that I linked to: "[It] does not show all the ramp connections in the FEIS design because the District could only find $260 million to fund the project, and the FEIS design is estimated to cost $360 million. The District asked for proposals to build as much of the project as possible for the availible $260 mill, and the schematic shows how much the winning bidder Skanska/Facchina proposed to build. It is a lane-mile more than the next best proposal. The District's plan is to build the rest when they can secure funding (maybe sooner than later.)"
* While not mentioning Near Southeast specifically, this
Post article from yesterday
talks about the very tough office-space market in DC and surroundings: "'Unless they're already in the ground, they're not starting,' said Steven A. Levin, managing director at Spaulding & Slye. 'Any development project needing a loan over $25 million requires multiple lenders, and the guarantees are onerous. The amount of money you can borrow is also reduced.' [...] Dennis K. Moyer, a commercial real estate lawyer with Goulston & Storrs, said some of his clients are reviewing their existing loans and wondering whether they'll be paid, even on properties that are doing well. 'The next wave that comes is likely the workouts, foreclosures and restructurings,' he said."
Heading to Opening Day? What You'll See That You Didn't See Last Year
Apr 12, 2009 7:59 PM
[Note: I'm back in town after almost a week away (reminder to self: next year don't skip town the week before the home opener), so apologies if my coverage of the various events and media pieces has seemed even less scintillating than usual. And now I'm going to end the week with one more less-than-perfect entry, which I should have written before I left but didn't do it until now....]
If you haven't been back to
Nationals Park
or the surrounding Near Capitol Ballpark River Yards neighborhood since last year's Opening Day, here's what you'll see that wasn't completed on your last visit:
*
55 M Street
- Right on top of the west entrance of the Navy Yard Metro station, at the head of Half Street, is Monument Realty's 275,000-sq-ft office building, which has been finished in the last few months and which will be home to
Artomatic
this summer. No office or retail tenants have been announced, although
WBJ reported a few weeks back
that
Gordon Biersch
may be eyeing some of 55 M's ground-floor space. The rest of Monument's Half Street site remains a large hole in the ground, with financing for the planned 350 residential units and adjoining hotel directly across from the ballpark nowhere to be found.