Page Through from Before to After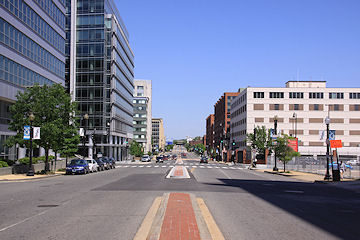 The meeting probably isn't even finished yet, but if you didn't (or did) stop by the first of DDOT's public meetings on their nine-month M Street SE/SW Transportation study, you can browse the
presentation slides
and take the
stakeholder survey
, already posted on the new
web site for the project
.
There were a pile of
high-powered
bloggers
and
transportation
geeks
in attendance, so I'm sure there will no shortage of coverage of both this meeting and the entire study that I will happily link to, but there wasn't much news coming out of this first session--it was mainly to introduce the study, talk about the methodology (which you can see in the
slides
) and then break up into small groups to stand around maps and give feedback about what attendees see as issues that need addressing. (But first, just as at the 2010 meeting, one woman who is particularly anti-bike once again
made
her
feelings
known.)
DDOT's representatives say they will be using some 33 other studies that have been done on the area in question as part of this overall study, covering the area from 14th St. SW to 12th Street SE south of the freeway down to the waterfront(s), though that then brought a comment from the audience about when studying is going to stop and there's going to be action.
There will be two more public meetings, one in March-ish and another in June-ish, with the study expected to be completed in August-ish.
---
darren
says: (
1/13/12 9:00 AM
)
Hello,
I am an employee at one of the large employers in the neighborhood, though my comments are solely my own, and have been commuting in/out of here for nearly four years. I attended last night's meeting, and was struck by the degree to which bicyclists and area residents should be natural allies in this study. (judging solely from last night, we currently aren't, but here's why we should be).
As one of the many additional people streaming into and out of this neighborhood every day, the last thing I want to do is add an additional tailpipe to your air, an additional car in your spot, an additional horn to your ears, and an additional bumper to hit things with. But most of my coworkers are happy to do just that, and sometimes so am I. Why? Because while it may seem congested to you, it seems just fine for us.
You might have guessed, I want more and better bicycle and pedestrian facilities, I want lanes taken away on M Street and South Cap, and I want to be able to cross under the SE/SW Freeway without fear. But rather than oppose those things, I hope area residents will consider a trade-off -- make their neighborhood a utopia for bicycling and walking, and in turn, demand and hold accountable developers and employers to make sure they're doing EVERYTHING and then some to make sure the trips they generate are not adding tailpipes and horns to your streets. Take a look at what my employer is doing to reduce car trips in and out of your neighborhood, and then demand that they quadruple their efforts, because judging from your comments last night, they obviously haven't done enough.
We can help you preserve your neighborhood. You can help us prevent more tragedies on M St (such as that which killed one of my sorely-missed colleagues). Support us in providing real facilities that encourage us and our families and coworkers to walk, bike, and use transit. We'll support you in preserving your residential parking, preventing cut-through traffic, and channeling commuters to the freeways. I'll turn myself inside-out encouraging my coworkers to transport themselves to work in ways that are less impactful to the neighborhood. And none of us will simply accept that when a new employer comes to town, all of it's employees should be allowed to just hop in their cars and drive to work. Let's demand that the businesses in the area get serious about cutting the number of cars coming to their properties. How about it?
---
---
Westnorth
says: (
1/16/12 2:53 PM
)
WashCycle's Friday blog post also noticed that the "one woman who is particularly anti-bike" is one and the same from last time. It's unfair to other stakeholders (and I noted this to DDOT staff at the meeting) to let a few people dominate the discussion, and set a negative and combative tone, with harangues and complaints (in many cases about things that don't have anything to do with the plan's scope) before the group as a whole has a chance to ask questions about the plan and simultaneously share their thoughts -- which was the point of the tables with maps in the back.
That said, I thought that DDOT's presentation was too technical and didn't do a good job of conveying the scope of the plan, how the plan differs from previous plans, or whether DDOT has done any sort of background research on the corridor. I understand that this was an initial meeting, but some very basic facts about the corridor (this many people live here, work here, these are the assets and how many people they move, how many they could move, these are some of the ways people get around) might have set the tone a bit better than a few people weeping and wailing about the Eleventh Commandment ("thou shalt have free reserved parking spaces for thy multiple automobiles directly in front of thy home").
---
Add a Comment:
Comments are closed for this post.
JDLand Comments RSS Feed

Records added or updated recently displayed here; click the "archive" links to see additional detail and older records. All data from DC Government databases and RSS feeds. JDLand takes no responsibility for errors, omissions, etc. (read CapStat disclaimer). Data is retrieved daily.


UNIT B/O M ST SE
THEFT
Theft 2nd Degree (all Other Larceny)
10/12/20
1000 B/O 1ST ST SE
THEFT FROM AUTO
Theft (theft From Motor Vehicle)
10/12/20
1100 B/O NEW JERSEY AVE SE
THEFT
Theft 2nd Degree (all Other Larceny)
10/09/20
1000 B/O 8TH ST SE
ROBBERY
Armed Carjacking
10/09/20
400 B/O M ST SE
THEFT
Theft 2nd Degree - Felony (theft From Building)
10/07/20
900 B/O M ST SE
MOTOR VEHICLE THEFT
Theft First Degree (Stolen Auto)
10/01/20
1000 B/O 3RD ST SE
MOTOR VEHICLE THEFT
Theft First Degree (Stolen Auto)
09/30/20
UNIT B/O K ST SE
MOTOR VEHICLE THEFT
Theft First Degree (Stolen Auto)
09/29/20
1100 B/O 2ND PLACE SE
ROBBERY
Assault W/i To Commit Robbery (simple Assault)
09/28/20
1000 B/O 4TH ST SE
ROBBERY
Carjacking
09/26/20
1200 B/O HALF ST SE
MOTOR VEHICLE THEFT
Theft First Degree (Stolen Auto)
09/22/20
600 B/O L ST SE
THEFT FROM AUTO
Theft (theft From Motor Vehicle)
09/21/20
1200 B/O VAN ST SE
THEFT FROM AUTO
Theft (theft From Motor Vehicle)
09/19/20
1000 B/O 1ST ST SE
THEFT FROM AUTO
Theft First Degree (theft From Motor Vehicle)
09/16/20
100 B/O L ST SE
THEFT FROM AUTO
Theft (theft From Motor Vehicle)
09/16/20
200 B/O L ST SE
MOTOR VEHICLE THEFT
Theft First Degree (Stolen Auto)
09/13/20
1000 B/O 3RD PLACE SE
MOTOR VEHICLE THEFT
Theft First Degree (Stolen Auto)
09/13/20




| | |
| --- | --- |
| Recent Issued Building Permits | Archive |

1031 5TH ST SE

09/30/20

CLARICE GEE / null

P2009304 / SUPPLEMENTAL

100 M ST SE

09/25/20

LHREV WASHINGTON M STREET LLC / THUY LE; NA

B2010745 / CONSTRUCTION

Suite 950 - Interior alteration. Work is to include minor change in MEP and Fire. No Structure.

1275 NEW JERSEY AVE SE

09/18/20

BROOKFIELD PROPERTIES / TIM GOOD

AH2001915 / CONSTRUCTION

After hours to conduct work on 1275 New Jersey Ave SE on the upcoming holiday, Columbus Indigenous Peoples' Day, Monday, October 12th, 2020. Operations would include above grade concrete and mechanical, electrical and plumbing rough-in and exterior facade (Masonry, Glass & Glazing) activities with access limited to N Street. This permit would not include extended work hours beyond the normal 7am...

125 O ST SE

09/23/20

DISTRICT OF COLUMBIA / CHRISTOPHER J QUINN-BEAN; NA

B1903205 / CONSTRUCTION

Reinstate heating and ventilation systems at DC Water's O Street Pumping Station. Replace five fans and associated louvers, ducts, accessories and controls. Install louvers in existing openings. Infill floor plates with concrete. Replace lighting in the Stormwater Wet Well. Relocate selected controls for the odor control system. 125 O Street SE

10/02/20

DISTRICT OF COLUMBIA / null

M2100033 / SUPPLEMENTAL

79 POTOMAC AVE SE APT 945

09/18/20

null / NA NA NA

EHOP20918703 / HOME OCCUPATION

227 TINGEY ST SE

09/30/20

FC 227, LLC / BRIAN QUINN

B2011139 / CONSTRUCTION

Conversion of apartment unit to model unit.

AH = After Hours; B = Alteration & Repair; D = Demolition; E = Electrical; FB = Boiler; M = Mechanical; P = Plumbing and Gas; PC = Post Card; R = Raze; SG = Sign; TL = Tenant Layout; TN = Tent; RW = Retaining Wall;



No commercial transaction records added or modified in the past two weeks.