Near Southeast DC: Past News Items
Capitol Riverfront BID
Go to Full Blog Archive
---
Summer Outdoor Movie Series Announced: Clash of the Comics
Feb 15, 2013 3:12 PM
It might be a little hard to think of sitting in
Canal Park
watching movies on a warm summer night when folks are still skating on the park's rink, but the Capitol Riverfront BID has now released the list of 10 movies that will be shown at the park in this year's Summer Outdoor Movie Series, on Thursdays beginning May 30th.
This year they are going with a comic book theme, so get your inner geek fired up for these offerings:
May 30th - Captain America
June 20th - Batman and Robin
July 4th - No Movie (Holiday)
July 11th - Batman Begins
July 25th - The Dark Knight
Aug 8th - The Dark Knight Rises
Tuesday Tidbits: More Post-Vacation Catching Up to Do
Aug 21, 2012 10:25 AM
Here's a few more items that came across the transom while I was on my annual
Hiding Out in Wyoming and Montana trip
:
* Residents of
Onyx
have filed paperwork with the city under the
Tenants Opportunity to Purchase Act
and are investigating options to buy the building themselves, after news came a few weeks back that the
building is under contract to be sold
for $82.5 million. If the city accepts the filing, the tenants' group would then have 120 days to come up with a competing offer. See the
tenants' press release
for why the group is pursuing this, including its hope that buying the building, which opened in 2009, will "reverse problems which plagued the area for years - poor housing conditions, rent increases, and attempts by developers to force residents out of the District." (If they succeed, I guess I'll have to stop using my standard joke about tenants looking in the sofa cushions for millions of dollars in spare change to buy their buildings.)
* DC Water has leased 16,450 square feet of office space on the 7th floor of 80 M Street through 2019 (
GlobeSt.com
). With or without telescopes for spying on the
Main Pumping Station
a few blocks to the south?
* The
Capitol Riverfront BID
is having an Urban Design Framework Plan prepared, to "examine the quality of the public realm in the BID and develop strategies for a comprehensive framework and public investment plan in the right-of-way." They've also commissioned a Retail Analysis Study "that will provide forecasts on future retail demand and absorption possibilities." Because if there's one thing a neighborhood can never have enough of, it's studies and analyses. (
BID newsletter
)
* The
Earth Conservation Corps
is offering "bird of prey demonstrations" on Friday nights through Sept. 28 at
Diamond Teague Park
, from 5:30-7:30pm. (via e-mail, no link!)
*
Another rumination on Near Southeast's development timeline
, at GGWash. As I've said many times--of course things were happening in Near Southeast before the ballpark (I wouldn't have started this blog in 2003 otherwise). But to not recognize that the ballpark sped up *plans* considerably is to not have watched the 18-month landrush in 2004 and 2005 after the ballpark's location was announced, when so many little lots between 1st and South Capitol south of the freeway were snapped up by the big guns. And to say that the ballpark didn't drive development right after it opened is to neglect the worldwide financial market near-collapse, and the years needed to recover from that. But I bet there's a lot of retailers and developers looking at the Nats this year and rueing that they didn't make their move already.
* So, in line with all that, check out
nine years ago today, windshield edition
.
ANC 6D Recap 1: Water Pylons, and Parking
May 15, 2012 9:49 AM
It was a busy ANC 6D meeting on Monday night for Near Southeast-related issues, so I'm going to put it all in a series of posts:
*
New Jersey Avenue Underpass Art
: The
Capitol Riverfront BID
gave an update on the "Water Pylons" art installation, which is now moving forward after being "dormant" for about a year. This is the project partially funded by a grant from the
DC Commission on Arts and Humanities
that will paint and light the pylons holding up the Southeast Freeway in a "modern representation of water that announces New Jersey Avenue, SE as a gateway to the Capitol Riverfront community." The reflective blue paint should go up in July, followed by light fixtures in August, and the installation should be dedicated in September, which will be right around the time that DCCAH moves into its new nearby digs at
225 Virginia/200 I
. Passers-by may note that new fences and LED overhead lighting have already been installed along New Jersey as part of the transformation of the underpass. The BID's presentation to the ANC, with
more information about the project
, is here.
*
Parking Parking Parking
: There was a discussion about issues with
game-day parking
in the neighborhood, specifically the prohibition of parking along K and L streets, as well as other restrictions that have made residents unhappy. Damon Harvey of DDOT says that the agency is "reassessing" the current configuration, to figure out how to provide better access to residents while not allowing stadium-goers to then hog all the parking. He expects that changes will be announced in a month or so that will allow for "greater residential protection during games." One other non-game day change for residents has already gone into effect: meters are now turned off at 6:30 pm (but still 10 pm on game days).
However, those who came to the meeting hoping to hear about changes in the Residential Parking Permit system that would allow residents in the high-rise buildings west of Canal Park to park on the street throughout Ward 6 were disappointed, as DDOT continues to hold that large residential buildings in mixed-use neighborhoods will not qualify for RPP. (Harvey used the Ellington on U Street as a specific example of this being the case elsewhere in the city, but there are more buildings in this situation than just that one and the Near Southeast ones.)
Also, in somewhat related news the ANC unanimously passed a resolution protesting the plan in the mayor's new budget to redirect most
performance parking
proceeds to other areas, such as Metro, rather than their being used as originally intended, to fund non-automotive transportation improvements in the neighborhood.
Wednesday Tidbits: Osteen, Groundskeeping, and More
Apr 25, 2012 10:09 AM
After the flurry of the past few months, real news is taking a bit of a breather. In the meantime, here's some reading material I've scraped up, so that it doesn't look like I've completely quit working:
* Joel Osteen Ministries' "
America's Night of Hope
" is coming to
Nationals Park
on Saturday--here's the Washington Post's story
on Osteen and the plans for the event
. Doors open at 5:30 pm and the festivities start at 7 pm, if you're wanting to plan your evening around the crowds. If you're coming to the neighborhood for it, my
Visiting Nats Park page
can help you find your way.
* Want to know how the Nats Park field is cared for, and who takes care of it?
The Post profiles head groundskeeper John Turnour
and his work.
*
A reader tells WashCycle
about being stopped from biking on the Navy Yard portion of the
Riverwalk
. That promenade has always been signed as prohibiting bicycling, but with increased publicity for using the Riverwalk as a biking trail (including Tuesday's
ribbon cutting of the new bridge across the CSX tracks
), the issue of bicycles along the
Navy Yard
/
Yards Park
/
Teague
stretch is going to keep bubbling up, perhaps even moreso when the new
11th Street Local bridge
opens soon with its wide pedestrian/cycling paths making the connection between both sides of the river even easier.
* Speaking of that new
11th Street Local bridge
, much streetscape work has been done recently on O Street (new pavement, curbs, and brick paver crosswalks), and it looks like the concrete should be poured before too long to complete the connection from O to where the bridge begins to rise above the river. Maybe I'll actually get over there with my camera soon.
* Speaking of streetscapes, there's
a new sidewalk on L Street
between 1st and New Jersey, to go with the
new sidewalk on Half between I and K
.
* The Capitol Riverfront BID would love it if you'd fill out either their
residential survey
(if you live in the neighborhood) or the
employee survey
if you work here.
* Jonathan O'Connell at WaPo looks at
how developer Opus East hit the skids
, right as it was trying to finish
1015 Half Street
. (Opus was also the developer behind
100 M
, but it was completed before everything truly fell apart.)
* The Mayor is having a Ward 6 Fiscal Year 2013 Budget Town Hall Meeting tonight (April 25) at 6:30 pm at Eastern High School, 1700 East Capitol Street.
* The next meeting of
Police Service Area 106
is on Saturday, April 28, at 10 am at the Capper Seniors building at 900 5th St., SE.
What else is going on?
UPDATE:
Adding a link to
Washington City Paper's profile
of "The Nautical Yards", a "site-specific dance and theater piece inspired by the Washington Navy Yard" being performed at the
Yards Park
Thursday through Saturday (April 26-29) at 7 pm.
Premium seating is $30
, general admission is free.
And I should probably remind that tickets for Springsteen at Nats Park on Sept. 14
go on sale Friday
(April 27) at 10 am.
Tidbits: Miles Glass Raze Permits, Navy Yard-Ballpark, More
Mar 19, 2012 11:57 AM
Couldn't leave all these morsels until the normal Tuesday Tidbits slot:
*
More Demolitions Coming
: Raze permits have now been approved for the Miles Glass building at
8th and Virginia
and its next-door neighbor, the closed auto repair shop at
7th and K
.
National Community Church
, which owns the lots and others on the same block, said
back in January
that a temporary parking lot and "community green space" will be coming to the site while the church continues to work on its final plans for the site, which in the past
have been described as
being a combination of coffee house, performance space, and church offices.
*
Yup, Navy Yard-Ballpark
. The
new Metro subway map is out
, and confirms that
Navy Yard-Ballpark is official
.
*
Bike to Work
: May 18 is DC's
Bike to Work Day
. One of the
pit stops
is the
Yards Park
, from 7 to 9 am, and you get a t-shirt if you register and then stop at your designated pit stop.
*
Bridge Recreation
: If the notion of the "
11th Street Recreation Bridge
" captured your fancy, you can see some additional stories on the idea by
Lydia DePillis
,
BeyondDC
, and
WJLA
.
DePillis
notes that the city isn't intending on paying for this entire thing itself, and a decision needs to be made by May whether or not the new
11th Street Local bridge
will have the bulb-out viewpoints built (they'd be unnecessary if the current downstream bridge was being kept).
WJLA
, on the other hand, mentions that "some" are concerned it "could become a hotbed for crime"--which led to a fun Twitter
back
-
and
-
forth
that devolved into using the new bridge for a Jason Bourne/James Bond-type chase sequence.
*
Mobile 'Hood
: The Capitol Riverfront BID has launched a mobile version of its
web site
, which uses your phone's GPS to give you information on food, developments, and events near your location.
And, of course, if you want to know what your current location looked like before all the changes started happening, you can go to my mobile site (
m.jdland.com
) or
jdland.com/here
on your phone and you'll get my oldest photos looking in each direction from the corner nearest to where you're standing. (
Read more about how that works
.)
*
Fairgrounds
:
DCMud looks
at the plans for the
Half Street Fairgrounds
(which I
broke the news of
back in February), with a few neat new renderings. And then the piece drops a mention at the very end that "DCRE Real Estate" is handling the retail leasing for the project--that's DCMud's company, and the writer of the blog post is also the agent handling the leasing. (Just in case you like to be aware of those sorts of things when getting your news.) In the meantime,
a few shipping containers were spotted
on the site last week.
Front Flicks Outdoor Summer Movie Lineup Announced
Feb 16, 2012 10:19 PM
The Capitol Riverfront BID has announced the lineup for its
2012 outdoor Front Flicks summer movie series
, which will run on Thursday nights for 10 weeks this summer at Tingey Plaza behind USDOT at New Jersey Avenue and Tingey Streets. It's a "treasure hunting" theme this year:
May 24: Lara Croft, Tomb Raider
May 31: Sahara
June 7: Pirates of the Caribbean: Curse of the Black Pearl
June 14: National Treasure
June 21: The Goonies
June 28: Raiders of the Lost Ark
July 5: City Slickers II: The Legend of Curly's Gold
July 12: O Brother, Where Art Thou?
July 19: The Da Vinci Code
July 26: Muppet Treasure Island
They haven't posted their flashy flyer yet, and the e-mail says "stay tuned for more announcements on Pinkberry at the movies and Pacers Adventure Races before Thursday movies!"
(
UPDATED
2/23 with some
switches
in the schedule.)
Tidbits: BID Reports, Artomatic to Crystal City, Tunnel Items, More
Jan 18, 2012 2:33 PM
There's been a whirlwind of "big" posts as 2012 has gotten underway, so here's a few items I've neglected:
*
BID Reports
: At its annual meeting last week, the
Capitol Riverfront BID
released both
its annual report
and the "Green Print of Growth" study they commissioned, which showed that the portion of the Green Line from the Navy Yard station to Georgia Avenue/Petworth has become over the past 10 years a "regional leader" in "capturing highly-prized young professional housing demand and high-wage employment," just nosing ahead of the Orange Line's Rosslyn-Ballston corridor and outstripping the Red Line's stretch in Northwest DC when looking at household growth in the 18-to-34 demographic. The report also says (shocker!) that "the analysis conducted suggests that the Capitol Riverfront--given its Green Line access at the Navy Yard Station and its significant amount of development capacity--is among the most competitive locations in the region for households, companies, and retailers."
You can read the
executive summary
, the
complete version
, and the
slides
that RCLCO's Shyam Kannan displayed during his presentation at the meeting. (Additional coverage from
WBJ
and
CapBiz
.)
This was followed by a
commentary
by BID chief Michael Stevens in Monday's Washington Post/Capital Business in which he argued: "It's time for business and residents to recognize and acknowledge a new reality: The Green Line corridor has emerged as a powerful economic engine for the District and the region. And it's time for Metro, the city and the private sector to invest more in the area to support this growth trajectory."
UPDATE:
Also coming out of the annual meeting, the BID
voted to change how it handles its taxes
, which still needs to be approved by the city council to take effect. (WBJ)
* On a parallel track, though it doesn't have to do with Near Southeast specifically, the Post's
Steve Pearlstein wrote
over the weekend about how signs suggest "that the next phase of growth in the Washington region will focus on these underdeveloped areas in the eastern quadrants of the District and some of the region's older, closer-in suburbs."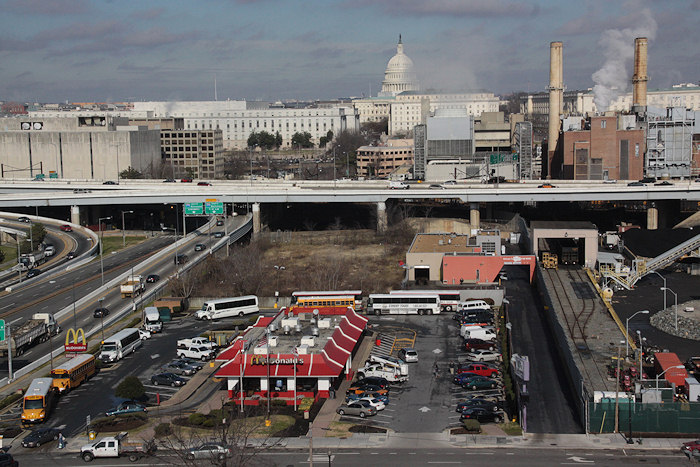 *
New Views
: While I was at the BID's meeting, I took the opportunity to get some photos
of the inside of 1015 Half Street
, plus
one shot looking out
that shows not all views of the U.S. Capitol dome are, by default, "majestic." (Alternate caption: "Would you like fries with that democracy?") One
Twitterer suggested
that the rock circle at far right, on the Capitol Hill Power Plant's property, is where the ritual sacrifices are held. So, if you see the Congressional leadership skulking around I Street late at night....
*
Artomatic Decision
: The Post's Jonathan O'Connell
tweeted this morning
that
Artomatic is headed to Crystal City
. Organizers
had been looking
at both 1015 Half and the old National Geospatial Intelligence building at
101 M
.
*
CSX
: The Virginia Avenue Tunnel web site now has
public comments
on the
Nov. 30 "concepts" meeting
, as well as the
transcript
of that session. Comments are still being accepted through the end of January.
*
Protest
: A reader who lives on 7th Street just across from the Marine Bachelor Enlisted Quarters has passed along that the neighbors on that block have decided to lodge a formal protest at the liquor license renewal of the
7th and L Market
, thanks to having witnessed multiple examples over the past few years of public drunkenness and urination, loitering, littering, drug dealing, indecent exposure, and even one proposition by a prostitute. There's no doubt that that market is a bit of a throwback to the neighborhood's previous incarnation; it will be interesting to see how this proceeds, and also how the
eventual arrival of the National Community Church on that block
changes (or doesn't change) things.
*
AIIIEEEE!
: Don't have enough to worry about these days? How about
rising sea levels inundating
areas along DC's waterfronts? (WaPo/Capital Weather Gang)
*
Neighborhood News Roundup
: The Post's new Where We Live real estate blog has a
rundown
and
photo gallery
today on the latest progress on the development and food fronts in Near Southeast. If it all looks and sounds strangely familiar, that shouldn't be a surprise.
ANC 6D January Agenda: M Street Study/BID Previews, More
Jan 4, 2012 4:02 PM
ANC 6D has sent around (and
posted
! yay!) the agenda for its January meeting, scheduled for Monday, Jan. 9 at 7 pm at 1100 4th St., SW in DCRA's second-floor meeting room.
The Near Southeast items of interest could mostly be looked at as sneak previews, or perhaps as items that could be missed if you are better able to fit other upcoming meetings into your calendar (especially, if, say, you were looking for an escape hatch because you'd kinda rather be watching the BCS championship):
* There's a M Street SE/SW Transportation Study agenda item, in advance of the
DDOT public meeting on the study
coming three days later, on Jan. 12;
* There's an update on Capitol Riverfront BID doings, in advance of the
BID's annual meeting
three days later, on Jan. 12; and
* There's the application for historic landmark status for the
DC Water main pumping station
, which will be heard by the Historic Preservation Review Board at its January 26 meeting.
Gordon Biersch to 100 M? and BID Surveys/Planting Day
Oct 20, 2011 8:19 PM
My post on Wednesday about the
rumors of a not-quite-yet-signed tenant
for the ground-floor restaurant space at
100 M Street SE
shook loose quite a few mouths, and it is unanimous amongst those gabbers that the newcomer in negotiations is
Gordon Biersch
, the brewery/restaurant that already has a
location at 9th and F Streets NW
, not too far from the Verizon Center. With 100 M being within sight of
Nationals Park
, it would seem a plausible destination, assuming the final papers get signed (which does not appear to be imminent). It'll be interesting to see their timeline, especially vis-a-vis the baseball season (getting it done by Opening Day, 5 1/2 months from now, would seem to be a bit optimistic, I think?).
On a 100 percent unrelated note (I really do hate teeny tiny posts, so felt the need to combine these), the Capitol Riverfront BID's
latest newsletter
is out, and they're asking for respondents for their annual "online perception surveys" for both the
BID itself
and for the
Yards Park
.
But don't you dare click on either of those survey links if you haven't yet
filled out my readership survey
--my feelings will be terribly hurt! (Argh! I'm snakebitten with the dang survey. This link was a bad one until about 9 am on Friday. Sorry! Please try again!)
The BID also is co-hosting a
Community Planting Day
on Saturday, Oct. 29, from 9 am to noon, along with the US Green Building Council National Capital Region. They're going to plant thousands of daffodil bulbs throughout the neighborhood.
The rest of the newsletter is
here
.
Bikeshare Birthday Party, Blocktoberfest, and Other Tidbits
Sep 5, 2011 11:33 PM
First, some events coming to the neighborhood later this month (if anyone can think past the return of Stephen Strasburg, weather permitting, ahem):
*
Capital Bikeshare
is
celebrating its first birthday
at the
Yards Park
on Sept. 22 from 6 to 9 pm, with live music, food, games, giveaways, and moonbounces. Note that this is the same evening as
Opera in the Outfield
a few blocks away, so you can double your pleasure and double your fun.
* Two days later, on Sept. 24, the park will host
Blocktoberfest
, "DC's Largest Oktoberfest Music Festival." I believe there is beer involved.
See the web site
for info on tickets, etc.
* In a more professional vein (i.e., probably no live music or moonbounces), the
2nd Annual Anacostia River Business Summit and Expo
is being held at 100 M St. SE on Sept. 20 from 8 am to 12:30 pm. Former mayor Anthony Williams is scheduled to be one of the speakers, and there will be three separate panel discussions. There will also be boat tours given afterwards, though space is limited.
* And I mentioned it in my last tidbits post, but why not pass along again that the next
Truckeroo
is scheduled for Sept. 30.
Other pieces of this-and-that:
* The city's Office of Motion Picture and Television Development named the Yards Park the "
One City Location of the Month for August
," calling it "one of the city's most beloved, yet fairly untapped, attractions." The agency is doing this to promote "cinematically compelling locations that are available to film and television producers."
* Should have mentioned this sooner, but the
Foundry Lofts
folks ran a "
Twitter Tour
" of the building on Aug. 25, then posted
some additional shots
of the interior and the views.
* The Washington Business Journal
reported last week
(subscribers only) that Kaplan has abandoned its search for space to open a law school in the DC area. Late last year it had been reported that they had been
looking for up to 130,000 square feet
of space in Near Southeast. [Full but probably unnecessary disclosure: in my real life I work for the Washington Post newspaper, which is under the same Washington Post Co. umbrella as Kaplan.]
* The Sunday Post Magazine's cover story
focuses on the McDonald's
at 2 I St. SE, its staff, and its manager, Raul Reyes, who in 2009 won a Ray Kroc Award as one of the top 1 percent of managers from the 14,000 McDonald's nationwide.
BID: Rename Navy Yard Metro to 'Capitol Riverfront/[Curly W]'
Jul 26, 2011 7:28 PM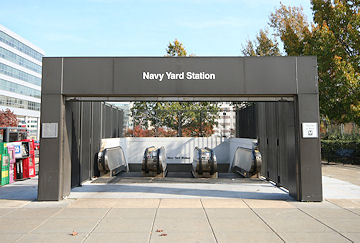 Michael Stevens, the executive director of the
Capitol Riverfront Business Improvement District
, has sent a letter to the mayor, the city council, the WMATA board and other city officials, formally requesting that the Navy Yard station on Metro's Green Line be renamed "
Capitol Riverfront/

" (aka
Curly W
, for
Nationals Park
).
With Metro
letting it be known this week
that any new station names will have to be 19 characters or less thanks to the transit agency's decision to begin enforcing their own naming rules again, the BID's
earlier desire to add their name
and the Nationals' logo to the existing station name would not be allowed. Therefore, in order to get Capitol Riverfront added, the BID feels that "Navy Yard" can be, well, shipped out to sea.
Stevens' letter says that "the name Navy Yard station has served this area well for approximately 20 years and was very descriptive 20 years ago when the federal government owned the majority of the land up to the metro station." But the letter also says that Navy Yard "no longer accurately describes the neighborhood and destinations served" by the station.
The letter goes on to describe the changing demographics of the area since the station opened in 1991, makes mention of the fact that Capitol Riverfront is "an established office submarket recognized and named by Co-Star," and notes that "the entrance to the Navy Yard is located at 6th St., SE and M St., SE, which is approximately a half mile away and a twelve minute walk from the metro."
In explaining how the name change meets WMATA's stated principle that a new name incorporate "customer input," the letter describes the "coalition of public and private stakeholders [who] conducted a study and provided input that led to the development of the Capitol Riverfront name for the neighborhood," back in 2007.
DC and the other jurisdictions are supposed to come up with any new station names by September in order to make the new June 2012 map that Metro will be preparing to coincide with the plans to realign the Yellow and Blue lines; the
Examiner wrote earlier this week
about the plans to shorten 11 of the more lengthy station names.
Greater Greater Washington also wrote recently
on the plans to shorten names, and in describing the focus groups that WMATA conducted on current and proposed station names, said: "The participants did like two potential station name changes: 'Smithsonian-National Mall' and adding some information about the Nationals to Navy Yard, whether a curly W logo or the words 'Ballpark' or 'Nationals.' They didn't like also adding 'Capitol Riverfront,' the name of the BID."
The Navy Yard was established in 1799; from World War I until 1963, the Navy Yard's acreage
included
the land south of M and east of 1st, in what then became the Southeast Federal Center and is now
The Yards
. The neighborhood directly around the Navy Yard has also been known as "Navy Yard," with "
the near Southeast
" starting to be used in 1960s if the Washington Post's archives are an accurate guide. (I have always avoided the "Navy Yard" moniker for the neighborhood so as not to have to spend every day of my life saying "No, not
in
the Navy Yard,
near
the Navy Yard.")
Holiday Weekend Events: Baseball, FreedomFest, and More
Jun 29, 2011 10:32 PM
With July 4 being nice enough to fall on a Monday this year, the three-day holiday weekend is particularly chock full of events, with plenty of goings-on in Near Southeast. Here's a rundown. (Though, judging by how sparsely populated my office already is, just on Wednesday, I'm not sure how many people are left in town to read this.) And, for neighborhood residents, even if none of these events are on your dance card, you still might want to be prepared for heavier than normal crowds wandering around.
* For a headstart on the weekend, there's two events on Thursday, June 30. Ryan Zimmerman will host his 2nd annual "
Night at the Park
" fundraiser for his
zIMS Foundation
, which raises money for Multiple Sclerosis. It starts at 6 pm, and tickets are still available. Country star Rodney Atkins will be performing, as will David Blaine (for the VIP ticketholders). More details at the
official web site
.
* A few blocks away, in what could be considered a bit of counterprogramming, the Capitol Riverfront BID's
Outdoor Movie Series
will be showing "
Shakespeare in Love
," starting at 8:45 pm at Tingey Plaza behind USDOT.
* On Friday, the weekly
Yards Park
concert series
continues, with
rhythm and blues by the group Special Occasion
rhythm and blues band Framewerk [my boo-boo, sorry], from 6 to 8 pm.
* The weekend at
Nationals Park
will be a busy one, starting with Saturday's doubleheader against the Pirates, the first of the Nats' upcoming 11-game homestand leading into the All-Star brealk. The first game (which won't be broadcast on TV, by the way), is at 3:35 pm, with the second game starting at 7:05 pm or later. The $2 tickets are sold out, but tickets bought for Saturday get you in to both games. And, bang zoom, there will be
fireworks
after the second game, "presented by Marvel Studios' new motion picture Captain America: First Avenger." (Might be interesting to wander to the Yards Park to watch from there, to see if it's a good vantage point.)
Sunday's 1:35 pm Pirates game is also "Nickelodeon Day" at the ballpark, with all sorts of family-friendly activities featuring SpongeBob SquarePants and Dora the Explorer.
And, on Monday, July 4, the Nats will be hosting the Cubs at 1:05 pm, which will probably be a hot ticket. There's a series of special ticket offers for this "
Patriotic Series
" game.
See this
Nats press release
for additional details on all the promotions and festivities.
* Meanwhile, on both Sunday and Monday, the
National FreedomFest concert
will be in full swing at the
Yards Park
, from 2 pm to 9 pm on Sunday and 1 pm to 9 pm on Monday. The organizers say there will be more than 40 bands and DJs on five stages, along with food vendors, craft vendors, and more. Tickets start at $25, and are available via
the web site
, along with more information about the lineup and other details.
(Note that the concert and the baseball, running at the same time, may make finding spaces in the neighborhood surface parking lots a bit tougher than usual.)
I was going to
include
some
other
upcoming
events
in this post, but nobody's reading this anyway, so I'll save those for another time.
As always, if you want continuing updates on these sorts of events, my
Near Southeast Businesses/Organizations
Twitter list, which are also displayed in a box on the JDLand homepage, will give you all the news and late-breaking tidbits.
Outdoor Movie Lineup; FreedomFest; Harry's Grand Opening
Apr 22, 2011 9:33 AM
A couple of event tidbits:
* The BID has
announced the lineup
for this year's "Best of the Oscars" summer outdoor movie series, running on Thursdays from May 26 through July 28. The movies, which are free and open to the public, will start at 8:45 pm (or sundown) at Tingey Plaza, which is directly behind
USDOT
at the corner of New Jersey and Tingey. There will be food trucks, popcorn, cotton candy, and Micha's sorbet.
* The
National FreedomFest
, a two-day music and arts festival, is coming to the
Yards Park
on July 3 and 4. They are advertising "over 40 bands and DJs" on five stages, along with food and craft vendors (and yes, beer, since the event is co-sponsored by Budweiser).
Tickets
are $19.99 per day or $29.99 for a two-day ticket, or if you're feeling special you can get special VIP and/or "Taste of Freedom" tickets, which get you access to VIP areas, free beer, private bathrooms (!), and more, but which are a bit pricier.
* And, on a somewhat smaller scale (but sooner!),
Harry's Reserve
has passed along word of its official Grand Opening, scheduled for Saturday, April 30, from 4 to 7 pm. There will be appetizers, wine tastings, and "high-end whiskey tastings" (wheee!). Savita also tells me that they've added a selection of cheeses, patés, and salamis to their lineup, as well expanding their lineup of spirits. Harry's also does wine tastings every Friday and Saturday from 4 to 7 pm.
* I should also mention
Marcatus
, the "creative art market" being held on the first Sunday of every month at the Yards Park. It's from 11 am to 6 pm, and offers live music and food in addition to artists displaying their works. Next one is May 1.
* And, just as I posted this, the BID sent out the flyer on the
summer Wednesday lunchtime concerts
, running from May 11 to August 17 from 11:30 am to 1 pm in the Yards Park. This is in addition to the Friday evening concert series at the park that begins on
May 13
.
Performance Parking Brings Monies for New Bikeshare Station(s), Transportation Study; Some Parking Costs Going Up in 2011
Mar 24, 2011 1:38 PM
Michael Perkins
at GGW got his hands on the draft version DDOT's
2010 Ballpark District Performance Parking Report
, and while I'll leave it to him to handle the
in-depth discussion of pricing and meter use
in Near Southeast as well as other neighborhoods, there are a few action items in the report that might be of general interest (you should read all 31 pages if you want the nitty-gritty).
Now, this is a
draft
report, but assuming it becomes final...:
Revenues from the
parking program
have been able to provide $812,100 for "non-automotive transportation improvements" in 2011, which will include a new Capital Bikeshare location at the
Yards Park
and $135,000 for a new fence along New Jersey Avenue by the railroad tracks (presumably it won't hide the
"Water Pylons" public art
coming to the freeway underpass). There will also be two or three other new bikeshare stations somewhere in the Ballpark District parking zones (Near Southeast, Southwest, and southern Capitol Hill), but those haven't been announced.
There will also be a $70,000 grant to partially fund a Capitol Riverfront BID Transportation Study, which the page 25 of the report says will happen during this fiscal year and will look at:
* The need for additional traffic signals and stop signs based on pedestrian and vehicular patterns (and recent accidents);

* Neighborhood traffic circulation patterns including one way street circulation and freeway access and turning movements onto the freeway frontage roads;

* How the CSX tunnel reconstruction will impact traffic flow and SE/SW freeway access/egress;

* Existing and future parking demand and the proposed parking supply to meet that demand;

* On street parking strategies and supply for commercial, residential and visitor populations;

* Optimum Circulator routes and hours of operation;

* Recommended routes for bike lanes that tie into the Riverfront Trail system;

* The optimum route for a streetcar line in the M Street right of way and how it would service the Buzzard Point subdistrict; and

* How M Street is designed and works as a multi-modal transit corridor while exhibiting a high quality of design in the public realm.

Gosh, I'm just not sure if residents will be interested in any of these! If perchance a reader or two might have an idea or data point for the above items, feel free to discuss in the comments.

Note that this study doesn't quite seem to match the overarching Near Southeast/Southwest combined traffic study that got

some discussion late last year

, but perhaps there's more going on than what's mentioned in the DDOT report.

DDOT is also proposing that non-gameday parking rates at the multispace meters between South Capitol and 2nd Streets from the freeway to M Street go up to $6 for three hours (first hour $1.50, second hour $2.50, third hour $3). Plus, the boundaries of the parking zone will move eastward to 11th St. SE from 9th St.

By the way, if you have a fab idea for how some of the proceeds from the parking revenue can be spent on the aforementioned non-automotive transportation improvements, you can submit a written proposal to DDOT (further information on page 26 of the

report

). And if you want background on how the Performance Parking Pilot came into existence back in 2008, my

Stadium Parking page

can help with that.

Vote for Summer Movies, and Yards Park Events Gearing Up

Mar 7, 2011 2:55 PM

With "Academy Award Movies" having been the

winning theme

for the Capitol Riverfront BID's 2011 summer outdoor movie series, the BID is now asking people to

vote on which Academy Award movies should be screened

. The series starts on May 26, and will once again be on Tingey Plaza, at New Jersey and Tingey just behind the

USDOT building

. (Last year's screening location, the

Canal Park

footprint, will be unavailable this summer because the locusts have arrived, dogs and cats are sleeping together, and it appears that construction is about to get underway.)

While the movie series isn't being held at the

Yards Park

(just a smidge to the north of it) the BID is working on an ever-growing list of events that will keep the park hopping through the year:

* Kicking off the slate, there will be a

Family Fun Day

on April 2 from 11 am to 4 pm, in conjunction with the

National Cherry Blossom Festival

. According to the

press release

, activities at the free event will include sake tasting and a Japanese beer garden by Mie N Yu, lantern making, sushi from Nooshi Sushi, a moonbounce, and more. (Then everyone can take a leisurely walk down M Street to the Southwest Waterfront for the

Fireworks Festival

, which actually starts at 1 pm and runs until the fireworks kick off at 8:30 pm.) This is also the day of the first Saturday home game of the year at

Nationals Park

, just two blocks to the west, starting at 1:05 pm against the Braves.

*

Sensorium

, the "culinary and sensory experience" announced

a while back

, starts its multi-week run on April 12.

* The previously mentioned DC Music Fest on May 7 has now announced its lineup.

* While the summer movies will be on Thursday nights, the park will also host a free

summer concert series on Friday nights

from 6 to 8 pm, kicking off on May 13 and running through August 19. This will be in addition the the lunchtime concert series that the BID has run for the past three years, and is expected to feature music ranging from jazz and blues to rock and reggae. (If you're a food provider and you want to serve at the concerts, here's

the RFP

.)

* July 9 will see

MetroDash

, the "country's premier obstacle race series," which includes obstacles such as tire flips, rope swings, 15-foot cargo net climbs, wall jumps, monkey bars, the "strongman shuffle." You can

sign up here

(if you

dare

), though the web site doesn't seem to be responding right now.

There are also plenty of private events already on the

park's calendar

, so if you were thinking about

throwing your own shindig there

, you won't be alone.

UPDATE, 3/20:

According

to their web site

, the May 7 DC Music Fest has been cancelled, "due to lack of funding and sponsorships."

BID Summer Movie Survey; 225 Virginia Kick-Off

Feb 13, 2011 11:22 PM

Two very small items to start off the week:

* The BID has

posted a survey

to find out which movies people are interested in seeing during the summer's Outdoor Movie Series, scheduled for Thursday nights beginning May 26. (The movies have moved back to Tingey Plaza behind USDOT, since

Canal Park

will presumably be under construction.) They're offering two themes to choose between: Summer Vacation Movies and Academy Award Winners.

*

StonebridgeCarras

has e-mailed invitations to VIPs (a list that doesn't include

moi

) announcing a "ceremony to celebrate the official beginning of the redevelopment" of the former Post Plant, aka

225 Virginia Avenue

, aka 200 I St., SE. It's scheduled for Tuesday, Feb. 15, at 10:30 am at the corner of 3rd and Virginia, with Mayor Gray and other luminaries expected to be in attendance. Will the Bobcats now parked on site then start punching out the walls from the inside, as was the case when the

old Capper Seniors

building was demolished? Of course, in the case of the Post Plant, they're only "de-skinning" it, not bringing down the entire building. You can see a rendering of the new building on my

project page

.

'Water Pylons' Coming to New Jersey Ave. Underpass

Jan 10, 2011 3:22 PM

In its latest newsletter, the

Capitol Riverfront BID

reports that it has received a

2011 Public Art Building Community Grant

to spruce up the

underpass

where New Jersey Avenue crosses under the Southeast Freeway. The installation is called "Water Pylons," and will "transform the underpass into a modern representation of water that announces New Jersey Avenue as a gateway to the Capitol Riverfront community."

The 18 freeway support columns will be painted with reflective paint in various shades of blue, and four LED lights will help to illuminate both the art and the underpass. The BID says that the "painted blue pylons will reference the neighborhood's waterfront in an abstract theme that is distinct and surprising, but not distracting to motorists or pedestrians."

There will be public meetings on the project this spring, with installation expected to be finished by September.

Residents Day at Holiday Market Saturday

Dec 16, 2010 11:07 AM

The

BID

wants to remind neighbors that Saturday is

Residents Day

at the Holiday Market at 1100 New Jersey Avenue. It will run from 10 am to 3 pm, and in addition to the lineup of craft exhibitors, Christmas greens, and live music at lunch time, there will also be empanadas, free coffee and pastries from Starbucks, free doggie treats from Metro Mutts, the

Eat Wonky

and

Dangerously Delicious Pie

trucks and.... The

Red Hook Lobster truck

at lunchtime. (The footsteps you hear are my husband's, as he races to be first in line.)

Of course, the market is also running today and Friday as well, from 11 am to 7 pm, with the

CapMacDC

pasta truck scheduled to make an appearance on Friday.

Here's the flyer

, for more details on vendors and whatnot.

2010 Capitol Riverfront Annual Report; Connector Between Teague and Yards Coming in 2011?

Dec 14, 2010 2:27 PM

The

Capitol Riverfront BID

just wrapped up its 2010 Annual Meeting, which certainly seemed to be the largest of them so far. The big part of the meeting is the unveiling of the

Annual Report

, chock full of statistics and photos. I'm not going to summarize it, mainly because I've been writing all year about most of the news and data contained in it, and also because if you're truly interested in the neighborhood you should read it yourself. :-)

There were two items in Michael Stevens' remarks that I thought were of note, though:

* Apparently an agreement has been worked out with

DC Water

(aka WASA) that will allow the "connection" between

Diamond Teague Park

(across from

Nationals Park

) and the

Yards Park

to be built, starting this spring. In the past, a floating bridge has been discussed as how this connection would be completed, but have asked the BID for more info and will post when I know more.

* In discussing the many parks of the neighborhood, Michael Stevens said that they are "hoping" that

Canal Park

will be completed in 2011--though, as he said that, the slide being displayed showed 2012 as the expected completion date. Given that the park is supposed to take 12-14 months to build, it would seem to be unlikely that the entire park would be ready before the end of next year, though perhaps some portions of it might be able to be open sooner.

UPDATE:

Here's

the slides used

by Michael Stevens during his remarks; the information on the connection between Teague and the Yards is on pages 22-24, with a rendering showing a walkway out over the water, looking exactly like an extension of the boardwalk at the Yards. The proposed project is listed as "a partnership among Forest City Washington, DC Water and the Office of the Deputy Mayor for Planning and Economic Development." And, on slide 27, Canal Park is listed with a delivery date of 2012.

Upcoming Calendar of Events (Through Dec. 17)

Dec 6, 2010 10:46 AM

This is a painful post for me to write. (No, seriously--I hurt my left thumb last week, and typing doesn't help.) But I will power through to bring you news of upcoming events, all while wondering why Decembers are always so busy with public meetings--because it's not like we don't we have enough to do already....

ADD:

Oops. Tonight (Dec. 6) is the 4th Annual

Livable Walkable Community Awards

, at Arena Stage at 6:30 pm.

* Tuesday (Dec. 7) is the second

Marine Barracks site search

public forum, in Eastern Market's North Hall. I can't find the agenda for it, but the CIMP web site describes it thusly: "Session 2 will begin with at 5:00 pm with an open house where information will be provided in displays, and subject matter experts will be present to discuss various aspects of the CIMP with a facilitated discussion to authenticate community development objectives to begin at 7:00 PM." You can see the

draft community objectives

handed out at last week's meeting, and read

my summary of that session

, as well as the

scads of posts

through the past year of this process.

* Wednesday (Dec. 8) is the neighborhood meeting with DC Public Schools interim chancellor Kaya Henderson on the movement to reopen Van Ness Elementary at 5th and M, SE. The meeting is at 6 pm (note the time change) at the Courtyard by Marriott at New Jersey and L, and while no decision on reopening the school will be announced, DCPS will be talking about the preliminary findings from the survey they did this fall about whether there would be enough students to justify reopening the school. Read my

previous posts

for details.

* On Thursday (Dec. 9) the ANC 6B ABC Committee will

meet at 7 pm

at the Southeast Neighborhood Library at 403 7th St., SE, and it will be taking up the new liquor license application for the

Bavarian Beer Garden

at 8th and L, SE. It's looking to be a 99-seat tavern, with an additional 200 outdoor seats in summer, and would operate from 11 am to 2 am Sunday through Thursday and 11 am to 3 am on Fridays and Saturdays. There's also apparently the possibility of live entertainment. The application will also be taken up by the full ANC at its

regular meeting

on Dec. 14 at 7 pm at 535 8th St., SE.

* Monday (Dec. 13) is ANC 6D's monthly meeting--the

agenda

should be out later this week.

* Tuesday, Dec. 14 is the

BID

's Annual Meeting, at 11:30 am at 100 M St., SE. There will be a keynote address by George Hawkins, general manager of DC Water, plus the BID will release its 2010 Annual Report and State of the Capitol Riverfront.

* The BID also launches its Holiday Market on the 14th, running daily through the 18th on the sidewalk outside of 1100 New Jersey Ave., SE, across from the Navy Yard Metro station. "Shop the market for wool sweaters and mittens, homemade soaps, jewelry, antique maps, wreaths and holiday greenery, paintings, and much more!"

See the flyer

for more details, or the latest

BID newsletter

.

* Also on the 14th is the aforementioned

ANC 6B monthly meeting

, which includes a report by Michael Stevens of the BID on the Lower 8th Street Visioning Process report that's being submitted to the Office of Planning. (This will also be presented to the ANC's Planning and Zoning Committee on Dec. 7 at 7 pm at 535 8th St., SE.)

* Finally, on Dec. 17, the James L. Brooks movie "

How Do You Know

" opens--this is the one that was filmed at

Nationals Park

(and all around DC) back in 2009, and stars Reese Witherspoon, Owen Wilson, Paul Rudd, and Jack Nicholson.

Ow.