Near Southeast DC: Past News Items
Development News
Go to Full Blog Archive
---
55 M Street Sold to Hines Global REIT
Dec 11, 2013 2:41 PM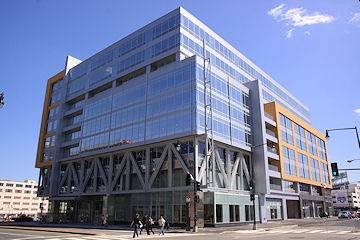 It's been announced that
55 M Street
, the 265,000-square-foot office building at Half and M on top of the Navy Yard Metro station just north of Nationals Park, has been sold by Monument Realty (and its investment partners Lehman Brothers and McFarlane Partners) to
Hines Global REIT
, for an as-yet undisclosed amount.
Open since 2009, 55 M has 89 percent of its space currently leased, with tenants including the District Department of Transportation and the Federal Aviation Administration. The ground-floor retail spaces remain empty except for Bank of America on the building's northeast corner, but perhaps now that the sale has been completed, some movement on the other spaces may be seen.
The building was to be the first phase of
Monument's Half Street development
when
construction began on it in 2007
, but the Great Economic Difficulties of the late 00's stopped the subsequent phases in their tracks, leaving only the large hole that was dug for them at the same time 55 M was being built. Monument still has on the boards its Half Street plans for a 200-room hotel and 350 units of residential, though with no announced timeline.
Four-Phase Residential Project Proposed for East M Street
Nov 6, 2013 9:01 AM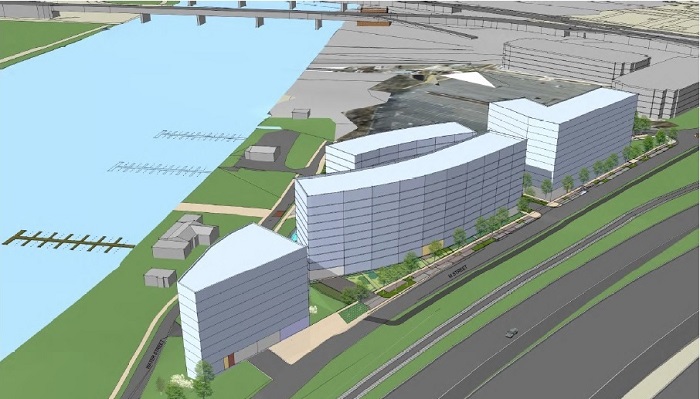 In another blast from the past, we've
learned from WBJ
that the Cohen Companies have filed zoning paperwork for their proposed project at 1333 M Street SE, a mere 3 1/2 years since they last discussed the development of
this three-acre triangular plot of land
east of the 11th Street Bridges near the Anacostia River.
However, it's no longer the
815,000-sq-ft office/hotel/retail project
that was unveiled in 2010 -- Cohen, developer of the
Velocity Condos
at 1st and L, now is proposing
a four-phase, three-building project
with 673 residential units and 10,370 square feet of retail use. WBJ quotes Eric Siegel of Cohen as saying "the office market is just not there" in DC, and that the company felt that "creating a sense of place with a residential community was a much better opportunity than just creating an office environment."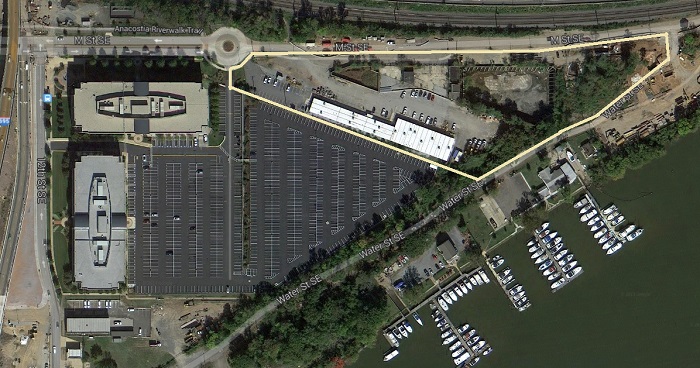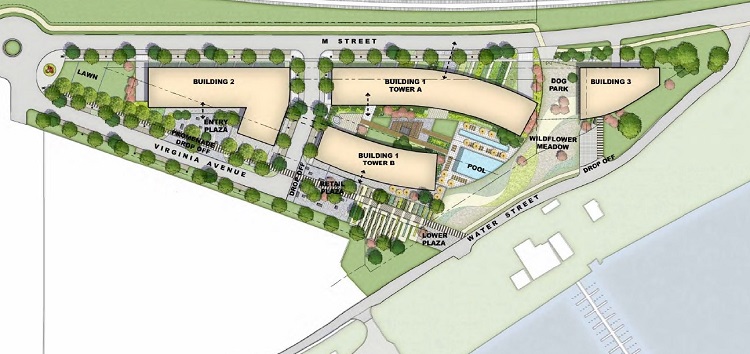 Currently the site is home to, well, not much. Temporary trailers and surface parking were installed as part of the 11th Street Bridges project, and this stretch of M is pretty ripped up now as part of DC Water's big dig. To the west of the site are the two buildings and large surface parking lots of Maritime Plaza, and south of Water Street is the stretch of waterfront uses known as
Boathouse Row
. The
invisible "intersection" of 13th and M
is probably known to passersby only because of the somewhat incongruous mini-traffic circle built there. The eastern end of the triangle is where Water Street meets M, which isn't exactly exciting either (though
my photos
of that spot are from before DC Water started ripping it up). Directly to the north of the triangle are both the CSX train tracks and the stretch of road that is on its way to becoming
Southeast Blvd
.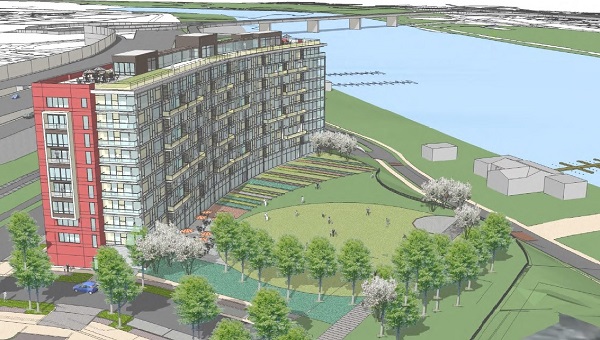 The
first phase of the project
would be a 10-story, 218-unit building, viewed in the design as the first of two towers in a single building at 1333 M. A large open lawn area would be installed to the south of the building, at least until construction of the second tower, planned for Phase II, which would have 133 units in a nine-story building.
Together, the two buildings would have 7,200 square feet of retail and 112 parking spaces. A retail plaza would be on the south side of Tower B, and a ground-level pool would be built during the second phase between the two towers, as would a large "grand staircase" down to Water Street from the promenade along the southern edge of the property that is expected to be built during Phase I.
Phase III/Building 2 would be built on the west end of the triangle and would have 234 units in an 11-story building that would also contain 3,170 square feet of retail, and Phase IV/Building 3 would be a teensy nine-story 88-unit building on the eastern end of the site.
There would also eventually be a new street coming off the traffic circle on a portion of the south side of the site at 13th and M, named Virginia Avenue since it is on the footprint of the original avenue (which disappeared east of 11th at some point many years ago).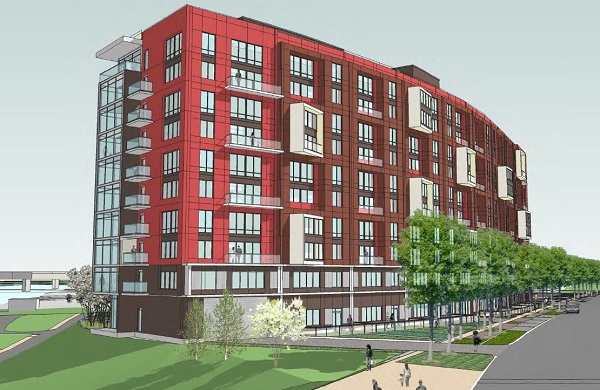 The zoning application describes the project as "a visionary mixed-use development that reactivates the Anacostia River and provides evocative public spaces giving a full life cycle to the previously underutilized site," intended to "celebrate the waterfront, by creating a dynamic promenade down to the river with a flexible retail plaza space where pedestrians, cyclists, retail users, residents and cultural events come together."
It may be worth noting that, should the Maritime Plaza folks ever build the final phases of that development, the river views across huge parking lots to the southwest of the Cohen site will probably be altered somewhat.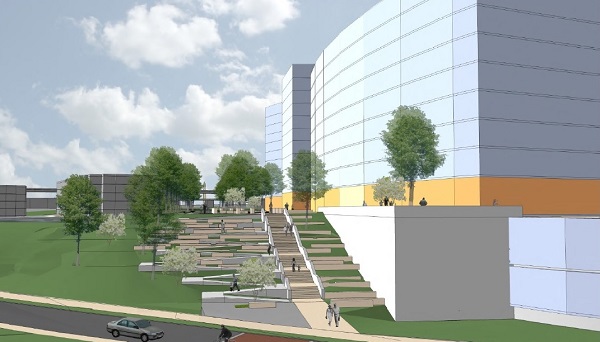 Someone will probably ask about the remediation issues for this site (which I mentioned
back in 2010
). This is part of the old Washington Gas/Steuart Petroleum site, and it was previously discussed that soil approximately 11 feet below grade is contaminated. There is no mention in the new zoning filings about this, but I'm guessing it will be brought up at some point.
UPDATE:
The
magic of Twitter allows me to get word
that Cohen says the contamination has been cleaned.
I could go into all manner of additional detail about the plans, but with a project this big with a zoning PUD to go through I figure I have plenty of time to get to the nitty gritty. But don't let that stop anyone from hashing over the design, the location, the probability of completion, and more. (Meanwhile, compare it all to the 2010 office/hotel/retail plans,
just for
the fun
of it
.)
WMATA Looking for Chiller Plant Developers - Again
Nov 5, 2013 9:53 AM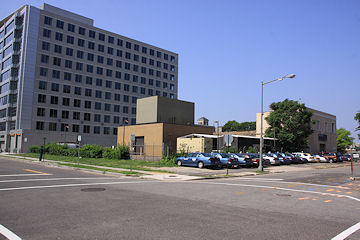 The Post's
CapBiz section reported yesterday
that "In an effort to take advantage of some of the boom in development near public transit, Metro
launched a search
Monday for companies interested in building on properties the transit agency owns at five of its stations: Brookland, Navy Yard, Fort Totten, Grosvenor-Strathmore and Morgan Boulevard."
The Navy Yard-Ballpark land the transit agency is looking to develop is a bit to the north of the station's Half Street entrance, and is known as the Chiller Plant site on the
southwest corner of Half and L
.
While this sounds like positive progress to those who are wanting to see that corner developed, I do invite readers to come with me on a
trip through the JDLand archives
:
Toll Brothers Apartment Building Quickly Out of the Gate
Oct 27, 2013 2:41 PM
At
1st and K SE
, the neighborhood is getting a great demonstration of how quickly a just-started apartment building project can pop into view if the below-ground infrastructure is already completed.
Toll Brothers
bought the site
from the Cohen Companies last year, and because Cohen had originally planned a sister building to
Velocity
on the lot, it had gone ahead and built the garage and other underground necessities at the same time Velocity was built in 2007. But then, well, Phase 2 never actually happened, and the covered garage remained a
Tetris-like landscape
until Toll came along.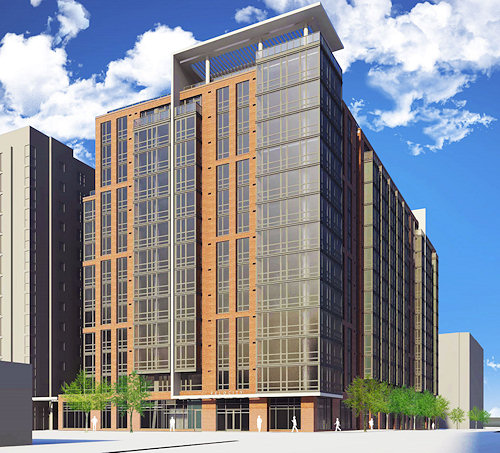 It was at the end of last month that nearby residents started seeing the
first hints of work
at the site, and now a few weeks later the ground floor of the building is already up, as you can see.
Toll is keeping details about the building pretty close to its vest--unless you're a Velocity resident. That group received a briefing in September and was told that the building will be called River Parc, will have 277 rental units, no retail, and is expected to start leasing next fall with completion in spring 2015.
And Velocity residents were even
shown a rendering
of the new building (thanks to
Jake
for grabbing a pic of the poster board, which I've straightened out a bit--
UPDATE:
and see below for two more).
This stretch of 1st Street between K and L used to be made up of small auto-related businesses, with the buildings facing K having a bit more tawdry offerings, such as the "In & Out Video 'and so much more'". All were demolished in Spring 2007, and now the vista looks a little different, not only on this block but elsewhere: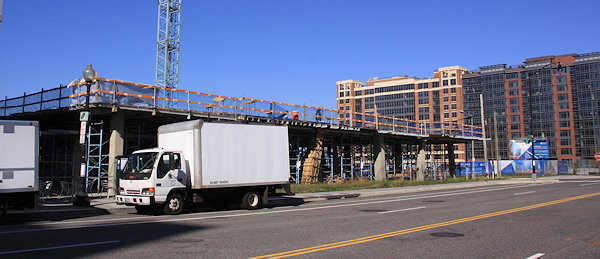 Hampton Inn Announced for 1st and N
Oct 24, 2013 5:54 PM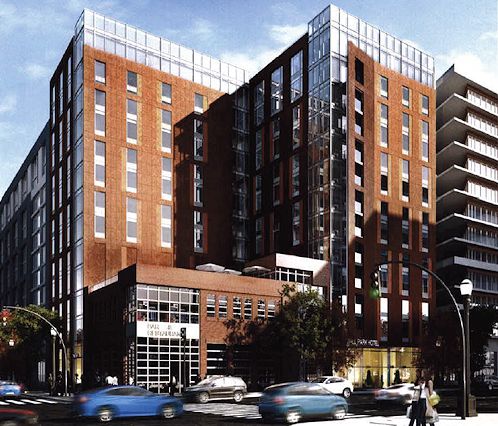 The latest edition of the Capitol Riverfront BID's newsletter reports this evening that the
Buccini/Pollin Group
is planning to break ground by the end of the year on what I've referred to as the "L Hotel" on the northwest corner of 1st and N streets, just across from Nationals Park on
Square 701
.
It is going to be a 13-story, 168-room Hampton Inn and Suites, says the BID, and would be completed by spring 2015.
This all jibes with some guessing I did
back in April
when it was reported that
PM Hospitality Strategies
(an affiliated company to Buccini/Pollin) was close to a deal to manage a hotel "in Capitol Hill." BPG owns many properties throughout the mid-Atlantic, including the Madison Hotel.
Note that the hotel project does not include the two-story building it wraps around in the rendering above; that is anticipated to be a retail building and is part of Grosvenor's planned mixed-use project immediately to the north, which currently has no announced timetable for construction.
This would be the second hotel built in Near Southeast, along with the
Courtyard by Marriott
that has had the neighborhood to itself since 2006. There are plans on the boards for three other hotels, including on the
same block
as this Hampton Inn, in the aforementioned Grosvenor project, plus around the corner on Half Street in Monument's long-planned
Half Street project
, and perhaps even at 50 M Street, as was recently
reported by WBJ
.
As of now there is no approved building permit for this site, though there is an application currently working its way through DCRA with an address of 1299 1st Street SE, filed back in August. So, until a permit is approved, don't look for any action.
Whole Foods Makes it Official; Updated Rendering
Oct 23, 2013 8:48 AM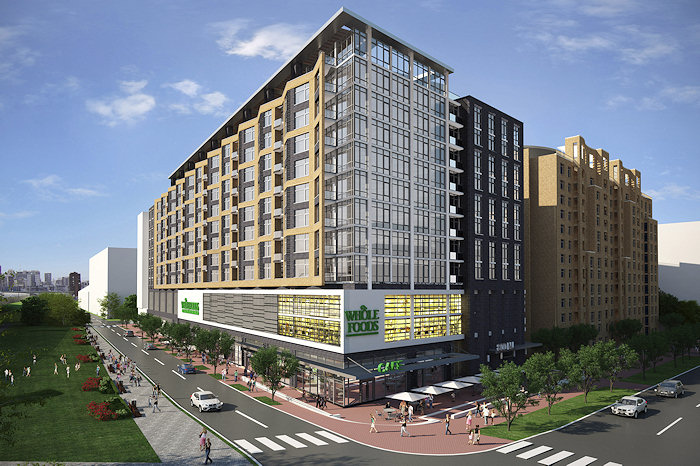 I guess Whole Foods figured that waiting another month for an official announcement after yesterday's flurry of news was a little unnecessary, because this morning there is an official release--and a new rendering, with all the appropriate signage (
click to embiggen
). The under-construction
Park Chelsea
is visible to the right, so this view is of the corner of New Jersey and H.
The William C. Smith release:
"Washington, DC - Developer WC Smith has signed Whole Foods Market to anchor the retail portion of its $443 million development in the District's Capitol Riverfront neighborhood. The 36,000 square foot store will be located on the first floor of the second of three residential buildings the company has in development on New Jersey Avenue SE, two blocks from the Navy Yard Metro station.
"'We are delighted to welcome Whole Foods to the Capitol Riverfront neighborhood,' said Chris Smith, chairman and CEO of WC Smith. 'Their dedication to healthy living and commitment to community dovetails with our mission of creating green, sustainable communities for residents of the District of Columbia.'
"The first component of the new development, a 432-unit luxury apartment building known as
Park Chelsea
, is currently under construction with a projected fall 2014 delivery date. Construction on the
second building
is scheduled to begin early in 2014, with a 2017 opening of the Whole Foods Market and delivery of 336 residential units. The residential units will offer 10 foot ceilings and a commanding view of the Capitol and the monumental skyline. Completion of the third Class A residential building will bring the unit total to over 1,100 for the development.
"All of the buildings will provide on-site parking and will be highly amenitized with club rooms, rooftop pools, and exercise facilities. Additionally, each site will offer a unique amenity space for use by residents of all three buildings. Those amenities include an indoor lap pool, an all-purpose gymnasium, a demonstration kitchen, and a 15,000 square foot courtyard. The development is within walking distance of both the Navy Yard and Capitol South Metro stations and adjacent to newly created Canal Park with water features, ice skating rink, public art, programmed activities, and Park Tavern restaurant."
UPDATE:
The separate joint release with Whole Foods is a little long to cut-and-paste, but there's this quote:
"'Washingtonians asked and we listened," said Scott Allshouse, Whole Foods Market Mid-Atlantic regional president. "People who live and work in Southeast have been requesting a Whole Foods Market for some time. We are thrilled about finding the right fit given the combination of factors that go into deciding on a new location.'"
Whole Foods Signs Lease for 800 New Jersey Avenue
Oct 22, 2013 9:55 AM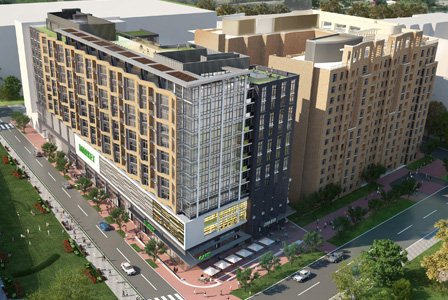 A mere 11 years after the notion was first floated, there is apparently finally
a signed contract
to bring a Whole Foods grocery store to
800 New Jersey Avenue SE
. Though the chain isn't expected to make an official announcement until next month, a representative of WC Smith told Monday night's ANC 6D meeting of the news.
Note that the store won't be at the
Park Chelsea
, WC Smith's apartment building currently under construction at 880 New Jersey. This will be a new apartment building just to the north, running along the
to-be-rebuilt H Street
between New Jersey and 2nd, immediately south of the freeway. It's expected to have 330ish units and all the usual amenities. But with construction not currently expected to start until spring 2014, and the timeline of the buildouts of both the building and the interior work for the store, you probably won't be buying your quinoa there before 2017.
Catching Up on Photos - Park Chelsea
Sep 29, 2013 4:03 PM
Construction at the 430ish-unit
Park Chelsea
apartment building at New Jersey and I is now poking out of the ground: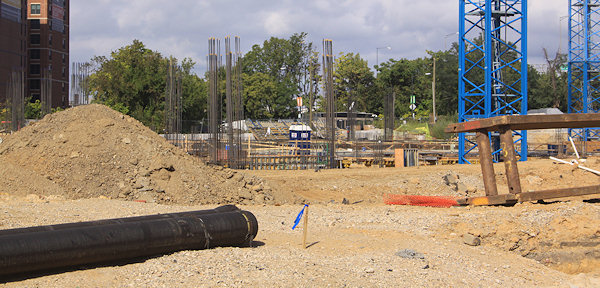 The skyline in this location will be changing quite dramatically over the next few months, but the ground-level view already has evolved a whole lot in eight-plus years, as evidenced when looking westward along the footprint of the can't-open-soon-enough new stretch of I Street between 2nd and New Jersey: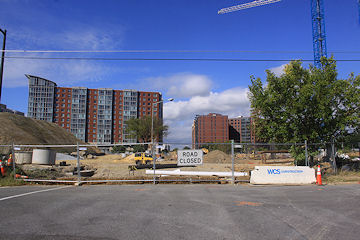 Or, you can look at the change at 2nd and I this way: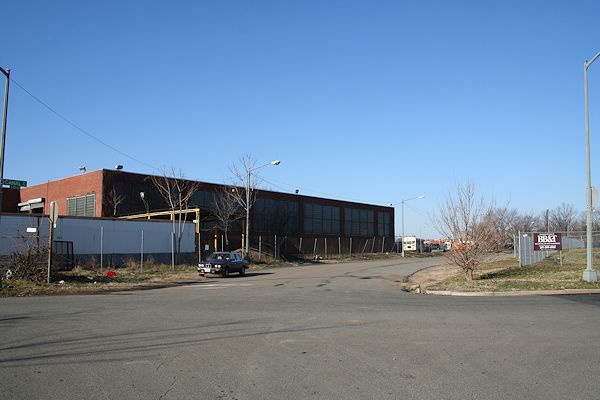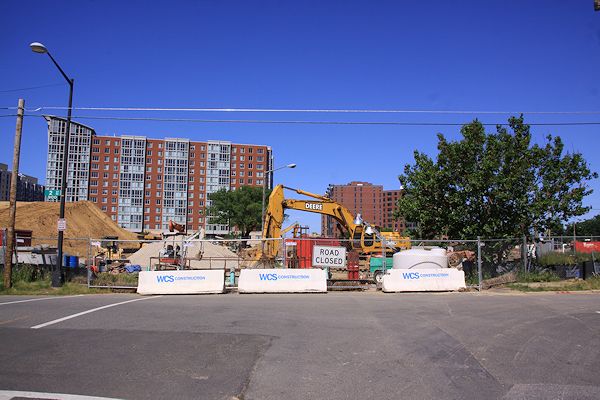 (Told you I was working on something new. More to come.)
Catching Up on Photos - Twelve12
Sep 29, 2013 4:02 PM
Catching Up on Photos - Toll Brothers
Sep 29, 2013 4:01 PM
Some work appears to be underway on the
southwest corner of 1st and K
, where Toll Brothers now has building permits for a 13-story, 250ish-unit apartment building. The Tetris-like boxes that have covered rebar and other infrastructure since work was completed on Velocity and the accompanying garage under what's now the Toll site are being removed:
This will allow Toll to begin work on their building more or less at ground level, rather than spending months on excavation and below-ground construction.
See more photos and information about the project
here
.
Update on the Planned Demise of Spooky Building 213
Jun 5, 2013 9:38 PM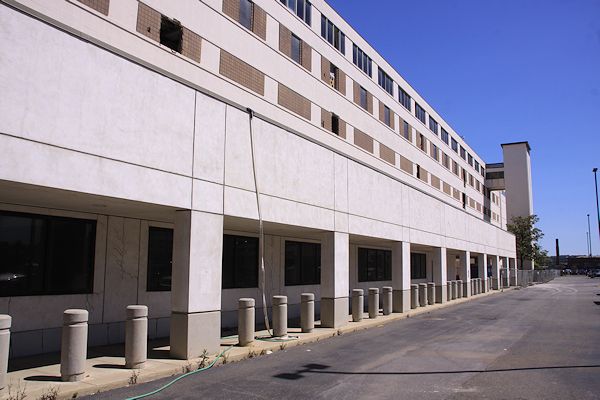 There's a bit of news on one of my favorite buildings to rag on over the years, the all-but-windowless
formerly armed encampment at 1st and M
that housed the National Geospatial Intelligence Agency and other spook-ish groups
over the years
before it was vacated in 2011.
You may have seen the
holes punched into the side of the building
recently, but if you're fearing that any work is a precursor to the brown-and-white structure being salvaged and redeveloped, don't worry your pretty little heads.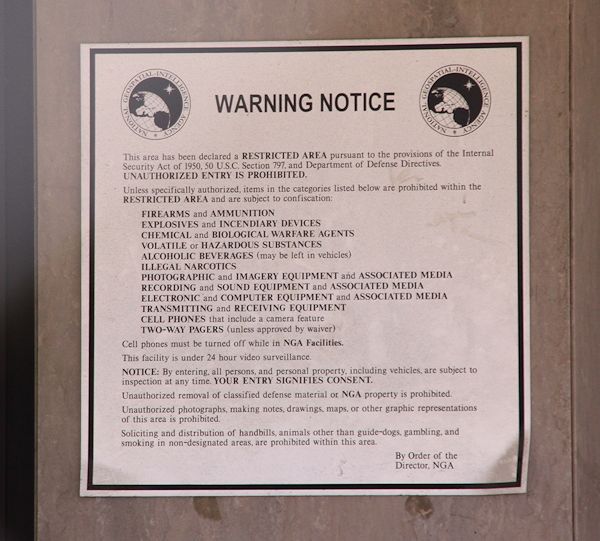 Yards developer
Forest City has passed along word that after the current environmental remediation is finished late this summer, the former Building 213 will then be going off to meet its maker. It will cease to be. Bereft of life, it will rest in peace. (Sorry, I'm a bit punchy tonight.)
Demolition, once started, is expected to take about six months.
As the northwestern edge of the
Yards
, this prime corner spot just northeast of Nats Park will eventually see new construction, most likely an office building.
But that's a good ways off--in the meantime there will continue to be parking on the site, and Forest City is also looking at maybe putting in some grassy areas both as open space and possible special events uses, though their plans aren't firm as yet.
And it also will be a bit different to be able to see well into the Yards when standing at 1st and M instead of looking at the remnants of a cloak and dagger operation.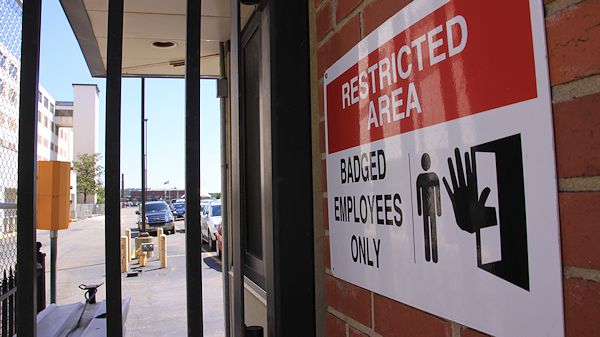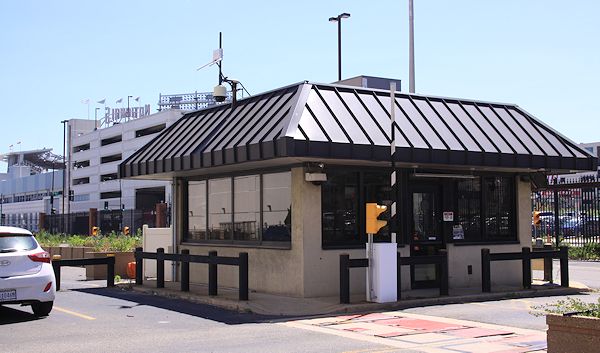 (And, for the record, I'm allowed to be snarky about this place. Back in 2005 the guards there called DC cops to chase me down on 1st Street when I was taking photos in the opposite direction of the building, never having once taken any shots of 213 itself. And I did get tired over the years of seeing them reach for their guns as I walked by their fence with camera in hand.)
Renderings of Sweetgreen, Yards at DC Water
May 24, 2013 12:18 PM
The Friday of a holiday weekend is no time to post anything that requires a lot of concentration, so I'll just go with a couple of pictures.
First, at right (
click to enlarge
), a rendering of the
Twelve12
development's southwest corner at 4th and Tingey SE, now updated to show in the corner ground-floor retail space that
Sweetgreen will be coming to
when the project is completed in mid-2014.
And below, an overhead view of what some of the
DC Water acreage
could look like if/when
Forest City's plans to Yard-ify the site
come to fruition: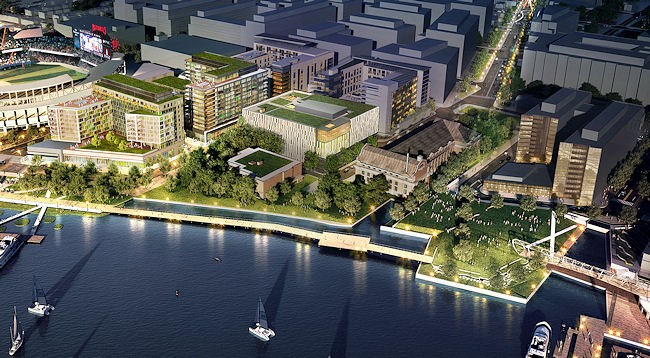 Working from the far left, you see Nats Park at 1st Street and the two green-roofed residential buildings totalling 625ish units, along with the
16-screen movie theater
just to their east. There's also a whole lot more grass and greenery around the two
DC Water
buildings that would remain on the site, the historic Main Pumping Station and also the more midcentury O Street station building by the river. And, if you know what you're looking for, you can see that
Diamond Teague Park
has been expanded northward, and Potomac Avenue has been extended one block east to a new street (1 1/2 Place) that would run between the theater and the residential buildings.
(There's also a couple of other interesting tidbits on this drawing, including two new buildings at far right just to the north of the Yards Park's great lawn, and two other buildings just to the north of the theater and 1st street buildings. All of these are within the footprint of the
Yards
, on sites currently occupied by surface parking lots. But those are probably still a good ways off. And you can also see at the very bottom right the first hint of the marina that is supposed to be coming to the
Yards Park
someday.)
Council Restores Funding for Partial DC Water Relocation
May 22, 2013 3:25 PM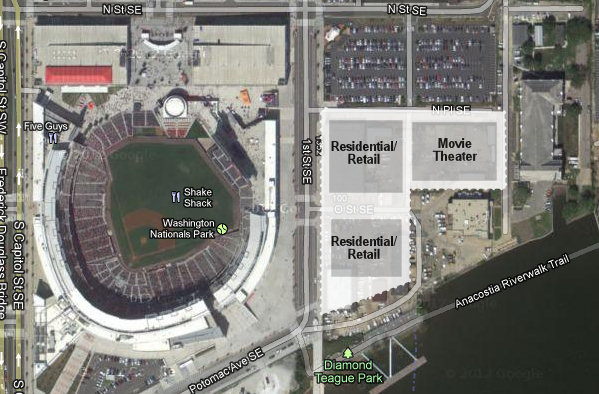 As part of a first vote today on the city's FY14 budget, the DC Council restored funds for the planned relocation of some of DC Water's functions currently at
1st and O SE
, monies that
had been moved to Ward 4 projects
by the council's Economic Development Committee chair Muriel Bowser (who happens to represent Ward 4, and who happens to be running for mayor).
The relocation, once completed, makes way for an expansion of the
Yards
footprint and the
potential addition of residential and retail offerings
, including a planned movie theater.
Originally $8 million was earmarked for the DC Water relocation--
according to the Post's Tim Craig
on Tuesday, $5 million of that money was to be restored. (I am working to confirm exactly what the final number is, and will update.)
UPDATE:
The restored funding is $6 million,
according to Charles Allen
.
(Note that DC Water will not be removed completely from this area--the
Main Pumping Station
will continue to operate in its lovely historic building. It appears to be mainly "fleet management"/parking operations that will relocate.)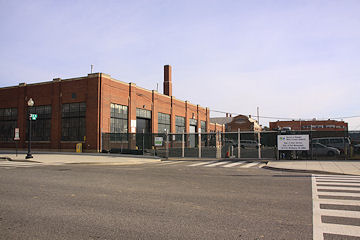 In a
press release
on the restoration, Tommy Wells (also running for mayor) is quoted thusly: "This is great news for the riverfront. I'm very glad we were able to restore these funds to keep this important project on schedule. Working with my colleagues, these funds will be used to create a project that develops new jobs and residences, and importantly, will serve as a critical link in the revitalization of the riverfront neighborhood."
Additionally, the press release quotes Forest City Washington president Deborah Ratner Salzberg: "Today's action by Council allows us to continue to work with DC Water to keep this project on schedule for the neighborhood and the city. This mixed-use component of The Yards is an important link for the overall project and its riverfront neighborhood – bringing jobs, residents and desired new amenities. We appreciate the work of Chairman Mendelson working with Councilmembers Wells, Grosso and Barry and the unanimous support of their Council colleagues to restore the funding and ensure the project moves forward on schedule."
Budget Moves May Delay Yards Movie Theater Project
May 10, 2013 4:01 PM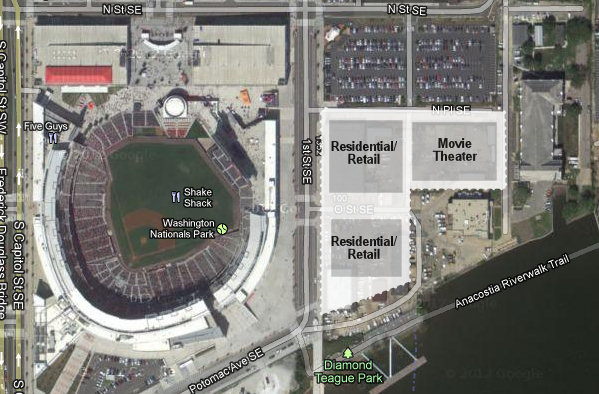 On Thursday, the news broke that the DC Council's economic development committee voted to shift $8 million of the city's 2014 budget from the planned relocation of some of the
DC Water facilities
at 125 O St., SE, to three projects that happen to be in the ward of the committee's chair, Muriel Bowser (who also just happens to be running for mayor).
This relocation is a step on the path to Forest City's
plans for a mixed-use development
including a
movie theater
on that site. The project is currently going through the zoning process, and is expected to have a hearing within the next few months.
Let's hand the narrative over to the
Washington Business Journal
: "Bowser described the D.C. WASA project, in the report, as a 'poor use of capital funding,' given that a replacement WASA site has not been identified. Later Thursday, the councilwoman said that she supports the relocation project and that she left enough money in the fund -- $1 million in 2014 and $9 million in 2015 -- to continue community outreach and relocation work.
"The WASA project, she said, will require extensive environmental remediation and can't possibly be done next year.
"'They can't use it,'" she said of the $9 million set aside in 2014."
As for how the mayor's office feels about the move? "'Stopping the Yards project -- who in their right mind thinks that's a good idea?' responded Pedro Ribeiro, Gray's spokesman."
This is not the final word in the budgeting process--the full council still needs to vote on the budget, and there could still be some maneuvers to come.
Tidbits from the Multi-Unit Residential Dwellings Department
Apr 10, 2013 9:11 AM
A few items that are small, but worth passing along: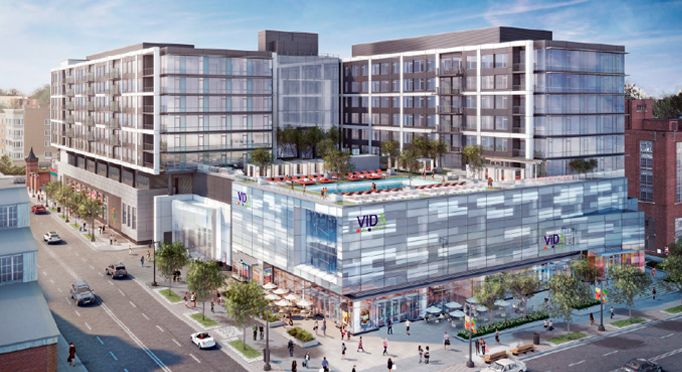 * Forest City has put up fence signs around the
Twelve12
construction site, showing new sleeker renderings of the exterior. The signs also announce the official web site,
Twelve12dc.com
, which is pretty much just a placeholder at this point, but does at least show two of the new renderings, including the one at right that I pilfered. (I asked for the other drawings on the signs, but Forest City isn't ready to release them yet. Waah.) This is the
220ish-unit rental project
at 4th and M that will be home to both Harris Teeter and Vida Fitness when it's completed in spring 2014. And if you look through the fences, you can see that the northern end of the construction, near M Street, is already about up to ground level.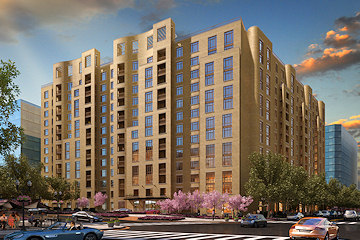 * Construction at the 432-unit
Park Chelsea
at New Jersey and I continues to move along, and the two tower cranes should be up on the site by late May/early June. While the increasingly large hole on the site makes it look like they are excavating the entire block, folks at William C. Smith tell me that they dug beyond the building's actual footprint to make excavation easier, and will be filling it back to the property line as construction continues. Also, they have now cleared and smoothed out the small hill that used to exist between the old Canal Street and New Jersey Avenue, so that you can even see a dirt-road version of H Street running from 2nd Street west to New Jersey. (It would help if I had new pictures of what I'm talking about to match to the
old ones
, but soon.)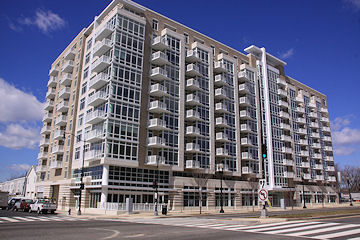 * Technically outside of my borders, but yesterday there was a
ribbon cutting
at the new
Camden South Capitol apartment building
at South Capitol and O, across from Nationals Park. The 276-unit building begins leasing its lower floors today, with rents ranging from $1288 per month for the smallest studio to $3225 per month for a 2BR/2BA unit. The web site, which includes floor plans, is available
here
. I used to follow this project back when it was getting underway, so you can
see my before-and-afters of the site
going back to 2006, though I haven't gotten into the ballpark yet to get the true "afters" from there.
Movement on Planned Hotel, Probably at 1st and N
Apr 3, 2013 9:36 AM
A report this morning from
GlobeSt.com
says that
PM Hospitality Strategies
is close to a deal to manage a hotel located in what they describe as "in Capitol Hill, specifically the Navy Yard" (eww). "Principal Joseph Bojanowski tells GlobeSt.com that the developer is currently wrapping up development financing and will ink a deal on the project shortly. 'The land was purchased last month and the hotel is expected to roughly deliver in mid-2015,' he says."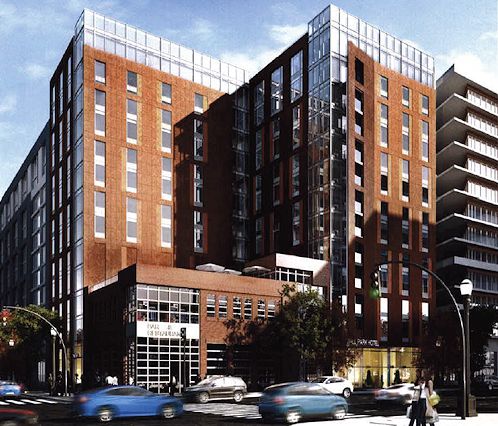 The article doesn't give any additional details on where the hotel might actually be, and the story's RSS summary describes it as "a 165-key hotel in Capitol Hill," but given that the story's headline is actually "PM Hospitality Eyes Navy Yard Hotel," and assuming that the project won't actually be *in* the Washington Navy Yard, signs point to this being the
L-shaped hotel planned for the corner of 1st and N SE
on land formerly owned by the Welch family. Those plans for a 13-story 167-room hotel were okayed by the Zoning Commission in December, and in mid-March a $5.44 million sale was recorded of the Welch lots to Capital Riverfront Hotel LLC. (The rendering at right is from the zoning filings.)
At the zoning hearing, representatives of the developer said that it was expected that construction would take about 16 months, which would point to a start date sometime in early 2014 to then deliver in mid-2015 as the article says.
This is one of three hotels currently planned for the block just north of
Nationals Park
, along with no-timeline projects by
Monument Realty
and
Grosvenor
.
The 1st and N hotel will have no on-site parking, and
no ground-floor retail space
. (
UPDATE:
Per commissioner David Garber in the comments, there will be no "traditionally leased" retail space, but there will be a retail space operated by the hotel facing N Street, which is shown in the final zoning drawings as a restaurant or bar.). It wraps around Grosvenor's planned two-story retail building, and would be nestled between the residential buildings also planned by Grosvenor and Monument. My
previous post on this hotel project
has additional details.
PM Hospitality Strategies is an affiliated company of the
Buccini/Pollin Group
, which is the developer listed on this project's zoning documents. BPG owns properties throughout the mid-Atlantic, including the
Madison Hotel
. Not known at this point is the brand this hotel will operate under, though of course I hope they call it the L Hotel. (
UPDATE:
Or not, given how now we're all mistakenly referencing it being on L Street.)
Movie Theater Zoning Plans Submitted; Late '15 Opening?
Mar 1, 2013 11:06 AM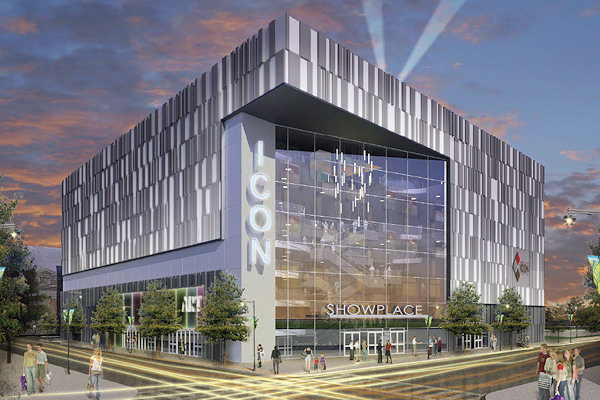 Forest City Washington is moving forward with the plans for a
sixteen screen movie theater
near
Nationals Park
, having submitted a truckload of documents this week to the Zoning Commission for its plans to redevelop more than five acres of land currently occupied by DC Water.
This
site
, which sits between the current footprint of
the Yards
and the ballpark, would be turned into four new city blocks with 600 residential units in two buildings, an expansion of Diamond Teague Park, and somewhere around 50,000 square feet in retail, which would include the theater that we first heard about a few months ago.
The plan apparently would be to build the theater first (and in fact FCW is requesting second-stage PUD approval for the theater plans, for those of you who know what that means), and in the zoning filing FCW says that they intend to file for building permits by this fall and start construction by the beginning of 2014, with an expected opening of the theater by late 2015.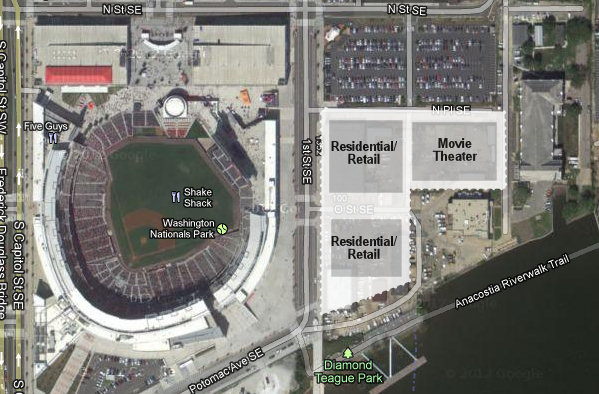 There would be 337 parking spaces at the theater, which would be above-ground and contained within the first four floors of the theater building. DC Water would continue its operations on the other three blocks that are part of this plan while the theater is constructed and operating, with the development of those blocks waiting until those operations can be relocated (and, of course, "subject to market conditions)."
A few months ago I
wrote in great detail about the plans for the theater itself
, expected to be operated by Showplace Icon, after a public meeting was held for residents about the crowds that might be drawn, who seemed mostly mollified by the "policies to encourage courteous behavior."
Read that post for more
.
There should be a hearing on these plans within the next few months. And I'll dig through the documents to look for more tidbits, but mainly I wanted folks to finally see a rendering!
Residents Eyeing L Street Warehouse as 'Half Street Market'
Jan 10, 2013 10:41 AM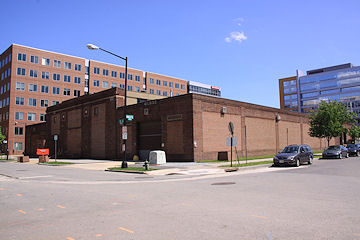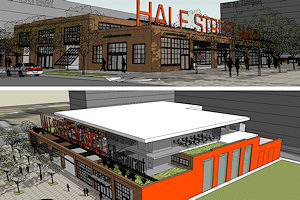 Could Near Southeast get a new "food destination"? Resident Nathan Alberg and new 6D02 commissioner Ed Kaminski are proposing that the federally owned warehouse at Half and L SE be converted to a market and community space called the "
Half Street Market
," and are now starting the process of drumming up support.
Alberg, who lives just across the street and so presumably has spent a lot of time looking out his window at the warehouse, envisions the building as a site similar to Eastern Market or the new Union Market in Northeast DC, or
Milwaukee's Public Market
. He hopes it could "offer independent merchants a market to sell their artisan foods and prepared food products to the public, provide a managed risk incubator for self-employment, to provide public culinary training and education in a working demonstration restaurant, drive the development of new food markets, income generation, increased economic growth." In other words, it could be a combination indoor/outdoor market, cooking school, and rentable event space.
A survey to gauge interest
in the idea is currently being run (so go give them your input!), and a public meeting will be held sometime in early February to discuss the notion further.
This presentation
was made to residents of Velocity this week, though it's stressed that these are early concepts.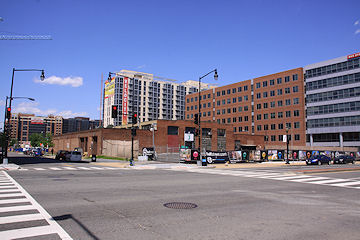 How exactly the building would go from excess GSA space to Half Street Market is a bit murky--Alberg, Kaminski, and 6D07 commissioner David Garber say that the feds are "in the process of potentially auctioning the building or possibly giving it to the city." The warehouse, built around 1924, is on a nearly 30,000-square-foot lot, which was most recently assessed at $19.2 million. Just to the south is
an empty lot facing M Street
where a Sunoco station once stood and is the current home to Nats Parking Lot J.* Those two lots together, creating a block the same size as the 80 M office building, directly across M Street from the Navy Yard Metro station and a block away from
Nats Park
, would presumably be pretty appetizing to deep-pocketed developers, so if the warehouse property were to go to auction, it probably wouldn't be sold on the cheap.
What do you think, readers?
(* Side note: The old Sunoco site has been known as 50 M Street, being marketed by Monument Realty and owned in a partnership by Monument, MacFarlane, and Lehman. But my understanding is that, with the property being worth less than the loan, and with Lehman also being the lender on the loan, this site, along with the lot on the old BP site at Half and N that had the same ownership configuration, has gone through "foreclosure" in recent days so that Lehman now is the sole owner.)
Sale of 70 I Street Apartment Building Completed for $165.7M
Dec 7, 2012 1:14 PM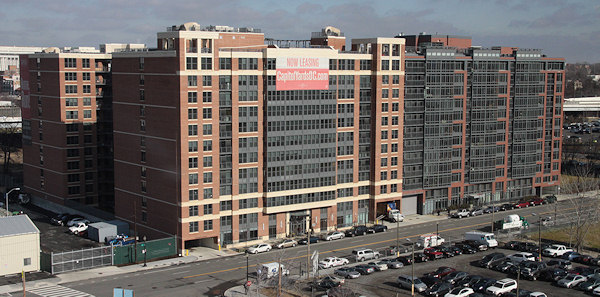 It's taken almost
a year
, but the sale of
70 I Street
was completed this week, with public records showing that "70 Eye Street Acquisition LLC" paid $165.7 million for the 448-unit building developed by JPI and opened in 2008.
The other two buildings in the original JPI "Capitol Yards" lineup, 100 I and
909 New Jersey
, were
sold back in May
for around $94 million each, but the 70 I sale took longer as tenants had attempted to purchase the property themselves (
UPDATE
: or at least to file that paperwork in order to then attempt to negotiate terms of sale more favorable to residents). I don't have this confirmed, but I am assuming that the 70 I LLC, like the other two, is "institutional investors advised by J.P. Morgan Asset Management," since the 70 I sale deed has Morgan as the mailing address for the LLC.
Like the other properties, 70 I will be managed now by Bozzuto, which, in a letter to tenants, also said that the name of the property once known as the Jefferson at Capitol Yards is now changed to "70 Capitol Yards." (This is why I always just keep with the addresses.)
Prospective Yards Movie Theater Operator: Showplace Icon
Nov 15, 2012 10:39 PM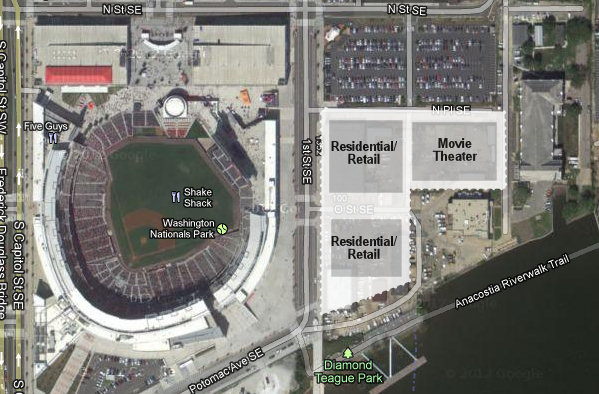 At a public meeting on Thursday night, Yards developer Forest City Washington presented very early plans for the portion of the
DC Water/WASA
site on 1st Street that the company is currently working to secure the development rights for.
While people are always interested in projects for more residential buildings with ground-floor retail, it was the
plans for a movie theater
on the site that drew a decent-sized crowd to the meeting, and the attendees learned that
Showplace Icon
is the heretofore unnamed operator that Forest City is currently in negotiations with.
It would be a 16-screen theater with more than 2,000 seats on N Place SE (see
my quickie map
for placement in regards to Nats Park and the main WASA pumping station), and Icon's more upscale amenities and approach to movie-going were extensively touted, including all reserved seating, VIP areas in each theater with extra-wide seats and person tables, wall-to-wall and ceiling-to-floor digital screens, no on-screen pre-show advertising, fresh-not-frozen food prepared on site, and their "
lobby lounge
," with about 100 seats and 21-and-over-only admittance.
But it was Icon's "policies to encourage courteous behavior" that seemed to defuse the "ZOMG GALLERY PLACE" concerns about the theater that had been cropping up on neighborhood mailing lists and
elsewhere
over the past few weeks. The theaters will not allow children under 17 after 7 pm without an adult, no one is admitted after the movie starts, no children under seven are admitted to PG-13 or R movies after 7 pm, and the adult admission price also applies to children.
Bob Gallivan of Kerasotes Showplace Theaters said that the company's theaters in Chicago and suburban Minneapolis are "bringing people back to the movies who haven't been for awhile" thanks to these policies, because they are trying to "create a civilized atmosphere." ("We're not a babysitting service," he also said.)
Thanks to being an all-digital theater, the venue would also be able to offer other content, such as simulcasts of the Metropolitan Opera, sporting events, and other events. And the theater would also have some small retail and maybe artist space along N Place.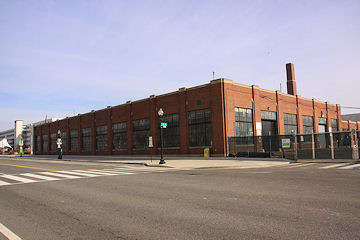 As for the rest of the plans for the site, along 1st Street across from Nationals Park there would be two residential buildings, totalling 625ish units, each with ground-floor retail; and the northern one of the two would incorporate the brick/industrial facade of the existing DC Water fleet management building on 1st between N Place and O (seen at left).
O Street would be re-established from 1st east to the new 1 1/2 Place, and Potomac Avenue would be extended east from 1st as well to 1 1/2 Place.
Forest City's planners envision a "lower-scale" retail experience along 1 1/2 Place (smaller "eclectic" retailers, not "low-end"), with more "large-scale" offerings long 1st thanks to the size of the street and its location across from the ballpark. All told this area of the Yards would have about 50,000 square feet of retail.
Diamond Teague Park
would also be expanded somewhat to the north of its current footprint, up to the new Potomac Avenue. It's possible that Potomac Avenue and the lower part of 1 1/2 Place could be closed at times for street festivals, etc.
As for any timeline on all of this, first Forest City has to actually acquire the land from DC Water and the city, and then has to complete the negotiations with Showplace Icon. (The fact that Forest City has even named Icon before executing the lease is a pretty big departure for the company, and shows an understanding of the need to clearly define what sort of theater experience would be on the boards.) Then the project has to go through the zoning process (it will be a PUD), and then get building permits. Forest City "hopes" to begin the approximately two years of construction for the theater in 2014, but that's a lot of ducks to get in a row first. (The residential buildings would come later.)
Audience members had questions about security (Icon uses off-duty police in Chicago, and Forest City would have its own security as well), types of films that would be offered (art-house and blockbusters), worries that the Lobby Lounge might become a club (not an issue, Icon says), and how traffic generated by the development would co-exist with 40,000 fans one block away at Nationals Park 81 nights a year (or more!). Because it's still early in the process, there weren't concrete answers to some of the concerns, but this project still has to go before ANC 6D and the Zoning Commission before being approved, so there will be plenty of opportunities for additional detail to be insisted upon.
Should I mention again that this is all still subject to both the DC Water land deal and the lease with Icon getting finalized?
Much more to come on this, obviously. And, for people who weren't at the meeting who didn't get to see any of the EARLY CONCEPTUAL NOT FINALIZED drawings, I have asked for at least the EARLY CONCEPTUAL NOT FINALIZED rendering of the glass-walled theater exterior to post, and hopefully before too long Forest City will be ready to share it.