Near Southeast DC: Past News Items
WC Smith/Square 737
Go to Full Blog Archive
---
31 Blog Posts Since 2003
Go to Page:
1
|
2
Whole Foods Makes it Official; Updated Rendering
Oct 23, 2013 8:48 AM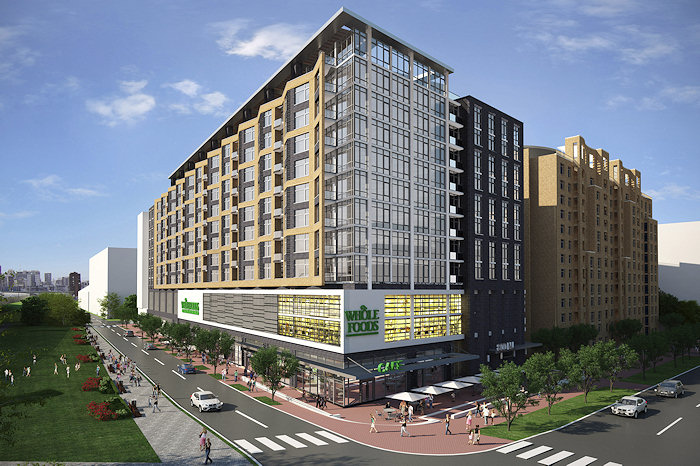 I guess Whole Foods figured that waiting another month for an official announcement after yesterday's flurry of news was a little unnecessary, because this morning there is an official release--and a new rendering, with all the appropriate signage (
click to embiggen
). The under-construction
Park Chelsea
is visible to the right, so this view is of the corner of New Jersey and H.
The William C. Smith release:
"Washington, DC - Developer WC Smith has signed Whole Foods Market to anchor the retail portion of its $443 million development in the District's Capitol Riverfront neighborhood. The 36,000 square foot store will be located on the first floor of the second of three residential buildings the company has in development on New Jersey Avenue SE, two blocks from the Navy Yard Metro station.
"'We are delighted to welcome Whole Foods to the Capitol Riverfront neighborhood,' said Chris Smith, chairman and CEO of WC Smith. 'Their dedication to healthy living and commitment to community dovetails with our mission of creating green, sustainable communities for residents of the District of Columbia.'
"The first component of the new development, a 432-unit luxury apartment building known as
Park Chelsea
, is currently under construction with a projected fall 2014 delivery date. Construction on the
second building
is scheduled to begin early in 2014, with a 2017 opening of the Whole Foods Market and delivery of 336 residential units. The residential units will offer 10 foot ceilings and a commanding view of the Capitol and the monumental skyline. Completion of the third Class A residential building will bring the unit total to over 1,100 for the development.
"All of the buildings will provide on-site parking and will be highly amenitized with club rooms, rooftop pools, and exercise facilities. Additionally, each site will offer a unique amenity space for use by residents of all three buildings. Those amenities include an indoor lap pool, an all-purpose gymnasium, a demonstration kitchen, and a 15,000 square foot courtyard. The development is within walking distance of both the Navy Yard and Capitol South Metro stations and adjacent to newly created Canal Park with water features, ice skating rink, public art, programmed activities, and Park Tavern restaurant."
UPDATE:
The separate joint release with Whole Foods is a little long to cut-and-paste, but there's this quote:
"'Washingtonians asked and we listened," said Scott Allshouse, Whole Foods Market Mid-Atlantic regional president. "People who live and work in Southeast have been requesting a Whole Foods Market for some time. We are thrilled about finding the right fit given the combination of factors that go into deciding on a new location.'"
Whole Foods Signs Lease for 800 New Jersey Avenue
Oct 22, 2013 9:55 AM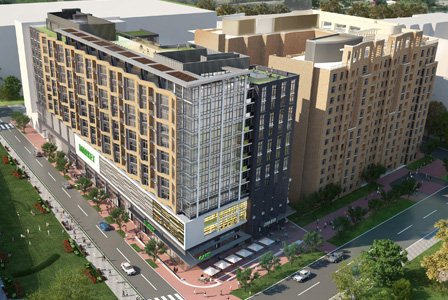 A mere 11 years after the notion was first floated, there is apparently finally
a signed contract
to bring a Whole Foods grocery store to
800 New Jersey Avenue SE
. Though the chain isn't expected to make an official announcement until next month, a representative of WC Smith told Monday night's ANC 6D meeting of the news.
Note that the store won't be at the
Park Chelsea
, WC Smith's apartment building currently under construction at 880 New Jersey. This will be a new apartment building just to the north, running along the
to-be-rebuilt H Street
between New Jersey and 2nd, immediately south of the freeway. It's expected to have 330ish units and all the usual amenities. But with construction not currently expected to start until spring 2014, and the timeline of the buildouts of both the building and the interior work for the store, you probably won't be buying your quinoa there before 2017.
Catching Up on Photos - Park Chelsea
Sep 29, 2013 4:03 PM
Construction at the 430ish-unit
Park Chelsea
apartment building at New Jersey and I is now poking out of the ground: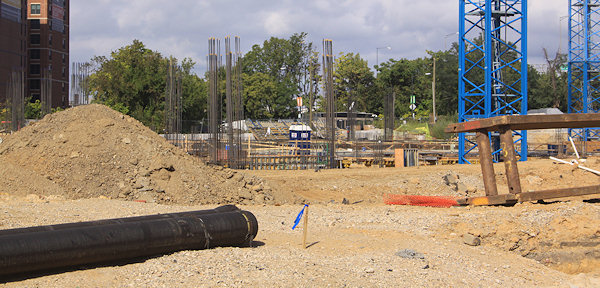 The skyline in this location will be changing quite dramatically over the next few months, but the ground-level view already has evolved a whole lot in eight-plus years, as evidenced when looking westward along the footprint of the can't-open-soon-enough new stretch of I Street between 2nd and New Jersey: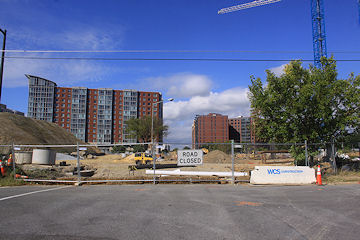 Or, you can look at the change at 2nd and I this way: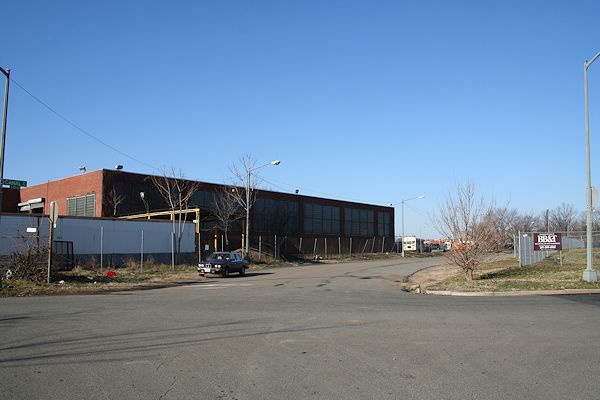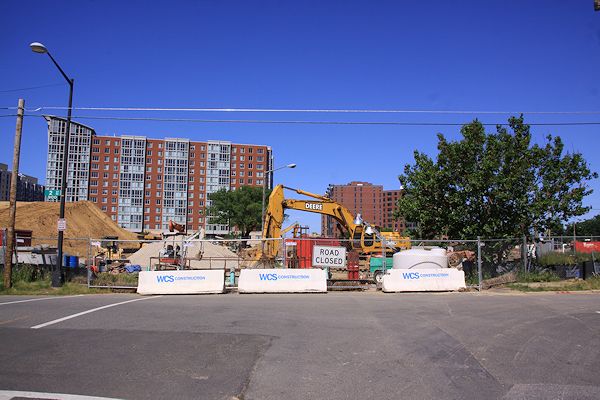 (Told you I was working on something new. More to come.)
See before-and-after photos and information about the project
here
.
Tidbits from the Multi-Unit Residential Dwellings Department
Apr 10, 2013 9:11 AM
A few items that are small, but worth passing along: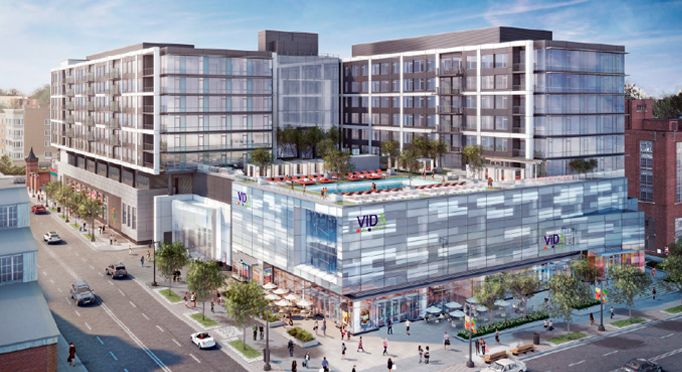 * Forest City has put up fence signs around the
Twelve12
construction site, showing new sleeker renderings of the exterior. The signs also announce the official web site,
Twelve12dc.com
, which is pretty much just a placeholder at this point, but does at least show two of the new renderings, including the one at right that I pilfered. (I asked for the other drawings on the signs, but Forest City isn't ready to release them yet. Waah.) This is the
220ish-unit rental project
at 4th and M that will be home to both Harris Teeter and Vida Fitness when it's completed in spring 2014. And if you look through the fences, you can see that the northern end of the construction, near M Street, is already about up to ground level.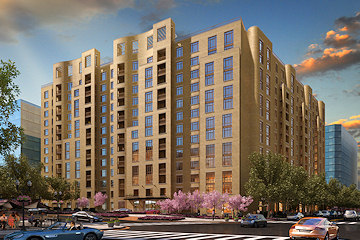 * Construction at the 432-unit
Park Chelsea
at New Jersey and I continues to move along, and the two tower cranes should be up on the site by late May/early June. While the increasingly large hole on the site makes it look like they are excavating the entire block, folks at William C. Smith tell me that they dug beyond the building's actual footprint to make excavation easier, and will be filling it back to the property line as construction continues. Also, they have now cleared and smoothed out the small hill that used to exist between the old Canal Street and New Jersey Avenue, so that you can even see a dirt-road version of H Street running from 2nd Street west to New Jersey. (It would help if I had new pictures of what I'm talking about to match to the
old ones
, but soon.)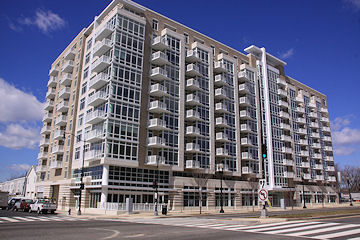 * Technically outside of my borders, but yesterday there was a
ribbon cutting
at the new
Camden South Capitol apartment building
at South Capitol and O, across from Nationals Park. The 276-unit building begins leasing its lower floors today, with rents ranging from $1288 per month for the smallest studio to $3225 per month for a 2BR/2BA unit. The web site, which includes floor plans, is available
here
. I used to follow this project back when it was getting underway, so you can
see my before-and-afters of the site
going back to 2006, though I haven't gotten into the ballpark yet to get the true "afters" from there.
Park Chelsea Financing Secured, Now Officially Underway
Nov 9, 2012 3:35 PM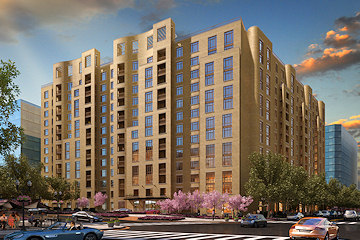 While there's been a lot of work going on at the site since the beginning of the year, it's only now that it can truly be said that work has begun on the
432-unit Park Chelsea apartment building
at New Jersey and I Streets, SE.
Developer William C. Smith has closed on a $100 million construction loan (which they are calling the largest one secured for a DC residential project this year), and if you look down on the site from on high, you can definitely see earth being moved, separate from the huge shafts built over these past few months to facilitate the relocation of deep infrastructure beneath the site. (There was also that whole
demolishing of the trash transfer station
just to the south of the project's footprint, since a small corner of that old building extended onto the Park Chelsea land.)
The cost of the entire project is pegged at $150 million.
The Park Chelsea is expected to deliver late in 2014, and will have three levels of below-grade parking, both indoor and outdoor pools, a rooftop garden with a dog park, an electric car charging station, and a "state of the art bike storage and maintenance area." It's also just the first phase of the development of the entire block bounded by New Jersey, 2nd, H, and I, which is expected to have 1,200 residential units and 75,000 square feet of retail when it is all completed; plus, H and I streets will be built through between 2nd and New Jersey. It's also just a few steps away from the
so-close-to-opening-you-can't-believe-it
Canal Park
.
The Park Chelsea is now the second new-construction multi-unit residential building to start in Near Southeast in 2012, along with
Forest City's Twelve12
apartment building (home also to Harris Teeter and
Vida Fitness
) at the Yards.
Update on Work at Trash Transfer/Park Chelsea Sites
Jun 19, 2012 12:37 PM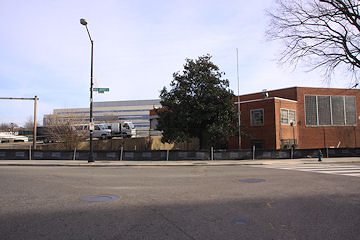 Last week a
demolition permit
was approved by DCRA for the ramp to the old trash transfer/DPW building on
New Jersey Avenue between I and K
, and over the weekend it looked like the appropriate heavy equipment was starting to move into place.
It's no secret that most everyone is itching to see the entire building get demolished--and that's not just residents, but also developer William C. Smith, which can't truly begin construction on its 433-unit
Park Chelsea apartment building
just to the north until the trash transfer building is gone.
The demolition of the ramp is a piece of the puzzle, though. The digging currently happening
north of the trash building
is WCS relocating some deep (deep!) utilities along New Jersey Avenue and in the footprint of what will eventually be the new I Street, and demolishing the ramp will allow that work to continue. Once the utilities are relocated, and the clearing of the area along the new I Street is completed, WCS can start the full excavation for the apartment building and the construction of I Street.
The DC Housing Authority is handling the razing of the building itself, since it is on the footprint of the
Capper/Carrollsburg redevelopment
. (Plans call for a 300ish-unit mixed-income apartment building to eventually be built there.) Demolition isn't too far off. Really. Truly. But best to not attach any time frame beyond "near term" to it.
DPW: Move From New Jersey Ave. Scheduled for March 31
Feb 8, 2012 9:37 AM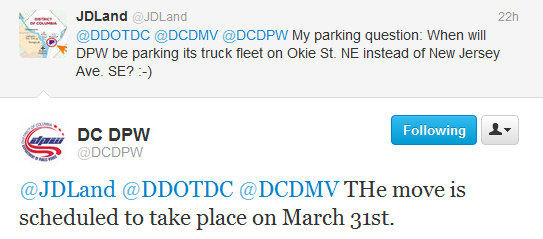 File this under Sometimes Twitter is Actually Useful:
On Monday, DDOT was
plugging a "Parking Chat"
being held with their head Terry Bellamy and the top dogs at DMV and DPW, and asked readers for "parking questions."
Because I can't ever resist being a smart ass,
I replied
: "My parking question: When will DPW be parking its truck fleet on Okie St. NE instead of New Jersey Ave. SE? :-)" (See that smiley? I was at least acknowledging I was being a smart ass.)
So I was surprised to
see this from @DCDPW
this morning:
"The move is scheduled to take place on March 31st."
As I've written a number of times, this move needs to happen so that old trash transfer building at New Jersey and K can be demolished, which will allow for the transfer of a smidge of that property to William C. Smith so that they can
begin work on the Park Chelsea
apartment building on the block just to the north. It will also clear the way for the punching through of I Street from 2nd Street to New Jersey Avenue, which WC Smith will handle as part of the Park Chelsea construction.
This is a later time frame than we had last heard (which is nothing new for this spot), but it sounds like they certainly do expect to be moving at the end of March.
The trash transfer site itself is slated to eventually be a mixed-income apartment building under the
Capper Hope VI redevelopment plan
.
WC Smith Announces 880 New Jersey as Park Chelsea Apartments
Jan 13, 2012 10:31 PM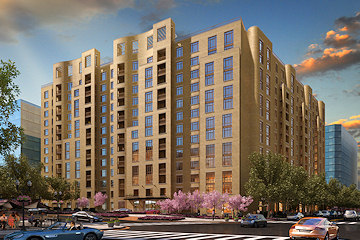 Developer William C. Smith is announcing today that the apartment project we've been referring to as
880 New Jersey
will be called the Park Chelsea, and is expected to get underway sometime during the second quarter of this year. And there's
even a rendering
now, and an
official web site
.
As
I reported a few months ago
, it will be 13 stories, with 433 units, which I understand will be broken down as 58 studios (about 466 avg sq ft), 281 one-bedrooms (606-738 sq ft), 92 two-bedrooms (1094 sq ft), and 2 three-bedrooms (1788 sq ft). There will be a courtyard garden, club room, gym, pilates/yoga studio, Jacuzzi, and 75-foot indoor lap pool on the ground floor. Then, up on the roof there will be a second pool along with the now-ubiquitous lounging/grilling area, as well as a "community garden" and dog exercise area. There will also be 1,500 square feet of "convenience" retail space on the ground floor, and three levels of underground parking. (They previously mentioned to me a bicycle entrance to a sizeable storage room separate from the car parking areas--I'm assuming that's still part of the plans, but I haven't confirmed.)
It's easy to notice
that site clearing that has begun along New Jersey--this is the start of the pre-construction infrastructure work that Smith needs to do in order to relocate some very very deep pipes beneath the block. The company also tells me that they expect DPW to be moving out of their site just to the south of 880 New Jersey about a month from now, which can begin the chain reaction of getting the old trash transfer building demolished so that lots can be split and land transferred along the to-be-built I Street axis. Vertical construction on 880 NJ can't begin until all of that happens, so that will be a pretty easy-to-watch guide to when real work on the new apartment building can begin.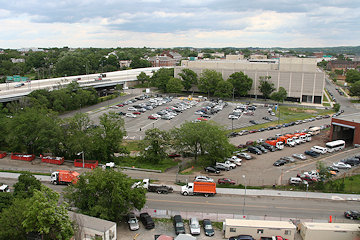 Once started, construction should take about two years.
This is the first phase of Smith's plans for
Square 737
, seen at right back in 2008. Originally the company had planned two residential buildings and two office buildings, but now they're looking toward filling the block with apartments, totalling around 1,200 units in four buildings. (And note that the entire four-building project is "matter of right," so there will be no zoning reviews or PUDs.) It's anticipated that there will be greater amounts of retail in the two buildings that will front 2nd Street, near
Canal Park
and across from
225 Virginia
.
If you want to see more photos of Square 737 and get additional background, check my
project page
and
previous posts
.
While this will be William C. Smith's first apartment project in Near Southeast, they have been working in the neighborhood for a number of years, and literally working here since 2004 (when they opened 1100 New Jersey Avenue and moved their offices there). They have also been a big player in the creation of
Canal Park
, and are part of the
Capper
PUD team as the developers of the planned
250 M Street
office building.
Landscaping Tip: Clearing Brush Can Really Make a Difference!
Jan 8, 2012 4:58 PM
New Jersey Avenue, south of the freeway, looking east, before and after the clearing of brush and trees that happened late last week: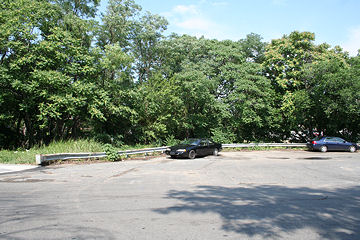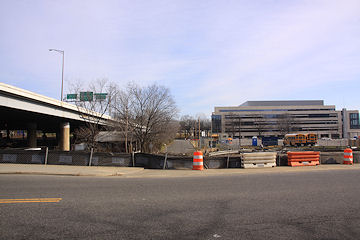 A slightly different angle, looking south-southeast: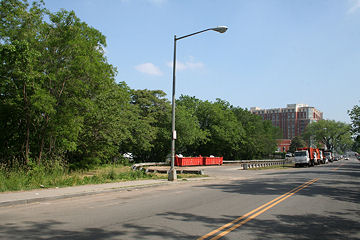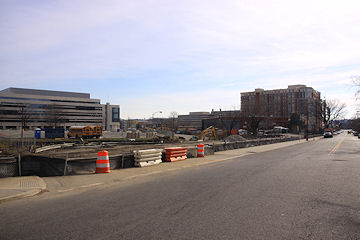 This appears to be the work that William C. Smith
mentioned would be coming
, as part of their preparations for infrastructure work in advance of their
880 New Jersey Avenue apartment
project.
More before-and-afters here
.
(That's
225 Virginia/200 I
in the background, if you're bewildered at what you're seeing in this new view.)
(This is the first in what will be an avalanche of new photos over the next few days, after I drove around for about two hours grabbing scads of shots that I have been guilt ridden about not getting to. Rather than trying to put them up in one overwhelming post, I'll be passing them along in manageable bites.)
Tidbits: Some SoCap Bridge $, Half Street 'Thinking', DPW, More
Nov 21, 2011 9:32 AM
I've tried over the past few months to clampdown on runaway Tidbits posts, but these are some pretty small tidbits, so I think I'll let them through: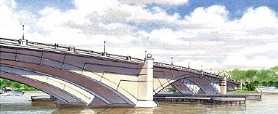 *
Douglass Bridge
: The Feds have
"freed up" $68 million
from previously appropriate funds to allow DC to start buying up right-of-way land for the
new South Capitol Street/Douglass Bridge
.
NBC4 quotes
DDOT chief Terry Bellamy as saying "If I had my way and we had the money, we could possibly see a new bridge in about six to seven years." But, considering they're looking for $800 million for not just
the bridge itself but all the associated improvements
to
South Capitol Street
and its interchanges with I-395 and I-295, getting the rest of the money might be a little trickier.
*
Half Street
:
According to the Post
, Monument Realty and investment partner Victor MacFarlane "are now thinking about when to begin" developing the rest of their
Half Street project
. The southern portion of Monument's side of Half Street (the east side--you know, where the big hole in the ground is) was originally designed with both a hotel and a residential building. And there's still no word from Akridge on a start date for
their side of Half Street
(the Bullpen side).
*
DPW Move
: While the timeline for getting DPW into their new home on Okie St. NE and out of their New Jersey and K site has slipped (shocker!), things are still moving forward, and I'm hearing that they should be moved early in 2012. But this delay is not as yet impacting
William C. Smith's plans
for a
new apartment building
just to the north--various permits have recently been approved, and WCS expects to start some deep infrastructure work, along with some clearing and grading along New Jersey Avenue north of I, sometime in December. (But WCS needs DPW out before too long because a smidge of DPW land crosses what will eventually be the new I Street and onto the WCS property.)
*
Wha?
: Is it just me, or does
this article
seem like it was written in 2009? It's a bit odd to trot out version 83 of the "there's no food in Near Southeast" story when there are leases signed for at least 10 new eateries to open in the next 12 months: Lot 38 Espresso at the old Little Red Building site (Any Minute Now!),
Potbelly and Kruba Thai
in the
Foundry Lofts
by spring, the
Park Tavern
at
Canal Park
by summer, and
six choices
at the
Boilermaker Shops
by the end of 2012. Not to mention probably another couple places in the
Lumber Shed
,
perhaps a big one
at 100 M, and a
Harris Teeter
in 2013. But I still predict that, when the slew of What's Happening Around Nationals Park stories come pouring out in advance of Opening Day 2012, the focus will still be on the lack of movement along Half Street (see Tidbit #1).
*
New Bridge:
Don't forget the
dedication ceremony for the Yards/Teague bridge
on Tuesday at 1:30 pm on the Yards Park side of the bridge. In addition to the mayor and DC Water chief George Hawkins, the organizers are also expecting Eleanor Holmes Norton, Naval District Washington Commandant Rear Admiral Patrick Lorge, USDOT deputy secretary John Porcari--and the Racing Presidents!
Summer Doldrums Tidbits on All Sorts of Subjects
Jul 14, 2011 2:13 PM
All sorts of little items that you mostly already know about if you follow JDLand on
Twitter
or
Facebook
. But I'll start with some new items at the top:
* Still no word from Akridge about when they may get underway with their
700,000-square-foot mixed-use project on Half Street
just north of Nationals Park (where the Bullpen and its beergarden sibling Das currently reside), but I will note that in May they filed for building permits for two nine-story and one eleven-story building on the site, matching their
announced plans
. The permits haven't been approved yet, and once they are they are good for one year, but can then be renewed.
* William C. Smith told me a few weeks ago that they expect to be doing some infrastructure work on their
Square 737 site
this fall (sewer, water, etc) before starting on their
430-unit apartment building
there next spring, and I hear that the bidding process for that site work is now underway. (This also means to not get *too* excited when you see dirt getting moved there late this year.) And, speaking of 880 New Jersey, ANC 6D voted 7-0 on Monday night to support WC Smith's request for a circular driveway, a new curb cut on 2nd Street to access underground parking, and the general public space plan.
* Tonight (Thursday) is the
Congressional Baseball Game
at Nationals Park, Republicans vs. Democrats. The $10 tickets might be worth it just to see if there are any bench-clearing brawls.
* Friday (July 15) is the second
Truckeroo food truck festival
, along Half Street by the Bullpens. It runs from 11 am to 11 pm.
* The speculation is underway about the venues for upcoming baseball All-Star Games, with the
previous conventional wisdom
about
Nationals Park
being in line for perhaps the 2015 event taking
some
hits
, with the lack of development progress around the ballpark being cited as a prime reason.
* If you're all fired up to game out the new ANC/SMD districts, here's
all the data you might want
, from the Office of Planning. And remember that the
ANC 6D redistricting
"listening" session with the Ward 6 task force is on July 28 at 6:30 pm. There wasn't really much news out of the initial public meeting on Monday night, other than that while the 2,000-plus-or-minus-100 population levels per single member district aren't a legal requirement, there's still clearly a desire to have SMDs be as similar in size as possible. And, also, that an SMD can't be looked at in terms of how its size has changed (or will change) since the census data as of April 1, 2010 was recorded.
* I'm going to go ahead and post this now, but check back later today (or look for a Twitter heads up) for more Market Deli demolition photos, which I will wander down to get at some point.
UPDATE:
A moment of silence, please, as the Market Deli has now been added to the
Demolished Buildings Gallery
, as building number 161 and 162 that have been torn down since I started photographing the neighborhood. And the three garages on the north end of the block are in their final hours, with demolition underway on the southernmost one.
First Details on WC Smith's 880 New Jersey Apartment Project
Jun 20, 2011 5:47 PM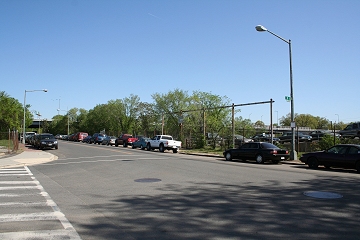 With the DC apartment market continuing to perform strongly (perhaps even
too strongly
), and with Near Southeast's existing rental buildings continuing to be successful in attracting tenants, it would seem to follow that developers who have been long planning new residential projects in the neighborhood would be making moves to get their projects underway. And that's what's happening with William C. Smith & Co., which has been working on the initial plans for a 13-story, 430-unit apartment building at
880 New Jersey Ave. SE
, just south of the freeway on the southwest corner of their
Square 737
site that they've owned since 1999.
WCS isn't ready yet to release renderings of the building, though they did show me an early design by
Esocoff and Associates
(who also designed
Onyx
and who are working on
Akridge's Half Street
residential building), showing a brick/masonry structure with a lot of "articulation" (i.e., not a big flat box) and with double-height windows. Some anticipated amenities include an indoor pool as part of its fitness center (which could also have spinning and yoga rooms), in addition to the now-all-but-standard rooftop pool, and a bicycle entrance to a sizeable storage room separate from the three levels of underground parking. There will also be an interior courtyard that the building wraps around.
One amenity that this building won't have is a Whole Foods Grocery store, after that plan
collapsed earlier this spring
. There will be a small amount of "convenience" retail (1,500 square feet), on the southeast corner of the building.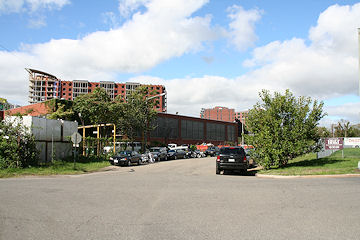 There are a couple of items that need to happen before construction can get underway, starting with the move of the Department of Public Works out of their site at New Jersey and K to a new location on Okie Street in Northeast, the construction of which can now proceed thanks to the council passing last week
emergency technical legislation
allowing a portion of
Capper PILOT monies
to be used for off-site construction (though another bill still has to pass to actually allocate the funds). Then the DC Housing Authority needs to demolish the trash transfer building (a raze application permit
having been filed
last week), at which point WC Smith will purchase the portion of the trash transfer site that juts across and north of the I Street footprint, as seen at right; the Smith site is on the right side of the photo.
It is hoped that DPW will relocate by early fall and that DCHA will get the site cleared by the end of 2011; WCS is targeting April 2012 for the start of construction on the building itself, with the project expected to take 24 months. (It should be mentioned here that this is not the apartment building planned for the trash transfer site itself; that will be a Capper mixed-income building, with no current start date announced.)
WCS will also be building the new stretch of I Street that will run between 2nd Street and New Jersey Avenue, as well as punching H Street through to New Jersey on the north end of Square 737. (And no, this won't drive out the horse stables nestled under the freeway just north of H.) They are expecting that the new block of I Street will have two travel lanes, two bike lanes, and two parking lanes. And this stretch of New Jersey Avenue will get the wide landscaped sidewalks that are seen in front of the other new developments on the street.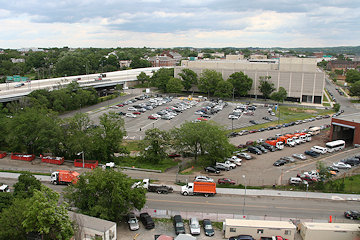 This is the first phase of Smith's plans for Square 737, seen at left from above, back in 2008. While originally the plan had been for two residential buildings and two office buildings, the current realities of both markets have the company looking toward filling the block with apartments, totalling around 1,200 units in four buildings. (And note that the entire four-building project is "matter of right," so there will be no zoning reviews or PUDs.) They are anticipating greater amounts of retail in the two buildings that will front 2nd Street, near
Canal Park
and across from
225 Virginia
.
If you want to see more photos of Square 737 and get additional background, check my
project page
and
previous posts
. And, given that Smith's representatives say that they are "very excited to get started" on the development, hopefully renderings of 880 New Jersey and additional details will be available in the next few months.
While this will be William C. Smith's first apartment project in Near Southeast, they have been committed to the neighborhood for a number of years, having constructed 1100 New Jersey Avenue in 2004 (which is where their offices are). They have also been a big player in the creation of
Canal Park
, and are part of the
Capper
PUD team as the developers of the planned
250 M Street
office building.
Whole Foods Tax Abatement Dead; Is the Entire Deal Kaput?
May 1, 2011 5:15 PM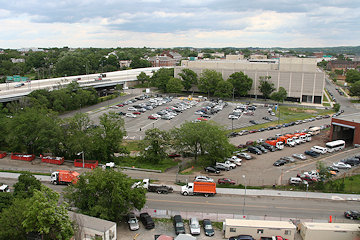 The
Washington Post is reporting
that developer William C. Smith is "no longer seeking" a proposed $8 million tax abatement to bring Whole Foods to a planned 375-unit apartment building at
800 New Jersey Ave., SE
, and that in fact the
news coverage of the proposal
may have killed the deal altogether.
The article quotes a statement from Whole Foods saying that the company "was not involved in any tax break or lease agreement negotiations" with WC Smith, and Michael Stevens of the BID is quoted as saying "I used to know that Whole Foods wanted to be in the neighborhood. After that article, I don't know anymore."
Whether the entire Whole Foods deal is truly dead or there's just some steam being let off is not 100 percent clear in the article, though it quotes an anonymous source as saying that Whole Foods could still end up somewhere in the area and is "fielding entreaties from other developers."
This is/was not the only grocery store planned for Near Southeast, with Forest City including supermarket space in the apartment building that it has planned for
401 M St., SE
at
the Yards
, which could be getting underway late this year or early in 2012. (Standard statement whenever mentioning this: it's long been reported that Harris Teeter will be occupying that space, but neither Forest City nor the grocery chain have ever publicly announced a deal.)
Pre-Monday Tidbits (Van Ness Meeting Reminder, Links)
Feb 28, 2011 9:47 AM
* I imagine most interested parties do not need to be reminded that tonight at 6 pm at 900 5th St. SE is the meeting with DCPS to find out what they plan to do with
Van Ness Elementary
. With laser-like precision, they picked a date when I absolutely can't be there, so anyone who wants to pass along the news as it's happening, please do. (I will be keeping an eye on Twitter.)
And, two recently
Tweeted
links that might be of interest:
*
The Yards
was named
one of Five Projects that Will Transform Washington
by the Washington Business Journal. "When completed, the neighborhood may finally achieve L'Enfant's vision for a bustling center of activity on the waterfront."
* The
DC Fiscal Policy Institute takes a look
at the possible
$8 million tax break
to bring Whole Foods to New Jersey Avenue, asking "why it makes sense for the District to continue putting money into an area that has seen tremendous public investments and is already on the cusp of development" and why the project would require a special subsidy to move forward, since they say that "Whole Foods already would qualify for a set of tax incentives on grocery-store development, including a 10-year property tax break on the store itself."
WC Smith Looking for $8M Tax Break to Bring Whole Foods to 800 New Jersey Avenue
Feb 14, 2011 10:06 PM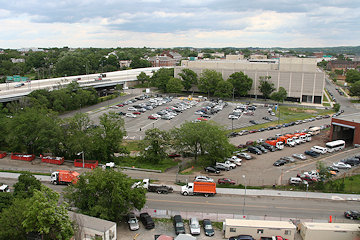 From
Tuesday's Washington Post
, confirmation at last at what has been reported since 2002, but with a bit of a twist:
"Whole Foods Market and a D.C. real estate firm are interested in building a new store in Southeast Washington near Nationals Park, but the developer says that luring the grocer would require $8 million in tax breaks. William C. Smith and Co. is proposing a 39,000-square-foot Whole Foods for
800 New Jersey Ave. SE
as part of a building that would include 375 apartments."
More: "Smith said the $800,000 annual tax break would cover requests by Whole Foods including an additional level of underground parking, extra elevators and higher ceilings on the bottom floor. Without the tax break, he said, he would either wait to develop the site or build a smaller apartment building with little or no retail."
Tax breaks for developments are being requested more frequently during this Era of Economic Difficulties, but the city's own financial troubles, and the amount of assistance that has been going to Ward 6 in comparison to other parts of the city, may make a request like this a tough sell, the
article
says.
There are already plans to bring a not-officially-named grocery store (*cough*Harris Teeter*cough*) to the neighborhood perhaps in 2013 at
4th and M
in the Yards. This Whole Foods site, though, would also be a draw not only for Near Southeast residents but for folks on the south side of Capitol Hill, given its location just on the other side of the Southeast Freeway. You can see
some photos of the site here
.
WC Smith has been planning a four-building, 1.1-million square foot office/residential/retail project on this block (Square 737) for some time. The transfer of a small plot of land known Reservation 17A was finally completed last year from the Feds to the city, clearing a long-time bureaucratic hurdle to getting the site redeveloped. (This will also allow I Street to be built through between 2nd and New Jersey once the DPW building just to the south is demolished, which may happen this year.)
There has been chatter over the past few months that Smith was pitching the entire site for the 1.1-million-square-foot Department of Homeland Security lease that GSA currently has out for bid--this movement on getting a residential building started might seem to signal a shift from that possibility, along with being another indication that developers are sensing Near Southeast is a strong residential market.
This lot is next to
225 Virginia Avenue
, the old Star/Post plant that is
hours away
from starting its transformation into 200 I Street, which will be home to three city agencies when its "re-skinning" and renovation is completed within the next two years.
(A note: The article says that WC Smith purchased the land from the Post in 2000 for $50 million; I think a decimal point got lost somewhere, because DC Property Records say that the lot, which used to be home to an
old warehouse
owned by the Washington Star and then the Washington Post, sold for $50,000 in December 1999. That number might not be right either, but considering that even now, in a completely changed neighborhood 11 years later, the 800 New Jersey land is assessed at just over
$19 million
$58 million, I doubt that Smith paid $50 million.
[UPDATED
because I looked at only one assessment record instead of three.] The WC Smith parcels were assessed at about $2.5 million in 2001, the oldest records that I have.)
New Fences on Canal Street by DPW Building
Jul 27, 2009 12:29 PM
A number of readers wrote in over the past few days with news of a new fence that has gone up
across Canal Street west of Second
, just north of the DPW/Trash Transfer Building where I Street will someday be built to connect Second and New Jersey, as well as
another fence across Canal at H
, across from the Charley Horse Stables entrance. (The photos are from just a few minutes ago, showing both fences open.) After asking DDOT about it (they said it wasn't their fence, although they did say they are doing some work on the freeway bridge across New Jersey Avenue), I've passed along the news to Tommy Wells's office. Hopefully they'll have further information. Technically the land being enclosed by the fence is on
Square 737
, which is
owned by William C. Smith Co
. (I believe these "streets" were technically "closed" in
late 2006
in council bill
B16-0888
.)
Design Ideas for South of the Capitol
Mar 31, 2009 7:50 PM
(h/t reader M.) Last week, the
Congress for the New Urbanism
named the
winners of its 2009 Charter Awards
, and one of them is the "
House Office Buildings Facilities Plan and Preliminary South Capitol Area Plan
." I won't go into too much detail, since the majority of the area that the plan looked at is north of the freeway, but it is worth noting that, while it's a very neat plan that looks forward to both 2025 and 2050 and takes into account the vision of the
NCPC's Extending the Legacy
(no more freeway!), the designers of the HOB facilities plan perhaps didn't do a lot of research as to the reality of the land ownership south of the freeway. If you look at the maps of their
proposed 2025 and 2050 implementations
, you see all sorts of new government buildings on the block now dominated by
70 and 100 I Street
, as well as a big park at Second and H, which might come as a surprise to the William C. Smith Co., which owns the block and is planning a
1.1-million-square-foot mixed-use project
on that square. And yet the
Post Plant
remains, 41 years in the future, which probably is not what city planners would consider an optimal solution. And the Capitol Power Plant is still there, too!
All this aside, if you live or work on the Hill, you might be interested in what the future could bring for the parking garages, House Office Buildings, and other structures that are part of the Capitol Complex. And, if I'm missing something about how this plan is approaching the privately owned land south of the freeway, I'd love clarification....
Tidbits: Teague Park Started, Bridges and Stimulus, Reservation 17A, Exxon For Sale?, Capper Zoning, More
Jan 24, 2009 2:40 PM
Some items from the past few days. Big ones first:
* It's probably been true for weeks, but I've just now been by
Diamond Teague Park
for the first time in a while and can confirm that construction is definitely underway there. Fences are up, cranes (three of them?) are in place, and workers were there. Pictures tomorrow. (Probably *lots* of pictures tomorrow from all over, as long as the weather stays reasonably clear.)
*
City Paper got its hands
on the
letter Mayor Fenty sent
to DC Delegate Norton about the city's priorities should the Feds decide to toss some stimulus package dollars in this direction. As I predicted, the two Near Southeast bridge projects were mentioned: "In particular, aspects of the
Eleventh Street
and
South Capitol Street Bridge
replacement projects could be undertaken immediately." He also mentions the city's backlog of maintenance projects, along with investments in Metro and the implentation of the streetcar project. And school modernization. And public safety issues.And environmental initiatives. And housing affordability. And health care. (And now here's
the stimulus bill itself
, though it doesn't get down into specific projects. On the other hand, considering these two bridges ease the commutes to and from the district of the House Majority Leader....)
* Back in mid-November, the transfer of the plot of land known as
Reservation 17A
from the Feds to the city finally took place; it runs between New Jersey Avenue and Second Street, and is straddled by the trash transfer station building. With this now under District control, various wheels can start turning in that area, including allowing the establishment of I Street between Second and New Jersey that will form the southern boundary of WC Smith's
800 New Jersey Avenue project
. There's hopes that the trash transfer station could be demolished in 2010.
* Reader T. reported yesterday that a small bought-at-the-hardware-store For Sale sign went up at
10th and M
yesterday, in front of the fence of the Exxon station. I'm not sure what the deal is, since the land is actually owned by the Exxon Corporation, and you'd think they'd have better methods of marketing the land.
* The public notice for the March 19 Zoning Commission hearing on various Capper PUD alteration requests
is now available
.
* WBJ reports that the Nationals
have parted ways with Centerplate
, last year's concessionare at the
ballpark
. This year it will be Levy Restaurants for the food and Facility Merchandising Inc. for the retail.
* More of the fences are coming down at
55 M
, as you can see on the
web cam
. (Though it took me more than a month to notice that the plywood "tunnel" at the Metro exit had disappeared.)
* The Douglass Bridge
will be closed
at 5 am Sunday until 10am-ish to test the swing span.
Quick Photos from the Anacostia Waterfront Fair, Plus a Few Other New Photos and Pages
Nov 15, 2008 4:35 PM
I have to admit that information fairs aren't quite my gig (especially since I'm immersed in this stuff everyday), but I did wander past today's Anacostia Waterfront Community Information Fair at the
ballpark
to see what there was to see. I got there pretty early and left pretty early, so didn't see any of the panel discussions (and didn't take any of the bus tours), but if you want to see how they configured the exhibitions within the Stars and Stripes clubs at the ballpark,
here's a batch of photos
. (And, if you were there, maybe you're in one or two of them!)
I also took a few
new photos on First, Third, and New Jersey
of
909 New Jersey
,
Velocity
,
Onyx
, and the
Foundry Lofts
, which will serve mainly as a reminder of why I don't normally go on photo expeditions on cloudy days. If the weather finally shifts, I expect to be out taking some additional ones on Sunday, especially of
1015 Half
, since the first columns are visible above ground-level.
Plus, I felt a burst of inspiration yesterday the likes of which I haven't seen in months, and *finally* created project pages for William C. Smith's
800 New Jersey Avenue
development and for the
11th Street Bridges reconstruction
. The 800 NJ page has almost no information (since there's so little to be had about the project beyond the basic 1.1-mil-office-residential-retail-and-
maybe-Whole-Foods
profile); the 11th Street Bridges page is a little better, but still is just a lot of pictures of overpasses and flyovers. Better than nothing in both cases, though!
Dogfish Head Alehouse, Jazz Club May Come to the Yards (Teeter, Too); Whole Foods and Square 737
Nov 14, 2008 9:27 AM
Today's print edition of the WashBizJournal has some big retail-related Near Southeast
items of interest
:
* "The developer of
The Yards
, the 42-acre Anacostia riverfront project near the Nationals ballpark, is close to landing
a jazz club
and
Dogfish Head Alehouse
and may move its local headquarters to the former Navy Yard. The two retail tenants would be the first in the
Boilermaker Shops
, a three-story industrial building with walls of red brick and plate glass on Tingey Street between Third and Fourth streets SE." (The Boilermaker Shops are scheduled to open in mid-2010, along with the
Park at the Yards
and the
Foundry Lofts
.)
* The planned office building at
401 M
could become home to Forest City Washington's headquarters; it's the one with the grocery store space in the ground floor. WBJ says Forest City "is 'nearing a deal' with a grocer for 50,000 square feet and an announcement could come in 60 days. He would not reveal the chain, but sources say it is
Harris Teeter Inc
. which has two D.C. stores and plans a third in Northeast." 401 M is not expected to be constructed before 2011, however.
* Also on the grocery store front, confirmation of the rumor that's been hashed around here lately: "William C. Smith & Co., meanwhile, has been in discussions with
Whole Foods Market Inc.
about a store in its planned 4-acre development between New Jersey Avenue, H and Second streets, known as Square 737." (See,
I tried to tell you folks
it wasn't going to be at New Jersey and K; and Jonathan, you're welcome for this tip.)
UPDATE:
Finally getting *some* piece of news about 800 New Jersey finally spurred me, after all this time, to
create a project page for it
. There's no renderings, just a bunch of "before" pictures, but at least it's something. And, since talk of grocery store on this site back in *1999* was one of the first tidbits that led me to start paying attention to the neighborhood, I guess it finally deserves its own page.
31 Posts:
Go to Page:
1
|
2