Near Southeast DC: Past News Items
JDLand stuff
Go to Full Blog Archive
---
Bringing Back the Neighborhood Crime Reports
May 9, 2013 10:45 PM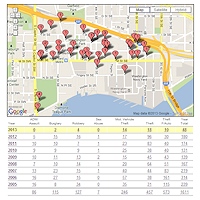 In September of last year, the city stopped updating its
public crime data reporting
in order to overhaul the system. That meant that my neato maps of crimes in the neighborhood (both
on the JDLand home page
and my more extensive
Crime Incidents Archive
back to 2005) went silent.
Then, a few weeks ago, MPD announced that data was once again flowing to their crime map application. But what about the
XML feed from OCTO
that I have been using since about 2006? Unfortunately, despite a fair amount of pestering by me on Twitter that never elicited any official responses (boo), that feed appears to be the victim of an unreported homicide.
Finally, though, I found some free time and built a new system to import data from the Crime Map into my own database, and you can now see the most recent
two weeks' worth of reports on the JDLand home page
and
everything for 2013
and the rest of
2012
in the main archive. This won't be all nice and automated like the XML feed system was (again, boo), so don't expect the map to be updated every single day, but I will try my best to get to it on a regular basis.
In the switch to their new data system, MPD did change some of the category names--from Stolen Auto to Motor Vehicle Theft, for instance--so I'm having to tinker some with my code to deal with that, and I'm still uncovering bugs here and there, but I feel like the data is in generally good enough shape to post.
("Anything is Better Than Nothing" is my motto these days.)
One thing I'm seeing in the data: Can there really have been 14 stolen autos--excuse me, motor vehicle thefts--already this year? It seems kind of high, especially since there are only 19 reports from 2012, but perhaps this now also covers scooters, motorcycles, etc. And judging by the more complete records that are sent out via the
MPD-1D mailing list
, it can also include "Unauthorized Use by Family Member" or some such. If I were really good I'd start incorporating the additional details that are sent out on the mailing list, but that will require another coding run, so probably not tonight.
Happy Anniversary to Me: A Decade of Photos and Blogging
Jan 18, 2013 10:04 AM
(Warning: Navel gazing ahead!)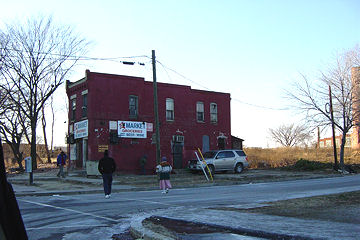 Even in my semi-retired state, I'd like to believe it is still worth noting that Saturday marks the 10-year anniversary of
my first real photographic excursion* south of the Southeast Freeway
, when on lark on a cold Sunday afternoon I had my husband drive me around while I took some furtive shots with an early generation digital camera.
There was no rhyme or reason to the pictures I took, and there certainly was no grand plan that I'd spend the next decade amassing more than 60,000 additional photos** of the changes and events along the path of Near Southeast's redevelopment.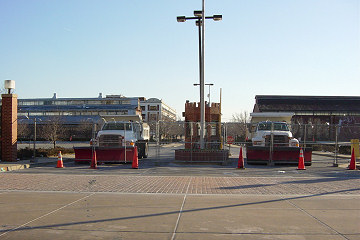 All I knew was that were some plans to redevelop the neighborhood, especially the areas along the water as well as the
public housing project
a few blocks south of my house. I thought it would be cool to have some "before" photos, especially having watched other areas of the city change so radically from what I had first remembered as a high schooler and then college kid in the 1980s, venturing to the original 9:30 Club or the Tiber Creek Pub. I put a few of them up on my web site (already called JDLand, I'll have you know), mainly so that
my dad
could see them.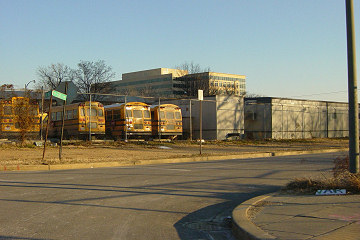 When I took these pictures, the notion of a
baseball stadium
anywhere in DC, let alone on South Capitol Street, was still thought of as a "maybe someday" dream, not anything that was actually only five years from opening. There was no hulking
US Department of Transportation
on M Street, and no public access to the entire 55-acre
Southeast Federal Center
with its long stretch of Anacostia waterfront. There were no parks, though there were
school buses
! And there were certainly no
brightly colored townhouses
selling for hundreds of thousands of dollars.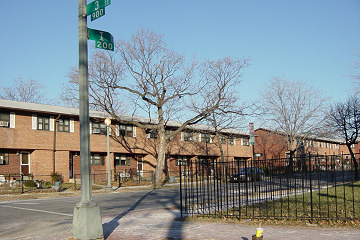 There were a couple of new office buildings built a few years earlier when NAVSEA moved to the
Navy Yard
, and one additional one was under construction. There was a banner announcing a coming
shiny new apartment building
at New Jersey and K, which my husband and I laughed at every time we saw it--who would ever want to live THERE?.
There were a lot of small businesses, a number of carry-outs and market/liquor stores, four gas stations, concrete plants, auto repair garages, warehouses, Metrobuses, and of course nightclubs, gay and straight. And a lot of trash-strewn empty lots.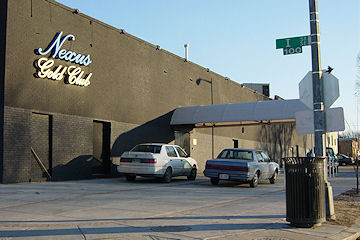 I look now at the photos from those early years, and it just doesn't seem like it can really have been 10 years. I remember when the boarded up gas station at
3rd and M
was demolished in October 2003, thinking "FINALLY!"
I remember working up the courage to go to public meetings, and feeling like a dingbat trying to explain who I was ("yeah, so, I have this web site, and I, like, take pictures and stuff?").
I remember walking around the neighborhood for hours on Sunday mornings in 2006 and 2007, rarely crossing paths with another human.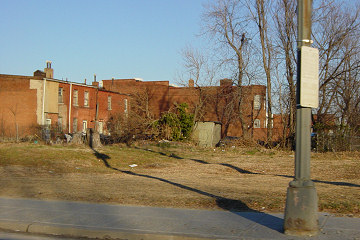 I remember the exhaustion of the all-details-blogging about the construction and opening of
Nationals Park
, especially at the end of 2007 and beginning of 2008. I laugh about how my fraidy-cat tendencies were shoved aside while I traipsed around the site in a hard hat (me! in a hard hat!), sometimes climbing rickety ladders, to get to spots where the best pictures would be had.
I think about how it seemed like the documenting of the stadium's birth was the main subject of this site, and yet I realize that I've now written about the neighborhood for almost as long with the stadium open as not.
I imagine I should have some grand What It All Means theory, for the neighborhood, or for "citizen journalism" or "hyperlocal blogging," or my life, or whatever. But, mainly I'm lucky that the stars aligned to have this particular neighborhood undergo such a transformation, in a way that tied in with my history-journalism-photography-web development backgrounds (and my obsessive-compulsiveness).
I do think it's been shown, though, that a project like this isn't as easy to replicate as it might seem (so maybe I did deserve
that award
!).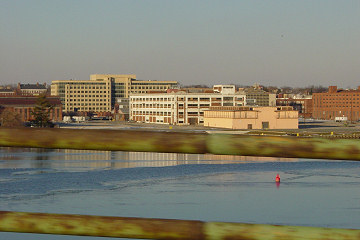 I'm also lucky that so many people have helped me along the way, with information, tips, tutorials on commercial real estate development and construction, and zoning, and urban planning, and all the other things I really knew nothing about before I started down this path.
And I'm really lucky that over the years people who have stumbled onto the site have found it interesting, which is what has pushed me to keep going, even if it's in a somewhat less-than-optimal fashion right now. Because, really, all I wanted was some cool pictures to be able to look back on.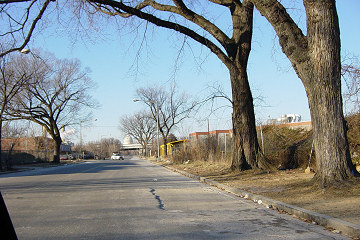 Without getting into detail, my
pulling back somewhat
has definitely been the right thing to do, and the times when I go days or even weeks without posting aren't really just me being lazy. But the funny thing is, I still research and track all the minutiae the same way--it's just that final step of writing it out that I can't always get through.
I think, though, that 2013 is going to have a lot of the "milestones" that still propel me to post--
restaurants will open
, other retail may come along, and maybe some buildings will get started. And there still will be pictures to be taken. Because, even if I wanted to, I don't think I could ever really stop watching the neighborhood change, and if I'm going to watch it, and photograph it, I might as well keep blabbing on about it, and might as well share it with anyone still interested.
So
go look at the pictures from January 19, 2003
(and
all the others that I've put online
), since that's what this was really all about. And accept my deep appreciation for being along for the ride.
*I say "real excursion", and date the blog's anniversary to Jan. 19, 2003, because that was the first time I took photos and then put them on the web, and really began this life-consuming project. But I need to note that I did also take some photos of the neighborhood back in the fall of 2000, during the reconstruction of M Street and the Navy Yard's renovation for NAVSEA, with my old film camera--but I forgot about them and didn't even develop the film until sometime in 2004 (hence the rotten quality!).

**Only about one third of the photos I've taken are actually on the web site, by the way.

Still Here, Just Still Being Lazy (But You Don't Have to Be)

Dec 13, 2012 11:17 AM

If you're wondering how come I haven't posted that much lately, it's because a few months ago I

decided I was only going to post about "big news"

, and there's been a bit of a lull in that department. But I still do pass stuff along on

Twitter

, which you can see in the Twitter box here on the JDLand home page and which also mostly gets cc'ed to the

JDLand Facebook page

. That's where you can keep up all sorts of little things about the neighborhood that aren't really blog-post-worthy.

I think there will be some posts coming before too long--a few things seem to percolating around that may draw me out soon, plus there's that ramp from the outbound 11th Street freeway bridges to northbound DC-295 should be coming before too long (

UPDATE

, five hours later:

yes, indeedy

). There's not always a lot of news in December, anyway. And not a lot of stuff to take updated photos of right now.

Just didn't want people to think I'd completely closed up shop.

Park Chelsea Financing Secured, Now Officially Underway

Nov 9, 2012 3:35 PM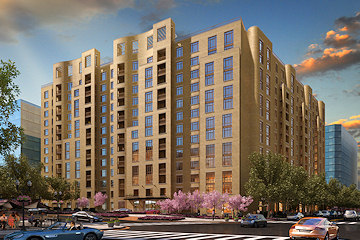 While there's been a lot of work going on at the site since the beginning of the year, it's only now that it can truly be said that work has begun on the
432-unit Park Chelsea apartment building
at New Jersey and I Streets, SE.
Developer William C. Smith has closed on a $100 million construction loan (which they are calling the largest one secured for a DC residential project this year), and if you look down on the site from on high, you can definitely see earth being moved, separate from the huge shafts built over these past few months to facilitate the relocation of deep infrastructure beneath the site. (There was also that whole
demolishing of the trash transfer station
just to the south of the project's footprint, since a small corner of that old building extended onto the Park Chelsea land.)
The cost of the entire project is pegged at $150 million.
The Park Chelsea is expected to deliver late in 2014, and will have three levels of below-grade parking, both indoor and outdoor pools, a rooftop garden with a dog park, an electric car charging station, and a "state of the art bike storage and maintenance area." It's also just the first phase of the development of the entire block bounded by New Jersey, 2nd, H, and I, which is expected to have 1,200 residential units and 75,000 square feet of retail when it is all completed; plus, H and I streets will be built through between 2nd and New Jersey. It's also just a few steps away from the
so-close-to-opening-you-can't-believe-it
Canal Park
.
The Park Chelsea is now the second new-construction multi-unit residential building to start in Near Southeast in 2012, along with
Forest City's Twelve12
apartment building (home also to Harris Teeter and
Vida Fitness
) at the Yards.
Updated Bikeshare Usage Maps for Near Southeast's Three Docks
Sep 26, 2012 8:53 AM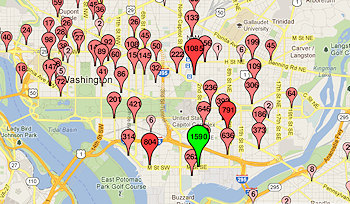 With some free time for the first time in quite a while, I finally got around to including Bikeshare's Trip History Data for the first half of 2012 in
my app that maps the usage
of the neighborhood's three docks at 1st and N, New Jersey and M, and the 1st and K station that came online in February.
You can
choose
a station, a year, a month, or an exact date, and whether you want to see outbound or inbound traffic, and you'll get presented with a pile of pushpins showing the other stations that people rode to or from.
As with the
2011 data
, Union Station is the top destination/origin, followed by 4th & M SW, and Eastern Market Metro Plaza, with the two stations north of the freeway on 3rd Street SE and the south Barracks Row/8th and I dock also getting a fair amount of use. (News flash: Bikeshare is used most often for short trips!)
When It's Time to Change, You've Got to Rearrange
Aug 30, 2012 9:27 AM
So....
After nearly a decade of documenting the changes in Near Southeast DC, the time has come for some change of my own, as I've decided to dial back the intensity of my blogging at JDLand.
Astute readers have probably already noticed the beginnings of a shift over the past few months, but it's time to make an official declaration of intent.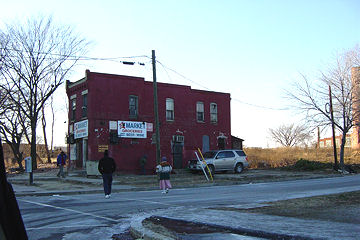 Since I've always been a historian at heart, I'll still write about the neighborhood's major moments, its new developments and other big arrivals. (Call it Milestone Blogging.) But while sometimes my output won't really seem that different from what it's been, it won't always be with the speed I prided myself on in the past, and I probably won't post about all the tiny steps in a project's road to fruition.
And there will still be plenty of photos, not only for the
block-by-block archive
that really is the heart of the site but also from
big events
and
projects
under construction, as my schedule allows.
But the day-to-day life-in-a-neighborhood stuff and aggregation-type "tidbit" and event items will mostly fall by the wayside on the blog, though should continue on
Twitter
/
Facebook
, where a mouse click or two can get the word out easily. And really, it's not so much me giving it up as it is finally admitting that I mostly gave it up already and have no intention of getting back to it.
When I started back in 2003, there were few places to get information about Near Southeast. (Remember, there wasn't even a ballpark back then--South Capitol Street was just one of four potential locations for a team that no one ever really thought would come to town.) The major news outlets might publish something once in a while, and there was the monthly Hill Rag and the late Voice of the Hill, but if I really wanted to know what was going on with development plans, I had to dig pretty deeply for it myself.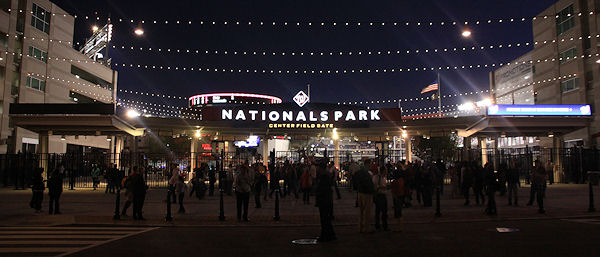 Now, as the neighborhood becomes a destination, not only for
Nats
fans but also for people heading to the
Yards Park
or other spots, coverage of goings-on in the area has expanded considerably. Plus, the number of
outlets
has expanded considerably--not only are there the newspapers and TV stations, but all manner of web sites covering development, entertainment, nightlife, food, urbanism, and whatnot. And then you have Twitter/Facebook feeds coming directly from developers, and the BID, and the restaurants, and the parks, and the politicians, and the city, and the residents....
With all that easily accessible information, my original goal of posting the things I dug up so that other people wouldn't have to do the digging seems pretty outmoded, and it makes it hard for me to keep doing what my brain tells me isn't really "needed." (I'm just not wired to be mostly an aggregator.)
There's probably all sorts of ways that the site could evolve to keep up with this high-volume new world, but there's also the reality that, after years of pretty intense commitment, I am starting to want to do other things, and to perhaps find some other kewl new concept to channel my energies to. But it can be hard to let your mind wander enough to figure out The Next Thing when you're still buried in The Current Thing.
Plus, there are now some new realities in my life that aren't leaving quite so much room for JDLand.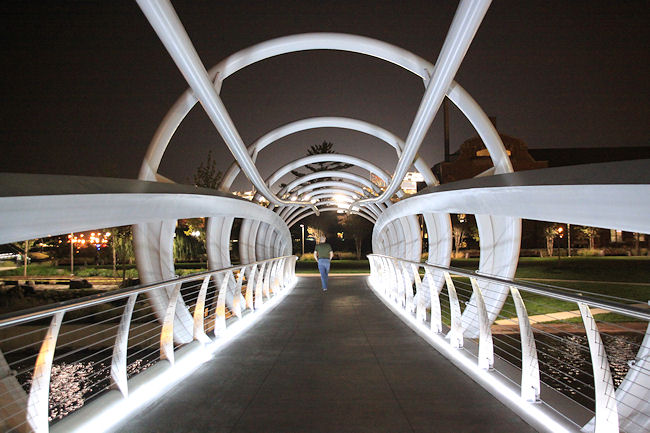 I hope that, by stepping back a bit from the content firehose, I can find a comfortable niche to continue writing about and photographing Near Southeast's continuing redevelopment, especially since I think I still have a lot to contribute in terms of "institutional knowledge" of how the area has evolved.
This probably would have happened awhile ago if it hadn't been for all of the great interest and feedback I've had during this amazing ride, and all of you have my heartfelt thanks and appreciation for all the interest and support. I've often described blogging as "whistling into the wind," but the incredible amount of positive response this little endeavor has received over the years has truly been what's kept me going. (It certainly ain't the money!)
I do hope some folks will continue to stick around as I transition into this new Blogger Emeritus role. After all, the comments threads are always open!
So, this isn't a goodbye. It's more like a necessary nod to the fact that things change, and it's time to allow JDLand--and JD--to change too.
Taking the Annual Early-August Blogging Breather
Aug 6, 2012 12:16 PM
Things will be a bit quiet around these here parts for the next few weeks, because I am pretty much incapable of doing any work in early August unless absolutely necessary. (I think it comes from being a youngster with an early August birthday, with all the attendant celebrating in multiple locations while on family trips before school started back up.)
If there's big news, I'll pop up, but otherwise I'm going to enjoy the time off. Feel free to yack in the comments about whatever neighborhood-related news or issues strike your fancy.
New Project Page: Virginia Avenue Tunnel Expansion
Jul 26, 2012 9:40 AM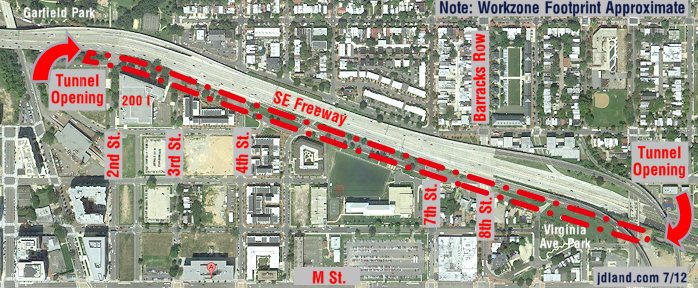 A glaring hole in my "project page" lineup is being filled today, as I am at last unveiling an ultra-exciting
Virginia Avenue Tunnel Expansion page
. (Um, yay?)
It's still just an overview at this point, since there is no design yet chosen and therefore all of the specifics that residents and neighbors are clamoring for about construction impacts and possible potential post-construction improvements to the street and its surroundings aren't yet available.
But I figured it was time to at least prepare for the inevitable before-and-afters with current photos from along the tunnel's 10-block footprint, plus it makes the current "concept designs" being reviewed by the EIS more easily accessible. And it also just finally gives me a page to point people to. (As with yesterday's
development map refreshing
, this has only been on my To Do list for a couple of years. I've been busy. And lazy. Lazy and busy.)
There's been no new announcements since the
last EIS meeting in May
; at that time, it was expected that a draft EIS would come out this fall, with a final decision in spring 2013. (Though other EIS schedules I've seen in the past have experienced some slippage, so we'll see how the tunnel's goes.)
Updated Design for Neighborhood Development Map
Jul 25, 2012 9:20 AM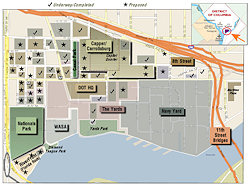 After about three years of mostly closing my eyes and trying to pretend it didn't desperately need an overhaul, today I am finally posting an updated design to my full
Neighborhood Development Map
. Just hover your mouse above the map for quick thumbnails on completed, underway, and proposed projects, and then click to be taken to project pages for additional details. There's also the "tabs" above the map for directory-type listings of the projects, if you're more list oriented rather than visually oriented.
If you haven't come across this map, which used to be on the home page until a redesign a few years back, it's probably because you haven't clicked on the "Project Directory" link on the black menubar atop the home page, or on the "View Full Map" link at the upper right of the "Highlights" home page map, or on the "Near SE Development Map" link at the very top of the side menubar on any interior page.
(I will probably add the nice hover effect to the smaller "highlights" map on the home page at some point, but maybe not today.)
I have one other thing I'm working on that will be coming soon--a page that's been sorely needed for a couple of years for a certain high-interest proposed project. Perhaps tomorrow....
This Week: Virginia Ave. Tunnel, M St. Meetings, First Front Flick
May 20, 2012 11:30 AM
To allow you to properly plan your calendar for the week, I'm posting this nice and early:
*
Virginia Avenue Tunnel
: Monday night is
another public meeting
on the
planned Virginia Avenue Tunnel reconstruction
, at which it's expected that DDOT, FHWA, and CSX will be presenting the concepts that have been chosen from the
original batch
to study in detail as part of the
project's EIS
. The meeting is at
Nationals Park
at 6 pm.
And, speaking of the tunnel, the noise and vibration field studies required as part of the EIS
will be happening this week
. (But no fair stomping on the ground and gunning your car's engines for hours at a time.)
*
M Street SE/SW Transportation Study
: The meeting to update the public on the progress of the
M Street SE/SW Transportation Study
is on
Thursday, May 24, from 6:30 pm to 8 pm
at the Capitol Skyline Hotel, 10 I St. SW. The
study area covers
the stretch of M from 12th Street, SE to 14th Street, SW, along with the adjacent areas from the Southeast/Southwest Freeway south to the Anacostia River/Washington Channel. DDOT is looking at "how to integrate transit, bicycling and walking with motor vehicle traffic," while also trying to figure out how to balance residents' preferences for how M Street should be configured versus how visitors, workers, and commuters expect it to flow. The
first meeting was in January
, and the final report is expected in the fall.
*
Front Flicks
: If you are looking for something slightly more entertaining than either of the week's meetings, don't forget that the Capitol Riverfront BID's free
Front Flicks Summer Outdoor Movie Series
begins this week on Thursday, with "Lara Croft: Tomb Raider" leading off the lineup of treasure hunt-themed offerings. Movies start either at 8:45 pm/sundown at Tingey Plaza, just behind
USDOT
at New Jersey and Tingey.
Alas, I won't be at any of these events, because first thing Tuesday I'm headed to the disabled list, to get some health issues dealt with that have been dragging me down for awhile now. There will be a few weeks of recovery time, so I ask all parties to please refrain from making any news before, say, mid-June, or at least make it something simple and/or something that won't require my attendance. (DDOT is already On Notice if they do indeed
partially open the 11th Street Local bridge
when I can't document it.)
I imagine I'll reappear on
Twitter
fairly quickly, since I know better than to think I can stay off the Internet while I'm doing little but laying around. But most likely the bulk of my narcotics-tinged/boredom-induced missives will be via my non-official
@jacdupree
account, if you want the entertainment.
In the meantime, feel free to use this post's comments to discuss this week's meetings and as a general open thread, but I will be watching and popping in, so don't you kids think you can throw a wild party while Mom's not looking! And hopefully I'll be back to photo taking and other obsessive-compulsive pursuits before too long.
Nine Years? You've Got to be Kidding
Jan 19, 2012 10:10 AM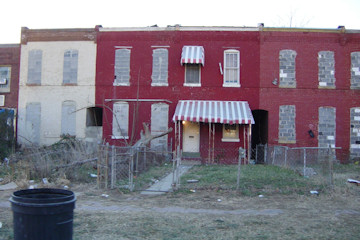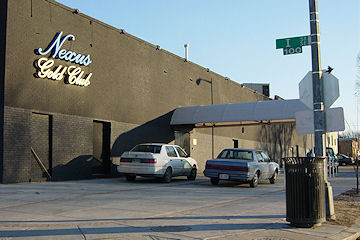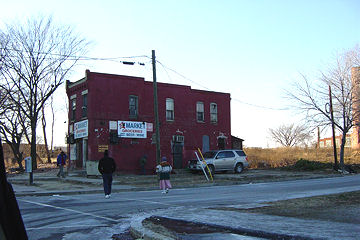 Uh oh, the old bat is
bringing out the photo albums
....
Yup, it's time for me once again to mention that it was on January 19, 2003 when I made my husband drive me around that neighborhood south of the freeway, which we rarely ventured into, so that
I could take some pictures
(without getting out of the car, of course), since I'd heard there were some plans to revitalize the public housing and also the areas right along the Anacostia River. (Yeah, right, that'll be the day, we said to each other.) I had no grand plans to launch an all-consuming project that would document what might be coming--I just felt like getting some photos.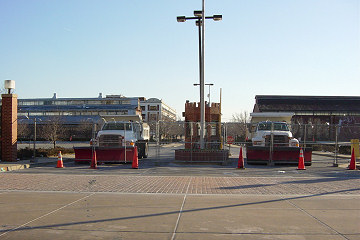 And now here we are, starting Year 10 of this.
I'm saving deep ruminations on the journey until (if?) I successfully cross the First Decade finish line, so for now I'll just say my heartfelt thanks to everyone who reads, comments, passes along information, and provides assistance, because there's no way I'd still be here without all of you.
And I think folks should prepare themselves for the coming avalanche of posts and photos, because 2012 looks to be Near Southeast's busiest year since the golden Nationals Park construction/opening era.
(I need a nap already.)
Near Southeast's 2011 Bikeshare Data, Mapped and Tabled
Jan 17, 2012 11:26 AM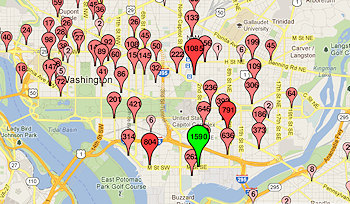 When word gets out that some
new data set
has been posted in an easily digestible format, I am pretty much helpless before its power. So I spent the Friday night of a holiday weekend knee deep in
Bikeshare
Trip History Data, culling out the
nearly 30,000
more than 28,000 records for trips that either originated or ended at Near Southeast's two docks in 2011. Then I fired up up the Google Maps API to bring it all to you
in interactive map form
.
You'll choose whether you want to see inbound or outbound data for the dock at New Jersey and M in front of the US Department of Transportation or the dock at 1st and N just across the street from Nationals Park. Optionally, you can filter by month of the year or even a specific date. (Tip: green means starting point, red means ending point.) Then there are tables beneath the map that show, for your chosen data set, the number of registered vs. casual users and the top usage days.
It shouldn't be surprising that the docks at the Eastern Market Metro Station and at 4th and M SW (Safeway) are very popular destinations/starting points for the Near Southeast docks, but I'm surprised to be surprised that the top dock for New Jersey & M trips in both directions is Union Station.
Capital Bikeshare is apparently going to release this data quarterly, so I plan to keep
the map/search app
updated as long as there's data coming. And there
should be
a new dock in the neighborhood sometime in 2012, at 3rd and Tingey.
PS: Speaking of Bikeshare, read this fascinating piece on
one man's transformation into a bicycling commuter
thanks to Capital Bikeshare being a "gateway drug." (Any full disclosure I need to make about this link should be pretty clear in the second and fourth paragraphs.)
UPDATE:
After
reading this great post by JD Antos
with scads of analysis of the city-wide Bikeshare trip data, I dug into my tables a little more closely to clear out "rides" of less than 60 seconds' duration at a single station and found that I had inadvertently doubled the records where the both start and stop stations were the two Near Southeast stations. (Argh.) Not a huge change in the data (about 1,250 records out of nearly 30,000), and most likely the data people would have been looking at today would have been for the trips outside of the neighborhood, but I have now cleaned out that boo-boo. And I've deleted 167 sub-60-second trips at a single station as well, just because.
UPDATE II:
I added both Union Station and the new dock just north of the freeway at 3rd and G to my
Live Transit Data page
, which includes a table of the closest docks and their capacity status, along with other live data like Next Train, Next Bus, and Where's My (Circulator) Bus?
WC Smith Announces 880 New Jersey as Park Chelsea Apartments
Jan 13, 2012 10:31 PM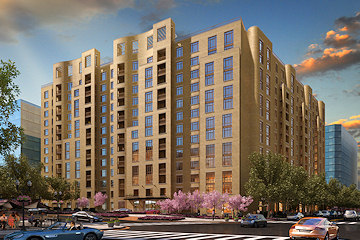 Developer William C. Smith is announcing today that the apartment project we've been referring to as
880 New Jersey
will be called the Park Chelsea, and is expected to get underway sometime during the second quarter of this year. And there's
even a rendering
now, and an
official web site
.
As
I reported a few months ago
, it will be 13 stories, with 433 units, which I understand will be broken down as 58 studios (about 466 avg sq ft), 281 one-bedrooms (606-738 sq ft), 92 two-bedrooms (1094 sq ft), and 2 three-bedrooms (1788 sq ft). There will be a courtyard garden, club room, gym, pilates/yoga studio, Jacuzzi, and 75-foot indoor lap pool on the ground floor. Then, up on the roof there will be a second pool along with the now-ubiquitous lounging/grilling area, as well as a "community garden" and dog exercise area. There will also be 1,500 square feet of "convenience" retail space on the ground floor, and three levels of underground parking. (They previously mentioned to me a bicycle entrance to a sizeable storage room separate from the car parking areas--I'm assuming that's still part of the plans, but I haven't confirmed.)
It's easy to notice
that site clearing that has begun along New Jersey--this is the start of the pre-construction infrastructure work that Smith needs to do in order to relocate some very very deep pipes beneath the block. The company also tells me that they expect DPW to be moving out of their site just to the south of 880 New Jersey about a month from now, which can begin the chain reaction of getting the old trash transfer building demolished so that lots can be split and land transferred along the to-be-built I Street axis. Vertical construction on 880 NJ can't begin until all of that happens, so that will be a pretty easy-to-watch guide to when real work on the new apartment building can begin.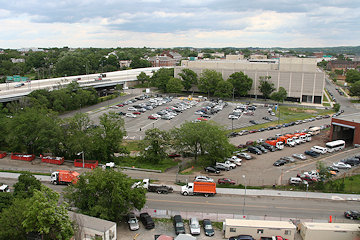 Once started, construction should take about two years.
This is the first phase of Smith's plans for
Square 737
, seen at right back in 2008. Originally the company had planned two residential buildings and two office buildings, but now they're looking toward filling the block with apartments, totalling around 1,200 units in four buildings. (And note that the entire four-building project is "matter of right," so there will be no zoning reviews or PUDs.) It's anticipated that there will be greater amounts of retail in the two buildings that will front 2nd Street, near
Canal Park
and across from
225 Virginia
.
If you want to see more photos of Square 737 and get additional background, check my
project page
and
previous posts
.
While this will be William C. Smith's first apartment project in Near Southeast, they have been working in the neighborhood for a number of years, and literally working here since 2004 (when they opened 1100 New Jersey Avenue and moved their offices there). They have also been a big player in the creation of
Canal Park
, and are part of the
Capper
PUD team as the developers of the planned
250 M Street
office building.
Looking Back, Looking Forward: the 2012 State of the Hood
Jan 3, 2012 9:30 AM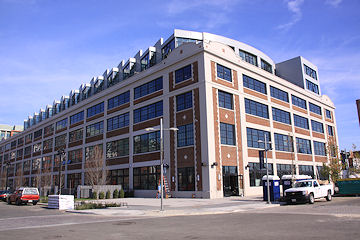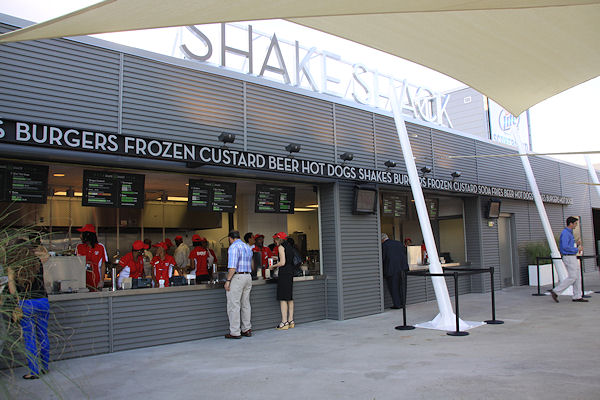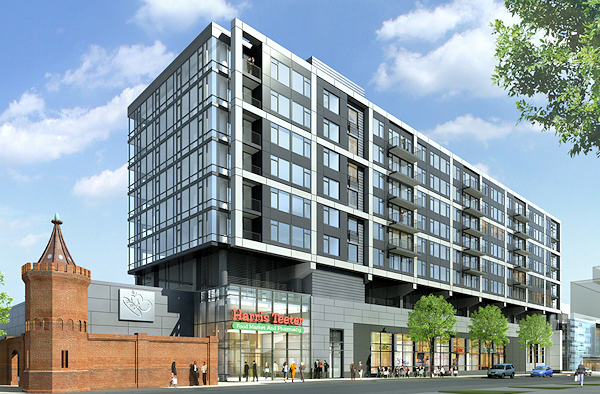 In years past I've waited until my Jan. 19 anniversary date, but this year I decided to shift my sixth annual survey of what's happened and what's going to happen to the same approximate time when everyone else on the planet does theirs, right at New Year's. (Except I waited until people are actually back from the holidays.) So here is
my 2012 State of the Hood
, with its characteristic torrent of words describing Near Southeast's progress over the past 12 months and also what's on the boards for the next 12 months (hint: Food, Glorious Food!).
If you've been religiously following JDLand content, there probably won't be anything new, but if you're a recent arrival or if you only check in so often, this is a good way to get caught up on developments big and small.
In a similar vein, it's become quite a trend for blogs to list their Top 10 Posts of the Year, so I figured I'd hop on the bandwagon (though technically mine is Top 10 Most Visited Posts and Non-Project Pages of 2011). If you look at this, you may not have even need to plow through all the
SOTH verbiage
, but I hope you do anyway:
1.
Photo Gallery from Nats Park Shake Shack's Media Preview
2.
Forest City Announces Harris Teeter, Yards Restaurants
3.
First Details on William C. Smith's 880 New Jersey Apartment Building
4.
The Do-It-Yourself Ward 6 ANC/SMD Redistricting Map
5.
Florida Rock Gets an Equity Partner, Decides to Start with Residential
6.
My Father's Memories of Living on Capitol Hill, 1959-1969
7.
2011 State of the Hood
8.
Historic Landmark Nomination Application Submitted for Market Deli
9.
Marion Barry Says Near Southeast Should Move to Ward 8
10.
Foundry Lofts Progress Photos, Nov. 1
After a number of years spent treading water, it's been fun to have some actual news to report during the past 12 months. And it appears there will be no shortage of milestones coming in 2012.
Enjoy
....
UPDATE:
As always, as soon as I post it, I realize there's something I should have included. So if you're wondering about crime in Near Southeast in 2011 compared to other years, here's my
2011 Crime Incidents page
, with all the stats broken out for you. There were 40 more crimes reported than in 2010, all of which can be attributed to a jump in Theft reports, which isn't a surprise when more people live in the neighborhood. Other crimes basically stayed the same.
Reader Poll Results: Thanks for Helping Out, More than Expected
Oct 27, 2011 4:13 PM

My decision to do my first-ever reader survey was really just a lightning quick notion while I was on vacation. I whipped up the questions without a lot of thought, tossed it on the site, and assumed it would be a somewhat interesting diversion, though I was nervous about the sort of feedback I'd get (or whether I'd get much at all, since goodness knows *I* hardly ever respond to these sorts of pleas for input).
So I'm happy that 428 readers took the time to click a few boxes and type a few words, giving me a bunch of
great data to chew over
. A few numbers surprised me, a few confirmed what I've always suspected, and others really helped to refocus me on how people use the site and what is and isn't important. Some bullet points:
* The response that I think might surprise others but which I've always assumed to be the case is that
only 41 percent of JDLand readers currently live in Near Southeast
. This means that there are two somewhat distinct readerships who have different levels of interest about various goings-on. This is why you'll see additional breakouts for some survey responses by Near Southeast Residents and Not Residents. And this is also why I don't always go as deep into the weeds on neighborhood news and events as some residents would probably like, because I know a lot of readers are looking for more of an overview.
* Not surprisingly,
nonresidents are more interested than residents in before-and-after photos
(69 percent to 49 percent), since nonresidents (like me!) don't see all the new stuff every day.
* Another shocker:
Near Southeast residents are most interested in restaurant/retail news!
(The question might be, who are the 2 percent of residents who
aren't
?)
* This is the one that stunned me:
82 percent of respondents said that the amount of blog posts is "Poifect."
Only THREE people said there's too many posts? There were about 60 people who said that there are too few posts, or that information is being missed, with residents feeling that way more than non-residents. While some people recognized that this is more a statement on the lack of actual news instead of my coverage being underwhelming, one critique raised a few times in the "Other" field was the overloaded "Tidbits" posts, which I had recognized as a problem even before starting the survey. You're already seeing a larger number of smaller posts rather than fewer bulleted ones....
* My employer will be happy to know that
87 percent of readers say they get local news from the Washington Post
. DCist was the second-highest choice (46 percent), with City Paper third at 35 percent. (This question probably would have benefitted from more options, and people added quite a few in the Other field. Oh well. Next time.)
*
Twitter is used by only about 25 percent of respondents to get either my content or local news
. This is an important data point for me, because if you spend as much time deep in the Twitterverse as I do, it's easy to overinflate its importance in the overall news delivery and consumption scheme. (I'd also suggest reading
this AdWeek piece
from a few weeks back on how Politico's bloggers are trying to adapt in a Twitter world, where being first and fast is a whole heck of a lot harder than it used to be. It's an article that really resonated with me.)
What stands out to you
in the numbers
?
There's a few parts of the survey I'd change if I had it to do over again (some demographic info, like gender and age, would have been good to know). And doing it after baseball season is over probably skews the results away from the Nationals fans who tend to come by to check out what's going on near the stadium. And of course I'm well aware that this isn't at all scientific, and that it's the most engaged readers who tend to make the effort to reply. Plus, the number of responses is a teensy percentage of what Google reports as my average monthly unique visitors, so a lot of visitors are no doubt unrepresented in these numbers. (And the people who think I'm excessively wordy or post too often or don't do a good job have probably already moved along.)
But, all of that said, I'm so glad I did this, because one thing I never ever expected was the huge number of positive comments (and almost complete lack of negative ones) in the optional feedback field. (I'm not going to post them publicly, because I can only imagine the grief I'd get for such a display of look-how-wonderful-people-think-I-am.) A lot of what I do can feel like "whistling into the wind," because you're never really sure how much people are reading and enjoying the site (page view statistics are nice, but don't tell the whole story), so to get message after message of encouragement was a wonderful surprise.
It's no secret that I go through phases of wondering whether I should really keep at it, and during my week in Florida I was seriously teetering on the edge of "it's time," with a lot of self-doubt about whether a "neighborhood blog" in the area of Facebook and Twitter is something people are still looking for. Most unexpectedly, this survey really ended up reinforcing for me that basically I've still got the right idea after all this time.
In other words, a big thanks to all who replied. You had a lot more impact on JDLand than you might have anticipated.
Last Call on JDLand Reader Poll - I Need to Know!
Oct 25, 2011 6:18 PM

I certainly can't complain about the level of response to my quickie
JDLand Reader Poll
, but that doesn't mean I don't still want to hear from as many people as possible. I'm going to shut it down late Wednesday, so you've got about 24 hours to answer just a few questions to help me better understand who the heck out there is reading this stuff.
(It may seem like I'm giving an awful lot of advance warning for a Last Call, but that's for the folks who mainly read my posts
via e-mail
, which go out overnight.)
I'll write about the results and provide all sorts of tables and number-crunching later in the week.
So,
have at it
!
UPDATE:
Time's up! Poll is closed. Thanks for playing!
Tell Me, Who Are You? You? You? -- A Quick Reader Poll
Oct 19, 2011 10:46 AM
Oh, I really wanna know.

After nearly nine years of blindly stumbling along, curiosity has finally gotten the better of me, and I've crafted what is hopefully a
quick and easy reader poll
. Pretty please, with sugar on top, take a moment to answer some quick questions to help me better understand who's out there reading this stuff I'm still churning out. I want to know why you read, what you read, and how you read it. Your answers will help me as I continue to try to make all of this work be somewhat interesting and useful, given how much the world of a "just a neighborhood blogger" has changed since 2003.
Don't delay! Reply now!
(And, oops, if you tried it in the first few minutes and didn't get a "Thanks" page, you ran into a boo-boo I've since fixed, so please try again? Sorry. Sorry.)
(Dang it, I had another half-hour blip between 12:45 and 1:15 where submittals weren't working. I've got to hire a better staff.)
ANC Agendas, Possible Bus Route Change, NCPC Doings, Singles at Harry's, Crime at Capper, and a Rant About Dying Data
Sep 8, 2011 11:02 AM
Apologies for the torrent of words that follows:
*
ANC Meetings:
The
agenda is now out
for Monday's meeting ANC 6D meeting. In addition to the Capper apartments time extension request
I just wrote about
, there will be a discussion of the
proposed Single Member District boundaries for 6D
. (Ditto on both counts for the
ANC 6B meeting the next night
.) There is also an agenda item on the proposed renaming of both the Navy Yard and Waterfront-SEU Metro stations, with a DDOT representative. The 6D meeting is at 7 pm in the DCRA offices at 1100 4th St., SW, 2nd Floor.
*
Changes to P1/P2/P6 Buses:
WMATA has come up with a
list of proposed changes to bus routes
, and one of them would eliminate the P1 and P2 buses that run along M Street SE during rush hour and would re-route the P6 bus down M Street SE to 4th Street SW, away from its current route that runs along Virginia Avenue and through the southern part of Capitol Hill before heading to Federal Center SW and then across the Mall and into downtown. This could impact the residents of the
Capper Seniors building
at 900 5th St., SE, which has an eastbound stop right on its corner. (I'd also note that the planned closure of Virginia Avenue south of the freeway for two-plus years would necessitate a rerouting anyway.) And, in the interest of full disclosure, I'll say that this rerouting would have an impact on the JDLand household, since we often use this bus (which stops right at our corner) to get to and from downtown. This is not final yet, with public meetings on this and the other proposed changes still to come.
*
NCPC Doings:
Last week the National Capital Planning Commission approved
by consent
Forest City's plans to
temporarily put their offices in the second floor of the Lumber Shed building
at the
Yards Park
. NCPC also approved an installation of
solar panels at the Navy Yard
, while humminah-hummining that though the commission had said back in 2010 that "no future submittals at the Washington Navy Yard will be considered until an updated master plan is submitted," they decided that "this proposal is a minor one that does not increase the population at the installation, does not include any interior space, will have 'no adverse effect' on historic resources and is comprised of elements that reduce the installation's energy consumption." Plus, the report says the commission staff has been meeting with the Navy and expects a draft document for updating the Navy Yard master plan to be submitted to NCPC by the end of this year.
*
Beer! And a Cookout:
In tastier news, the folks at Harry's Reserve tell me they are now
approved to sell single beers
, and already are building their inventory of 32-40 oz craft beers, imports, and the like. Meanwhile, the
Great Heartland Cookout
is happening on Saturday at the Yards Park, benefitting the Fisher House Foundation, which donates "comfort homes" built on the grounds of major military and VA medical centers for families of hospitalized service members. Cookout tickets start at $40.
*
Crime At Capper, Before and After:
The Urban Institute has published "
Movin' Out: Crime Displacement and HUD's HOPE VI Initiative
" that uses the crime statistics around Capper and other DC rehabilitated public housing communities to show that crime not only remains low in the immediate area after a HOPE VI renovation, but is lower in nearby areas as well. The report is a bit hard to read (I have to admit I gave up pretty quickly), but
MetroTrends gives a good summary
. You can also look at the
crime statistics I've archived since 2005
to see how crimes in the neighborhood have changed over the years, while keeping in mind that the initial move-outs began at Capper in 2003. (The huge spike in Theft from Autos in 2006 was mostly a result of the neighborhood being empty except for the cars of construction workers, which were then pretty easy pickings during the daytime when they were busy at Nationals Park or the other projects at the time.)
*
Waah Waah Waah:
And, speaking of the crime statistics.... I have been downloading those reports from the city's
Data Warehouse
on a near-daily basis since they were first made available as XML feeds. I've also been able to get
Public Space Permit Applications
and
Approved Building Permit Applications
via XML for a number of years, and the many data feeds that were created are something that the city received numerous accolades for during the Fenty administration. However, the Public Space Permits feed now has not been updated since mid-July, and the Building Permits feed hasn't been updated since August 23.
Multiple e-mails to the data warehouse e-mail address have gone unacknowledged (after years of pretty prompt response, even if it was just to say "we know, we're working on it"). The Twitter accounts for both the
Data Warehouse
project and for
OCTO Labs
are equally moribund. I've let DCRA and DDOT know about the problems with the feeds, since they are the originators of the data, but if these data feeds are going to go to seed it's going to be a real loss for having easy access to this sort of data (even if I'm probably one of the few people who's ever bothered to take advantage). And, if the data isn't dying and is just getting worked on, a little bit of communication would go a long way (like, say, replying to any of my e-mails). Hopefully the crime feeds won't suddenly stop working, since that one certainly gets the most interest of any of them. (My complaints about the loss of depth in the city's web site offerings after the big redesign are for another day.) Just wait until OCTO moves into 225 Virginia next year and I can start picketing out front.
Ummm, Ooops? (Unintended Extended Summer Vacation)
Aug 25, 2011 9:49 AM
Yes, I'm still here,
tweeting away
(also
available on Facebook!
) when I come across items of note, but there hasn't really been any bloggable news, and I've been feeling meh enough over the past week that trying to pull together a Tidbits post when I don't think anyone's actually reading anyway just didn't seem that enticing. Plus, now I'm in full weather geek mode, with Irene perhaps becoming more of a threat to the Metro area than it initially seemed. (If she comes up the Chesapeake Bay like one model suggested overnight, Near Southeast could certainly see some flooding at the Yards Park and other spots along the Anacostia River. If. IF. Still a big IF.)
So for now, consider this an open thread. Want to tell your earthquake story? Anything else of note that you've seen lately? Feel free. And I promise I'll return here when there's bloggable news to report, but in the meantime I'll probably be more in the 140-characters-or-less mode through Labor Day.
Rudimentary Ward 6 Block Population Map Tool; Other Tidbits
Jul 22, 2011 10:11 AM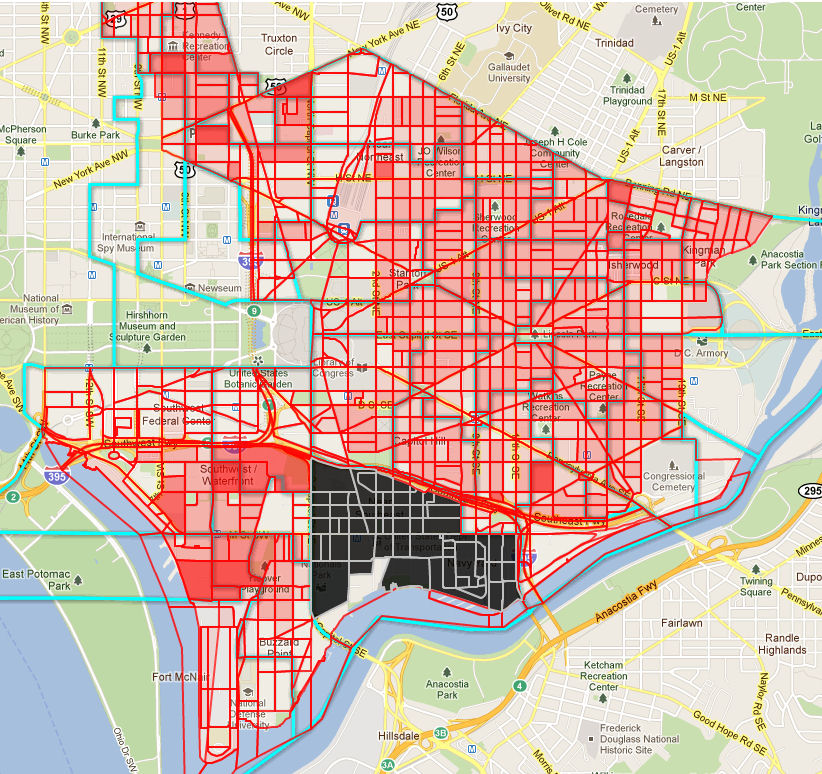 * It's not as slick and ultra-cool as SOME online redistricting tools, but with huge thanks to Cody Rice for getting the data in order, I've built a rudimentary
Ward 6 Census Block Population Map
. Right now it's mainly just for clicking on a bunch of blocks and having the populations tallied for you (and you can then have a URL to send to someone showing just those blocks). I will be continuing to tinker with it, so we'll see what additional options I add in. It's a bit of a beast, so be prepared for slow loading.
The Ward 6 Task Force on Redistricting has now
set up a blog
, and has started its "listening sessions" in each ANC. They'll be having their ANC 6D meeting on July 28 at 6:30 pm in the DCRA Hearing Room at 1100 4th St., SW. The ANC 6B meeting (which may also be of interest to folks south of the freeway, given the realities of the numbers) is on Aug. 1 at 6:30 pm at St. Coletta's School, 1901 Independence Ave., SE.
* For those wondering about the lack of progress on the Little Red Building version 2.0 (the former Star Market on the northwest corner of 2nd and L, next to the Courtyard by Marriott), the new building permits finally came through last week, and the owner tells me that construction should be starting again soon. He says the new Lot 38 Espresso should be open in three months, though he hopes it's sooner.