New Bridge Overview 2007 Bridge Makeover News Items

Traffic modeling flyover of the new Douglass Bridge and its approaches,
released by the DC government in December 2012.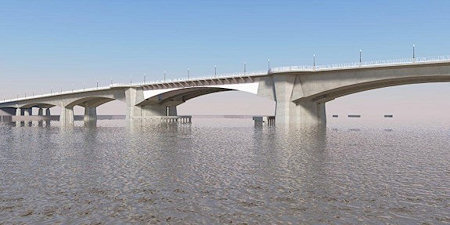 As part of the plans to revitalize South Capitol Street from its intersection with I-395 south to Firth Sterling Avenue in Anacostia, the city will be building a new Frederick Douglass Memorial Bridge, situated slightly to the southwest of the existing Douglass Bridge's location (see top of page). The city unveiled a slightly modified design in late 2012.

This new bridge will intersect with the western side of the Anacostia River via a traffic oval (seen below), where South Capitol Street, R Street, Potomac Avenue, and the new bridge would come together. The rotary would be big enough to include a park ("South Capitol Commons") in its interior. The plans would also include more public space between the south and east sides of the rotary and the river. (See the July 2013 update for views of the bridge's east-of-the-river approach.)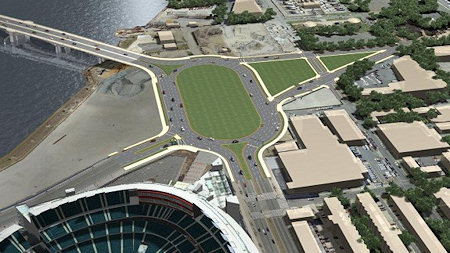 Some initial funding has now been appropriated, and land acquisition and design work is underway on the bridge. The cost of the bridge, along with constructing a traffic oval and circle on either end of the span and reconstructing the Interstate 295/Suitland Parkway interchange, are expected to cost $660 million. However, this price is dependent on the US Navy agreeing to a fixed-span bridge, instead of the expected drawbridge. No agreement with the federal government on this point has yet been announced. A Request for Qualifications from contractors for design-build construction of this section was issued in June 2013.
In summer 2007, the northern approach to the existing Douglass Bridge was altered considerably with the demolition the 800 feet of bridge that ran from O Street to Potomac Avenue, and the lowering of an additional 580 feet of the bridge so that it reacheed street level at Potomac Avenue.

The current Frederick Douglass Bridge, in August 2005. (08/05)

An overhead view of the revamped Douglass Bridge ramp and intersection at Potomac Avenue, as seen from
Nationals Park
, in May 2008. In the new design of this intersection, the traffic oval's northeast edge will meet with the ballpark's promenade entrance at far right. The new bridge itself will be "behind" (to the southwest) of the ramp seen here. The industrial area at left is the
Florida Rock/RiverFront
project, which will eventually also occupy the land where the current bridge arrives on the western shore. (5/26/08)

Looking northward on South Capitol Street at R Street/Water Street, in October 2005, before the demolition of the viaduct north of Potomac Avenue. This location would be the southern tip of the traffic oval in the new configuration, with the new bridge meeting the oval just to the right of this spot. (10/05)


Looking to the southeast at Water and South Capitol, where the new bridge would arrive from across the Anacostia. (10/05)





Someday there will be miles of waterfront amenities along the Anacostia; right now, not so much. (This is at South Capitol, north of S Street, right where the new bridge will arrive on the north shore.) (10/05)


South Capitol's terminus, at S Street. Plans call for parks or some sort of public use from this spot south to the river. (10/05)



New Bridge Overview 2007 Bridge Makeover News Items