Near Southeast DC: Past News Items
70/100 I
Go to Full Blog Archive
---
Sale of 70 I Street Apartment Building Completed for $165.7M
Dec 7, 2012 1:14 PM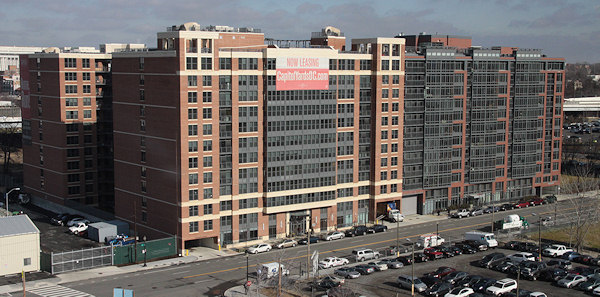 It's taken almost
a year
, but the sale of
70 I Street
was completed this week, with public records showing that "70 Eye Street Acquisition LLC" paid $165.7 million for the 448-unit building developed by JPI and opened in 2008.
The other two buildings in the original JPI "Capitol Yards" lineup, 100 I and
909 New Jersey
, were
sold back in May
for around $94 million each, but the 70 I sale took longer as tenants had attempted to purchase the property themselves (
UPDATE
: or at least to file that paperwork in order to then attempt to negotiate terms of sale more favorable to residents). I don't have this confirmed, but I am assuming that the 70 I LLC, like the other two, is "institutional investors advised by J.P. Morgan Asset Management," since the 70 I sale deed has Morgan as the mailing address for the LLC.
Like the other properties, 70 I will be managed now by Bozzuto, which, in a letter to tenants, also said that the name of the property once known as the Jefferson at Capitol Yards is now changed to "70 Capitol Yards." (This is why I always just keep with the addresses.)
Sale of Two JPI Buildings Completed - But What About 70 I?
May 1, 2012 8:38 PM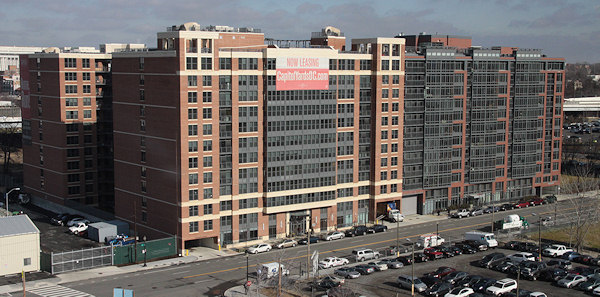 A press release sent out on Tuesday is
trumpeting
the sales of two of the buildings in the "Capitol Yards" lineup,
909 New Jersey
and the Axiom at
100 I Street
, the completion of a pending deal that I
first wrote about in January
. However, back then, residents in Axiom's sibling, the Jefferson at 70 I, were also notified that their building was under contract, but that deal apparently didn't complete with the other two. The 448-unit Jefferson was the priciest of the three offers, at about $165 million, compared to about $94 million for the 245-unit Axiom and $95 million for the 237-unit 909.
Did the Jefferson's residents go out back with metal detectors and find the $165 million needed to purchase the property themselves? Or are there a few more i's to dot and t's to cross to finish the deal? Or is something else afoot?
In the 100 I and 909 New Jersey sales, the buyers are "institutional investors advised by J.P. Morgan Asset Management."
The three buildings were completed by JPI back in 2008 and 2009, but the recession hit the company hard and eventually two of its executives boltered to partner with folks from Akridge
to form
the
Jefferson Apartment Group
. But 70/100/909
apparently
remained part of
JPI
's holdings, as did the empty lot at 23 I Street where JPI's fourth apartment building had been planned, until
it was foreclosed upon
and picked up by Ruben Companies in late 2009. The three buildings, completed in 2008 and 2009, have been managed by
Greystar
ever since JPI sold its property management division to the company.
UPDATE: I'm hearing chatter that residents of 70 I did form a tenant association to attempt to buy the building themselves, which then adds some additional time to the deal to allow the residents to find financing to match the initial offer. Anyone from the building want to chime in?
Sales Apparently Pending on Three JPI Apartment Buildings
Jan 30, 2012 9:10 PM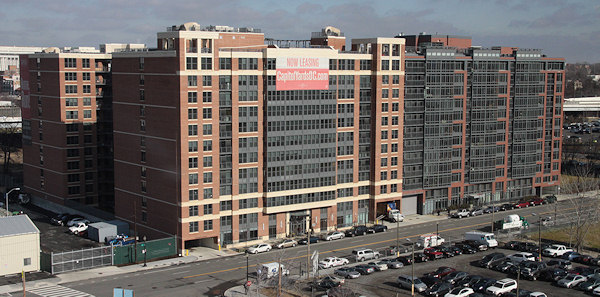 Residents at three of the neighborhood's "new" apartment buildings--the Jefferson and Axiom at
70 and 100 I Street
, and the
909 New Jersey Avenue
building, branded together as "Capitol Yards"--are reporting the posting today of public notices, along with e-mails from management, announcing that the buildings are under contract to be sold.
Who is (are) the buyer(s)? As of now I've only seen the paperwork for 100 I (thanks to reader B.), which says that it's "100 Eye Street Acquisition LLC c/o J.P. Morgan Investment Management."
UPDATE:
Plus, via reader S., I hear the buyer for 909 New Jersey is, as suspected, "909 New Jersey Ave Acquisition LLC," and reader M. says that the buyer for 70 I is, you guessed it, "70 Eye Street Acquisition LLC."
So,
as required by DC law
, the buildings are now being offered for sale to the tenants, which happens "after the owner has accepted (ratified) a third party sale contract for the housing accommodation."
That paperwork says that the price of 100 I for any tenant organization that may form to purchase the 246-unit building would be $93,879,000; readers report that the number for 70 I (448 units) is about $165 million, and 909's price (237 units) is around $95 million, which presumably are all somewhere in the neighborhood of the contract sales prices.
Apparently the buildings
went up for sale
sometime
over the summer
(can't believe no one blabbed!), joining the
Onyx on First
apartment building a few blocks south
on the sales block
.
JPI East, which developed the three buildings during the high-flying mid-2000s, was already a wounded casualty of the Economic Difficulties when two of its executives took what was left of the company and partnered with folks from Akridge
to form
the
Jefferson Apartment Group
. But 70/100/909
apparently
remained part of
JPI
's holdings, as did the empty lot at 23 I Street where JPI's fourth apartment building had been planned, until
it was foreclosed upon
and picked up by Ruben Companies in late 2009. The three buildings, completed in 2008 and 2009, have been managed by
Greystar
ever since JPI sold its property management division to the company.
I'm sure there's much more to be told, and I'm hoping this barebones blog post (written by a very bleary blogger back from an unexpected 36-hour road trip) will shake out a bit more info. If anyone from 909 NJ or 70 I wants to check the paperwork to see if the buyer listed is some similar variant to 100 I's LLC/JP Morgan entry, that'd be fab.
Also, if any tenant groups are planning to form and shake out their collective sofa cushions in search of $95 million or more, be sure to let me know.
UPDATE: I've reworked the opening of this post a bit after getting some additional information. And an e-mail going out to residents about the sale reminds tenants that "your tenancy, including your rent, lease term, and the services and amenities you receive, are governed by your lease."
Near Southeast Residents Demand a Grocery Store! (The More Things Change...)
Jun 1, 2010 8:49 PM
I'm just now coming across a Washington Post story entitled "Housing Area Pushing for Supermarket," which says that a group of residents "in a small triangle of Southeast Washington launched a 'supermarket project' yesterday to persuade a grocery chain to build a store in their neighborhood," with a planned petition drive looking to get 1,500 signatures.
But, of course, I'm yanking your chain, since this Post article is dated Dec. 16, 1965.
The group, the "Community Commitee Group," planned to visit the regional offices of Safeway, Giant, and Kroger to present the case that the residents of the area bounded by 8th, Virginia, M, and New Jersey had only two corner groceries, with the closest supermarket being at Seventh and G, SE, which was too far for the "aged who live in the Carrollsburg Dwellings project at Fourth and M." Also, because many of the residents in the area qualified for food stamps, they needed to be able to shop at a full supermarket, where the stamps would stretch farther.
The group "also hopes to interest a chain drug store and a combination dry cleaning-shoe repair shop to locate next to the proposed supermarket." Their suggested locations? "The west side of New Jersey Avenue between K and L Streets to replace some condemned buildings [
ahem
], the Washington Navy Yard parking lot on 2nd Street between M and I Streets [
ahem
], and the Lennox School annex at 4th and M Streets [
ahem
]."
In the meantime, while you're mourning the fact that no progress has been made in the brief 45 years since this article was published, you can think about another big development that Near Southeast missed out on: In the early 1990s the Federal Bureau of Prisons was looking for a location for a new 1,000-bed federal detention center, and one of the spots it considered was on the north side of I Street between South Capitol and New Jersey, the spot that's now home to the
Axiom and Jefferson
apartment buildings. And McDonald's. And Splash. (The other possible locations were in Northeast, but after battles with the National Capital Planning Commission and thanks to some pretty staunch opposition by city officials and residents, the Justice Department scrapped the plans in 1993.)
Graffiti (or is it Street Art) in the Neighborhood
Jul 13, 2009 10:46 AM
I am passing this message from a reader along without comment (though I may try to get some photos of the panels in question later today, which are on I Street between Half and First), to throw open the floor to the folks who live and work in Near Southeast (or who are thinking about it). What's your opinion of this reader's concerns? Leave your thoughts in the
comments
:
"Just wondering what is going on with the grafitti panels across from the
Axiom/Jefferson building
. I am trying to convince a couple of friends to move into the building, but this is making it difficult. Yesterday, one of these friends and I walked over to the Jefferson building. We immediately saw these panels since they are very prominent and look like grafitti on NYC subway cars back in the late 80s. My friend then said that she feels unconfortable moving to an area where there is grafitti all over the place. I am also noticing more and more grafitti in the neighborhood and this doesn't help with convincing people to move to this area."
The $6 Billion Neighborhood (Better, Stronger, Faster)
Mar 15, 2009 10:38 PM
It certainly doesn't feel like it's the case, so you might be surprised to find out that the District of Columbia thinks that Near Southeast is worth about $1.5 billion more than it was a year ago, at least in terms of the
latest tax assessments
now available. With a total assessment last year of around $4.5 billion for the blocks bounded by the SE Freeway, South Capitol Street, and the Anacostia River (to just west of the Sousa Bridge), this bump up edges the neighborhood's "worth" to just over $6 billion.
A chunk of that change is coming from the first official assessment of
Nationals Park
, valued at $999,982,800 (geez, Mr. Tax Assessor, just round it to $1 billion and be done with it), a rise of nearly $650 million from the assessed value of just the land last year. Blocks that saw projects get completed in 2008 (
70/100 I
,
100 M
and
Onyx
, and
55 M
) got hefty bumps in their valuations, while other spots (
20 M
, the
Capper
blocks,
USDOT
,
Maritime Plaza
) saw their assessments go down.
I created a report
comparing 2008 and 2009's numbers overall and by block, though I wouldn't swear to the exactness of each number down to the penny (but they're probably close enough).
As for the trend of the overall valuation of Near Southeast over the past nine years, it's still *up*:
2001: $221,096,652
2002: $428,312,487
2003: $640,209,280
2004: $771,006,345
2005: $894,123,520
2006: $1,781,481,650
2007: $2,539,618,280
2008: $4,467,137,880
Comments
(10)
More posts:
100 M
,
20 M
, 70/100 I,
assessments
,
Capper
,
US Dept. of Transportation HQ
,
jpi
,
Maritime Plaza
,
Monument/Half St.
,
Onyx
,
Square 743N
,
Nationals Park
Catching Up With a Few Small Items
Mar 8, 2009 11:05 AM
I've been out of town for most of the week, so posting was kind of haphazard. Here's some additional items, starting with news from just this morning:
* Reader atweber passes the news via
Twitter
that workers have told him that the Third and K Market will be opening next month. So, those wishing to stay in the neighborhood to shop won't have to use CVS as their "supermarket." (And the new windows and door are so pretty!)
* Not officially confirmed, but the
WashTimes is reporting
that President Obama has agreed to throw out the first pitch at the April 13 Nationals home opener.
* Via
the BID's latest newsletter
: the little beige building at 900 M Street that once was a Hudson car dealer (and more recently a dialysis center) is scheduled to open in April in its new incarnation as a retail building. It's said that the owner has received one letter of intent from an undisclosed tenant. (Just speculating, but maybe it's the Dunkin Donuts franchise
that was reportedly looking
in the Navy Yard area?)
* The BID has also announced the lineup for this summer's lunchtime concert series at the plaza behind
USDOT
, though you have to
page through their calendar
to see the schedule of artists. It runs on Wednesdays at noon from May 20 through Sept. 16.
* When I posted about FiOS internet at
70/100 I
and asked "is this news?", I should have referenced
this post from last summer
, about the "First Community to Offer FiOS" sign on Half Street, where we discussed that FiOS internet was already listed as available at those addresses on the Verizon web site.
* The day after
I posted about
the calls from Nancy Pelosi and Harry Reid to convert the Capitol Power Plant from coal to natural gas,
ABC7 reported that
"several thousand demonstrators "urged Congress to pass legislation to reduce greenhouse gases, and they targeted the government's own Capitol power plant as a symbol of the problem. An enthusiastic crowd of mostly young people marched from a park near the Capitol to the power plant several blocks away, where they planned to block entrances and were prepared to get arrested. The group chanted along the way, 'We don't want the world to boil, no coal, no oil!'" Darryl Hannah and Robert Kennedy Jr. were among the protestors. When they arrived at the power plant they were met with "about a dozen" pro-coal counter-demonstrators.
* On Thursday
the Post looked at
how the office building development biz in DC has all but ground to a halt: "Not a single office building has been started in the District since October, a sign that the slowdown that began in the far-out suburbs has now reached prime city locations." The Hood (surprisingly) isn't mentioned, though
WBJ reported a few months back
that Donohoe was looking for (but unable to secure) funding for
1111 New Jersey
.
FiOS Internet at 70/100 I (TV to Come)
Mar 4, 2009 12:07 PM
I didn't think it was actually news that
70 and 100 I Street
have FiOS internet, but
this announcement
today from Verizon could be read like it is. "Residents at two new apartment buildings in this city's revitalized Capitol Riverfront neighborhood now have access to Verizon's FiOS Internet, the most advanced broadband service available." Maybe the real lede is this: "The service also will be available this spring in a third building [
909 New Jersey
] currently under construction in the same neighborhood." As for the more desperately awaited FiOS TV service, no word on *when*: "JPI's buildings in Washington -- and other single- and multifamily residences throughout the District -- will also ultimately have access to Verizon's award-winning FiOS TV as the company rolls out the service over the next few years under a recently approved franchise agreement."
Groundbreaking at Diamond Teague on Friday; 909 New Jersey Soon; Occupancy Numbers; More
Feb 12, 2009 7:38 PM
* On Friday at 10:30 am the mayor will be hosting a groundbreaking at
Diamond Teague Park
; construction started back in December (photos on my
project page
from a few weeks ago show the piers and ramps around the pumphouse have already been dismantled). The timeline as described to me
at the end of January
is that the new piers are to be ready by Opening Day, with the landscaping and land-based improvements to be completed by July; we'll see if those dates are still operative at tomorrow's event.
* The
Capitol Riverfront BID
newsletter says that JPI's
909 New Jersey
is "set to open ahead of schedule in April." The "
909 at Capitol Yards
" official web site has floor plans and more information.
* Also from the BID newsletter (which isn't posted on their web site, otherwise I'd link to it), some occupancy numbers for the three buildings participating in this weekend's "
Luck of the Draw
" art extravaganza: Velocity has sold 52 of its 200 units (which is still right around the 25-percent mark reported
back in July
of last year);
100 I Street
is 25 percent leased (it was reported at around 16 percent leased in December), and
Onyx on First
is 27 percent leased (after having been 8 percent leased in December).
* The BID also has the
list of public events
over the next few weeks at the
Navy Yard
. (I used to be on a mailing list for these and would add them to my calendar, but that ceased a while ago and the
Navy Museum's own web site calendar
hasn't been updated since last year.)
Details on 'Luck of the Draw' This Weekend
Feb 10, 2009 12:37 PM
From a
just-sent-out press release
, more details on the "Luck of the Draw Art and Music Event" being put on by
Artomatic
,
Pink Line Project
, and the
Capitol Riverfront BID
in the neighborhood this weekend:
"Luck of the Draw will transform selected units, lounges, courtyards and the parking lots at
Velocity
Condominium,
Axiom
at Capitol Yards and
Onyx on First
residential buildings with photography, installation art, graffiti artists, live music, DJs and dancing to create a threeday neighborhood art and entertainment event. Start the night at the Velocity Condominium's entertainment tent on Half Street between L St and K St SE, and then head over to Axiom at Capitol Yards at 100 I (Eye) St SE and Onyx on First at 1100 First St SE. Draw playing cards at each location and, in traditional Washington, DC style, barter, trade and negotiate with others for the best 5-card poker hand to enter a raffle and win an iPod Nano. Beverages and snacks will be available at the venues as well."
It's free and open to the public. Hours are 6 pm to 10 pm on Friday and Saturday (the 13th and 14th) and 2pm to 6 pm on Sunday the 15th.
Images and Updates from the Last Photo Trek of 2008
Dec 29, 2008 6:26 PM
I don't dare tally up how many photos I've taken over the past 12 months, but suffice to say it's a lot. That didn't stop me from a quick lunchtime trek around the neighborhood to grab my final pictures of 2008, with a starkly blue sky as an end-of-year gift. Here's a boatload of before-and-afters for your perusal: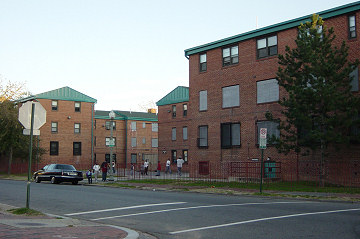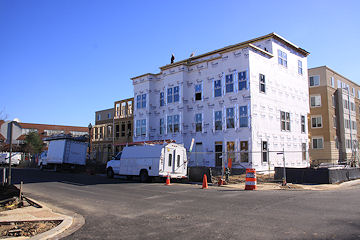 I started at
Capitol Quarter
, where the first three townhouses at Fourth and L are already framed, wrapped, and window'ed (I imagine the developers are trying to get those units finished as close to "on schedule" as possible). Here's the
before-and-afters for the intersection's southwest corner
; be advised that taking southward-facing photos in winter is no fun at all, so apologies for all glare, skipped angles, etc.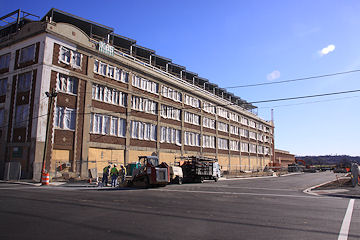 I next ventured to
The Yards
(USDOT security guards be damned!) for updated photos of the
Foundry Lofts construction
, where most of the framing of the two new top floors appears to be finished. And both Third and Tingey streets are now nicely paved and curbed, which you can see along with the Foundtry Lofts construction in these
Third and Tingey photos
, and also in shots from one block west, at what someday will be
Second and Tingey
. And, for the heck of it, here's a few new
New Jersey and Tingey images
. (Remember to look for the

icon, as always.)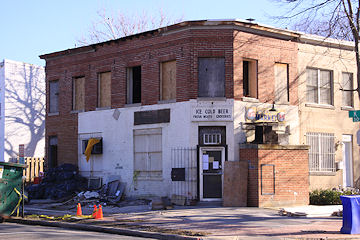 And, acting on tips from alert readers, I checked out the
Third and K Market
, which is now being gutted. There was no one around to answer any questions as to what is up, but seeing work getting done a few months after a For Rent sign went up (and quickly disappeared) would seem to be a good sign....?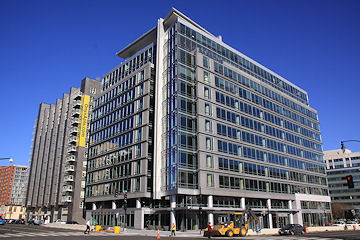 I also went to First and M, where workers at
100 M
have now given back one lane of M Street and told me that the median east of First will be rebuilt soon (as the one west of M recently was). The silver bullding against the unbelievably blue sky makes for a nice tableau
in these updated photos
.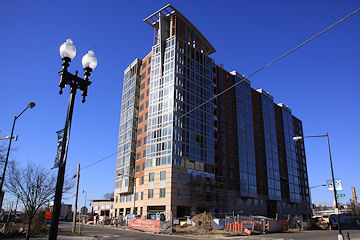 There are also a few updated shots of
909 New Jersey
, taken mainly from the
First and I intersection
, which is also notable for the nice little fence and landscaping that's now gone in across the empty lot to the east of
100 I
, visible in
many of these new photos
.
Will that tide everyone over until the new year? I know I'm now good for a while....!
Near Southeast Gets an Inaugural Bash
Dec 22, 2008 2:20 PM
(It's a guarantee that as soon as I put up a "I won't be posting for a while" entry, something comes down the pike.) As part of the four-day party-packed inauguration celebration, there's going to be a
Capitol Riverfront Gala
, officially entitled "Sunday Night on the Hill," on January 18 at
70 I Street
(the Jefferson at Capitol Yards). Food will be provided by Eighth Street's Cafe 8, and music by "international DJ TFresh." The festivities will start at 8:30 pm, in both indoor and "heated outdoor" spaces (maybe this includes the roof?). Tickets are $110 (which includes food and an open bar), with discounts available for active military members in uniform. Dress code is "creative black tie."
City Paper on the 'Capitol Riverfront', and Other Links
Dec 10, 2008 1:10 PM
Piling a bunch of stuff together, again:
*
Just posted
on its Housing Complex blog (and in this week's print edition), the City Paper takes a look at the "Capitol Riverfront," both in the attempts to brand the neighborhood and in how empty it currently is (the subhed for the piece says "Developing a Name for the Southeast Waterfront Is Easier Than Actually Developing It" ).
UPDATE:
I should also mention that Housing Complex has also
posted occupancy numbers
for the new buildings in Near Southeast:
70 and 100 I
are 18 and 14 percent leased,
Onyx
is at 8 percent,
Capitol Hill Tower
is at 75 percent,
Capitol Quarter
Phase I is sold out, and
Velocity
is 25 percent sold.
* Reader J. reported yesterday that interior work seems to have begun at the old dialysis building at
900 M Street
. They're rehabbing the interior and the exterior to create three retail storefronts, though no tenants have been announced yet.
* The Douglass Bridge is
having another early-Sunday-morning-closure
on the 14th.
* Planners are trying to figure out
where to put all the charter buses
coming to town for the inauguration. I'm guessing that the surface parking lots all around Near Southeast are going to be pretty enticing.
Comments
(6)
More posts: 70/100 I,
900m
,
Capitol Hill Tower
,
inauguration09
,
jpi
,
M Street
,
Onyx
,
parking
,
Retail
,
Douglass Bridge
,
Square 743N
,
Square 699n
,
Nationals Park
JPI Renting Out 70/100 I Units for Inauguration
Nov 13, 2008 10:19 PM
Now
here's some quick-thinking
: "With high-end hotels completely booked and District residents renting out their homes to tourists, JPI has joined the inauguration rental frenzy and will rent unleased apartments at two of its recently delivered projects near
Nationals Park
. The Dallas-based developer will require a three-night minimum stay at the
Axiom at Capitol Yard and Jefferson at Capitol Yards
. The company did not release pricing information, but said it will offer guests a choice of furnished one or two-bedroom units. They also will receive access to 24-hour concierge service and conference rooms, gym facilities, free wireless Internet access in common areas." (
WBJ
)
UPDATE:
Per Ed's
link
in the comments, the prices are $750/$1,000 per night for 1 and 2 BR units (with that three night minimum). Here's
the Craigslist post
.
Interior Photos from Onyx and Axiom/100 I
Oct 7, 2008 2:17 PM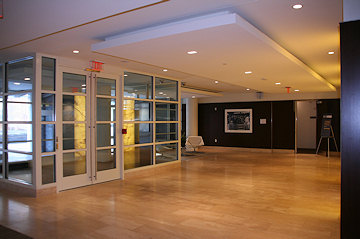 Although the leasing office has been open for a few weeks now, I only just visited
Onyx on First
this past weekend. They're still putting on the finishing touches (their certificate of occupancy came through not too long ago), so I was only able to see the main floor and one of the model units, but at least now I do finally have
photos from the inside of the building
(scroll down if the link doesn't jump you down the page). I also got a couple shots from the roof, but things aren't quite completed up there, so I didn't get a photo of the pool. And since they're now open, I've moved Onyx to "completed" status.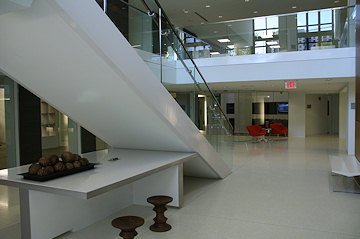 The Axiom apartment building at
100 I
has been open for a little while, but I hadn't gotten myself in there since a pre-occupancy construction-dust tour back in June. That has now been rectified, and I've posted
photos of the common areas and one of the model units
. (Didn't get back to the roof, though.) You can also see my interior photos from sibling
Jefferson/70 I
, to see the warehouse vs. modern differences in the designs.
JPI East Lays Off Staff; Says I Street Projects Okay
Oct 3, 2008 2:22 PM
From today's print edition of the Washington Business Journal (
subscribers only
): "In response to the burgeoning credit crisis, local multifamily developer JPI East has reduced its development and production capacity, laying off half its development divisions. The company would not say how many people were involved, but insiders say it was fewer than 10."
As for JPI's projects in Near Southeast, including the almost-completed
70 and 100 I,
the under-construction
909 New Jersey
, and the in-development
23 I
? "The company still has 10 deals under construction in the region, including three luxury apartment projects in the Capitol Riverfront district near
Nationals Park
. All three have the debt and equity to go forward, [JPI East's president] says." It might be worth noting, however, that the previously announced September 2008 start date for 23 I has come and gone; and the Wendy's building is still standing, and I haven't so far seen any raze permits coming through the pipeline for it.
A Smattering of Ballpark and Soccer Links
May 29, 2008 9:41 AM
* The
Post's DC Wire blog is reporting
that at 5 pm today DCRA will be having a lottery for the 28 street vending spots near
Nationals Park
. "Winners will enjoy their spots for one month, starting on June 1. Then the process starts all over again with a lottery on the last Tuesday of each month until the baseball season ends." (Vendors grumbling about neon-green On the Fly's vending on Half Street have found out that the eco-vendor is actually on private property.)
* From
the Examiner
: David Catania gets back into the baseball carping business, saying the city should get its money back from the consultants who predicted in 2005 that the Nats would average 39,000 fans in the first year at
Nationals Park
, since there's only been an average of 29,000 fans during the first third of the season. Catania says "that ERA may have seriously overestimated ticket sales, which represents a major portion of stadium-related revenues." However, DC CEO Natwar Gandhi has replied that "the ballpark bonds are structured in such a way "that a significant drop in attendance would not hinder our ability to pay debt service" and that "in a worst-case scenario, total attendance at the new stadium could drop to approximately 10,000 people per game without affecting debt-service payments." The Examiner also says: "Ticket prices at the new ballpark are 20 percent higher than the consultant predicted, Gandhi said, which will drastically reduce the effect of reduced attendance." I wonder if the consultants factored in cold and miserable April weather?
The Post's DC Wire
has more on this.
* The Nats announced earlier this year that tours of the ballpark are available on non-gamedays; yesterday
they sent out word
that proceeds from those tours will benefit the team's Dream Foundation, which currently has a number of initiatives underway, including the Neighborhood Initiative that's providing three years of funding to the
Earth Conservation Corps
. Info about the tours
is available here
.
* My
Ballpark and Beyond column
in today's District Extra is short and sweet, with blurbs on the
RiverFront/Florida Rock
zoning approval
and the
almost-arrival
of 700 new residential units at
70 and 100 I Street
.
* Also in the District Extra is
a big piece
on whether the diversity of the Nats' roster, "combined with their state-of-the-art stadium, will be enough to attract young blacks and Latinos to the game in the District."
* DC United wants the city to pay $225 million for its Poplar Point stadium, which
the Post says
is "far more than some city leaders say they would support" and that "even the amount officials have considered, $150 million, has raised some concern with D.C. Chief Financial Officer Natwar M. Gandhi, whose analysis has concluded such a deal could push the government above a Wall Street debt ceiling that he recommended last year." In the meantime, Marc Fisher
thinks it's all a bad idea
.
New Overhead Vantage Points: 70 and 100 I
May 27, 2008 12:10 AM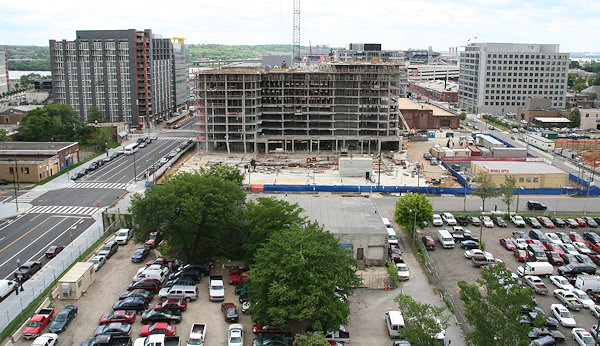 Watching from ground level as new buildings pop up is all well and good--but when they are completed, it also means a new vantage point for overhead views of the neighborhood (as long as I can convince the owners to indulge a pesky camera-toting neighborhood blogger). So, thanks to the folks at JPI, I'm now able to add
70 I
and
100 I
to the
Overhead Photo Gallery
, joining existing perches on top of
1000 New Jersey
,
20 M
, and various spots at the ballpark. Even though it wasn't a brilliantly sunny day when I visited, I still got some good photos of the current state of Near Southeast (such as 100 I's southward view seen above, showing the renovated First Street,
Onyx
,
100 M
,
Velocity
,
Nationals Park
, and
20 M
). In these new
70 I
and
100 I
overhead galleries, you'll also see
909 New Jersey
, the hole being dug for
1015 Half
, and even some views east toward
225 Virginia
and west toward Southwest. Enjoy. (And, if you want to see the photos I took *inside* 70 and 100 I this week, check out the
project page
.)
First Look: 70-100 I Street Interiors (and Roof Decks!)
May 22, 2008 3:07 PM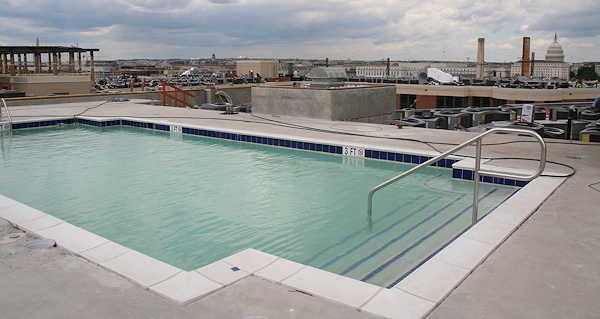 The folks at JPI were kind enough to take me on a walk-through today of their getting-close-to-opening
Jefferson
and
Axiom
apartment buildings (better known as
70 and 100 I Street
). Jefferson, with its warehouse/industrial feel, is about a month away from opening its shared spaces and first few floors of apartments, with all 12 stories expected to be open to tenants by late fall; Axiom will see its first units open in July, and also is expected to be completed before the end of the year. Together, the two buildings total nearly 700 apartments, and will be the first rental units to open in Near Southeast.
My interior photos of Jefferson/70 I
give you a glimpse of the huge "sports pub", the interior courtyard, the other shared spaces, and the roof deck and pool, with hints of the amazing views of the city from up on high. (Don't worry, I'll be adding lots of big images to my
Overhead Photos Gallery
soon.)
Since Axiom/100 I is not quite as far along in its construction,
the interior photos
don't hint as much at the final look-and-feel of the shared spaces; but I actually got more photos inside the units in 100 I. And it's on 100 I's roof deck that I got the above photo.
The temporary rental office in the trailer at Half and I is open for business. At Jefferson, rents start at about $1,600 for a studio, $1,855 for a 1-bedroom ($2,225 for a 1 br/den), $2,555 for a 2-bedroom, and a $3,320 for a 3-bedroom; Axiom's prices are a little higher. For both buildings, a single parking space is $200 per month, or $275 a month for a tandem space. And pets are allowed, but there are size and breed restrictions, and additional fees. There are also some special deals being offered on lease terms.
Official Web Sites for 70/100 I (Jefferson/Axiom)
May 18, 2008 4:54 PM
I haven't officially visited the rental office/trailer at Half and I yet, but I can still pass along that
70 and 100 I Street
now have their own web sites: 70 I is officially the
Jefferson at Capitol Yards
, and its sibling 100 I is known as
Axiom at Capitol Yards
. The sites (which could perhaps use a bit more horsepower or a bit less Flash) have floor plans (just for the Jefferson, Axiom coming soon), amenities lists, and photo galleries.