Near Southeast DC: Past News Items
1015 Half
Go to Full Blog Archive
---
Wednesday Tidbits: Osteen, Groundskeeping, and More
Apr 25, 2012 10:09 AM
After the flurry of the past few months, real news is taking a bit of a breather. In the meantime, here's some reading material I've scraped up, so that it doesn't look like I've completely quit working:
* Joel Osteen Ministries' "
America's Night of Hope
" is coming to
Nationals Park
on Saturday--here's the Washington Post's story
on Osteen and the plans for the event
. Doors open at 5:30 pm and the festivities start at 7 pm, if you're wanting to plan your evening around the crowds. If you're coming to the neighborhood for it, my
Visiting Nats Park page
can help you find your way.
* Want to know how the Nats Park field is cared for, and who takes care of it?
The Post profiles head groundskeeper John Turnour
and his work.
*
A reader tells WashCycle
about being stopped from biking on the Navy Yard portion of the
Riverwalk
. That promenade has always been signed as prohibiting bicycling, but with increased publicity for using the Riverwalk as a biking trail (including Tuesday's
ribbon cutting of the new bridge across the CSX tracks
), the issue of bicycles along the
Navy Yard
/
Yards Park
/
Teague
stretch is going to keep bubbling up, perhaps even moreso when the new
11th Street Local bridge
opens soon with its wide pedestrian/cycling paths making the connection between both sides of the river even easier.
* Speaking of that new
11th Street Local bridge
, much streetscape work has been done recently on O Street (new pavement, curbs, and brick paver crosswalks), and it looks like the concrete should be poured before too long to complete the connection from O to where the bridge begins to rise above the river. Maybe I'll actually get over there with my camera soon.
* Speaking of streetscapes, there's
a new sidewalk on L Street
between 1st and New Jersey, to go with the
new sidewalk on Half between I and K
.
* The Capitol Riverfront BID would love it if you'd fill out either their
residential survey
(if you live in the neighborhood) or the
employee survey
if you work here.
* Jonathan O'Connell at WaPo looks at
how developer Opus East hit the skids
, right as it was trying to finish
1015 Half Street
. (Opus was also the developer behind
100 M
, but it was completed before everything truly fell apart.)
* The Mayor is having a Ward 6 Fiscal Year 2013 Budget Town Hall Meeting tonight (April 25) at 6:30 pm at Eastern High School, 1700 East Capitol Street.
* The next meeting of
Police Service Area 106
is on Saturday, April 28, at 10 am at the Capper Seniors building at 900 5th St., SE.
What else is going on?
UPDATE:
Adding a link to
Washington City Paper's profile
of "The Nautical Yards", a "site-specific dance and theater piece inspired by the Washington Navy Yard" being performed at the
Yards Park
Thursday through Saturday (April 26-29) at 7 pm.
Premium seating is $30
, general admission is free.
And I should probably remind that tickets for Springsteen at Nats Park on Sept. 14
go on sale Friday
(April 27) at 10 am.
Tidbits: BID Reports, Artomatic to Crystal City, Tunnel Items, More
Jan 18, 2012 2:33 PM
There's been a whirlwind of "big" posts as 2012 has gotten underway, so here's a few items I've neglected:
*
BID Reports
: At its annual meeting last week, the
Capitol Riverfront BID
released both
its annual report
and the "Green Print of Growth" study they commissioned, which showed that the portion of the Green Line from the Navy Yard station to Georgia Avenue/Petworth has become over the past 10 years a "regional leader" in "capturing highly-prized young professional housing demand and high-wage employment," just nosing ahead of the Orange Line's Rosslyn-Ballston corridor and outstripping the Red Line's stretch in Northwest DC when looking at household growth in the 18-to-34 demographic. The report also says (shocker!) that "the analysis conducted suggests that the Capitol Riverfront--given its Green Line access at the Navy Yard Station and its significant amount of development capacity--is among the most competitive locations in the region for households, companies, and retailers."
You can read the
executive summary
, the
complete version
, and the
slides
that RCLCO's Shyam Kannan displayed during his presentation at the meeting. (Additional coverage from
WBJ
and
CapBiz
.)
This was followed by a
commentary
by BID chief Michael Stevens in Monday's Washington Post/Capital Business in which he argued: "It's time for business and residents to recognize and acknowledge a new reality: The Green Line corridor has emerged as a powerful economic engine for the District and the region. And it's time for Metro, the city and the private sector to invest more in the area to support this growth trajectory."
UPDATE:
Also coming out of the annual meeting, the BID
voted to change how it handles its taxes
, which still needs to be approved by the city council to take effect. (WBJ)
* On a parallel track, though it doesn't have to do with Near Southeast specifically, the Post's
Steve Pearlstein wrote
over the weekend about how signs suggest "that the next phase of growth in the Washington region will focus on these underdeveloped areas in the eastern quadrants of the District and some of the region's older, closer-in suburbs."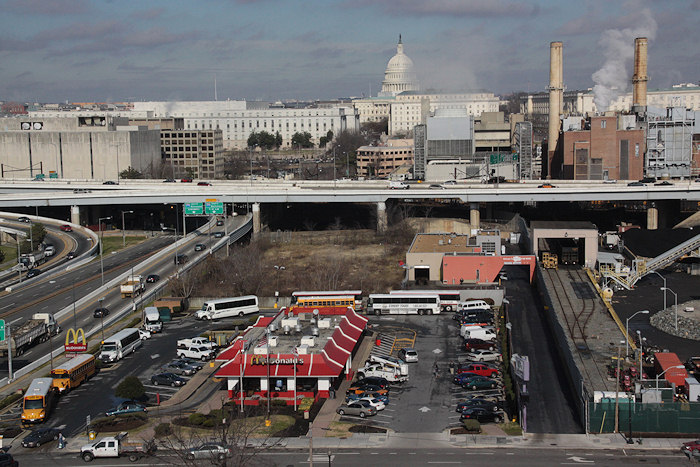 *
New Views
: While I was at the BID's meeting, I took the opportunity to get some photos
of the inside of 1015 Half Street
, plus
one shot looking out
that shows not all views of the U.S. Capitol dome are, by default, "majestic." (Alternate caption: "Would you like fries with that democracy?") One
Twitterer suggested
that the rock circle at far right, on the Capitol Hill Power Plant's property, is where the ritual sacrifices are held. So, if you see the Congressional leadership skulking around I Street late at night....
*
Artomatic Decision
: The Post's Jonathan O'Connell
tweeted this morning
that
Artomatic is headed to Crystal City
. Organizers
had been looking
at both 1015 Half and the old National Geospatial Intelligence building at
101 M
.
*
CSX
: The Virginia Avenue Tunnel web site now has
public comments
on the
Nov. 30 "concepts" meeting
, as well as the
transcript
of that session. Comments are still being accepted through the end of January.
*
Protest
: A reader who lives on 7th Street just across from the Marine Bachelor Enlisted Quarters has passed along that the neighbors on that block have decided to lodge a formal protest at the liquor license renewal of the
7th and L Market
, thanks to having witnessed multiple examples over the past few years of public drunkenness and urination, loitering, littering, drug dealing, indecent exposure, and even one proposition by a prostitute. There's no doubt that that market is a bit of a throwback to the neighborhood's previous incarnation; it will be interesting to see how this proceeds, and also how the
eventual arrival of the National Community Church on that block
changes (or doesn't change) things.
*
AIIIEEEE!
: Don't have enough to worry about these days? How about
rising sea levels inundating
areas along DC's waterfronts? (WaPo/Capital Weather Gang)
*
Neighborhood News Roundup
: The Post's new Where We Live real estate blog has a
rundown
and
photo gallery
today on the latest progress on the development and food fronts in Near Southeast. If it all looks and sounds strangely familiar, that shouldn't be a surprise.
A Few Oh-Yeah-I-Meant-to-Mention-That Tidbits
Jan 9, 2012 9:52 AM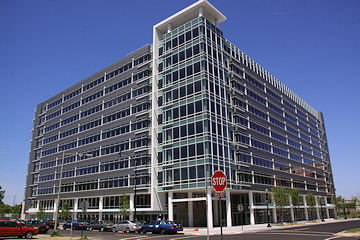 *
1015 Half Buyer
: On Friday the Post debuted a "What's Going On With....?" feature at their new
Where We Live Real Estate blog
(reminds me of my old "What's the Deal With...?" days), and
the first item
was on the empty office building at
1015 Half Street
. One tidbit not mentioned there, or at JDLand before now, is that apparently Prudential Real Estate Investors is buying the building, with the deal supposed to be closing this month, according to
Bisnow
. Bisnow says that the deal was always for Prudential to buy out Bank of America's stake in the building when it was finished, even back when it was Opus East doing the developing, not current receiver Douglas Wilson Companies.
*
Onyx Sale
: The
Onyx on First
apartment building never sold when it first went on the block
back in March
, and
a second offering
apparently closed in December. Perhaps there will be news soon.
*
Navy Yard Riverwalk Closure
: It was
announced on Twitter last week
that the
Navy Yard
Riverwalk will be closed from Jan. 5 to Jan. 17 to install fences around the piers. (What? You thought I meant the entire Riverwalk and not just the portion controlled by the Navy Yard? Why ever would you have thought that?)
Artomatic Looking for 2012 Space, Eyeing 1015 Half, 101 M SE
Nov 27, 2011 5:00 PM
Jonathan O'Connell has a piece in Monday's WaPo Capital Business
about Artomatic's search for a 2012 home
, and how the organization wants to replicate the success of
the 2009 version
at the then-vacant
55 M St., SE
: "This year's search is down to about four buildings, two near Nationals Park:
1015 Half St. SE
, an empty 414,000-square-foot building being purchased by Prudential Real Estate Investors; and the former offices of the National Geospatial Intelligence Agency, at
101 M St. SE
. Artomatic also is considering the People's Building in Northeast, and another location in Crystal City."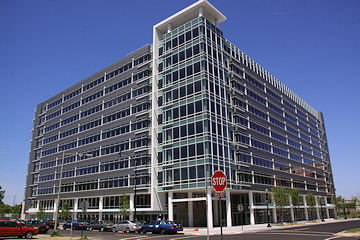 1015 Half Street
(left), on the site of the old Nation nightclub, is currently home to more than 400,000 square feet of Class A office space emptiness right now. The
NGA recently departed
1st and M (right), and while I would love for Artomatic to come to this spot merely for the chance to finally get inside the formerly armed encampment before its inevitable demolition as
The Yards
moves forward, I wonder how excited the organizers would be to have a building with almost no windows, except on the top floor. (I know that 55 M's
large windows and great views
of Nationals Park, Near Southeast, Southwest, and north to the Capitol were a big hit with 2009 Artomatic attendees.)
It was
in December 2008
that word first began to trickle out on the 2009
Artomatic
location, so perhaps the decision one way or the other won't be too long in coming.
Some Updated Photos, For the First Time in Forever
Jan 17, 2011 11:18 AM
I'm not quite as obsessive about taking photos around Near Southeast as I used to be, mainly because back when I started very few people lived or worked in the area, which meant photos were important to get across to readers the scope of the changes. But that's not the case now, and I figure most readers are seeing this stuff every day, which gives me a great excuse to not pull out my camera when it's 30 degrees and the winter sun angles make for less-than-optimal shots. But the mood struck me on Sunday, so now my photos are updated and my guilty conscience can be eased ever so slightly.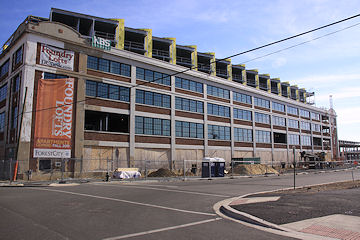 If you haven't wandered down to Third and Tingey lately, you won't have seen all the new windows in the
Foundry Lofts
building, which look pretty spiffy. When it opens this fall, it will have 170 apartments and ground-floor retail. (While I was there, I updated my
4th and Water Before and Afters
, now that the area of the
Yards Park
south of the Trapeze School is landscaped and close to being finished.)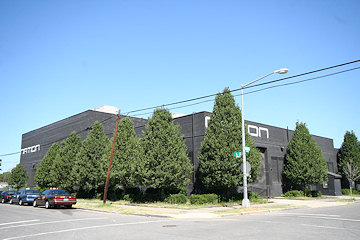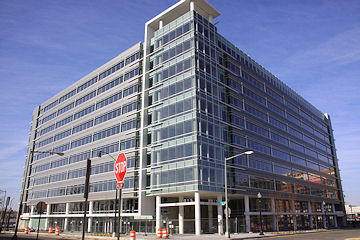 It hasn't been officially announced as "completed," but I always figure when the sidewalks open next to a newly constructed building, it's as good as done, so I went to get some After photos of
1015 Half Street
, the 440,000-square-foot office building on the site of the old Nation nightclub. No tenants have been announced yet. (You can also see the
expanded archive of before-and-afters
for more shots, especially if you're more interested in remembering Nation.)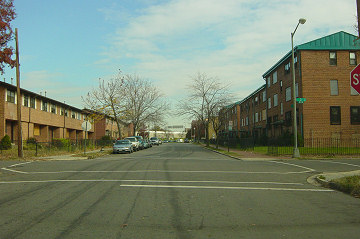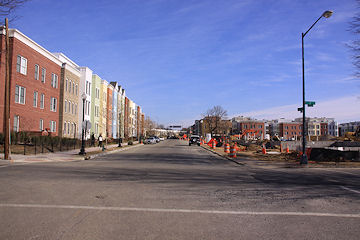 Taking photos of poured foundations in weak winter light is not really a recipe for exciting images, but I figured I still had to document the progress being made on the northern of the three
Capitol Quarter Phase II blocks
. The first framing of houses on this block could happen this month. (And before long it'll start to be apparent that this block is going to be split into two blocks, with the new 3rd Place running north to south.)
Alas, I only just now realized that I totally forgot to take any photos of the new construction at the old Little Red Building site. Will have to do that the next time the sun is out.
Here's the
complete batch of Sunday's photos
, with the
as your guide to see the full set of before-and-afters for any photo.
Pre-Weekend Cleaning Off of the Messy Virtual Desk
Oct 1, 2010 11:50 AM
Here's a bunch of little items that aren't ridiculously newsworthy, but that might be of interest. Since it's Friday and many of you actually have lives, I suggest reading a few at a time, and keep coming back over the weekend until you get through all of them. Some I've already passed along via
Twitter
(which you can also follow by being a
Facebook Fan of JDLand
), but some are surprisingly fresh. Here goes:
Top items:
* The process that will beget the new Southwest Waterfront is now underway, and SWill at Southwest: The Fabulous Blog With the Funny Name (did I get that right?) reports on
this week's public meeting
by the developers. Current plans call for 560 residential units, three hotels totalling 600 rooms, 840,000 square feet of office, 335,000 square feet of ground floor retail, some sort of music hall / museum / maritime education offering, 2,500 underground parking spaces in five garages, and 400-500 marina slips, with 60 percent of the site area being public space.
* Back before
1015 Half Street
was a slow-to-finish office building, it was an old industrial building that in 1995 became the Capitol Ballroom and then eventually the Nation nightclub. But from its construction in 1931 until it was sold at auction in 1992, the southwest corner of Half and K was home to the J.E. Hurley Machine and Boiler Works company. And thanks to the
Kinorama Flickr stream
that took the Twitterverse by storm this week, here's
a shot of the Hurley building
, undated but probably in the early 1990s. The outlines of the
more-familiar Nation building
are clearly visible.
* Pastor Mark Batterson,
writing about
the National Community Church's
purchase of the Miles Glass
site at 8th and Virginia, says that they are looking at some of the adjacent properties as well. "Our current lot serves our current purposes, but when we think in twenty year terms the additional lots would give us more upside potential."
Calendar items:
* On Friday, Oct. 8, the
Susan G. Komen 3-Day Race for the Cure
will be holding its opening ceremonies at
Nationals Park
. It's not just for participants, and friends and family are also being encouraged to attend. Walkers will start arriving around 6 am, with the opening ceremony beginning (with "community stretching" at 7 am). Afterward, the participants will begin their 60-mile walk (though I can't find a map to figure out their route). More information about the opening ceremonies and race
here
.
* Mayor-in-Effect Vince Gray is having
a series of town halls during October
, with the Ward 6 one scheduled for Oct. 27 at 8:30 pm at Eastern High School, 1700 East Capitol St. NE.
Tidbits:
* Because I'm worried that the Marines' hunt for a new barracks site isn't engendering enough conversation around here, I'll point people to
Norm Metzger's report
on last week's Community Leadership Group meeting that I wrote about
here
.
* The Examiner did
a Three-Minute Interview
with Sam Fromartz of the Virginia Avenue Park's community garden.
* It's time once again for the Capitol Riverfront Perception Survey.
Tell 'em what you perceive
.
Off-Topic:
* I've written a few times about my interest in Detroit, and whether it can come back from so far down. If you haven't been following along, here's
a great essay with lots of photos
, written by David Byrne. (Yes, that David Byrne.) (thanks to reader EH)
A Few Upcoming Events, and a Few New Photos
Aug 2, 2010 11:23 AM
This week's calendar of events:
* Tuesday at 5 pm is
PSA 105
's "ice cream social and dog treat event" to celebrate
America's Night Out Against Crime
. It will be held across the street from the MPD 1-D substation at 5th and E, SE, in Marion Park. (Also, for your long-range calendar, note that the PSA's annual dog show will be on Sept. 25 at 10 am, also at Marion Park.) If you're just tuning in, PSAs are the Metropolitan Police Department's
Police Service Areas
.
* Also on Tuesday, at 6:30 pm, is the second Capitol Riverfront Heritage Trail Meeting, a joint project between
Cultural Tourism DC
and the
Capitol Riverfront BID
to create a Neighborhood Heritage Trail for the area. It's at Capper Seniors #1, 900 Fifth Street, SE. (Here's
the flyer for the first meeting
.)
*
Thursday's outdoor movie
, weather permitting, is
Rocky
. It starts at 8:45 pm at
Canal Park
.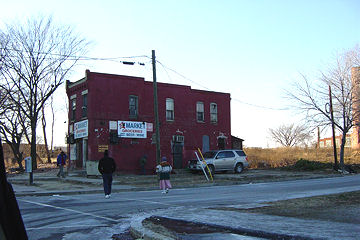 And, I took a long-delayed photo trek around the neighborhood on Sunday (though remind me to never do it again on a game day--too many cars and buses getting in the way!). They aren't really terribly exciting pictures, and the clouds were uncooperative at times, but I did get updated images of the progress at
1015 Half Street
, and of the final block (
east
and
west
sides) of
Capitol Quarter
's first phase. And I
documented the now-empty space
where the Little Red Building used to be. You can also
browse the entire batch of the days' photos
, and click on the
icon to see all photos for a given location.
New Photos. Lots of Them. (1015 Half, 11th Street Bridges, Yards Park, Etc.)
May 31, 2010 4:56 PM
There have been a lot of photos I've been needing to take recently, and the stars finally aligned today for me to go get them. (I sure could use some Gatorade about now, though.) Here's a run-through:

I made my first visit to the
11th Street Bridges
site, and now that all
63 river piles have been driven
, it's kind of an interesting tableau. You can see
my new photos
, as well as
background on the project
if you need some orientation on what exactly you're seeing. I also got some "final" before-and-after photos of the
view at 12th and M
now that the RFK ramps are mostly gone.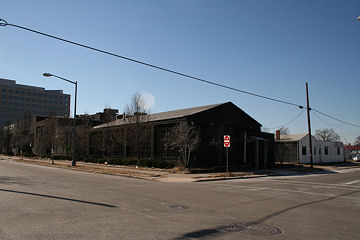 I also wandered over to
1015 Half Street
, now that I've been convinced that they're truly working on the building again. The
main project page
has an overview, but if you can't get enough before-and-afters, the
Expanded 1015 Photo Archive
shows even more angles (though you Nation fans might find them bittersweet).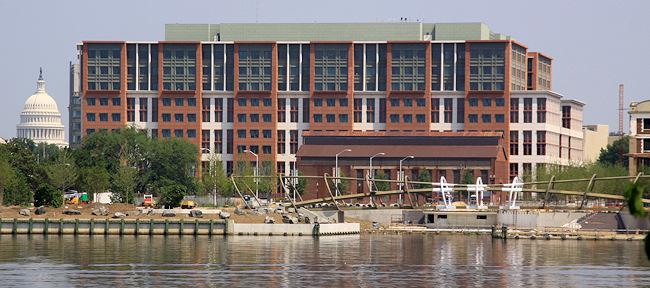 I know I just unleased a big pile of
Yards Park
photos
a few days ago
, but the big hole in the lineup has been a lack of shots from across the Anacostia River, at Poplar Point. So I got over there today, and while they aren't as exciting as you might imagine (though you can see that they're doing some priming or test painting on the pedestrian bridge), I've still added some to my
Yards Park page
, denoted with the

icon. I also finally got my official "after" photos from Poplar Point for
Diamond Teague Piers
, which you can see on the
project page
and
also here
. And, for the fun of it, you can also
"watch" the stadium go up from that spot
.
If you want to see all the "intersection" shots I took today (all 131 of them!),
they're here, on three pages
, and you can then click on the
icon to see the historical images. (I had a lot of spots that needed updating. Yeesh!)
1015 Half Starting Again (Again) (Again)?
May 3, 2010 1:17 PM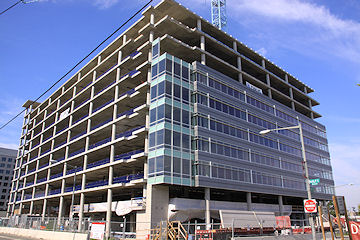 We went through this
back in early March
, when sharp-eyed JDLand readers passed along indications of work re-starting at the stalled
1015 Half Street
office building project, with a Skanska sign going up at the skeleton. But it disappeared soon afterward, along with the workers that had briefly materialized. But last Tuesday, faithful Tweeters again reported signs of life at the work site, and now
WBJ is reporting
that
Skanska USA Building
is indeed about to re-start construction, expecting to finish the 440,000-sq-ft office and retail project by the end of the year.
This building, on the site of the old Nation nightclub, was first started in late 2007 before
the collapse of developer Opus East
ground work to a halt in May 2009. (
These photos
show the timeline pretty well!) The
Douglas Wilson Companies
was named receiver a few months later, and
originally announced
that work would re-commence in October of last year, but nothing has happened until now.
No tenants have been announced. See
my 1015 Half page
for more details on the long and winding road this project has taken.
Movement at 1015 Half Street
Mar 9, 2010 10:07 AM
Some alert readers reported today via e-mail and Twitter that there is renewed activity at the site of
1015 Half Street
, where construction of the 440,000-sq-ft office building was halted in the middle of 2009 when owner Opus East
went bust and liquidated
. (The
Douglas Wilson Companies
was
named receiver for the property in August
.) I've heard no official announcements, but the many liens against the property were settled in January, and apparently people are on-site, and a new fence and "Skanska" sign are now up at Half and L, so we'll see if the project is in fact moving again.
Tidbits From the Past Few Days (Foreclosure, Marines, WMATA Cuts, 11th Street Bridges, 1015 Half)
Jan 21, 2010 10:35 AM
Rounding up some new and
Tweeted
tidbits, now that I've recovered from cranking out the
State of the Hood
:
* (h/t "reader X") The
second foreclosure sale
held yesterday for the boarded-up apartment building and surrounding lots at Potomac, Ninth and L brought no bids above the $2 million starting point, so the properties will now return to the lender. An earlier auction
back in October
had brought a $2.461 million winning bid, but that deal fell through. The properties were originally bought by ICP Partners
in 2006
, along with the gray building at Eighth and Potomac, for $9 million.
* Via
ANC 6B03 commissioner Norm Metzger
, the Marines have created a web site for their "
Community Integrated Master Plan
." The site describes this planning process as evaluating "community-military development partnering options" because "[t]here are unmet facility needs and security requirements at Marine Barracks Washington and a potential to meet common community and military needs through the process" and that their goal is "to use a coordinated planning process to create a win-win in meeting the development needs of the local community and Marine Corps." Now that that's cleared up, you can go to the open house they're having on Jan. 27 from 5 to 8 pm in the North Hall of Eastern Market, to "assist the planning team in identifying issues, concerns, and potential opportunities for military-community development partnering."
* One of many
service reductions proposed by WMATA
to help close their FY2010 budget gap is to shut down one of the two entrances to the Navy Yard metro station on weekends. (They don't say which one.) The public hearing on their various proposals is Jan. 27 at 5:30 pm.
UPDATE:
From Michael Perkins, in the comments, it would be the west entrance, at Half and M. I wonder if this would only be when there are no stadium events?
* Via the
Capitol Hill Chamber of Commerce's Twitter feed
, there will apparently be one more
Lower 8th Street
visioning session, on February 22. After this final session, the group will forward its recommendations to the Office of Planning on what sort of development should be emphasized for these blocks south of the freeway.
* In Sunday's Post,
Dr. Gridlock took a look
at the
11th Street Bridges project
, telling drivers what to expect as the construction unfolds, and that the "new bridges will forge a link between Maryland, the District and Virginia that has been missing since the original highway plan for the District was abandoned decades ago. And it will create a new link between neighborhoods on both sides of the Anacostia while relieving them of some of the commuter traffic that spills onto local streets."
* As part of the start of work on the bridges, a raze permit application has been filed to demolish the
old red brick buildings
between the current bridges that housed the Anacostia Community Boathouse, whose operations are now
moving up-river
to a temporary (maybe permanent) home at the Anacostia Marina.
* A little time spent trolling through public records shows that within the past month a bunch of the liens brought against Opus East when they liquidated and stopped work on
1015 Half Street
have been settled. No indications from the new owner (
Douglas Wilson Companies
) as to when construction might restart, despite their
statements back in October
that it would be happening soon.
Construction Starting Again at 1015 Half
Oct 3, 2009 11:47 AM
I'm hearing that the
Douglas Wilson Companies
--a San Diego developer specializing in "distressed properties and crisis management" that was appointed in late July as receiver for both
1015 Half Street
and
100 M
--is getting construction moving again at 1015 Half (along with "aggressively" marketing and leasing of the building). Also, a "disposition strategy" for 100 M is expected to be in place later this month. This appears to be Wilson's first foray into the DC market, though the company also has branches in Atlanta, Las Vegas, Miami, Orlando, and San Francisco. This
San Diego Business Journal profile
of Wilson and his company gives a bit more info not only on the organization but on the role of a receiver in dealing with distressed properties. The two buildings hit the skids when Opus East collapsed and liquidated.
Foreclosure Notices for JPI's 23 I Street Lots, and Nine Potomac Ave./9th St. Parcels Owned by ICP
Sep 22, 2009 10:28 AM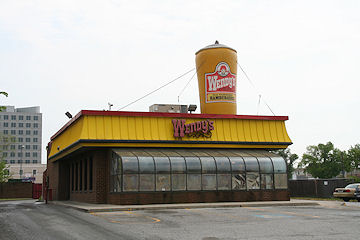 On Sept. 10 a Notice of Foreclosure Sale was filed for the two now-vacant parcels of land on the southwest corner of Half and I streets where the Wendy's used to stand. (Note that this doesn't include the adjoining Exxon land.) The lots, totalling about 47,000 square feet, were bought in July of 2007 by JPI for $28.6 million, with the intent of building
23 I Street
, the fourth of JPI's "Capitol Yards" residential buildings (along with
70/100 I
and
909 New Jersey
). JPI owes $25.1 million on the loan, which came due on Aug. 1 and which is held by
Ruben Companies
, owners of
1100 South Capitol Street
and 1101 across the street. The foreclosure sale is scheduled for Oct. 13.
JPI East pretty much fell apart over the past two years, with its principals taking what was left and
forming a new company in June
with bigwigs at Akridge; stories at the time mentioned their continued stake in 70/100/909, but said nothing about 23 I.
Another, smaller commercial foreclosure is happening further east, where nine parcels owned by ICP Partners
along Potomac Avenue between Eighth and Ninth
(including the brown boarded-up apartment building at Ninth and its parking lot) received a notice of foreclosure on Sept. 4, with a debt of $2.3 million on the properties. ICP tried hard earlier this year to
drum up interest in these lots
plus the gray building at Eighth and Potomac that houses Quiznos (which is
not
part of this foreclosure), after a previous sale attempt in 2008 went nowhere. ICP paid $9 million for all 10 properties in 2006; this foreclosure sale is scheduled for Oct. 6. (The properties are also on the
city's September Tax Sale list
.)
Whether the properties will actually go on the block, or if deals will be struck or lawsuits filed in advance of the sale dates, remains to be seen, but foreclosures are about to be a big part of the commercial real estate landscape throughout the US. (Spend a few days reading
Calculated Risk
if you want some insights into the predicted onslaught.)
As for the neighborhood's other "distressed" properties, Opus East's
100 M
and
1015 Half
office buildings are part of the company's liquidation proceedings, with
rumors flying
but no news of new owners yet. And the empty lot in the 1000 block of Seventh Street (across from the
Marines
), where a developer had been
planning an apartment building
, was sold in late July for $400,000 after a foreclosure; it had been purchased along with the two townhouses alongside it for $1.25 million in 2004. One townhouse was subsequently sold, the other was foreclosed on as well, though so far no evidence of a sale has turned up.
No News Is.... No News (Well, Barely Any News)
Jul 6, 2009 4:24 PM
I haven't gone anywhere, I just have barely any news to pass along these days. This is the best I can do:
* As
I tweeted
last week, I heard from the owner of the Cornercopia Deli at Third and K, saying that the "wheels are turning a little more slowly" than they had hoped, thanks to red tape. No opening date, but that shouldn't stop you from leaving your thoughts in the comments about what you'd like to see sold in the store--and maybe we can get Mr. Oh himself to say hello...
* Here's a post from
WBJ's Breaking Ground blog
with Opus East's
schedules
and
statement of financial affairs
, as a result of its
Chapter 7 liquidation filing late last week
. (The documents are pretty much Greek to me, but maybe those with some experience in the area might find them interesting.) The city's recorder of deeds database also shows eight liens filed against Opus's
1015 Half
project from late May through June 24, and construction does appear to have ground to a halt.
* In Friday's
print Washington Business Journal
, Missy Frederick writes that sports bar
The Greene Turtle
is looking to open five more locations by the end of 2009, with two of them in DC, "particularly near Capitol Hill or by one of the college campuses." Hmmm, what neighborhood with a fair amount of already available retail space (and a guaranteed influx of sports fans) is "near Capitol Hill"? (But I'd note that the biggest available retail spaces in Near Southeast, on the ground floors of
100 M
and
55 M
, are in buildings where the owners [Opus East and Monument Realty] are in rough patches; does that make signing a retail lease less enticing, or more? On the other hand, the
ballpark
has all that empty retail space along First Street....)
Opus East Files for Chapter 7 Liquidation
Jul 1, 2009 6:55 PM
Opus East, the development company whose portfolio includes the already completed
100 M
and under construction
1015 Half
office buildings, filed on Wednesday for Chapter 7 liquidation, according to the
Washington Business Journal
. The article mentions the falling through of Opus's deal to sell 100 M to MayfieldGentry Realty Advisors earlier this year as part of the company's woes, and the building is part of the bankruptcy filing and liquidation. The
1015 Half Street
project, expected to finish late this year or early next year, is presumably part of it as well. No tenants for the 440,000-sq-ft office building have been announced.
Updated Photos (Cap. Quarter, Canal Park, 1015 Half)
Jun 25, 2009 4:44 PM
It's been a while since I've posted a big batch of new photos (and be assured that the guilt has been killing me), so I made a couple of quick runs today to rectify this. The showiest shots are to be had at
Capitol Quarter
, of course, with the houses on both sides of L between Fourth and Fifth now mostly occupied, and those up Fourth and on the south side of K now painted and landscaped. If you want an even fuller set of photos than what's on my CQ page, go to the
CQ Phase I Expanded Archive
to see all angles of the intersections where construction is either completed or still underway. (The multicolored houses up against the bright blue sky, lit by the summer-solstice-height-sun, show why I tend to wait for sunny days to update the photo archive. Well, that and I'm lazy and am always looking for an excuse to not go take pictures.)

Meanwhile, at
Canal Park
, I finally got some photos of the sod on the southern block, and the first hints of grass on the other two blocks as the seeding starts to grow in.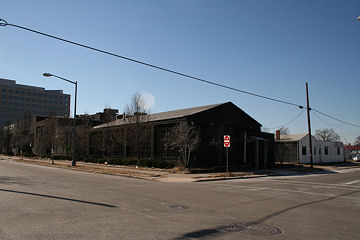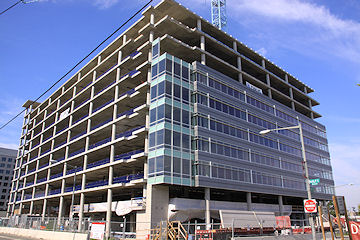 And, over at
1015 Half Street
, the glass continues to be hung on the northern exterior, so I took some photos of that side of the building. (The southern side looks the same as it did in May, so I happily skipped those photos.) The block does now look a little different from when Nation was there.... (See the
expanded archive
for additional shots.)
Here's
the complete batch of today's photos
, but to see their "before"s, as well as the other photos along the way, click the
icon. Or you can just
browse the Photo Archive
by street, direction, and/or date.
Tough Times for Opus East and Monument Realty
Jun 19, 2009 9:05 AM
Two pieces from today's Washington Business Journal, both for subscribers only, tell of difficulties for two of Near Southeast's developers:
* Opus East
, which birthed
100 M
and the under construction
1015 Half
, is "
teetering on the verge of bankruptcy
" because the "U.S. General Services Administration has refused to pay the developer for 'even one penny' of the more than $35 million the company has invested in erecting a new federal building in College Park." Its parent company, Opus Corp., is exploring bankruptcy or restructuring for Opus East and Opus West--two other Opus companies went into Chapter 11 this spring. The article also says that Opus East's deal with MayfieldGentry Realty Advisors of Detroit to buy 100 M fell through in May; but 1015 Half is, for now, "continuing in full swing."
* And
Monument Realty
is
having trouble
, though not on
Half Street
--"At the end of May, at least three contractors filed suit in D.C. Superior Court to enforce more than $1.3 million in mechanic's liens the contractors filed against the last of three condominium buildings Monument is building at Potomac Place Tower near the Southwest waterfront. [...] At least one of the contractors is asking the court for a forced sale, if necessary, to collect amounts due."
Tenants Coming to 20 M and 55 M?
Jun 5, 2009 12:17 PM
From
today's print edition of the Washington Business Journal
(subscribers only), news that two as-yet-unoccupied office buildings in Near Southeast may be close to securing tenants. WBJ says that Monument Realty is "in discussions" with Booz Allen Hamilton to lease more than 30,000 square feet of space at
55 M
(currently home to
Artomatic
), though Booz is apparently also looking at Lerner's
20 M
across the street and the under-construction
1015 Half
a block to the north.
The article also says that an "undisclosed federal agency is on the cusp of announcing" a 100,000-sq-ft lease at
20 M
. I have heard murmurings of some outfit moving to 20 M--if someone wants to whisper in my ear who it is,
I'm listening
!
A Slew of Tweets, Links and Little Items
Jun 2, 2009 9:41 AM
Some recent items of note, some
Tweeted over the past few days
and some I just lazily haven't gotten around to mentioning until now:
* Several readers wrote in to mention the awnings now in place at the
Cornercopia Deli at Third and K
, which were installed on Friday. Still no word on when it might open--but to make sure that I hear about it ASAP when its doors do open, I pledge to buy a sandwich there for the first reader who alerts me that the deli is open to customers.
* If you haven't been in the unit blocks of either I or K streets--the Wendy's (on the site of the on-hold
23 I Street
apartment building by JPI) is now completely demolished, and glass is now being hung on
1015 Half Street
. If you're wondering why the west side of 1015 Half is not glassed but has just a plain beige exterior--remember that that side will just be facing an alley, with
1000 South Capitol
someday rising between it and South Capitol Street. (Emphasis on the *someday.*)
* The
Obama Five Guys
on Second Street has seen a 50 percent jump in business since the president's visit on Friday, says
Politics Daily
. And plenty of people are ordering the "Obama Burger," a cheesburger with lettuce, tomato, mustard, and jalapenos.
* A little excitement at
USDOT
on Monday when a suspicious package
forced the evacuation
of the Fourth Street building. According to
DC Fire and EMS's Twitter feed
, it was a package leaking diesel fuel.
*
Greater Greater Washington spent some time
looking more closely at
the schematic
of the new
11th Street Bridges
that I posted about last week.
*
The Post had a good report
on Saturday's high school baseball Congressional Bank Classic at
Nationals Park
.
*
UrbanTurf.com took a look
at
Capitol Hill Tower
.
* "
Artomatic Moves to DC's Empty Ballpark District
."
* The Mayor wants to clean out the Community Benefits Fund funded by the ballpark to pay for 10 weeks of his summer jobs program,
says the Examiner
. Members of the council say that six weeks (the amount that can be paid for by the original amount budgeted for the program) is good enough, and that money should go to various projects they've earmarked. (
UPDATE:
The
council voted today
*not* to cut the program to six weeks.)
Comments
(0)
More posts:
1000 South Capitol
, 1015 Half,
11th Street Bridges
,
23 I
,
artomatic
,
Capitol Hill Tower
,
cornercopia
,
Restaurants/Nightlife
,
Retail
,
square 697
,
Square 697n
,
Nationals Park
Scads of New Photos: Bullpen, Fence-less Canal Park, 1015 Half, Capitol Quarter (Again)
May 10, 2009 6:02 PM
With thanks to Mom for decreeing that my Mother's Day responsibilities had been taken care of
last week
, I was able to take not one but two treks through Near Southeast on this beautiful Sunday, and have uploaded a pile of new photos. Some--like the ones I took at
909 New Jersey
and
55 M
--are the last ones I expect to take of certain angles for a long time to come, but I did get some good "change" shots:
There's now a sign up at "The Bullpen" at
Half and N
(opening Friday?), and I also snuck a shot of the tent and piled-up picnic tables, which you can see on my
Akridge Half Street page
(scroll down a bit if the link doesn't jump you down). You'll also see updated shots of the garage-less Half and M corner.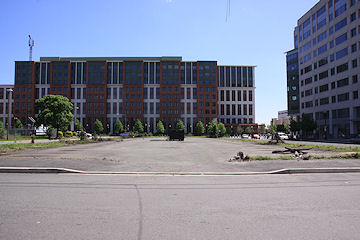 It's not very easy to take a picture that well-represents the lack of cyclone fences, but I gave it a shot with a
few
different
angles
of the south end of
Canal Park
. I have to admit that was I was surprised by how much wider the block now seems; when it becomes a real park, with tall buildings on all sides, that extra width will be welcome.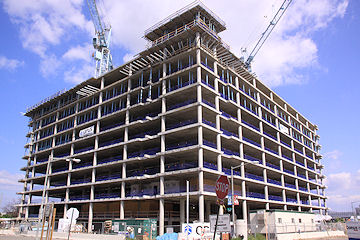 Next up is
1015 Half Street,
the 400,000-sq-ft office building now topping out on the old Nation nightclub site. With Half, K, and L being so narrow, it's not a bad idea to step back a block or two to see 1015's impact on the skyline, so check out the
Expanded Photo Archive
. The next phase of construction should be the hanging of the exterior glass.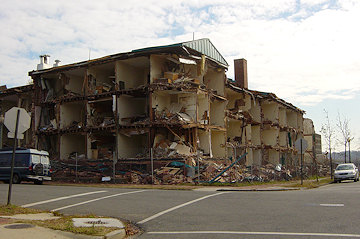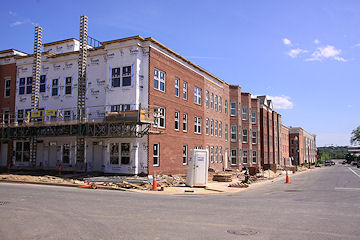 It's pretty hard to stay away from the goings-on at
Capitol Quarter
, as brickwork is all but complete along Fourth between I and K. The
Expanded Archive
shows all the CQ shots I took today, along with the ones from two weeks ago showing the first completed stretch of homes, on the south side of L between Fourth and Fifth.
You might also see a few new shots of
Onyx
,
100 M
, and
Velocity
if you visit those pages, and some other

images in the random shots at the top (and bottom) of the JDLand home page, since I took a pretty complete set of photos from New Jersey to Half and from M to I. And, without much new construction going on, I don't anticipate taking many photos other than at Capitol Quarter and 1015 Half (and I guess
Teague
and Canal parks) over the next few months. (I'll also be ready if/when Akridge demolishes the buildings
along First between K and L
.) So, enjoy these, and take the time to really compare them to their "befores."