*
CSX I
: Eleanor Holmes Norton
tells USDOT to get moving
: "I ask that you help ensure the prompt release of the Final EIS for the
Virginia Avenue Tunnel project
so that the surrounding community is aware of the preferred alternative, any impacts this project may have on them, and any mitigation and benefits to the surrounding community."
*
CSX II
: ANC 6B
writes to Mayor Gray
: "We have serious concerns about the VAT project proposed in the draft environmental impact statement, and we urge you to ensure those concerns are adequately addressed before the District issues the requisite approvals for the project."
*
POCKET CHANGE
: The
Wall Street Journal reports
that "Investors who own the storied Hawk 'n' Dove bar and other Capitol Hill eating spots owe more than $9 million to D.C. restaurateur Xavier Cervera and his partners who sold the restaurants to them in late 2012." An earlier WSJ piece gives a
wider view of the mess of financing
this all appears to be.
* FOR THE RECORD: In Precinct 131 (Near Southeast), Muriel Bowser received 40 percent of the vote, Tommy Wells 30 percent, and Vince Gray 24 percent. And in the Ward 6 council race, Charles Allen beat Darrel Thompson 57-43. A grand total of 444 people cast ballots out of the 2,085 registered voters in the precinct. So, yay to 21.29 percent of you!
*
BLUEJACKET AND BASEBALL
: It seems like the brewery has already been here forever, but Bluejacket is about to embark on its first season of providing refreshments to Nats fans. They've announced that they will be "tailgating" on their patio at 10 am Friday for the season opener, and that their
new outdoor grill
will be open for business "weather permitting, all season long Thursdays through Sundays from 11 am until 10 pm and on all game days beginning two hours before the first pitch."
*
SWEET!
: Sweetgreen has gotten its tenant layout permit to begin the buildout of its space in
Twelve12
, on 4th Street across from Bluejacket.
The DC Twitterverse lit up Friday night when the
Wall Street Journal (?) reported
the
Chapter 11 bankruptcy filing
by Barracks Row Entertainment, the company behind the slew of neighborhood restaurants opened by Xavier Cervera, including the revamped Hawk & Dove, Lola's, Molly Malone's, Boxcar, Senart's, The Chesapeake Room, and Pacifico Cantina.
Barracks Row Entertainment is also behind the Park Tavern at
Canal Park
, and the will-it-ever-open Willie's Brew and 'Que at the
Boilermaker Shops
at the Yards, and those two entities are part of the bankruptcy as well. The filing says that the company has "between $1 million and $10 million in debt."
What does it all mean? I guess we will just have to see....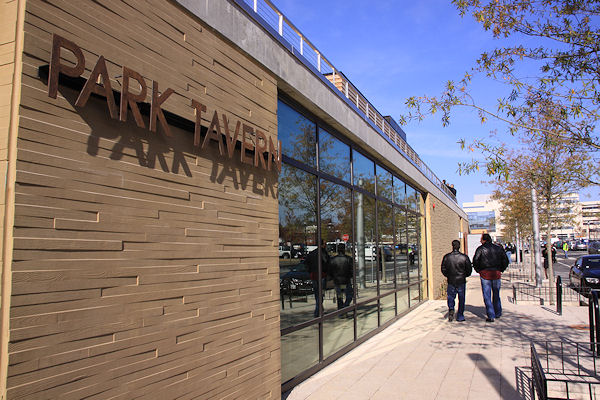 After months of waiting,
a simple tweet a few moments ago
says that the Park Tavern restaurant at 2nd and M SE in
Canal Park
is open for business.
If you stop by there, give us some details in the comments.
UPDATE:
I should also mention that the
BID tweeted
that the water feature (some might call it "fountains") at Canal Park is operational today as well, after a breather during the switchover from ice rink to warm weather retreat.
UPDATE II:
Here is the menu
. (If you want to see the chicken, parm cream, and dried cherries flatbread,
here 'tis
. And
here's the taps
. And
the cocktail menu
, blurred to give you the experience of ordering after you've had a few.) The manager told me they will just be open for dinner for a few weeks, then expand to lunch.

On Saturday, the Park Tavern restaurant at
Canal Park
sent this out on Twitter
:
"Our new chef is in place!! Should be about 10 days until we open. More details to come"
Is the opening really now looming? We shall see...!
A hail of bullets on various retail, restaurant, and recreation-type items, some of which are relatively new, but some of which decidedly aren't:
* Apparently the Quizno's at 8th and Potomac closed permanently back in December. And Chicken Tortilla at 8th and L was closed when I walked by a few weeks ago, though I don't know the story on that.
At a meeting of ANC 6D's ABC committee on Tuesday night, we got some new details on two restaurants coming to Near Southeast in 2012, the Park Tavern at
Canal Park
and Willie's Brew and Que in the
Boilermaker Shops
at the Yards. Both are from Xavier Cervera of Lola's/Molly Malone's/Boxcar/Hawk n Dove/etc. fame, and Cervera was in attendance to answer questions from the committee. Let's go to the bullet points, shall we?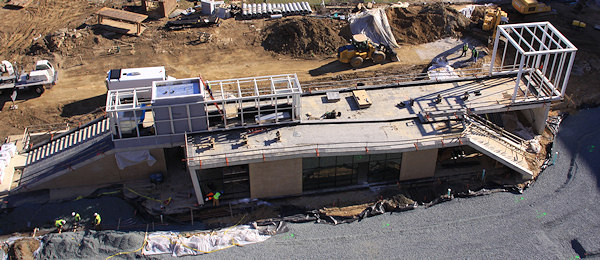 Park Tavern
-
This casual restaurant in the pavilion on the south block of
Canal Park
near M Street is aiming to be the city's first LEED Gold restaurant, thanks to a green roof, solar panels, and the various stormwater management aspects built into the park itself. And:
* There will be fewer than 100 seats inside the glass-and-steel structure, but outside Cervera expects another 75-125 seats, both in a private "summer garden" area by the park's skating rink/water feature and in a sidewalk cafe on the eastern side, along 2nd Place. Because the building is long and narrow, Cervera said that all of the inside tables will be along the windows. There will be additional space on the roof, where visitors can go to look out over the park or walk through the big light cube, but Cervera isn't planning service up there except for private functions.
* The menu will include Neopolitan pizzas and flatbread offerings along with seafood, steaks, and more, along with full liquor service; Cervera is asking for a CR license, with hours until 2 am Sunday through Thursday and 3 am Friday-Saturday.
* The restaurant is planning to offer breakfast service beginning at 8 am, though Cervera sounded a little skeptical of whether there will be enough business to support it. (Maybe via Congressional-type breakfast business meetings?)
* June 15 is the target opening date for both the park and the Tavern.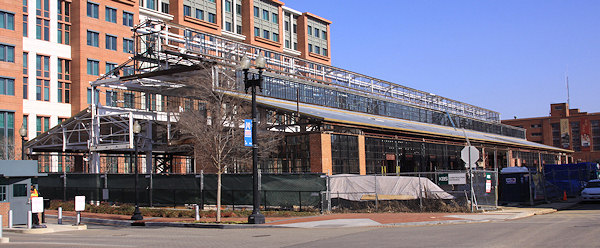 Willie's Brew and Que
- A few blocks to the south, Cervera is waiting for Forest City to finish construction on the
Boilermaker Shops
renovation so that he (and other tenants) can then begin their build-outs. It will occupy the western end of the building, at 3rd Street (seen at right), where the full two-story space to the roof will be open. Details:
* There will be 230 seats inside the restaurant, with another 125 or so at outdoor tables in front of the building at 3rd Street.
* It will have "live" barbeque: Cervera said that he has put a lot of money into the kitchen, with charbroilers and custom-made smokers to churn out authentic North Carolina barbeque.
* And there will be plenty of booze to go with the food, as Cervera will be requesting a CT ("tavern") liquor license, mainly, he says, because with 81 home Nats games a year two blocks away at the ballpark, he can't envision being able to meet the requirements of a CR license where 47 percent of sales must be food. (Tavern licenses don't usually go over very well with ANCs, so this will be interesting to watch.) Full operating hours until 2 am Sunday-Thursday and 3 am Friday-Saturday will be requested on the license, along with an "entertainment endorsement" to allow live music inside until 11 pm Sunday-Thursday and 1 am Friday-Saturday and recorded music on the patio. (The entertainment endorsement discussion for both locations sidetracked into whether dancing will be part of the endorsement, with Cervera bemused at the notion of having to make people stop dancing if the music has moved them: "This isn't 'Footloose.' ")
* Cervera has no opening date for Willie's, but he says he expects Forest City to release the space to him for build-out within 2-3 months.
The discussion surrounding Willie's showed the committee members being a bit hesitant to make decisions for this restaurant that then will set the standard for the other Boilermaker Shops tenants who aren't yet applying for their liquor licenses, such the
brewery
from the Churchkey team. The issue of noise, especially from the outdoor seating space, and how it will effect residents of the
Foundry Lofts
across the street was brought up, though 6D commissioner David Garber said that no one is moving into this area without knowing that it's going to be an entertainment destination of sorts. Cervera, in arguing his cause, said that he fully expects himself and the Churchkey operation to be "good stewards" of the new nightlife in the neighborhood. The first three years of operations will be "painful fiscally," he said, but they want to be here first and be good tenants.
In the end, for both operations, the committee voted to recommend approval of the license applications to the full ANC, subject to the successful negotiation of a voluntary agreement between the commission and Cervera. (Note that neither liquor license application has actually been filed yet, but Cervera says he expects all paperwork to be completed by early next week.) The full ANC could take these applications up at its Feb. 13 business meeting, if papers have been appropriately shuffled by then.
If
yesterday's news about the brewery
coming to the
Boilermaker Shops
in the Yards wasn't enough, today I can pass along that the liquor licensing process looks to be getting started for Xavier Cervera's two upcoming locations in Near Southeast, the
Canal Park Tavern
planned for the pavilion at
Canal Park
and the
Willie's Brew and Que sports bar
also at the Boilermaker Shops.
Both have been added to the agenda for ANC 6D's ABC Committee next meeting, on Jan. 31 at 7 pm at King Greenleaf Rec Center. Hopefully at this meeting there will be some details on both places (seating capacity, hours, when they expect to open, general menu concepts, etc.).
With the Tavern expected to open along with Canal Park sometime this summer and WBQ probably not until late fall or beyond, this is a pretty early start to the ABC process, so don't get your taste buds primed just yet. But all evidence of forward progress is worth noting.