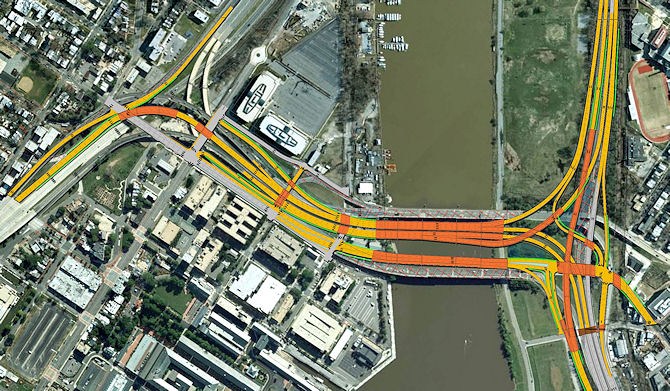 UPDATE:
The new span will indeed open on Saturday, Jan. 7, as confirmed Thursday evening by
a DDOT tweet
. Watch for detours during the day as they make the switch.
On Tuesday,
DDOT tweeted thusly
: "Traffic alert: if the weather holds, we expect the new outbound 11th Street Freeway Bridge to open this Saturday."
They also sent out
a handy YouTube video
explaining the phases of construction that the
entire project
has seen so far and will see before all is finished, which I urge you to watch so that I don't have to try to summarize it all for the 7,000th time.
One item in the video that I hadn't seen mentioned before (it's at about the 45-second mark): with the opening of the new outbound freeway bridge, commuters from the Southeast Freeway/I-695 who want to get into the neighborhoods just east of the river will need to exit at 6th Street SE and get themselves to the existing ramp at 11th and O SE to go across the old outbound bridge. This will be until the new 11th Street Local bridge opens this summer. So watch for some traffic tieups at the 6th Street ramp and along Virginia Avenue, 8th Street, and M Street.