Near Southeast DC: Past News Items
Boilermaker Shops/Yards
Go to Full Blog Archive
---
Willie's Gets a Building Permit; Other Permits of Note
Mar 26, 2013 12:07 PM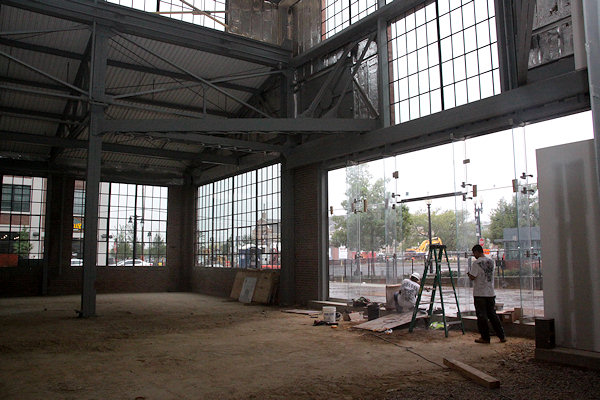 Now that the Park Tavern looks just about ready to open (and the grapevine tells me it got its liquor license on Monday morning), it looks like Xavier Cervera is turning his attention to the project we have known as
Willie's Brew and Que
at the
Boilermaker Shops
at the Yards.
According
the
latest batch of approved building permits
, a building permit has been issued (to Williams Willies Sports, technically), for a restaurant with 109 seats and 156 occupancy load.
So now everyone can start keeping an eye out for any work in the space on the Boilermaker Shops' western end, on Tingey at 3rd Street. (The photo above is from a visit I made to the Willie's spot back in September.)
Other items worth noting in the latest permitting blitz:
* The Park Tavern has gotten its permit for a 75-seat summer garden.
* Gordon Biersch's outdoor seating has been reduced from a 94-seat area to a 60-seat summer garden.
Then there's this additional tidbit, which needs to have a glaring "CONJECTURE!" label attached to it. But a few weeks ago EYA got a soil boring permit for 908 2nd Street, SE, which is the empty parking lot owned by the Housing Authority between I and K and between Canal Park and EYA's now-completed Capitol Quarter townhouse project. I have heard rumors for a while now that there's been talk of another deal between EYA and DCHA, though not for townhouses this time around. The empty lot where the soil borings took place is part of the
Capper Hope VI footprint
, and the plans have always been for a six-story, 147-unit mixed-income building on that site. Is something in the works? All together now: We shall see!
Vats, Nats, Glass, Concrete, and Rebar
Mar 14, 2013 8:16 PM
I wandered around on Thursday, it was sunny, I had my camera in hand, etc., etc., yadda yadda yadda.
Some items of note (click photos to embiggen):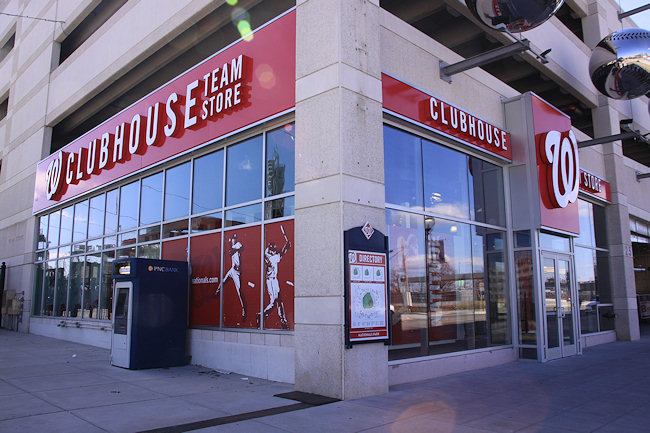 On your left, hard-to-get evidence of the ongoing work at Bluejacket at the
Boilermaker Shops
. They've covered up all the eye-level windows, but peeking through the (dirty!) glass above the large door on 4th shows the fermenters now installed on the mezzanine level.
At right, my first viewing of the renovated Team Store at
Nationals Park
's Center Field Gate.
Below, the
Lumber Shed
in the sun.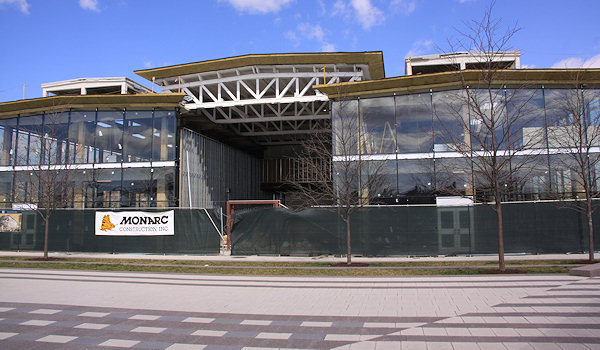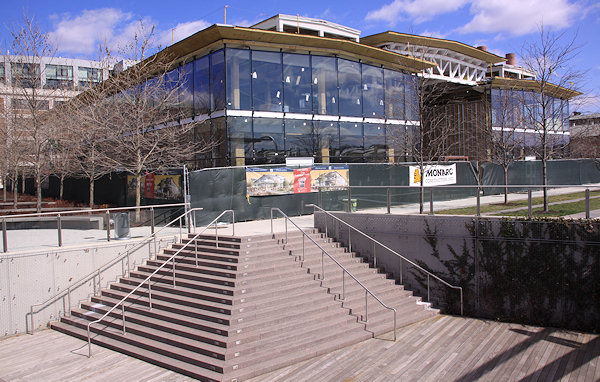 Agua 301
's space is to the left, and
Osteria Morini
's is to the right. (On the ground floor.)
And, everyone's dream come true, a parking garage being born: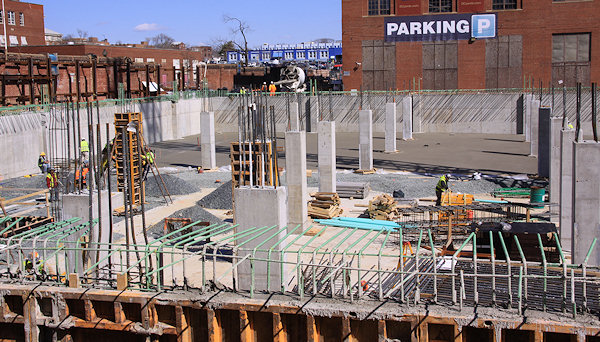 Of course, it's actually the parking garage that will be underneath the
Harris Teeter
in the Twelve12 apartment building at 4th and M, so it's probably allowed. If you want even more photos of rebar and concrete,
my Twelve12 page
has them.
Bluejacket Brewery Gets Big Preview in Post Food Section
Feb 19, 2013 8:45 PM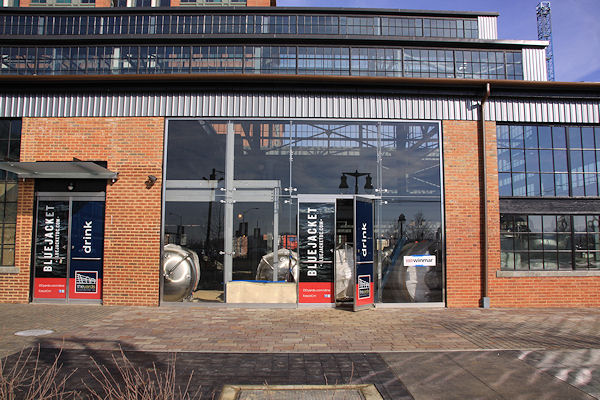 You don't have to wait for the Wednesday print edition of the Post to see the lead article in the Food section,
previewing the Bluejacket brewery
coming to the
Boilermaker Shops
at the Yards this spring.
Quoting: "If most craft breweries are akin to spacious but modest homes, Bluejacket, when it opens in May or June, will be a small mansion with all the amenities. The quantity and variety of equipment, much more than a brewery of its size would usually have and all custom-built, will arguably make Bluejacket like no other small brewery in the country: a facility that [Neighborhood Restaurant Group] hopes will turn out a staggeringly diverse, constantly changing array of topnotch beers."
After much describing of the how Bluejacket's approach to its brewery differs from many other ventures in the US, the Post asks, "So what, then, will be the end result of this perfect-world brewery buildout? Once we descended from the mezzanine to the ground floor, Engert began describing a wildly ambitious beer program: 15 drafts and five cask ales at all times, plus five drafts from other breweries, along with an assortment of house beers in 375- and 750-milliliter bottles and even magnums and Jeroboams. He wants to implement the same sort of constant rotation that is a hallmark of Birch & Barley/ChurchKey and other NRG restaurants."
I haven't been inside the space since September, but the
photos I took that day
, from before the buildout began, should help envision the setup that the
Post piece
describes.
Retail, Restaurant, and Recreation News (New and Old)
Feb 11, 2013 11:40 AM
A hail of bullets on various retail, restaurant, and recreation-type items, some of which are relatively new, but some of which decidedly aren't:

* The boxing and fitness club
DCBFIT
opened last week in the ground floor of
Capitol Hill Tower
, at the corner of New Jersey and L SE. While their web site makes me tired and sore just looking at it, I'm sure there are plenty of folks who will find this offering intriguing.
* Gordon Biersch,
coming soon
to 1st and M, has
"Now Hiring" signs up
: go to
Work4GB.com
.
* Also hiring, according to commenter JT who passed along
the Craigslist link
, is the Park Tavern at
Canal Park
. The Hill is Home
says that it's opening "very soon,"
even saying "around the 20th of February," but We Shall See.
*
Nando's Peri-Peri now has signage up
at the
Boilermaker Shops
--it's a little more than halfway down Tingey between 3rd and 4th, closer to the Bluejacket end of the building. It's supposed to be
opening this spring
.
* The Navy Yard portion of the
Riverwalk
was supposed to reopen today--anyone give it a shot yet? And, if so, is there any actual trail once you go out the east gate? As I showed a couple of weeks ago, the
old asphalt had been ripped up
as part of the 11th Street Bridges work, though of course it will be back at some point.
* Maybe now is finally a good time to mention the opening of petcare store
Wagtime Too
at 900 M Street, where it has been for a number of weeks now, offering boarding, daycare, grooming and "cool stuff." And I
actually have taken a photo of it
.
* Apparently the Quizno's at 8th and Potomac closed permanently back in December. And Chicken Tortilla at 8th and L was closed when I walked by a few weeks ago, though I don't know the story on that.
Comments
(12)
More posts:
100 M
,
900m
,
biersch
, Boilermaker Shops/Yards,
Canal Park
,
Capitol Hill Tower
,
dcbfit
,
Restaurants/Nightlife
,
kruba
,
parktavern
,
Retail
,
riverwalk
,
wagtime
,
The Yards
Wells Cleaners Now Open in the Boilermaker Shops
Jan 29, 2013 11:16 AM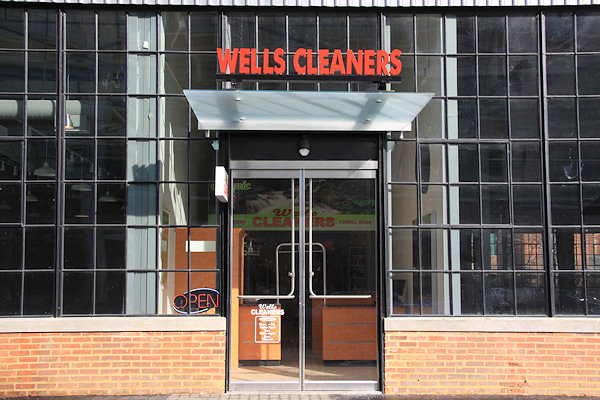 The
Boilermaker Shops
at
the Yards
now has its first operating retail tenant, with
Wells Dry Cleaners
having at last opened its doors to the public. (Note that I avoided any "it's about to open" posts, having learned my lesson the hard way too many times in the past!)
It's open from 7 am to 7 pm Monday through Friday and 8 am to 6 pm on Saturdays, and is closed on Sundays. It's right next door to the Willie's Brew and 'Que space, much closer to 3rd Street than to 4th.
(Fun signage, too! Check out another view of it
from the side
, to see the smaller sign sticking out for easy reading when walking the long length of the building.)
Nando's Peri-Peri Coming to the Boilermaker Shops
Jan 22, 2013 10:28 AM
A press release sent out this morning says that "fast-growing international chicken restaurant"
Nando's Peri-Peri
will be coming to the
Boilermaker Shops
at the
Yards
, with an expected opening in June of this year. It will be the restaurant's 12th US location, including the one on 7th Street NW in Chinatown and eight others in the DC area.
Nando's would join planned restaurants Bluejacket brewery, Buzz Bakery, and Willie's Brew and 'Que, along with opening-any-second-now Wells Cleaners at the Boilermaker Shops.
If you haven't tried it, "Nando's is known worldwide for its succulent Peri-Peri chicken, marinated for 24 hours, flame-grilled to perfection, and basted to the customer's preferred flavor and spice."
The press release did not come from Forest City, but they have confirmed the lease.
(And props to reader Jaybird who had this rumor a few months ago, and mentioned it in a recent JDLand comment thread.)
Vats of Beer! Or At Least the Vats to Make Vats of Beer
Jan 15, 2013 12:32 PM
Within the past few days, readers have sent tweets with photos of
brewing equipment being delivered
to soon-to-be-
Gordon Biersch
at 100 M and
inside the space
at the
Boilermaker Shops
that will become
Bluejacket
.
No official timeframe on when either of these restaurants will open, though a Biersch employee
told the Post
that he "expects the new Biersch branch to be operating in time for the Craft Brewers Conference in March and the Nats' home opener in April."
As for the other beer joint on tap for the neighborhood (see what I did there?), there doesn't appear to be any action so far in the Willie's Brew and 'Que space at the Boilermaker Shops, but with owner Xavier Cervera's long-in-the-works redo of the Hawk 'n' Dove
reportedly about to debut
, perhaps he'll then be able to shift resources both to Willie's and to the Park Tavern at
Canal Park
.
UPDATE, 1/17:
This
Esquire interview
with Bluejacket bigshot Greg Engert says that the bar will open "in May."
Updated Photos From Under-Construction Projects, Finally
Sep 12, 2012 9:28 AM
Isn't it great that the icky humid cloudy weather of the past few weeks finally broke? Aren't the skies glorious and blue? Does that mean I finally got to get out to take some photos? Why, yes!
First up are new photos from ground level at
Canal Park
, including the new L Street streetscape and the sculptures: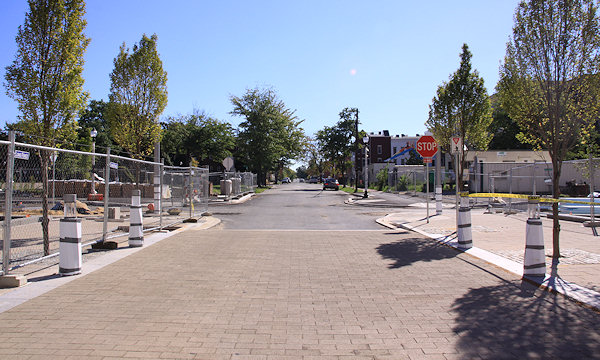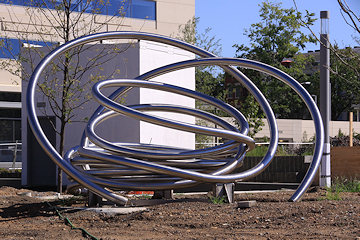 If you're big on Canal Park, you may also be interested in the many before-and-afters in the
Canal Park Expanded Photo Archive
, which leads off with the first decent bunch of photos from
2nd Place and L Street
since construction started on the park many moons ago and then takes you on a before-and-after walk around the park's perimeter.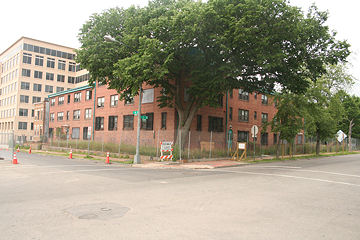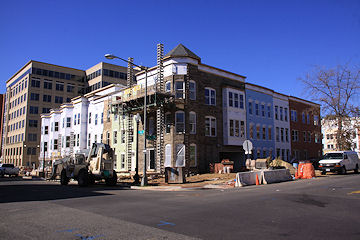 I also added a few sunny-day
Boilermaker Shop exterior photos
and a shot of the hole in the ground at the
Twelve12
apartment/Teeter project, because the ones I took on back Gloomy Thursday, when
I got to go inside the Boilermaker building,
drove me nuts: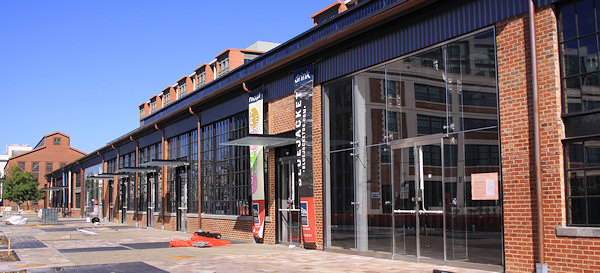 External construction has pretty much wrapped up at
200 I/225 Virginia/Old Post Plant/Old Star Plant
, especially on the south side of the building, facing Canal Park. There was a ribbon-cutting on Friday for the
DC Commission on the Arts and Humanities
gallery in the building's new lobby on I Street, but unfortunately I wasn't able to make the event. Hope to get photos inside before too long. In the meantime, you'll just have to look at the outside, and compare it to the White Monolith that it used to be: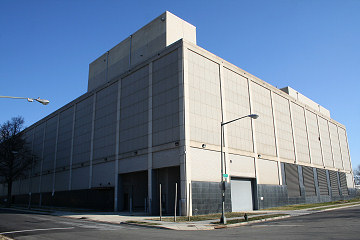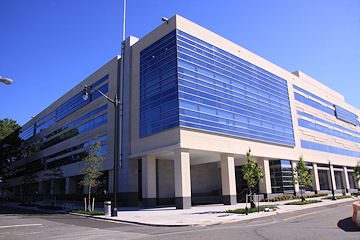 If these all aren't enough for you, you can spend some time in the
Photo Archive
, where you pick the intersection you want to see and then you can see the entire range of photos I've taken for all angles or just the ones of your choice. You may even end up in the Photo Archive without realizing it, if you click on the
icon on any of the pages above, which also will give you the full range of photos for that angle. It's pretty much the Near Southeast equivalent of heading down the rabbit hole.
Inside the Boilermaker Shops, Under Construction
Sep 6, 2012 12:52 PM
Construction continues
at the Boilermaker Shops, the World War I industrial building at
the Yards
that Forest City is adapting into a retail and office space. And today I was able to
see the interior
for the first time since 2007, with camera in hand, of course.
None of the tenant spaces are looking like their final versions yet, but it's still cool to check out the bones before the spaces really get going with their installations. Though I sure wish it hadn't been pouring rain, to get a better sense of how much more natural light will come into these spaces when the sun is out. Next time....
The
photo gallery
shows the spaces where Bluejacket Brewery (above), Buzz Bakery, Willie's Brew and Que (below left), Huey's 24-7 Diner, and Wells Dry Cleaners will be, along with the office space being built out on a new second floor that runs along much of the interior of the building (below right) and some of the as-yet unleased sections.
The photos you see here are just a smattering, so be sure to
check out the whole gallery
.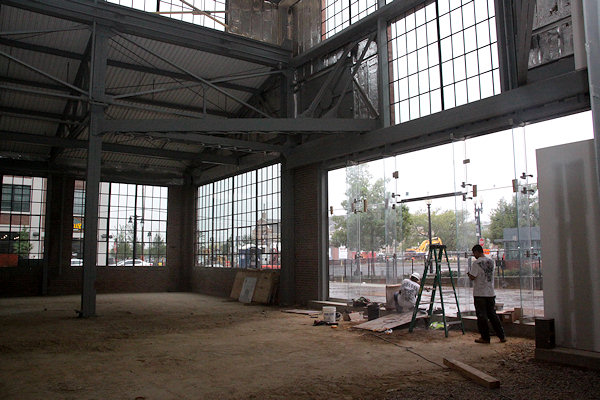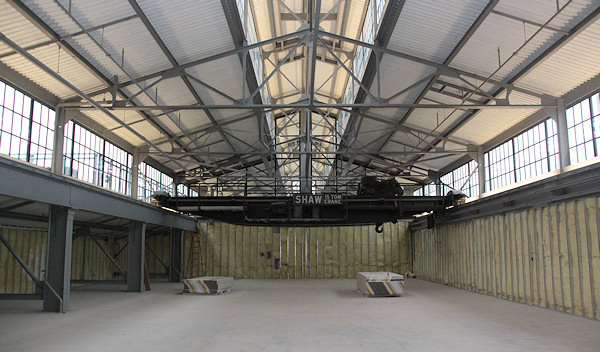 It's too bad that the mondo-cool
Shaw 15 Ton Crane
left from the
building's original incarnation
is up in the office space, rather than somewhere in the public areas, but hopefully the office workers will take good care of it.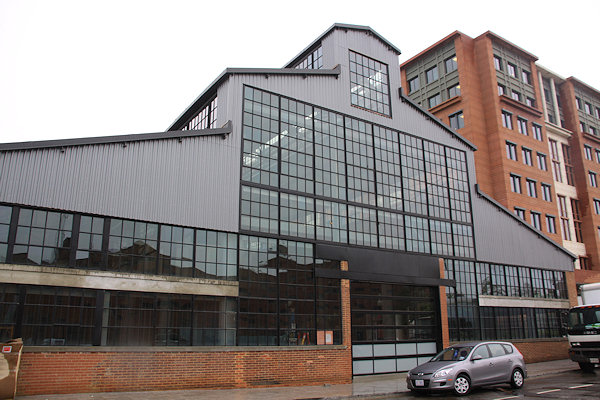 There are no official opening dates for any of the tenants, though it sounds like the dry cleaners will be the first to open (yay...?). Bluejacket has previously announced they are shooting for an early 2013 opening.
For additional information, including lots of (not especially new) photos of the exterior from when the sun is actually out, see my
Boilermaker Shops project page
.
I also tossed in a photo of the
hole in the ground
where
Twelve12 4th
will be sprouting, to be home to apartments and Harris Teeter. I was told that they've dug as deep as they're going to go, and pile work is next on the agenda.
UPDATE:
Also, I was going to grouse about why I don't take photos when the weather is bad by pointing to this
batch I shot along L Street
catching the homestretch progress at
Capitol Quarter
, but strangely enough most of the "before" shots aren't exactly under bright blue skies. Juggling a camera and an umbrella is not my cup of tea, though.
Bluejacket Brewery Debuting - The Beers, That Is
Jul 31, 2012 1:28 PM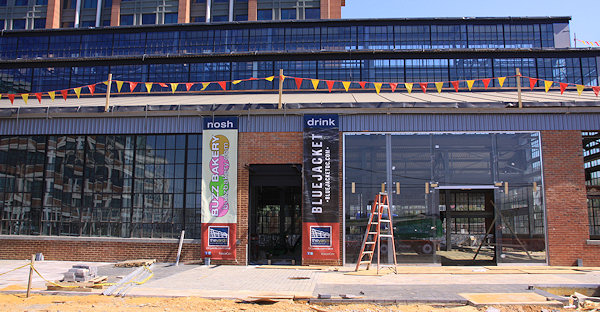 It may still be a number of months before
Bluejacket Brewery
opens on the eastern end of the
Boilermaker Shops
in the
Yards
, but that's not stopping owner Greg Engert and brewer Megan Parisi from getting a head start on the beers that will be offered at the new restaurant. So, tomorrow (Wednesday, Aug. 1) at 6 pm, Bluejacket's first five beers will be unveiled in an event at sibling
ChurchKey
.
If you go to the ChurchKey web site and then click on Events (come on, people, direct links!), you'll see hints about the lineup, which are mainly "mashups" created in collaboration with other breweries around the US, but also includes Sidewalk Saison, Bluejacket's first solo brew. (via
WaPo
)
It's expected that Bluejacket itself will open in early 2013.
UPDATE:
At the risk of not being 1 billion percent accurate, I'll draw attention to the fact that two of the beers have already been "released" (Snack Attack and the Black Berliner Techno Weiss) and three are new, with Sidewalk Saison being the only one that is completely Bluejacket's own creation. But since ChurchKey also bills the event on its own web site as "World Premier: Bluejacket 5 Drafts Unveiled," you can just pick which part of "Premier" and "Unveiled" you'd like to focus on.
Boilermaker Shops: Construction Progress, But Two Tenants Gone
Jun 24, 2012 8:30 PM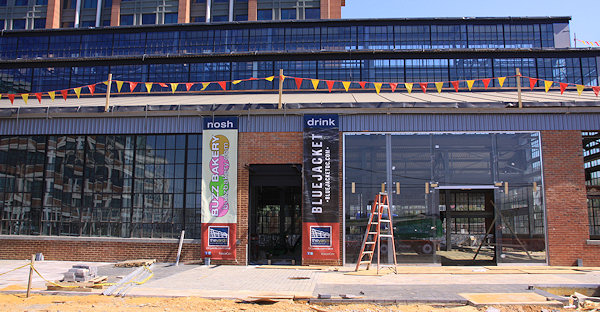 I checked out the progress at the
Boilermaker Shops
on Sunday, and of course have posted a slew of new images, which show some pretty striking changes to the building's exterior, including large glass panels at Bluejacket's space on Tingey near 4th, along with marketing banners to let passers-by know what's coming after the building opens later this year.
As you look at the
photos
, you'll see the banners for Willie's Brew and Que sports bar, Wells Dry Cleaners,
Huey's 24-7 Diner
,
Buzz Bakery
, and
Bluejacket Brewery
.
What you don't see, however, are banners for Austin Grill Express and brb ("be right burger"), and this is no oversight. Forest City has passed along word that the leases with Thompson Hospitality for those two food outlets have fallen through. But work continues to find replacement tenants, along with others for the spaces not yet filled.
It's still expected that the building will open later this year, although Bluejacket is aiming for an early 2013 opening.
(If you haven't gotten enough of Yards construction photos, here's the
hole in the ground
still being dug for
Twelve12
, the Teeter/apartments building at 4th and M. And bless whoever cut a few camera-sized holes in the fence along 4th Street.)
Updated Photos from the Usual Spots (Holiday Edition)
Apr 8, 2012 6:35 PM
Because of a need to burn off some calories before digging into my "Reeseter's Bunny" (milk chocolate-coated peanut butter bunny, which the label says is four servings [ha!] at 180 calories per), I did my usual wanderings this morning to grab updated photos around,
Capper
,
200 I
,
Canal Park
, and the
Boilermaker Shops
. Alas, I did not hide any Easter eggs in any of these shots, nor did I find any.
The framing and Tyvek-ing is underway on 3rd Street south of L, in the shadow of the 300 M Street office building, as
Capitol Quarter
continues its march toward completion. I also took a lot of photos of other CQ Phase II blocks, so spend some time in the
Capitol Quarter Phase 2 Expanded Photo Archive
(and scroll down a bit) to hop through the many (many!) before-and-afters.
Then there's the
Boilermaker Shops
at
the Yards
, where some work was being done even on Easter Sunday. The walling off the interior space for the different tenants has begun, with the studs visible--and some drywall has even gone in on the mezzanine level, as seen at right, in a view from 4th Street, through what will be the Bluejacket space.
The work is on-going at
Canal Park
, but continues to not be terribly exciting from a photographic standpoint, unless you're wowed by images of new curbs. But the
Canal Park Expanded Photo Archive
can take you for a walk around the park's perimeter to see the current views, if you don't see it every day. (I also like my barbed wire shot [above right], the result of desperation after being without photos from the east side of 2nd and L for a very long time now. But, no, I didn't jump the fence.)
I also enjoyed being watched very closely by a USDOT security guard with a clipboard as I took photos of the park's progress from the south side of M Street. "What are you taking photos of?" she finally asked, trying to sound stern. "Stuff," I replied, as I smiled and kept walking.
There's also updated shots from
225 Virginia/200 I
(seen at right), with the landscaping now starting to go in.
If you want to see today's entire batch (213 of 'em),
here they are
, remembering to click the fun little
icon if you want to see the entire range of photos for a certain location. If you want even more new-ish pictures, here's
photos I took around 1st and Half Streets on Tuesday
, to get the
Fairgrounds
exterior into the
official archive
.
Now I need to go find that peanut butter bunny. I think I earned it.
Thursday Tidbits: Roundup of Pre-Opening Day Roundups
Apr 5, 2012 11:18 AM
Before everyone disappears down the Nats Opening Day/Masters/Caps rabbit holes (myself included!), here's some links to items that might be of interest.
First, a few new entries in the
What's New Around the Ballpark?
lineup:
* On Tap Magazine surveys the neighborhood with "
The Hidden Gem That is the Capitol Riverfront
." (Another jewelry metaphor to go with the Post's "
Diamond in the Rough
" piece from Sunday.)
*
WJLA wandered around
looking at the ballpark environs.
*
The Post's Going Out Gurus blog
checked out the
Fairgrounds
' sneak peek on Tuesday. (Though what's the deal with the photos that look like they were taken through a veil? Will this Instagram obsession never ebb?)
*
WTOP runs down the options
for arriving at the ballpark by water taxi. (American River Taxi, by the way,
says that they are almost sold out
for the April 12 home opener.)
Some other items:
*
Two
reports
from MLB.com on the Wounded Warrior Amputee charity softball classic, played Tuesday after the Nats-Red Sox exhibition. The Warriors pounded their celebrity challengers 17-4.
* "DC Modern Luxury" magazine's Men's issue picks the
Foundry Lofts
as one of the city's "Best Bachelor Buildings."
Go here
, then click on the Best Bachelor Buildings subhed to get to page 62, then look at the bottom of the page. (As an aside, the write-up sounds even better if you imagine it being spoken by
Stefon
.)
* Or, if you like your tidbits a bit less glossy, Multihousing News has "
Foundry Lofts Blazes Trail on DC Riverfront
."
*
Bluejacket
gets a big write-up and cover photo in
Beer Advocate magazine
, though we don't get to read it online. You'll just have to make do with the Sept. 2011 batch of photos from inside the
Boilermaker Shops
the brewery has
put up on their Facebook page
.
* Nineteen "experts" have
picked the Nationals to make the playoffs
this year. No pressure!
New Boilermaker Shops Brewery to be Called Bluejacket
Mar 16, 2012 9:44 AM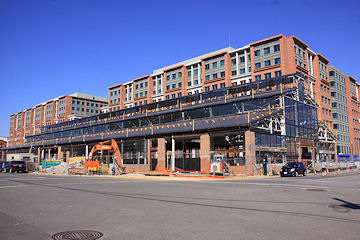 The
Washington Post reports today
that the Neighborhood Restaurant Group has now decided on a name for the brewery it is bringing to the
Boilermaker Shops
at the Yards:
Bluejacket
, which it says is "historically a term for sailors in the US Navy."
The brewery also now has a
web site
, a
Twitter feed
, and a
Facebook page
. And an "Established 2013" tagline, so that's another confirmation that they don't look to be opened before the end of this year.
The brewery will be located on the
eastern end
of the Boilermaker Shops building, fronting 4th Street SE.
Photos from All Over, Feb. 2012 Edition
Feb 27, 2012 11:34 AM
Take a gorgeous Sunday, add an obsessive-compulsive need to document all the change underway, and what do you get? Nearly eight miles of walking and a shameful number of new photos.
The
Foundry Lofts
building is all but done, with only the retail spaces left to be built out, so I took a bunch of "after" photos that will probably last for a while. But that new Potbelly sign sure stands out! I also pressed my nose against the glass to peek inside the sandwich shop's space--it sure doesn't look far from opening.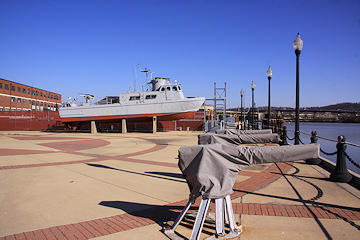 Embarrassingly, I haven't had a camera in hand on the Navy Yard's portion of the Anacostia Riverwalk since 2004. (I'm always worried they're going to toss me in the brig as a security threat, especially after a run-in a few years back where I was chased down by both a gate sentry and the DC police after taking photos of the Hull Street gate from across M Street.) But I pushed forward yesterday and got a bunch of new shots that I've added to my
Navy Yard page
, taking care to demonstrate to the many security cameras that I was photographing the river and not the installation. (Don't miss the especially cool before-and-after of the gate to the Yards Park.)
I will probably be creating a separate Riverwalk page before too long, but not today.
Along 11th Street at
N
and
M
, photos are more notable for what's not there anymore, as the demolition of the embankment for the old outbound RFK ramp is done, and the path of the new ramp from M Street for traffic headed to the outbound
11th Street Bridges
freeway traffic becomes more obvious. Also see
this picture of the work on the 11th Street Local bridge
, showing the demolition of part of the old outbound bridge approach, which has to be done before the new local bridge can hook up with 11th Street. (You can see it as well in my
O Street before-and-afters
, if you figure out what to look for.) Check my
11th Street Bridges photo page
for more images.
Then there's
Canal Park
, where I mainly took some new photos of the pavilion under construction near M Street, since photos of digging and ground work don't quite rise to the level of "interesting." I also hit most of the angles for the
Boilermaker Shops
, as well as for
Capitol Quarter Phase II
, where the security guard expressed concern about my actions (I need a laminated Photography Approved card or something). And I wandered the
225 Virginia/200 I
perimeter.
If you're a glutton for punishment, you can browse the
267 pictures from this trek
that are now in my
Photo Archive
, using the
links to see before-and-afters.
Comments
(5)
More posts:
11th Street Bridges
,
225 Virginia/Old Post Plant/200 I
, Boilermaker Shops/Yards,
Canal Park
,
Capper
,
Capitol Quarter
,
Foundry Lofts/Yards
,
Navy Yard
,
photos
,
riverwalk
,
The Yards
ANC 6D Supports Park Tavern, Willie's Liquor Licenses
Feb 15, 2012 9:17 AM
While nowhere near as flashy as the
Half Street/Fairgrounds news
, it should be noted that ANC 6D on Monday voted to support the liquor license applications for Xavier Cervera's
two upcoming restaurants
, the Park Tavern at
Canal Park
and Willie's Brew & Que at the
Boilermaker Shops
in the
Yards
. The support is conditional on having
voluntary agreements
signed for both applications within the next two weeks.
There was a bit of drama with this, with the commission's ABC subcommittee chair Coralee Farlee refusing to recommend this support because of what she considered a lack of communication from Cervera over the wording of the voluntary agreement; Cervera's lawyer had apparently replied with a few comments, but Farlee had not heard from Cervera himself (who seemed a bit bewildered by it all). David Garber stepped in to say that he had been working the voluntary agreement issue as well, which clearly Farlee wasn't especially happy about either.
Garber noted Cervera's desire to not have the process delayed, given Park Tavern's
planned June 15 opening date
and the need for Cervera to have a license in place in order to move forward with Forest City and the Boilermaker Shops. Commissioner Cara Shockley expressed some concern about moving so quickly, and there was also discussion about how a vote to support without a signed VA is not 6D's standard operating procedure. (Audience member and former 6D secretary Roberta Weiner mentioned how at other ANCs the vote would be to protest the license until a VA is signed by all parties.)
But in the end, four commissioners voted to support the licenses, Shockley voted against, and Ron McBee voted to abstain. (Commission chair Andy Litsky was not in attendance.)
Late Tuesday Tidbits: Tweets Possibly Lost in the Deluge
Feb 14, 2012 9:02 PM
It's starting to feel a lot like 2007 around these parts, with all the big news flying. (In fact, today's posts brought JDLand its highest traffic since all the ballpark opening falderal in early April 2008.) But I wouldn't want people to miss a couple little items
tweeted
over the past few days:
*
New Dry Cleaners -
Buried in the
press release
on
Osteria Morini
is the news that a dry cleaners is now the first non-food retailer signed as a tenant at the
Boilermaker Shops
. According to Forest City, Wells Cleaners will be taking 800 square feet of space.
*
A Theater? Or Even A Theatre?
- The
Examiner reports
that indy-friendly
Landmark Theatres
is wanting to open a second location in the District to go along with its
E Street Cinema
. While the article emphasizes that city officials are very much hoping that Landmark will consider an East of the River location, the director of the city's Office of Motion Picture and TV Development says that Landmark "is also looking at the Yards neighborhood[.]" Whether this truly means in
the Yards itself
or somewhere in the general Near Capitol Ballpark River Yards area, this news is certainly the sort of tidbit that gets residents
veeeery excited
. (Full disclosure: I see a lot of movies at E Street.)
*
Concerts and Pups:
The Nats released their
2012 promotional schedule
, which includes three post-game concerts, fireworks after the July 3 game, and four Pups in the Park dates. My
cat
is currently contacting attorneys. Also,
single-game tickets go on sale
March 8 at 10 am.
Some New Details on Park Tavern, Willie's Brew and Que
Jan 31, 2012 10:03 PM
At a meeting of ANC 6D's ABC committee on Tuesday night, we got some new details on two restaurants coming to Near Southeast in 2012, the Park Tavern at
Canal Park
and Willie's Brew and Que in the
Boilermaker Shops
at the Yards. Both are from Xavier Cervera of Lola's/Molly Malone's/Boxcar/Hawk n Dove/etc. fame, and Cervera was in attendance to answer questions from the committee. Let's go to the bullet points, shall we?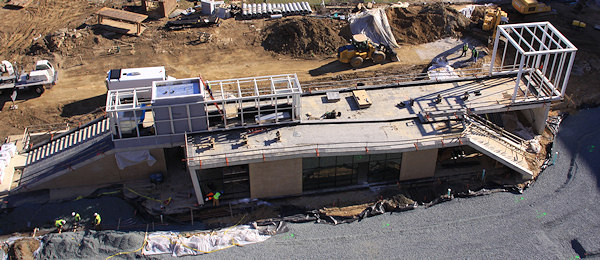 Park Tavern
-
This casual restaurant in the pavilion on the south block of
Canal Park
near M Street is aiming to be the city's first LEED Gold restaurant, thanks to a green roof, solar panels, and the various stormwater management aspects built into the park itself. And:
* There will be fewer than 100 seats inside the glass-and-steel structure, but outside Cervera expects another 75-125 seats, both in a private "summer garden" area by the park's skating rink/water feature and in a sidewalk cafe on the eastern side, along 2nd Place. Because the building is long and narrow, Cervera said that all of the inside tables will be along the windows. There will be additional space on the roof, where visitors can go to look out over the park or walk through the big light cube, but Cervera isn't planning service up there except for private functions.
* The menu will include Neopolitan pizzas and flatbread offerings along with seafood, steaks, and more, along with full liquor service; Cervera is asking for a CR license, with hours until 2 am Sunday through Thursday and 3 am Friday-Saturday.
* The restaurant is planning to offer breakfast service beginning at 8 am, though Cervera sounded a little skeptical of whether there will be enough business to support it. (Maybe via Congressional-type breakfast business meetings?)
* June 15 is the target opening date for both the park and the Tavern.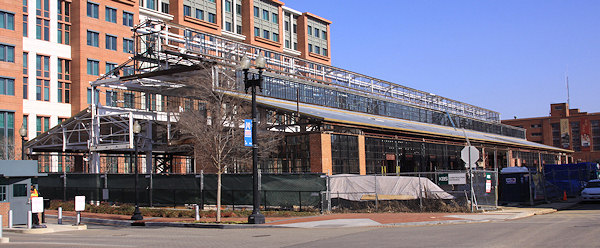 Willie's Brew and Que
- A few blocks to the south, Cervera is waiting for Forest City to finish construction on the
Boilermaker Shops
renovation so that he (and other tenants) can then begin their build-outs. It will occupy the western end of the building, at 3rd Street (seen at right), where the full two-story space to the roof will be open. Details:
* There will be 230 seats inside the restaurant, with another 125 or so at outdoor tables in front of the building at 3rd Street.
* It will have "live" barbeque: Cervera said that he has put a lot of money into the kitchen, with charbroilers and custom-made smokers to churn out authentic North Carolina barbeque.
* And there will be plenty of booze to go with the food, as Cervera will be requesting a CT ("tavern") liquor license, mainly, he says, because with 81 home Nats games a year two blocks away at the ballpark, he can't envision being able to meet the requirements of a CR license where 47 percent of sales must be food. (Tavern licenses don't usually go over very well with ANCs, so this will be interesting to watch.) Full operating hours until 2 am Sunday-Thursday and 3 am Friday-Saturday will be requested on the license, along with an "entertainment endorsement" to allow live music inside until 11 pm Sunday-Thursday and 1 am Friday-Saturday and recorded music on the patio. (The entertainment endorsement discussion for both locations sidetracked into whether dancing will be part of the endorsement, with Cervera bemused at the notion of having to make people stop dancing if the music has moved them: "This isn't 'Footloose.' ")
* Cervera has no opening date for Willie's, but he says he expects Forest City to release the space to him for build-out within 2-3 months.
The discussion surrounding Willie's showed the committee members being a bit hesitant to make decisions for this restaurant that then will set the standard for the other Boilermaker Shops tenants who aren't yet applying for their liquor licenses, such the
brewery
from the Churchkey team. The issue of noise, especially from the outdoor seating space, and how it will effect residents of the
Foundry Lofts
across the street was brought up, though 6D commissioner David Garber said that no one is moving into this area without knowing that it's going to be an entertainment destination of sorts. Cervera, in arguing his cause, said that he fully expects himself and the Churchkey operation to be "good stewards" of the new nightlife in the neighborhood. The first three years of operations will be "painful fiscally," he said, but they want to be here first and be good tenants.
In the end, for both operations, the committee voted to recommend approval of the license applications to the full ANC, subject to the successful negotiation of a voluntary agreement between the commission and Cervera. (Note that neither liquor license application has actually been filed yet, but Cervera says he expects all paperwork to be completed by early next week.) The full ANC could take these applications up at its Feb. 13 business meeting, if papers have been appropriately shuffled by then.
Another Look Inside the Foundry Lofts, Nearing Completion
Jan 26, 2012 11:15 AM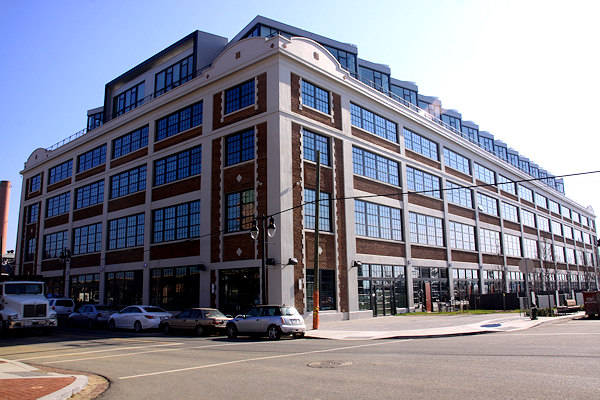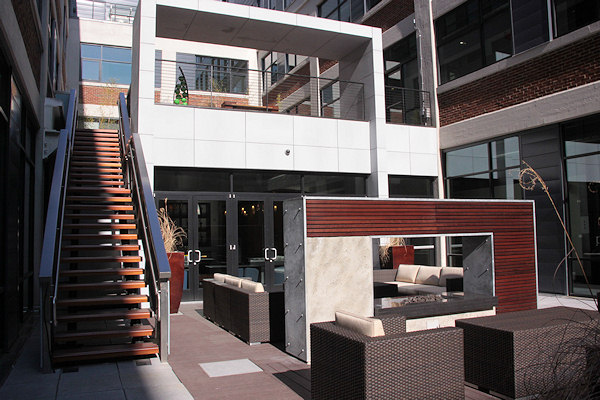 When last I visited the
Foundry Lofts
, it was about a month before the first residents moved in. I took a pile of photos, but while model units were furnished, a lot of the shared spaces were still being worked on. So I finally made a return visit this week to see all the finishing touches on the interior courtyard, lobby, community room, etc. And
I took one or two photographs
, of course.
The leasing office tells me that the 170-unit building is now about 65 percent leased and 40 percent occupied, and construction on the non-retail spaces is not far from 100 percent completion. The four priciest units--the corner penthouses, which were announced with rents in the $4,500 range--are all taken. And the two eateries in the ground floor--Potbelly and Kruba Thai and Sushi--have their building permits and are working toward opening within 90 days.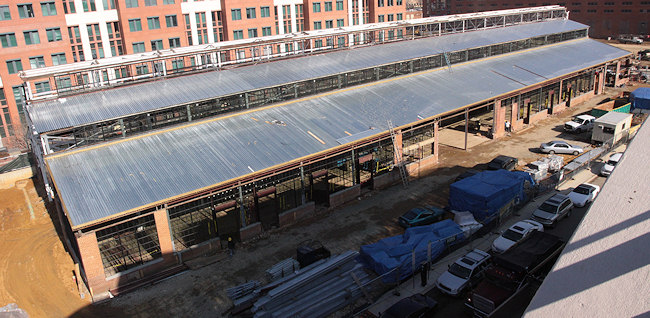 Also, because I can't walk past the
Boilermaker Shops
without taking pictures, I added a few new shots to that page, including the panorama at right that I got from one of the Foundry Loft patios.
As if this all isn't exciting enough, here's a first
terribly not exciting photo of the excavation underway
at the
1212 4th/Teeter site
a block east of the Foundry Lofts and across the street from Boilermaker.
Plus, since I had to walk down 4th Street to get to all of this, I snapped some shots of the continuing
Capitol Quarter
progress at
K
and
L
.
More Beer News! License Process Starting for Two Eateries
Jan 25, 2012 3:38 PM
If
yesterday's news about the brewery
coming to the
Boilermaker Shops
in the Yards wasn't enough, today I can pass along that the liquor licensing process looks to be getting started for Xavier Cervera's two upcoming locations in Near Southeast, the
Canal Park Tavern
planned for the pavilion at
Canal Park
and the
Willie's Brew and Que sports bar
also at the Boilermaker Shops.
Both have been added to the agenda for ANC 6D's ABC Committee next meeting, on Jan. 31 at 7 pm at King Greenleaf Rec Center. Hopefully at this meeting there will be some details on both places (seating capacity, hours, when they expect to open, general menu concepts, etc.).
With the Tavern expected to open along with Canal Park sometime this summer and WBQ probably not until late fall or beyond, this is a pretty early start to the ABC process, so don't get your taste buds primed just yet. But all evidence of forward progress is worth noting.