Near Southeast DC: Past News Items
8th Street
Go to Full Blog Archive
---
Tidbits: BID Reports, Artomatic to Crystal City, Tunnel Items, More
Jan 18, 2012 2:33 PM
There's been a whirlwind of "big" posts as 2012 has gotten underway, so here's a few items I've neglected:
*
BID Reports
: At its annual meeting last week, the
Capitol Riverfront BID
released both
its annual report
and the "Green Print of Growth" study they commissioned, which showed that the portion of the Green Line from the Navy Yard station to Georgia Avenue/Petworth has become over the past 10 years a "regional leader" in "capturing highly-prized young professional housing demand and high-wage employment," just nosing ahead of the Orange Line's Rosslyn-Ballston corridor and outstripping the Red Line's stretch in Northwest DC when looking at household growth in the 18-to-34 demographic. The report also says (shocker!) that "the analysis conducted suggests that the Capitol Riverfront--given its Green Line access at the Navy Yard Station and its significant amount of development capacity--is among the most competitive locations in the region for households, companies, and retailers."
You can read the
executive summary
, the
complete version
, and the
slides
that RCLCO's Shyam Kannan displayed during his presentation at the meeting. (Additional coverage from
WBJ
and
CapBiz
.)
This was followed by a
commentary
by BID chief Michael Stevens in Monday's Washington Post/Capital Business in which he argued: "It's time for business and residents to recognize and acknowledge a new reality: The Green Line corridor has emerged as a powerful economic engine for the District and the region. And it's time for Metro, the city and the private sector to invest more in the area to support this growth trajectory."
UPDATE:
Also coming out of the annual meeting, the BID
voted to change how it handles its taxes
, which still needs to be approved by the city council to take effect. (WBJ)
* On a parallel track, though it doesn't have to do with Near Southeast specifically, the Post's
Steve Pearlstein wrote
over the weekend about how signs suggest "that the next phase of growth in the Washington region will focus on these underdeveloped areas in the eastern quadrants of the District and some of the region's older, closer-in suburbs."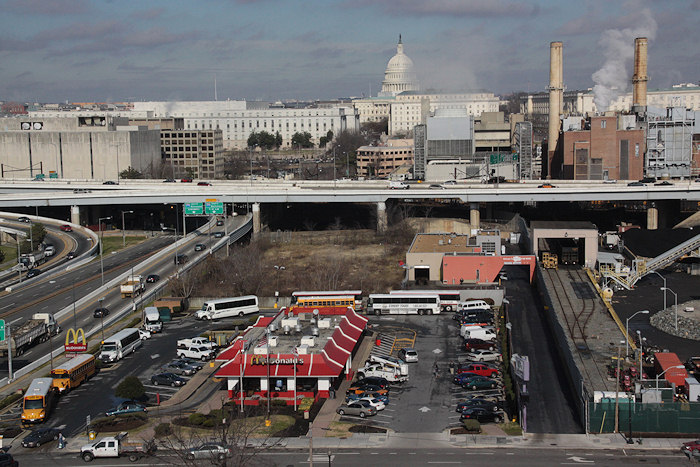 *
New Views
: While I was at the BID's meeting, I took the opportunity to get some photos
of the inside of 1015 Half Street
, plus
one shot looking out
that shows not all views of the U.S. Capitol dome are, by default, "majestic." (Alternate caption: "Would you like fries with that democracy?") One
Twitterer suggested
that the rock circle at far right, on the Capitol Hill Power Plant's property, is where the ritual sacrifices are held. So, if you see the Congressional leadership skulking around I Street late at night....
*
Artomatic Decision
: The Post's Jonathan O'Connell
tweeted this morning
that
Artomatic is headed to Crystal City
. Organizers
had been looking
at both 1015 Half and the old National Geospatial Intelligence building at
101 M
.
*
CSX
: The Virginia Avenue Tunnel web site now has
public comments
on the
Nov. 30 "concepts" meeting
, as well as the
transcript
of that session. Comments are still being accepted through the end of January.
*
Protest
: A reader who lives on 7th Street just across from the Marine Bachelor Enlisted Quarters has passed along that the neighbors on that block have decided to lodge a formal protest at the liquor license renewal of the
7th and L Market
, thanks to having witnessed multiple examples over the past few years of public drunkenness and urination, loitering, littering, drug dealing, indecent exposure, and even one proposition by a prostitute. There's no doubt that that market is a bit of a throwback to the neighborhood's previous incarnation; it will be interesting to see how this proceeds, and also how the
eventual arrival of the National Community Church on that block
changes (or doesn't change) things.
*
AIIIEEEE!
: Don't have enough to worry about these days? How about
rising sea levels inundating
areas along DC's waterfronts? (WaPo/Capital Weather Gang)
*
Neighborhood News Roundup
: The Post's new Where We Live real estate blog has a
rundown
and
photo gallery
today on the latest progress on the development and food fronts in Near Southeast. If it all looks and sounds strangely familiar, that shouldn't be a surprise.
Raze Permit (Re-)Filed for Miles Glass Site, Plus 816 Potomac
Jan 10, 2012 9:07 AM
Back in February, the
National Community Church
applied for a raze permit
for the Miles Glass site on the
southwest corner of 8th and Virginia
that it acquired along with a number of adjoining lots on
Square 906
in
2010
and
2011
. However, perhaps something was not quite right, because two new raze permit applications for 733 Virginia are now in the city's database, along with a separate new one for the car garage next door at
701 Virginia
, the lot that
finalized NCC's footprint
.
Last week,
NCC representatives told ANC 6B's Planning and Zoning Committee
that they plan to have the demolitions completed by March, and will "then move to establish a temporary parking lot and community green space for an estimated two-year period" while the church continues to work on its final plans for the site, which in the past
have been described as
being a combination of coffee house, performance space, and church offices.
Any goings-on at the site, though, will be impacted by CSX's planned Virginia Avenue Tunnel construction, and
in October
NCC head Mark Batterson told the Washington Business Journal that "it doesn't make sense to do our project and then have them come through and rip everything up and make it difficult for us to even access our property."
Meanwhile, a couple blocks to the southeast, two raze permits have also now been filed for
816 Potomac
, the long-closed-up brown apartment building on the northwest corner of 9th and Potomac. This property is one of the lots on Square 930 that
Madison Marquette now co-owns
as part of its "joint venture" with ICP Partners.
Whatever Happened To: The Beer Garden at 8th and L?
Nov 8, 2011 1:29 PM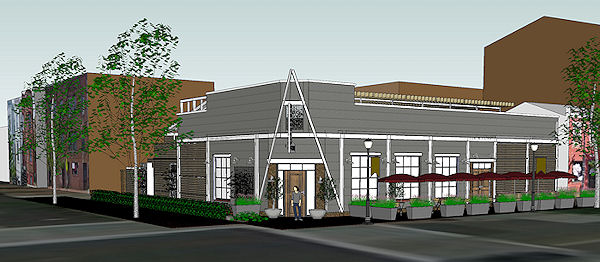 It was
one year ago today
that we heard the first rumblings of plans for a
beer garden
to be built on the northwest corner of 8th and L, SE. It would have 99 indoor seats and space for an additional 200 customers in a "summer garden," and would offer live music.
The project went through
all
manner
of
liquor license
wrangling, followed by a lot of
work
on the
design
in order to
satisfy
the Historic Preservation Review Board (which
it finally did
, in March). At many of these sessions, the owner spoke of wanting to get the project underway as quickly as possible, but since the HPRB approvals in spring, it hasn't seemed like anything has been happening.
However, late last week, when I was playing around with DDOT's new
Public Space Permit locator app
and figuring out how to import its Occupancy Permit data into my own list of
Near Southeast Public Space Permits
, I saw that a construction staging area permit had been issued for 720 L St. SE on Sept. 22. Some digging into the city's building permits application also found building permits applied for on Aug. 18, but still not yet approved.
I contacted the owner, Mark Brody, and he tells me that they indeed are working on permits, but "it's taking longer than expected." (I know, this is a shocker.)
So, no timetable for the project's opening at this point, but it appears it hasn't fallen completely off the map.
For more, you can see my
8th Street Beer Garden project page
, or read the
posts from the approvals process
.
(And, speaking of the permits feed on the JDLand home page, I've tinkered with both the public space and building permits so that they're now sorted and grouped by address.)
Madison Marquette to Launch Blue Castle Redevelopment Process
Oct 28, 2011 1:44 PM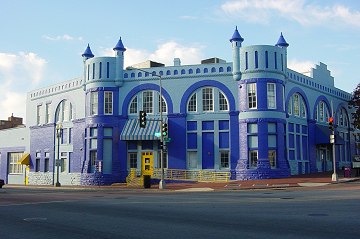 Today's
Washington Business Journal reports
(subscribers only, alas) that Madison Marquette, owners of the "Blue Castle" at 770 M Street SE and co-owners of a series of additional parcels across 8th, "will soon formally launch its Lower Barracks Row redevelopment process, hiring land use planners, wooing an anchor retailer for the historic car barn and tackling a range of hurdles that stand in the way."
It's that "range of hurdles" that the article focuses on--MM will need to figure out where will parking for the car barn be able to be placed and how much additional height can be added given not only historic and building height restrictions but the Navy Yard's concerns with having buildings that can look over their walls.
Then there's the looming
CSX Virginia Avenue Tunnel
construction, which could impact all of the landowners along Lower 8th given the disruptions that will no doubt ensue during the project. Mark Batterson of the National Community Church, which now owns
all of the properties along Virginia between 7th and 8th
and is looking to build a large coffee house/performance space and offices there, says in the article that their planning is very much tied up in CSX's timeline. "It doesn't make sense to do our project and then have them come through and rip everything up and make it difficult for us to even access our property."
Back in 2009 and 2010 there was a long
Lower 8th Street Vision Process
, which suggested allowing building heights of 65 to 85 feet on new structures 20 to 30 feet behind existing historic 8th Street structures. (The
process report
has a lot of drawings on how the 45-foot limit along 8th could co-exist with these potential greater heights further off the street.)
And, while not mentioned in the WBJ article, there's still the question of whether the Marines will end up
building a new barracks
in this area, as they have been hoping to do.
So, while the current Blue Castle leases are up in 2012, giving MM the opening to begin the process, the article makes clear that any makeover of Lower 8th will probably proceed slowly, at best.
Oh, and when it's all done, the Blue Castle probably won't be blue anymore:

(Rendering courtesy
Madison Marquette
. And maybe there's a hint in it of where they think the parking could go!)
Friday Tidbit Overload (Isn't August Supposed to Be Slow?)
Aug 5, 2011 2:30 PM
A slew of tidbits, some already
tweeted
, some not:
* The third
Truckeroo food truck festival
is now scheduled for next Friday, Aug. 12, from 11 am to 11 pm. They'll keep doing them monthly, through October.
* This isn't news for anyone who's seen the big holes punched in the sides, but work on the
Boilermaker Shops
retail space at
the Yards
is finally underway. It's expected to take about a year. This is where the new brewpub by the Churchkey folks
will be
, along with Buzz Bakery, Austin Grill Express, BRB, and Huey's 24-7 diner.
* Along with their announcement of a new Circulator route that will run from east of the river across the 11th Street Bridge and up 8th St. SE over to Potomac Avenue, DDOT has also announced that the Navy Yard Circulator route will no longer go into the Union Station garage. Instead, it will stop at a new location near the flagpoles in front of the building. There won't be any stop at Louisiana and D anymore, either. (See the
DDOT presentation posted by DCist
for the details, with the Navy Yard route stuff being on page 7.)
* The Capitol Hill Day School's
blog
is doing a good job keeping track not only of the renovation work at Dent School, but also on the progress on their temporary location at 5th and K, SE. The modular classrooms
are arriving
, plus
there's now power
!
* For people who don't stay glued to comment threads (for shame!), ANC commissioner David Garber recently posted with more details about the
Georgetown University Health Disparities office
moving into the retail space at Capitol Hill Tower: "I was reassured that this will not be a health clinic, and that it is better to think of it as the research center's "home base" on this side of the city. It will mostly be office space, and employees will spend most of their time outside the office at sites in Wards 6, 7, and 8, facilitating research on environmental health, obesity, and breast cancer research. I was told that no more than five clients would be visiting the office each day -- not as a medical clinic-- but that the space would likely also be used to hold meetings for the center's organizational and community-based task forces/committees."
*
The Hill is Home gives an update on the 8th Street underpass
, where a mural is about to be created to spiff up the space, and where the public parking lot is going to get new signage, lighting, and pricing to encourage Barracks Row visitors to use it.
* President Obama gave a
big speech on jobs at the Navy Yard
this morning, which will be notable mostly for how my Google News Alert for "washington navy yard" will take days to get back to normal.
There's probably more than this, but this has already cut into that mini-break I was trying to take....
Tidbits: ANC Redistricting, Canal History, Greenspace, 8th St. Deal
Jun 29, 2011 1:29 PM
After all the big news of late, downshifting into a Tidbits post doesn't really seem like much fun, and of course if you're following me on
Twitter
or
Facebook
(or checking out the Twitter box on the JDLand home page every so often), you've already been alerted to many of these. But, onward: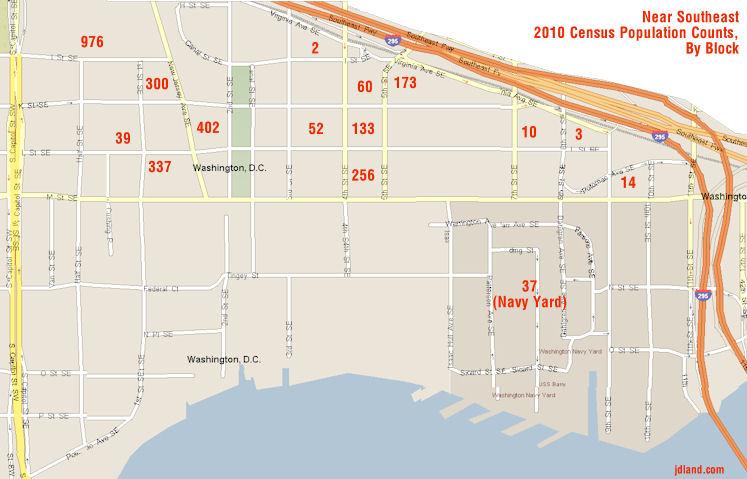 * If you're wondering how the ANC redistricting process will work (especially since the ward version was so much fun!), here's the
official memo
on the procedures going forward. As in previous years, ANC single member districts will have populations between 1,900 and 2,100 residents.
Census Tract 72
, which covers all of Near Southeast and so includes all of ANC 6D07 plus the small number of houses from 7th Street east to 11th that are in ANC 6B04, was counted at
2,794 residents
in the 2010 census.
The Office of Planning
has
the
census-block-by-census-block numbers
, but, ahem, I don't actually know which blocks are which, though if I had to guess by looking at the numbers and how the blocks are organized, I'd say that 6D07 probably came in at 2,743 and south-of-the-freeway 6B04 at 51. Ish. (Perhaps an ANC version of the GGW Redistricting Game isn't far off!) It isn't enough to split 6D07 into two single member districts, but it also can't stay as is. The question will also loom large as to whether new boundaries will split the neighborhood even more between ANC 6B (Capitol Hill) and 6D (Southwest), or move it all into one or the other.
UPDATE:
Thanks to IMGoph in the comments, I got a look at the map, and it appears the actual residential split is 2,767 to 27. Read my comment for details. I'll make a map at some point.
UPDATE 2:
And
here's a quick and dirty map
, showing block by block what the census folks recorded the neighborhood's residential population at, as of April 1, 2010. As I mention in the comments, the residential buildings west of 2nd Street SE add up to 2,054 residents, perfectly within the numeric requirements for an SMD. But how SMDs will actually be divvied up is anyone's guess right now, beyond the fact that there's no way the vast bulk of Near Southeast will continue to be in just one SMD.
Council members are supposed to appoint their ward task force members by Friday, with progress reports due on Aug. 1 and Sept. 1. The entire process has to be completed by the end of 2011.
*
The Hill is Home has posted
the first of a two-part look at the history of the Washington Canal, which used to run along where
Canal Park
is under construction. (Speaking of which, I grabbed a quick cellphone shot from above the park last week showing the
work on the southern block
, where the foundation for the pavilion is being built.)
*
Housing Complex writes
about the deal finally being finalized for
Greenspace
to move into the empty retail spaces in the
1st Street facade
of
Nationals Park
, creating a "12,000-square-foot center for green building and design." This has been in the works for
nearly two years
, but even though there was a "launch" of the space on Tuesday (which I didn't hear about until people at the event started
live-tweeting it
), Housing Complex says that the project won't come to fruition until Greenspace "is able to raise another $600,000 in cash and in-kind contributions, adding up to the $2 million necessary to build out what's currently a blank shell." Perhaps someday, when
Florida Rock
is built out to the south and later
Yards
phases along 1st Street are completed, the "real" retail envisioned for this portion of the ballpark will come to pass. Here's the
press release on the Greenspace project
.
* Madison Marquette, owner of the Blue Castle at
770 M St. SE
, has now apparently completed a joint venture deal with local landowners ICP Group for all
ICP's various properties
on the east side of 8th Street south of the freeway, including the gray building at 8th and Potomac that houses Quizno's and the other properties along the 800 block of Potomac, and others. No news as to what might be done on those blocks, though if the new
Marine Barracks site
search ever crops back up, a group owning all of the land on Squares 929 and 930 could conceivably submit a proposal for a public-private partnership.
Coming later today, an equally bulleted post highlighting the slew of upcoming events in the neighborhood, both for this holiday weekend and beyond.
NCC Buying the People's Church on Barracks Row
Mar 27, 2011 12:23 PM
Today the head of the
National Community Church
is announcing to his parishioners that a deal has been struck for NCC to buy the
People's Church
at
535 8th St. SE
in the middle of Barracks Row.
With their home base at
Ebenezers Coffee House
near Union Station overflowing and any completed construction on their
new Virginia Avenue footprint
probably 3-4 years away, this gives the church an instant "phase 1" building with more than double the capacity of Ebenezers.
Mark Batterson
tells me that the first service on 8th Street will be on Palm Sunday, April 17. They'll have one service a week there until the land deal is completed in early June, after which more services and events will be held at the new location, but they'll continue to meet at Ebenezers as well. In time, they are looking at converting the building back to its previous life as a movie theater: it opened as Meader's Theater in 1910, then became the New Academy Theatre before being converted to a church in the early 1960s. (If you've been inside the church, you certainly would recognize the seats and layout as vintage movie theater design.) NCC may even reopen the balcony, which has been closed off as a separate meeting space. They also hope to adapt the stage so that the space can be used for community events; and they're open to suggestions and ideas
if you have any
.
The People's Church will be moving to Maryland, where most of their members now live.
This gives NCC a bit of breathing room for designing and getting through all the bureaucratic hoops of building at 8th and Virginia, but Batterson considers 535 8th to be a "stepping stone" to the new location. And you can see how excited he is in his
recent
tweets
hinting at the deal, which described to me as a "double miracle for both churches."
Simplified Design for 8th Street Beer Garden on HPRB Agenda
Mar 21, 2011 10:22 AM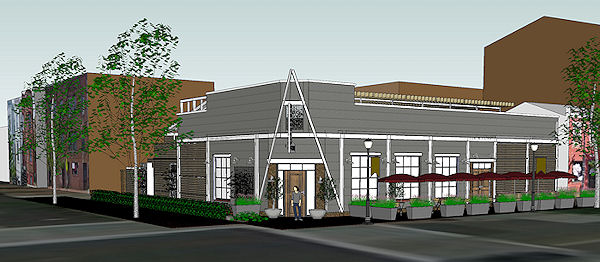 The proposed
8th Street Beer Garden
is back before the
Historic Preservation Review Board
, with a "substantially simplified"
design
that the board's staff has
deemed
sufficiently compatible with the character of the surrounding Capitol Hill Historic District.
The first floor is now proposed to have a brick veneer (though it's not really shown on the
new rendering
that the beer garden team was kind enough to pass along), and there have been other changes that
HPRB staff say
have improved the overall proportions of the building. There's also now a pergola (arbor) on the roof to help with shading on sunny days. Sidewalk seating spaces are also shown, though the developer will have to get a public space permit and work around the bus stop currently at the 8th and L intersection.
There are still a few small issues the HPRB staff would like to see addressed, but they have recommended that the concept be approved by the board, and the project has been placed on the consent calendar for the March 24 meeting. (Though the board may choose to remove it from consent if they have any issues they want to discuss before voting.)
You can see a larger view of this revised design alongside the previous version and some current photographs on my new
8th Street Beer Garden page
, which isn't exactly a barn-burner but at least it's something. (It goes hand-in-hand with my new
National Community Church page
, which has photos of the lots NCC now owns.)
The HPRB meeting is on Thursday at 10 am, and will be
available
via live streaming or on demand. (Or you could go to the meeting in person, but that's so 20th century.)
UPDATE, 3/24: The consent portion of the agenda passed with no discussion, so the design concept is now considered approved by the board ("as consistent with the purposes of the preservation act"), with final approval delegated to HPRB staff.
National Community Church Finalizes Square 906 Footprint
Mar 2, 2011 7:59 AM
Last night the
National Community Church
held its "All Church Celebration" at the Lincoln Theater, and, while I wasn't there for the "
big announcement
," I do know that lead pastor Mark Batterson told the assembly that the last of their land acquisitions on Square 906 (bounded by Virginia, 7th, 8th, and L) have been finalized.
As I've been conjecturing, this includes the auto garage on the corner of
7th and Virginia
. But it also includes a contract for the two small apartment buildings at 716 and 718 L Street, just west of the alley. Batterson tells me that they are leasing back the garage to the current occupants until July so that they can find a new location.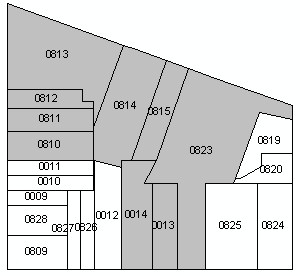 Combined with the Miles Glass site that
started it all
and the
empty lot on 7th
, this now gives NCC (the folks behind the successful Ebenezers coffee house near Union Station) over 26,000 square feet of land on a
somewhat T-shaped footprint
on which to build their combination coffee house/performance space/offices. As I've
mentioned previously
, Batterson wrote on his blog in mid-February that they are now "full-steam ahead with designs" now that the footprint is finalized, and that he is "looking forward to initiating meetings with Historic Preservation, ANC, Riverfront Bid, Barracks Row Main Street, Office of Planning, etc." It wil be interesting to see if the
zoning and height changes
that business owners are looking for along lower 8th get through, and whether NCC would be taking advantage of being able to build a bit higher as a result.
Of course, this isn't the only new activity on Square 906, since it's on the south end of the block where the
beer garden at 8th and L
is supposed to be going in once the design gets through its
historic preservation review
, a process NCC will have to undergo as well since the block is within the Capitol Hill Historic District. This Saints and Sinners stretch of 8th is definitely going be a focus of activity in 2011.
Beer Garden Historic Preservation Hearing: It's 'Very Close'
Feb 26, 2011 3:28 PM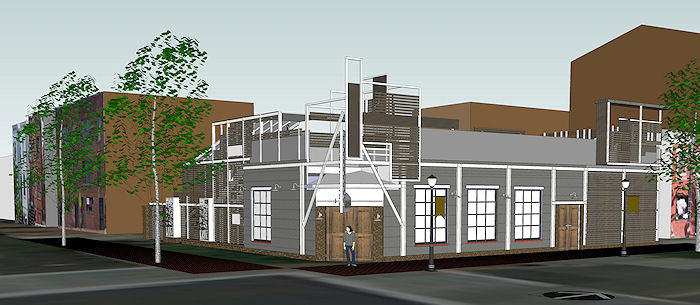 On Thursday the city's Historic Preservation Review Board took up the designs for the new building to be constructed at 720 L St. SE that is going to house a beer garden. You can
watch the proceedings
if you want (it's about 25 minutes long), which might be of interest if you're an architect or deeply interested in building design.
The commissioners all seemed to feel that the
staff report
(which I summarized
here
) was on the right track with its comments on the building's design: "You're close, you're very close," said board member Robert Sonderman to the building's team, and staffer Amanda Molson and other board members seemed to agree.
Before the board members had a chance to weigh in, applicant Mark Brody responded to some of the concerns in the staff report, offering to remove the rain screens that go up above the roof deck, reducing the number of finishes, providing more information about how the roof deck's lighting and sun-screening will be designed, and looking more at how the business relates to the 8th Street streetscape (Brody said that they'll be trying to include a sidewalk cafe in the final plans).
Architect Matthew Battin did seem a little frustrated by the amount of input the design has received, talking about how some design changes have been in response to comments, which have then generated comments that counteracted the initial comments. The board members seemed sympathetic to the "too many cooks" issue, and many focused on wanting the design to be simplified in order to "clarify the concept." They also seemed to like the industrial/warehouse feel, and were not concerned about it fitting in with the Capitol Hill Historic District. There was some discussion about using roll-up windows rather than the flat ones to further emphasize the warehouse feel (though costs do seem to be a concern in much of the design). There was also a suggestion that an archaelogist be brought to the site, given its location near the Navy Yard and on a hill with views of the Potomac where "the people before us" lived.
While the original staff recommendation was for the design to be approved by staff once comments are incorporated, chair Catherine Buell suggested it come back to the board one more time, "hopefully on the consent calendar." This was approved unanimously.
Survey on Attitudes Toward Barracks Row Restaurants
Feb 23, 2011 9:31 AM
[While this is technically outside of my strict boundaries, I know a lot of Near Southeast residents patronize the restaurants and shops on 8th Street, so....] A
survey is being conducted
on resident attitudes toward restaurants on Barracks Row. It's being funded by the business owners, and is being overseen by
Barracks Row Main Street
. Deadline for completing the survey is midnight, Sunday, Feb. 27, and four participants will win a $25 gift certificate to the Barracks Row restaurant of their choice.
8th Street Beer Garden Design Historic Preservation Review
Feb 21, 2011 11:09 AM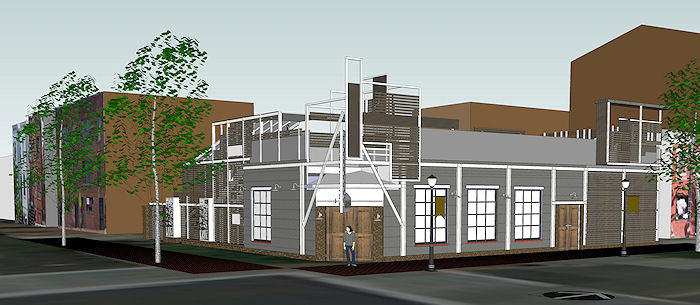 Posted on Friday was the
Staff Report
from the Historic Preservation Review Board on the design for the proposed
Bier Garden
at 8th and L, SE, as the owners of the site at 720 L continue to work toward constructing a one-story building with an accompanying summer garden and roof deck. (You can look to the left, or see a
slightly larger version
of the design, as it was
presented to ANC 6B
last week; 6B voted to support the design.)
If you're not up for reading all six pages yourself, here's my Zagat-style report on the report:
It makes for good reading if you're interested in how new buildings in historic districts are evaluated; you might be surprised (I was!) that design guidelines actually "discourage the exact duplication of historic styles," opting instead to encourage applicants to consider a new building as an "enhancement" to the district "while respecting the historic context." The report discusses how the decision to go with a one-story structure could draw on "the vernacular of Washington's modest industrial buildings and alley warehouses," and in fact the report includes a photo of the Bier Garden lot in 1949, when a one-story building housing a laundry/tailor stood on the site.
The report finds that the proposed massing of the new building does reflect the character of the historic district and "references recognizable attributes" of both industrial buildings and traditional beer gardens. The report also sees the rain screen and other more contemporary design choices as reflecting the "whimsy, casualness and somewhat ad-hoc nature of many outdoor beer gardens."
However, there are concerns that there are so many finishes applied "in so many different directions" that the result is a "somewhat chaotic and unfinished appearance," and suggests selecting one or two key ideas that would allow the building "to be showcased in a less hectic manner." Other major issues cited include choices on the roof deck (and the lack of any lighting or shade up there in the current design), the proportions of the doors, and the designs of the rain screens, as well as how the building's "streetscape presence" along both 8th and L.
The
report
ends with a recommendation that the applicants "restudy the issues outlined [...] as they pertain to the principles of design cohesiveness, proportion and scale, and streetscape presence." It's also recommended that the board delegate final approval of the design to the board staff once the comments from staff and the board are addressed in the revisions.
The hearing begins at
10 am on Thursday
, and can be
watched live
, or on demand starting the next day. (And this will actually be the first HPRB hearing I'll have ever watched!) You can read my
previous Bier Garden posts
if you're needing to get caught up.
UPDATE: And now we return back to "Beer Garden" from "Bier Garden," as Mark Brody informs me that it was a typo on the plans.
New York Times on 8th Street; NCC Moving Forward
Feb 16, 2011 4:09 PM
Flying around the Twitterverse yesterday and today has been a pile of links to "
In Washington, a Historic Retail Strip is Revived
," a New York Times article on Barracks Row, with a big focus on the portion of it south of the freeway often called "
Lower 8th
."
A quote: "But like many cities around the country, Washington is stuck with the consequences of allowing a highway to slash through an urban neighborhood. In 1962, the Southeast Freeway bisected Barracks Row. 'That became the moat,' said Michael Stevens, the executive director of the Capitol Riverfront Business Improvement District, which has helped to promote development around the new ballpark. 'It created a large physical barrier.'"
The article, which has a festive accompanying photo of Madison Marquette representatives outside of the Blue Castle, mentions the Lower 8th Visioning Report that
I wrote about last week
, and also the National Community Church's
plans
to build a church and performance space at the corner of 8th and Virginia, which the head of Barracks Row Main Street is quoted as saying "will definitely be a catalyst for development. We have a number of investors who just didn't want to be first."
Speaking of which, NCC's Mark Batterson
has posted on his blog today
that their Capitol Hill campus "footprint is finalized," which I would guess means that the deal has closed for the auto-repair garage at 7th and K that
I mentioned
NCC was trying to acquire (if in fact that's the lot they're looking at, because it's never been said publicly). Batterson also says NCC is "doing another set of conceptual drawings," and that with the site finalized "we're full-steam ahead with designs." And: "Looking forward to initiating meetings with Historic Preservation, ANC, Riverfront Bid, Barracks Row Main Street, Office of Planning, etc. I think our development will be a catalyst for and part of the renaissance that will happen in that part of the city."
More Property Moves on Lower 8th; The Visioning?
Feb 10, 2011 3:25 PM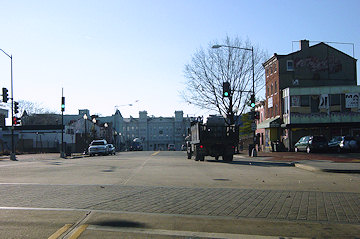 In my post about the
Bier Garden plans
for the northeast corner of 8th and L, SE, I promised a couple of extra tidbits about Lower 8th Street. To wit:
* Rumors abound that the
National Community Church
has acquired the auto repair garage at the
corner of 7th and K/Virginia, SE
, but despite someone saying otherwise at Tuesday's ANC 6B meeting, I'm told that no deal has been completed as yet. But even that at least confirms my not-terribly-hard-to-guess suspicions that NCC would be eyeing that lot for their new coffeehouse/performance space/offices, since they now own the land to both the
east
and
south
of the site. The garage's lot is 5,300 square feet, and was assessed in 2010 for just under $1.5 million.
*
Madison Marquette
, the developer who owns the Blue Castle at
770 M St., SE
and is also now a partner in the redevelopment of the Southwest Waterfront, is entering into a joint venture with the ICP Group, owner of the gray building (with Quizno's) at 8th and Potomac and
other Square 929 properties
that have been suffering from extended financing troubles.
WBJ reported on this in late January
, noting that those familiar with the deal "say Madison and its 'fairly deep pockets' will take over as lead developer for all the parcels." This also presumably gives Madison access to ICP's properties on Square 929, just across 8th Street from the NCC/Bier Garden block and to the north of the Quizno's block.
Squares 929 and 930 have been the subject of a lot of discussion as one of the sites that the Marines might be looking at as a location for their
new barracks
, because a development team could submit a proposal for a public/private partnership on that site if they controlled all properties on those two blocks. (This assumes the Marines do decide to go the public/private route; they could instead build additional barracks space on their existing land at 7th and L or manage to acquire some other government-owned site, such as the
old Capper Seniors/Square 882
site, which is owned by DCHA but which seems to be stalled in its attempts to get funding for the mixed-income apartment project on the north side of the block.) There's also the
Navy's potential plans
to expand outside their walls, which could include some of the close-by lots along 8th or maybe the old Exxon site at 11th and M.
In fact, in an e-mail to me last month, ICP President Leon Kafele referenced these possibilities by saying that the joint venture with Madison Marquette will "position [ICP's] assets to better respond to the Marines Corps and Navy Yard supply and demand for a BEQ, retail, and office space on or around lower 8th Street Barracks Row." And Madison has mentioned in public meetings that the Blue Castle could become home to some of the "shared uses" that the Marines are hoping to have be part of any new barracks venture.
So, with NCC and the Bier Garden making moves on Square 906, Madison Marquette increasing its presence by making deals on Squares 929 and 930, and the Navy and Marines in the mix as well, does this mean that Lower 8th is starting to perk up? And, how will any new projects tie in with the
Lower 8th Street Vision Report
developed by the Capitol Riverfront BID along with all manner of representatives of Barracks Row, the Navy and Marines, business owners, and local residents?
I haven't written much about the whole vision thing, especially once the discussion of the Marines' land needs began to focus south of the freeway and it became clear that until they decide what they're doing about their barracks, any real discussion of what Lower 8th may look like in the future is very much up in the air.
That said, the vision report has mostly general recommendations that aren't exactly controversial: "Encourage a Mix of Uses," "Historic Preservation is a Must," improve the underpass to encourage pedestrians to come down from north of the freeway, address parking/circulation issues, and others.
But there is one concrete suggestion in the report: increasing height and density limits on some of these squares. The current 45-foot limit on 8th would be maintained for new structures, but greater heights (65 to 85 feet) could then allowed 20 to 30 feet behind existing historic 8th Street structures.
You can see on page 17 of the
report
some drawings of what the Bier Garden corner at 8th and L would look like with a 45-foot building on the site, and there are other drawings depicting height changes on the following pages, including allowing the less-historic western side of the Blue Castle to be built up higher.
The Bier Garden's one-story-plus-roof-deck
design
would seem to be not exactly what the visioners envisioned, but the developer has said he anticipates it to be a temporary structure (though that's not a guarantee). There's been no public opposition to the Bier Garden from the BID or Barracks Row Main Street--but no letters of support, either.
It will be interesting to see what the National Community Church comes up with for their design, and whether it'll try to take advantage of the desire for larger building heights set out in the vision document, if that idea ends up being embraced by the city.
And, there's still the Marines' decision to look for, which could be the biggest driver of all for redefining Lower 8th.
Meanwhile, at the Beer Garden to the East....
Feb 8, 2011 11:33 PM
While the neighborhood's big Beer Garden News last week was the
plan by the Bullpen folks
to create one at Half and M, SE, the other
proposed beer garden
in the area, at 8th and L, SE, is continuing to proceed through the city's bureaucracy. With its liquor license having been dealt with
last month
, this "Bier Garden" is now undergoing the Historic Preservation Review process, a necessary step thanks to its location within the Capitol Hill Historic District (which I'm sure Das Bullpen is thankful to be well outside of).
Original plans for a temporary structure were undoable thanks to historic district restrictions, so now the applicant, Mark Brody, and his architect have opted to go with a one-story building with a roof deck, in addition to the proposed ground-level summer garden. The look of the building (which is closer to 1 1/2 stories high) is very industrial, with large multi-paned windows and lots of "wood rainscreening" on the exterior and the roof deck. (I've asked for electronic versions of the color renderings that were shown at Tuesday night's ANC 6B meeting, but Mr. Brody is still pondering whether to pass them along.)
UPDATE:
Since the renderings have been submitted to the Historic Preservation Office and have been shown at a public meeting, an interested party passed them along. (
UPDATE 1A
: And Mr. Brody's architect has now sent it to me as well--thank you!) Here is the main image, looking at the corner of 8th and L: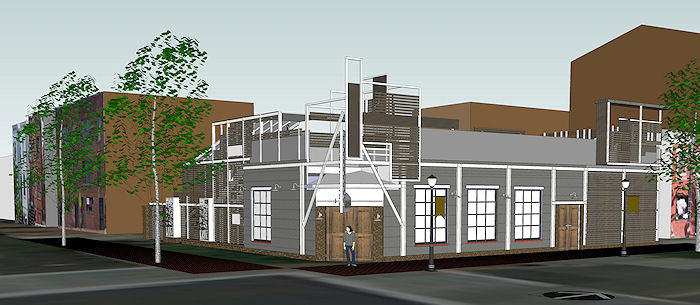 The ANC's Planning and Zoning Committee had a first look at the designs on Feb. 1, and, according to the
committee report
, expressed a number of concerns about "the proposed materials, the open deck design, and the lack of letters of support from other establishments and or affected neighbors" as well as the "unfinished appearance" and issues with not having received details such as "views of the affected area with relationship to existing structures and plat specifications."
By the time the full commission met Tuesday night, Brody had made some changes to the initial designs, and forwarded letters of support from two neighbors on L Street as well 18 letters from Capitol Quarter residents (thanks probably to an e-mail that went to the private CQ mailing list asking for support). When asked, Brody said that Mark Batterson of the National Community Church (which is
buying up the north side
of this "Saints and Sinners" block to build a new office and performance space) has decided that he "will take no position" on the beer garden plans.
There ensued much discussion, with the bulk of concerns coming from Kirsten Oldenburg (in whose SMD this is) and David Garrison, who both clearly are unhappy with the design, especially the roof deck. (Perhaps Kirsten will write more about this project
on her blog
so I don't have to try to summarize, HINT HINT.) But other commissioners made clear their desire to get
something
built on this portion of Barracks Row south of the freeway to help jump-start the area.
After an initial motion to oppose the designs while the applicant and the city's Historic Preservation Review Board continue to make refinements failed 3-7, a second motion to take no position failed 4-6, followed finally by a motion that passed 7-3 to support the designs, with an accompanying letter to the Historic Preservation Office detailing the commission's concerns about safety on the roof deck, the design of the doors (too stubby, Oldenburg says), the "parapet" that is above the front door, and the design's "historic character." Commissioners Oldenburg, Garrison, and Norman Metzger were the three commissioners in opposition. The HPRB may hear this case at its Feb. 24 meeting, though that agenda has not yet been set. (Note that the Capitol Hill Restoration Society will be a source of comments about the project as well.)
Interestingly, the liquor license apparently will not cover the roof deck, so Brody will have to come back to the ANC if he intends to serve alcohol in that space. There was also mention made of wanting to have sidewalk tables during warm weather, which will require a public space permit and another trip back to the ANC (athough the bus stop right out front might make for a space issue).
There's probably more to write about this, but I'm pacing myself, since I'm guessing there will be plenty of additional chances to cover the process. And hopefully I'll get some renderings to post soon, but when the project gets onto an HPRB agenda they'll become part of the public record, so I'll definitely have them then.
There were some additional South of the Freeway tibits that came out during these discussions, but I'll save those for another post.
Nat'l Community Church Buys Empty Lot on 7th
Jan 11, 2011 4:23 PM
This has been
hinted at
throughout the fall, and property records now reflect that the
National Community Church/Ebernezers
folks have added to the Miles Glass site on Virginia Avenue
they bought in August
by purchasing an empty lot around the corner on 7th Street, SE, for $875,000 in December. This now gives them about 19,000 square feet of land on Parcel 906, if my math is correct.
If you look at the
satellite view
of the block, you can see how NCC's holdings--the Miles Glass building, the empty lot just to its west, now and this separate empty lot on 7th across from the Marine Barracks--are connected. And one certainly has to wonder if the car shop on the corner of 7th and K/Virginia, now surrounded by a single landowner, is going to be staying in that spot much longer. (The other empty lot on the block, at the lower right, is where the
Bavarian Beer Garden
may be going in, creating the Saints and Sinners stretch along 8th.)
If you haven't been
following along
, the church's head, Mark Batterson,
wrote on his blog in late August
about the purchase of the 8th and Virginia site, saying that church is running out of space for services and staff at Ebenezers near Union Station, and since his vision for NCC is 20 locations and more than 100 staffers, they're looking at "going vertical" and constructing a building with about 50,000 square feet of space. They have been doing some "visioning" to figure out their plans for the site, and Batterson
told City Paper
in November about ideas of "two performance spaces, one at about 500 seat capacity and another at a thousand, with at least one level of underground parking to handle the crowds," but nothing specific has been announced yet.
6B Protesting 8th Street Beer Garden Liquor License (While Working on a Voluntary Agreement)
Dec 15, 2010 1:01 PM
On Tuesday night the full ANC 6B commission took up the issue of whether to support the liquor license application for the new "Bavarian Beer Garden" that a businessman is trying to open at 8th and L, SE. I wrote a lot about it last week when the ANC's ABC subcommittee met, and you can
read that (long) entry
for most of the background, as well as
read the committee report
that came out of it.
Commissioners are still very leery of approving a tavern license "with an entertainment endorsement" without having much more information about the plans for the bar, worrying that if they give their support and what is currently billed as just being some "oompah" music turns into a nightclub with music late at night seven days a week, there will be little recourse. (The fact that this is the first restaurant venture by the applicant has them a bit nervous as well.) Their desire is to write various hours/occupancy/entertainment-type restrictions into the Voluntary Agreement, perhaps including some that can then be revisited a few years down the road when it's clear how the bar is operating.
Mark Brody, the applicant, told the commissioners that he is willing to sign a voluntary agreement, and is willing to negotiate over the
requested
hours of operation and occupancy load (which is at 399 on the initial application), so the negotiations will soon get underway. (The vote by the commissioners to support the license once a voluntary agreement is signed was 7-3.)
However, because the deadline for protesting the license application before ABRA is Monday (Dec. 20), and because the full ANC would need to approve any voluntary agreement by vote at a business meeting, the ANC is going officially be "in protest" with ABRA on the license until the agreements are worked out. (You can read the
ABRA Protest Process FAQ
for more details, including about how the parties would then be scheduled for a "settlement conference" with an ABRA mediator.)
8th Street Beer Garden at 6B's ABC Committee
Dec 9, 2010 9:55 PM
Despite having
arrived fashionably late
to tonight's ANC 6B ABC committee meeting, I still managed to get there in time to hear the initial presentation by Mark Brody on his plans for the "Bavarian Beer Garden" that he is looking to bring to the currently vacant
northwest corner of 8th and L, SE
. (This is the "Saints and Sinners" block, which is also going to have the
National Community Church's new operations
on the Miles Glass site on the north end of the block.)
As I've written previously, he and his business partner (who has owned the property for more than 20 years--Brody appears to have bought a half-interest in the lots earlier this year for $600,000, according to property records) are
applying for a liquor license
for a tavern/beer garden that would seat 99 customers inside, with space for another 200 outside in the summer garden. They're looking to be open from 11 am to 2 am Sunday through Thursday, and until 3 am on Friday and Saturday, with the hours of alcohol sales matching those "open" hours. They also want to have live entertainment (oompah! oompah!) from noon to midnight on Sunday, 6 pm to midnight Monday through Friday, and noon to 2 am on Saturday. Brody said it would be "upscale," with beer running around $7, and there would be food, though no menu has been determined yet.
Brody brought no drawings or designs, but said they would put a newly constructed building along 8th Street, with the entrance on the corner, and the beer garden would be behind it,
butting up against
the driveway from Miles Glass that punches through to L Street. (Brody and his partner own the two small buildings on the west side of the driveway.) Brody suggested that having a large nightlife offering south of the freeway would help pull people south on 8th, and make them less reticent to use the parking lot beneath the freeway (which tied into the discussion around the previous agenda item, another restaurant in the 500 block of 8th). He also mentioned the large surface parking lots that exist nearby that would have more than enough capacity to hold the large number of patrons his plans are for, though certain bloggers in the audience mentioned that the big one at 7th and L is
probably going to see construction start
on its north portion before too much longer.
There was considerable skepticism from the commissioners (especially chair David Garrison) when Brody said that he hopes to be up and running "by spring," especially since the lot is in the historic district and he would still need all of his designs approved by the Capitol Hill Historic Society and the city's Historic Preservation Review Board, as well as go through the not-always-smooth building permitting process.
He and his partner (who is in construction) are looking at building a smaller "temporary" building now, with a more permanent three- or four-story structure to come later. But when the commissioners expressed their concern about having very little to go on in terms of design and concept before they make a decision as to whether to support the liquor license application, Brody said that he and his partner won't be building anything without getting the license first.
Commissioners also mentioned "Heart and Soul" a few times, which Hill veterans will remember as the venture at 8th and Pennsylvania that got its approvals as a restaurant with some live entertainment and turned into a nightclub that became a nightmare for residents. "What you're giving me screams 'nightclub,' " said 6B05 rep Ken Jarboe.
Neil Glick of 6B08 talked about the size of the plans, that this would be the largest space on the Hill except for maybe Remington's, and that "we can't just give away" support without much to go on, especially since Brody has not had any dealings with 6B before.
Kirsten Oldenberg, in whose single-member district (6B04) this site is located, listed similar concerns, as well as the fact that, if the temporary building is a success, why would the owners ever then tear it down to build something better? She also mentioned the
Lower 8th Vision draft plan
that has just been submitted to the Office of Planning, wondering if this project fits in to that vision.
6B07 commissioner Carol Green separated herself a bit from her brethren by saying that she feels the area south of the freeway needs something now.
Jarboe then mentioned the possibility of writing into the voluntary agreement that the liquor license be temporary (three or four years) so that the project can get started soon, but "to give [the license] to you forever and ever opens us up for mischief later on."
The license is on the agenda for the full ANC 6B commission meeting on Tuesday (Dec. 14), at 7 pm at the People's Church at 535 8th St., SE, but with things like a voluntary agreement still needing to be written, along with probably some strong feelings about wanting more information, I'm not sure how the timeline is going to work out, with the liquor license hearing date set for January 3.
UPDATE: After deliberations (which were public but I mistakenly didn't stick around for), the ABC Committee has decided to support the liquor license application contingent on the applicant and the city's ABC Board agreeing to a Voluntary Agreement that limits hours and occupancy (terms to come). 6B is also going to argue for a temporary license (as I described above), but it's not clear that the ABC Board would go along with that. There will be more discussion of this at Tuesday's full ANC meeting.
Upcoming Calendar of Events (Through Dec. 17)
Dec 6, 2010 10:46 AM
This is a painful post for me to write. (No, seriously--I hurt my left thumb last week, and typing doesn't help.) But I will power through to bring you news of upcoming events, all while wondering why Decembers are always so busy with public meetings--because it's not like we don't we have enough to do already....
ADD:
Oops. Tonight (Dec. 6) is the 4th Annual
Livable Walkable Community Awards
, at Arena Stage at 6:30 pm.
* Tuesday (Dec. 7) is the second
Marine Barracks site search
public forum, in Eastern Market's North Hall. I can't find the agenda for it, but the CIMP web site describes it thusly: "Session 2 will begin with at 5:00 pm with an open house where information will be provided in displays, and subject matter experts will be present to discuss various aspects of the CIMP with a facilitated discussion to authenticate community development objectives to begin at 7:00 PM." You can see the
draft community objectives
handed out at last week's meeting, and read
my summary of that session
, as well as the
scads of posts
through the past year of this process.
* Wednesday (Dec. 8) is the neighborhood meeting with DC Public Schools interim chancellor Kaya Henderson on the movement to reopen Van Ness Elementary at 5th and M, SE. The meeting is at 6 pm (note the time change) at the Courtyard by Marriott at New Jersey and L, and while no decision on reopening the school will be announced, DCPS will be talking about the preliminary findings from the survey they did this fall about whether there would be enough students to justify reopening the school. Read my
previous posts
for details.
* On Thursday (Dec. 9) the ANC 6B ABC Committee will
meet at 7 pm
at the Southeast Neighborhood Library at 403 7th St., SE, and it will be taking up the new liquor license application for the
Bavarian Beer Garden
at 8th and L, SE. It's looking to be a 99-seat tavern, with an additional 200 outdoor seats in summer, and would operate from 11 am to 2 am Sunday through Thursday and 11 am to 3 am on Fridays and Saturdays. There's also apparently the possibility of live entertainment. The application will also be taken up by the full ANC at its
regular meeting
on Dec. 14 at 7 pm at 535 8th St., SE.
* Monday (Dec. 13) is ANC 6D's monthly meeting--the
agenda
should be out later this week.
* Tuesday, Dec. 14 is the
BID
's Annual Meeting, at 11:30 am at 100 M St., SE. There will be a keynote address by George Hawkins, general manager of DC Water, plus the BID will release its 2010 Annual Report and State of the Capitol Riverfront.
* The BID also launches its Holiday Market on the 14th, running daily through the 18th on the sidewalk outside of 1100 New Jersey Ave., SE, across from the Navy Yard Metro station. "Shop the market for wool sweaters and mittens, homemade soaps, jewelry, antique maps, wreaths and holiday greenery, paintings, and much more!"
See the flyer
for more details, or the latest
BID newsletter
.
* Also on the 14th is the aforementioned
ANC 6B monthly meeting
, which includes a report by Michael Stevens of the BID on the Lower 8th Street Visioning Process report that's being submitted to the Office of Planning. (This will also be presented to the ANC's Planning and Zoning Committee on Dec. 7 at 7 pm at 535 8th St., SE.)
* Finally, on Dec. 17, the James L. Brooks movie "
How Do You Know
" opens--this is the one that was filmed at
Nationals Park
(and all around DC) back in 2009, and stars Reese Witherspoon, Owen Wilson, Paul Rudd, and Jack Nicholson.
Ow.
Documents and a Few Notes from Barracks Forum
Dec 2, 2010 1:09 PM
With the selection of a location for a new Marine Barracks more than a year away, there wasn't much big news coming out of Monday's public forum, at least not in terms of my focus, the area south of the freeway. (There were lots of discussions about the disposition of the Building 20, the barracks building at 8th and Virginia the Marines are trying to get out of--I'll be leaving the blogging about that part of the process to Norm Metzger, who has
posted some thoughts from Monday's meeting
.)
The
handouts, displays, and presentation slides
are now posted on the CIMP web site for your perusal. And it must be said that the feel of this meeting was more collegial and less antagonistic than some of the previous ones have been--getting Virginia Avenue Park
out of the mix
seems to have dialed down the temperature somewhat, though it's clear that both sides (the Marines and the community) are still cautious and not completely at ease in working with their counterparts.
At this point, there's much more focus on the process of it all rather than any specific outcomes--how the RFP will be written and what requirements it will have for developers, whether there will be a community representative on the selection committee (doubtful), and the like. Writing about process isn't really my cup of tea--I just want to know about what comes out at the other end! That said, If I had to come up with a few bullet points that were of interest or sounded new, here's what I'd highlight:
* The approach to finding a new site really has changed from when this started a year ago--originally, the Marines were only looking at public property (Virginia Avenue Park, Tyler Elementary, Square 882, the
annex
at 7th and Virginia, and inside the Navy Yard), but now there's the Square 929/930 option on the east side of 8th Street as well as the "Exxon" site at 11th and M. That changes how the process moves forward though, since there will now need to be special federal legislation to allow for a public-private venture. Doing this, though, means that any private lands that end up being used for the new barracks will stay on the DC tax rolls, since a developer will own the land and lease space to the Marines. It also pushes the timeline for the choice of a developer into 2012, with construction at least a year after the decision gets made. There will also have to be a
NEPA process
.
* The Marine Institute is "being
BRAC
'ed" out of the Navy Yard, and apparently will be moving to Building 20, taking up 25 percent of the new building (the maximum amount the Marines can occupy and have the building not need the security-required deep setbacks from the street). David Perry of Barracks Row Main Street called this news "a good thing." There will be lots of ensuing discussion about how the remaining 75 percent of that building/site should be structured. (North of the freeway! Outside of my boundaries!)
* It's been determined through the antiterrorism/force protection guidance that there can be underground parking at a new barracks, but that the parking control gate would need to be 82 feet away from the barracks.
* The US Department of Transportation expressed its interest in sharing a child care facility with the new barracks, since USDOT moved 6,000 employees to Near Southeast
in 2007
without any sort of day care offerings.
* The DC Housing Authority seems open ("let's have a dialogue," David Cortiella said) to talking about the
community center
site at 5th and K, which the Marines would probably want to gobble up if they decided to build the new barracks on the annex site. A community center would then be part of any shared-use facilities built. But DCHA has some timing issues that would need to be ironed out, the biggest being that they are required by the Zoning Commission to file building permits no later than July of next year.
* Michael Stevens of the Capitol Riverfront BID talked about how the BID wants to see the RFP laid out, including urban design guidelines that would need to be adhered to: no blank walls, first-floor retail uses, no major surface parking, no loss of parks, no street closures (though he acknowledged that one might be tough), and preservation of existing historic buildings; using these guidelines on the 8th and 11th Street sites would be a big boon to the efforts to revitalize lower 8th Street (which David Perry of BRMS also talked about). He also mentioned making sure no land goes off the tax rolls as an important issue.
* The Barracks' commanding officer,
Col. Paul D. Montanes
, put particular emphasis on his desire to integrate the barracks with the community, specifically mentioning the Navy Yard's brick wall as something he wants to avoid. He called this process a chance to build something special, not "an eyesore or a prison," and said that he considers the Marines at the barracks to be "ambassadors," and he wants them to be part of the community.
There was a lot more (maybe I should scan my illegible notes and post them!), but those were the big items; you can look through
the materials
if you want to know more. (Never use me as a stand-in if this is a topic you're really interested in--go to the forums!) At the end of the meeting they handed out a draft
Community Development Objectives document
, which will be the topic of discussion at the next forum, on Dec. 7 at Eastern Market's North Hall from 7 to 9 pm (preceded by another open house from 5 to 7 pm). If you want to submit your comments to the Marines about any aspect of the process, you can do so
online
. (If you're just checking in, here's
my previous posts
on the search so far.)
UPDATE:
City Paper was there, too, and has
a more general summary
, for people who maybe haven't been following along.