Near Southeast DC: Past News Items
Onyx
Go to Full Blog Archive
---
Tuesday Tidbits: More Post-Vacation Catching Up to Do
Aug 21, 2012 10:25 AM
Here's a few more items that came across the transom while I was on my annual
Hiding Out in Wyoming and Montana trip
:
* Residents of
Onyx
have filed paperwork with the city under the
Tenants Opportunity to Purchase Act
and are investigating options to buy the building themselves, after news came a few weeks back that the
building is under contract to be sold
for $82.5 million. If the city accepts the filing, the tenants' group would then have 120 days to come up with a competing offer. See the
tenants' press release
for why the group is pursuing this, including its hope that buying the building, which opened in 2009, will "reverse problems which plagued the area for years - poor housing conditions, rent increases, and attempts by developers to force residents out of the District." (If they succeed, I guess I'll have to stop using my standard joke about tenants looking in the sofa cushions for millions of dollars in spare change to buy their buildings.)
* DC Water has leased 16,450 square feet of office space on the 7th floor of 80 M Street through 2019 (
GlobeSt.com
). With or without telescopes for spying on the
Main Pumping Station
a few blocks to the south?
* The
Capitol Riverfront BID
is having an Urban Design Framework Plan prepared, to "examine the quality of the public realm in the BID and develop strategies for a comprehensive framework and public investment plan in the right-of-way." They've also commissioned a Retail Analysis Study "that will provide forecasts on future retail demand and absorption possibilities." Because if there's one thing a neighborhood can never have enough of, it's studies and analyses. (
BID newsletter
)
* The
Earth Conservation Corps
is offering "bird of prey demonstrations" on Friday nights through Sept. 28 at
Diamond Teague Park
, from 5:30-7:30pm. (via e-mail, no link!)
*
Another rumination on Near Southeast's development timeline
, at GGWash. As I've said many times--of course things were happening in Near Southeast before the ballpark (I wouldn't have started this blog in 2003 otherwise). But to not recognize that the ballpark sped up *plans* considerably is to not have watched the 18-month landrush in 2004 and 2005 after the ballpark's location was announced, when so many little lots between 1st and South Capitol south of the freeway were snapped up by the big guns. And to say that the ballpark didn't drive development right after it opened is to neglect the worldwide financial market near-collapse, and the years needed to recover from that. But I bet there's a lot of retailers and developers looking at the Nats this year and rueing that they didn't make their move already.
* So, in line with all that, check out
nine years ago today, windshield edition
.
Onyx on First Apartment Building Under Contract for $82.25M
Jun 23, 2012 5:27 PM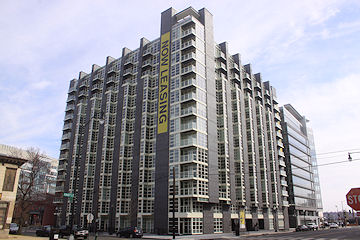 Hot on the heels of the sales (
completed and pending
) of JPI's
three
"
Capitol Yards
" buildings, there's another notice in another lobby that a neighborhood apartment building is under contract to be sold. This time it's
Onyx on First
, the 266-unit apartment building on the southeast corner of 1st and L, which was developed by Faison with an assist from Canyon-Johnson Urban Fund and
opened in late 2008
.
The sale price is listed on the form as $82.25 million, with the buyer being ERP Operating Limited Partnership, which is the operating partnership of
Equity Residential
, owner of
a slew of DC-area buildings
including 425 Mass and 2400 M, as well as a
huge slate
of properties around the country. (As an aside, the company was started by Sam Zell, a name that certainly has resonance for folks in the newspaper biz.)
Onyx
went on the market
more than a year ago, but that initial offering didn't result in a buyer so it was
re-offered
later last year. The notice to tenants specified that there are only 11 units currently unoccupied.
As we all learned during the JPI sales, it's
required by DC law
that residential buildings of more than five units under contract to be sold be offered to residents to purchase. (Insert here my standard joke about looking in the sofa cushions for $82 million in spare change.)
JPI's Axiom and 909 buildings
were sold
for around $95 million each, with the the Jefferson's contract price/purchase price for tenants listed at about $165 million.
Onyx's next-door neighbor, the office building
100 M
, was
put up for sale in March
. (Which is apparently
just now news to WBJ
, though I had heard rumors that it had been taken off the market after that original offering, so maybe this is a new push.)
A Few Oh-Yeah-I-Meant-to-Mention-That Tidbits
Jan 9, 2012 9:52 AM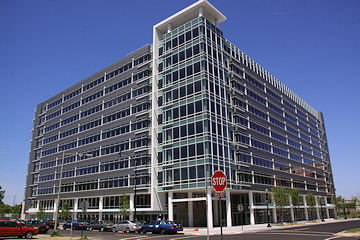 *
1015 Half Buyer
: On Friday the Post debuted a "What's Going On With....?" feature at their new
Where We Live Real Estate blog
(reminds me of my old "What's the Deal With...?" days), and
the first item
was on the empty office building at
1015 Half Street
. One tidbit not mentioned there, or at JDLand before now, is that apparently Prudential Real Estate Investors is buying the building, with the deal supposed to be closing this month, according to
Bisnow
. Bisnow says that the deal was always for Prudential to buy out Bank of America's stake in the building when it was finished, even back when it was Opus East doing the developing, not current receiver Douglas Wilson Companies.
*
Onyx Sale
: The
Onyx on First
apartment building never sold when it first went on the block
back in March
, and
a second offering
apparently closed in December. Perhaps there will be news soon.
*
Navy Yard Riverwalk Closure
: It was
announced on Twitter last week
that the
Navy Yard
Riverwalk will be closed from Jan. 5 to Jan. 17 to install fences around the piers. (What? You thought I meant the entire Riverwalk and not just the portion controlled by the Navy Yard? Why ever would you have thought that?)
Onyx on First Apartment Building Up for Sale
Mar 8, 2011 5:49 PM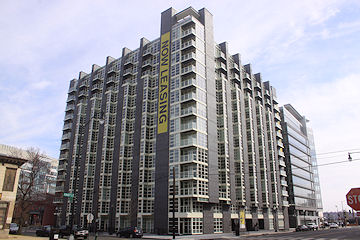 With an instruction to residents to Please Don't Panic, I'll pass along the news that
Onyx on First
, the 266-unit apartment building at 1100 1st St. SE, is
up for sale
. With a
brochure
touting "Excellent Transportation Infrastructure, Phenomenal Employment Opportunities," and "Shopping and Entertainment Options Abound," the sellers look to be trying to get in on what is clearly a
rebounding multifamily market in DC
.
Apparently there's no price set for the sale, and with a building that's 92 percent occupied with what looks like pretty high average rent numbers, I imagine investors will be taking a close look. The eventual sale (should there be one) could also be an interesting barometer of how "the markets" view the neighborhood. Proposals are due April 14.
The building, originally planned to be condos but converted to apartments during the construction phase, was developed by Faison and the Canyon-Johnson Urban Fund and completed in 2009. It was built the same time as its neighbor
100 M
, the office building that recently
bought for $57 million
in a foreclosure sale. Onyx is on the same block as the New Jersey Avenue entrance to the Navy Yard Metro station, two blocks north of
Nationals Park
, and one block west of the Courtyard by Marriott that is being
bought for $68 million
. And, of course, just across the street from the
Market Deli
.
New 'Where's My Bus?' App for Circulators; Q2 Residential Numbers; Square 701 Not Starting Soon
Jun 26, 2009 2:05 PM
* Just out from DDOT (press release
now online
), a new "
Where's My Bus
" app for the
Circulator
buses. Go to
circulator.dc.gov
(it's formatted for cellphones and PDAs, but works in any browser), pick your line and stop, and find out how far away the next bus is. (Here's the information
for the 4th and M stop
, heading toward Union Station.) They say an iPhone app will be coming will be coming later this summer.
* From the BID's newsletter (which I'm not finding
on their redesigned web site
), the latest update on residential leasing and sales for the second quarter of 2009: The buildings known as Axiom and Jefferson (at
70 and 100 I
) and
Onyx on First
are at a combined 60 percent leased for the 960 units in the three buildings;
909 New Jersey
(which opened in early April) has 25 percent of its 237 units leased. The
Capitol Quarter
townhouses are listed at 88 of 113 units sold (though I'm not sure how the public housing rental and for-sale units figure into that number), and
Capitol Hill Tower
is reported as being 80 percent sold. No numbers are reported for
Velocity Condos
, which according to a presentation by Michael Stevens last week is supposed to open in late August or September. All told, the BID says there are an estimated 1,863 residents in the Capitol Riverfront.
* A WBJ piece from today's print edition on
Willco Cos.'s new $100 million fund
says that the company "does not plan to dip into the fund for development projects in the pipeline, such as its 700,000-square-foot mixed-use project adjacent to Nationals Park, at
Square 701
, the intersection of M and First streets SE. That project is in pre-development mode right now without a major tenant; Willco doesn't expect to kick off construction until it sees 'signs of life in that neighborhood,' Goldblatt said." This lot is probably better known as
Nats Parking Lot F
, and the former home of Normandie Liquors and other small businesses.
Slowly Returning to Full-Strength Blogging
May 4, 2009 9:54 PM
I know people have noticed that JDLand's coverage (and quality) has taken a nosedive in 2009--some of it is because of life at My Real Job is particularly hectic in this era of big change (and plummeting revenue), but I can also now finally reveal that my free time for the past few months has been swallowed up by my planning and executing a huge 100-guest surprise party for my mother, which finally went off
without a hitch
on Sunday morning. With that wrapped up, I will now try to remember exactly how I used to do things here. I'll start tentatively:
* Despite a
few readers being told
that the Bullpen beer garden at Half and N would open on May 1, it hasn't yet opened. I haven't heard any new date.
* From
Friday's WashBizJournal
: "Dozens of high-profile projects are facing liens from hard-pressed contractors. In just one week of March, Forest City Washington was slapped with a $191,460 lien for work done at its
Yards
project near the baseball stadium, while Faison Enterprises Inc. and Canyon-Johnson Urban Funds LLC got hit with a $118,674 lien at the nearby
Onyx Apartments
."
* The Board of Zoning Adjustment
calendar for June
indicates that Donohoe has filed for a time extension on the
special exception
it received
back in 2007
for its planned office building at
1111 New Jersey Avenue
. The original order expires in December unless building permit applications are filed before then; Donohoe's request for an extension would appear to indicate that that won't be happening this year.
"[S]taff strongly recommends that the Commission require the Navy undertake and coordinate with NCPC development of an updated WNY master plan, including a transportation management plan that demonstrate how the WNY parking ratio meets NCPC's Comprehensive Plan goals, and submit that plan to the Commission prior to submitting any new project." The Navy Yard's last official master plan update was in the 1990s.
* A postcard that was delivered to our house this morning listed 309 K St. SE (one of the remaining old townhouses) as being scheduled to be sold at a foreclosure auction this month; however, the auctioner's web site says
the property has been removed
from the auction. Starting bid was going to be at $50,000.
* Speaking of that block of existing homes, someone has finally begun to renovate the old multi-unit building at
Third and L
that has been vacant for as long as I've been watching the neighborhood. A local resident has leased it and is turning it into
Casa degli Angeli
, a nautical-themed "month-to-month" bed and breakfast.
Comments
(3)
More posts:
1111 New Jersey
,
Akridge/Half St.
,
Fairgrounds/Bullpen
,
Casa Degli Angeli
,
Restaurants/Nightlife
,
Navy Yard
, Onyx,
Square 743N
,
Nationals Park
,
The Yards
,
zoning
Heading to Opening Day? What You'll See That You Didn't See Last Year
Apr 12, 2009 7:59 PM
[Note: I'm back in town after almost a week away (reminder to self: next year don't skip town the week before the home opener), so apologies if my coverage of the various events and media pieces has seemed even less scintillating than usual. And now I'm going to end the week with one more less-than-perfect entry, which I should have written before I left but didn't do it until now....]
If you haven't been back to
Nationals Park
or the surrounding Near Capitol Ballpark River Yards neighborhood since last year's Opening Day, here's what you'll see that wasn't completed on your last visit:
*
55 M Street
- Right on top of the west entrance of the Navy Yard Metro station, at the head of Half Street, is Monument Realty's 275,000-sq-ft office building, which has been finished in the last few months and which will be home to
Artomatic
this summer. No office or retail tenants have been announced, although
WBJ reported a few weeks back
that
Gordon Biersch
may be eyeing some of 55 M's ground-floor space. The rest of Monument's Half Street site remains a large hole in the ground, with financing for the planned 350 residential units and adjoining hotel directly across from the ballpark nowhere to be found.