Near Southeast DC: Past News Items
cornercopia
Go to Full Blog Archive
---
29 Blog Posts Since 2003
Go to Page:
1
|
2
Back from Across the Pond; Lots of Tidbits While I Recover
Jun 8, 2011 9:09 AM
I'm back in DC, having spent
11 wonderful days
in Madrid, Barcelona, and cruising across the Mediterranean to Pisa, Florence, Rome, the coast south of Naples, and Mallorca. Needless to say, while I checked in on the news back home from time to time and tweeted an item or two if the timing was right, I wasn't following developments closely, and I'm pretty out of the blogging groove at this point. So I'm going to start back slowly with some easy items.
*
Redistricting
: The city council voted Tuesday to approve a redistricting map that, as expected, keeps Near Southeast in Ward 6. This continues to make Marion Barry extremely unhappy, and the
Examiner reports
that he'll be "asking U.S. Attorney General Eric Holder to open a Justice Department review of proposed new D.C. ward boundaries because, Barry says, they violate residents' civil rights." There's still a final vote to be had on the plan, probably on June 21. As for the last-minute changes that ended up keeping much of Ward 6 intact (moving Reservation 13 to Ward 7 instead of other areas), you can read
Tommy Wells's blog
for more details.
*
Riverwalk
: The
Navy Yard
announced last week
that its portion of the riverwalk along the Anacostia River, running from the 11th Street Bridges to the
Yards Park
, will now be open from 5:30 am until "official sunset," seven days a week and including holidays; though there will still be closures as needed, which are announced on the
Navy Yard Riverwalk Twitter feed
. (I admit that I got a bit of a kick passing along this news
via Twitter
while riding on a train north of Rome.)
*
DPW Move
: The council passed
emergency technical legislation
on Tuesday that allows
Capper PILOT funds
to be used to build a new location for DPW operations in Northeast, which means that they should be moving from the 2nd and K site this fall (before "leaf season").
*
Ward 6 Family Day
: Tommy Wells's yearly event for Ward 6 residents will be held on
Saturday, June 25
, and will be at the
Yards Park
for the first time. It's from 1 to 5 pm, with "free food, live music, games and activities for the whole family as well as raffles featuring gift certificates from local businesses and sporting memorabilia from the Wizards, DC United and Washington Nationals."
*
ANC 6D
has its next meeting on Monday, June 13, at 7 pm at Arena Stage. The
agenda
is light on Near Southeast items, with only a resolution by David Garber about Near Southeast bike stations and requests by Cornercopia and Harry's Reserve to be exempted from the ban on the sale of "singles."
*
Food Truck Festival
: Bo Blair, the owner of the Bullpens and the organizer of Truckeroo on June 3, said in an e-mail that the event was a "massive, incredible success," with somewhere between 17,000 and 18,000 attendees and "zero problems." The next date for the event will be announced soon.
*
Construction and Destruction
: Construction has stalled on the Little Red Building v2.0 at
2nd and L
, which ANC commissioner Garber
says
is a "building permit issue that is in process of being resolved - construction should start back 'soon.'" Meanwhile, the "re-dressing" of
225 Virginia
is well underway, with the new exterior walls being hung on the north side of the building. And if it hasn't already happened, the
trailer
that was the original sales office for
Capitol Quarter
is being torn down, since construction of townhouses is now underway on that block. (Photos to come, at some point.)
*
The Yards on Facebook/Twitter
: I kind of stumbled across these (never saw any announcement about them), but the
Yards
now has an
official Facebook page
(which is available on
Twitter
, too) along with a separate one for the
Foundry Lofts
(its
Twitter account
is protected, though).
UPDATE:
And, since this just came across Twitter:
Dan Steinberg reports
that Shake Shack and the other new Nats Park restaurants will open next Tuesday, the beginning of the homestand vs. the Cardinals.
Comments
(28)
More posts:
225 Virginia/Old Post Plant/200 I
,
Alcohol/Liquor Licenses
,
ANC News
,
Fairgrounds/Bullpen
,
Capper
,
Capitol Quarter
, cornercopia,
Trash Transfer Site/DPW
,
Events
,
Restaurants/Nightlife
,
Foundry Lofts/Yards
,
Harry's Reserve
,
Little Red Bldg/Lot 38 Espresso
,
meetings
,
Navy Yard
,
redistricting
,
riverwalk
,
JDLand stuff
,
The Yards
Redistricting Latest; Navy Yard Riverwalk Hours; Singles; A Break
May 26, 2011 5:14 PM
A few tidbits going into the holiday weekend:
* Nothing changed for Near Southeast as a result of Thursday's Redistricting Committee meeting, but it certainly wasn't boring. Tommy Wells took some swipes at Jack Evans, Marion Barry threatened to sue, Harry Thomas, Yvette Alexander, and Muriel Bowser talked about the need for unity, and when committee chair Michael Brown refused to recognize Barry for a second round of statements, the two talked over each other for a number of moments while Phil Mendelson and Jack Evans tried to reach Barry's microphone. Finally, while Barry continued to talk, Evans called the motion, they voted to approve the
draft map
that keeps Near Southeast in Ward 6 (with some small changes on the Ward 2/Ward 6 border), the hearing ended, and the microphones were shut off. I don't often suggest council hearings for an On Demand Popcorn Special, but if you have an hour (or want to fast forward to the last 10 minutes), it should be available
on the OCT web site
soon. Here's
DCist's report on the hearing
, along with
Mike DeBonis's pre-hearing post
on the "Jackmandering" that has Tommy Wells unhappy. Next up is the public hearing on June 1 at 6 pm, which should be even more festive.
UPDATE:
No need to wait! TBD has the
video of Barry vs Brown
. And here is
a short Examiner piece
on Barry's lawsuit threat.
* The Washington Navy Yard Riverwalk's Twitter feed
announced yesterday
that, starting on Tuesday, May 31, their gates will open at 5:30 am instead of the current 8 am. The gates will still close at 5 pm, and this is still Monday through Friday (excluding holidays), and the area can still be closed at the WYN's discretion. The
Twitter feed
has been good at announcing when closures are planned. Perhaps this expansion on the beginning the day means that further expansions might someday come down the pike?
* Also on June 1, the ANC 6D Alcohol Beverage Committee will be taking up requests from both Cornercopia and Harry's Reserve for exemptions from the ban on selling "singles." The agenda says that this "will cover exemptions for 25 to 70 ounces of beer, NOT single beers from a six-pack, or miniatures, small pints." The meeting is at King Greenleaf Rec Center at 7 pm. Any recommendation to allow the exemptions would then taken up by the full ANC for approval at its monthly meeting on June 13.
And, with that, I'm going to take a bit of a breather. Between the flurry of high-emotion news items over the past few months, the upcoming holiday weekend, and some stuff on the boards in my "real" life, it's a good time to step back for a little while. I expect to be away from blogging all next week, and maybe a little past that. If really big news breaks (and I mean *really* big), I may try to put something up, but I definitely won't be operating at normal warp speed. I may do some not-very-timely
Tweeting
if I can't bear not to, but I really am going to try to take an actual break. There haven't been many of those in eight-plus years...
In the meantime, feel free to use this spot as an open thread on matters of neighborhood interest. But behave, because I'll still be reading....!
Building at 1010 3rd St., SE Hit by Fire
Feb 1, 2011 10:51 AM
Readers passed along the news early this morning (while your night owl blogger slept) of a fire in the two-story multi-unit building at 1010 3rd St., SE, four doors south of Cornercopia, in the block of existing private homes within the Capper/Carrollsburg footprint. You can
see the smoke rising
above the block before dawn, as well as the
state of the building
once the fire was out. Tweets from DC Fire/EMS say that there were
no injuries
, but
three people have been displaced
.
UPDATE:
Here are
some more photos
, from just after the fire was put out, from a neighbor across the alley.
Harry's 'Upscale' Liquor Store on Track for Fall Opening
Aug 23, 2010 5:21 PM
Today was the day that the city's Alcohol Beverage Control board was to have had its hearing on a liquor license for
Harry's
, the new "upscale wine and spirits" store looking to open on the
southwest corner of New Jersey and I, SE
, in the ground floor of
909 New Jersey
. However, there were no protests filed, so all systems would appear to be "go" for this store to open. I talked with one of the owners, and she told me that they are looking toward somewhere in October-November time frame to open, and that construction work should start to be visible within a few weeks, and some "Coming Soon" banners should appear before long as well.
I wrote in detail about
their plans for the store
a few months ago--the owners are the same people who currently own Capitol Hill Wine and Spirits in the 300 block of Pennsylvania Ave., SE, and previously they ran the Harry's liquor store that was in Waterside Mall until about five years ago. The hours would be 9 am to 9 pm Monday through Saturday (or possibly 10 pm on Fridays and Saturdays), and closed on Sunday. They would sell beer, wine, and liquor, as well as milk, sodas, juice, cheese, and other "quick stop" items, and are very much wanting to emphasize that this is going to be a "community" store, with higher-end products, wine tastings, and other offerings beyond what people normally think of when they hear "liquor store." This is a similar path to that being taken by the owner of the soon-to-be
Parkway Wine and Spirits
at Second and K (on the site of the late lamented
Little Red Building
), which is also looking to open by the end of the year.
Whether the neighborhood in its current incarnation (and size) can support both stores plus
Cornercopia
remains to be seen, although each store's location could be said to have its own "sphere": Harry's will be positioned to serve the foot traffic to and from Capitol Hill/Capitol South along New Jersey Avenue as well as the residents from the three I Street apartment buildings; Parkway will have the Courtyard guests, nearby office workers, and
Canal Park
visitors; and Cornercopia will have its existing loyal clientele as well as the ever-growing
Capitol Quarter
population (and also Capitol Hill foot traffic and Canal Park-goers).
Articles on Cornercopia, DHS Space Needs
Aug 4, 2010 10:25 AM
Two Post articles of note this morning:
* A nice little piece
in the Food section
on Cornercopia; it notes that Albert and Danica are surprised that the majority of their business comes from their jam-packed deli sandwiches, instead of the groceries, beer, and wine part of their operation. If you don't follow
@Cornercopia on Twitter
, you're missing alerts on specials, hours of operation, and the occasional alert to cops ticketing cars and/or jaywalkers.
*
Jonathan O'Connell's article
on the Department of Homeland Security's search for 1.1 million square feet of office space (apart from their new HQ at St. Elizabeth's) mentions that, with the SEC's leasing of 900,000 square feet at Constitution Center (the old USDOT) in Southwest, the presumed top contender for the DHS lease is now out of the running. The article quotes an Akridge senior vice president as saying that "a number of companies with properties atop stations along Metro's Green Line, both in Prince George's County and Southeast Washington, were likely in play."
There are two current development sites in Near Southeast that would appear to meet the DHS lease requirements of space and proximity to the Green Line (Navy Yard, of course). Those would be
the Yards
(designed to eventually have 1.8 million square feet of office space), and WC Smith's planned development at
800 New Jersey
(the parking lot north of the trash transfer station and west of
225 Virginia
,
nestled just south of the SE Freeway), which has been billed as a 1.1-million-square-foot mixed-use project. Neither of those would be ready for quick move-in, which I believe was originally part of the DHS solicitation (points for anyone who can find the RFP online--I can't put my hands on it). The WC Smith site would need DPW's move from the trash transfer site completed (which I've been hearing may not be all that far off) so that the various parcels of land on squares 737 and 739 can be properly squared off, which includes the building of I Street through to New Jersey Avenue (and H Street as well).
Links Roundup (Barracks Meeting Handouts, PSA 105, City Paper 'Best of DC' Nods)
Mar 25, 2010 6:02 PM
* The Marines have posted the
slides
and
handouts
from this week's
workshops
on potential sites for their new barracks. If you didn't see my update, here's
Norm Metzger's additional take
on Tuesday night's meeting.
* MPD's
PSA 105
is having its monthly meeting on Saturday (March 27) at 10 am at the 1D substation at 500 E Street, SE.
* The Washington City Paper's annual "
Best Of DC
" issue is out, and Near Southeast gets a couple of nods:
Cornercopia
was given a Staff Pick for
Best New Bodega
,
Capitol Quarter
is the Readers' Pick for
Best Designed Residential Development
, and the
11th Street Bridges reconstruction
gets a Staff Pick for
Best Construction Project
. Alas, this also means that now my year-long reign as
Second Best Local Web Site
(and "
favorite nasty local blogger
") has come to an end.
* The Washington Project for the Arts is holding its "
WPArade
" in Near Southeast, on June 5 at 12 pm along Half Street from M to N. This parade, modeled after similar events in other cities, "is an extravaganza of artists connecting with community to create a moving visual spectacle of art and culture." They've got a
call for participants
out, and it notes that "participants can traverse the route in any manner that is non-motorized (wagons, bicycles, walking, etc. are acceptable)." It'll culminate with a party at the Bullpen until 3 pm. Who will be the first to enter a giant papier-mache Stephen Strasburg?
A Roundup of Recently Tweeted Tidbits (Mostly)
Oct 29, 2009 1:07 PM
Not much big news these days, but here's some tidbits, most of which are links that I've
Tweeted
in the past few days:
* The BID and the Washington DC Economic Partnership held a "Capitol Riverfront Storefront Summit" on Tuesday morning, which
The Hill is Home summarized
, with quotes from the owners of Cornercopia and the Subway on Second Street. No splashy announcements of new retailers, though.
* The
WBJ's Top Shelf blog
pivoted off of the summit to write about
Justin's Cafe at Velocity
, which the owner now says "hopes to open in about two months from now."
*
UrbanTurf asks
: How do People Like Living in "Capitol Riverfront"?
* Beyond DC went to the Columbia Heights streetcar meeting on Monday, and
posted more details about DDOT's plans
. The
Ward 7 public meeting is tonight
, at 650 Anacostia Ave., NE, from 7 to 8:30 pm.
*
The Bullpen
is still selling tickets for
its big Halloween night bash
, from 9 pm to 1 am (with a fully heated tent!). An e-mail says that more than 400 tickets have been sold.
* The American Cancer Society is hosting
Making Strides for Breast Cancer
, a 5K walk to fund breast cancer research, at
Nationals Park
on Saturday. Two laps around the stadium, and one inside lap on the First Concourse. (I think I've done that walk a whole bunch of times over the past four years!)
Roundup of Recent Little Items
Sep 28, 2009 7:23 PM
Some
recently Tweeted tidbits
, and a few other morsels:
* Cornercopia is now open on Sundays from 10 am to 6 pm, according to
a Tweet from Albert
today.
* It's the last homestand of the 2009 season at the ballpark, with a 7:05 pm start on Tuesday and a 4:35 pm on Wednesday. (Oh--it's the Mets.)
* There's going to be a
big Halloween shindig at the Bullpen
on Oct. 31 from 9 pm to 1 am; three bands, a DJ, and costumes required.
*
Velocity Condos
is having its
"Grand Opening" event
on Oct. 3 and 4. Settlements on units in the building
were supposed to begin on Sept. 21
, but I haven't heard whether they have indeed started.
*
WAMU did a brief report this morning
on the BID's work (via events like the recent picnic and walking tour) to drum up interest in the neighborhood, especially to show retailers that there's a customer base. "Some 2,100 people live in the redevelopment zone, but McManus says more 'urban pioneers' need to arrive before retailers can move in."
* A group of owners, merchants, and residents working on ideas to perk up the southern end of Eighth Street (south of the freeway)
now have a blog
. There are apparently going to be a series of public meetings as part of the "visioning process," on Oct. 20, Nov. 17, Dec. 15, and Jan. 19, at 8:30 am and 7 pm. Their aim is to "attempt to gain consensus on a vision for the area and to address issues of height, density, mix of uses, parking and access, as well as what should be the character of a redesigned Virginia Avenue Park as an amenity or community benefit for the Capitol Riverfront neighborhood and Capitol Hill. If consensus can be reached on the vision, it could serve as the basis for asking the Office of Planning to develop a small area neighborhood plan that could then be used as justification for any agreed upon zoning or density changes."
* The
Examiner reported last week
that CSX is proposing to expand the amount of freight it moves through DC, which would require the expansion of the Virginia Avenue tunnel, the New Jersey Avenue overpass, and other locations to allow for double-height rail cars. The plan is supported by the National Capital Regional Transportation Planning Board and by DDOT.
Lazy Repost of Recent Tweets on Canal Park, Nats '10 Schedule, Ferries, More
Sep 16, 2009 12:03 PM
Here's a bunch of small items that I've
Tweeted
over the past few days; I'm succumbing to abject laziness and only barely bothering to rewrite them (who needs all those extra words, anyway?):
* RT @
TWTSports
: #Nats will open the 2010 season at Nationals Park against the Phillies on April 5. [
schedule link
]
* RT @
LPags03
: #Nats host BOS for exhibition game on 4/3.
* The new
Canal Park
design is on the preliminary agenda for the Oct. 1 NCPC meeting. Hope it makes the final agenda:
link
* Study of commuter ferry service to waterfront from Woodbridge pegs a $30M price tag just for needed improvements:
link
* From @
octolabs
: DC Citywide Data Warehouse won coolest gov innovation award for
DC Data Catalog/Data Feeds
:
link
[and thanks for the shout-out!]
* RT @
Cornercopia
: Owner of blue civic with Maryland plates parked in front should probably move their car. 2 tickets already since Mon.
Snippets, Reminders, and Whatnot
Sep 9, 2009 10:47 AM
Pulling together smallish items from hither and yon:
* Last night saw the first arrival of a commercial water taxi at
Diamond Teague Pier
;
WTOP covered the trip
, which is a good thing, since I neither rode the boat nor stood on the dock to watch it sail in. I suck.
* A stroll through the city's building permits feed (which alas isn't as easy or useful as it used to be, since they pile every single permit into the feed over and over, rather than just posting new/updated ones) uncovered that back in August, a raze permit was issued for
156 L Street
, home of the old Star Market and better known as the "
Little Red Building
"; the owner has spoken of plans to build a new two-story structure that would be a combination liquor store and deli. I haven't heard of any timeframe for the demolition, new construction, or store opening.
* From
And Now, Anacostia
, a heads up that today's Kojo Nnamdi show will include a segment called "Paris on the Anacostia: A Provocative Idea for DC's Waterfront," which will discuss the idea of *narrowing* the Anacostia River, "with the goal of bringing in new businesses, training new workers, and completely changing the relationship between folks East and West of the River." It'll be available online
here
.
* Tomorrow night (Thursday) is the second
Outdoor Space Movie
at
Canal Park
; this time it's
Star Wars
. The Force will be with you, starting at 7:30 pm.
* And Thursday night is also the deadline for pre-registration for
ULI Washington
's
Urban Marketplace conference and expo
on Sept. 15. Among lots of other sessions about urban development, it includes a panel discussion about the ballpark neighborhood, with Michael Darby of Monument Realty, Matthew Klein of Akridge, Michael Stevens of the BID, Harriet Tregoning of the Office of Planning, and me. It'll be a barn-burner!
* Saturday night is the second annual
Opera in the Outfield
at
Nationals Park
; the Washington Times
previews it here
. It's the
Barber of Seville
; but don't be alarmed when the first lines
aren't
"Welcome to my shop/let me cut your mop, let me shave your crop/Daintily, Daintily!"
* Forest City
announced its second-quarter earnings
, for those who know how to decipher these things. It does mention the
Park at the Yards
, still listing the completion date of the first phase as summer 2010. And their outlook? "While some see signs of a potential end of the recession, we are taking a conservative course based on what we can observe and are experiencing directly: continued weak fundamentals and little improvement in overall near-term conditions. As a result, we remain very cautious going forward. We expect the second half of the year to be challenging for our Company and for the entire industry, and we do not anticipate meaningful improvement in market conditions in the near or mid-term."
Free Sandwich Getting Presented Friday
Aug 20, 2009 12:18 AM
Last week, neighborhood resident Jamie D. was the first to
report that Cornercopia had opened for business
, and so won the free sandwich I had been touting for months as a way to get JDLand readers to do my surveillance work for me. We've set up a time for this honor to be bestowed (and thanks to Albert at Cornercopia for indulging all of this), so if any folks are around and feel like stopping by Cornercopia to meet some fellow residents and point and make fun of Jamie while he eats his sandwich, come wander by the corner of Third and K, SE, on
Friday (Aug. 21) at 6 pm
. (This gives Nats fans enough time to sprint to the stadium to use their $1 tickets.) It'd be great to meet some of the commenters and correspondents who make this place so lively, especially since there's a number of new faces around here these days.
Though, please note that I'm only footing the bill for *one* sandwich. I don't have the funds to buy off everyone! (Dang advertising market collapse!)
Sticky Rice Sushi at Cornercopia
Aug 17, 2009 10:43 PM
The folks at Cornercopia have started up
a Twitter account
, and
a Tweet
just came down the pike that will excite a lot of people: "Sticky Rice Sushi expected to be available tomorrow for lunch starting at 10:30am. Supplies are limited each day so get here early." If you're unfamiliar with Stick Rice,
here's their web site
.
Cornercopia Open; We Have a Sandwich Winner
Aug 11, 2009 1:24 PM
After weeks of watchful waiting, the reports are coming in that Cornercopia, the little market and sandwich stop at the corner of Third and K streets, SE, has opened for business today, and reader Jamie has
his receipt time-stamped at 12:07 pm
to not only prove that it was open, but to win the free sandwich I promised to the first reader to report that the store was operating. In the comments on another thread, Carey says that right now they're only accepting cash until they get some credit-card-transaction kinks worked out; they're also giving away "green" reuseable Cornercopia bags.
To make this new arrival in the neighborhood even more of a neighborhood event, I'd like to invite anyone who has a few minutes of free time to join Jamie and me for the ceremonial Purchasing of the Sandwich. Check back soon for the date and time (haven't been able to get it coordinated just yet, but didn't want to delay this post any longer...)
Cornercopia Liquor License Change Application
Aug 8, 2009 12:46 AM
Quick post:
here's notice, on page 14
(and I'm told this was posted on the building today) of Cornercopia's application for a "substantial change" to the existing liquor license from the old Third & K Market--the new owners are looking to be open (and selling alcohol) on Sundays from 9 am to 6 pm (the old market was closed Sundays), and they're also looking to extend the weekday hours to 7 am to 10 pm (with alcohol sales starting at 9 am). A hearing date for anyone objecting to the change in the license has been set for October 5.
Readers are flooding me with mistaken "they're open!" messages as well as "they told me they'll be open on [x] day!" messages, so, just to be fair--if you're gunning for the free sandwich as the first reader to report that Cornercopia is open, I'll be asking to see your receipt to verify that the market was indeed doing business. (You can send a picture of it from your cellphone!) This is to prevent the I-drove-by-and-it-looked-open messages....
Neighborhood Gumshoes Report on Cornercopia
Jul 27, 2009 10:53 PM
I personally don't have anything new to report on Cornercopia (I'm starting to feel a bit of deja vu to all the "no, really, the
school buses
are leaving soon" statements I heard from 2003 to 2009), so I'll just pass off to two readers who couldn't bear the suspense and visited the store themselves this weekend, then wrote/Tweeted what they heard (and I'll note that there's been varying reports between "they have all their permits" versus still needing their liquor license):
First, reader J reported via e-mail: "They are going to open sometime next week (the exact day was not disclosed). They will be open from 7 am to 9 pm, 7 days a week. Besides the gourmet deli, they will have produce, fresh sushi delivered daily (not sure where it's coming from), limited frozen items, milk/eggs/cheese, sodas, gourmet beers, and a lot of wine. In fact, they are going to have a back room full of wine. There were a lot of rows of canned goods, pastas, etc. as well. They are doing a last push right now with painting, stocking, etc. All permits are in, just waiting on a few other things. There will also be an ATM inside the store, though they will accept all major credit cards. They said when they open, the credit card machine may not be working quite yet, though. Other than that, they are all excited about joining the neighborhood."
Then,
mhoffy tweeted
an unintended followup: "met the owner of cornercopia yesterday and he said he is working on a contract with Sticky Rice for sushi. Yay!"
Will it happen this week? We shall see....
New Tweak: 'More Posts' Tags on Blog Entries
Jul 21, 2009 6:40 PM
Those of you who actually visit the site to read my blog (rather than using RSS or e-mail) may have noticed a little addition late last week: the "More Posts" links at the bottom of each entry. These take you to all previous blog posts about a certain subject/development/location--it was possible to get to these lists by going to the project pages and clicking on the "News" tabs, but there are some subjects (like
Cornercopia
or the
Little Red Building
or the
inauguration
) that don't really have a project page but where people might want to easily browse past posts. You'll also find these categories (and there's a boatload of them) on my
Blog Archive page
.
I haven't yet added them to my RSS feed--because I'm lazy.
Diamond Teague Progress, Cornercopia Peek, Plus a Few Other Photo Updates and a Parking Lot Update
Jul 16, 2009 8:46 PM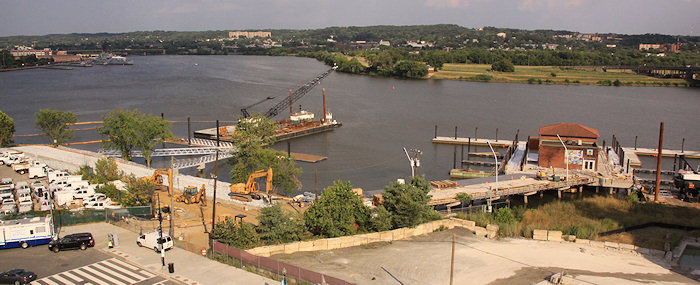 I took advantage of the sunny evening to dart around getting some desperately needed photo updates. First up is
Diamond Teague Park
, where progress on not only the water-taxi piers but the "on-land" portion of the park itself is now clearly visible from the
viewing platform at Nationals Park
. The last projected opening date I heard, a few months back, was July, but while it looks like maybe the park won't be pulled together in the next two weeks, it definitely appears to be getting there. See
my Teague page
for the latest pics.
I also snuck a peek through the door at Cornercopia and
snagged a quick photo
, showing goods now stocked on the shelves, but perhaps just short of being ready to open. Maybe they can get ready for all the folks heading to the ballpark this weekend? Don't forget, my offer still stands of a free sandwich to the first person who
reports to me
that it's open....
I also took some updated photos at Fourth and K in
Capitol Quarter
, where framing has sprouted on the
north side of K
. Then I wandered down to
the Yards
to get some better shots of the
southeast corner of Fourth and Tingey
, which is
where the Trapeze School is going to be located
. (You can also see the
entire batch of today's photos
, where you can then click on the
icon to see an angle's entire history.) Speaking of the Trapeze School, the Post's Health section had a story today on
what it's like to take a class from them
. (You probably won't ever see *me* flying through the air with the greatest of ease.)
One other item--the
WashTimes reported today
that the
Elton/Billy stage
left centerfield in a bit of a mess, requiring the grass to be painted. As you can see from
this shot I took during batting practice
, it seemed to work pretty well.
Lastly, it only took me half the season, but I've now updated my
Stadium Parking map
to show the many options for cash parking (official and unofficial), in addition to the official Nats season ticket lots. And to think that there was a time when *some* people were worried there wouldn't be enough parking.
Setting the Stage for Elton/Billy; Cornercopia Update
Jul 9, 2009 4:25 PM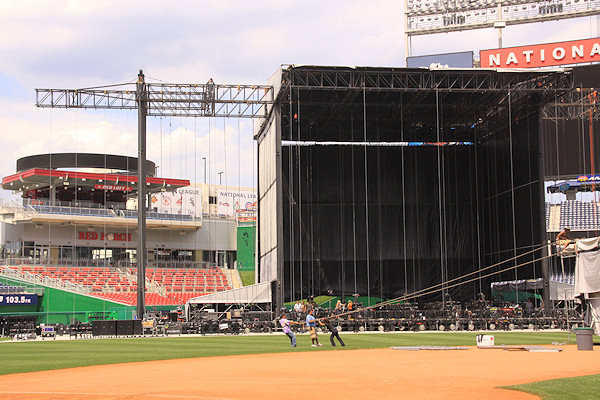 These aren't the most exciting photos I've ever posted (and goodness knows there are a lot of pictures at JDLand that already fall into this category), but I couldn't pass up the opportunity, so here are some shots from inside Nationals Park today
showing the construction of the stage
for Saturday's Elton John and Billy Joel concert. It's in dead centerfield, taller than the Red Loft but not quite as big as the scoreboard. (There will be seating on the field, it just hasn't been set up yet.) And, if you make to the bottom of the page, there's a couple non-stage shots that might be of interest, too.
In other news, I stopped in Cornercopia, and they tell me that they have all their city permits, and are now just waiting to get set up with their distributor, so they could be opening next week. They also told me that they will have tables with umbrellas, chairs, and benches, and the all important water dish for dogs. If you
didn't chime in on the last thread
on what goods you'd like to see for sale there, leave a comment below; you never know who might be reading!
No News Is.... No News (Well, Barely Any News)
Jul 6, 2009 4:24 PM
I haven't gone anywhere, I just have barely any news to pass along these days. This is the best I can do:
* As
I tweeted
last week, I heard from the owner of the Cornercopia Deli at Third and K, saying that the "wheels are turning a little more slowly" than they had hoped, thanks to red tape. No opening date, but that shouldn't stop you from leaving your thoughts in the comments about what you'd like to see sold in the store--and maybe we can get Mr. Oh himself to say hello...
* Here's a post from
WBJ's Breaking Ground blog
with Opus East's
schedules
and
statement of financial affairs
, as a result of its
Chapter 7 liquidation filing late last week
. (The documents are pretty much Greek to me, but maybe those with some experience in the area might find them interesting.) The city's recorder of deeds database also shows eight liens filed against Opus's
1015 Half
project from late May through June 24, and construction does appear to have ground to a halt.
* In Friday's
print Washington Business Journal
, Missy Frederick writes that sports bar
The Greene Turtle
is looking to open five more locations by the end of 2009, with two of them in DC, "particularly near Capitol Hill or by one of the college campuses." Hmmm, what neighborhood with a fair amount of already available retail space (and a guaranteed influx of sports fans) is "near Capitol Hill"? (But I'd note that the biggest available retail spaces in Near Southeast, on the ground floors of
100 M
and
55 M
, are in buildings where the owners [Opus East and Monument Realty] are in rough patches; does that make signing a retail lease less enticing, or more? On the other hand, the
ballpark
has all that empty retail space along First Street....)
Hearing Tuesday on Yards Park Maintenance Bill; Various Tidbits from Third Street
Jun 22, 2009 2:55 PM
* Tuesday morning at 10 am the council's
Committee on Finance and Revenue
is conducting hearings on a bunch of bills, including B18-0299, the "
Waterfront Park at the Yards Act of 2009
," which would "authorize the Mayor to enter into an agreement to provide for the operation and maintenance of
a public park
on the Anacostia River Waterfront; to establish a Waterfront Park Maintenance Fund into which certain designated revenues, including certain sales tax revenue, shall be deposited; and to impose a special assessment on properties specially benefited by the park." I'm kind of bleary today, and so haven't yet the proposed act terribly closely, but I can report that one of the potential revenue streams mentioned in the bill is the "naming rights" for the park. (Alas, I don't think I have enough change under the sofa cushions to bid on this.) The
hearing is at 10 am in room 412
(and should be on DC Cable 13 and live webcast, though
tomorrow's schedule isn't posted
yet).
* The latest on Cornercopia--reader DT (who is *gunning* for my
free sandwich offer
) reports speaking today with the man who will be running with the deli, who said that they are awaiting permits, and hope to open in July. Maybe even July 1.
* Reader MB reports having smelled natural gas a number of times recently in the intersection of Third and Virginia, right before you head north under the SE Freeway underpass. I just drove through there a little while ago and smelled it quite strongly inside my car, even with the windows rolled up. She says she's called Washington Gas a number of times, and it seems to get fixed temporarily, but then returns. She left a message with the mayor's office today. So, if you hear a big BOOM, you'll know what happened, and the Powers That Be can't say they weren't warned.
* Reader CA reported last week having seen a big gathering of people outside the Post plant at
225 Virginia
--I saw them myself at around 1 pm today, and it appeared to maybe be a group of young folk involved in the DC summer jobs program, but I don't know for sure. I can say they didn't look like a swarm of developers desperate to sublease the property.
* Lastly, a nearby resident has heard from DDOT and Tommy Wells's office that, within the next couple weeks, the two lanes of parking on Third Street underneath the freeway will be marked as No Parking during rush hours. This should allow for a de-facto creation of left turn and thru lanes for the northbound lanes at the light on the north side of the freeway, perhaps allowing thru traffic to get through the light more quickly and to shorten the backup southward down Third.
29 Posts:
Go to Page:
1
|
2