Near Southeast DC: Past News Items
Capitol Quarter
Go to Full Blog Archive
---
Wrapping Up at Capitol Quarter: Construction Completed, Nearly a Decade of Photo Treks Now Finished
Nov 12, 2012 11:16 AM
For close to 10 years, there has almost always been something going on to photograph between 5th, 3rd, L, and Virginia. Between 2003 and 2007 there was the boarding up and demolishing of the old
Capper/Carrollsburg
dwellings and the construction of the
two
new
Capper apartment buildings. Then, in 2008, work finally began on
Capitol Quarter
's mixed-income townhouses, starting at 5th and L and working northward then back southward.
And now, as 2012 comes to a close, the final batch of homes, on the south side of L between 3rd and 4th, have been completed, and with the
photos
I took
Sunday
, my work in the Capitol Quarter blocks is done.
There will be more to come at Capper--
apartment buildings
are still to be built on the empty lots between 2nd and 3rd, and on the trash transfer site, and at the old Capper Seniors site at 7th and L, plus office buildings at
250 M
and
600 M
--but until those get underway (timelines all currently unannounced), my days of traipsing around the old Capper footprint with camera in hand are at an end.
I've taken more than 5,000 photos of just this portion of Near Southeast, and while not all of them are on the web site, if you go to the
Photo Archive map
and click on a star or use the search form, you can follow the progression I've witnessed at the 14 Capitol Quarter intersections (such as the one above, showing the
southwest corner of 4th and L
from 2006 to 2012, and the one below, showing the
northeast corner of 4th and K
from 2004 to 2009).
The photos, of course, mostly just track the physical change, and don't really reflect how these blocks now have so much more foot traffic, so many more strollers, and so many more bikes (and so many more shades of pastels on the buildings!). The photos probably do hint at the, ahem, shift in demographics from a nearly 100 percent public housing community to a mixed-income area that includes some of those previous public housing residents alongside newcomers who've paid close to $1 million for their new homes, which probably still elicits a grumble here or there, though that's also an on-going discussion across the city, not specific just to Near Southeast.
Canal Park Progress: Peeking Through the Fences (and the Trees)
Jun 10, 2012 5:25 PM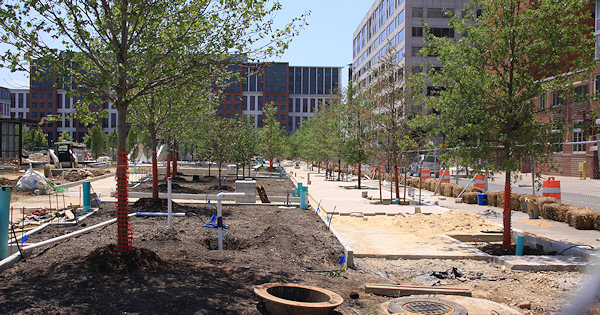 Although the temperature was a bit high for my liking, it still felt good to take a walk with camera in hand for the first time since April around
Canal Park
and
Capitol Quarter
to get a new batch of photos. And, thanks to the planting of numerous trees along with other visible improvements, my months and months of complaining about not really having much to photograph during the park's construction have come to an end.
With the arrival of the trees and some initial streetscaping now in place on the portion of L Street that runs through the park, you can now see how narrow the street is going to be in order to work to slow vehicular traffic as it crosses the park. (The completed streetscape will also give a visual cue to Slow The Hell Down.) K Street will get a similar treatment.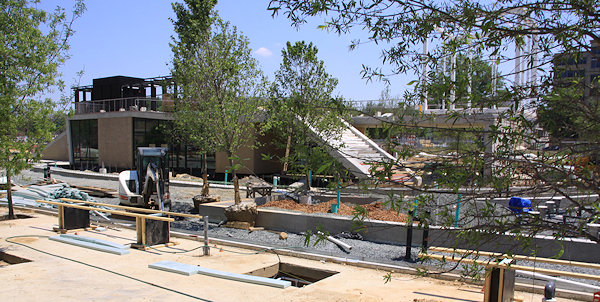 So
check out the slew of progress shots
on my Canal Park project page. And I do also recommend a run through my
Expanded Canal Park photo archive
, to make a time-traveling virtual visit to the park's three blocks, which will get you comparison shots like these:
(Southeast corner of 2nd and K. I love the first shot, from nearly nine years ago, with lots of school buses and without USDOT.)
The
official Canal Park web site
can also give you more information, along with
these slides
from a
presentation
at last month's ANC 6D meeting. Though, judging from the people who chatted me up while I was poking my camera through the fences, we're long past the "what" stage and deep into the "when" ("WHEN!?!") stage. An opening in November is still the target.
Meanwhile, on
Capitol Quarter
's last block, framing has now gotten underway on 4th Street, with bricking and painting finished on the houses on the 3rd Street side. My suggestion is to scroll through the
Capitol Quarter Phase 2 Expanded Photo Archive
, because I can't imagine at this point the before-and-afters need much narration.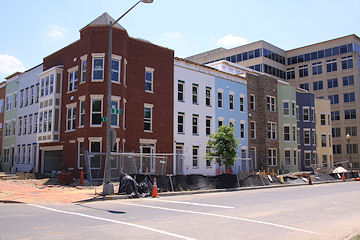 (Southeast corner of Third and L, in December 2004 [through the windshield!] and today.)
Updated Photos from the Usual Spots (Holiday Edition)
Apr 8, 2012 6:35 PM
Because of a need to burn off some calories before digging into my "Reeseter's Bunny" (milk chocolate-coated peanut butter bunny, which the label says is four servings [ha!] at 180 calories per), I did my usual wanderings this morning to grab updated photos around,
Capper
,
200 I
,
Canal Park
, and the
Boilermaker Shops
. Alas, I did not hide any Easter eggs in any of these shots, nor did I find any.
The framing and Tyvek-ing is underway on 3rd Street south of L, in the shadow of the 300 M Street office building, as
Capitol Quarter
continues its march toward completion. I also took a lot of photos of other CQ Phase II blocks, so spend some time in the
Capitol Quarter Phase 2 Expanded Photo Archive
(and scroll down a bit) to hop through the many (many!) before-and-afters.
Then there's the
Boilermaker Shops
at
the Yards
, where some work was being done even on Easter Sunday. The walling off the interior space for the different tenants has begun, with the studs visible--and some drywall has even gone in on the mezzanine level, as seen at right, in a view from 4th Street, through what will be the Bluejacket space.
The work is on-going at
Canal Park
, but continues to not be terribly exciting from a photographic standpoint, unless you're wowed by images of new curbs. But the
Canal Park Expanded Photo Archive
can take you for a walk around the park's perimeter to see the current views, if you don't see it every day. (I also like my barbed wire shot [above right], the result of desperation after being without photos from the east side of 2nd and L for a very long time now. But, no, I didn't jump the fence.)
I also enjoyed being watched very closely by a USDOT security guard with a clipboard as I took photos of the park's progress from the south side of M Street. "What are you taking photos of?" she finally asked, trying to sound stern. "Stuff," I replied, as I smiled and kept walking.
There's also updated shots from
225 Virginia/200 I
(seen at right), with the landscaping now starting to go in.
If you want to see today's entire batch (213 of 'em),
here they are
, remembering to click the fun little
icon if you want to see the entire range of photos for a certain location. If you want even more new-ish pictures, here's
photos I took around 1st and Half Streets on Tuesday
, to get the
Fairgrounds
exterior into the
official archive
.
Now I need to go find that peanut butter bunny. I think I earned it.
Capper Milestone: Capitol Quarter Townhouses Now Sold Out
Mar 29, 2012 9:40 AM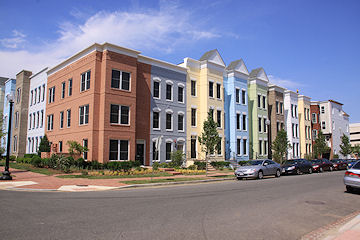 It's a real milestone in the redevelopment of Near Southeast to report that the entire stock of townhouses for sale at
Capitol Quarter
has now sold out.
The first reservations for units were taken in
October 2006
(remember the people camping out?), construction began in
summer 2008
, Phase 1 finished construction and Phase 2 reservations began in 2010, and now, with construction underway on the last group of houses on L between 3rd and 4th, the finish line for the project is not far away.
The development has been the third phase of the
Hope VI redevelopment
of the old
Capper/Carrollsburg
public housing project, replacing the old housing with nearly seven blocks of brightly painted rowhouses, containing not only 130ish market-rate townhouses (a few of which have broken the $1 million barrier) but also 90ish special
workforce-rate
houses for smaller incomes, in addition to nearly 90 subsidized rental units.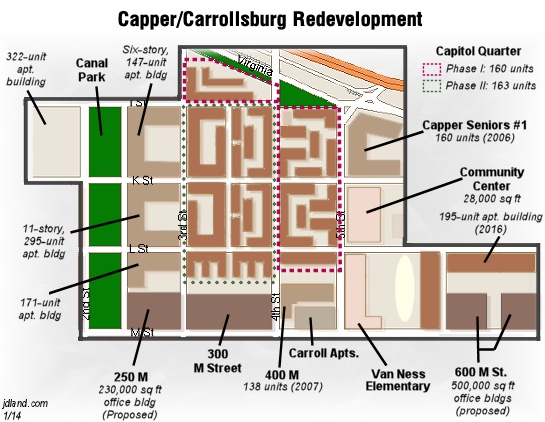 Those units, combined with the 300 built at
Capper Seniors #1
and
400 M Street
, mean that more than half of the 700 units in the old Capper have now been replaced. The rest are slated to come in
five mixed-income apartment buildings
, located on the west side of 3rd Street, on
L Street south
of the Marine Bachelor Enlisted Quarters, and on the DPW/trash transfer station site at New Jersey and K. No timelines have been announced for any of the remaining buildings, but you can see on my
main Capper page
a map with estimated unit counts for each.
I've taken a lot (a LOT) of photos of the Capper footprint since 2003: my Capitol Quarter
Phase 2
and
Phase 1
pages give a good overview, or you can just pick a spot along 3rd, 4th, or 5th Streets in my
Photo Archive
and take a look.
Thursday Tidbits: Minutiae from Wandering the Streets (and Twitter)
Mar 22, 2012 3:38 PM
With Pictures:
* Shipping containers
have
been
arriving
at the
Fairgrounds
(Bullpen) site. (They say there's going to be a "preview" event on March 30--looks like a lot of work to do in eight days. But the real opening is
supposed to be
in time for the Nats' season opener on April 12.)
* Greenery
is
arriving
at
200 I/225 Virginia
, and the sidewalks are done. Apparently the fences will be moved back sometime next week to keep the building perimeter secure but to allow the sidewalks to be used. (In other words, the "street sidewalk" will finally disappear.) There should also be repaving and crosswalk striping around the site coming in early April.
Without Pictures:
* Framing is racing along on the stretch of
Capitol Quarter
townhomes on 3rd south of L.
* Curbs are going in on 2nd Place next to
Canal Park
and the pavilion.
* The cherry trees in the Center Field Plaza at
Nats Park
are budding, but don't look on the verge of popping yet. Perhaps they can hold on until April 3.
Elsewhere:
* Mark Batterson says the
demolition
of the Miles Glass building and the garage next door on Virginia Avenue
will happen next week
.
* Yesterday we were talking about the possibility of a
little BOOM
, but here's what might happen 'round these parts if there's a
really BIG BOOM
.
* The Post writes
about the neighborhood
as part of the big Mega RealEstate focus on walkable communities, and keys in on the fact that the area has a number of different names. (For the record, it's not like I made up "Near Southeast"--I was just
following the city's lead
.) Within a few hours, though, Greater Greater Washington may have solved the problem by pointing us to the area's late-19th-century moniker: "
Bloodfield
." Wouldn't that work great for ballpark headlines? ("Phillies Dismembered at Bloodfield.")
Anything else folks are seeing?
Tuesday Tidbits: Best Evaluated by Volume, Not Weight
Mar 13, 2012 9:19 AM
So many
Tweets
recently, such small items. Let's see how short I can keep them:
*
Justin's Cafe is looking to have a block party
on Saturday, April 14 (when the Nats and the Reds play at 4:05 pm), and ANC 6D has supported the request to close 1st Street between K and L. (
Thanks to SWill
for, once again, picking up my slack.) Still probably some bureaucratic hoops to jump through before all is confirmed. This was moved
from
Opening Day so it would be on a weekend, Will says,
* Looks like
DPW's trucks
have
departed a couple weeks earlier than expected
from the agency's longtime home at
New Jersey and K
, although all the lights may not be turned out just yet. Demolition is in the cards, though some environmental abatement has to happen first.
* New
striping and bike lanes
were installed Monday on I Street SE between South Capitol and New Jersey.
* Start starving yourself now to prepare for the
Red Porch's eight-pound "StrasBurger
."
*
Photographic evidence of fences down
at the old
Bullpen
, clearing the way for
Fairgrounds
.
* Only
four houses left for sale
at
Capitol Quarter
.
*
Bank of America
is now
building out its new space
in the ground floor of 55 M south of the Metro entrance,
informed sources say
. (They're closing their Southwest location
in June
.)
* Could
DC United be setting up shop
just a few blocks up Potomac Avenue from Nationals Park?
* Near Southeast gets off relatively easy in this Sunday's
National Marathon Street Closure Sweepstakes
(just South Capitol south of L, and the Douglass Bridge).
Anything else going on these days? Besides that sandwich shop opening?
UPDATE:
Let's add the
elephant parade
! Starting tonight at 8 pm, on the southern edge of Garfield Park at the train tracks where Virginia crosses under New Jersey, says
WTOP
.
UPDATE II:
And, from the Hill is Home, a
Q&A with ANC commissioner David Garber
.
UPDATE III
: I sent a
lackey
down to Potbelly to get a
few
opening-day
shots
. Hope he's not expecting to get reimbursed for his lunch.
Photos from All Over, Feb. 2012 Edition
Feb 27, 2012 11:34 AM
Take a gorgeous Sunday, add an obsessive-compulsive need to document all the change underway, and what do you get? Nearly eight miles of walking and a shameful number of new photos.
The
Foundry Lofts
building is all but done, with only the retail spaces left to be built out, so I took a bunch of "after" photos that will probably last for a while. But that new Potbelly sign sure stands out! I also pressed my nose against the glass to peek inside the sandwich shop's space--it sure doesn't look far from opening.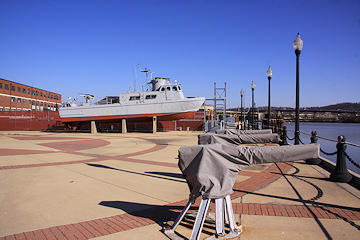 Embarrassingly, I haven't had a camera in hand on the Navy Yard's portion of the Anacostia Riverwalk since 2004. (I'm always worried they're going to toss me in the brig as a security threat, especially after a run-in a few years back where I was chased down by both a gate sentry and the DC police after taking photos of the Hull Street gate from across M Street.) But I pushed forward yesterday and got a bunch of new shots that I've added to my
Navy Yard page
, taking care to demonstrate to the many security cameras that I was photographing the river and not the installation. (Don't miss the especially cool before-and-after of the gate to the Yards Park.)
I will probably be creating a separate Riverwalk page before too long, but not today.
Along 11th Street at
N
and
M
, photos are more notable for what's not there anymore, as the demolition of the embankment for the old outbound RFK ramp is done, and the path of the new ramp from M Street for traffic headed to the outbound
11th Street Bridges
freeway traffic becomes more obvious. Also see
this picture of the work on the 11th Street Local bridge
, showing the demolition of part of the old outbound bridge approach, which has to be done before the new local bridge can hook up with 11th Street. (You can see it as well in my
O Street before-and-afters
, if you figure out what to look for.) Check my
11th Street Bridges photo page
for more images.
Then there's
Canal Park
, where I mainly took some new photos of the pavilion under construction near M Street, since photos of digging and ground work don't quite rise to the level of "interesting." I also hit most of the angles for the
Boilermaker Shops
, as well as for
Capitol Quarter Phase II
, where the security guard expressed concern about my actions (I need a laminated Photography Approved card or something). And I wandered the
225 Virginia/200 I
perimeter.
If you're a glutton for punishment, you can browse the
267 pictures from this trek
that are now in my
Photo Archive
, using the
links to see before-and-afters.
Comments
(5)
More posts:
11th Street Bridges
,
225 Virginia/Old Post Plant/200 I
,
Boilermaker Shops/Yards
,
Canal Park
,
Capper
, Capitol Quarter,
Foundry Lofts/Yards
,
Navy Yard
,
photos
,
riverwalk
,
The Yards
Tidbits, Capper Edition: Trailers Leaving, New Curbs, More
Feb 22, 2012 8:05 PM
It's not often I have enough content for a location-specific tidbits post, but there's a few items of note from the
Capper
/
Capitol Quarter
neck of the woods worth passing along: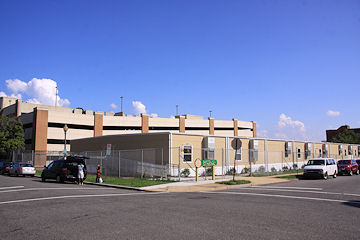 *
Capitol Hill Day School
has moved back into its digs at the Dent School north of the freeway after spending the fall and early part of 2012 in "modular classrooms" on the Capper
Community Center site
at 5th and K, SE.
The trailers are scheduled to be hauled away sometime next week; I hear that the Housing Authority folks are looking into keeping the fence that CHDS put up and laying down some additional sod in order to create a small playing field for kids.
There's still no word on when the community center itself may get built, though DCHA is (still) working on getting the financing.
* If you've seen
new granite curbs and gutters
going in along 3rd, K, and L in front of Cornercopia and the "legacy" houses around which Capitol Quarter has been built, those are being installed by the Housing Authority as a small community benefit for those homeowners who have been surrounded by a whole lot of construction over the past few years. New brick sidewalks will be coming as well; new street lights are also a possibility, though that's not confirmed.
*
Foundations are being poured
for the townhouses along 3rd Street south of L that are part of the last block of Capitol Quarter construction. Didn't see framing underway when I rode by on Saturday, but perhaps that's started since?
* There's also apparently some kerfuffling these days within the CQ homeowners association, sparked by working on the community's response to the plans for the
Virginia Avenue Tunnel reconstruction
(the project that continues to put a smile on everyone's faces!). I mention it here because I wouldn't want to be accused of sweeping such important news under the rug, but I'd really prefer that my comments section not become a place for the battle to be litigated.
A Slew of Shots Snapped on a Sunny Saturday Sojourn
Dec 4, 2011 5:24 PM
Yes, it's time for another batch of updated construction photos. This is a tough stretch of year to take these--the sun never gets very high in the sky, so anything facing due south is about impossible to get without glare. And, for places like
Canal Park
, it's hard to even get some locations out of the shadows long enough to get a photo that you can decipher. But you can see (below left, and on the project page) a couple of shots of the progress on the park's pavilion where the
Park Tavern restaurant
will be housed, along with plenty of shots vaguely showing the other ongoing ground-level work. Meanwhile, at
Capitol Quarter
(below right), they continue to just zip right along, with framing now well underway on the north side of L and around up 4th, and prep work for foundations continuing in the project's final block, on the south side of L.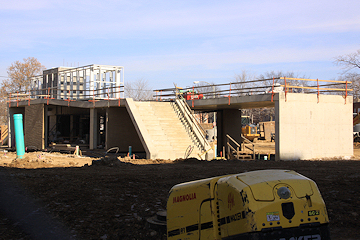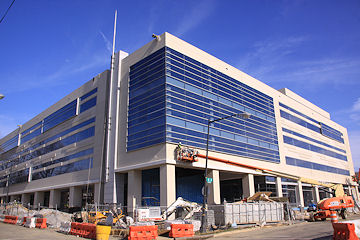 In the Renovation/Rehabilitation portion of the tour, we have a few updated images of the
Boilermaker Shops
(above left), another building that's tough to shoot in winter, even more so when there's not much of it other than steel beams at the moment (though they have recently been painted white). Meanwhile,
225 Virginia/200 I
is coming pretty close to the end of its exterior renovations, though work inside will continue in preparation for the arrival of three DC agencies later this year.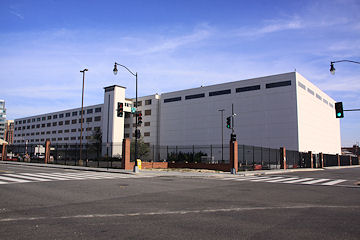 There isn't much new to see of
Lot 38 Espresso
(aka the Little Red Building 2.0, above left), which the grapevine says is now shooting for a mid-December opening. (But, really, at this point, it opens when it opens--the last batch of permits and approvals is always slow going, and I bet the owner wants it open even more than you do.) I also took a bunch of shots of the
former National Geospatial Intelligence Agency building
at 1st and M (above right), not because there's been any changes to it, but because I really enjoyed finally being able to aim a camera at it without having guards reaching for their guns. (Nyaah! Nyaah! Click! Click! Click!)
I came home with 438 new photos (yikes), and you can browse the 180-plus I decided to upload to the
online archive here
. (Yes, it's true, you don't actually get to see every photo I've ever taken. Which is probably for the best.)
Remember to click the
icon to see the entire range of photos for any location, while the project pages linked to above are your best bet if you're looking for paired before-and-afters and/or narrated tours.
And, in case you didn't see
my tweet
or my
late-night update
, the
residential/Teeter project at 4th and M
got all the dotted i's and crossed t's I mentioned in my initial post, and is officially now considered by Forest Ctiy as "commenced." (I just can't call it 1212 4th Street yet. Doesn't really make the location pop as well as "4th and M.")
Updated Photos: Capitol Quarter Phase II and 225 Virginia/200 I
Oct 23, 2011 2:43 PM
October may be my favorite month for taking photos of Near Southeast--if you can get a bright clear day, the just-starting-to-change trees give a nice additional color pallette, plus the sun still gets high enough in the sky to (mostly) allow for southward-facing photos. It was eight years ago I first found this out, as you can see in this
October 2003 gallery
--there's still a lot of shots where clearly I hadn't found my routine yet (and you can see my dirty windshield here and there!), but there is still something special about the light in them. And looking at how different things look is kind of cool, too.
There isn't really all that much to take photos of in the neighborhood right now, especially since I did
a full set back in September
, but I did take a quick walk through
Capitol Quarter
and over to
225 Virginia/200 I
to get updated images: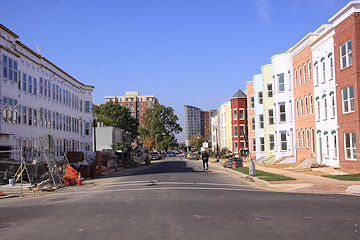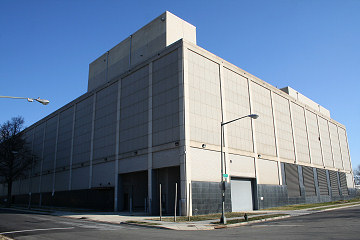 The old Post Plant monolith ain't quite so monolith-y anymore, is it?
You can browse the expanded photo archives for
225 Virginia
and
Capitol Quarter Phase 2
for lots and lots of images (with today's shots marked by the

icon, as always), or visit the
Capitol Quarter
and
225 Virginia/200 I
project pages for a more "narrated" tour.
There's apparently been some concern by Capitol Quarter residents about the 200 I construction, but representatives of Stonebridge gave an update to them saying that "base building work" (i.e., outside stuff) will be completed in the next four months, which seems pretty much on the schedule
announced when work began
back in February. Interior work will begin in December, with DC agencies expected to begin moving in around June 2012. But 3rd and I streets will probably be a bit of a mess as utility work and the construction of the single-deck parking garage continue. My
post from March on the parking garage
configuration may also be of interest, if you haven't been following along, as might
all of my 225 Virginia/200 I posts
, going back many years....
And, once you're finished wandering through these shots, how about
filling out my Reader Survey
? (I PROMISE that this link actually works!) It's only going to be up for a few more days....
Final Capitol Quarter Workforce Housing Lottery Completed
Oct 18, 2011 1:32 PM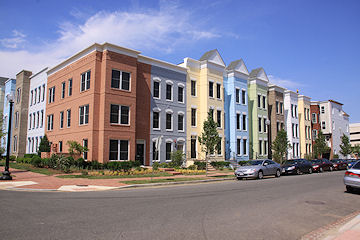 The folks at EYA have passed along that the fourth and final lottery for workforce-housing units at
Capitol Quarter
was completed on October 1, with 66 people entering for the 12 houses that were made available. (EYA also drew 24 names for a backup list in case any of the chosen 12 withdraw.)
I don't have any of the documents for this round of the lottery (didn't get any notification of it in advance this time around), but here's the
information provided for the last lottery
, back in March. At that time, household income needed to be under $119,025 in order to qualify, and there were scads of qualifications and requirements that potential lottery entrants needed to be certified as having passed in order to participate.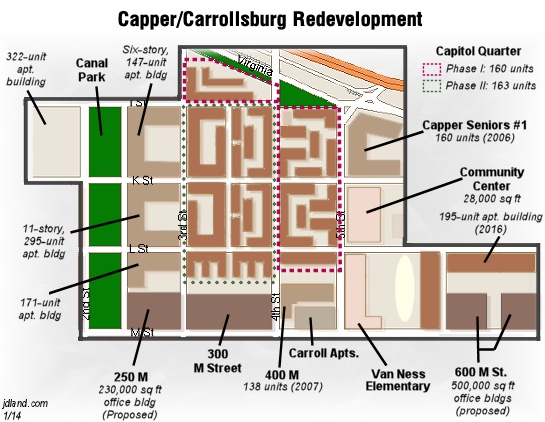 As for the rest of Capitol Quarter, it is nearing the finish line, with seven or eight market-rate homes left to sell on the second-to-last block (bounded by 3rd, 4th, K, and L), along with the 12 market-rate homes that will be available on the final block on the south side of L between 3rd and 4th (right behind the 300 M Street office building).
This portion of the
Capper/Carrollsburg redevelopment
should be completed by next summer, with the two phases of the Capitol Quarter townhouse development bringing approximately 120 market-rate houses, 82 workforce-rate units, 25 Section 8 ownership units, and 86 subsidized rental units. This is in addition to the 162 subsidized senior housing units at
900 5th Street
and 138 subsidized units at
400 M Street
. This leaves
five mixed-income apartment buildings
and the
250 M
and
600 M
office buildings still to be built to complete the
Hope VI plans
that will replace the 707 units of public housing one-to-one, along with constructing an additional 1,000-plus market-rate and workforce-rate units. No timelines have been announced for the next phases.
Tree Planting on Saturday, Metro Name, Nats Park Uses
Oct 12, 2011 8:38 AM
* On Saturday, Oct. 15, a group of neighbors together with Casey Trees is having a
tree-planting event in the "triangle park"
bounded by Virginia Avenue and 4th, 5th, and I streets, SE. No prior experience is required, and coffee and treats will be provided along with a post-planting lunch for volunteers. More information and how to volunteer
here
.
* WMATA staff
has recommended that
"Ballpark" be added to the Navy Yard Metro station name as one of its new "secondary" (subtitle) names, rather than the
requested "Navy Yard-Ballpark."
However, since there is not yet any organization that has committed to paying for the name change (which a DDOT rep said at a recent ANC meeting would be in the $100,000 range for a two-exit station), WMATA's board will not be voting on this name change at its
meetings on Thursday
. They will vote on whether to change the Waterfront-SEU station to just "Waterfront," having veteoed the city's request for "Waterfront-Arena Stage" as being over the 19-character length limit and also having a "commercial naming rights issue." (via
GGW
)
* The ANC 6D October agenda has been sent out (but isn't yet
on the web site
). In addition to the very important business of giving thumbs up or down to five different races/walks that want to use neighborhood streets, the commission will be getting updates on the
225 Virginia/200 I project
and the big DC Water
Clean Rivers Project
that will be
ripping up M Street SE
for a number of years. (Won't that be fun if M Street is a construction zone at the same time as
Virginia Avenue
?)
Bullet from Freeway Gunfire Strikes Virginia Ave. SE House
Sep 25, 2011 3:51 PM
Readers are reporting that late Saturday night three or four shots were fired on the Southeast Freeway that resulted in a bullet going through a window of one of the houses in the 300 block of Virginia Ave. SE, with the one of the bullet's shards then ending up either lodged in or very near the bassinet of a 5-day-old baby. No one in the house was injured. The gunfire seems to have been the result of people in one car on the freeway shooting at another car.
There's no police report anywhere as yet, so these are only details I'm getting from readers, but perhaps more information will become available. (I've sent a request into the
MPD 1D mailing list
.)
UPDATE:
This is Commander Hickson's reply to my question on the MPD-1D list: "There was a shooting on the Freeway that involved a passenger in one moving vehicle firing at another moving vehicle. As a result of that shooting a shot struck and entered a private premise in the 300 block of VA Ave SE, causing damage to the home and the targeted vehicle. Thankfully, no one was injured in the vehicle or the home. The only description that was provided was for a black "luxury" vehicle, occupied by three subjects."
A Few Photos Before Downshifting into the August Doldrums
Aug 1, 2011 3:31 PM
I'm anticipating that the next couple of weeks will be pretty quiet, at least the
Foundry Lofts
start their pre-leasing on Aug. 15, followed by the
Ward 6 Redistricting Task Force
release of its first draft of proposed new ANC/SMD boundaries on or about Aug. 18. So here's a bit of a potpourri, and then I'm going to probably take a blog-breather unless really big news breaks. (As always, I'll still be popping up on
Twitter
or
Facebook
with tidbits here or there.)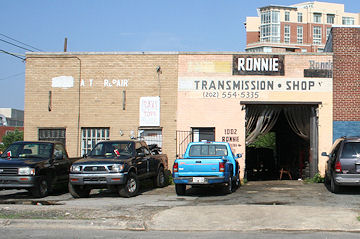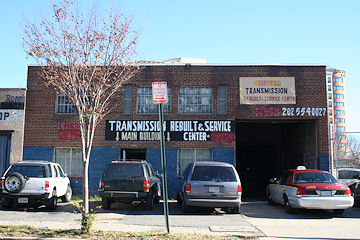 A smidge belatedly, I've added the three garages demolished a week ago on the southeast corner of 1st and K to my
Demolished Buildings Gallery
, as entries 163, 164, and 165. (It might soon be time to create a Not Demolished Gallery, which would be far far smaller.) I was surprised when digging in my archives to find a couple of photos of the garages still in operation (above), from 2006 and 2007. You can also see how that stretch of 1st has changed since 2003, looking
south from K
and
north from L
.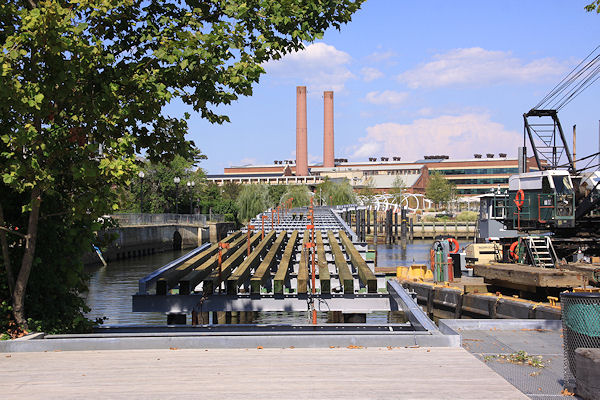 I also
grabbed a quick photo
of the progress on the new bridge bring built by the city that will link
Diamond Teague Park
to the
Yards Park
, scheduled to be completed this fall. (And I guess it's time to also officially get rid of the "floating bridge" nomenclature, because, as we've seen for months, there are big ole' piles in the river.) It'll be interesting to see if usage of the First Base Gate at
Nationals Park
at 1st and Potomac increases noticeably next season with this new riverside walkway available. (It will also make arriving at Teague Piers via water taxi to attend events at the Yards Park involve a much more enjoyable walk, compared to schlepping up to N Street and over.)
And, with people now moving into the first completed houses in phase two of
Capitol Quarter
, I updated my photos of
3rd Street between I and K
. And it reminded me how the intersection of 3rd and I has become quite an
illustration of change in all directions
, with not only new townhouses replacing old public housing but also seeing lots of new high-rises in the distance. (The White Monolith that was the old Post Plant on the northwest corner
getting a facelift
is an added bonus.)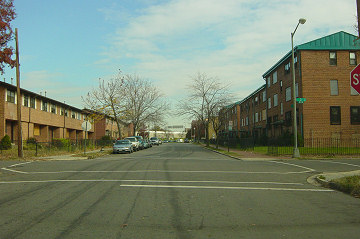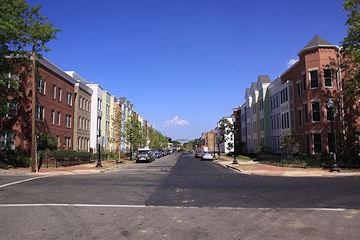 If you're looking for other links to help kill time over the next few weeks, take a look at the
JDLand Headlines
to be sure you haven't missed any big items lately.
Demolition of the Market Deli at 1st and L Underway; Other Photos
Jul 11, 2011 3:41 PM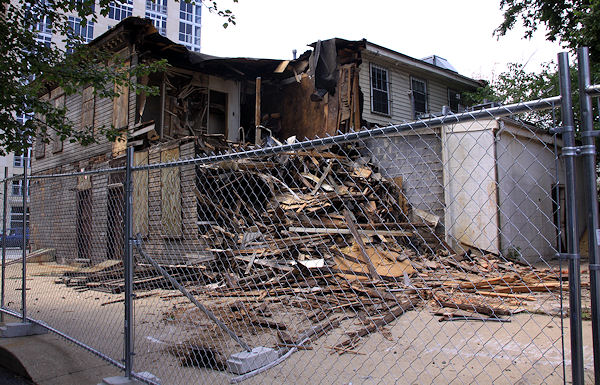 With raze permits for the old structures along 1st Street SE between K and L finally approved in mid-June, the days were truly numbered for the Market Deli and its neighbors, and today the demolition got underway, with most of the rear section of the Deli's structure knocked in.
Fences are up
all around the 1st Street structures, which are all owned by Akridge, and with this initial wrecking underway I imagine it won't be long until the five buildings are added to my
Demolished Buildings Gallery
, as entries 161 through 165.
There's
a few more images here
, showing that the demolition isn't quite so obvious from 1st Street (yet). Also, hopefully the folks who have been tending to the cats living in the abandoned building can report in as to their fate. (I heard a rumor that some kittens were removed today, but would defer to an update from anyone with more knowledge.
UPDATE
: In the comments of another post, reader jenniferp says that five very young kittens were indeed captured this morning, but there are several more still on the loose.) And, if you haven't been following along on the tale of the Market Deli for the past few years,
here's some enlightenment
.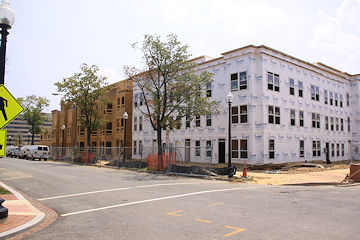 And, because it would have been silly to wander down there in the ghastly heat and humidity and walk past a whole lot of spots where I needed to take updated photos, you can see the latest progress at
225 Virginia
(aka 200 I Street)
and the
second phase of Capitol Quarter
, where framing is being completed on the last portion of its first block, along Fourth Street.
Photo Update: 225 Virginia's New Clothes, Townhouses A'Poppin'
Jun 12, 2011 2:53 PM
While the number of
photos I took
while in Spain and Italy should have been enough to tide me over for quite a while in the camera department, the guilt at not having taken Hood photos since APRIL (!) shoved me out the door on hot and hazy Sunday morning (ick) for a walk around the major activity zone between 2nd and 4th Streets.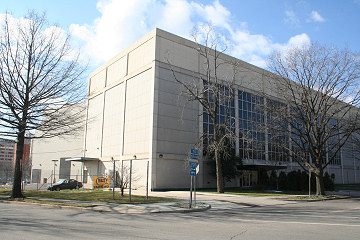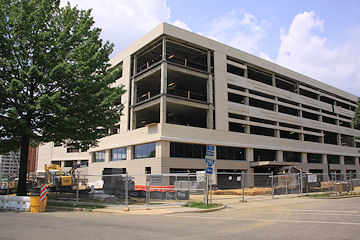 The re-dressing of
225 Virginia/200 I/Old Post Plant/Old Star Plant
continues, with most of the north face now sporting the building's new look; some windows have even been installed on the east front, facing 3rd Street. It's expected that the exterior work will be done by early 2012, with tenants from three city agencies starting to move in about a year from now. My
225 Virginia project page
has a guided tour of the project, or you can take the
virtual walk-around-the-block
for a bigger batch of before-and-after photos to watch the building's transformation from Big White Monolith to 21st century office building.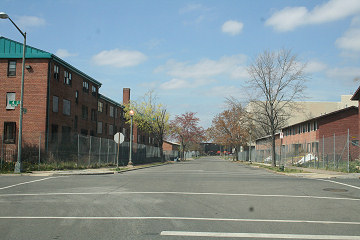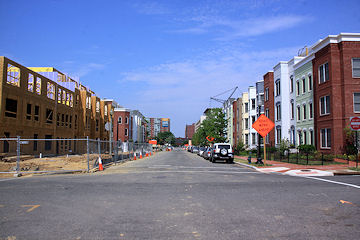 In the meantime, work is speeding along at
Capitol Quarter
, where the block bounded by 3rd, 4th, I, and K (bisected by the soon-to-be-birthed 3rd Place) has construction in all phases, from the nearly completed houses at
3rd and I
to the new framing at
4th and I
, and foundations now poured at
4th and K
. And, as briefly mentioned a few days ago, the trailer that housed the original sales center at
4th and L
is now gone. If you just want the short version of Capitol Quarter's second-phase transformation, check out
my Capitol Quarter project page
, otherwise you can
take the virtual walk
around the blocks now under construction for a boatload of before-and-afters.
I also took some photos of the
northern perimeter
of
Canal Park
, but pictures of fences and digging equipment are never terribly exciting.
As always, remember that the
icon on any page gets you to the full batch of photos I've taken at any location.
Or, if you're interested in only a certain location, you can use my Photo Archive map to get right to it. The entire set of 178 photos I posted today can be seen all at once, too, if you're so inclined.
(And, as an aside, let me send my huzzahs to Microsoft for getting fixed in IE9 whatever it was in IE8 that would cause the browser to stop displaying local hard drive images after a certain amount of page loads, causing me to having to restart the dang thing eight or nine times during each photo archiving stint. [It's pretty much the only thing I still use IE for.])
Back from Across the Pond; Lots of Tidbits While I Recover
Jun 8, 2011 9:09 AM
I'm back in DC, having spent
11 wonderful days
in Madrid, Barcelona, and cruising across the Mediterranean to Pisa, Florence, Rome, the coast south of Naples, and Mallorca. Needless to say, while I checked in on the news back home from time to time and tweeted an item or two if the timing was right, I wasn't following developments closely, and I'm pretty out of the blogging groove at this point. So I'm going to start back slowly with some easy items.
*
Redistricting
: The city council voted Tuesday to approve a redistricting map that, as expected, keeps Near Southeast in Ward 6. This continues to make Marion Barry extremely unhappy, and the
Examiner reports
that he'll be "asking U.S. Attorney General Eric Holder to open a Justice Department review of proposed new D.C. ward boundaries because, Barry says, they violate residents' civil rights." There's still a final vote to be had on the plan, probably on June 21. As for the last-minute changes that ended up keeping much of Ward 6 intact (moving Reservation 13 to Ward 7 instead of other areas), you can read
Tommy Wells's blog
for more details.
*
Riverwalk
: The
Navy Yard
announced last week
that its portion of the riverwalk along the Anacostia River, running from the 11th Street Bridges to the
Yards Park
, will now be open from 5:30 am until "official sunset," seven days a week and including holidays; though there will still be closures as needed, which are announced on the
Navy Yard Riverwalk Twitter feed
. (I admit that I got a bit of a kick passing along this news
via Twitter
while riding on a train north of Rome.)
*
DPW Move
: The council passed
emergency technical legislation
on Tuesday that allows
Capper PILOT funds
to be used to build a new location for DPW operations in Northeast, which means that they should be moving from the 2nd and K site this fall (before "leaf season").
*
Ward 6 Family Day
: Tommy Wells's yearly event for Ward 6 residents will be held on
Saturday, June 25
, and will be at the
Yards Park
for the first time. It's from 1 to 5 pm, with "free food, live music, games and activities for the whole family as well as raffles featuring gift certificates from local businesses and sporting memorabilia from the Wizards, DC United and Washington Nationals."
*
ANC 6D
has its next meeting on Monday, June 13, at 7 pm at Arena Stage. The
agenda
is light on Near Southeast items, with only a resolution by David Garber about Near Southeast bike stations and requests by Cornercopia and Harry's Reserve to be exempted from the ban on the sale of "singles."
*
Food Truck Festival
: Bo Blair, the owner of the Bullpens and the organizer of Truckeroo on June 3, said in an e-mail that the event was a "massive, incredible success," with somewhere between 17,000 and 18,000 attendees and "zero problems." The next date for the event will be announced soon.
*
Construction and Destruction
: Construction has stalled on the Little Red Building v2.0 at
2nd and L
, which ANC commissioner Garber
says
is a "building permit issue that is in process of being resolved - construction should start back 'soon.'" Meanwhile, the "re-dressing" of
225 Virginia
is well underway, with the new exterior walls being hung on the north side of the building. And if it hasn't already happened, the
trailer
that was the original sales office for
Capitol Quarter
is being torn down, since construction of townhouses is now underway on that block. (Photos to come, at some point.)
*
The Yards on Facebook/Twitter
: I kind of stumbled across these (never saw any announcement about them), but the
Yards
now has an
official Facebook page
(which is available on
Twitter
, too) along with a separate one for the
Foundry Lofts
(its
Twitter account
is protected, though).
UPDATE:
And, since this just came across Twitter:
Dan Steinberg reports
that Shake Shack and the other new Nats Park restaurants will open next Tuesday, the beginning of the homestand vs. the Cardinals.
Comments
(28)
More posts:
225 Virginia/Old Post Plant/200 I
,
Alcohol/Liquor Licenses
,
ANC News
,
Fairgrounds/Bullpen
,
Capper
, Capitol Quarter,
cornercopia
,
Trash Transfer Site/DPW
,
Events
,
Restaurants/Nightlife
,
Foundry Lofts/Yards
,
Harry's Reserve
,
Little Red Bldg/Lot 38 Espresso
,
meetings
,
Navy Yard
,
redistricting
,
riverwalk
,
JDLand stuff
,
The Yards
Spring Has Sprung Photos: 200 I, Capitol Quarter, Yards Park
Apr 25, 2011 9:18 AM
With the sun finally coming out, it shouldn't be surprising that I took camera in hand on both Saturday evening and Easter Sunday and did some wandering to catch up with the progress at two locations, and to get shots of a few new items I hadn't yet documented.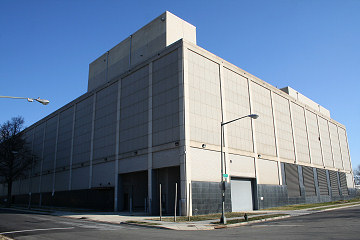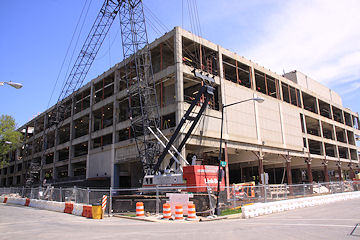 The old
225 Virginia
, on its way to becoming 200 I (boo), is now almost completely disrobed. (I think I'll go with that from now on rather than "deskinned.") It's been such a monolith for so many years that it's strange to see it broken up. You can take a
virtual walk around the block
to see how the old Star/Post plant looked before along with its current state, and visit my
225 Virginia project page
for more info and background. (If you haven't been following along, by this time next year 200 I is expected to be nearly complete, with three DC city agencies on the boards to move there.)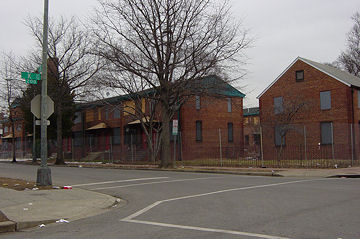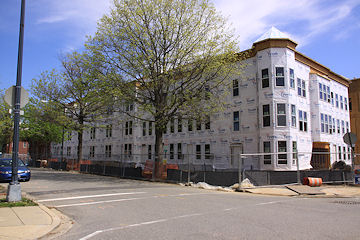 Just to the southwest, work continues on the first block(s) in the second phase of the
Capitol Quarter
mixed-income townhouse development, with bricking proceeding on the new houses along I Street while framing has made it around and up the new 3rd Place; plus, foundations have now been poured along 4th Street. Here's your
walk around the block
to be reminded of the old public housing units that stood there for a long time and to compare them with the construction going on now. For more information, see my
Capper
and
Capitol Quarter project pages
.
(If you want to see just the new photos taken Sunday,
here they are in one batch
.)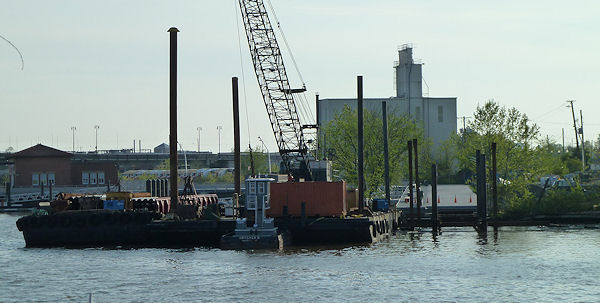 Meanwhile, down at the
Yards Park
, the flowers are in bloom, a geodesic dome that looks like the Earth is
hosting foodies,
and work appears to have begun on the floating bridge that will connect the Yards Park to
Diamond Teague Park
(right by
Nationals Park
) later this year. You can see my
quick gallery of photos
showing these items, along with a picture of the sign laying out the rules for using the Navy Yard portion of the riverwalk (since it was Saturday, I could only stand forlornly at the gate and look eastward), plus the progress on the
Foundry Lofts
building just to the north of the park. And some shots of the Navy Yard buildings that are adjacent to the park, just because I like being in a spot where I can take photos of them without having guards chase me down the street.
Updated Photos From the Center of the Neighborhood
Mar 20, 2011 10:16 AM
Saturday was a lovely day for taking a couple of walks with camera in hand, and with work underway at locations that couldn't be any closer to my out-of-neighborhood house, I had no excuse to not get some updated photos of
225 Virginia/200 I
,
Capitol Quarter Phase 2
,
Canal Park
, and the
Little Red Building
. (It was also nice chatting with the folks who correctly guessed that the oddball standing in the middle of the street taking photos must have been me.)
The showy demolition work is now well underway at 225 Virginia/200 I, and if the few shots and renderings on the
project page
aren't enough for you, you can do a
virtual walk around the block
to see which walls and windows are blown out at this point and to compare the current images with their "befores."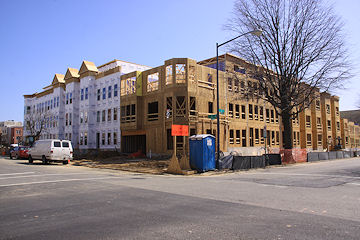 No time is being wasted at
Capitol Quarter
, where framing has now wrapped around from I to 3rd to K Street on the first block of Phase 2. You can
take a "walk" around that block
, too, if you haven't lately, or wander through the
project page
, both of which have plenty of images of the old Capper public housing buildings that were on this block for a very long time. I also added to the database some photos of what will eventually be the intersection of
3rd Place and L
, once the new street gets built through its second block south of K. If you're big on old Capper photos, there's a few "before" images of L Street buildings in that sent that haven't been displayed on the site before now.
If photographs of fences are your thing, take a "walk" around the
Canal Park perimeter
, to see many pictures of the "traffic control" now in place in advance of the start of construction on the park (presuming it ever actually comes). Those barriers are going to put a crimp in some of my standard shooting locations for the next year or so, including where I've stood for the past eight years to take photographs of the
Little Red Building
, which in its new incarnation is now more of a
brick red
than the beet red it used to be. ANC commissioner Garber
posted on Friday
that the roof is going in over the next few days, at which point work on the interior can begin, as it slowly progresses toward becoming "
Lot 38 Espresso
."
Remember that the
icon on any page gets you to the full batch of photos I've taken at any location (which, since I'm getting into the eighth year of doing this, can be kind of voluminous in some spots).
(I know that It seems kind of odd to still be posting photos when so many readers now live in the neighborhood, which of course wasn't always the case. But it's my schtick, and so I continue onward! Plus. there are plenty of people interested in Near Southeast who don't wander around every day--or maybe some of the residents don't know what these spots used to look like before....)
Capitol Quarter Phase II Workforce Lottery March 26
Mar 15, 2011 9:58 AM
EYA has
announced
that up to 11 houses at
Capitol Quarter
are being made available at workforce-level prices in another lottery, the third since Capitol Quarter began being developed in 2006. Household income must be under $119,025, and there are a lot of
qualifications and requirements
to meet, requiring a visit to the sales office before March 20 in order to be certified as eligible. The lottery will be held at 10 am on March 26 at the sales office at 4th and L, SE. (There may be fewer than 11 houses, since former residents of
Capper/Carrollsburg
are given an opportunity to purchase homes in this program before they are made available.)