Near Southeast DC: Past News Items
20 M
Go to Full Blog Archive
---
20 M Signs Another Tenant, Now 97% Leased
Dec 8, 2010 10:56 AM
On the heels of
Monday's news
of a new tenant for
20 M St., SE
, Lerner Enterprises has just announced another 20,000-square-foot lease, bringing the building to 97-percent occupancy. This tenant is
Systems Planning and Analysis
(SPA), which will be occupying the 8th floor. They are expected to move in this spring, and will join the Bureau of Land Management, Booz Allen Hamilton, and the Columbia Group as the building's office tenants; Wachovia Bank at this point is the building's only retail tenant. 20 M was completed in March 2007.
Columbia Group Takes 20,000 Sq Ft at 20 M
Dec 6, 2010 4:23 PM
Lerner Enterprises has just passed along the news that
The Columbia Group
has signed a lease for 20,039 square feet at
20 M St., SE
, bringing the building to about 84 percent leased. The company--which does "technical services support" for the US military--is expected to move in this spring, and will be occupying space on the 7th floor. The other tenants--the Bureau of Land Management and Booz Allen Hamilton--are expected to start moving in in January.
Booz Allen Takes 30,000 Square Feet at 20 M
Mar 30, 2010 1:50 PM
Lerner Enterprises has just sent out the news that
Booz | Allen | Hamilton
has signed a lease for a smidge under 30,000 square feet at
20 M Street
, Lerner's 191,000-sq-ft office building one block north of
Nationals Park
. With the Bureau of Land Management taking nearly 100,000 square feet, this makes the building 70 percent leased. (BAH will be taking the entire 10th floor, and half of the 9th; BLM will be on the second through sixth floors.) Both tenants are expected to move in during 2010. (
UPDATED
to remove the length of the lease; that wasn't specified.) Here's
the link to Lerner's press release
. (They call it two blocks north of the ballpark; I say one, plus a street crossing.)
Bureau of Land Management Leases Space at 20 M
Aug 13, 2009 3:30 PM
I've just received word from Lerner Enterprises that they've signed a 10-year agreement with GSA to lease about 95,000 square feet of space at
20 M Street
to the Bureau of Land Management. The space will be on floors two through six of the building, and BLM is expected to begin moving in in early 2010. (Here's the
full press release
.)
This is the first office tenant in the building, which was completed in spring 2007 and sits on the northwest corner of Half and M streets, across from the west entrance of the Navy Yard Metro station (one block north of Nationals Park); Wachovia Bank occupies one of the ground-floor retail spaces.
Dreary Thursday Links Roundup
Jun 18, 2009 9:42 AM
* The news about perhaps paying for the convention center by taking money from various in-the-pipeline projects around the city has generated a lot of comment, not only
here
but in the form of
a letter from Monty Hoffman
of PN Hoffman to Chairman Gray in which he said that moving funds away from the planned redevelopment of the Southwest Waterfront "would be a horrific business, legal, and community tragedy for the city." And
SWDC Blog is reporting this morning
that Kwame Brown says the list in the original WBJ article was of all tax-increment-financing plans approved by the City Council, which might be a wider list than just projects from which funds could be diverted.
*
Roll Call has a piece
on the "slow-to-develop" Capitol Riverfront neighborhood: "Today, visitors to the stadium emerge from the Metro onto an almost empty street flanked by tall fences. Billions of dollars of real estate is planned for the area, but for now, it only offers a few half-empty buildings and the occasional fast-food restaurant." But there is this as well: "The buildings aren't all empty. BID estimates that about 1,600 people live in the area, leasing about half of the available apartments. Office buildings hold about 35,000 workers; Opus East, for example, has leased 50 percent of the units for its new building at
100 M St. SE
." (Full disclosure: I'm quoted a few times.)
* On the flip side, a
just-released CBRE report
on the impact of the federal stimulus package on the DC and Baltimore region says: "The commercial real estate industry has begun to see an impact from the transportation-related stimulus activities. Government contractors are actively touring office buildings in the Capitol Riverfront submarket of Washington, DC, home to the headquarters of the U.S. Department of Transportation, for new growth related to stimulus-funded contracts. These tours are noteworthy as the submarket has seen limited interest over the first six months of the year as a result of the national and local economic recessions." We're also
still waiting to hear
which federal agency might be about to lease 100,000-sq-ft of space at
20 M
, and whether Booz Allen Hamilton is taking 30,000 sq ft at
55 M
or elsewhere in the neighborhood.
* And, if you saw a boat full of partying real estate professionals cruising up the Anacostia on Tuesday, it was the
Urban Land Institute Washington's annual boat tour
, which took the Odyssey from the Southwest Waterfront up to
the Yards
and then back toward Rosslyn and Georgetown.
* The news of the day gave the Republicans
some trouble in the bullpen
at last night's Congressional Baseball Game at
Nationals Park
. And the GOP's woes in Washington continued, with the Democrats
winning the game for the first time in eight years
, 15-10.
Tenants Coming to 20 M and 55 M?
Jun 5, 2009 12:17 PM
From
today's print edition of the Washington Business Journal
(subscribers only), news that two as-yet-unoccupied office buildings in Near Southeast may be close to securing tenants. WBJ says that Monument Realty is "in discussions" with Booz Allen Hamilton to lease more than 30,000 square feet of space at
55 M
(currently home to
Artomatic
), though Booz is apparently also looking at Lerner's
20 M
across the street and the under-construction
1015 Half
a block to the north.
The article also says that an "undisclosed federal agency is on the cusp of announcing" a 100,000-sq-ft lease at
20 M
. I have heard murmurings of some outfit moving to 20 M--if someone wants to whisper in my ear who it is,
I'm listening
!
The $6 Billion Neighborhood (Better, Stronger, Faster)
Mar 15, 2009 10:38 PM
It certainly doesn't feel like it's the case, so you might be surprised to find out that the District of Columbia thinks that Near Southeast is worth about $1.5 billion more than it was a year ago, at least in terms of the
latest tax assessments
now available. With a total assessment last year of around $4.5 billion for the blocks bounded by the SE Freeway, South Capitol Street, and the Anacostia River (to just west of the Sousa Bridge), this bump up edges the neighborhood's "worth" to just over $6 billion.
A chunk of that change is coming from the first official assessment of
Nationals Park
, valued at $999,982,800 (geez, Mr. Tax Assessor, just round it to $1 billion and be done with it), a rise of nearly $650 million from the assessed value of just the land last year. Blocks that saw projects get completed in 2008 (
70/100 I
,
100 M
and
Onyx
, and
55 M
) got hefty bumps in their valuations, while other spots (
20 M
, the
Capper
blocks,
USDOT
,
Maritime Plaza
) saw their assessments go down.
I created a report
comparing 2008 and 2009's numbers overall and by block, though I wouldn't swear to the exactness of each number down to the penny (but they're probably close enough).
As for the trend of the overall valuation of Near Southeast over the past nine years, it's still *up*:
2001: $221,096,652
2002: $428,312,487
2003: $640,209,280
2004: $771,006,345
2005: $894,123,520
2006: $1,781,481,650
2007: $2,539,618,280
2008: $4,467,137,880
Comments
(10)
More posts:
100 M
, 20 M,
70/100 I
,
assessments
,
Capper
,
US Dept. of Transportation HQ
,
jpi
,
Maritime Plaza
,
Monument/Half St.
,
Onyx
,
Square 743N
,
Nationals Park
More Upcoming Events: Wachovia Branch Grand Opening, 'Night at the Yards' Benefit
Oct 2, 2008 8:40 AM
Two upcoming events, mentioned in the
Capitol Riverfront BID
's e-mail-only newsletter:
* On Friday (Oct. 3), the new Wachovia Branch at
20 M Street
is having its official Grand Opening celebration, from noon to 4 pm. Stop by "for some food, music, and prizes!"
* On Oct. 24, the nonprofit group Living Classrooms is holding an event dubbed "
A Night at The Yards
," to raise money for their operations, including the Discovery Creek Children's Museum, and the City Kids Wildreness Project. It's at at Fourth and Tingey streets, from 7 pm to 12:30 am. Tickets are $125 each. There will be food and drinks, and a performance by the English Beat. (No, seriously.) Living Classrooms, a non-profit group that "uses maritime settings, community revitalization projects and other challenging learning environments" to provide hands-on education and job skills training for students (especially at-risk youth),
has plans to eventually build
its new "main campus building" on the far eastern edge of the
Waterfront Park at the Yards
Smattering of Tiny Items (Burglaries, Wachovia, Nats)
Aug 12, 2008 9:43 AM
Pulling together some previously
Twittered
items (the most recent of which you can always see on the JDLand home page,
beneath the big map
):
* This morning's
Crime Incidents feed
update shows two recent burglaries, one yesterday in the 900 block of New Jersey and one Friday in the 200 block of K. No narratives as to what happened are available yet.
* There's now a big
Wachovia
sign on the western end of
20 M Street
.
* The Nats start a home stand tonight, first against the Mets and then this weekend against the Rockies. Because of DC United home games at RFK, the
Nats Express
will be operating out of
Lot 7
both tonight (Tuesday) and Thursday (Aug. 14).
* On Thursday night there's a Ladies Night Out and Home Run Happy Hour at the ballpark, with all sorts of enticements to get the girls to come out to the ballpark. Tickets are $30.
More info here
.
* The Nats "First Ladies" (the players' wives and girlfriends), partnered with the UPS Store and the Marine Toys for Tots Foundation, collected over eight bins of school supplies and $6,500 in cash donations during their second annual Back-to-School Drive on Aug. 2 and 3.
Tiny Items of Note from This Weekend's Wanderings
Jun 23, 2008 12:53 PM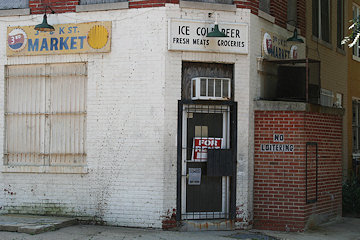 * DDOT told me these were coming a long time ago, and a reader whose e-mail I've lost gave me a heads up a few weeks back, but now I've finally visited for myself to see that the
ugly cyclone fences
on the South Capitol and M overpass have been
replaced with pretty gray-painted ironwork
.
* You have to look kind of closely, but construction has indeed started at
Capitol Quarter
, with pretty new curbs being installed on the south side of L Street between Fourth and Fifth. You can see them if you squint at the photos on my
Capitol Quarter Phase I page
.
* The owner of the
Third and K Market
at, um, Third and K must be keeping track of what's going on nearby, because there's now
a For Rent sign tucked in the door
. (Alas, all the info sheets were gone when I got there.) If you've ever dreamed of running a corner market, here's your chance. The market's been closed since about 2006.
* The "
Wachovia Coming Soon
" sign is back in the window at
20 M
, so my
building permit reading
was on the mark. (It's in the window on the
far western edge of the building
.)
UPDATE:
Speaking of 20 M, GlobeSt.com is reporting (tucked
in a piece on LEED Gold certification
for 1100 New York Avenue) that
several leasing deals are pending for 20 M
. So perhaps that's why Wachovia has decided to start moving forward.
* I did a bit of needed housingcleaning to the
home page map and project directory
--adding in
88 K
as a "featured project", demoting
1345 South Capitol
to "star-only" status until the project starts moving forward again, and adding a few additional stars for projects like the coming retail renovation of
900 M Street
.
I also did some updating of the tabs with the lists of projects--if you don't realize the tabs are even there (look just above the map for "Residential/Office/Retail/Hotel"), take some time during this lazy summer to click on them and be stunned and amazed by the easy access to project information....
20 M Street Certified LEED Gold
Jun 12, 2008 2:08 PM
From
GlobeSt.com
: "
20 M St. SE
, a 190,000-sf office building developed by Lerner Enterprises and designed by WDG Architecture, has been awarded LEED Gold certification--the first in the city to achieve this certification level for Core & Shell Development, according to the US Green Building Council. [...] Green features include roofing that reduces heat island effects, plumbing fixtures that reduce water consumption, high-efficiency HVAC systems and humidity control, extensive use of recycled materials and locally manufactured products, low-emitting paints, carpet, adhesives, and sealants, monitoring systems for environmental comfort, advanced stormwater management measures and easy access to public transportation." The blurb also states that 20 M is expected to be 50 percent occupied by the end of the year. But so far, no tenants have been announced. (Although perhaps
Wachovia's moves toward opening
a branch at 20 M hint toward some tenants coming soon.)
20 M
is the big silver building at Half and M, visible to most everyone in the upper decks at the ballpark.
Building Permits Hint at Wachovia's Arrival at 20 M
Jun 8, 2008 9:52 AM
My retrieval this morning
of the DC Building Permits Feed (which has been on vacation for a few weeks) lets the cat out of the bag that
Wachovia Bank
is preparing to come to the first floor of
20 M Street
. For most of 2007 there had been "Coming Soon" signs in the ground floor window of 20 M for both Wachovia and FedEx/Kinkos--when those disappeared earlier this year, there were concerns among observers (read: me) that the two retailers had bailed, but now it does appear that Near Southeast's Bank #2 will be opening before too long. (Bank #3--SunTrust--is
expected early next year
at
100 M
.)
More New Photos Than Should Be Allowed by Law
Oct 23, 2007 1:17 AM
For months now, I've been dreading this part of 2007, when so many projects would be underway--and it turns out I was right to be worried. Goodness gracious, tons and tons of photos were needed to keep to my perfectionist mandate, but at last I've gotten them up on the site, even though it's pretty much taken a week to get every shot I wanted. For your perusing pleasure:
*The
Stadium Exterior Construction Gallery
is more updated than it's been in nearly three months, though N Street was unavailable to me this weekend thanks to lots of digging going on. The photos on that page, as well as on the expanded galleries of views along
Potomac Avenue
,
South Capitol
, and from the
ballpark's viewing platform at First and Potomac
show not only the progress on the stadium but also on the streetscape improvements. Sidewalks, curbs, and streetlamps continue to be installed--and the stoplights along
South Capitol
are gearing up as well (it looks like the P Street light that's now flashing yellow is going to get turned on pretty soon).
*
70 I Street
and
Onyx
are just about topped out, while their siblings 100 I and
100 M
aren't far behind. In fact, progress at 70 I is outpacing me so much that within the five days since I took photos of its western side, the bricking of that wall has begun, and is already reaching the second floor in some spots. There's some nice long-distance shots of these projects, from the
freeway
and the
ballpark
, highlighting how much the skyline has changed in just a few short weeks.
*
Velocity
's three-story-deep hole is now getting a concrete floor, which means vertical construction is starting before long. (The crane arrived within the past few days.) And Monument's
55 M Street office building
(where the Navy Yard Metro west entrance is being expanded) is poking up above street level, with the first concrete pillars poured along M Street. And it's been hard to get any photos of the work at
The Yards
, but I finally
snagged a few
from up on high.
* Plus there's the shots from
the top of 20 M Street
this morning, including a few panoramic views across Southwest.
If you don't want to plow through all those links above, you can see
all the new photos on one page
, though it's just a touch overwhelming. (Yes, even I know it's overwhelming.) But the project links above (and their
expanded archives
) are really worth it, because the scope of the changes is now so amazing. So click on a
or two to watch the progression.
And now I will rest myself and my camera for a while. Hope you enjoy the photos.
More posts:
100 M
, 20 M,
70/100 I
,
jpi
,
Monument/Half St.
,
Onyx
,
South Capitol St.
,
Douglass Bridge
,
Square 743N
,
Nationals Park
,
The Yards
Commercial Real Estate News in Near Southeast
Jun 22, 2007 1:03 PM
Today's print edition of the
Washington Business Journal
has an article summing up what's going on right now with various commercial projects around Near Southeast. (The
online article
is for subscribers only for the first 30 days; sorry.) Here are the new items:
* William C. Smith is planning to hold off breaking ground on its 200,000-sq-ft building at
250 M Street
until it pre-leases at least 30% of the building.
*
Opus East
has leased 80,000 sq ft at
100 M Street
(33% of the building) to government contractor Parsons Corp.
* Lerner's
20 M Street
does not as yet have any office tenants.
* It also mentions that Opus East is planning to build the 440,000-sq-ft office building at
1015 Half Street
(the old Nation site) on spec; but it should be noted that Opus hasn't yet officially announced its purchase of this property or its plans.
(The article also summarizes what's going on at
Florida Rock
, using some
source materials
that are hard to find anywhere other than here at JDLand. Note to reporters and other professionals using my site: yup, lots of stuff is posted here, and it's all free, but be a grownup and say where you found it.)
In addition, there's
an ad in the print edition
giving us our first peek at the Shalom Baranes design for
1100 South Capitol Street
, Ruben Companies's planned 350,000 sq ft office building on the southeast corner of South Capitol and L. There's currently no timeline for development of this project.
The print edition
also has a piece
written by GSA about the US Department of Transportation completing its move to
its new headquarters
at New Jersey and M. It describes the HQ's interiors and exteriors, and mentions that this project is the largest lease ever executed in DC.
More posts:
100 M
,
1015 Half
,
1100 South Capitol
, 20 M,
250 M
,
50m
,
US Dept. of Transportation HQ
,
Florida Rock
,
Square 743N
,
square 697
,
square 698
Photo Updates - Stadium Shots and More
Mar 31, 2007 7:55 PM
I gave you
inside-the-ballpark photos
on Monday, and today there's a
new set of exterior shots of the Nationals baseball stadium
(note that I've now separated the interior and exterior stadium photo galleries into separate tabs). Remember that clicking on the
icon will show you all uploaded photos of that angle, not just the oldest and newest (so you can watch the stadium construction change in two-week intervals). I also "freshened" the
Photo Archive
's database of photos at all the intersections around the perimeter of the stadium, giving you additional viewpoints not shown in the Construction Gallery: check out
1st Steet
at
N
,
N Place
,
O
, and
Potomac
;
Half Street
at
N
and
Potomac
; and
South Capitol Street
at
N
,
O
,
P
, and
Potomac
. (You can also
browse the archive by map
to pick and choose locations.)
I also did what is probably the final major photo update for
20 M Street
, and updated some other intersections as well
--
Half and M
,
Cushing and M
(both of which are part of the
Monument Half Street
footprint);
Cushing and L
; and
1st and M
and
1st and L
, home of the construction sites for
100 M Street
and
Onyx on First
, which each got updated as well, although the pictures aren't particularly exciting (still just a big hole in the ground). Or you could just look at
all the photos I took today
, then click on the intersection link if you want to see previous photos.
And now, I must go watch my Gators.
Firms Starting to Look at Near Southeast
Mar 30, 2007 9:14 AM
From today's print edition of the
Washington Business Journal
: "CNN and a couple of law firms are sampling the wares in Southeast DC by taking tours of new office buildings cropping up around the
new baseball stadium
. No leases have been signed yet, but the buzz of these high-profile tenants looking at Southeast as an option is quite a victory for a neighborhood formerly known as an industrial zone crawling with seediness and crime. [...] Also, rents in Southeast are expected to be around $40 per square foot for full service, $20 to $30 cheaper than new or renovated buildings in the Central Business District." Of course, right now, "tours of new office buildings" means
20 M Street
, the only
new
office building currently completed and with plenty of space to lease. But by 2009 there will also be
100 M
,
55 M
, and probably
250 M
and
1111 New Jersey
. And maybe a couple more, depending on what happens within the next few months at
Square 699N
,
Square 697
(Nation), and the Willco site at 83 M. (The article fudges a bit by mentioning 1.8 million square feet of office space was under construction in Near Southeast back in December, but, well, 1.35 million of that was the
DOT HQ
.)
UPDATE:
Added the
link to the story
, since WBJ was nice enough to bring it out from behind the pay wall.
20 M Going for the Gold
Mar 22, 2007 10:17 AM
From
the Examiner
: "
The District of Columbia could get its first gold-rated 'green' building courtesy of Washington Nationals owner Ted Lerner, the family announced Wednesday. The 190,000-square-foot office building, located at 20 M St. SE near the under-construction Nationals baseball stadium, was constructed to match the U.S. Green Building Council's Leadership in Energy and Environmental Design Gold standards for environmentally friendly buildings.
The building, the first built under
Lerner Enterprises
' Green Initiative Program, will be submitted for certification from the Building Council, officials announced. Projects are awarded certified, silver, gold or platinum certification depending on the number of credits buildings receive under the Building Council's grading system. The Lerners have endured criticism from some environmental activists for not including enough green materials in the
new Nationals stadium
."
FedEx/Kinkos Coming to 20 M
Mar 20, 2007 2:53 PM
Word has coming pouring in this afternoon from various boots on the ground (we'll give co-credit to readers Frank and Dave) that a sign announcing "
Coming Soon - FedEx/Kinkos
" has appeared in the window just to the left of the
20 M Street
entrance (as they
once again wait until I am just out of sight
to hang the advertisement). Those who are hoping for a restaurant will have to continue to keep their fingers crossed.
Finishing the Newest Batch of Photo Updates
Mar 19, 2007 6:01 PM
Other New Photos
Mar 18, 2007 9:56 PM
Still working my way through the pile of pictures I took today.... New shots posted of the ongoing work at the
Monument Half Street
site, and also some "substantially complete" shots of
20 M Street
--in a couple photos you can see men working on the far left window on M Street, and a reader gave me a heads up that not more than a few minutes after I came through, they posted a sign saying "
Wachovia Coming Soon
." So, if that's indeed the case, that would be the first 20 M tenant we've heard of.