Near Southeast DC: Past News Items
1111 New Jersey
Go to Full Blog Archive
---
39 Blog Posts Since 2003
Go to Page:
1
|
2
Donohoe Seeking a Residential Option for 1111 NJ Plans
Jun 27, 2012 10:44 AM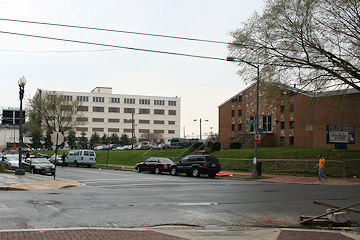 A press release from Donohoe posted on the
Capitol Riverfront BID web site
says that the development company is designing a 13-story, 310-unit apartment building on its
1111 New Jersey
site, on top of the east entrance to the Navy Yard Metro station, and will be acquiring the St. Matthew's Baptist Church next door (seen in the photo at right).
An additional zoning approval is being sought in lieu of an outright change to the
existing approvals
for the long-planned 200,000-square-foot office building on the site, "to maintain flexibility as we evaluate options . . . for both office and residential uses."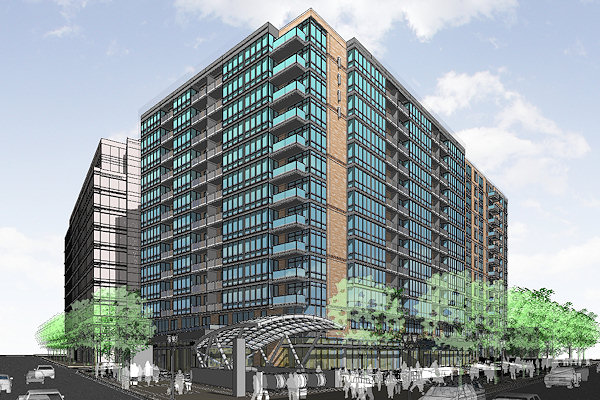 The building, designed by
WDG Architecture
, would have a mix of studio, one-, and two-bedroom units, and approximately 9,000 square feet of retail, "almost" the same amount as the office building. There's an early rendering of what the new building could look like
on the BID page
.
UPDATE:
Donohoe passed along the image at left.
Donohoe bought the most of the site's
land back in 2005
, then purchased the
remaining portion from WMATA
. St. Matthew's has been close to being sold before, when Ruben Companies had a deal
back in 2007
that never materialized. And Donohoe had been in discussions about acquiring the site before Ruben. What the acquisition of the church would mean if the office building is built is not clear (would the office building grow in size?).
If the apartment building does happen, it will be in line with
other
developers
seeing
the
neighborhood
as much more of a residential opportunity than when plans to revitalize the area first started being formulated. That and the fact that office leases are not very easy to come by these days.
Needless to say, no timeline at the present, beyond a trip through Zoning Land.
Roundup: Boilermaker Shops, WMATA Land Sale, Ward 6 At-Large Candidate Forum, Water Taxi News
Apr 18, 2011 11:37 AM
Catching up after a quick trip to Florida:

* A few readers have mentioned some work underway around the
Boilermaker Shops
at
The Yards
, but I'll burst the bubbles and note that it's not a sign of formal construction getting started on the 46,000-square-foot retail space. Forest City is taking care of some remediation on behalf of GSA, involving the paint inside the building along with some potentially tainted soil around the outside.
On the same subject, there was a tidbit in the
April Hill Rag
on
page 85
(hat tip reader J) in an article about Barracks Row restaurateur Xavier Cervera, who runs Lola's, Molly Malone's, the Chesapeake Room, and some other new ventures on the way: "And there's even more in his culinary sights: along the Southeast waterfront near
Nationals Park
, Cervera has leased half of the glass-and-steel Boilermaker building (1100 New Jersey Ave. SE) for a classy, 450 seat sports bar." (Ay-yi-yi on that really incorrect address!)
I asked Forest City about the report, and received this response: "Forest City Washington expects to announce soon a number of great restaurant and retail venues that will be located at The Yards. Upon completion of these leases we will commence redevelopment construction of the Boilermaker Building. At this point, we are not able to specifically respond to the inaccuracies in the Hill Rag piece. These inaccuracies will become evident when we make our official announcement." Hmmm.
In the meantime, you can see renderings and photos (outside *and* inside!) on my
Boilermakers Shops page
.
* After having a contract for more than three years, WMATA and Donohoe have finally completed the $3 million sale of 5,165 square feet of land at
New Jersey and M
where the east entrance of the Navy Yard Metro station sits. This allows Donohoe to build its planned 220,000-square-foot
1111 New Jersey office building
, as soon as they find tenants. (The building won't sit directly on top of the entrance, as 55 M does with the west entrance of the station, but is pretty close, as you can see in the rendering on
my project page
.)
* And, in other land transactions in the 100 block of M, the longtime owners of the tiny 1,500-sq-ft sliver of land between 100 M and the alley have sold the property for Northwood Investors, the new owners of
100 M
. (The property records say the price was $250,000, which, if accurate, would seem to a good deal less than what they might have been offered back when Opus East was acquiring the property to build 100 M.)
* On Tuesday, April 19 (tomorrow!), there's a
Ward 6 Candidates Forum
with the large field of candidates for the open at-large seat on the city council (you didn't know there's an election on April 26? You're not alone). It's in the North Hall at Eastern Market from 6:30 to 8 pm, and being hosted by the Ward 6 Democrats (but it's labeled a non-partisan event, so there will be no endorsement vote). You can
submit a question for the candidates
, whether you're attending or not.
*
American River Taxi
is getting some press as it gets its service underway between Georgetown, the Southwest Waterfront, and
Diamond Teague Park
across from the stadium (though Saturday's rains and the
subsequent flooding
along the Potomac have put a crimp in their schedule over the past few days).
WTOP
and the
The Hoya
have posted articles in the past few days.
WMATA Extending Deadline for Donohoe Land Purchase
Sep 29, 2010 3:25 PM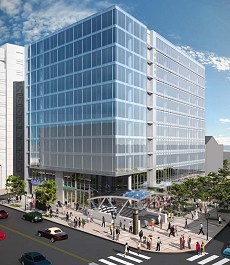 At
tomorrow's WMATA board meetings
, it's expected that Metro will approve a one-year extension to the 2007 agreement with the Donohoe Companies to purchase the 5,600 square feet of land that makes up the east entrance of the Navy Yard Metro station. Donohoe is intending to combine the WMATA land with the 16,400 square feet it owns just to the north (the grassy knoll and parking lot where the Capitol Riverfront Markets have been held this year) to build
1111 New Jersey Avenue
, a 220,000-square-foot office building.
But, according to
the WMATA documents
: "Given the weak economy, it has not been possible to obtain financing to construct the building. A one year extension of the closing date to December 2011 will allow time to respond to evolving market conditions and preserve the contract for both parties." I wrote
back in 2007
that WMATA would be receiving $2.3 million for the property, "
plus an unnamed additional payment if the approved project is larger 206,000 square feet."
It's not anticipated that the station entrance would need to be closed during construction of the new building, As you can see from the rendering, the escalators and canopy would remain outside of the new building's footprint.
Tiny Followups For Yesterday's ANC/Yards Park Posts
Aug 19, 2010 12:10 PM
Guess I should have been lazy (er, lazier than usual) and waited 24 hours on each of my posts yesterday, because there's small tidbits to add on both:
* While the Yards Park "
official opening weekend
" is set for Sept. 10-12, invitations have now begun landing in mailboxes for a ribbon cutting/dedication ceremony on Sept. 7.
* There is now at least one challenger to
ANC 6D07
incumbent Bob Siegel--according to the
DCBOEE
, Capitol Quarter resident Bruce DarConte has filed his paperwork to run. And I'm hearing rumors of at least one more resident planning to jump into the race as well.
In other non-followup news, eagle-eyed readers might notice in my
DC permit feeds
an approved public space/excavation permit for its planned
1111 New Jersey office building
site. But don't read too much into it--there's still no announced plans to start construction anytime soon.
UPDATE:
Oh, and a PS: The
Top Chef DC
episode filmed at
Nats Park
back in the spring is coming up next week (Wednesday, Aug. 25, at 10 pm, on Bravo). It appears to be a stadium-food challenge, with the "
chestestants
cheftestants" cooking and serving in the various food bays along the concourse.
1111 New Jersey Not Starting Soon
Apr 13, 2010 8:06 PM
A reader who might have seen
this
got in touch today about a document on the Donohoe web site saying that their planned 200,000-sq-ft office building at
1111 New Jersey
was about to start construction. Being well aware of the current state of the commercial real estate market, and also knowing that not a single building permit for the project has even been filed, I took the unheard of step of actually contacting Donohoe, who replied that the document was in error, and while they are hoping to see "positive signs" over the next year to eighteen months, they're not forseeing a start on the building until after 2011.
Video of Obama at Five Guys, Ward 6 Family Day, and Other Tidbits
Jun 3, 2009 10:19 PM
* Admit it: you know you want to see it--here's
NBC's coverage of the Obama visit to Five Guys
, from Tuesday night's "Inside the Obama White House" special. (Click on "Part 5", "Out to Lunch with Obama.") With a bunch of brief glimpses of the Little Red Building!
* The
Third Annual Ward 6 Family Day
is happening on June 20, from 11 am to 3 pm at the Rosedale Rec Center in Northeast.
Tommy Wells's web site says
activities will include "Capitol Hill Bikes free bike safety inspections and adjustments, celebrity kickball game, Washington Humane Society animal adoption and training, basketball games, face painting, moon bounce, corn hole tournament, horseshoes and live music. In addition, the pool will be open for the summer."
* The Nationals are having their first
Ladies Night and Homerun Happy Hour
of 2009, Thursday night (June 4). Free food (Hard Times) and beverages, and "shopping, dancing, massages and manicures with participating vendors." There'll even be a mechanical bull.
Tickets are $30
, and include a seat in sections 101-104.
* The Board of Zoning Adjustment has
approved Donohoe's requested extension
on the
special exception
it received
back in 2007
for its planned office building at
1111 New Jersey Avenue
, which would have expired at the end of this year. I didn't watch the hearing, so I don't know how long the extension is good for.
*
WBJ
and
City Paper
have coverage of the naming of Valerie Santos Young as the new Deputy Mayor for Planning and Economic Development.
* The May issue of the
Waterfront Watch newsletter
on doings around the Anacostia River is now available.
* The June Hill Rag has a
summary of May's ANC 6D meeting
, where Capitol Riverfront BID executive director Michael Stevens gave a primer on the BID's operations and plans.
Slowly Returning to Full-Strength Blogging
May 4, 2009 9:54 PM
I know people have noticed that JDLand's coverage (and quality) has taken a nosedive in 2009--some of it is because of life at My Real Job is particularly hectic in this era of big change (and plummeting revenue), but I can also now finally reveal that my free time for the past few months has been swallowed up by my planning and executing a huge 100-guest surprise party for my mother, which finally went off
without a hitch
on Sunday morning. With that wrapped up, I will now try to remember exactly how I used to do things here. I'll start tentatively:
* Despite a
few readers being told
that the Bullpen beer garden at Half and N would open on May 1, it hasn't yet opened. I haven't heard any new date.
* From
Friday's WashBizJournal
: "Dozens of high-profile projects are facing liens from hard-pressed contractors. In just one week of March, Forest City Washington was slapped with a $191,460 lien for work done at its
Yards
project near the baseball stadium, while Faison Enterprises Inc. and Canyon-Johnson Urban Funds LLC got hit with a $118,674 lien at the nearby
Onyx Apartments
."
* The Board of Zoning Adjustment
calendar for June
indicates that Donohoe has filed for a time extension on the
special exception
it received
back in 2007
for its planned office building at
1111 New Jersey Avenue
. The original order expires in December unless building permit applications are filed before then; Donohoe's request for an extension would appear to indicate that that won't be happening this year.
"[S]taff strongly recommends that the Commission require the Navy undertake and coordinate with NCPC development of an updated WNY master plan, including a transportation management plan that demonstrate how the WNY parking ratio meets NCPC's Comprehensive Plan goals, and submit that plan to the Commission prior to submitting any new project." The Navy Yard's last official master plan update was in the 1990s.
* A postcard that was delivered to our house this morning listed 309 K St. SE (one of the remaining old townhouses) as being scheduled to be sold at a foreclosure auction this month; however, the auctioner's web site says
the property has been removed
from the auction. Starting bid was going to be at $50,000.
* Speaking of that block of existing homes, someone has finally begun to renovate the old multi-unit building at
Third and L
that has been vacant for as long as I've been watching the neighborhood. A local resident has leased it and is turning it into
Casa degli Angeli
, a nautical-themed "month-to-month" bed and breakfast.
Comments
(3)
More posts: 1111 New Jersey,
Akridge/Half St.
,
Fairgrounds/Bullpen
,
Casa Degli Angeli
,
Restaurants/Nightlife
,
Navy Yard
,
Onyx
,
Square 743N
,
Nationals Park
,
The Yards
,
zoning
Catching Up With a Few Small Items
Mar 8, 2009 11:05 AM
I've been out of town for most of the week, so posting was kind of haphazard. Here's some additional items, starting with news from just this morning:
* Reader atweber passes the news via
Twitter
that workers have told him that the Third and K Market will be opening next month. So, those wishing to stay in the neighborhood to shop won't have to use CVS as their "supermarket." (And the new windows and door are so pretty!)
* Not officially confirmed, but the
WashTimes is reporting
that President Obama has agreed to throw out the first pitch at the April 13 Nationals home opener.
* Via
the BID's latest newsletter
: the little beige building at 900 M Street that once was a Hudson car dealer (and more recently a dialysis center) is scheduled to open in April in its new incarnation as a retail building. It's said that the owner has received one letter of intent from an undisclosed tenant. (Just speculating, but maybe it's the Dunkin Donuts franchise
that was reportedly looking
in the Navy Yard area?)
* The BID has also announced the lineup for this summer's lunchtime concert series at the plaza behind
USDOT
, though you have to
page through their calendar
to see the schedule of artists. It runs on Wednesdays at noon from May 20 through Sept. 16.
* When I posted about FiOS internet at
70/100 I
and asked "is this news?", I should have referenced
this post from last summer
, about the "First Community to Offer FiOS" sign on Half Street, where we discussed that FiOS internet was already listed as available at those addresses on the Verizon web site.
* The day after
I posted about
the calls from Nancy Pelosi and Harry Reid to convert the Capitol Power Plant from coal to natural gas,
ABC7 reported that
"several thousand demonstrators "urged Congress to pass legislation to reduce greenhouse gases, and they targeted the government's own Capitol power plant as a symbol of the problem. An enthusiastic crowd of mostly young people marched from a park near the Capitol to the power plant several blocks away, where they planned to block entrances and were prepared to get arrested. The group chanted along the way, 'We don't want the world to boil, no coal, no oil!'" Darryl Hannah and Robert Kennedy Jr. were among the protestors. When they arrived at the power plant they were met with "about a dozen" pro-coal counter-demonstrators.
* On Thursday
the Post looked at
how the office building development biz in DC has all but ground to a halt: "Not a single office building has been started in the District since October, a sign that the slowdown that began in the far-out suburbs has now reached prime city locations." The Hood (surprisingly) isn't mentioned, though
WBJ reported a few months back
that Donohoe was looking for (but unable to secure) funding for
1111 New Jersey
.
WBJ Wonders About Construction Financing
Sep 28, 2008 11:40 AM
The cover story of this week's Washington Business Journal (
online for subscribers only
) asks: "With Wall Street imploding, regional banks running for shelter and life insurance companies pulling up the ladders, if 1000 Connecticut couldn't get construction financing before the financial storm took on epic proportions, who can get it now?" It also quotes an expert as saying: "For any speculative project, both inside and outside the city -- even in core locations downtown -- it's basically impossible."
The article mentions two of Near Southeast's spec projects in the pipeline:
* "Others, like the William C. Smith Cos. project near
Nationals Ballpark
at
250 M St. SE
, don't intend to pursue financing or break ground until they have a signed-and-sealed tenant."
* "James 'Jad' Donohoe IV, whose company plans a 200,000-square-foot office building at
1111 New Jersey Ave. SE
, said he has no choice but to broaden his financing net to include nontraditional sources of funding, such as syndication arrangements with multiple banks, sovereign wealth funds and equity from hotels that will be part of the development. " 'We're still in the early stages now, but we've already been searching those things out for this and for other projects we have out there,' he said."
I'd also note that another office spec project in the neighborhood, DRI/Transwestern's
Plaza on K
on the northwest corner of First and K, had previously mentioned a Fall 2008 start date for its first phase, but there have been no recent announcements and no building permits filed.
And, there's also three spec office buildings currently under construction--
55 M
,
100 M
, and
1015 Half
, with only 100 M having so far announced any tenants (Parsons is expected to occupy 30 percent of the building, in early 2009). But, according to WBJ, "industry experts say they are not too worried about the future of the 36 local buildings that are under construction but not under contract to a tenant."
Will the bailout deal change any of this? [insert "We shall see...." comment here.]
Tiny Items to Mask the Reality That I Have No News
Sep 24, 2008 3:37 PM
* The
Congress for the New Urbanism
has named the 11th Street Bridges (along with the Southeast Freeway) to its
Freeways Without Futures list
, recognizing the top 10 locations in the U.S. "where the opportunity is greatest to stimulate valuable revitalization by replacing aging urban highways with boulevards and other cost-saving urban alternatives." It mentions the opposition of the
Capitol Hill Restoration Society
to the plans to
reconstruct the 11th Street Bridges
, scheduled to start next year.
* A few folks wrote in to mention that there's a new sign up advertising the planned office building at
1111 New Jersey
. Despite some building permits recently in the pipeline, developer Donohoe told me a few weeks ago that no announcement of a groundbreaking is imminent.
* I seem to always manage to be out of town during
WalkingTown DC
, and so missed last weekend's jaunt around the "Capitol Riverfront." Blogger fourthandeye from
The Triangle was there
, however, and gives a nice overview via eyes that don't look at these streets every day.
* The weather forecast does not look good for Thursday night's final home game of the season at
Nationals Park
.
Now, About that Retail..... (A Space Survey)
May 2, 2008 10:09 AM
With the
ballpark
now humming along like it's been here forever (Tom Boswell has a litany of good things to say
in today's Post
) , interest is starting to turn toward what sort of retail/restaurant options are going to come to the neighborhood, and
when
. For your Friday time-killing pleasure, I've tossed together a quick a survey of what's either available now or will be coming within the next two years. (I'm not including already existing retail; I'm just looking at where new stuff could arrive.) As of now, I've seen no announcements of tenants for any of these spaces, but maybe if residents, workers, and ballpark fans clap their hands and wish real hard....
*
20 M
- Completed in March of 2007, its 11,000 sq-ft of ground-floor retail space would seem to be an enticing location (just across the street from the Navy Yard subway station's ballpark exit), but so far there's been no takers. "Coming soon" signs that were in the windows last year for Wachovia and Kinko's are now gone.
*
Capitol Hill Tower
- A 7,000-sq-ft restaurant space in the ground floor of this co-op building has been advertised ever since the building opened in 2006, but no takers so far.
*
100 M
- The 240,000-square-foot office building at First and M is scheduled to be completed later this year, and
they're offering 8,500 sq ft
of "corner restaurant/retail space" with "great ceiling heights, storefront and outdoor seating." (There's no ground-floor retail planned for
Onyx on First
in the same block.)
*
55 M
- The first part of
Monument's Half Street
project is this 275,000-sq-ft office building now under construction at Half and M (it's the building on top of the subway station entrance). It has over 10,000 sq ft of retail spaces on Half, M, and Cushing, and should be completed by mid-2009. (See retail spaces 1 through 4
on this page
at the official web site.)
*
909 New Jersey
- For the folks who choose to walk from the Capitol South Metro station, the under-construction residential building at New Jersey and K is going to have 6,000 sq ft of ground-floor retail space when it's completed in summer 2009.
*
Velocity
- The ground floor of this 200-unit condo building at First and L will have retail (I can't find how much), and will be finished by late 2009.
*
The Yards
- By the end of 2009, the renovation of the
old Boilermaker Shop
at Third and Tingey into a 46,000-sq-ft retail space should be completed, and there is also 10,000 square feet of ground-floor retail space planned for the
Pattern Shop Lofts
building on the south side of Tingey, which should have its conversion into a rental building completed by the end of next year as well. Both of these are situated on the route that most Nats Express users walk along to get from the shuttle stop at 300 M to the ballpark. (But will the Nats Express run after this year?)
*
Half Street Part 2
- The southern part of the east side of Half Street north of the ballpark is going to be a combination of a 200-room hotel and two residential buildings totaling 340 units, with about 40,000-sq-ft of ground floor retail to entice the throngs that walk along Half Street before and after games. (See retail spaces 5 through 8
on this page
at the official web site.)
*
1015 Half
- Opus East hasn't yet committed to whether there will be ground-floor retail in this 410,000-sq-ft office building at Half and L, though about 10,000 sq ft of space will be there.
*
23 I
- If this 420-unit apartment building does indeed begin construction in September of this year, there could be 15,000 sq ft of retail available at Half and I by the end of 2010.
That's about 200,000 square feet of space to be filled within the next few years--and this doesn't include the retail spaces in the ground floor of the baseball stadium along First Street (who knows when those will be occupied). It's possible other buildings slated to have ground-floor retail could pop up between now and the end of 2010--
1111 New Jersey
and
250 M
are the main candidates.
And there will also could be more offerings at the Yards by 2011 (including that grocery store planned for
401 M
as well as the Lumber Storage Shed and other to-be-built pavilions at the
Waterfront Park
). And maybe the first building at
Florida Rock
, across from the ballpark's grand staircase, could be done by the end of 2011. But this is getting a little too far down the road....
Comments
(4)
More posts:
100 M
,
1015 Half
, 1111 New Jersey,
23 I
,
250 M
,
909 New Jersey
,
Boilermaker Shops/Yards
,
Capitol Hill Tower
,
Florida Rock
,
Foundry Lofts/Yards
,
jpi
,
Monument/Half St.
,
Onyx
,
Retail
,
Square 743N
,
Square 697n
,
Nationals Park
,
The Yards
,
Twelve12/Teeter/Yards
,
Yards Park
1111 New Jersey Passes Zoning Review
Mar 12, 2008 2:52 PM
I wasn't able to see the meeting myself (I was at Madison Square Garden watching my beloved Roger Federer beat Pete Sampras), but on Monday night the Zoning Commission gave its approval on the
Capitol Gateway Overlay Review
for
1111 New Jersey Avenue
, Donohoe's 220,000-square-foot office building to be built just north of the east entrance of the Navy Yard Metro station.
At the first part of this hearing
a few weeks ago, there was much back-and-forth about whether the garage entrance should be on New Jersey Avenue (the developer's preference) or in the alley (DDOT's preference, which was not looked on fondly by the zoning commissioners). My sources tell me that DDOT has "somewhat grudgingly" agreed to allow the entrance to be on New Jersey after all, but that they expect Donohoe to work with them to better manage the public space on New Jersey and probably reduce the amount of parking offered. The
web site for the project
says that it will be completed in 2010, which would probably mean a start date later this year; we shall see if that indeed comes to pass. Read more about the
previous discussion on the garage entrance
and on
what exactly a CG Overlay Review is
, if you're wanting more information.
Hopefully soon I can post an update on what happened at ANC 6D on Monday, the *other* meeting I missed while in New York.
Monday Meetings; Parking Signs; Birds-Eye View
Mar 9, 2008 3:18 PM
* I mentioned this
a few days back
, but why not pass along another reminder that Monday at 7 pm is the
ANC 6D monthly meeting
, with presentations and votes on
401 M Street
, the
ballpark traffic management plan
, and the
South Capitol Street
Draft EIS
, plus a briefing by the Nats on the Opening Day "Fan Fest" activities. To get in on the fun, go to St. Augustine's Episcopal Church at 6th and M St., SW, starting at 7 pm.
* If the ANC isn't your bag, you can watch the Zoning Commission
take up again
the
Capitol Gateway Overlay Review
for Donohoe's planned office building at
1111 New Jersey
. It's a continuation of the
last hearing
, which revolved mostly around whether the garage access would be from New Jersey or from the alley. The hearing
starts at 6:00 pm
, and 1111 is also on the public meeting agenda at 6:30 pm, which perhaps is a display of optimism that Donohoe and DDOT will have the garage issue straightened out and the review ruling can be made.
Watch the webcast
, if you're so inclined. (I'm going to be missing both of these meetings, so it might be a few days before I can get the scoop on them.)
* The new
Enhanced Residential Parking Permit
signs, which allow non-Zone 6 parking only on one side of the street in certain areas near the
ballpark
, continue to get installed. They came to my street north of the freeway within the past day or so.
* I thought I did good with last week's find of a
November 2006 satellite photo
of the neighborhood, but reader JK has upped the ante with the "Bird's-Eye View" option
at Microsoft Live Search
, showing not-real-high-up images from March 2007. But be careful when you're scrolling around--if you go to fast, the images flip back to shots from early 2003. (Which is festive in its own fun-house kind of way.)
1111 New Jersey - Where to Put the Garage
Feb 1, 2008 10:39 AM
Last night the Zoning Commission heard the
Capitol Gateway Overlay Review
case for
1111 New Jersey
, Donohoe's now 220,000-square-foot office building on the northwest corner of New Jersey and M. The
Office of Planning report
laid out how the project properly adheres to the requirements of the CG Overlay, and there was actually very little discussion by the commissioners of the building's design or landscape (save for a few questions about the width of the sidewalk on M Street, which is wider than what the CG Overlay calls for, because of various hardware for the Navy Yard Metro station below).
What took up the bulk of the discussion was whether the building's parking garage should be accessed via New Jersey Avenue or via the block's alley that runs north-south between L and M (which is shared with
100 M
,
Onyx
, and whatever gets built on the St. Matthew's site). The original design had the garage driveway on New Jersey, but DDOT is asking that it be moved to the alley because of both a desire to not have curb cuts on a major state street like New Jersey and because the alley is an existing curb cut where pedestrians expect vehicular flow. But the commissioners were uniformly unhappy with the alley solution, given the narrowness of the alley (14 feet), the heavy amount of traffic there will be, and the very awkward garage entrance/exit that Donohoe has had to come up with in order to make the alley entry work. Donohoe didn't appear to be especially happy with the alley solution, either, but DDOT was pretty firm in their desire to have it there.
The record was left open, and DDOT and Donohoe said they would continue to work on the garage issue. A ruling on the overlay review could come at the March 11 Zoning Commission meeting.
Chairman Anthony Hood also briefly touched on
ANC 6D's opposition
to the project because of a lack of a community benefits package--Hood said that this project is not a PUD, and any desires to have amenities packages be part of CG Overlay reviews should have been dealt with when the Overlay was created, so the ANC's opposition was viewed as not germaine.
Thursday Zoning Commission Hearing on 1111 New Jersey
Jan 30, 2008 1:39 PM
On Thursday (Jan. 31) at 6:30 pm the Zoning Commission is having its
Capitol Gateway Overlay review hearing
for
1111 New Jersey Avenue
, Donohoe's office building at the corner of New Jersey and M. As I've written
before
, this project has been expanded to include 220,000 square feet of office space with 5,700 square feet of ground-floor retail in a 130-foot-tall glass-facade building, and is now subject to a
CG review
because of acquiring some land from WMATA that fronts M Street. This was
presented to the ANC two weeks ago
, which did not support the project because of the lack of a community benefits package.
The Office of Planning is recommending that this project be approved by the Zoning Commission; you can
see the OP report here
, which lays out point-by-point how the project stands up against the various CG requirements. There's also a request for a zoning special exception to waive a rear yard requirement; the Board of Zoning Adjustment
approved a similar waiver request
back in May
, but they're having to apply for the exception again because the building has grown in size since the BZA ruling, so there's now more building inside the rear yard area.
Ballpark and Beyond This Week - ANC Wrapup
Jan 24, 2008 10:52 AM
This week's
Ballpark and Beyond column
is a shortened summary of last week's ANC 6D meeting; but here's the links to my more detailed reports on the what transpired at that meeting with
1111 New Jersey
, an
alley closing request
by Monument Realty, and
Florida Rock
.
And, since it's been a busy week, you might have missed my
2008 State of the Hood
, which rises above all the daily minutaie to look at what's happened in Near Southeast in the last 12 months and what's coming in 2008; if you're coming late to the party and are looking for an overview, take a few moments to browse it.
ANC Doings -- 1111 New Jersey CG Overlay Review
Jan 16, 2008 1:42 PM
(This is the first of three dispatches I'll be posting over the next few days from Monday's
ANC 6D
meeting. Can you feel the excitement building?)
The developers of the planned office building at
1111 New Jersey
came looking for the ANC's support in advance of their
Jan. 31 Capitol Gateway Overlay Review
at the Zoning Commission. This project has been revised over the past few months after Donohoe
was chosen by WMATA
to acquire the 5,000-square-foot lot on top of the Navy Yard Metro's east entrance at New Jersey and M--by expanding 1111 New Jersey's footprint to this lot, which fronts M Street, the project became subject to a
CG Overlay
Review (
boring tutorial here
). While the WMATA land is being sold to Donohoe, this is in fact a joint development project with WMATA, who I imagine will receive a dollar or two over the coming years once the building is built and leased.
The new design was described by
WDG Architecture
as 220,000 square feet of office space with 5,700 square feet of ground-floor retail in a glass-facade building. While it uses a smidge of the WMATA land, the project will not be built on top of the station entrance as is happening with
55 M
--the station canopy will remain, and a there will be a large public plaza at this "important corner", along with a 60-foot setback with a double line of trees stretching up New Jersey. (Non-obsessive observers might not remember that 1111 NJ's footprint does not include the site of St. Matthew's Church immediately to the north--that lot is
being acquired by Ruben Companies
for a rumored residential project
, where no plans have yet been made, a Ruben rep tells me.)
Donohoe indicated that it plans to go for LEED certification for 1111, and mentioned that some of the ground-floor space would be designed with restaurant uses in mind, though the presenters said they remain aware of the requirements for community-oriented retail and preferred uses in the overlay area.
Beyond the LEED certification, retail, and public spaces, the developer offered no community benefits package to the ANC. Donohoe considers this project a matter of right that requires no additional benefits offerings, a stand which reopened the wounds from
back in April
when the earlier iteration of this project came before the ANC looking for support for a zoning special exception (and was voted down, though the
BZA approved the waiver
anyway).
The feelings of the commissioners hadn't changed in the intervening months, and they voted 5-0 not to support the project because of the lack of community benefits. (There was some procedural wrangling about the wording of the motion, but since the church where the ANC meetings are held is absolutely impossible to hear in, I didn't get the specifics--something about voting "not to support" versus voting "to oppose", I believe.)
No timeline for the start of construction was mentioned. Perhaps more information will be forthcoming at the Jan. 31 zoning hearing.
More ANC reports coming tomorrow--I'll have news of Monument Realty's plans for the
BP Amoco site
at South Capitol and N, followed by the latest in the
Florida Rock
saga. Stay tuned!
UPDATE:
Donohoe was nice enough to pass along the rendering of the new design, which I've added to the top of my
1111 New Jersey page
.
UPDATE II: Correcting a smidge of misinformation on the St. Matthew's site.
ANC and Zoning Commission Reports - Coming Soon
Jan 14, 2008 11:48 PM
Having pledged to pace myself a bit better over the next three months so that I don't have to cover Opening Day from a padded room, I'll be posting the results of Monday night's ANC 6D and Zoning Commission meetings in drips and drabs over the next few days. So stay tuned, especially if you're interested in
Florida Rock
, or
Diamond Teague Park
, or Monument Realty's projects
north of the ballpark
, or
1111 New Jersey
, or
250 M Street
.
This of course means that all the local media outlets checking in at JDLand looking for leads and tips will have to wait too. (The information is all free, of course, but some small hat tip some day would be nice. Although I do enjoy being an assignment editor of sorts....)
Jan. 14 Public Meetings (And One from Last Night)
Jan 11, 2008 3:18 PM
Agendas are out for two public meetings on Monday night (Jan. 14) that have Near Southeast items of interest:
*ANC 6D's
agenda
includes presentations and requests for support on the following: a new request for an alley closing on the southern end of the block bounded by Half, M, N, and South Capitol (
B17-0552
, "Closing of a Public Alley in Square 700"); the
Capitol Gateway Overlay Review
for
1111 New Jersey Ave.
, which will be at the Zoning Commission on Jan. 31; and new design/modified second-stage PUD for
RiverFront on the Anacostia
(Florida Rock), which is expected to go to the Zoning Commission in the next few months. The meeting is at St. Augustine's Church, 6th and M Streets, SW, at 7 pm.
* The Zoning Commission will hear requests for "minor modifications" to William C. Smith's
250 M Street
project and Monument's
Half Street
project; alas, I haven't been able to find out what these modifications are. That meeting is at 6:30 pm at 441 Fourth St., NW, and is also available via
live webcast
.
I should also mention here that last night the Zoning Commission voted preliminary approval of a series of
text and map amendments
at the
Yards
, most of which are far too dull for even me to get into; read the
hearing announcement
if you want more details.
WMATA Approves Plan for New Bus Garage, Navy Yard East Entrance Sale
Dec 13, 2007 2:47 PM
While the main stories in the media coming out of today's WMATA board meetings will no doubt be the
approval of fare increases
, my focus was on other action items:
* Without discussion, the board voted to
execute the sale
announced
back in June
of the 5,612-sq-ft WMATA land at
New Jersey and M
to "NJA Associates" (aka Donohoe). For more detail, you can read
my entry from last week
about how this land fits in with Donohoe's plans for
1111 New Jersey Avenue
.
* The
board also approved
the
plan to build a new 114-bus garage at DC Village
to replace the
Southeastern Bus Garage
at Half and M, contingent on not only a series of land transfers between the city and WMATA but also on the $69.25 million sale of the current bus garage site to Akridge, since the proceeds from that sale are necessary to both fund the new garage and the interim costs associated with continuing the old garage's functions until the new site is ready. Marion Barry spoke forcefully in support of the move, speaking not only of his constituents' strong support for building a new facility in Ward 8 but also that the current garage is "in the way of progress," situated as it is smack in the middle of the fledgling Ballpark District.
No timeframe for closing the current garage was discussed by the WMATA board, and it was only mentioned in passing that Monument Realty's litigation surrounding the sale of the old garage is still pending. WMATA employees who I've talked to at Half and M in recent days have said they were initially told the garage would be vacated this month, then were told it would be next month, and are now being told that there's no firm date planned.
If indeed WMATA is not planning to close the garage before Opening Day, it will need to come up with plans for moving their buses in and out of that space while dodging tens of thousands of pedestrians, or how they'll shut down the garage during game times. It would also mean that the garage's possible use as a temporary parking facility would be off the boards.
39 Posts:
Go to Page:
1
|
2