Near Southeast DC: Past News Items
Metro/WMATA
Go to Full Blog Archive
---
Tidbits: Ice Rink Opening Soon, and Other Goings-On
Dec 5, 2013 8:29 PM
While I keep trying to get myself reacquainted with blogging (a process that clearly is not proceeding smoothly), I'm going to cheat and go with some Tidbits lists every so often, so that at least I can feel like I'm getting the spigot working better, even if it's still sputtering. Also, I have to get used to all these events, specials, and activities, which didn't used to be part of the Near Southeast blogging landscape.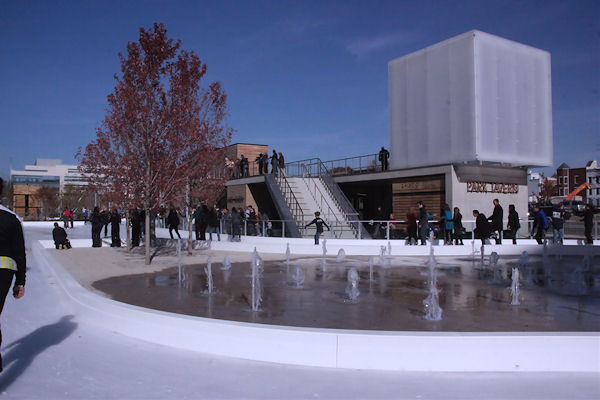 * The BID reports in its latest newsletter that the
Canal Park
ice rink
is scheduled to open on Monday, Dec. 16. And speaking of the park, if you haven't wandered by, you may not know that Christmas trees and wreaths are for sale there this year.
See the market web site for details
.
* On Saturday (Dec. 7), the
11th Street Bridge Park project
is holding two "community design meetings" that will provide an update about the project and break out attendees into smaller groups to work on ideas. A nationwide design competition for the project is expected to be launched early in 2014. The bridge park itself is expected to cost $35 million, which at this point is mostly unfunded. One meeting is at 200 I Street SE from 2 pm to 6 pm (details and RSVP
here
) but there is also
a morning meeting
. (via
DCist
)
*
ArtYards
has the
Chalk a Lot street art event
on Saturday and Sunday (Dec. 7-8) at the NGA parking lot, 1st and M SE. And see also
this Going Out Guide look
at the ArtYards project.
*
Osteria Morini
is now open for lunch, and
here's the menu
. Plus there's
Happy Hour specials now
, too, from 4 to 7 pm Monday through Friday. And Post food critic
Tom Sietsema took a First Bite
there earlier this week.
*
Bluejacket
is going big with
its first New Year's Eve celebration
. For your $160 ticket, you'll get an open bar for all Bluejacket brews, plus a DJ and "passed bites." Then there will be a champagne toast as part of the ceremonial midnight keg drop. (No, seriously.) And Bluejacket/Arsenal is now open for
lunch
, too, and is serving Sunday brunch from 11 to 3, but you probably already know these things.
*
VIDA Fitness
, coming to the
Twelve12 building
at the Yards in 2014, is
now offering membership pre-sales
. Their site says that the Penthouse Pool Club will open on July 1, 2014 and the VIDA Fitness itself on Aug. 25, 2014.
* If you want to look a little farther into the future:
WMATA
has scoped out
the subway alignments it would like to pursue
as part of its 2040 "core configuration" plan. How would you feel about a new Blue and Yellow line under 2nd Street from Union Station, turning west with a station at New Jersey and I before heading to Virginia? (It would also run under M Street NW from Georgetown to New York Avenue.) I can't wait to set out from my retirement home with my brain-embedded camera to take photos of this project.
WMATA Looking for Chiller Plant Developers - Again
Nov 5, 2013 9:53 AM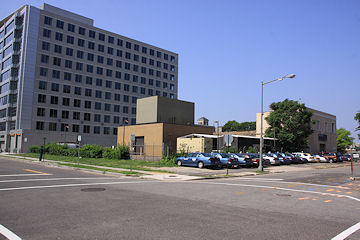 The Post's
CapBiz section reported yesterday
that "In an effort to take advantage of some of the boom in development near public transit, Metro
launched a search
Monday for companies interested in building on properties the transit agency owns at five of its stations: Brookland, Navy Yard, Fort Totten, Grosvenor-Strathmore and Morgan Boulevard."
The Navy Yard-Ballpark land the transit agency is looking to develop is a bit to the north of the station's Half Street entrance, and is known as the Chiller Plant site on the
southwest corner of Half and L
.
While this sounds like positive progress to those who are wanting to see that corner developed, I do invite readers to come with me on a
trip through the JDLand archives
:
Live Transit Page Returns to the Living
Oct 24, 2013 10:16 AM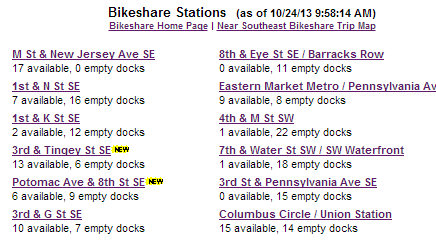 For the two or three people who use it, I've done some cleaning up of the five million lines of code on my
Near Southeast Transit Options
page, and it should now be more or less functional again.
If you haven't seen it, this page gives you a quick look at the status of the neighborhood's five
Bikeshare
stations, including the two new ones at 3rd and Tingey & 8th and Potomac, along with other nearby stations of interest. It also shows upcoming arrival times for the
Green line at Navy Yard-Ballpark
, the
Union Station-Navy Yard Circulator
bus at New Jersey and M, and
Metrobus lines at New Jersey and M
.
You can access this page from the "Live Transit Info" link on the JDLand home page menu bar, or by clicking the little Metro icons on the home page map. It's also available via a link from the JDLand mobile home page at m.jdland.com.
Navy Yard-Not-Yet-Ballpark Station Closing Early June 23
Jun 18, 2012 3:10 PM
Metro announced today
that the Navy Yard subway station will be closing at 10 pm on Saturday, June 23, and the Half Street entrance will be closed "at various times throughout the weekend" so that a gaggle of law enforcement agencies spearheaded by Metro Transit Police can "conduct a security drill at the station."
Green Line service will continue to operate normally through the station during these times--passengers just won't be able to get on the Green Line at Navy Yard between 10 pm Saturday and 7 am Sunday.
However, the Half Street entrance to the station will close at 7 pm Saturday and won't reopen until 12:30 pm Sunday.
Even if you're not planning to be on the subway during those times, note that there may be street closures as well as a "large presence" of emergency vehicles and law enforcement personnel. But Metro emphasizes "this is only a drill."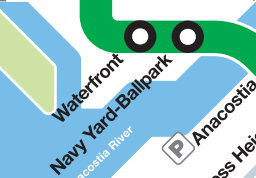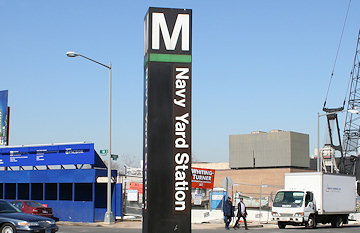 In the meantime, while we're on the subject, I wonder when the station's official name is going to change? The
new maps
on trains and in stations have the updated Navy Yard-Ballpark moniker, but the street-level signs remain unchanged, and Metro is still referring to the station as Navy Yard in the
above press release
and
on the web site
.
The NoMa station got
a festive renaming event
last week, but that was for a complete name change, not just an addendum.
The station
celebrated its 20th birthday back in December
.
This might also be a good time to mention some Metrobus changes, too. The P1 and P2 lines that used to run along M Street from Archives during rush hour have been discontinued, and the P6 line, which used to run along Virginia Avenue and then up into Capitol Hill on its route between Anacostia and the Rhode Island Avenue station,
now runs along M Street
from the 11th Street Bridge to 3rd Street SW, then shifts to 4th Street all the way north to Pennsylvania Avenue. (A nice change for Near Southeast folks, but a sad one for me, since this bus ran right past my corner and was our chariot to the E Street Cinemas and other destinations along its route.)
Tidbits: Miles Glass Raze Permits, Navy Yard-Ballpark, More
Mar 19, 2012 11:57 AM
Couldn't leave all these morsels until the normal Tuesday Tidbits slot:
*
More Demolitions Coming
: Raze permits have now been approved for the Miles Glass building at
8th and Virginia
and its next-door neighbor, the closed auto repair shop at
7th and K
.
National Community Church
, which owns the lots and others on the same block, said
back in January
that a temporary parking lot and "community green space" will be coming to the site while the church continues to work on its final plans for the site, which in the past
have been described as
being a combination of coffee house, performance space, and church offices.
*
Yup, Navy Yard-Ballpark
. The
new Metro subway map is out
, and confirms that
Navy Yard-Ballpark is official
.
*
Bike to Work
: May 18 is DC's
Bike to Work Day
. One of the
pit stops
is the
Yards Park
, from 7 to 9 am, and you get a t-shirt if you register and then stop at your designated pit stop.
*
Bridge Recreation
: If the notion of the "
11th Street Recreation Bridge
" captured your fancy, you can see some additional stories on the idea by
Lydia DePillis
,
BeyondDC
, and
WJLA
.
DePillis
notes that the city isn't intending on paying for this entire thing itself, and a decision needs to be made by May whether or not the new
11th Street Local bridge
will have the bulb-out viewpoints built (they'd be unnecessary if the current downstream bridge was being kept).
WJLA
, on the other hand, mentions that "some" are concerned it "could become a hotbed for crime"--which led to a fun Twitter
back
-
and
-
forth
that devolved into using the new bridge for a Jason Bourne/James Bond-type chase sequence.
*
Mobile 'Hood
: The Capitol Riverfront BID has launched a mobile version of its
web site
, which uses your phone's GPS to give you information on food, developments, and events near your location.
And, of course, if you want to know what your current location looked like before all the changes started happening, you can go to my mobile site (
m.jdland.com
) or
jdland.com/here
on your phone and you'll get my oldest photos looking in each direction from the corner nearest to where you're standing. (
Read more about how that works
.)
*
Fairgrounds
:
DCMud looks
at the plans for the
Half Street Fairgrounds
(which I
broke the news of
back in February), with a few neat new renderings. And then the piece drops a mention at the very end that "DCRE Real Estate" is handling the retail leasing for the project--that's DCMud's company, and the writer of the blog post is also the agent handling the leasing. (Just in case you like to be aware of those sorts of things when getting your news.) In the meantime,
a few shipping containers were spotted
on the site last week.
Happy 20th Birthday, Navy Yard Metro!
Dec 27, 2011 10:59 AM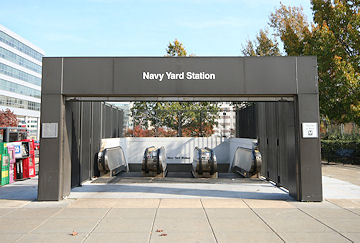 If you're looking for an excuse to have a celebration (and who isn't in the long, seven-day slog between Christmas and New Year's), you can raise a glass on Wednesday to the 20th birthday of the Waterfront, Navy Yard, and Anacostia Metro stations,
which opened on Dec. 28, 1991
.
Not surprisingly, it was the arrival of DC's subway in Anacostia that was the main focus of opening day celebrations: "At long last, after
two decades of planning and delays, site squabbles and legal hurdles
, Metro's Green Line came to Anacostia yesterday and Anacostia rolled out a green carpet of welcome," reported the Washington Post.
But, a few days earlier, the Post published a piece focusing on what changes the new Navy Yard station would bring to its surroundings: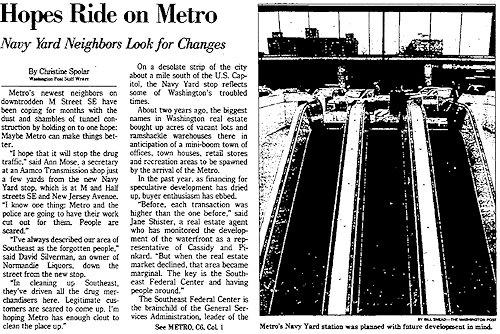 "Metro's newest neighbors on downtrodden M Street SE have been coping for months with the dust and shambles of tunnel construction by holding onto one hope: Maybe Metro can make things better."
"'I hope that it will stop the drug traffic,' said Ann Mose, a secretary at an Aamco Transmission shop just a few yards from the new Navy Yard stop, which is at M and Half streets SE and New Jersey Avenue. 'I know one thing: Metro and the police are going to have their work cut out for them. People are scared.'"
Then, see if this part sounds familiar: "About two years ago, the biggest names in Washington real estate bought up acres of vacant lots and ramshackle warehouses there in anticipation of a mini-boom town of offices, town houses, retail stores and recreation areas to be spawned by the arrival of the Metro. In the past year, as financing for speculative development has dried up, buyer enthusiasm has ebbed."
The article then speaks of the plans to redevelop the
Southeast Federal Center
with 1 million square feet of office space for 23,000 federal workers at agencies like GSA, the Army Corps of Engineers, the Navy, and perhaps FEMA.
"But today, as Metro cars rumble through test runs on the new extension of the Green Line, those dreams seem obscured by drug traffickers who walk undisturbed up and down M Street, in the shadows of boarded-up buildings that neighbors call crack houses, from which Metro workers solicitously warn visitors to stay away. [...]
"Between that and the subway stop is public housing. Trash piles up on the sidewalk. Hypodermic needles are discarded in open lots.
"'You've got to be something of a visionary to see what this is going to be like in five to 10 years,' GSA administrator Dick Austin said. 'There are a lot of those who are skeptics and say it's not going to happen.... Did you ever see the movie 'Field of Dreams?'"
And, in referencing the commercial developers who had bought up much of the land in the neighborhood, the article says: "Their hopes[...]: that the lackluster waterfront from Buzzard Point to the Washington Navy Yard could be turned into the Tysons Corner of the 21st century."
Navy Yard, Waterfront Metro Stations Closed Veterans' Day Weekend
Nov 7, 2011 11:25 AM
If you thought the closure of the Navy Yard Metro station
over Halloween weekend
was a blast, you get to relive it again over the upcoming Veterans' Day long weekend, as once again
WMATA has major Green Line track work planned
.
And, if you're someone who uses the Navy Yard station to get to work, hopefully your employer follows the full federal holiday calendar, because this time the closures begin at
10 pm
Thursday, Nov. 10
, since Friday is the Veterans' Day holiday. Through the system closing on Sunday, Nov. 13, Navy Yard, Waterfront, Anacostia and Congress Heights stations will all be closed. Free shuttle buses will run to the closed stations from L'Enfant Plaza and Southern Avenue, but Metro
advises customers
to "allow 30 minutes of additional travel time."
Metro Approves Subway Station Renaming to Navy Yard-Ballpark
Nov 3, 2011 1:28 PM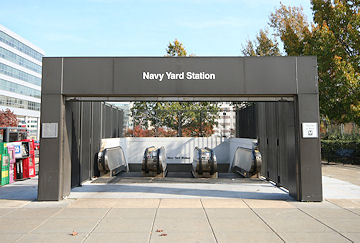 The long road to giving the Navy Yard Metro station a new name seems to have at last come to its resolution, as
WMATA's board voted to approve
"
Navy Yard-Ballpark
."
With the city having a "private commitment" (rumored to be the Nationals) to pay the costs of the change, and with rider surveys
having shown a favorable response
to the new name, the board opted to approve DC's request instead of its staff's recommendation of putting Ballpark in as a secondary name.
This all started more than a year ago, with the Capitol Riverfront BID
initially wanting
some version of "Capitol Riverfront/Ballpark/Navy Yard." Then the Nationals started
pushing for adding the "Curly W"
, for some variant of
Navy Yard/Capitol Riverfront/

. Then WMATA came out with its
new naming guidelines
, including a requirement that names be no more than 19 characters, which prompted the BID to
ask for "Navy Yard" to be dropped altogether
.
ANC 6D then opted to support
Navy Yard-

, or Navy Yard-Ballpark if the Curly W wouldn't be allowed. DDOT then
officially asked that Navy Yard-Ballpark be forwarded
to WMATA for approval. Then we had the
staff recommendation
for a split primary/secondary naming. And then today's action. Wasn't that a cinch?
This change, along with dropping "SEU" from the Waterfront station name and
other changes around the system
, are to take place when Metro's new map debuts in June of 2012.
Reminder on Weekend Events, Plus 11th St. Bridge Ramp Closure
Oct 27, 2011 9:47 PM
The weekend is almost here, so it's probably worth a reminder that the
Navy Yard Metro station will be closed
this weekend, starting at 10 pm Friday through the system's closure time on Sunday night. Waterfront will be closed as well, so if you're hoofing it to another station, make it Capitol South or another Orange/Blue station.
But it's still a big weekend for events in the neighborhood, with the
Ghost Ship Barry festivities
at the Navy Yard and "
Truckerboo
" at Half and M on Friday. (Note that the Navy Yard's portion of the Riverwalk
will be closed starting at noon on Friday
, so you need to go to the entrance gates at
6th and M SE
in order to get to the Ghost Ship.)
Saturday is the BID's
Community Planting Day
, from 9 am to noon, and they're looking for volunteers to help to plant thousands of daffodil bulbs throughout the neighborhood. (UPDATE: This has been
moved to Sunday at noon
, because of the weather forecast.) Also on Saturday, Justin's Cafe is having a
Halloween Murder Mystery event
starting at 9 pm, where individuals and teams get a storyline and a clue and work to solve the mystery while, ahem, drinking some beers.
Plan Now: Navy Yard Metro Station Closed This Weekend
Oct 24, 2011 3:16 PM
If you're expecting to use the Navy Yard Metro station to get to and/or from your cavalcade of weekend Halloween events, be forewarned: as part of WMATA's continuing track work, the
Navy Yard station
(along with Waterfront, Anacostia, and Congress Heights on the Green Line)
will be closed beginning at 10 pm on Friday, Oct. 28, through the system's closing time at midnight Sunday
.
According to
WMATA's press release
, there will be shuttle buses running between L'Enfant Plaza and Southern Avenue, with stops at the closed stations. "Riders using the shuttles should allow 30 minutes of additional travel time"--which makes that 15-minute-or-so walk up to Capitol South sound not quite so bad.
(The
Circulator
that runs from the eastern entrance of the Navy Yard Metro station at New Jersey Avenue up to Eastern Market and then Union Station would be a fine alternative, except that it's now on its Winter Hours schedule of only running on weekdays from 6 am to 7 pm.)
The 10 pm Friday close might have a bit of an impact on the final hours of
Truckerboo
at Half and M, SE; residents might need to be prepared to see larger numbers of pedestrians than usual in the late hours hoofing it northward to Capitol South.
The Green Line isn't the only one seeing closures this weekend--read
WMATA's press release
for all the details.
Tree Planting on Saturday, Metro Name, Nats Park Uses
Oct 12, 2011 8:38 AM
* On Saturday, Oct. 15, a group of neighbors together with Casey Trees is having a
tree-planting event in the "triangle park"
bounded by Virginia Avenue and 4th, 5th, and I streets, SE. No prior experience is required, and coffee and treats will be provided along with a post-planting lunch for volunteers. More information and how to volunteer
here
.
* WMATA staff
has recommended that
"Ballpark" be added to the Navy Yard Metro station name as one of its new "secondary" (subtitle) names, rather than the
requested "Navy Yard-Ballpark."
However, since there is not yet any organization that has committed to paying for the name change (which a DDOT rep said at a recent ANC meeting would be in the $100,000 range for a two-exit station), WMATA's board will not be voting on this name change at its
meetings on Thursday
. They will vote on whether to change the Waterfront-SEU station to just "Waterfront," having veteoed the city's request for "Waterfront-Arena Stage" as being over the 19-character length limit and also having a "commercial naming rights issue." (via
GGW
)
* The ANC 6D October agenda has been sent out (but isn't yet
on the web site
). In addition to the very important business of giving thumbs up or down to five different races/walks that want to use neighborhood streets, the commission will be getting updates on the
225 Virginia/200 I project
and the big DC Water
Clean Rivers Project
that will be
ripping up M Street SE
for a number of years. (Won't that be fun if M Street is a construction zone at the same time as
Virginia Avenue
?)
DDOT Requests 'Navy Yard-Ballpark' Metro Station Name
Oct 6, 2011 9:50 AM
Greater Greater Washington reports
that DDOT has formally asked WMATA for four Metro station name changes, with "Navy Yard-Ballpark" being on the list. This seems to put to an end the attempt by the Nationals to
add their Curly W
to the station name, an idea which was
supported by ANC 6D
last month. (The
BID's desire to have the station renamed
"Capitol Riverfront-[Curly W]" also now would appear to have gone by the wayside.)
Also on the list is changing Waterfront-SEU to Waterfront-Arena Stage.
Curly W on the Metro: Blog Swarm!
Sep 16, 2011 10:27 AM
Keying off my post about
ANC 6D's approval
of
Navy Yard-

as a new name for the Metro station by Nationals Park,
Greater Greater Washington expressed some displeasure
("Navy Yard-W" is worst of new station name proposals"). That post was then
pondered by DCist
and
mocked by SB Nation
for, among other things, the contention that people would think "Navy Yard-W" was named for former president George W. Bush. And now there's a
GGW follow-up
saying that, by appending "Ballpark" to the Navy Yard station name, people won't use other stations that might work better for them to get to the stadium. (Though, really, when the Navy Yard station is all of a block away from Nats Park, maybe it's okay to label that as the station people should use.)
ANC Recap 1: Support for Adding the Curly W to Navy Yard Metro
Sep 13, 2011 11:13 AM
With WMATA looking to
tighten up the naming conventions
for Metro stations and also preparing for a new map thanks to the impending service expansion to Tysons Corner and eventually Dulles, the three local jurisdictions have been encouraged to come up with proposals by the end of this month for any station name revisions they may want. This brought Steve Strauss of DDOT to Monday's ANC 6D meeting, to find out whether the community had any feelings about the names of the four stations within the commission's borders, and in particular whether the ANC had any desire to take a second look at two proposed name changes it supported last year in light of WMATA's
recommitment
to the notion that station names should be no longer than 19 characters (13 for transfer stations).
Yes, it's time for the Curly W discussion again.

Last December the
commission voted to support requests
from both the Capitol Riverfront BID and the Nationals to change the station name to
Navy Yard-Capitol Riverfront-

, but that is well above 19 characters (and would be even worse if the Curly W weren't approved and "Nationals Park" were substituted, as called for in the ANC resolution at the time). The discussion on Monday night centered around whether using the logo would set a dangerous precedent, whether it would be confusing in terms of pronouncing the station name, whether it's de facto advertising, and whether riders with vision impairments would or would not be better served by having a logo versus a spelled-out "Ballpark." Commissioner Andy Litsky was also vocal in wanting some assurance that the Nationals would be paying the estimated $100,000 for the changing of the name of a station, and would not try to argue that the city should pay the cost since the stadium is a public building.
Gregory McCarthy of the Nationals told the commission many of the same things he did
back in December
: the Curly W is the official logo of a city-owned building, and the team wants the logo to appear on transit signage just as it does on freeway signs around the area. McCarthy also said the team very much wants to promote transit as the best way to get to the stadium, and that having the logo on signs and maps helps to emphasize the connection between Metro and the Nationals year-round. There's also no desire to have any variation of "Nationals Park" in the name, given the possibility that the stadium's naming rights will someday be sold and the name changed.
An initial motion to rename the station
Navy Yard-Ballpark
failed on a 3-3 vote; after more discussion, a new motion to support
Navy Yard-

if a logo were allowed, and
Navy Yard-Ballpark
if not, passed on a 4-2 vote. (Technically, these motions were all about amending the resolution from December, but I'm giving you the blessedly short version.)
I should also note that the
Capitol Riverfront BID's recent request
to simply rename the station
Capitol Riverfront-

was briefly mentioned at the start of the discussion, but clearly had zero support from the commission or the audience and was never voted on.
The ANC also voted 7-0 to change Waterfront-SEU to
Waterfront-Arena Stage
. But the resolution acknowledged that the new station name would be 22 characters long, and so a second resolution was passed on a 4-3 vote asking to rename the station as
SW Waterfront
if Arena Stage does not get added to the name.
There was a brief discussion as to whether there might be interest in adding Banneker Park to the L'Enfant Plaza station, but there was little support, and recognition that the name would be too long anyway.
All requests for changing station names will first go through
the city's evaluation procedures
, with the mayor's office then submitting formal recommendations to WMATA.
BID: Rename Navy Yard Metro to 'Capitol Riverfront/[Curly W]'
Jul 26, 2011 7:28 PM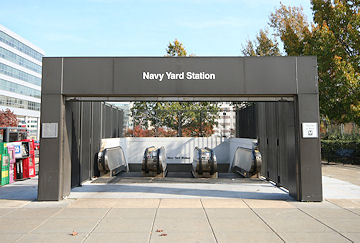 Michael Stevens, the executive director of the
Capitol Riverfront Business Improvement District
, has sent a letter to the mayor, the city council, the WMATA board and other city officials, formally requesting that the Navy Yard station on Metro's Green Line be renamed "
Capitol Riverfront/

" (aka
Curly W
, for
Nationals Park
).
With Metro
letting it be known this week
that any new station names will have to be 19 characters or less thanks to the transit agency's decision to begin enforcing their own naming rules again, the BID's
earlier desire to add their name
and the Nationals' logo to the existing station name would not be allowed. Therefore, in order to get Capitol Riverfront added, the BID feels that "Navy Yard" can be, well, shipped out to sea.
Stevens' letter says that "the name Navy Yard station has served this area well for approximately 20 years and was very descriptive 20 years ago when the federal government owned the majority of the land up to the metro station." But the letter also says that Navy Yard "no longer accurately describes the neighborhood and destinations served" by the station.
The letter goes on to describe the changing demographics of the area since the station opened in 1991, makes mention of the fact that Capitol Riverfront is "an established office submarket recognized and named by Co-Star," and notes that "the entrance to the Navy Yard is located at 6th St., SE and M St., SE, which is approximately a half mile away and a twelve minute walk from the metro."
In explaining how the name change meets WMATA's stated principle that a new name incorporate "customer input," the letter describes the "coalition of public and private stakeholders [who] conducted a study and provided input that led to the development of the Capitol Riverfront name for the neighborhood," back in 2007.
DC and the other jurisdictions are supposed to come up with any new station names by September in order to make the new June 2012 map that Metro will be preparing to coincide with the plans to realign the Yellow and Blue lines; the
Examiner wrote earlier this week
about the plans to shorten 11 of the more lengthy station names.
Greater Greater Washington also wrote recently
on the plans to shorten names, and in describing the focus groups that WMATA conducted on current and proposed station names, said: "The participants did like two potential station name changes: 'Smithsonian-National Mall' and adding some information about the Nationals to Navy Yard, whether a curly W logo or the words 'Ballpark' or 'Nationals.' They didn't like also adding 'Capitol Riverfront,' the name of the BID."
The Navy Yard was established in 1799; from World War I until 1963, the Navy Yard's acreage
included
the land south of M and east of 1st, in what then became the Southeast Federal Center and is now
The Yards
. The neighborhood directly around the Navy Yard has also been known as "Navy Yard," with "
the near Southeast
" starting to be used in 1960s if the Washington Post's archives are an accurate guide. (I have always avoided the "Navy Yard" moniker for the neighborhood so as not to have to spend every day of my life saying "No, not
in
the Navy Yard,
near
the Navy Yard.")
Roundup: Boilermaker Shops, WMATA Land Sale, Ward 6 At-Large Candidate Forum, Water Taxi News
Apr 18, 2011 11:37 AM
Catching up after a quick trip to Florida:

* A few readers have mentioned some work underway around the
Boilermaker Shops
at
The Yards
, but I'll burst the bubbles and note that it's not a sign of formal construction getting started on the 46,000-square-foot retail space. Forest City is taking care of some remediation on behalf of GSA, involving the paint inside the building along with some potentially tainted soil around the outside.
On the same subject, there was a tidbit in the
April Hill Rag
on
page 85
(hat tip reader J) in an article about Barracks Row restaurateur Xavier Cervera, who runs Lola's, Molly Malone's, the Chesapeake Room, and some other new ventures on the way: "And there's even more in his culinary sights: along the Southeast waterfront near
Nationals Park
, Cervera has leased half of the glass-and-steel Boilermaker building (1100 New Jersey Ave. SE) for a classy, 450 seat sports bar." (Ay-yi-yi on that really incorrect address!)
I asked Forest City about the report, and received this response: "Forest City Washington expects to announce soon a number of great restaurant and retail venues that will be located at The Yards. Upon completion of these leases we will commence redevelopment construction of the Boilermaker Building. At this point, we are not able to specifically respond to the inaccuracies in the Hill Rag piece. These inaccuracies will become evident when we make our official announcement." Hmmm.
In the meantime, you can see renderings and photos (outside *and* inside!) on my
Boilermakers Shops page
.
* After having a contract for more than three years, WMATA and Donohoe have finally completed the $3 million sale of 5,165 square feet of land at
New Jersey and M
where the east entrance of the Navy Yard Metro station sits. This allows Donohoe to build its planned 220,000-square-foot
1111 New Jersey office building
, as soon as they find tenants. (The building won't sit directly on top of the entrance, as 55 M does with the west entrance of the station, but is pretty close, as you can see in the rendering on
my project page
.)
* And, in other land transactions in the 100 block of M, the longtime owners of the tiny 1,500-sq-ft sliver of land between 100 M and the alley have sold the property for Northwood Investors, the new owners of
100 M
. (The property records say the price was $250,000, which, if accurate, would seem to a good deal less than what they might have been offered back when Opus East was acquiring the property to build 100 M.)
* On Tuesday, April 19 (tomorrow!), there's a
Ward 6 Candidates Forum
with the large field of candidates for the open at-large seat on the city council (you didn't know there's an election on April 26? You're not alone). It's in the North Hall at Eastern Market from 6:30 to 8 pm, and being hosted by the Ward 6 Democrats (but it's labeled a non-partisan event, so there will be no endorsement vote). You can
submit a question for the candidates
, whether you're attending or not.
*
American River Taxi
is getting some press as it gets its service underway between Georgetown, the Southwest Waterfront, and
Diamond Teague Park
across from the stadium (though Saturday's rains and the
subsequent flooding
along the Potomac have put a crimp in their schedule over the past few days).
WTOP
and the
The Hoya
have posted articles in the past few days.
Nats Looking to Add a Curly W to Navy Yard Metro Station Name
Dec 13, 2010 8:54 PM

At tonight's ANC 6D meeting, Nationals vice president Gregory McCarthy asked the commission to support the Nationals' request for a name change for the Navy Yard Metro station. But, instead of asking to add "
Nationals Park
" or "Ballpark" or "Baseball Stadium" or "[Insert Corporate Naming Rights Winner Here] Park" or some other permutation, the Nationals are asking that the Nationals' "Curly W" red logo be added to Metro's maps and signage instead. McCarthy said that focus groups with fans have indicated a strong identification with the logo, and, just as the Curly W appears on freeway signs around the area directing drivers to the stadium, the team wants the same icon to direct transit users.
Commission chair Ron McBee spoke of the team's positive impact on the community, especially all the work that team players and staff do with the students of nearby Amidon-Bowen Elementary School in Southwest, and there were few other comments from the commissioners. One audience member asked if this didn't amount to free advertising--McCarthy replied that the name of the stadium (which is owned by the city, he reminded) is "Nationals Park," and that the Curly W just signifies the team's name. (In far fewer letters.) The team would be on the hook for any costs incurred for the signage and map changes, but since WMATA is undertaking a reprinting and updating of its maps and signage next year, they probably have pretty good timing.
The resolution drafted by the ANC called for support of the Nationals' request, as long as Navy Yard remains in the station's name and remains first, with "Nationals Park" being an acceptable alternative if WMATA doesn't want to use the Curly W. (They also made sure to specify that the Nats are wanting the Curly W to be red.) This means that the ANC's preference for the station's new name is
Navy Yard/Capitol Riverfront/

, since the Capitol Riverfront BID
previously came to the ANC
asking for support in having
its
name added. The resolution also gives "Navy Yard/Riverfront/Ballpark" as an acceptable alternative if
Navy Yard/Capitol Riverfront/

is too long. The resolution passed 6-0-1.
In terms of how station name changes work, McBee passed out this 1987 DC government document
detailing how the city evaluates requests
. After an ANC weighs in, the WMATA committee looking at the request submits a formal recommendation to DC's WMATA board member(s), who then transmit a formal recommendation to the mayor, who decides on the request and transmits a request for action (or non-action) back to WMATA.
After the vote, McCarthy took a moment to thank outgoing 6D07 commissioner Bob Siegel ("who I first met when he was opposing the new stadium") for all the work he has done on behalf of the community since it was decided to put Nationals Park in his single member district.
ANC 6D Agenda Posted; Another Navy Yard Metro Station Name Change Request
Oct 15, 2010 1:44 PM
The
agenda
for Monday's ANC 6D meeting is now being circulated (slightly revised from one that went out earlier today). One item of Near SE interest is an update on the
Yards Park
and also the
Parcel D
residential/grocery project, which is now scheduled to go before the Zoning Commission on Dec. 2.
The revised agenda also now shows a new request to change the name of the Navy Yard Metro station; while
last time
it was the Capitol Riverfront BID requesting that the name be changed to Capitol Riverfront/Nationals Park/Navy Yard (which the ANC supported as long as "Capitol Riverfront" wasn't first), this time it's the Nationals themselves requesting that "Nationals Stadium" be added to the Navy Yard name. (I wouldn't put 100% confidence in the request being for "Nationals Stadium" and not "Nationals Park," but that's what the agenda says.) I'm trying to find out whether the first request has bitten the dust, or if these are competing requests, or what. Stay tuned. (See below for clarifications.)
There's also a request to add "Banneker Memorial Park" to the L'Enfant Plaza Metro station name. As well as a bunch of other stuff happening on the other side of South Capitol Street, which I leave to other people to pay attention to!
UPDATE:
The BID has told me that this is just the Nationals requesting to be added so that they can be part of the Capitol Riverfront/Nationals Park/Navy Yard new name, though I'm not sure why they would need to have their own request separate from the one that the BID is already working on. Still trying to find out more, but may need to wait until Monday's meeting for clarification.
UPDATE II: Apparently the BID's request was officially just to add "Capitol Riverfront," but they recognized that the Nats would want the stadium included as well. So this ANC action will be to get whatever official name the Nationals want added to the station name into the mix.
WMATA Extending Deadline for Donohoe Land Purchase
Sep 29, 2010 3:25 PM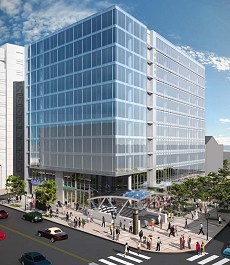 At
tomorrow's WMATA board meetings
, it's expected that Metro will approve a one-year extension to the 2007 agreement with the Donohoe Companies to purchase the 5,600 square feet of land that makes up the east entrance of the Navy Yard Metro station. Donohoe is intending to combine the WMATA land with the 16,400 square feet it owns just to the north (the grassy knoll and parking lot where the Capitol Riverfront Markets have been held this year) to build
1111 New Jersey Avenue
, a 220,000-square-foot office building.
But, according to
the WMATA documents
: "Given the weak economy, it has not been possible to obtain financing to construct the building. A one year extension of the closing date to December 2011 will allow time to respond to evolving market conditions and preserve the contract for both parties." I wrote
back in 2007
that WMATA would be receiving $2.3 million for the property, "
plus an unnamed additional payment if the approved project is larger 206,000 square feet."
It's not anticipated that the station entrance would need to be closed during construction of the new building, As you can see from the rendering, the escalators and canopy would remain outside of the new building's footprint.
ANC 6D Supports Metro Station Name Change (With Concerns), and 250 M PUD Extension
Sep 14, 2010 9:58 AM
I've got some stuff going on for most of the week that will leave my blogging pretty light (unless there's big news that I can't bear to leave un-blogged). I'll no doubt pop up on
Twitter
here and there (passing along
important morsels
like dreams of city council members cleaning up my yard for me), but otherwise I intend on being pretty quiet, especially while the rest of the blogosphere handles the DC primary elections. (Are you voting today? Get out there, dammit!)
I couldn't make the ANC 6D meeting last night, but Will from
across the way
was nice enough to tweet a couple of results on Near Southeast-related items. First, the commission voted 4-1 to support a request from the Capitol Riverfront BID to add a couple of additional monikers to the Navy Yard Metro station name. However, while the BID wants the name to be changed to some version of "Capitol Riverfront/Ballpark/Navy Yard", the commission's support was apparently only if "Capitol Riverfront" is not the first part of the new name. Any change from plain old "Navy Yard" still needs to go through DDOT and WMATA for approval. (They also voted to approve adding "Arena Stage" to the "Waterfront/SEU" station name.)
The ANC also voted unanimously to support a requested two-year extension on the PUD for
250 M Street
, the William C. Smith office building that's part of the
Capper/Carrollsburg
PUD. This will be in front of the Zoning Commission at some point soon, so I'll get more info on it them. But it's not really a surprise that they're not expecting to be ready to start construction in the near future.