Near Southeast DC: Past News Items
Water Taxis/Riverboats
Go to Full Blog Archive
---
37 Blog Posts Since 2003
Go to Page:
1
|
2
Thursday Tidbits: Roundup of Pre-Opening Day Roundups
Apr 5, 2012 11:18 AM
Before everyone disappears down the Nats Opening Day/Masters/Caps rabbit holes (myself included!), here's some links to items that might be of interest.
First, a few new entries in the
What's New Around the Ballpark?
lineup:
* On Tap Magazine surveys the neighborhood with "
The Hidden Gem That is the Capitol Riverfront
." (Another jewelry metaphor to go with the Post's "
Diamond in the Rough
" piece from Sunday.)
*
WJLA wandered around
looking at the ballpark environs.
*
The Post's Going Out Gurus blog
checked out the
Fairgrounds
' sneak peek on Tuesday. (Though what's the deal with the photos that look like they were taken through a veil? Will this Instagram obsession never ebb?)
*
WTOP runs down the options
for arriving at the ballpark by water taxi. (American River Taxi, by the way,
says that they are almost sold out
for the April 12 home opener.)
Some other items:
*
Two
reports
from MLB.com on the Wounded Warrior Amputee charity softball classic, played Tuesday after the Nats-Red Sox exhibition. The Warriors pounded their celebrity challengers 17-4.
* "DC Modern Luxury" magazine's Men's issue picks the
Foundry Lofts
as one of the city's "Best Bachelor Buildings."
Go here
, then click on the Best Bachelor Buildings subhed to get to page 62, then look at the bottom of the page. (As an aside, the write-up sounds even better if you imagine it being spoken by
Stefon
.)
* Or, if you like your tidbits a bit less glossy, Multihousing News has "
Foundry Lofts Blazes Trail on DC Riverfront
."
*
Bluejacket
gets a big write-up and cover photo in
Beer Advocate magazine
, though we don't get to read it online. You'll just have to make do with the Sept. 2011 batch of photos from inside the
Boilermaker Shops
the brewery has
put up on their Facebook page
.
* Nineteen "experts" have
picked the Nationals to make the playoffs
this year. No pressure!
Tuesday Tidbits, Getting Closer to Opening Day Edition
Mar 6, 2012 10:18 AM
Cleaning off the digital desk:

* Readers are reporting that the fence is coming down around the Bullpen on Half Street. This would be in preparation for the
new Fairgrounds offering
.
Designs
show
that the new "fence" will be shipping containers, which makes sense given that the venture is centered around a shipping container market. Their intent is to have it up and running by Opening Day. (
Read my Fairgrounds post
from a few weeks ago for much more detail.)
* Speaking of Opening Day,
single-game tickets go on sale Thursday at 10 am
.
* Residents won't exactly be interested in this news (except maybe from a parking/traffic angle), but I'll still pass along that a new venture called
Ballpark Bus
is getting launched this season to bring fans from five northern Virginia locations to the stadium. (More to be announced soon, the web site says.) The blog Let Teddy Win has
more about the service
.
* If you'd rather get to the stadium by sea, Potomac Riverboat Company is once again running its
Baseball Boat
for the 2012 season--boats leave Alexandria and take about a half-hour to get to
Diamond Teague Park,
right across from Nationals Park. Price is $24 for a round-trip voyage or $15 one way. (You can also set sail from National Harbor by taking PRC's service from there to Alexandria and then hook up with the baseball boat, for $30 round trip or $20 one way.)
* Also getting ready for another season of operations is
American River Taxi
, whose owner
tweeted on Monday
"See you for Cherry Blossoms." The boat stops at Georgetown, the Southwest Waterfront, and Teague Park--and now that pier is a lovely
riverside-bridge
-walk away from the
Yards Park
(rather than having to walk up 1st to Tingey, over to 3rd, and down).
* Still haven't heard of an official opening date for
Potbelly
(though it's
expected to be next week
), but a press release says that the hours will be 10 am - 7 pm seven days a week, along with delivery service Monday through Friday from 10 am to 2 pm. The store's general manager will be James Carpenter, who previously worked at their Union Station shop. Trivia fans will also note that this location at 301 Tingey (in the ground floor of the
Foundry Lofts
) will be the 45th Potbelly to open in the DC area.
Roundup: Boilermaker Shops, WMATA Land Sale, Ward 6 At-Large Candidate Forum, Water Taxi News
Apr 18, 2011 11:37 AM
Catching up after a quick trip to Florida:

* A few readers have mentioned some work underway around the
Boilermaker Shops
at
The Yards
, but I'll burst the bubbles and note that it's not a sign of formal construction getting started on the 46,000-square-foot retail space. Forest City is taking care of some remediation on behalf of GSA, involving the paint inside the building along with some potentially tainted soil around the outside.
On the same subject, there was a tidbit in the
April Hill Rag
on
page 85
(hat tip reader J) in an article about Barracks Row restaurateur Xavier Cervera, who runs Lola's, Molly Malone's, the Chesapeake Room, and some other new ventures on the way: "And there's even more in his culinary sights: along the Southeast waterfront near
Nationals Park
, Cervera has leased half of the glass-and-steel Boilermaker building (1100 New Jersey Ave. SE) for a classy, 450 seat sports bar." (Ay-yi-yi on that really incorrect address!)
I asked Forest City about the report, and received this response: "Forest City Washington expects to announce soon a number of great restaurant and retail venues that will be located at The Yards. Upon completion of these leases we will commence redevelopment construction of the Boilermaker Building. At this point, we are not able to specifically respond to the inaccuracies in the Hill Rag piece. These inaccuracies will become evident when we make our official announcement." Hmmm.
In the meantime, you can see renderings and photos (outside *and* inside!) on my
Boilermakers Shops page
.
* After having a contract for more than three years, WMATA and Donohoe have finally completed the $3 million sale of 5,165 square feet of land at
New Jersey and M
where the east entrance of the Navy Yard Metro station sits. This allows Donohoe to build its planned 220,000-square-foot
1111 New Jersey office building
, as soon as they find tenants. (The building won't sit directly on top of the entrance, as 55 M does with the west entrance of the station, but is pretty close, as you can see in the rendering on
my project page
.)
* And, in other land transactions in the 100 block of M, the longtime owners of the tiny 1,500-sq-ft sliver of land between 100 M and the alley have sold the property for Northwood Investors, the new owners of
100 M
. (The property records say the price was $250,000, which, if accurate, would seem to a good deal less than what they might have been offered back when Opus East was acquiring the property to build 100 M.)
* On Tuesday, April 19 (tomorrow!), there's a
Ward 6 Candidates Forum
with the large field of candidates for the open at-large seat on the city council (you didn't know there's an election on April 26? You're not alone). It's in the North Hall at Eastern Market from 6:30 to 8 pm, and being hosted by the Ward 6 Democrats (but it's labeled a non-partisan event, so there will be no endorsement vote). You can
submit a question for the candidates
, whether you're attending or not.
*
American River Taxi
is getting some press as it gets its service underway between Georgetown, the Southwest Waterfront, and
Diamond Teague Park
across from the stadium (though Saturday's rains and the
subsequent flooding
along the Potomac have put a crimp in their schedule over the past few days).
WTOP
and the
The Hoya
have posted articles in the past few days.
Sensorium, Nats, Water Taxis, and Other Events and Tidbits
Apr 10, 2011 10:55 PM
Sorry I went off-grid most of last week--when I said that the weather on Opening Day reminded me of 2008, I wasn't expecting to then come down with pretty much the same bug that clobbered me after the big event three years ago. (I'm also getting too old to traipse around outside for many hours over multiple days in 40-and-rainy weather.) I'm still not 100 percent, but here's a few items I'm passing along as I work my way back into the swing:
* As already posted,
ANC 6D is meeting
Monday night at 7 pm at the Courtyard by Marriott at New Jersey and L SE. There's lots of Near Southeast items on the agenda, including the
Market Deli landmarking nomination
, a call for a combined M Street SE/SW transportation study, and Forest City's desire to move its offices to the Lumber Shed at the
Yards Park
. ANC 6B then meets on Tuesday, but there don't appear to be any south-of-the-freeway items on their
agenda
, so I'll be skipping that.
*
Sensorium
starts its six-week run at the
Yards Park
on Tuesday, April 12. The Post's Going Out Guide
posted some photos of the dome
last week during construction, as did
the Sensorium folks
themselves. If you haven't been following this, Sensorium pairs a 12-course tasting menu with visual/performance art into a production that sounds like unlike anything on the current or recent DC agenda. There are two seatings every night (except Mondays), with
tickets
$150 per person. If you go, tell us all about it!
* Also at the Yards Park this week is the
DC Challenge
race and festival on Saturday the 16th, where you can test out your Amazing Race-type abilities in this "Ultimate Urban Scavenger Race."
* The Nationals have a big
home
stand, starting with the Phillies Tuesday through Thursday (so beware the descending hordes) and then the Brewers Friday through Sunday. All weekday games are at 7:05 pm, Saturday's game is at 1:05 pm, and Sunday is the usual 1:35 pm start. I haven't heard yet if
Das Bullpen
will be making its debut this week or not.
UPDATE:
The owner of the Bullpen told me on Monday afternoon that Das Bullpen will be open on Tuesday evening for the Nats/Phillies game.
*
American River Taxi
has begun its service between the Georgetown Waterfront, the Southwest Waterfront (which we're now calling The Wharf, I guess), and
Diamond Teague Park
. They have an 8 am commuter run on weekdays from the Wharf to Georgetown, then regular runs between the three stops starting at 10 am until 6 pm weekdays and 9 pm on weekends. (If you're wanting to try out the service to get to any of the Nationals games this week,
they say
that the boat leaves Georgetown at 6:05 pm [updated time].) Ticket kiosks are at Tony and Joe's at the Washington Harbor in Georgetown and the Gangplank Marina in Southwest, and tickets can also be purchased on the ship. Tickets will normally be $9, but are currently discounted at $8,
according to SWill
, who's doing a fine job following the venture's launch. ART has just one boat so far (the Dolley Madison), they are still adjusting their run times (right now it takes 20-35 minutes between stops), so following them on
Facebook
and/or
Twitter
is a good way to keep up with their service. They hope to eventually expand their offerings to National Airport, Alexandria, and National Harbor. (As of now, the
Potomac Riverboat Company
is the only outfit sailing to Teague from Alexandria, and that's
just for Nationals games
.)
*
Harry's Reserve
at New Jersey and I had its first wine tastings on Friday and Saturday. If you want to keep up with their news and events, you can
friend them on Facebook
(they've set themselves up as a Facebook "person" rather than a product page to "like"--perhaps they'll rejigger that soon.)
Also, a site note: with more neighborhood information being tweeted these days than I could hope to write about or even retweet, I've created a Near Southeast Businesses/Organizations
Twitter list
, which you can also browse on the JDLand.com home page, in the box below the map in the right margin--which is below the box with
my own latest tweets
, so clearly you can get a lot of Twitter content right here if you haven't joined the
cult
social media outlet yet. I'm trying to keep this list to very-very local businesses and groups (and not DDOT or the Nationals or other feeds that aren't mostly about goings-on in this area). If I'm missing any, let me know.
Comments
(3)
More posts:
ANC News
,
Fairgrounds/Bullpen
,
Events
,
Restaurants/Nightlife
,
Harry's Reserve
,
meetings
,
Nationals Park
,
Teague Park
, Water Taxis/Riverboats,
The Yards
,
Yards Park
Tidbits: Floating Bridge, 11th Street Bridge Closures, Water Taxis, Beer Garden
Jan 4, 2011 11:07 AM
A few small items that might be of interest: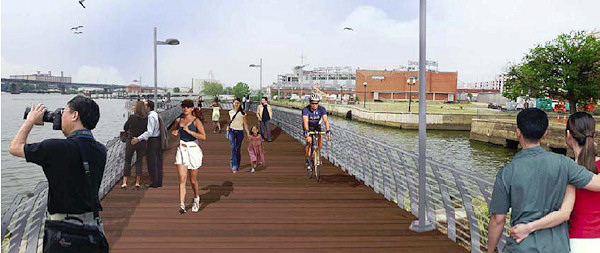 * The
National Capital Planning Commission
at its Thursday meeting
should be approving
the design of the 611-foot-long floating bridge to connect the
Yards Park
with
Diamond Teague Park
. The
"delegated action" document
says that the bridge will also include an 81-foot-long platform that will be used as a "marine environmental education center" -- the platform is necessary to span three underground pipes at the DC Water pumping station. At the BID annual meeting in December,
it was said
that construction on the bridge could begin this spring. (
UPDATE
) And construction is expected to take 6-8 months.
* If you drive into downtown DC across the
11th Street Bridges
late at night/early in the morning, be advised that the ramps from northbound I-295 and 13th Street, SE,
will be closed
between midnight and 5 am on both Friday, Jan. 7 and Monday, Jan. 10 to allow for work with overhead steel girders. But the South Capitol Street Bridge will be open for your Anacostia crossing pleasure.
* There hasn't been much apparent movement by
American Water Taxi
to get started with its planned service between Georgetown, the Southwest Waterfront, and
Teague Park
, but an update on their web site within the past few weeks says that "Focus groups and working group meetings to start in January."
* The
agenda
for the Jan. 11 ANC 6B meeting includes an item on the "Resolution of the Bavarian Beer Garden [Liquor] License Protest." Does this mean that the ANC and the folks wanting to open the beer garden at 8th and L have gotten the voluntary agreement hashed out, after all the
concerns recently expressed
? We shall see.
11th Street Bridges Status Update; Other Catching Up
Nov 1, 2010 9:52 AM
I'm now back after a week wandering the Midwest again, this time spending a few days in Chicago and then going up to Milwaukee, where touring time was cut short thanks to that epic windstorm (but at least I got to see the
Historic Third Ward
and the
Milwaukee Public Market
). Lots of photos of streetscapes and buildings
are here
, if you feel like looking at some non-Near Southeast images for a change.
To catch up....
* Dr. Gridlock
gave an update
on the progress of the
11th Street Bridges
project, which is now more than 25 percent complete. A pretty showy part of the construction will be starting soon, "when steel girders arrive for the new bridge spans. They will be trucked out onto the old bridges and lowered onto barges in the river below." The story gives this timeline: in spring 2011, the new alignment of southbound 295 opens; in fall '11, the freeway bridges (the upstream ones) will open; in winter 2012/13 the local (downstream) bridge between Anacostia and Near Southeast will open, with the entire project expected to be completed in summer 2013. (If the alignments and uses of the new bridges aren't clear to you, check my
11th Street Bridges project page
for more detail.)
There's also
some new lane restrictions
that started last week and will run through Nov. 23: the left lane of 11th Street SE from M to N is closed, and N Street SE between 11th and 12th is closed overnight Tuesdays through Fridays. There are other restrictions and closures as well on 295 and the SE Freeway.
* The Post's Capital Business weekly
has more information
today on the
foreclosure sale
of
100 M
, including this part that is probably of most interest to residents: "Although thousands of fans pour out of the Metro station nearby for baseball games, the Opus bankruptcy has prevented retailers -- other than a SunTrust bank branch -- from occupying ground-level storefronts. Michael Stevens, executive director of the Capitol Riverfront Business Improvement District, said he hoped that with new ownership, that would change. The retail broker for 100 M St., he said, 'has had some tenants that were interested in that property, but he couldn't sign any leases because it was in bankruptcy.' "
* It wasn't exactly a shocker that
Greater Greater Washington endorsed
David Garber for ANC 6D07 commissioner. Along the same lines, there's a
good piece by Housing Complex
this morning on the dysfunctional aspects of the ANCs, with some ideas on how to fix them. Having been tortured by sitting through many ANC meetings for more than five years now, I can certainly vouch for a lot of the issues mentioned. Perhaps there needs to be a Rally to Restore ANC Sanity.
* If you've wanted to know about Ann of Ann's Beauty Supply and Wigs Co. at 125 L St., SE,
People's District recently profiled her
. (Except I think they either mistranscribed the date of her shop opening, or this interview was done when her store was still in the old Waterside Mall in Southwest, because her store opened on L Street SE in 2005, not 1995.)
*
American River Taxi
, which is working to begin boat service between Georgetown, the Southwest Waterfront, and Diamond Teague Park, is hiring
deckhands
and
captains
. No word on when they'll get underway.
* Work has started in the ground floor of 909 New Jersey for the new Harry's Wine and Spirits. Alas, their timeline for opening has slipped (as all construction timelines do), and the owners now have their fingers crossed that they will be open by Christmas.
Water Taxi Company Moving Toward Launch
Jul 13, 2010 10:11 AM
Via
SWill's Twitter feed
, it appears that
American River Taxi
may be closer to launching its initial service between Georgetown, the Southwest Waterfront, and
Diamond Teague Park
(next to
Nationals Park
). Their newly redesigned web site lists hours of operation (seven days a week), and
a map
shows the three initial stops along with future stops at National Airport, Alexandria, and National Harbor. No announcement as to when service will start, or what prices will be.
ANC 6D Agenda Posted
Apr 11, 2010 6:14 PM
The agenda for Monday's ANC 6D meeting
is now available
, with a few items of Near Southeast interest. There will be an update on the
CSX Virginia Avenue Tunnel project
, a presentation by the owner of
American River Taxi
(the company working toward water taxi service between Georgetown, the SW Waterfront,
Diamond Teague Park
, and other spots), and a liquor license application for the Patriot II, which is the boat run by the new DC Harbor Cruises outfit that
just began running river tours
from Teague. There's also the usual gamut of road races and other items, along with I'm sure the latest on the opening this week of the new SW Safeway.
The meeting is at 7 pm at St. Augustine's Church, Sixth and M streets, SW. (This *might* be the last time the ANC meets at this location, with its new space at the Waterfront building at Fourth and M being close to its debut.)
If you're interested in the CSX stuff and can't make the Monday meeting, remember that there's also an update being given the next night at
ANC 6B's meeting
.
New Boat Cruise Company Operating from Teague
Apr 6, 2010 12:11 PM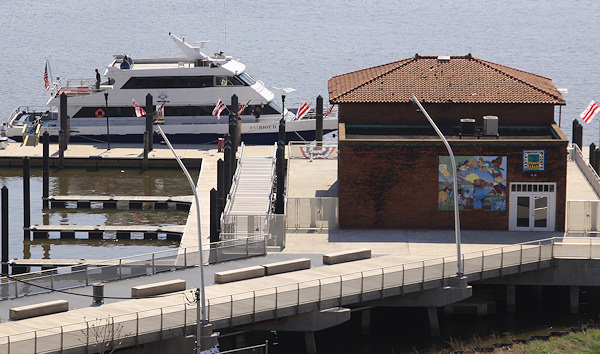 During yesterday's opener, I
noticed a boat
named the Patriot II docked at
Diamond Teague Park
, alongside the Potomac Riverboat Company's Miss Christin that runs from Alexandria for baseball games. A little research has uncovered that the Patriot II belongs to
DC Harbor Cruises
, which on April 1 began running sightseeing boat trips and private charters out of Teague. They are operating "
Cherry Blossom Harbor Cruises
" through April 11, as well as trips
before and after Nationals' games
and apparently plans for all sorts of
specialty cruise options
.
For some additional detail, you can see this report from last Friday by
Fox5's Holly Morris on the company
(and the BID and the Earth Conservation Corps). No prices are listed anywhere on the site yet, but you can call for reservations and apparently tickets can also be purchased at the dock as well as at Union Station and eventually online.
New Company Working on Water Taxi Service
Mar 30, 2010 1:12 AM
Since
Diamond Teague Park and Piers
opened last summer across the street from
Nationals Park
, the focus has been on water taxi service tied to baseball games, and the
Potomac Riverboat Company
has been first out of the gate with gameday trips from its Alexandria pier, starting in September of last year and continuing this year, beginning on Opening Day (April 5).
But there could also be another company on the horizon.
American River Taxi
is working on plans to offer what it says will be "regular runs" of "eco-friendly" water taxis between Teague, the Gangplank Marina on the Southwest Waterfront, Washington Harbor in Georgetown, and Alexandria, with shuttle connections to the Foggy Bottom and L'Enfant Plaza Metro stations from Georgetown and Southwest. (Their
map
also shows possible future service to National Harbor, Poplar Point and National Airport.) The company's owner, Shaun Guevarra, says that there are plans to eventually offer discounted service to residents of Southeast and Southwest, along with rechargeable account cards and mobile payment options.
There will be two boats initially, according to the company's web site, and they are being built by
Watermarque Marine
. The schedules and prices are to be posted soon, Guevarra says, and his company will be in attendance at the Southwest Waterfront this Saturday evening (April 3) as part of the
National Cherry Blossom Festival's Prelude to Fireworks
.
New ventures don't always have the easiest path to launch, of course, so it will be interesting to see how this pans out, with exactly how many runs per day between the locations, the price, etc. etc. The service is targeted to start in the second quarter of this year.
Will post more as I get it.
Photos from a Breezy Fall Evening Along the River
Sep 29, 2009 9:23 PM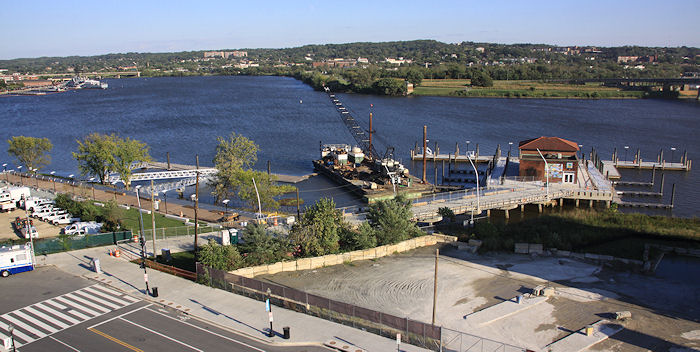 There's nothing like the light you get from late afternoon through twilight on a clear crisp day in September, and I was lucky enough to be able to wander around for a few hours
and take some photos
. They're mostly of
Diamond Teague Park
, the
ballpark
, and various views along the Anacostia (including the arrival of the water taxi from Alexandria). Not much rhyme or reason to them, but they are photos I've been meaning to take for a long time, and maybe you might enjoy them, too. (I need a little more time to get them onto my Teague page.)
Lazy Repost of Recent Tweets on Canal Park, Nats '10 Schedule, Ferries, More
Sep 16, 2009 12:03 PM
Here's a bunch of small items that I've
Tweeted
over the past few days; I'm succumbing to abject laziness and only barely bothering to rewrite them (who needs all those extra words, anyway?):
* RT @
TWTSports
: #Nats will open the 2010 season at Nationals Park against the Phillies on April 5. [
schedule link
]
* RT @
LPags03
: #Nats host BOS for exhibition game on 4/3.
* The new
Canal Park
design is on the preliminary agenda for the Oct. 1 NCPC meeting. Hope it makes the final agenda:
link
* Study of commuter ferry service to waterfront from Woodbridge pegs a $30M price tag just for needed improvements:
link
* From @
octolabs
: DC Citywide Data Warehouse won coolest gov innovation award for
DC Data Catalog/Data Feeds
:
link
[and thanks for the shout-out!]
* RT @
Cornercopia
: Owner of blue civic with Maryland plates parked in front should probably move their car. 2 tickets already since Mon.
Snippets, Reminders, and Whatnot
Sep 9, 2009 10:47 AM
Pulling together smallish items from hither and yon:
* Last night saw the first arrival of a commercial water taxi at
Diamond Teague Pier
;
WTOP covered the trip
, which is a good thing, since I neither rode the boat nor stood on the dock to watch it sail in. I suck.
* A stroll through the city's building permits feed (which alas isn't as easy or useful as it used to be, since they pile every single permit into the feed over and over, rather than just posting new/updated ones) uncovered that back in August, a raze permit was issued for
156 L Street
, home of the old Star Market and better known as the "
Little Red Building
"; the owner has spoken of plans to build a new two-story structure that would be a combination liquor store and deli. I haven't heard of any timeframe for the demolition, new construction, or store opening.
* From
And Now, Anacostia
, a heads up that today's Kojo Nnamdi show will include a segment called "Paris on the Anacostia: A Provocative Idea for DC's Waterfront," which will discuss the idea of *narrowing* the Anacostia River, "with the goal of bringing in new businesses, training new workers, and completely changing the relationship between folks East and West of the River." It'll be available online
here
.
* Tomorrow night (Thursday) is the second
Outdoor Space Movie
at
Canal Park
; this time it's
Star Wars
. The Force will be with you, starting at 7:30 pm.
* And Thursday night is also the deadline for pre-registration for
ULI Washington
's
Urban Marketplace conference and expo
on Sept. 15. Among lots of other sessions about urban development, it includes a panel discussion about the ballpark neighborhood, with Michael Darby of Monument Realty, Matthew Klein of Akridge, Michael Stevens of the BID, Harriet Tregoning of the Office of Planning, and me. It'll be a barn-burner!
* Saturday night is the second annual
Opera in the Outfield
at
Nationals Park
; the Washington Times
previews it here
. It's the
Barber of Seville
; but don't be alarmed when the first lines
aren't
"Welcome to my shop/let me cut your mop, let me shave your crop/Daintily, Daintily!"
* Forest City
announced its second-quarter earnings
, for those who know how to decipher these things. It does mention the
Park at the Yards
, still listing the completion date of the first phase as summer 2010. And their outlook? "While some see signs of a potential end of the recession, we are taking a conservative course based on what we can observe and are experiencing directly: continued weak fundamentals and little improvement in overall near-term conditions. As a result, we remain very cautious going forward. We expect the second half of the year to be challenging for our Company and for the entire industry, and we do not anticipate meaningful improvement in market conditions in the near or mid-term."
Potomac Riverboat Company Offering Water Taxi Service for Nats Games, Starting Sept. 8
Aug 28, 2009 11:38 AM
From
WTOP
: "Nationals fans will have a new way to get to the ballpark starting next month! That's when a water taxi will begin taking fans from the Alexandria waterfront to a dock right next to the the ballpark. It's about a 40 minute trip.
"The
Potomac Riverboat Company
will begin offering tickets for sale starting at noon today. 'I think it's a great price, $12 one way and $20 round trip. That includes tax,' company Vice President Charlotte Hall tells WTOP.
"Fans who live in Maryland can park at National Harbor, and take a separate water taxi across the river to catch the "baseball boat" in Alexandria. Those who want to do that will have to purchase a separate ticket for $8 one way or $16 round trip.
"Company vice president Charlotte Hall says they're offering water taxi rides to and from seven Nationals home games in September, beginning with a game against Philadelphia on Tuesday, September 8. You can also buy water taxi tickets to home games on September 9, 10, 25, 28, 29, and 30. Hall says they hope to expand service in time for next baseball season."
Water Taxi Service 'Now Available' (But...)
Aug 19, 2009 7:47 PM
Late this afternoon the mayor's office sent out
this press release
, which confirms
these
posts
from last week: "Mayor Adrian M. Fenty on Wednesday announced water taxi service is now available to
Nationals Park
by way of a District-built public pier at the new $8 million
Diamond Teague Park
on the Anacostia River. [...] Six local charter companies will operate about a dozen different vessels to the pier from locations including Maryland's National Harbor and Old Town, Alexandria. Service will be available for home games at the park and other special events. The boat operators will use a new 250-foot commercial pier built for boats carrying up to 149 passengers."
Alas, the release doesn't name the six companies or give any details on their services, though
WTOP reported last week
that the "
Potomac Riverboat Company
plans to begin operations as soon as next month, for at least some remaining home games." I just checked their web site, and there's nothing on it about service to the ballpark as of right now.
Water Taxis for Nats Games Maybe Starting Soon?
Aug 8, 2009 8:08 PM
From WTOP
, news that water taxi service to
Diamond Teague Park
may be underway fairly soon: "The
Potomac Riverboat Company
plans to begin operations as soon as next month, for at least some remaining home games. 'We would offer service on the game nights only,' says company Vice President Charlotte Hall, 'from Alexandria, Va., National Harbor and Gaylord National Hotel.'" And: "Prices for the Nationals Park water taxi service have not been set yet, but the company currently charges $8 one way, or $16 round trip for its water taxi connecting Alexandria Harbor, National Harbor and Gaylord National. Hall says all of its existing service will stay the same, and no schedules or routes will be cut to accommodate added trips to
Nationals Park
."
Piers at Diamond Teague Open (Basically)
Aug 6, 2009 6:50 PM
It was commenter Charlie in
the last thread
who really broke this news on Tuesday, but now here's official word, via the
BID
's newsletter. Since I'm still technically on hiatus, I'm just going to copy and paste: "The grand opening of the
Diamond [Teague] Park
piers behind Nationals Ballpark was marked by the Sequoia docking at the 250 ft. commercial pier on Tuesday, August 4th. Water taxis will dock at the commercial pier, providing a gateway to the Front and a unique entrance to Nationals Ballpark.
Gangplank Marina
is managing the 250 ft. commercial pier that will be serviced by a number of operators. Gangplank Marina is launching a website in the next few days listing the suggested ferry/charter boat operators with contact information for booking river cruises. There are plans for hourly service for games and special events next year. A second environmental pier for kayaks and canoes will open in the next few weeks." That's all I know at this point....
Diamond Teague Progress, Cornercopia Peek, Plus a Few Other Photo Updates and a Parking Lot Update
Jul 16, 2009 8:46 PM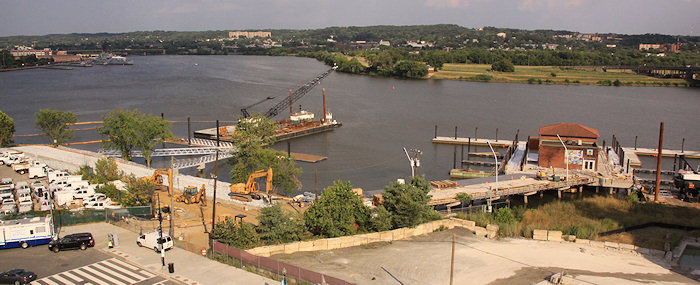 I took advantage of the sunny evening to dart around getting some desperately needed photo updates. First up is
Diamond Teague Park
, where progress on not only the water-taxi piers but the "on-land" portion of the park itself is now clearly visible from the
viewing platform at Nationals Park
. The last projected opening date I heard, a few months back, was July, but while it looks like maybe the park won't be pulled together in the next two weeks, it definitely appears to be getting there. See
my Teague page
for the latest pics.
I also snuck a peek through the door at Cornercopia and
snagged a quick photo
, showing goods now stocked on the shelves, but perhaps just short of being ready to open. Maybe they can get ready for all the folks heading to the ballpark this weekend? Don't forget, my offer still stands of a free sandwich to the first person who
reports to me
that it's open....
I also took some updated photos at Fourth and K in
Capitol Quarter
, where framing has sprouted on the
north side of K
. Then I wandered down to
the Yards
to get some better shots of the
southeast corner of Fourth and Tingey
, which is
where the Trapeze School is going to be located
. (You can also see the
entire batch of today's photos
, where you can then click on the
icon to see an angle's entire history.) Speaking of the Trapeze School, the Post's Health section had a story today on
what it's like to take a class from them
. (You probably won't ever see *me* flying through the air with the greatest of ease.)
One other item--the
WashTimes reported today
that the
Elton/Billy stage
left centerfield in a bit of a mess, requiring the grass to be painted. As you can see from
this shot I took during batting practice
, it seemed to work pretty well.
Lastly, it only took me half the season, but I've now updated my
Stadium Parking map
to show the many options for cash parking (official and unofficial), in addition to the official Nats season ticket lots. And to think that there was a time when *some* people were worried there wouldn't be enough parking.
City May Occupy 225 Virginia; Ferry Testing; More
Apr 24, 2009 8:57 AM
Catching up from a few days of slacking:
* Today's
Washington Business Journal
(subscribers only) reports that the city is "considering" using
225 Virginia Ave.
(the old Post Plant) as the new home for Child and Family Services, now that they've decided not to move the agency to a new development at Benning Station. The city continues to pay $6 million a year in rent on the 420,000-sq-ft building, though tried a request for proposals last year to see about a sublease or sale of the property (but apparently didn't get much interest). I wonder how much the city would have to spend the rejigger the very warehouse-y building into the 180,000 sq ft of office space needed by CFSA.
* From the
Fredericksburg Free-Lance Star
, a story that Prince William County is spending $225,000 to look at passenger ferry service up the Potomac: "It will conduct test boat runs on May 4, 5 and 6 from stops at Prince William marinas at Quantico, Dumfries and Occoquan to Fort Belvoir, Alexandria and the Washington Navy Yard. The test boat will be a catamaran that seats 149." (I assume they'd want to use the dock under construction at
Diamond Teague Park
, but there's no specifics.)
* On Wednesday evening, the Post reported (though the article is no longer on the web site) that the city had informed Metro--in the middle of a game!--that it would no longer pay the $27,000-an-hour cost of keeping the subway open if games at Nationals Park ran late because of extra innings or rain delays. By the next morning, the city had
changed its mind
.
* The
Douglass Bridge
will be closed Sunday (4/26) from 5am to approximately 10am for the monthly swing span test.
Heading to Opening Day? What You'll See That You Didn't See Last Year
Apr 12, 2009 7:59 PM
[Note: I'm back in town after almost a week away (reminder to self: next year don't skip town the week before the home opener), so apologies if my coverage of the various events and media pieces has seemed even less scintillating than usual. And now I'm going to end the week with one more less-than-perfect entry, which I should have written before I left but didn't do it until now....]
If you haven't been back to
Nationals Park
or the surrounding Near Capitol Ballpark River Yards neighborhood since last year's Opening Day, here's what you'll see that wasn't completed on your last visit:
*
55 M Street
- Right on top of the west entrance of the Navy Yard Metro station, at the head of Half Street, is Monument Realty's 275,000-sq-ft office building, which has been finished in the last few months and which will be home to
Artomatic
this summer. No office or retail tenants have been announced, although
WBJ reported a few weeks back
that
Gordon Biersch
may be eyeing some of 55 M's ground-floor space. The rest of Monument's Half Street site remains a large hole in the ground, with financing for the planned 350 residential units and adjoining hotel directly across from the ballpark nowhere to be found.