9 Blog Posts Since 2003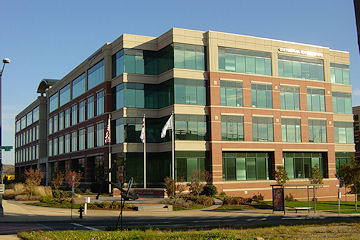 A release went out on the wires today announcing that Corporate Office Properties Trust

has spent $119 million, including the assumption of a $70.1 million mortgage, to buy

Maritime Plaza, the 12-acre site at 12th and M, SE.

This is the third time the site has changed hands since construction on the second office building was completed in 2003, with Bernstein Cos. selling it for

$92 million in 2004

, and then

Brickman Associates

reportedly paying

$115 million in October of 2005

. The site, which has two completed office buildings with 100 percent occupancy, has included plans for two additional 175,000-square-foot office buildings and a 250-room hotel; leasing is handled by

Lincoln Property Company

. The land beneath the buildings and plans, however, continues to be owned by Washington Gas, as it has been since pretty much the dawn of time.

[The rumors of this sale were reported

back in early August

, and I'm exhausted from three days of dealing with computer issues after my one-year-old machine up and croaked, forcing me to buy a new box, so apologies for basically just pasting-and-editing my previous entry. I figure no one read it anyway. :-) ]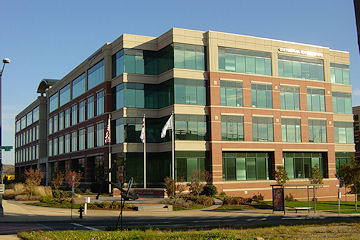 Multiple anonymous sources are allowing
CityBiz Real Estate
to report: "
Corporate Office Properties Trust
is awaiting lender approval on a $120 million acquisition of
Maritime Plaza
, a 12-acre site located at the East End of the Washington, D.C. Naval Yard, multiple sources tell citybiz real estate." This follows
a story earlier today
saying that COPT was close to purchasing an unnamed site, described only as being a fully leased location occupied primarily by defense contractors.
If this goes through, it would be the third time the site has changed hands since construction on the second office building was completed in 2003, with Bernstein Cos. selling it for
$92 million in 2004
, and then
Brickman Associates
reportedly paying
$115 million in October of 2005
. The site, which has two completed office buildings, has included plans for two additional 175,000-square-foot office buildings and a 250-room hotel; leasing is handled by
Lincoln Property Company
. The land beneath the buildings and plans, however, continues to be owned by Washington Gas, as it has been since pretty much the dawn of time.
It certainly doesn't feel like it's the case, so you might be surprised to find out that the District of Columbia thinks that Near Southeast is worth about $1.5 billion more than it was a year ago, at least in terms of the
latest tax assessments
now available. With a total assessment last year of around $4.5 billion for the blocks bounded by the SE Freeway, South Capitol Street, and the Anacostia River (to just west of the Sousa Bridge), this bump up edges the neighborhood's "worth" to just over $6 billion.
A chunk of that change is coming from the first official assessment of
Nationals Park
, valued at $999,982,800 (geez, Mr. Tax Assessor, just round it to $1 billion and be done with it), a rise of nearly $650 million from the assessed value of just the land last year. Blocks that saw projects get completed in 2008 (
70/100 I
,
100 M
and
Onyx
, and
55 M
) got hefty bumps in their valuations, while other spots (
20 M
, the
Capper
blocks,
USDOT
,
Maritime Plaza
) saw their assessments go down.
I created a report
comparing 2008 and 2009's numbers overall and by block, though I wouldn't swear to the exactness of each number down to the penny (but they're probably close enough).
As for the trend of the overall valuation of Near Southeast over the past nine years, it's still *up*:
2001: $221,096,652
2002: $428,312,487
2003: $640,209,280
2004: $771,006,345
2005: $894,123,520
2006: $1,781,481,650
2007: $2,539,618,280
2008: $4,467,137,880
2009: $6,004,334,490
Comments
(10)
More posts:
100 M
,
20 M
,
70/100 I
,
assessments
,
Capper
,
US Dept. of Transportation HQ
,
jpi
, Maritime Plaza,
Monument/Half St.
,
Onyx
,
Square 743N
,
Nationals Park
Lots of little things to pass along:
Recently
a sign has gone up
on the old Miles Glass building at
8th and Virginia
advertising an "assembled lot sale" for eight lots along Virginia and along L, totally nearly 27,000 square feet and having a combined assessed value in 2007 of $6.761 million. The sign seems to indicate that the group sale does not include the Wrenn Barber Shop/Braiding Salon building at 1005 8th, nor the Miles Glass/Al's Diner lot next door at 1003 8th, which was bought on July 19 for $620,000 by "1003 8th Street LLC" (though I'm only now figuring out that the Miles Glass building is part of that 1003 8th lot). The assembled lot sale is being handled by real estate agent Barbara Miles, whose father was the founder of Miles Glass. (And she says that the family did take the
cool old Miles Glass sign
for themselves, which I'm glad to hear because I'm a sucker for cool old signage.)
And
another new sign has popped up
on the beige two-story building at 900 M Street, advertising lease or sale of this 9,624-sq-ft lot, with
Lincoln Property Company
, owners of
Maritime Plaza
at 12th and M, as the contact. Assessment records show the owner as "Paramount Investments," but I don't know if Lincoln manages the property or if they've purchased it or what (the public version of the property sales database runs about six weeks behind actual sale dates). It was assessed in 2007 at $2.651 million.
More posts:
900m
, Maritime Plaza
I was out of town during last Thursday's oversight hearing on space needs for public service agencies, and since
The Post published a piece
the next day on the big news--the confirmation that the police department's move to
225 Virginia Avenue
is indeed off--I've been dragging my feet on posting my notes from the hearing, which I watched on a replay Monday night.
Here's what Office of Property Management director Lars Etzkorn said in
his opening remarks
about 225 Virginia: "While initial plans focused on co-locating several police functions in this leased building, a review of estimates revealed that total improvement costs exceeded the $100 million provided for in the lease. Hard costs alone were estimated to exceed $150 million. In addition, there were issues with compatibility in implementing the full program in the neighborhood. These include MPD's 24-7 operations and parking demands for 658 vehicles. Currently, we are examining potential alternative uses for the space, including the possibility of using it as office space for government agencies."
During questioning by Tommy Wells, Etzkorn said that he anticipates being able to come to council members by the end of October with recommendations on uses for 225; Wells remarked that the city needs to make sure that "we don't stack a bunch of uses" in the building without thinking of their impacts on the surrounding area.
There was a lot of back-and-forth between Etzkorn and Phil Mendelson about whether the police move to 225 is in fact called off--I don't think it's too much of an editorial statement to comment that Etzkorn clearly embraces bureaucracy-speak and well-parsed statements, which frustrated Mendelson to no end during the hearing. When Mendelson asked if everything that was planned to go to 225 is now not going there, Etzkorn's response was "the recommendation is that they not go there." Mendelson pressed repeatedly on 225 remaining an option for various police agencies, given that there are currently no other viable alternatives on new locations coming from OPM (though lots of possible locations are being reviewed). And there were disagreements between Etzkorn and Mendelson about whether the 225 landlord has indeed been told to stop work on the buildout plans, which Mendelson said he'd been told had not been stopped but which Etzkorn said were in fact stopped but that the landlord had been asked to do some pricing of potential other uses for the space.
One other tidbit mentioned in the hearing I had never come across before--there were apparently plans late in the Williams administration to move the headquarters of the Office of Corrections to leased space at
Maritime Plaza
at 12th and M, SE, but those were called off earlier this year.
And, as I'm finishing up, I see that Voice of the Hill has
posted its piece on the hearing
(on their newly redesigned web site!), which also covers the issues surrounding the possible move of the MPD 1D headquarters in Southwest, since the hearing did cover more than just the issues surrounding 225 Virginia.
If you're interested in not only the content of the hearing but also in watching the thrust-and-parry between Mendelson and Etzkorn, keep an eye out for any
replays of the telecast
(look for a Sept. 20 oversight hearing replay).
Hotels in Near Southeast
Jul 19, 2006 7:24 AM
Today's WashTimes has "
Hotel Industry Gathers Momentum in Near Southeast
", keyed to today's "opening" of the
Courtyard by Marriott
at New Jersey and L. (They're having a grand opening party tonight, but of course the hotel actually opened to customers in March.) The article mentions three other hotel projects on the boards, at
Florida Rock
(That's "FRP Development" in the story), Herb Miller's garage-wrapper plan just north of the
stadium
, Half and L (the
Ron Cohen project
, which I've heard nothing about for quite some time), and
Maritime Plaza
(east of 11th Street). The project it doesn't mention is the
rumored sale at 50 M Street
of the Sunoco station to a hotel developer of some sort--still no confirmation of that anywhere.
New Page for East M Street Area
Nov 8, 2005 6:38 PM
I've added a new page for the
East M Street Area
, that triangle of land east of the 11th Street Bridges and south of the Southeast Freeway that makes up the very eastern portion of Near Southeast. The Maritime Plaza development is the most obvious occupant of this area, but rowers and the like have staked a claim to this site's water access as well. The Anacostia Waterfront Initiative's plans should bring welcome changes to this stretch in the years to come. (The addition of this area to the main map on my home page is not particularly elegant, but I couldn't shrink the map any farther!) I've also renamed the former East End page, giving it its proper designation "
8th Street Historic District
." (Both these monikers come from the
Near Southeast Urban Design Framework
, which is worth a look if you've never seen it or haven't looked at it in a while, to see what the city had in mind back in 2003 for this neck of the woods--you know, before anyone was talking about a stadium!!)
Maritime Plaza Sold (Again)
Nov 8, 2005 2:03 PM
Not quite two years after spending $92 million to purchase the Maritime Plaza I & II (just east of the 11th Street Bridges), The Bernstein Companies has sold the two buildings for $115 million to Investcorp and Brinkman Associates. Buildings I & II, which contain 345,000 sq ft of office space, are part of the 12-acre Maritime Plaza Park, which will ultimately offer 800,000 sf of office space and a 250-room hotel. No timeline on the development of the rest of the project, which is being handled by Lincoln Property Company.