Near Southeast DC: Past News Items
staddis
Go to Full Blog Archive
---
Negotiations Ongoing to Bring Movie Theater to DC Water-Yards Site
Sep 27, 2012 11:57 PM
The cat got let out of the bag
during a recent neighborhood walking tour
(probably a bit sooner than desired) that
Yards
developer Forest City Washington is working on bringing a "high-quality theater operator" offering an "elevated experience" to land currently controlled by
DC Water
along First Street SE between
Nationals Park
and the Yards.
FCW tells me that it is still early in the process, that an overall deal with the city and DC Water for the land needs to be finalized first, but that if it all moves forward, "the theater operator would be new to DC and would offer a premium quality option that is differentiated by quality of design, food and customer service."
It's probably worth noting that Forest City was awarded the right to "enter into exclusive negotiations" for a six-acre portion of the larger then-WASA site by the now-defunct Anacostia Waterfront Corporation in
December 2005
, at a time when a development strategy was being formulated by Forest City, Western Development, Cordish, and Monument Realty for the "Ballpark District" (
remember that
?)
Forest City's plans for the DC Water site would also include residential and retail in addition to the theater, and with this site being close to the possibly-getting-started-next-year residential building and plaza at the foot of 1st Street that will be
Florida Rock
's first phase, the ballpark's eastern and southern sides would certainly begin to be "activated," even on the 280ish days of the year when the Nats aren't playing.
However, despite the oft-stated desire of residents to have a movie theater in Near Southeast, as well as the continued yearning for more development in general, there has been a bit of trepidation about this particular plan in some comments on a
neighborhood mailing list
, especially given that it could be a pretty large theater. Would it bring too much traffic, would it be
too
much of a draw for boisterous crowds--Gallery Place was mentioned a number of times as an example to avoid at all costs. For others, of course, the notion of a theater so close to home is exciting news, and a plan to be supported.
Forest City anticipates it will go before ANC 6D sometime this fall to brief the community on the plans and to get feedback.
Earlier this year, there
was an item
about Landmark Theatres wanting to open a second DC location, with the Yards being a possible destination (though city officials apparently were/are for something east of the river). However, Forest City's statement saying that the operator they are talking to "would be new to DC" seems to take Landmark out of the running, along with AMC and Regal, the two largest chains in the US.
New 'Where's My Bus?' App for Circulators; Q2 Residential Numbers; Square 701 Not Starting Soon
Jun 26, 2009 2:05 PM
* Just out from DDOT (press release
now online
), a new "
Where's My Bus
" app for the
Circulator
buses. Go to
circulator.dc.gov
(it's formatted for cellphones and PDAs, but works in any browser), pick your line and stop, and find out how far away the next bus is. (Here's the information
for the 4th and M stop
, heading toward Union Station.) They say an iPhone app will be coming will be coming later this summer.
* From the BID's newsletter (which I'm not finding
on their redesigned web site
), the latest update on residential leasing and sales for the second quarter of 2009: The buildings known as Axiom and Jefferson (at
70 and 100 I
) and
Onyx on First
are at a combined 60 percent leased for the 960 units in the three buildings;
909 New Jersey
(which opened in early April) has 25 percent of its 237 units leased. The
Capitol Quarter
townhouses are listed at 88 of 113 units sold (though I'm not sure how the public housing rental and for-sale units figure into that number), and
Capitol Hill Tower
is reported as being 80 percent sold. No numbers are reported for
Velocity Condos
, which according to a presentation by Michael Stevens last week is supposed to open in late August or September. All told, the BID says there are an estimated 1,863 residents in the Capitol Riverfront.
* A WBJ piece from today's print edition on
Willco Cos.'s new $100 million fund
says that the company "does not plan to dip into the fund for development projects in the pipeline, such as its 700,000-square-foot mixed-use project adjacent to Nationals Park, at
Square 701
, the intersection of M and First streets SE. That project is in pre-development mode right now without a major tenant; Willco doesn't expect to kick off construction until it sees 'signs of life in that neighborhood,' Goldblatt said." This lot is probably better known as
Nats Parking Lot F
, and the former home of Normandie Liquors and other small businesses.
Monument/Half Street Public Space Improvements; Akridge Press Release on Bus Garage Acquisition
Sep 3, 2008 11:34 AM
On the agenda for the Sept. 25 meeting of the city's
Public Space Committee
: an application by Monument Realty for 1200 Half Street (better known here as
55 M
) to install various fixtures in public space around Half Street, described as 23 benches, 9 trash containers, 32 lights, 146 fountains, 8 bollards, and 18 bike racks. (
UPDATE
: I don't know what the deal is with "146 fountains"--that's what was in the meeting agenda.)
Morning Links: Getting to the Ballpark, Gas Leak
Mar 7, 2008 8:31 AM
* The WashTimes has a
getting-ready-for-the-baseball-crowds
piece, surveying what Metro and DDOT are planning, and also talking about the
Transportation and Residential Curbside Management Plan
(formerly the TOPP) that I've been
writing about extensively
. (Read it already, would you?) Metro is planning 14 extra trains for Opening Night, and will be presenting its plan for handling ballpark traffic to its board on March 13. Central to this piece--and to many conversations I've had with city and team officials--is that residents and fans need to know that The Powers That Be will be watching Opening Day very closely (DDOT plans to be watching from the air) to see what works and what doesn't, and will be tweaking the initial plans as necessary. In fact, there's probably going to be an entire season's worth of responding to initial problems, not only in terms of getting to the ballpark but at the stadium as well. Patience is counseled, though of course that's never been a strong suit in this city. And it's worth a reminder that there's a
public meeting
on the
transportation plan
on March 12 from 6 to 8:30 pm at 20 M St., SE.
*
Commenters yesterday
were quick with the news about
the gas leak that closed
the Navy Yard and Waterfront Metro stations yesterday afternoon, thanks to construction workers at Half and M hitting a gas main. Considering all the work that is being done in the area (not just on new buildings but with a lot of digging in the streets lately), it's kind of surprising that something like this hasn't happened sooner.
Domino's Raze Permit; Onyx Not-Sales Center Gone
Feb 27, 2008 9:08 AM
It's not exactly a stunner, but it's still worth mentioning that a raze permit application has been filed for
1200 South Capitol Street
, which is the now-boarded-up Domino's on the corner of South Capitol and M. When the store closed a few weeks ago,
Monument Realty told me
that negotiations were underway with the Nationals to use the site for a parking lot; I've heard nothing further on that.
And maybe now's a good time to mention that the sales-office-that-never-was for
Onyx
--the construction trailers deposited last spring just south of Normandie Liquors at
First and M
but never opened--was demolished within the past week. I had to make a value judgment, but I decided since the office never actually opened it doesn't get the honor of being added to my
Demolished Buildings Gallery
.
Boswell Looks at Everything Wrong By the Ballpark
Feb 26, 2008 11:15 PM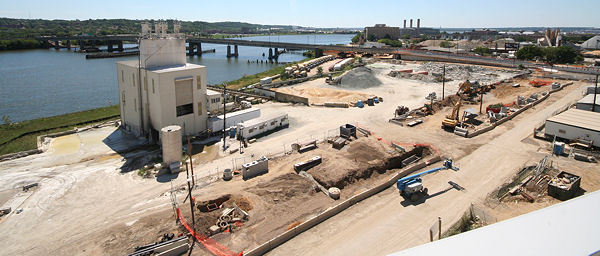 Wednesday's Post has a column by Tom Boswell ("
Nationals Park: Best of a Bad Lot
") listing the myriad problems he sees with the
ballpark
and its surroundings, with Opening Day now just a month away. The Navy Yard subway station. The parking situation. The
Florida Rock site
("an enormous and inexcusable 5.8-acre eyesore" that will be "sitting there all season, damaging
the river views
from all the ramps to the first base upper deck"). (He does mention that fences to obscure the view at ground level will be going up, which I posted about
a few days ago
.) The
WASA site
(which "would be the Most Unsightly Thing Near Any Big League Park if Florida Rock and Gravel hadn't already retired the trophy.") The
Monument Half Street site
, where he says "construction has stopped." The fact that
city views
are only available in the cheap seats.
But he ends with a stab at optimism: "Someday, the Anacostia riverfront will amaze us, just maybe not as soon as we hoped. When it comes to fulfilling huge civic dreams, what's a few years, more or less. In for a dime, in for a decade. "
On the other hand, the article confirms that the garages, which have long been a focal point of much complaining, will indeed be covered, as has long been shown in the renderings, with "league logos, replicas of the 'Washington All-Stars' from the right field scoreboard in RFK as well as colorful baseball-themed ads."
Washingtonian Articles, Signs, and More
Feb 25, 2008 9:36 AM

The Southwest Freeway now says there's a ballpark in our midst, so it must be true! (And of course the
Bike Route signs
started telling us this last week.)
Other news of the morning:
* The March issue of
Washingtonian
(not yet available online, but now on newsstands) has two articles of possible interest. One is an overview of the
ballpark
itself. The other is called "Ballpark Living: Can the Nationals Stadium Do For an Up-and-Coming Waterfront Neighborhood What the Verizon Center did for Downtown DC?", in which yours truly gets a mention. It's mainly an overview of the neighborhood's offerings now and down the road, most of which should be no surprise to anyone visiting here on a regular basis.
UPDATE
, 2/26: The article on the ballpark is
now available online
, though the other one isn't there yet.
* Speaking of magazines with special ballpark offerings, I mentioned
On Site magazine
last week--I'm told it's available this week (bundled with the current issue of the Washington Business Journal) at CVS, Borders, and Barnes & Noble.
* In both of these magazines, there's an updated rendering of the Monument's 340-unit residential building slated to be finished by the end of 2009 on the northeast corner of Half and N, just across from the ballpark's Center Field Gate. Monument was kind enough to pass it along, and I've added it to my
Monument Half Street
page (scroll down past the 55 M stuff).
WBJ On Site: In Depth on Near Southeast
Feb 22, 2008 9:23 AM
I believe it's only available to subscribers, but if you've got any way to get your hands on
this week's Washington Business Journal
, you'll probably want to see the quarterly magazine "On Site" that's included--seven stories on development around the ballpark, as well as a big map showing all the plans over the next few years (what a great idea!). Stories on
Monument Realty
and
on the plans
for
The Yards
, an interview with Michael Stevens of the
BID
("
Preaching Patience in Washington Nationals' New Neighborhood
"), a
piece highlighting
how residential developers are feeling bullish about the area, and even
a short profile of some pesky neighborhood blogger
who's been tracking the area since 2003. I haven't read all the stories yet (it's gonna take a while!), so if I find some nuggets that I haven't covered here in the past, I'll post them.
UPDATE:
Also, the
March issue of Washingtonian
is hitting the stands (though the articles won't be online for a while), with articles on the
ballpark
and also on the planned residential projects nearby.
Metro: Proposals to Expand the N22 Bus Line and Vacate the Southeastern Bus Garage
Feb 12, 2008 12:19 PM
The
agenda is now out
for Thursday's meeting of Metro's Finance, Administration and Oversight Committee, with votes on two items of interest to Near Southeast and to ballpark-goers:
* WMATA is
proposing to expand
the weeknight and weekend service of the
N22 bus
that currently shuttles between
Union Station
(and its Red Line Metro stop) and the
Navy Yard station
at New Jersey and M via
Eastern Market
(and its Orange/Blue Line stop) and the Washington Navy Yard. The buses would run every 10 minutes, and on nights and weekends the route would eliminate the loop to 12th and M streets, SE (see the map on page 2 of the
current timetable
), in order "to provide a shorter and faster route to the ballpark." The District of Columbia is apparently going to pay $432,000 to cover the cost of the additional service from March through August. If approved, the expanded service would begin in March. The agenda documentation doesn't say what times the expanded service would end on weeknights or operate on weekends.
Read the agenda packet
for more.
* The city is also apparently offering to cover the costs of relocating the buses out of the
Southeastern Bus Garage
at Half and M (one block north of the ballpark), as part of a $1.39 million monetary shuffling
that WMATA is proposing
to undertake because the $69.25 million sale of the site to Akridge still has not been finalized. DC would cover the relocation costs until the sale is completed, and presumably by doing this the buses can get out of the garage by March 30.
Read the agenda packet
for more details. The city is extremely interested in getting the buses out of the way, not only because trying to operate that garage with hordes of pedestrians on their way to and from games would be a disaster waiting to happen, but also because the Nats might be able to squeeze a couple hundred more $35
Red Zone parking spaces
out of the garage land and the two lots adjoining it across Van Street (one to the north and one to the south of the Public Storage building).
These are just preliminary votes; if approved on the 14th, they would then go in front of the full WMATA board for final approval on March 28.
Whole Lotta Photos From First and Half Streets
Feb 11, 2008 9:51 PM
While hopefully you've already wandered through the pile of new
stadium exterior photos
I posted over the weekend, those aren't the only new pictures I grabbed during my camera time on Saturday and Sunday. Get your clicking finger going:
* The
Velocity
condo phase 1 building on L Street west of First is now one floor out of the ground, so that will now be added to my regular rotation of photo updates. For those who haven't been following along, this is a 200-unit condo building that will eventually be joined by a twin on the north side of the block (running along K Street). However, they decided to dig the entire parking garage and below-ground structures for both buildings at once, which is why only half the block is now rising above ground level. The other portion will be landscaped over until Phase 2 begins. (Phase 3, which will run along Half Street where the sales center is now located, could be either an office building or a hotel--I haven't heard of any decision being announced.)
* The Normandie-less corner at
First and M
has now been immortalized in digital imagery, and goodness gracious, has that spot changed. (Ditto for the other end of the block, at
First and N
.) This stretch is on its way to becoming temporary surface parking until Willco Construction moves forward with its
reported office/residential/retail project
on that site (no timeline).
* The road work on First Street continues, and on Saturday they put down the first asphalt between L and M (in front of
Onyx
and
100 M
).
Looking south
and
north
you can see how much wider the street has now become. You can also see the windows starting to be hung at
Onyx
and at
100 M
. Meanwhile,
First north of L
continues to be a war zone. They *say* it'll all be done (I Street, too) by Opening Day. First Street and Potomac Avenue appear to be pretty much done except for the striping.
*
55 M
is almost topped out. As we heard
a few days ago
, they say the Metro entrance in 55 M's ground floor will be ready by Opening Day, too.
* How much has
M Street
changed in five years?
Take a look
. (This should be one of those list-the-differences-in-the-pictures contests.)
* Or you can just look at
all the photos from Saturday and Sunday
on one page (including the ballpark shots), though I cannot be held responsible for any sensory overload you may experience. Imagine how I feel, especially considering that what I've posted is probably only about a third of the photos I actually took....
WMATA Still Planning to Leave Bus Garage Soon; Latest on Navy Yard Station
Feb 7, 2008 6:43 PM
For those (like myself) who have been wondering: John Catoe, Metro's General Manager, said at Wednesday's mammoth City Council capital
budget oversight hearing
that the agency is planning
to be out of the
Southeastern Bus Garage
at Half and M
by "the beginning of baseball season."
He only briefly mentioned "legal issues" about the
site's sale
to Akridge that they "hope to have resolved" within a few weeks, and didn't say anything about what plans Akridge might have for the site.
Catoe also said (a couple of times) that the west entrance of the
Navy Yard Metro station will be ready for Opening Day
. If you've been sneaking peeks at it from the
55 M web cam
(the station entrance is at bottom center), you've seen some concrete poured over the past couple of days for the floor and also the arrival of the escalators' steps.
(I've made it about half way through my recording of the six-hour-plus meeting, listening with one ear when I can spare a few moments. I still haven't gotten to the testimony from the Sports and Entertainment Commission and the Office of the Deputy Mayor for Planning and Economic Development, which might also yield a tidbit here or there.)
UPDATE:
I'm not the only one reporting on the station's status today.
Friday's Post has a piece
with the latest: "[T]he station renovation is back on schedule, with all of the inside work to be finished by the end of this month. Work is also proceeding at street level, where the kiosk, ticket machines and turnstiles are to be installed. Fans will come up three escalators or one of the new elevators into the office building's lobby. One wall will be open, fenced with chain link, as construction continues." It also has some tidbits that people are always asking about, such as: "
Metro plans 14 extra trains on game days
." And there's this: "Metro is also considering flat-panel TVs at the station entrance, which would post train information and perhaps carry video telecasts of the games." (Hmmmm.) The article also mentions
WMATA's Nationals page
, which was announced
a few weeks back
.
Normandie Now Demolished Building #151
Feb 7, 2008 10:26 AM
With thanks to reader PK for the news flash (confirmed by the
55 M web cam
), we can officially mark this morning's demise of the Normandie Liquors building at
First and M
by adding it to the
Demolished Buildings pantheon
. (The irony is not lost on this former lover of high-alcohol-content rum that a liquor store is Demolished Building #151.) I'll get photos of the Normandie-less corner this weekend.
In fact, so many buildings have been torn down in Near Southeast since 2003 that I've now had to break up the
Demolished Buildings page
by year, so that the dang thing doesn't take three weeks to load. This has also allowed me to separate out the
buildings demolished in the Nationals Park footprint
into their own mini-gallery, which will be handy in the coming weeks as no doubt many people will want to know what got leveled to make way for the stadium.
Last Call at the Normandie? Yup. (Updated)
Feb 6, 2008 9:15 AM
Readers with bird's-eye views of the
southwest corner of First and M
are writing in to say that fences and equipment have been put in place around Normandie Liquors, with perhaps the final bell ready to toll. I'm on Super Tuesday duty in "real life" tonight, so anyone with a view (either in real life or via the
55 M web cam
) should feel free post any updates on the little building's fate in the comments.
(The Normandie is on the
Willco/Square 701 site
, which in the near-term is expected to be a surface parking lot, followed eventually by an office/residential/retail mixed-use project that little is known about.)
UPDATED, 2/6:
Demolition is indeed underway this morning, as seen from the
web cam
and by folks at 80 M and elsewhere.
Monday's Public Meetings (Parking, Half Street)
Jan 29, 2008 1:47 PM
Last night
ANC 6D
held a special public meeting to decide whether or not to support Tommy Wells'
Performance Parking bill
when it has its
council hearing on Wednesday
. I was unable to attend, but reports from my vast network of moles indicate that the ANC will be supporting the bill, albeit it while "expressing strong concern" over some still-outstanding issues. (We'll find out what those are during Andy Litsky's testimony at the hearing.) The ANC vote was 4-2.
At almost the same time, the Zoning Commission held a brief special public meeting to take up the
series of minor modifications
that Monument Realty requested to its design for the east side of Half Street (yes, the area that's
already under construction
). I talked about these in slightly more detail
a few weeks ago
when this first came to the Zoning Commission; the ZC declined to approve these as part of its consent agenda at that meeting because the commissioners wanted a little bit more clarification, which they got in the filings for this second hearing. The only question that came from the dais was why Metro nixed the wire mesh panels with LED lights that Monument had originally envisioned as the walls around the Navy Yard station entrance at Half and M--the reply was that, in addition to weatherproofing concerns, Metro wanted its security people to be able to see into the station by shining a light from a car on the street, instead of having to go into the station. The wire mesh is now being replaced with a glass "frit" (yes,
I had to look it up
, too) that will be backlit with the lighting scheme Monument wants. With that, the commission approved the request 5-0; all the minor modifications are explained in the
Office of Planning report
.
Photo Update: N Street, 55 M, Willco, 23 I
Jan 28, 2008 11:02 AM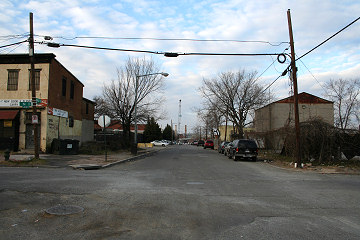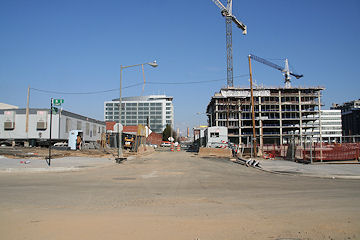 I wandered around on Sunday for a photo session, wishing that spring would hurry up and get here so that the sun will rise higher during the day and set farther west so that I can stop dealing with the damn glare whenever I face southward.
* I have new images along N Street
just north of the ballpark
between Half and First, which show the work at the entrance plaza at Half Street, including glass now being installed on the ground floor of the western parking garage, as well as the structures that will make up the entrance gates.
* In fact, I updated
all 12 angles of the Half and N intersection
, which now that it has its new wide sidewalks, curbs, streetlights, and an initial paving job, is really a
stunning testament to 24 months of change
, not only on the four corners of Half and N but the blocks to the north as well. It's definitely worth a look.
* I took a lot of photos of the
now-demolished Willco stretch
along First Street (and gave the project its own page as well), and of course I got
all the usual angles
of
55 M Street
.
* On Half Street between I and K, where JPI's
23 I Street
residential project is expected to start this year, a pile of red-and-black advertising banners have been hung on every available surface, and a "JPI Permit Parking only" sign has appeared on the entrance to the former towing company's parking lot on that block. I'm guessing JPI's purchase of the property just closed. I haven't heard anything about potential start dates for this project, or when the Wendy's might close.
* If you
browse all the photos I took yesterday
, you'll also see a smattering of
70/100 I
and
100 M
shots as well as images of the
two blocks along Third Street
where temporary surface parking lots are going in (so now my pictures of those blocks have changed from post-demolition views of nothing to pre-blacktop views of nothing). And the always popular shots
from the SE Freeway at South Capitol
are updated, too.
And don't forget to click on the
icon wherever you see it to see all photos in the archive of a certain location.
Comments
(0)
More posts:
100 M
,
23 I
,
70/100 I
,
Capper
,
Capper New Apt Bldgs
,
jpi
,
Monument/Half St.
,
Square 743N
,
Square 697n
, staddis,
Nationals Park
,
Square 701
WashTimes Near Southeast Overview
Jan 28, 2008 9:53 AM
The front page of this morning's Washington Times has "
Office, Condos Flock to Be Near Nationals
," highlighting the development that's exploded in Near Southeast over the past few years. Regular readers of JDLand will be familiar with most of it, and there isn't any news in there that I haven't posted on (though there might be some new tidbits for those who don't keep up with news items here on a regular basis). If you're looking for more information on any of the projects mentioned in the article, just click around the map at the
top right of JDLand
to your heart's content. You can also read my
2008 State of the Hood
for a more detailed overview of the projects currently under construction and what's in the pipeline for 2008.
Lazy Saturday Tidbits: Demolitions, Hearings, Noose
Jan 26, 2008 11:12 AM
A few items:
* This week the three low-rise buildings at First and N across from the ballpark met their maker, and have now joined the
Demolished Buildings pantheon
. The
55 M web cam
shows that Normandie Liquors remains standing, for now.
* In addition to the official council hearing on
Wednesday Jan. 30 at 6 pm
on
Tommy Wells's Performance Parking bill
, there's now a public roundtable hearing on "
Parking Management Strategies for the New Columbia Heights Retail Development and the New Ballpark
,"
starting at 5 pm
. (Apparently Jim Graham is interested in trying a Performance Parking-like plan near the new DC USA project.) There will be a presentation of data and strategies by DDOT at this hearing. Both sessions will be in Room 412 (note that this is room change for the 6 pm hearing).
* The Post has "
Ex-Worker Calls Noose Incident an Overblown, 'Stupid Prank'
", where fired worker Stephen White says a co-worker threw a tied rope to him and said, "Steve, I made you a necktie." He says he threw it back, and "I guess it fell on the floor. I got fired because somebody put a noose together to put around my neck." The Post says: "White said he never picked it up and did not know whether the co-worker had." A second worker--who White said was the thrower of the noose--was fired as well.
New Frozen Tundra Photos; Archive Tweaks
Jan 21, 2008 11:40 AM
I braved the chilly temps and gusty winds on Sunday morning for what turned out to be an abbreviated venture to get some updated photos. (I didn't post them yesterday because I thought I might go out this afternoon to get more, but it's a holiday, it's still cold, I'm pretty warm and cozy here on the sofa, and, and, and....) You'll see some shots of the demolition along First Street on the
Willco site
(which is about 50 percent completed), as well as a few updated shots of the
ballpark
, some of which show that the steps are now being poured on the grand staircase. There's also a smattering of shots of
55 M
,
100 M
,
70/100 I,
and the at-ground-level
Velocity
construction, and some other vantage points that I got before high-tailing back indoors.
You can see the
complete batch of photos
, remembering to click on the
icon if you want to see all archived photos of a certain view.
This is a good time to mention that I recently made a few changes to the Photo Archive. First, you'll now see links that allow you to
toggle
between seeing all photos of an angle and just the oldest and newest, which comes in handy as the number of photos continue to escalate. And, because the archive is getting pretty big, I've changed the default for when you choose to look at
all angles of an intersection
to show just the oldest and newest of each angle--you can then choose to see all photos for a specific angle.
First Street Demolition Underway
Jan 19, 2008 6:12 PM
The bulldozers have finally started to move on the land bounded by First, M, Cushing, and N (known for want of a better title as the
Willco site
on Square 701), and, as of late this afternoon, the warehouse buildings
along Cushing across from
55 M
are gone, as are the garages north of N and (I think) the Admiral Limousine building. The old storefronts along N are still there, but their backs were gone when I looked. Normandie Liquors is still standing, for now. I've added these first knockdowns to my
Demolished Buildings page
(numbers 144 to 147) and I'll be getting some "after" photos on Sunday, frigid windchills be damned. Word is a temporary parking lot will be built on this site; eventually Willco plans an office/residential/retail project.
Structural Work Completed on Navy Yard Station
Jan 15, 2008 2:05 PM
The official announcement will come soon, but Monument Realty has confirmed to me that today they are
turning over to WMATA
the
west entrance of the Navy Yard Metro station
--
on schedule
--so that "fare installation" can begin (i.e., making the entrance useable). Monument says they completed their building structural commitments to WMATA back on Dec. 21. (hat tip to
Nats320
)
If you look at the
Half Street web cam
, you can see that the station entrance at lower center does look like it's getting cleaned up somewhat. Monument's
initial Half Street project
--office, hotel, residential, retail--is not scheduled to be completed until the end of 2009, but the Metro station is expected to be reopened in time for the beginning of baseball. The 55 M Street office building is currently being built on top of the Metro entrance; the southern half of the block, which is currently a big hole but where a hotel and residential units will be offered, should see construction begin soon. Retail will line the ground floor (and some second-floor spaces) all along Half. No tenants have been announced yet for the retail spaces, and, as I mentioned
this morning
, Monument appears to be looking for a new chain to operate the 200-room hotel.
As for what Half Street will look like during the inaugural season of the
ballpark
while construction continues, the
Office of Planning report
on Monument's
request for some minor modifications
to their Half Street designs has a description: "As part of the original proposal, the applicant showed a covered walkway on the east side of Half Street as a temporary condition during construction. Present plans call for
pedestrian traffic to be directed to the other side of Half Street on non-game days, and for the entire street to be opened to pedestrian traffic on game days.
Therefore there is no need for a covered walkway. The applicant has committed, however, to
maintain a decorative fence at the edge of their construction zone
as generally shown in the original plans."