Near Southeast DC: Past News Items
Navy Yard
Go to Full Blog Archive
---
Thursday Tidbits: Keeping 'Em Short Edition
May 31, 2012 1:48 PM
Not quite up for anything other than short takes today:
*
Nationals
: The Nats arrive home tomorrow to a series with the Braves. On Friday, there will be an
attempt to set the world record for the largest all-trombone ensemble
(no, really). Saturday brings Pups in the Park #2 along with the first NatsLive post-game concert, featuring Dierks Bentley. More info on the weekend's promotions and specials
here
.
*
Thursday Movie, Friday Concert
: Tonight's
Outdoor Flick
is Sahara, and the
Friday Evening Concert
at the Yards Park is Carribean Night with Sam'O and JFC.
*
Yard Sale
: Some Capitol Quarter neighbors are having a community yard sale on Saturday, June 2, on I Street between 4th and 5th, from 8 am to noon.
*
Family Day
: Another
Family Day
at the Fairgrounds on Sunday, June 3, from 11 am to 4 pm.
*
Wednesday Music
: I never received any official announcements on this, but apparently the
Wednesday Lunchtime Concert Series
started at the Fairgrounds on May 23, each week from 11:30 am to 1:30 pm through Sept. 5.
*
Who Was This "Tingey"?
: Find out Wednesday June 6 in a
lecture at the National Archives
.
*
Walking Good, Biking Bad
: The
Navy Yard reminds people
that biking is prohibited
on the Navy Yard portion of the
Anacostia Riverwalk
. And the
Tales from the Sharrows blog rebuts
.
*
"Our Parking"
:
Curbside advocacy in action
on K Street.
* Armed Robbery Attempt: From MPD: On Saturday, May 26, at approximately 4:10 am, "while in the 300 Block of K Street, SE, a complainant was approached by a suspect. The suspect brandished a handgun and demanded the complainant's property. No property was obtained. The suspect is described as a black male, 20-25 years of age, wearing a light blue shirt and blue jeans. The suspect was last seen on fleeing on 3rd Place SE." If you have information, call 202-727-9099, or you can text 50411.
Navy Yard Riverwalk Opening for Unlimited Public Access April 12
Apr 5, 2012 5:22 PM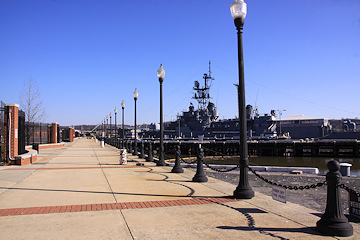 From a press release just sent to me:
"Beginning on Apr. 12, 2012 gates at the east and west end of the waterfront promenade (
Riverwalk
) at the
Washington Navy Yard
(WNY), will open for unlimited public access.
"The gates at both ends of the WNY Riverwalk will remain open for public access from dusk to dawn and will be open as a thoroughfare to facilitate access to the WNY and neighboring areas after sunset. There will be no loitering allowed between the hours of sunset and sunrise and the Riverwalk may close, without notice, to support WNY operations. [...]
"The Display Ship Barry, located along the WNY Riverwalk, will be open to the public with access directly from the Riverwalk during normal operating hours from 9 a.m. to 4 p.m. Monday through Friday and 10 a.m. to 5 p.m. on Saturday."
The release also quotes Naval Support Activity Washington commanding officer Cmdr. David Varner as saying that this is "supporting the community's desire to have a walkable riverfront."
The Navy Yard's portion of the
Anacostia Riverwalk Trail
runs from just next to the
11th Street Bridges
down to the
Yards Park
.
(Note that April 12 is also the day of the Nats' home opener.)
Navy Yard Security Exercise May Impact Navy Yard
Mar 16, 2012 9:44 AM
Something to keep an eye out for
next week in the areas right around the
Washington Navy Yard
:
"Exercise SOLID CURTAIN-CITADEL SHIELD 2012 will be conducted on naval bases and installations throughout the National Capital Region from March 19-24, 2012.
"This annual exercise is designed to enhance the training and readiness of Navy Security Forces to respond to threats to installations and units. Exercise SOLID CURTAIN-CITADEL SHIELD 2012 is not in response to any specific threat, but is a regularly-scheduled exercise.
"Measures have been taken to minimize disruptions to normal base and station operations, but there may be times when the exercise causes increased traffic around bases or delays in base access. Area residents may also see increased security activity associated with the exercise."
[And yes, I'm making a point with that headline.]
Photos from All Over, Feb. 2012 Edition
Feb 27, 2012 11:34 AM
Take a gorgeous Sunday, add an obsessive-compulsive need to document all the change underway, and what do you get? Nearly eight miles of walking and a shameful number of new photos.
The
Foundry Lofts
building is all but done, with only the retail spaces left to be built out, so I took a bunch of "after" photos that will probably last for a while. But that new Potbelly sign sure stands out! I also pressed my nose against the glass to peek inside the sandwich shop's space--it sure doesn't look far from opening.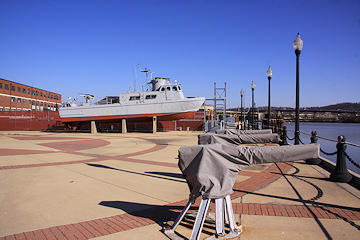 Embarrassingly, I haven't had a camera in hand on the Navy Yard's portion of the Anacostia Riverwalk since 2004. (I'm always worried they're going to toss me in the brig as a security threat, especially after a run-in a few years back where I was chased down by both a gate sentry and the DC police after taking photos of the Hull Street gate from across M Street.) But I pushed forward yesterday and got a bunch of new shots that I've added to my
Navy Yard page
, taking care to demonstrate to the many security cameras that I was photographing the river and not the installation. (Don't miss the especially cool before-and-after of the gate to the Yards Park.)
I will probably be creating a separate Riverwalk page before too long, but not today.
Along 11th Street at
N
and
M
, photos are more notable for what's not there anymore, as the demolition of the embankment for the old outbound RFK ramp is done, and the path of the new ramp from M Street for traffic headed to the outbound
11th Street Bridges
freeway traffic becomes more obvious. Also see
this picture of the work on the 11th Street Local bridge
, showing the demolition of part of the old outbound bridge approach, which has to be done before the new local bridge can hook up with 11th Street. (You can see it as well in my
O Street before-and-afters
, if you figure out what to look for.) Check my
11th Street Bridges photo page
for more images.
Then there's
Canal Park
, where I mainly took some new photos of the pavilion under construction near M Street, since photos of digging and ground work don't quite rise to the level of "interesting." I also hit most of the angles for the
Boilermaker Shops
, as well as for
Capitol Quarter Phase II
, where the security guard expressed concern about my actions (I need a laminated Photography Approved card or something). And I wandered the
225 Virginia/200 I
perimeter.
If you're a glutton for punishment, you can browse the
267 pictures from this trek
that are now in my
Photo Archive
, using the
links to see before-and-afters.
Comments
(5)
More posts:
11th Street Bridges
,
225 Virginia/Old Post Plant/200 I
,
Boilermaker Shops/Yards
,
Canal Park
,
Capper
,
Capitol Quarter
,
Foundry Lofts/Yards
, Navy Yard,
photos
,
riverwalk
,
The Yards
A Few Oh-Yeah-I-Meant-to-Mention-That Tidbits
Jan 9, 2012 9:52 AM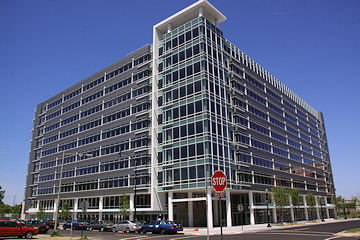 *
1015 Half Buyer
: On Friday the Post debuted a "What's Going On With....?" feature at their new
Where We Live Real Estate blog
(reminds me of my old "What's the Deal With...?" days), and
the first item
was on the empty office building at
1015 Half Street
. One tidbit not mentioned there, or at JDLand before now, is that apparently Prudential Real Estate Investors is buying the building, with the deal supposed to be closing this month, according to
Bisnow
. Bisnow says that the deal was always for Prudential to buy out Bank of America's stake in the building when it was finished, even back when it was Opus East doing the developing, not current receiver Douglas Wilson Companies.
*
Onyx Sale
: The
Onyx on First
apartment building never sold when it first went on the block
back in March
, and
a second offering
apparently closed in December. Perhaps there will be news soon.
*
Navy Yard Riverwalk Closure
: It was
announced on Twitter last week
that the
Navy Yard
Riverwalk will be closed from Jan. 5 to Jan. 17 to install fences around the piers. (What? You thought I meant the entire Riverwalk and not just the portion controlled by the Navy Yard? Why ever would you have thought that?)
Reminder on Weekend Events, Plus 11th St. Bridge Ramp Closure
Oct 27, 2011 9:47 PM
The weekend is almost here, so it's probably worth a reminder that the
Navy Yard Metro station will be closed
this weekend, starting at 10 pm Friday through the system's closure time on Sunday night. Waterfront will be closed as well, so if you're hoofing it to another station, make it Capitol South or another Orange/Blue station.
But it's still a big weekend for events in the neighborhood, with the
Ghost Ship Barry festivities
at the Navy Yard and "
Truckerboo
" at Half and M on Friday. (Note that the Navy Yard's portion of the Riverwalk
will be closed starting at noon on Friday
, so you need to go to the entrance gates at
6th and M SE
in order to get to the Ghost Ship.)
Saturday is the BID's
Community Planting Day
, from 9 am to noon, and they're looking for volunteers to help to plant thousands of daffodil bulbs throughout the neighborhood. (UPDATE: This has been
moved to Sunday at noon
, because of the weather forecast.) Also on Saturday, Justin's Cafe is having a
Halloween Murder Mystery event
starting at 9 pm, where individuals and teams get a storyline and a clue and work to solve the mystery while, ahem, drinking some beers.
Ghost Ship Barry Back for Halloween on Oct. 28
Oct 20, 2011 10:38 AM
The folks at the
Washington Navy Yard
are going into spooky mode again this year, offering the "
Ghost Ship Barry
" on October 28. Ages 12 and under are invited from 5 to 7 pm, with a slightly scarier version open to ages 13 and up from 8 to 10 pm. While RSVPs are not required, they are now instituting a timed ticket entry system, so all parties must check in at the US Navy Museum, where there will be additional children's activities. They're also discouraging costumes.
Read the details
.
Maybe DDOT can cover a Circulator bus in spiders and webbing to allow easy shuttling along M Street between the Ghost Ship and
Truckerboo
, being held at the same time.
Are there any other ghostly festivities on tap in the neighborhood? I imagine Capitol Quarter will have a record number of trick-or-treaters this year....
ANC Agendas, Possible Bus Route Change, NCPC Doings, Singles at Harry's, Crime at Capper, and a Rant About Dying Data
Sep 8, 2011 11:02 AM
Apologies for the torrent of words that follows:
*
ANC Meetings:
The
agenda is now out
for Monday's meeting ANC 6D meeting. In addition to the Capper apartments time extension request
I just wrote about
, there will be a discussion of the
proposed Single Member District boundaries for 6D
. (Ditto on both counts for the
ANC 6B meeting the next night
.) There is also an agenda item on the proposed renaming of both the Navy Yard and Waterfront-SEU Metro stations, with a DDOT representative. The 6D meeting is at 7 pm in the DCRA offices at 1100 4th St., SW, 2nd Floor.
*
Changes to P1/P2/P6 Buses:
WMATA has come up with a
list of proposed changes to bus routes
, and one of them would eliminate the P1 and P2 buses that run along M Street SE during rush hour and would re-route the P6 bus down M Street SE to 4th Street SW, away from its current route that runs along Virginia Avenue and through the southern part of Capitol Hill before heading to Federal Center SW and then across the Mall and into downtown. This could impact the residents of the
Capper Seniors building
at 900 5th St., SE, which has an eastbound stop right on its corner. (I'd also note that the planned closure of Virginia Avenue south of the freeway for two-plus years would necessitate a rerouting anyway.) And, in the interest of full disclosure, I'll say that this rerouting would have an impact on the JDLand household, since we often use this bus (which stops right at our corner) to get to and from downtown. This is not final yet, with public meetings on this and the other proposed changes still to come.
*
NCPC Doings:
Last week the National Capital Planning Commission approved
by consent
Forest City's plans to
temporarily put their offices in the second floor of the Lumber Shed building
at the
Yards Park
. NCPC also approved an installation of
solar panels at the Navy Yard
, while humminah-hummining that though the commission had said back in 2010 that "no future submittals at the Washington Navy Yard will be considered until an updated master plan is submitted," they decided that "this proposal is a minor one that does not increase the population at the installation, does not include any interior space, will have 'no adverse effect' on historic resources and is comprised of elements that reduce the installation's energy consumption." Plus, the report says the commission staff has been meeting with the Navy and expects a draft document for updating the Navy Yard master plan to be submitted to NCPC by the end of this year.
*
Beer! And a Cookout:
In tastier news, the folks at Harry's Reserve tell me they are now
approved to sell single beers
, and already are building their inventory of 32-40 oz craft beers, imports, and the like. Meanwhile, the
Great Heartland Cookout
is happening on Saturday at the Yards Park, benefitting the Fisher House Foundation, which donates "comfort homes" built on the grounds of major military and VA medical centers for families of hospitalized service members. Cookout tickets start at $40.
*
Crime At Capper, Before and After:
The Urban Institute has published "
Movin' Out: Crime Displacement and HUD's HOPE VI Initiative
" that uses the crime statistics around Capper and other DC rehabilitated public housing communities to show that crime not only remains low in the immediate area after a HOPE VI renovation, but is lower in nearby areas as well. The report is a bit hard to read (I have to admit I gave up pretty quickly), but
MetroTrends gives a good summary
. You can also look at the
crime statistics I've archived since 2005
to see how crimes in the neighborhood have changed over the years, while keeping in mind that the initial move-outs began at Capper in 2003. (The huge spike in Theft from Autos in 2006 was mostly a result of the neighborhood being empty except for the cars of construction workers, which were then pretty easy pickings during the daytime when they were busy at Nationals Park or the other projects at the time.)
*
Waah Waah Waah:
And, speaking of the crime statistics.... I have been downloading those reports from the city's
Data Warehouse
on a near-daily basis since they were first made available as XML feeds. I've also been able to get
Public Space Permit Applications
and
Approved Building Permit Applications
via XML for a number of years, and the many data feeds that were created are something that the city received numerous accolades for during the Fenty administration. However, the Public Space Permits feed now has not been updated since mid-July, and the Building Permits feed hasn't been updated since August 23.
Multiple e-mails to the data warehouse e-mail address have gone unacknowledged (after years of pretty prompt response, even if it was just to say "we know, we're working on it"). The Twitter accounts for both the
Data Warehouse
project and for
OCTO Labs
are equally moribund. I've let DCRA and DDOT know about the problems with the feeds, since they are the originators of the data, but if these data feeds are going to go to seed it's going to be a real loss for having easy access to this sort of data (even if I'm probably one of the few people who's ever bothered to take advantage). And, if the data isn't dying and is just getting worked on, a little bit of communication would go a long way (like, say, replying to any of my e-mails). Hopefully the crime feeds won't suddenly stop working, since that one certainly gets the most interest of any of them. (My complaints about the loss of depth in the city's web site offerings after the big redesign are for another day.) Just wait until OCTO moves into 225 Virginia next year and I can start picketing out front.
Friday Tidbit Overload (Isn't August Supposed to Be Slow?)
Aug 5, 2011 2:30 PM
A slew of tidbits, some already
tweeted
, some not:
* The third
Truckeroo food truck festival
is now scheduled for next Friday, Aug. 12, from 11 am to 11 pm. They'll keep doing them monthly, through October.
* This isn't news for anyone who's seen the big holes punched in the sides, but work on the
Boilermaker Shops
retail space at
the Yards
is finally underway. It's expected to take about a year. This is where the new brewpub by the Churchkey folks
will be
, along with Buzz Bakery, Austin Grill Express, BRB, and Huey's 24-7 diner.
* Along with their announcement of a new Circulator route that will run from east of the river across the 11th Street Bridge and up 8th St. SE over to Potomac Avenue, DDOT has also announced that the Navy Yard Circulator route will no longer go into the Union Station garage. Instead, it will stop at a new location near the flagpoles in front of the building. There won't be any stop at Louisiana and D anymore, either. (See the
DDOT presentation posted by DCist
for the details, with the Navy Yard route stuff being on page 7.)
* The Capitol Hill Day School's
blog
is doing a good job keeping track not only of the renovation work at Dent School, but also on the progress on their temporary location at 5th and K, SE. The modular classrooms
are arriving
, plus
there's now power
!
* For people who don't stay glued to comment threads (for shame!), ANC commissioner David Garber recently posted with more details about the
Georgetown University Health Disparities office
moving into the retail space at Capitol Hill Tower: "I was reassured that this will not be a health clinic, and that it is better to think of it as the research center's "home base" on this side of the city. It will mostly be office space, and employees will spend most of their time outside the office at sites in Wards 6, 7, and 8, facilitating research on environmental health, obesity, and breast cancer research. I was told that no more than five clients would be visiting the office each day -- not as a medical clinic-- but that the space would likely also be used to hold meetings for the center's organizational and community-based task forces/committees."
*
The Hill is Home gives an update on the 8th Street underpass
, where a mural is about to be created to spiff up the space, and where the public parking lot is going to get new signage, lighting, and pricing to encourage Barracks Row visitors to use it.
* President Obama gave a
big speech on jobs at the Navy Yard
this morning, which will be notable mostly for how my Google News Alert for "washington navy yard" will take days to get back to normal.
There's probably more than this, but this has already cut into that mini-break I was trying to take....
Back from Across the Pond; Lots of Tidbits While I Recover
Jun 8, 2011 9:09 AM
I'm back in DC, having spent
11 wonderful days
in Madrid, Barcelona, and cruising across the Mediterranean to Pisa, Florence, Rome, the coast south of Naples, and Mallorca. Needless to say, while I checked in on the news back home from time to time and tweeted an item or two if the timing was right, I wasn't following developments closely, and I'm pretty out of the blogging groove at this point. So I'm going to start back slowly with some easy items.
*
Redistricting
: The city council voted Tuesday to approve a redistricting map that, as expected, keeps Near Southeast in Ward 6. This continues to make Marion Barry extremely unhappy, and the
Examiner reports
that he'll be "asking U.S. Attorney General Eric Holder to open a Justice Department review of proposed new D.C. ward boundaries because, Barry says, they violate residents' civil rights." There's still a final vote to be had on the plan, probably on June 21. As for the last-minute changes that ended up keeping much of Ward 6 intact (moving Reservation 13 to Ward 7 instead of other areas), you can read
Tommy Wells's blog
for more details.
*
Riverwalk
: The
Navy Yard
announced last week
that its portion of the riverwalk along the Anacostia River, running from the 11th Street Bridges to the
Yards Park
, will now be open from 5:30 am until "official sunset," seven days a week and including holidays; though there will still be closures as needed, which are announced on the
Navy Yard Riverwalk Twitter feed
. (I admit that I got a bit of a kick passing along this news
via Twitter
while riding on a train north of Rome.)
*
DPW Move
: The council passed
emergency technical legislation
on Tuesday that allows
Capper PILOT funds
to be used to build a new location for DPW operations in Northeast, which means that they should be moving from the 2nd and K site this fall (before "leaf season").
*
Ward 6 Family Day
: Tommy Wells's yearly event for Ward 6 residents will be held on
Saturday, June 25
, and will be at the
Yards Park
for the first time. It's from 1 to 5 pm, with "free food, live music, games and activities for the whole family as well as raffles featuring gift certificates from local businesses and sporting memorabilia from the Wizards, DC United and Washington Nationals."
*
ANC 6D
has its next meeting on Monday, June 13, at 7 pm at Arena Stage. The
agenda
is light on Near Southeast items, with only a resolution by David Garber about Near Southeast bike stations and requests by Cornercopia and Harry's Reserve to be exempted from the ban on the sale of "singles."
*
Food Truck Festival
: Bo Blair, the owner of the Bullpens and the organizer of Truckeroo on June 3, said in an e-mail that the event was a "massive, incredible success," with somewhere between 17,000 and 18,000 attendees and "zero problems." The next date for the event will be announced soon.
*
Construction and Destruction
: Construction has stalled on the Little Red Building v2.0 at
2nd and L
, which ANC commissioner Garber
says
is a "building permit issue that is in process of being resolved - construction should start back 'soon.'" Meanwhile, the "re-dressing" of
225 Virginia
is well underway, with the new exterior walls being hung on the north side of the building. And if it hasn't already happened, the
trailer
that was the original sales office for
Capitol Quarter
is being torn down, since construction of townhouses is now underway on that block. (Photos to come, at some point.)
*
The Yards on Facebook/Twitter
: I kind of stumbled across these (never saw any announcement about them), but the
Yards
now has an
official Facebook page
(which is available on
Twitter
, too) along with a separate one for the
Foundry Lofts
(its
Twitter account
is protected, though).
UPDATE:
And, since this just came across Twitter:
Dan Steinberg reports
that Shake Shack and the other new Nats Park restaurants will open next Tuesday, the beginning of the homestand vs. the Cardinals.
Comments
(28)
More posts:
225 Virginia/Old Post Plant/200 I
,
Alcohol/Liquor Licenses
,
ANC News
,
Fairgrounds/Bullpen
,
Capper
,
Capitol Quarter
,
cornercopia
,
Trash Transfer Site/DPW
,
Events
,
Restaurants/Nightlife
,
Foundry Lofts/Yards
,
Harry's Reserve
,
Little Red Bldg/Lot 38 Espresso
,
meetings
, Navy Yard,
redistricting
,
riverwalk
,
JDLand stuff
,
The Yards
Redistricting Latest; Navy Yard Riverwalk Hours; Singles; A Break
May 26, 2011 5:14 PM
A few tidbits going into the holiday weekend:
* Nothing changed for Near Southeast as a result of Thursday's Redistricting Committee meeting, but it certainly wasn't boring. Tommy Wells took some swipes at Jack Evans, Marion Barry threatened to sue, Harry Thomas, Yvette Alexander, and Muriel Bowser talked about the need for unity, and when committee chair Michael Brown refused to recognize Barry for a second round of statements, the two talked over each other for a number of moments while Phil Mendelson and Jack Evans tried to reach Barry's microphone. Finally, while Barry continued to talk, Evans called the motion, they voted to approve the
draft map
that keeps Near Southeast in Ward 6 (with some small changes on the Ward 2/Ward 6 border), the hearing ended, and the microphones were shut off. I don't often suggest council hearings for an On Demand Popcorn Special, but if you have an hour (or want to fast forward to the last 10 minutes), it should be available
on the OCT web site
soon. Here's
DCist's report on the hearing
, along with
Mike DeBonis's pre-hearing post
on the "Jackmandering" that has Tommy Wells unhappy. Next up is the public hearing on June 1 at 6 pm, which should be even more festive.
UPDATE:
No need to wait! TBD has the
video of Barry vs Brown
. And here is
a short Examiner piece
on Barry's lawsuit threat.
* The Washington Navy Yard Riverwalk's Twitter feed
announced yesterday
that, starting on Tuesday, May 31, their gates will open at 5:30 am instead of the current 8 am. The gates will still close at 5 pm, and this is still Monday through Friday (excluding holidays), and the area can still be closed at the WYN's discretion. The
Twitter feed
has been good at announcing when closures are planned. Perhaps this expansion on the beginning the day means that further expansions might someday come down the pike?
* Also on June 1, the ANC 6D Alcohol Beverage Committee will be taking up requests from both Cornercopia and Harry's Reserve for exemptions from the ban on selling "singles." The agenda says that this "will cover exemptions for 25 to 70 ounces of beer, NOT single beers from a six-pack, or miniatures, small pints." The meeting is at King Greenleaf Rec Center at 7 pm. Any recommendation to allow the exemptions would then taken up by the full ANC for approval at its monthly meeting on June 13.
And, with that, I'm going to take a bit of a breather. Between the flurry of high-emotion news items over the past few months, the upcoming holiday weekend, and some stuff on the boards in my "real" life, it's a good time to step back for a little while. I expect to be away from blogging all next week, and maybe a little past that. If really big news breaks (and I mean *really* big), I may try to put something up, but I definitely won't be operating at normal warp speed. I may do some not-very-timely
Tweeting
if I can't bear not to, but I really am going to try to take an actual break. There haven't been many of those in eight-plus years...
In the meantime, feel free to use this spot as an open thread on matters of neighborhood interest. But behave, because I'll still be reading....!
Thursday Tidbits: Bike to Work, New Tweeters, Crawfest, 55 M
May 19, 2011 12:26 PM
A roundup:
* Friday is
Bike to Work Day
, with the
Yards Park
being one of the morning "
pit stops
," from 7 to 9 am. If you're interested in joining in the fun, you need to
register
.
* The
Canal Park
folks have recently begun using their Twitter account,
CanalParkDC
. An update on the park's progress was
tweeted on Wednesday
, though it probably wasn't what park fans want to read: "Rain delays, water in our excavation preventing pouring foundations. Very frustrating!"
* The
Navy Yard
has
created a Twitter feed
for its portion of the Anacostia Riverwalk, to alert people to planned closings. This is in addition to the
web page they've set up
for hours and information about the riverwalk.
(I've added both of these feeds to my
Near Southeast Businesses/Organizations Twitter list
, which displays all the latest tweets in real time on the JDLand home page, for those of you who have remained blissfully outside of the Twitter vortex.)
* Louisiana State Society is having its
Crawfest
at the Yards Park on Sunday (May 22), with 4200 pounds of boiled crawfish, 150 pounds of jambalaya, sausage, corn, and potatoes, Abita beer, Louisiana music, and more. Society members get in for $45 per person, while non-members can pay $55 to attend. (Tickets for children 12 and under are $15.)
*
DDOT says
that its move out of the Reeves Center to Monument Realty's office building at
55 M
is almost complete.
* Speaking of 55 M,
it was named
"Best Urban Office over 150,000 SF" at the NAIOP Maryland/DC 9th Annual Awards of Excellence.
Late Tuesday Tidbits: Ribbon to Be Cut, Ground to Be Broken
May 10, 2011 10:26 PM
Just a few items to catch up on, though they've already been
tweeted
(Twitter really is the best friend of a lazy blogger):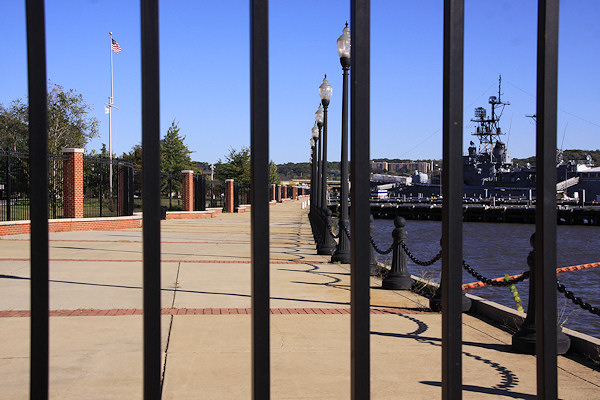 * The
Navy Yard
is having a ceremonial ribbon-cutting for its portion of the Anacostia Riverwalk Trail on Wednesday morning (May 11) at 11 am. It was on April 1 that the
Navy opened this long-completed but long closed off stretch
, which runs from just east of the
11th Street Bridges
to the
Yards Park
, though it is only open from 8 am to 5 pm Monday through Friday (excluding holidays) and is subject to closure if the Navy deems it necessary. (I finally took my first walk on it from the Yards Park and back recently, though I did it close to closing time and was imagining the hilarity that would have ensued if I had gotten locked in.) This ceremony also dovetails with the start of the BID's
Wednesday Lunchtime Concert Series
at the park, at 11:30.
* Will from
just across the way
reports that Camden is
having a ceremonial groundbreaking
on May 17 for
1345 South Capitol Street
, the 276-unit apartment building with ground-floor retail just across from
Nationals Park
that's been on hold since 2008. Though it's on the Southwest side of the DMZ and therefore in Will's territory (as spelled out in our meticulously negotiated Neighboring Blogger Treaty), I probably won't be able to completely prevent myself from taking photos of the progress from time to time, especially since I have a
full set of "befores."
But I'll be leaving the bulk of the coverage work to Will.
* The old fogies who were around in the 2004 to 2006 era might remember that a big part of getting the city council to approve the deal to fund and build
Nationals Park
was the "
Community Benefits Fund
," which would receive additional ballpark tax money and distribute it to libraries, schools, and other neighborhood developments. But
Mike DeBonis reports
that Mayor Gray's FY12 budget has a change that essentially makes the mayor and council decide every year whether the fund's money goes to the neighborhood projects or to "other spending priorities" in the city. Citizen groups are unhappy and council members are, too, DeBonis says.
Navy Yard Opening Their Riverwalk for 'Limited Public Access'
Mar 16, 2011 11:48 AM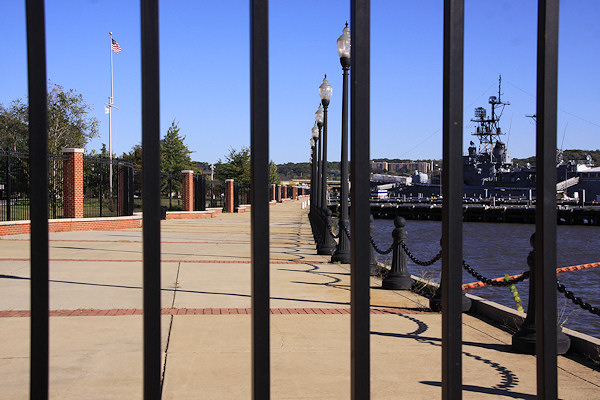 Just released from the Navy:
"Gates at the east and west end of the waterfront promenade (Riverwalk) at the Washington Navy Yard (WNY), will open for limited public access on Apr. 1, 2011. The WNY Riverwalk terminates at the
Yards Park
to the west and 11th Street SE to the east.
"The gates at both ends of the WNY Riverwalk will be open during base working hours, 8:00 a.m. to 5:00 p.m., Monday through Friday excluding Federal Holidays. Exceptions to these operating hours will be made when restricted access is necessary to accomplish Navy operations. The Navy may block or restrict access without notice for safety or operational reasons.
"The Display Ship Barry, located along the WNY Riverwalk, will be open to the public with access directly from the Riverwalk when the Riverwalk is open. The Display Ship Barry and the Navy Museum can be accessed through the WNY during normal hours when the Riverwalk is closed. Holders of valid Department of Defense (DoD) identification cards will be able to enter the WNY via turnstiles along the Riverwalk during operating hours. Access for non-DoD identification card holders will continue to be via the WNY visitors center, located at the intersection of O Street and 11th Street SE."
N Street Under 11th Street Bridge Ramps Closing Thursday
Feb 23, 2011 12:25 PM
From DDOT: "The District Department of Transportation (DDOT) will close N Street SE between 11th and 12th Street SE on Thursday, February 24. Traffic that would have used N Street SE will be permanently routed to the intersection of 12th Street and M Street SE.[.]" There are stoplights now at 12th and M; I saw them on Saturday night, and thought they were pretty new (and indeed they are!).
This is all part of the 11th Street Bridges reconstruction; see
my project page
for more details. This closure would seem to mainly effect Navy Yard employees who come northward across the bridges and have been able to turn left at the bottom of the ramp on N to head toward the Navy Yard's gates, and who will now have to go up to M, turn left, and then turn left on 11th.
UPDATE:
In looking at the
plans
, and parsing the press release wording, I think the "permanently" refers to drivers coming off the 11th Street Bridge inbound having to go to 12th and M. It looks like N will still be in existence, and in fact will be built through to 12th. I can't quite tell from the various graphics how traffic will flow on the new N. But basically, the way that N is used now (as a turn off the exit ramp) won't exist anymore.
Upcoming Events (Election Stuff, Ghost Ship Barry)
Oct 22, 2010 8:41 AM
With election time nearing, there's some events coming up next week that might/should be of interest. (Coincidentally, election time means that my "real life" gets a bit hectic, plus I have some other stuff going on, which means that things might be a bit slow around here, and I'm probably not going to be able to make any of these events. So you have plenty of notice that you'll need to attend them yourselves!)
* On Monday, Oct. 25, from 6:00 to 7:30 pm, the Ward 6 Dems are hosting a
Ward 6 School Board Candidates Forum
at Maury Elementary School, 1250 Constitution Ave., NE. The two candidates -- Melissa Rohan and Monica Warren-Jones -- will be suitably grilled about their plans and vision for Ward 6's public schools.
* Also on Monday the 25th, starting at 7 pm, the Southwest Neighborhood Assembly is hosting a "
Meet Your ANC 6D Candidates
" event at St. Augustine's church, on the southwest corner of 6th and M Streets, SW. You may have heard that Near Southeast has two candidates for its one single member district (SMD) 6D07--incumbent
Bob Siegel
and challenger
David Garber
--but there are six commission spots in Southwest up for grabs as well. (Just beware when parking next to the church on Water Street--this past Monday, for the first time in all my times arriving at St. Augustine's just before 7 pm for ANC meetings, I got ticketed at one of the meters, which never even occurred to me would still be active at that time of night. Maybe I should take up a collection!)
* At 6:30 pm on Wednesday, Oct. 27, is Presumed-Mayor-Elect
Vince Gray's Ward 6 Town Hall
, being held at the Atlas Performing Arts Center at 1333 H St., NE. If you follow various local reporters on Twitter, you've been pelted with Tweets from the other wards' town halls over the past few weeks, but now it'll be Ward 6's turn. Here's
the flyer with details
.
* For something a little less election-y and more spirit-of-the-season-y, on Friday Oct. 29 the Navy Yard is once again presenting the "
Ghost Ship Barry
" -- "Hundreds have served onboard but some never left." Boo! The hours run from 6 to 7 pm for kids 12 and under, and 7:30 to 9:30 pm for ages 13 and up. But note that they want you to RSVP first, by calling 202-433-0280. And then you can see what the Navy Yard's portion of the riverwalk looks like without having to look through the fence at the
Yards Park
.
Vida Fitness Coming [Somewhere] in 2013?
Jul 27, 2010 3:56 PM
From
a story in today's Post
on the growing
Vida Fitness
empire, a sentence that has set some hearts aflutter: "Next spring von Storch will open Vida's fourth location in five years in the renovated 1612 U, with a fifth planned for the Navy Yard in 2013." So, I checked with the folks at the
Navy Yard
(since, despite some peoples' desperate desire to call the entire neighborhood "Navy Yard," there is still a functioning entity with that name that's only been around for 210 years, and so to call something "Navy Yard" means that every single time it's used it will force the question "Do you mean inside the walls of the Navy Yard itself, or the neighborhood around it?"). While there was no firm denial, it was explained that fitness facilities on Navy installations are operated by the service's own Morale, Welfare, and Recreation personnel, and that that business model probably isn't changing.
Without anything else to go on--and with no neighborhood projects currently touting a 2013 delivery date--we'll just have to wait and see which developer cops to being in talks with Vida. Though, if I had to guess, I'd just say this--it would certainly be easy for someone who perhaps doesn't know the terminologies and layout of the neighborhood to easily mix up "the Navy Yard" with "
The Yards
."
[And now I'll return to mending from some recent medical stuff (nothing to worry about, but I do need to do some of this "resting" I've always heard about). Apologies if posting/Tweeting/replying/whatever remains slow for a bit.]
Comparison of Potential New Barracks Site
Jun 21, 2010 3:27 PM
Via
ANC 6B commissioner Norm Metzger, the Marines have sent out a one-page
Comparison of Key Components chart
, looking at the four possible sites for a new Marine barracks that appear to still be in the running (
Square 882
is not on the chart, so
this letter
must have worked). There's not necessarily anything new in this table, but if you haven't slogged through the documents on the
project's web site
, it's a nice quick overview of the pros and cons (from the Marines' standpoint) of each location.
It does look like maybe they're looking at using their
current Annex site
at Seventh and L a little more intensely than it seemed in their early public workshops, with the possibility of expanding its footprint westward to Fifth Street, which would mean taking over the site where a
new community center
is to be built, and demolishing the parking garage built just east of Fifth in 2004. (But a new community center could be built as part of the "shared uses" scenario that the Marines are looking to enter into as part of their new plans to "create a win-win solution" for both the community and the USMC.) The baseball and soccer fields currently on the site would most likely be taken over in this scenario.
The Square 929/930 and 11th Street Exxon sites both would mean that the Virginia Avenue
PARK AND
Garden would have to be relocated, and though the document says that "replacement sites to be provided with goal of no net loss," the
PARK AND
garden's fans
are fighting hard
to not lose their current location.
The option of relocating the barracks to a site within the walls of the Navy Yard is also still on the table, though with the Navy talking about its
own needs for an additional 700,000 square feet
, it would seem difficult to reconcile the two expansion plans within the finite space of the WNY.
There probably won't be much news on the Barracks front until the "charrette" in September (details TBA), unless the Development Fairy makes a surprise appearance before then and finds a location that pleases all sides. For more background on the search up to now,
read my previous entries
.
(UPDATED to prevent hordes of Virginia Avenue Park fans from burning me in effigy for mistakenly referring only to the garden and not the entire park.)
Road and Lane Closures For Work Above N Street SE
Jun 4, 2010 5:46 PM
Over the next few weeks, weather permitting, workers will be demolishing bridge spans that runs above N Street, SE (that little connector road between 12th Street and the Navy Yard gate on 11th). This is part of the
11th Street Bridges
project, and is the continuation of the demolition of the no-longer-needed ramps to and from RFK. (Note that the spans that still carry 11th Street Bridge traffic aren't coming down!) Here's the specifics on time-frames and lane closures:
""Sunday through Thursday from June 6 through July 1, weather permitting, contractors for the District of Columbia Department of Transportation (DDOT) will perform bridge demolition work above N Street SE requiring overnight closures of the street between the 12th Street SE and the gate of the Navy Yard on 11th Street SE. The closures will occur each night from 8 p.m. to 5 a.m. the next morning with a signed detour provided.
"Also during this timeframe, the following lane closures will be instituted for related bridge demolition activities:
"* The left lane will be closed on the ramp from Southeast/Southwest Freeway to I-295 South/Martin Luther King Jr. Avenue continuing across the outbound 11th Street bridge and ending prior to merge area with I-295.
"* The left lane will be closed across the inbound 11th Street bridge beginning on I-295 north near Howard Road and ending past the M Street/12th Street exit ramp.
"All of these closures may be subject to change due to weather or other unforeseen conditions."
Here's a zoom in
on the Google Maps satellite view if you need some visualization assistance. It's the first and third (from the left) of the four "spans" above N Street are the ones that go to and from RFK. I also wonder if this means that
the big embankment that runs along 11th Street
between M and N is coming down--I would think so, since it's now an unused stub.
A Few Links of Note, Since It's Pretty Quiet
May 24, 2010 7:36 PM
I'm happy with my move to
Twitter
for much of my "little" linking, but here are a few (somewhat) recent items that still deserve the "hail of bullets" treatment on the blog, especially during a bit of a lull. (But I might have something somewhat cool tomorrow, if the weather holds.)
* From
City Paper's Housing Complex blog
, a report on some reimagining of the Anacostia Waterfront by middleschoolers as part of the National Building Museum's
CityVision
program. The
Navy Yard
, Poplar Point, and
Florida Rock
were given the treatment, with an underwater library envisioned at the latter, among other notions.
*
Urban Turf asked
a group of soothsayers to look ahead five years on which "unsung" DC neighborhoods would be attracting homebuyers five years from now. The "Southeast Waterfront" was one of the 'hoods (as once again people make clear that no name yet floated for the area is truly capturing the populace's fancy, which is why I stick with the REAL name ;-) ), and while it will take a while to be "fully realized," the writer reminds readers that Near Southeast has some pretty solid "bones": With "proximity to Capitol Hill, access to Metro and major roads,
Nationals Park
, a potential streetcar line, a
waterfront park
that I think will be one of the best in the city and of course the river[,] this neighborhood starts to make a lot of sense as a place to live."
*
SWill reports from just across the way
about the plans for hip, happenin' shindigs once again this summer at the Capitol Skyline Hotel. "The parties [...] have been named Liquid Lounge and will feature some of the best house music DJs from Washington, DC and beyond. The hotel and Nocturnal Vibe will host their inaugural event on Saturday, June 5th from 2 p.m. - 9 p.m., poolside at the architecturally iconic DC destination."
* With the DC season of Top Chef now having an announced premier date of June 16, it's been confirmed (
by DCist
) that Nationals Park was the site of one of the challenges (apparently on May 6, according to
this tweet
). I'm going to LOL if they make guest judge Eric Ripert chow down on nachos, half smokes,
two-pound pretzels
, or other ballpark haute cuisine.
* And, the subject of filming at Nationals Park reminded me to go see what the latest is on the Reese Witherspoon/Jack Nicholson/Paul Rudd/Owen Wilson/James L. Brooks movie
filmed at the park a year ago
. It's called
How Do You Know
, and
IMDB says
it has a release date of December 17. (Prime Oscar season!)