Near Southeast DC: Past News Items
Square 743N
Go to Full Blog Archive
---
Sneaking a Quick Peek Inside the Gordon Biersch Space
Feb 2, 2013 5:33 PM
When wandering by the Gordon Biersch space earlier today, I managed to
sneak a peek inside
: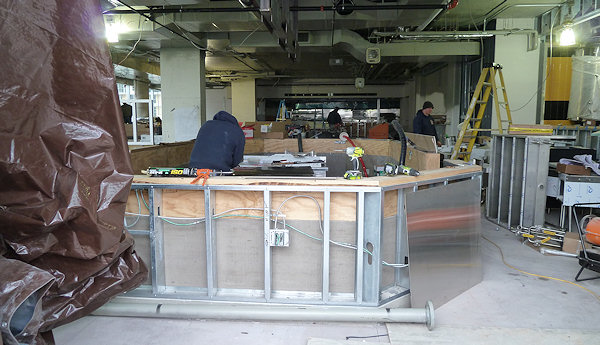 I also
caught some more fermenters arriving
, plus some signage (click to embiggen):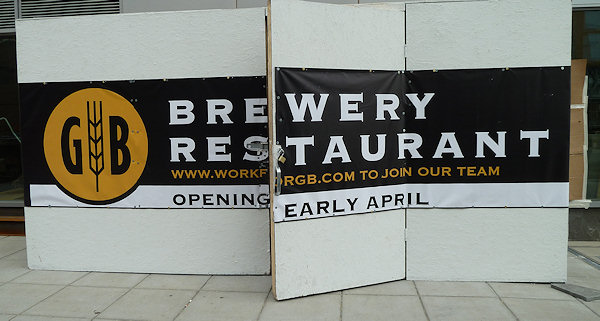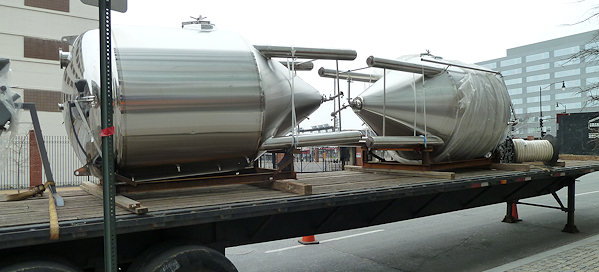 The sign kind of says it all, right? "Early April" -- will they manage to make Opening Day?
Seems hard to believe this is actually coming. There is also a public space permit application in the window for unenclosed sidewalk seating, so you can look forward to dining al fresco at 1st and M while hordes of Nationals fans traipse past in the summer.
(I also added these photos, and a few others, to my
100 M page
, which I kind of hadn't really looked at since the building opened in 2008.)
Donohoe Seeking a Residential Option for 1111 NJ Plans
Jun 27, 2012 10:44 AM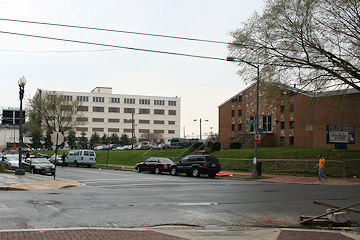 A press release from Donohoe posted on the
Capitol Riverfront BID web site
says that the development company is designing a 13-story, 310-unit apartment building on its
1111 New Jersey
site, on top of the east entrance to the Navy Yard Metro station, and will be acquiring the St. Matthew's Baptist Church next door (seen in the photo at right).
An additional zoning approval is being sought in lieu of an outright change to the
existing approvals
for the long-planned 200,000-square-foot office building on the site, "to maintain flexibility as we evaluate options . . . for both office and residential uses."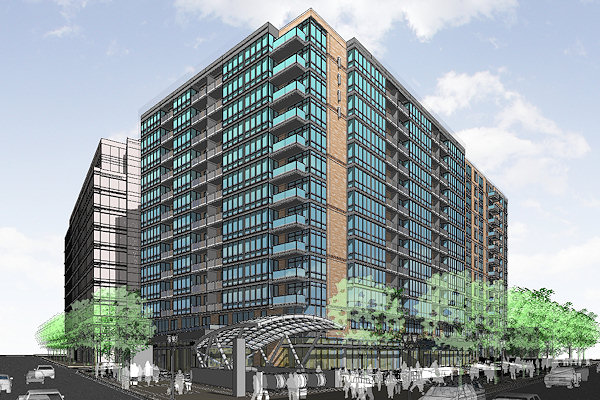 The building, designed by
WDG Architecture
, would have a mix of studio, one-, and two-bedroom units, and approximately 9,000 square feet of retail, "almost" the same amount as the office building. There's an early rendering of what the new building could look like
on the BID page
.
UPDATE:
Donohoe passed along the image at left.
Donohoe bought the most of the site's
land back in 2005
, then purchased the
remaining portion from WMATA
. St. Matthew's has been close to being sold before, when Ruben Companies had a deal
back in 2007
that never materialized. And Donohoe had been in discussions about acquiring the site before Ruben. What the acquisition of the church would mean if the office building is built is not clear (would the office building grow in size?).
If the apartment building does happen, it will be in line with
other
developers
seeing
the
neighborhood
as much more of a residential opportunity than when plans to revitalize the area first started being formulated. That and the fact that office leases are not very easy to come by these days.
Needless to say, no timeline at the present, beyond a trip through Zoning Land.
Onyx on First Apartment Building Under Contract for $82.25M
Jun 23, 2012 5:27 PM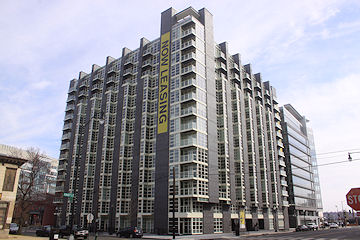 Hot on the heels of the sales (
completed and pending
) of JPI's
three
"
Capitol Yards
" buildings, there's another notice in another lobby that a neighborhood apartment building is under contract to be sold. This time it's
Onyx on First
, the 266-unit apartment building on the southeast corner of 1st and L, which was developed by Faison with an assist from Canyon-Johnson Urban Fund and
opened in late 2008
.
The sale price is listed on the form as $82.25 million, with the buyer being ERP Operating Limited Partnership, which is the operating partnership of
Equity Residential
, owner of
a slew of DC-area buildings
including 425 Mass and 2400 M, as well as a
huge slate
of properties around the country. (As an aside, the company was started by Sam Zell, a name that certainly has resonance for folks in the newspaper biz.)
Onyx
went on the market
more than a year ago, but that initial offering didn't result in a buyer so it was
re-offered
later last year. The notice to tenants specified that there are only 11 units currently unoccupied.
As we all learned during the JPI sales, it's
required by DC law
that residential buildings of more than five units under contract to be sold be offered to residents to purchase. (Insert here my standard joke about looking in the sofa cushions for $82 million in spare change.)
JPI's Axiom and 909 buildings
were sold
for around $95 million each, with the the Jefferson's contract price/purchase price for tenants listed at about $165 million.
Onyx's next-door neighbor, the office building
100 M
, was
put up for sale in March
. (Which is apparently
just now news to WBJ
, though I had heard rumors that it had been taken off the market after that original offering, so maybe this is a new push.)
A Few Oh-Yeah-I-Meant-to-Mention-That Tidbits
Jan 9, 2012 9:52 AM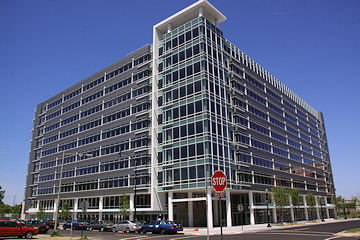 *
1015 Half Buyer
: On Friday the Post debuted a "What's Going On With....?" feature at their new
Where We Live Real Estate blog
(reminds me of my old "What's the Deal With...?" days), and
the first item
was on the empty office building at
1015 Half Street
. One tidbit not mentioned there, or at JDLand before now, is that apparently Prudential Real Estate Investors is buying the building, with the deal supposed to be closing this month, according to
Bisnow
. Bisnow says that the deal was always for Prudential to buy out Bank of America's stake in the building when it was finished, even back when it was Opus East doing the developing, not current receiver Douglas Wilson Companies.
*
Onyx Sale
: The
Onyx on First
apartment building never sold when it first went on the block
back in March
, and
a second offering
apparently closed in December. Perhaps there will be news soon.
*
Navy Yard Riverwalk Closure
: It was
announced on Twitter last week
that the
Navy Yard
Riverwalk will be closed from Jan. 5 to Jan. 17 to install fences around the piers. (What? You thought I meant the entire Riverwalk and not just the portion controlled by the Navy Yard? Why ever would you have thought that?)
Rumors of A Pending Tenant for 100 M Restaurant Space
Oct 19, 2011 6:30 PM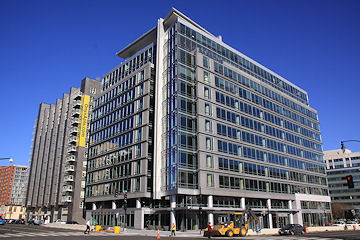 Word is starting to bounce around that a tenant is close to being signed for the prime restaurant space in the ground floor of
100 M Street SE
, on the northeast corner of 1st and M, one block north of
Nationals Park
.
As to who the tenant may be, I don't have confirmation, but rumors are mentioning a "semi-chain type place." (I'm trying to find out more, but since
recent surveys
indicate that 93 percent of all JDLand readers are interested in retail/restaurant news, I'm just going to go with what I've got.)
The location is
advertised
as 8,500 square feet, and I don't know if this rumored lease is for the entire space (though I imagine it is). One way or another, it will probably be a level of food and dining experience that's a step up from the last eating establishment on that corner, the old
On Luck Cafeteria
that was demolished five years ago.
I hope it goes without saying that as soon as I know more, I'll pass it along. And please remember that this is all still rumor territory, so until there's an official announcement, don't be skipping meals waiting for the new offering to arrive.
UPDATE: The rumor mill is strong that the not-yet-signed tenant is Gordon Biersch. But there's no official confirmation of that. But I've heard it from enough different places since yesterday to pass it along.
Roundup: Boilermaker Shops, WMATA Land Sale, Ward 6 At-Large Candidate Forum, Water Taxi News
Apr 18, 2011 11:37 AM
Catching up after a quick trip to Florida:

* A few readers have mentioned some work underway around the
Boilermaker Shops
at
The Yards
, but I'll burst the bubbles and note that it's not a sign of formal construction getting started on the 46,000-square-foot retail space. Forest City is taking care of some remediation on behalf of GSA, involving the paint inside the building along with some potentially tainted soil around the outside.
On the same subject, there was a tidbit in the
April Hill Rag
on
page 85
(hat tip reader J) in an article about Barracks Row restaurateur Xavier Cervera, who runs Lola's, Molly Malone's, the Chesapeake Room, and some other new ventures on the way: "And there's even more in his culinary sights: along the Southeast waterfront near
Nationals Park
, Cervera has leased half of the glass-and-steel Boilermaker building (1100 New Jersey Ave. SE) for a classy, 450 seat sports bar." (Ay-yi-yi on that really incorrect address!)
I asked Forest City about the report, and received this response: "Forest City Washington expects to announce soon a number of great restaurant and retail venues that will be located at The Yards. Upon completion of these leases we will commence redevelopment construction of the Boilermaker Building. At this point, we are not able to specifically respond to the inaccuracies in the Hill Rag piece. These inaccuracies will become evident when we make our official announcement." Hmmm.
In the meantime, you can see renderings and photos (outside *and* inside!) on my
Boilermakers Shops page
.
* After having a contract for more than three years, WMATA and Donohoe have finally completed the $3 million sale of 5,165 square feet of land at
New Jersey and M
where the east entrance of the Navy Yard Metro station sits. This allows Donohoe to build its planned 220,000-square-foot
1111 New Jersey office building
, as soon as they find tenants. (The building won't sit directly on top of the entrance, as 55 M does with the west entrance of the station, but is pretty close, as you can see in the rendering on
my project page
.)
* And, in other land transactions in the 100 block of M, the longtime owners of the tiny 1,500-sq-ft sliver of land between 100 M and the alley have sold the property for Northwood Investors, the new owners of
100 M
. (The property records say the price was $250,000, which, if accurate, would seem to a good deal less than what they might have been offered back when Opus East was acquiring the property to build 100 M.)
* On Tuesday, April 19 (tomorrow!), there's a
Ward 6 Candidates Forum
with the large field of candidates for the open at-large seat on the city council (you didn't know there's an election on April 26? You're not alone). It's in the North Hall at Eastern Market from 6:30 to 8 pm, and being hosted by the Ward 6 Democrats (but it's labeled a non-partisan event, so there will be no endorsement vote). You can
submit a question for the candidates
, whether you're attending or not.
*
American River Taxi
is getting some press as it gets its service underway between Georgetown, the Southwest Waterfront, and
Diamond Teague Park
across from the stadium (though Saturday's rains and the
subsequent flooding
along the Potomac have put a crimp in their schedule over the past few days).
WTOP
and the
The Hoya
have posted articles in the past few days.
Onyx on First Apartment Building Up for Sale
Mar 8, 2011 5:49 PM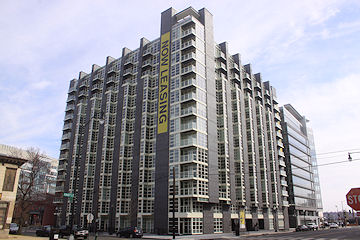 With an instruction to residents to Please Don't Panic, I'll pass along the news that
Onyx on First
, the 266-unit apartment building at 1100 1st St. SE, is
up for sale
. With a
brochure
touting "Excellent Transportation Infrastructure, Phenomenal Employment Opportunities," and "Shopping and Entertainment Options Abound," the sellers look to be trying to get in on what is clearly a
rebounding multifamily market in DC
.
Apparently there's no price set for the sale, and with a building that's 92 percent occupied with what looks like pretty high average rent numbers, I imagine investors will be taking a close look. The eventual sale (should there be one) could also be an interesting barometer of how "the markets" view the neighborhood. Proposals are due April 14.
The building, originally planned to be condos but converted to apartments during the construction phase, was developed by Faison and the Canyon-Johnson Urban Fund and completed in 2009. It was built the same time as its neighbor
100 M
, the office building that recently
bought for $57 million
in a foreclosure sale. Onyx is on the same block as the New Jersey Avenue entrance to the Navy Yard Metro station, two blocks north of
Nationals Park
, and one block west of the Courtyard by Marriott that is being
bought for $68 million
. And, of course, just across the street from the
Market Deli
.
11th Street Bridges Status Update; Other Catching Up
Nov 1, 2010 9:52 AM
I'm now back after a week wandering the Midwest again, this time spending a few days in Chicago and then going up to Milwaukee, where touring time was cut short thanks to that epic windstorm (but at least I got to see the
Historic Third Ward
and the
Milwaukee Public Market
). Lots of photos of streetscapes and buildings
are here
, if you feel like looking at some non-Near Southeast images for a change.
To catch up....
* Dr. Gridlock
gave an update
on the progress of the
11th Street Bridges
project, which is now more than 25 percent complete. A pretty showy part of the construction will be starting soon, "when steel girders arrive for the new bridge spans. They will be trucked out onto the old bridges and lowered onto barges in the river below." The story gives this timeline: in spring 2011, the new alignment of southbound 295 opens; in fall '11, the freeway bridges (the upstream ones) will open; in winter 2012/13 the local (downstream) bridge between Anacostia and Near Southeast will open, with the entire project expected to be completed in summer 2013. (If the alignments and uses of the new bridges aren't clear to you, check my
11th Street Bridges project page
for more detail.)
There's also
some new lane restrictions
that started last week and will run through Nov. 23: the left lane of 11th Street SE from M to N is closed, and N Street SE between 11th and 12th is closed overnight Tuesdays through Fridays. There are other restrictions and closures as well on 295 and the SE Freeway.
* The Post's Capital Business weekly
has more information
today on the
foreclosure sale
of
100 M
, including this part that is probably of most interest to residents: "Although thousands of fans pour out of the Metro station nearby for baseball games, the Opus bankruptcy has prevented retailers -- other than a SunTrust bank branch -- from occupying ground-level storefronts. Michael Stevens, executive director of the Capitol Riverfront Business Improvement District, said he hoped that with new ownership, that would change. The retail broker for 100 M St., he said, 'has had some tenants that were interested in that property, but he couldn't sign any leases because it was in bankruptcy.' "
* It wasn't exactly a shocker that
Greater Greater Washington endorsed
David Garber for ANC 6D07 commissioner. Along the same lines, there's a
good piece by Housing Complex
this morning on the dysfunctional aspects of the ANCs, with some ideas on how to fix them. Having been tortured by sitting through many ANC meetings for more than five years now, I can certainly vouch for a lot of the issues mentioned. Perhaps there needs to be a Rally to Restore ANC Sanity.
* If you've wanted to know about Ann of Ann's Beauty Supply and Wigs Co. at 125 L St., SE,
People's District recently profiled her
. (Except I think they either mistranscribed the date of her shop opening, or this interview was done when her store was still in the old Waterside Mall in Southwest, because her store opened on L Street SE in 2005, not 1995.)
*
American River Taxi
, which is working to begin boat service between Georgetown, the Southwest Waterfront, and Diamond Teague Park, is hiring
deckhands
and
captains
. No word on when they'll get underway.
* Work has started in the ground floor of 909 New Jersey for the new Harry's Wine and Spirits. Alas, their timeline for opening has slipped (as all construction timelines do), and the owners now have their fingers crossed that they will be open by Christmas.
100 M Bought for $57 Million in Foreclosure Sale
Oct 28, 2010 7:03 PM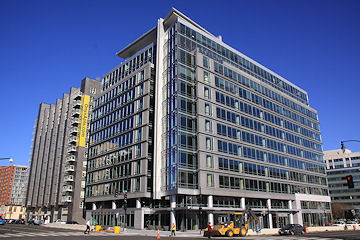 I wasn't able to attend* today's foreclosure sale of
100 M Street
, but word filtered to me early this afternoon that the 220,000-square-foot office building was picked up for a cool $57 million by
Northwood Investors
, a real estate investment management firm based in New York City. I've been told (and I'm trying to confirm) that Northwood had bought the original loan/note from Bank of America, and then had the high bid today against one other bidder, whose identity I don't know.
This appears to be Northwood's first foray into the DC market, and the rumor is that they plan to hold 100 M and get it leased up. Perhaps the DC biz media will have more on this sale in coming days....
As I
wrote about previously
, this sale was for the building itself and not the land, since 100 M's developers (Opus East) never bought the land and instead paid rent to the owners. You can read more about the building's history
here
; it opened in late 2008 and is currently about 43 percent leased.
[*My exile from blogging is coming to an end soon, I promise--though there really hasn't been much going on this week that I feel like I've missed completely, since I have managed to
tweet
from time to time.]
Some More Details on the 100 M Foreclosure
Oct 4, 2010 6:52 AM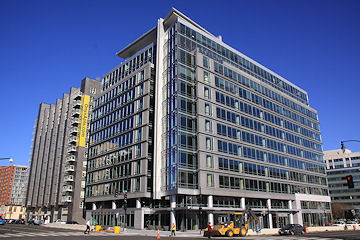 While normal people have spent their weekend recreating and taking it easy, I've been trying to find out more about the
just-announced foreclosure sale
of
100 M
, the 220,000-square-foot office building that has been tied up in Opus East's
Chapter 7 liquidation
.
My big question was about why this is being billed as a sale of a "60-Year Leasehold Interest," and what I've found out is that Opus never owned the land, but instead had entered into a lease with and paid rent to the landowners. (Who are the people behind "Square 743 Inc"? I'd love for
someone to tell me
!) When Opus's operations went south, their lender (Bank of America) stopped funding the construction loan, so contractors stopped being paid, liens were filed, bankruptcy case got ugly, etc. etc.; basically, it's been a mess.
BoA is now washing its hands of it all, and is looking to get back some amount of the $58 million currently owed on the construction loan. (The land ownership is not being foreclosed on.) I've heard that BoA contracted with CB Richard Ellis earlier this year to sell the loan, and there's speculation that BoA may have a deal with an investor already, even though the Notice of Foreclosure Sale still lists BoA as the holder of the note. This would be similar to the way JPI's empty lot at
23 I Street
changed hands
a year ago
, with SunTrust Bank selling the note to Ruben Companies, who then instituted foreclosure proceedings and took ownership of the property when no bidders came forward.
However, while the word "foreclosure" usually conjures up feelings of doom and gloom, for 100 M this should be a step up from Opus's liquidation. Instead of continuing to be tied up with companies and lenders and courts who have no interest or wherewithal to spend the money needed to clean up the mess and to market and lease the building's office and retail spaces, there may now be at least one investor--and maybe others, if the foreclosure sale brings bidders--who feels that the building is worth taking a gamble on now for a return on investment later. (Though it's worth noting that there is not a similar feeling of optimism about any new office projects in the area any time soon, with on-spec construction still completely DOA.)
We shall see how it all shakes out.
The auction is scheduled for
Oct. 28 at noon
, so this building can be yours for a mere $5 million deposit and an all-cash winning bid. It's currently 43 percent leased.
WMATA Extending Deadline for Donohoe Land Purchase
Sep 29, 2010 3:25 PM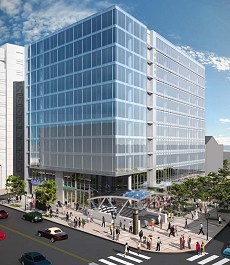 At
tomorrow's WMATA board meetings
, it's expected that Metro will approve a one-year extension to the 2007 agreement with the Donohoe Companies to purchase the 5,600 square feet of land that makes up the east entrance of the Navy Yard Metro station. Donohoe is intending to combine the WMATA land with the 16,400 square feet it owns just to the north (the grassy knoll and parking lot where the Capitol Riverfront Markets have been held this year) to build
1111 New Jersey Avenue
, a 220,000-square-foot office building.
But, according to
the WMATA documents
: "Given the weak economy, it has not been possible to obtain financing to construct the building. A one year extension of the closing date to December 2011 will allow time to respond to evolving market conditions and preserve the contract for both parties." I wrote
back in 2007
that WMATA would be receiving $2.3 million for the property, "
plus an unnamed additional payment if the approved project is larger 206,000 square feet."
It's not anticipated that the station entrance would need to be closed during construction of the new building, As you can see from the rendering, the escalators and canopy would remain outside of the new building's footprint.
Tiny Followups For Yesterday's ANC/Yards Park Posts
Aug 19, 2010 12:10 PM
Guess I should have been lazy (er, lazier than usual) and waited 24 hours on each of my posts yesterday, because there's small tidbits to add on both:
* While the Yards Park "
official opening weekend
" is set for Sept. 10-12, invitations have now begun landing in mailboxes for a ribbon cutting/dedication ceremony on Sept. 7.
* There is now at least one challenger to
ANC 6D07
incumbent Bob Siegel--according to the
DCBOEE
, Capitol Quarter resident Bruce DarConte has filed his paperwork to run. And I'm hearing rumors of at least one more resident planning to jump into the race as well.
In other non-followup news, eagle-eyed readers might notice in my
DC permit feeds
an approved public space/excavation permit for its planned
1111 New Jersey office building
site. But don't read too much into it--there's still no announced plans to start construction anytime soon.
UPDATE:
Oh, and a PS: The
Top Chef DC
episode filmed at
Nats Park
back in the spring is coming up next week (Wednesday, Aug. 25, at 10 pm, on Bravo). It appears to be a stadium-food challenge, with the "
chestestants
cheftestants" cooking and serving in the various food bays along the concourse.
1111 New Jersey Not Starting Soon
Apr 13, 2010 8:06 PM
A reader who might have seen
this
got in touch today about a document on the Donohoe web site saying that their planned 200,000-sq-ft office building at
1111 New Jersey
was about to start construction. Being well aware of the current state of the commercial real estate market, and also knowing that not a single building permit for the project has even been filed, I took the unheard of step of actually contacting Donohoe, who replied that the document was in error, and while they are hoping to see "positive signs" over the next year to eighteen months, they're not forseeing a start on the building until after 2011.
Robbery on Tuesday at Ann's Wigs
Jan 27, 2010 7:35 PM
A police alert went out on Tuesday afternoon about a robbery at 125 L St., SE, the address of Ann's Beauty Supply & Wig (which I forwarded to my Twitter followers, so there's another good reason to
follow me there
or on
Facebook
). I sent a message to the
MPD 1-D mailing list
asking for details, and here is what Lt. Durbin wrote:
"I would like to update the community on the Assault with Intent to Rob in the 100 block L Street SE. On Tuesday, January 26, 2010, 1D officers responded to the 100 block of L. St, SE, where 2 subjects entered the business producing handguns as they entered. One subject grabbed the complainant by the hair, trying to force her to the cash register area. She resisted and was able to exit the front entrance with the first perpetrator still holding her hair.
"The perpetrator threw her to the ground just outside the front entrance. She yelled out "help police!" The perpetrator let go and fled on foot down the alley next to the building towards M Street. The second perpetrator fled the store by exiting the rear door of the business.
"Both suspects left without taking anything. Both, then entered the Navy Yard Metro Station elevator. One got on a train, the other made good his escape on M Street SE.
"Both weapons were recovered they were replicas of a Glock handgun
"The suspects are described as
"-B/M 20-25 skinny, med-dark complexion close hair, light moustache, jeans, and dark hooded jacket
"-B/M 20-25 skinny, light complexion. No further clothing description
"The victim received minor abrasions.
"On January 27, 2010, a follow-up was conducted with the victim, who is doing fine(abrasions). PSA 105 officers will continue to monitor the area.
"We are still investigating this case and anyone with information is encouraged to call our tip line 888-919 CRIME or text to 50-411. Thanks."
Foreclosure Notices for JPI's 23 I Street Lots, and Nine Potomac Ave./9th St. Parcels Owned by ICP
Sep 22, 2009 10:28 AM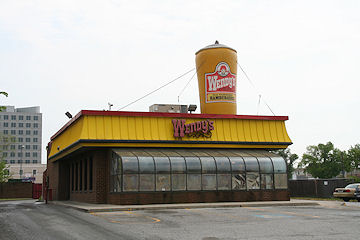 On Sept. 10 a Notice of Foreclosure Sale was filed for the two now-vacant parcels of land on the southwest corner of Half and I streets where the Wendy's used to stand. (Note that this doesn't include the adjoining Exxon land.) The lots, totalling about 47,000 square feet, were bought in July of 2007 by JPI for $28.6 million, with the intent of building
23 I Street
, the fourth of JPI's "Capitol Yards" residential buildings (along with
70/100 I
and
909 New Jersey
). JPI owes $25.1 million on the loan, which came due on Aug. 1 and which is held by
Ruben Companies
, owners of
1100 South Capitol Street
and 1101 across the street. The foreclosure sale is scheduled for Oct. 13.
JPI East pretty much fell apart over the past two years, with its principals taking what was left and
forming a new company in June
with bigwigs at Akridge; stories at the time mentioned their continued stake in 70/100/909, but said nothing about 23 I.
Another, smaller commercial foreclosure is happening further east, where nine parcels owned by ICP Partners
along Potomac Avenue between Eighth and Ninth
(including the brown boarded-up apartment building at Ninth and its parking lot) received a notice of foreclosure on Sept. 4, with a debt of $2.3 million on the properties. ICP tried hard earlier this year to
drum up interest in these lots
plus the gray building at Eighth and Potomac that houses Quiznos (which is
not
part of this foreclosure), after a previous sale attempt in 2008 went nowhere. ICP paid $9 million for all 10 properties in 2006; this foreclosure sale is scheduled for Oct. 6. (The properties are also on the
city's September Tax Sale list
.)
Whether the properties will actually go on the block, or if deals will be struck or lawsuits filed in advance of the sale dates, remains to be seen, but foreclosures are about to be a big part of the commercial real estate landscape throughout the US. (Spend a few days reading
Calculated Risk
if you want some insights into the predicted onslaught.)
As for the neighborhood's other "distressed" properties, Opus East's
100 M
and
1015 Half
office buildings are part of the company's liquidation proceedings, with
rumors flying
but no news of new owners yet. And the empty lot in the 1000 block of Seventh Street (across from the
Marines
), where a developer had been
planning an apartment building
, was sold in late July for $400,000 after a foreclosure; it had been purchased along with the two townhouses alongside it for $1.25 million in 2004. One townhouse was subsequently sold, the other was foreclosed on as well, though so far no evidence of a sale has turned up.
WBJ Shoots Down 100 M Sale Rumor
Sep 3, 2009 9:33 PM
WBJ's Breaking Ground blog
reports tonight that the GlobeSt.com story
I posted yesterday
about Opus's
100 M
office building being under contract to MayfieldGentry is "false information." They quote a "source close to the deal" as saying "The building is not under contract with anyone -- it's in bankruptcy court. There is no offer on it." Who will be right?
100 M Under Contract?; Rent the Ballpark; Monument Half Street Update
Sep 1, 2009 11:00 AM
*
GlobeSt.com
says that the
100 M Street
office building built by Opus East--and now owned by its bank after Opus went into Chapter 7 liquidation--is under contract to be sold for $80 million to Mayfield Gentry. Gentry has been pursuing the purchase
since late last year
. GlobeSt: "If events play out as expected, 100 M St., SE will fit nicely into the story line emerging for the District's real estate community: namely, that buildings in the city limits are still holding their value and attracting investor interest--so much so that the growing levels of distressed real estate are not likely to impact the District to any great degree."
And two quick links that I
Tweeted
on Friday but forgot to post here (oops):
* Want to rent out the
ballpark
or a portion thereof for a shindig? The
NationalsEvents.com
web site is now launched, with details on packages, rates, and more. (I needed this when I was trying to put together my high school reunion last year.)
* WBJ's Breaking Ground blog
posted on the status
of Monument's
Half Street
project, talking about "the hole" ("'The hole. Yes, the hole,' sighed Russell Hines") and the 55 M office building completed earlier this year which "is still empty but has experienced 'a distinct change in the level of activity' over the past two months, with a few seriously interested tenants." They're looking for ways to find financing to start construction on the residential and hotel portion on the south end of the block, but aren't finding any outlets yet; but because the site is owned outright between the equity partners (Monument, the shell of Lehman Brothers, and MacFarlane Partners), "no construction lender or mortgage holder is going to demand the keys" to the site.
Opus East Files for Chapter 7 Liquidation
Jul 1, 2009 6:55 PM
Opus East, the development company whose portfolio includes the already completed
100 M
and under construction
1015 Half
office buildings, filed on Wednesday for Chapter 7 liquidation, according to the
Washington Business Journal
. The article mentions the falling through of Opus's deal to sell 100 M to MayfieldGentry Realty Advisors earlier this year as part of the company's woes, and the building is part of the bankruptcy filing and liquidation. The
1015 Half Street
project, expected to finish late this year or early next year, is presumably part of it as well. No tenants for the 440,000-sq-ft office building have been announced.
New 'Where's My Bus?' App for Circulators; Q2 Residential Numbers; Square 701 Not Starting Soon
Jun 26, 2009 2:05 PM
* Just out from DDOT (press release
now online
), a new "
Where's My Bus
" app for the
Circulator
buses. Go to
circulator.dc.gov
(it's formatted for cellphones and PDAs, but works in any browser), pick your line and stop, and find out how far away the next bus is. (Here's the information
for the 4th and M stop
, heading toward Union Station.) They say an iPhone app will be coming will be coming later this summer.
* From the BID's newsletter (which I'm not finding
on their redesigned web site
), the latest update on residential leasing and sales for the second quarter of 2009: The buildings known as Axiom and Jefferson (at
70 and 100 I
) and
Onyx on First
are at a combined 60 percent leased for the 960 units in the three buildings;
909 New Jersey
(which opened in early April) has 25 percent of its 237 units leased. The
Capitol Quarter
townhouses are listed at 88 of 113 units sold (though I'm not sure how the public housing rental and for-sale units figure into that number), and
Capitol Hill Tower
is reported as being 80 percent sold. No numbers are reported for
Velocity Condos
, which according to a presentation by Michael Stevens last week is supposed to open in late August or September. All told, the BID says there are an estimated 1,863 residents in the Capitol Riverfront.
* A WBJ piece from today's print edition on
Willco Cos.'s new $100 million fund
says that the company "does not plan to dip into the fund for development projects in the pipeline, such as its 700,000-square-foot mixed-use project adjacent to Nationals Park, at
Square 701
, the intersection of M and First streets SE. That project is in pre-development mode right now without a major tenant; Willco doesn't expect to kick off construction until it sees 'signs of life in that neighborhood,' Goldblatt said." This lot is probably better known as
Nats Parking Lot F
, and the former home of Normandie Liquors and other small businesses.
Tough Times for Opus East and Monument Realty
Jun 19, 2009 9:05 AM
Two pieces from today's Washington Business Journal, both for subscribers only, tell of difficulties for two of Near Southeast's developers:
* Opus East
, which birthed
100 M
and the under construction
1015 Half
, is "
teetering on the verge of bankruptcy
" because the "U.S. General Services Administration has refused to pay the developer for 'even one penny' of the more than $35 million the company has invested in erecting a new federal building in College Park." Its parent company, Opus Corp., is exploring bankruptcy or restructuring for Opus East and Opus West--two other Opus companies went into Chapter 11 this spring. The article also says that Opus East's deal with MayfieldGentry Realty Advisors of Detroit to buy 100 M fell through in May; but 1015 Half is, for now, "continuing in full swing."
* And
Monument Realty
is
having trouble
, though not on
Half Street
--"At the end of May, at least three contractors filed suit in D.C. Superior Court to enforce more than $1.3 million in mechanic's liens the contractors filed against the last of three condominium buildings Monument is building at Potomac Place Tower near the Southwest waterfront. [...] At least one of the contractors is asking the court for a forced sale, if necessary, to collect amounts due."