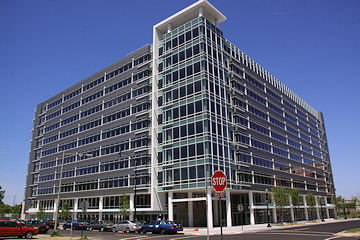 UPDATE:
I tried to hint with my wording down below, but the cat is now out of the bag, as it has been announced that the National Labor Relations Board will be taking 143,000 square feet of space at 1015 Half Street.
Original post:
I don't have official confirmation, so the best I can do is be all cagey and say that word is filtering out that
1015 Half Street
may finally be about to get a tenant for some of its 410,000 square feet, six years after construction started and nearly three years after it was finished. If this pans out, the newcomers wouldn't arrive before next year, since of course there will first be the inevitable labor to build out the tenant space.
I've also got a bit of non-Near Southeast content to pass along, as the Post's Capital Business section is featuring "
A Walking Tour in Pictures: The Final Days of White Flint Mall
," a gallery of photos I took as the go-to shopping destination of my Montgomery County teenage years prepares to close to make way for a 5 million-square-foot mixed-use development. (And because we all know I can't bear to be shackled by space constraints, here's
some additional shots
that didn't make the initial cut.)
This is the second one of these features I've done with Jonathan O'Connell and CapBiz, after my
Buzzard Point photo tour
last fall, and there will probably be more to come from other soon-to-change areas around the Metro area.