Near Southeast DC: Past News Items
riverwalk
Go to Full Blog Archive
---
27 Blog Posts Since 2003
Go to Page:
1
|
2
Photos: Tearing Down, Filling In, Building Out, Building Up
May 27, 2013 9:54 PM
The showiest demolition in the neighborhood in years is coming to an end, and while I haven't been able to document it in the obsessive-compulsive way I would have liked, I did manage to make it to 11th Street this weekend to see the gator tail-like final remnants of the old flyover to the outbound
11th Street Bridges
before it completely comes down.
At the same time, I was able to check out the progress on the filling-in of the sunken eastern portion of the Southeast Freeway to build
Southeast Blvd
., and dang if they haven't already piled the dirt up so that 11th Street is now level with the "land" just to its west.
Needless to say, I had to create
a photo gallery of the remants and the progress
, where you'll also see that work is speeding along on the new flyover to the outbound I-695 bridge.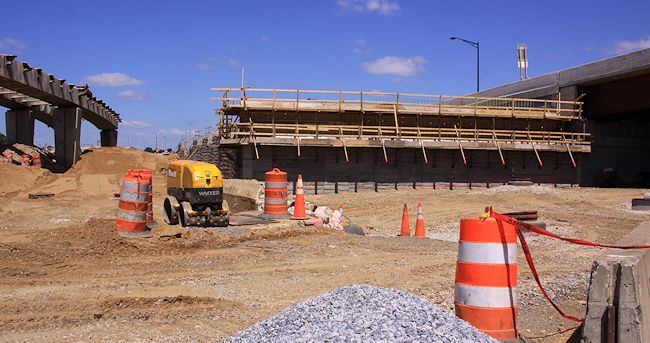 But I wasn't just interested in the tearing down and filling in, so I continued down to O Street, where not only is the 11th Street Local Bridge inching ever closer to getting all of its lanes and pedestrian path opened, but the new asphalt
Anacostia Riverwalk Trail
path to the river has been laid, which also takes you to the spiffy new landing just completed by the riverside. And from that landing you can see the spiffy new overlooks that reach out onto the old bridge piers from the new local bridge. (For the record, I could have easily sidestepped the construction barrels and ventured onto the overlooks, but I am a good little citizen.)
Lots of images of the new trail, the landing, the bridge, and the surroundings are in
a second new photo gallery
.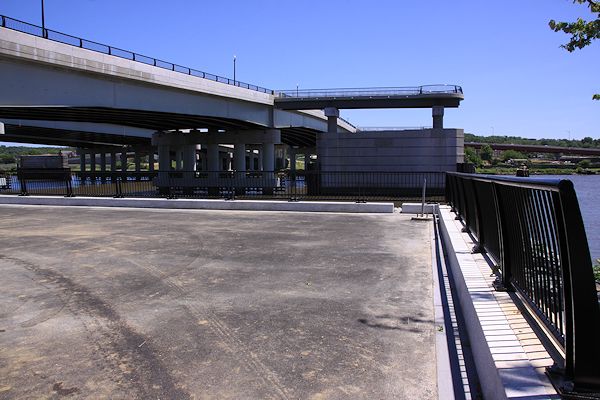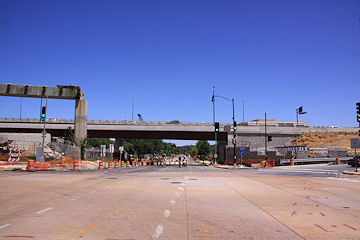 If these
two
galleries
aren't enough, you might take some time to browse my before-and-afters all the way down 11th Street, from the
freeway
to
L
to
M
to
N
to
O
to the
river
, as nearly four years of construction have altered the vistas from a maze of flyovers and embankments to, well, a completely
different
maze of flyovers and embankments. (But the new flyovers are a little lower on the horizon, at least.)
I also checked out the other projects that are in various stages these days, from
Twelve12
to the
Lumber Shed
to the leafed-out and fountain-ed
Canal Park
to the hole in the ground that will be the
Park Chelsea
.
There's new pictures on each of those pages, but I also couldn't help myself and
pulled together a third photo gallery
, with photos from those spots and a few others that were particularly photogenic on a particularly photogenic day. (It even includes my very first visit to the footprint of one of the neighborhood's most central locations. Where might that be?)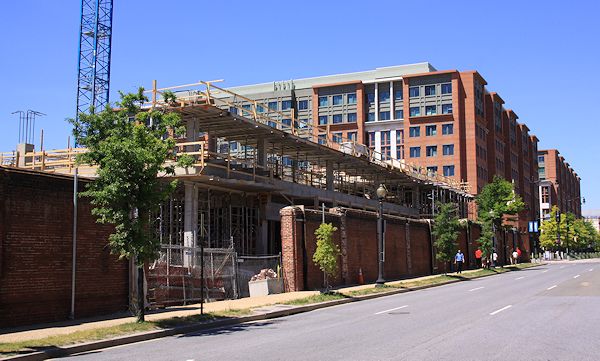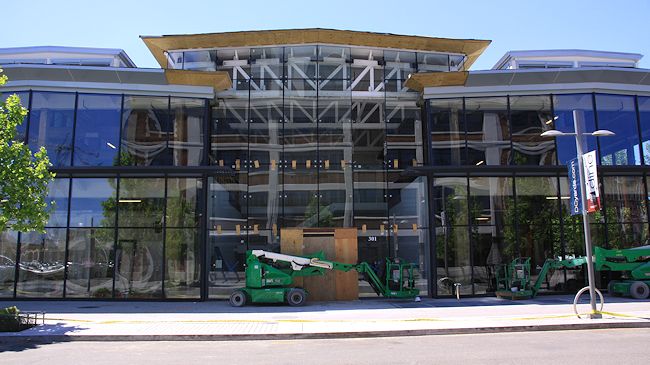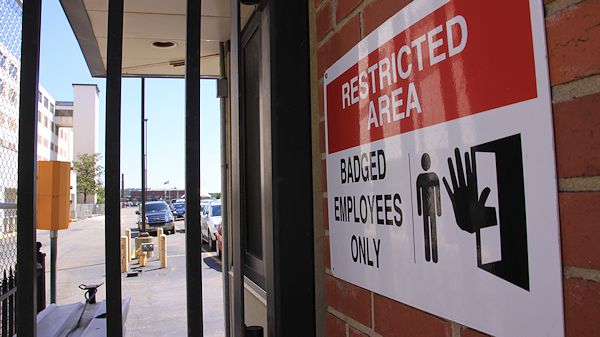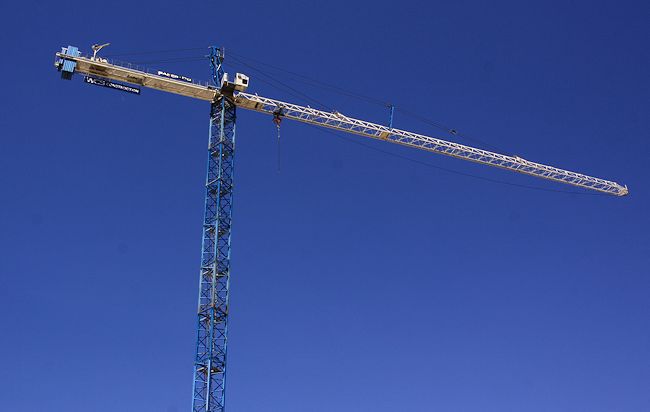 [A postscript: I truly think Sunday was the most perfect day for taking pictures in the 10-plus years I've been wandering the neighborhood, with the achingly clear deep blue sky perfectly matched with the late-May sun strength and positions. I ended up walking more than eight miles in three separate treks, and came home with a smidge more than 1,000 photos, about
300 of which are now in my photo archive
.]
Latest 11th Street Bridges Overlook/Trail Renderings
Mar 19, 2013 3:58 PM
The latest
presentation slides
from last week's
11th Street Bridges
project's Community Communications Committee Meeting have been posted, and a few of them caught my eye (or bought my eye, for you fans of obscure Monty Python references).
TheWashCycle recently posted a photo
of the work underway on the overlooks that are now under construction just down-river of the new local bridge, using the old piers as their bases, and this is what they are expected to look like when completed (click to enlarge):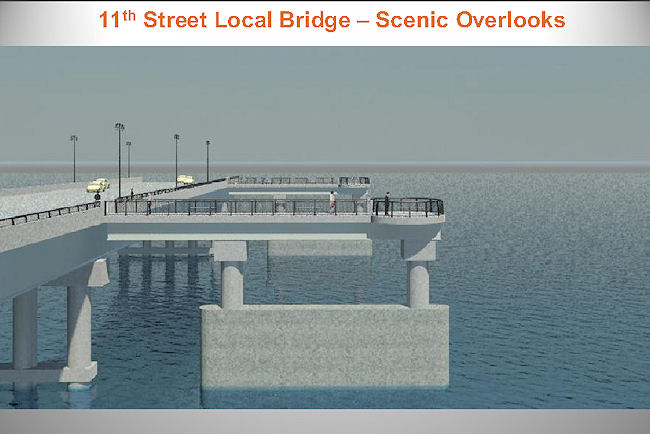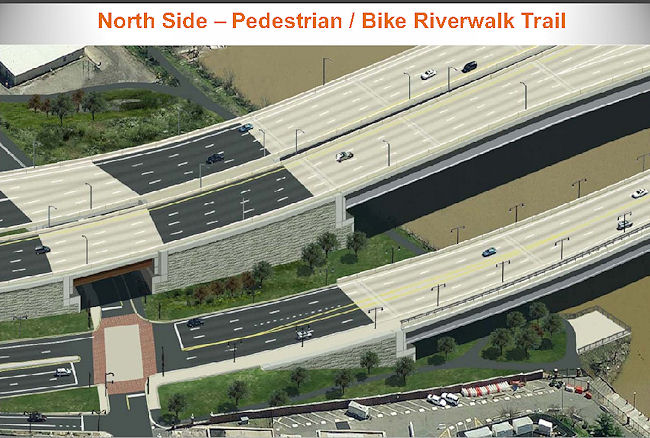 There is also a rendering (seen at right) of how the
Anacostia Riverwalk Trail
will run both under the bridges and down from O Street when finished; it also shows the small overlook that will be built out into the river just to the east of the entrance gate to the Navy Yard Promenade.
WashCycle also got a recent photo
of the path under construction, where you can see the outlines of what the rendering shows is coming.
The
presentation slides
also have some photos of the demolition underway on the old outbound freeway flyover, and aerial photos of the work that's completed and still underway on the east side of the river. There's also, on page 21, an image which looks like they've already almost completed the filling-in of the portion of the Southeast Freeway between 8th and 11th, since it shows dirt almost up to the underside of the existing bridge that takes 11th Street across the sunken freeway between I and L.
What all of this really means is that I need to get back to 11th Street with my camera pretty soon, since
my last batch of photos
is now a bit dated (waaah!).
Retail, Restaurant, and Recreation News (New and Old)
Feb 11, 2013 11:40 AM
A hail of bullets on various retail, restaurant, and recreation-type items, some of which are relatively new, but some of which decidedly aren't:

* The boxing and fitness club
DCBFIT
opened last week in the ground floor of
Capitol Hill Tower
, at the corner of New Jersey and L SE. While their web site makes me tired and sore just looking at it, I'm sure there are plenty of folks who will find this offering intriguing.
* Gordon Biersch,
coming soon
to 1st and M, has
"Now Hiring" signs up
: go to
Work4GB.com
.
* Also hiring, according to commenter JT who passed along
the Craigslist link
, is the Park Tavern at
Canal Park
. The Hill is Home
says that it's opening "very soon,"
even saying "around the 20th of February," but We Shall See.
*
Nando's Peri-Peri now has signage up
at the
Boilermaker Shops
--it's a little more than halfway down Tingey between 3rd and 4th, closer to the Bluejacket end of the building. It's supposed to be
opening this spring
.
* The Navy Yard portion of the
Riverwalk
was supposed to reopen today--anyone give it a shot yet? And, if so, is there any actual trail once you go out the east gate? As I showed a couple of weeks ago, the
old asphalt had been ripped up
as part of the 11th Street Bridges work, though of course it will be back at some point.
* Maybe now is finally a good time to mention the opening of petcare store
Wagtime Too
at 900 M Street, where it has been for a number of weeks now, offering boarding, daycare, grooming and "cool stuff." And I
actually have taken a photo of it
.
* Apparently the Quizno's at 8th and Potomac closed permanently back in December. And Chicken Tortilla at 8th and L was closed when I walked by a few weeks ago, though I don't know the story on that.
Comments
(12)
More posts:
100 M
,
900m
,
biersch
,
Boilermaker Shops/Yards
,
Canal Park
,
Capitol Hill Tower
,
dcbfit
,
Restaurants/Nightlife
,
kruba
,
parktavern
,
Retail
, riverwalk,
wagtime
,
The Yards
Tuesday Tidbits: Bridge and Tunnel (and River) Edition
Jun 5, 2012 4:26 PM
*
The Post writes about
Virginia Avenue residents battling CSX on
tunnel plans
. (The comments section is festive as well.)
* The
Navy Yard alerts folks
that the 11th & O gate to their part of the Riverwalk will be closed for approximately three weeks because of demolition work on the old outbound
11th Street Bridge
. (This means that the Navy Yard Riverwalk itself isn't closed, it just means you can only access it west of 11th Street.)
* Speaking of the old bridge,
City Paper writes
that this demolition doesn't mean the end of the "recreation bridge across the Anacostia" idea, just that it was determined that it would be better to take off the old bridge deck than to try to maintain it while working on the recreation bridge idea, which will still need financial backing even after the design competition is held this fall.
* Speaking of the river, DDOT has launched
AnacostiaWaterfront.org
as a new online home for information on projects along the river, such as the 11th Street Bridges, the planned new South Capitol Street Bridge and associated corridor upgrades, the Riverwalk, and
other projects
.
*
One tidbit unearthed
in the new web site: An environmental assessment is expected to start this fall on reconstructing Barney Circle and transforming the "easternmost dead-end section of the Southeast/Southwest Freeway into a boulevard between the circle and 11th Street, SE."
(As always, follow JDLand on
Twitter
or
Facebook
if you want quicker access to these types of tidbits, most of which I sent out over the past week or so.)
Thursday Tidbits: Keeping 'Em Short Edition
May 31, 2012 1:48 PM
Not quite up for anything other than short takes today:
*
Nationals
: The Nats arrive home tomorrow to a series with the Braves. On Friday, there will be an
attempt to set the world record for the largest all-trombone ensemble
(no, really). Saturday brings Pups in the Park #2 along with the first NatsLive post-game concert, featuring Dierks Bentley. More info on the weekend's promotions and specials
here
.
*
Thursday Movie, Friday Concert
: Tonight's
Outdoor Flick
is Sahara, and the
Friday Evening Concert
at the Yards Park is Carribean Night with Sam'O and JFC.
*
Yard Sale
: Some Capitol Quarter neighbors are having a community yard sale on Saturday, June 2, on I Street between 4th and 5th, from 8 am to noon.
*
Family Day
: Another
Family Day
at the Fairgrounds on Sunday, June 3, from 11 am to 4 pm.
*
Wednesday Music
: I never received any official announcements on this, but apparently the
Wednesday Lunchtime Concert Series
started at the Fairgrounds on May 23, each week from 11:30 am to 1:30 pm through Sept. 5.
*
Who Was This "Tingey"?
: Find out Wednesday June 6 in a
lecture at the National Archives
.
*
Walking Good, Biking Bad
: The
Navy Yard reminds people
that biking is prohibited
on the Navy Yard portion of the
Anacostia Riverwalk
. And the
Tales from the Sharrows blog rebuts
.
*
"Our Parking"
:
Curbside advocacy in action
on K Street.
* Armed Robbery Attempt: From MPD: On Saturday, May 26, at approximately 4:10 am, "while in the 300 Block of K Street, SE, a complainant was approached by a suspect. The suspect brandished a handgun and demanded the complainant's property. No property was obtained. The suspect is described as a black male, 20-25 years of age, wearing a light blue shirt and blue jeans. The suspect was last seen on fleeing on 3rd Place SE." If you have information, call 202-727-9099, or you can text 50411.
Wednesday Tidbits: Osteen, Groundskeeping, and More
Apr 25, 2012 10:09 AM
After the flurry of the past few months, real news is taking a bit of a breather. In the meantime, here's some reading material I've scraped up, so that it doesn't look like I've completely quit working:
* Joel Osteen Ministries' "
America's Night of Hope
" is coming to
Nationals Park
on Saturday--here's the Washington Post's story
on Osteen and the plans for the event
. Doors open at 5:30 pm and the festivities start at 7 pm, if you're wanting to plan your evening around the crowds. If you're coming to the neighborhood for it, my
Visiting Nats Park page
can help you find your way.
* Want to know how the Nats Park field is cared for, and who takes care of it?
The Post profiles head groundskeeper John Turnour
and his work.
*
A reader tells WashCycle
about being stopped from biking on the Navy Yard portion of the
Riverwalk
. That promenade has always been signed as prohibiting bicycling, but with increased publicity for using the Riverwalk as a biking trail (including Tuesday's
ribbon cutting of the new bridge across the CSX tracks
), the issue of bicycles along the
Navy Yard
/
Yards Park
/
Teague
stretch is going to keep bubbling up, perhaps even moreso when the new
11th Street Local bridge
opens soon with its wide pedestrian/cycling paths making the connection between both sides of the river even easier.
* Speaking of that new
11th Street Local bridge
, much streetscape work has been done recently on O Street (new pavement, curbs, and brick paver crosswalks), and it looks like the concrete should be poured before too long to complete the connection from O to where the bridge begins to rise above the river. Maybe I'll actually get over there with my camera soon.
* Speaking of streetscapes, there's
a new sidewalk on L Street
between 1st and New Jersey, to go with the
new sidewalk on Half between I and K
.
* The Capitol Riverfront BID would love it if you'd fill out either their
residential survey
(if you live in the neighborhood) or the
employee survey
if you work here.
* Jonathan O'Connell at WaPo looks at
how developer Opus East hit the skids
, right as it was trying to finish
1015 Half Street
. (Opus was also the developer behind
100 M
, but it was completed before everything truly fell apart.)
* The Mayor is having a Ward 6 Fiscal Year 2013 Budget Town Hall Meeting tonight (April 25) at 6:30 pm at Eastern High School, 1700 East Capitol Street.
* The next meeting of
Police Service Area 106
is on Saturday, April 28, at 10 am at the Capper Seniors building at 900 5th St., SE.
What else is going on?
UPDATE:
Adding a link to
Washington City Paper's profile
of "The Nautical Yards", a "site-specific dance and theater piece inspired by the Washington Navy Yard" being performed at the
Yards Park
Thursday through Saturday (April 26-29) at 7 pm.
Premium seating is $30
, general admission is free.
And I should probably remind that tickets for Springsteen at Nats Park on Sept. 14
go on sale Friday
(April 27) at 10 am.
Photos: Up High at Nationals Park, Looking Out
Apr 19, 2012 10:02 PM
While much of my time on Opening Day each year is spent racing around
getting pictures of the festivities
, it's equally important to me as the first time after a multi-month lull that I can go to the various viewpoints on the upper deck and get updated photographs of how the ballpark's immediate surroundings have changed.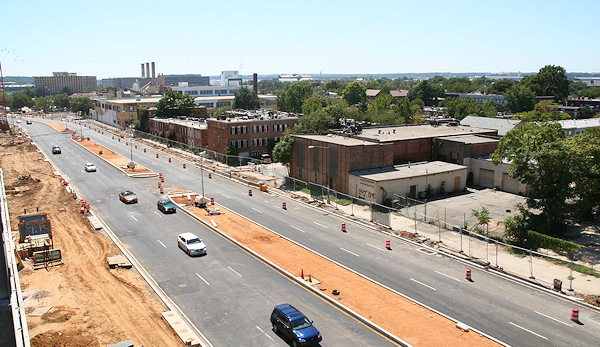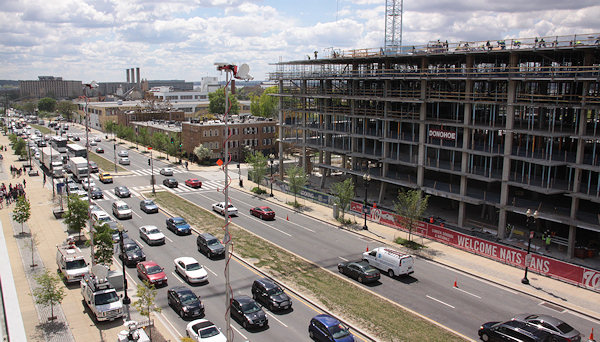 On the ballpark's western side, overlooking South Capitol Street, there's now the
Camden South Capitol apartment building
rising out of the ground, more than four years after the lot was cleared in preparation for construction. While technically this new 244-unit building is outside of my boundaries, I've taken enough photos of the western side of South Capitol Street over the years to maintain
a pseudo-project page
, where you can get the basics on the development and some before-and-afters but where I'm not going overboard in documenting the building's arrival. The photos above were taken from the ballpark's northwest viewing platform, and you can see the
other images I've taken
from that perch since my first visit there in September 2007.
If you want some additional views to the west, I have a
series of before-and-afters
from the small opening at O Street near the elevators, including these looking straight out O: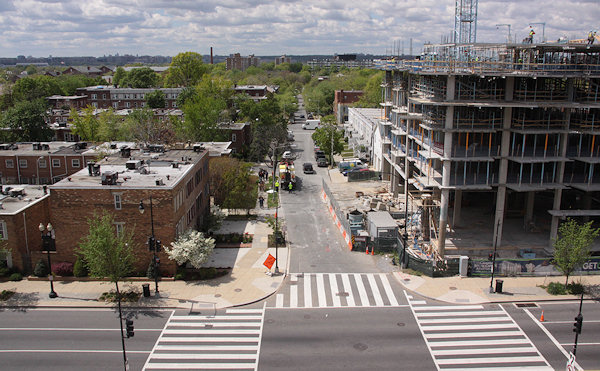 Meanwhile, on the ballpark's south side, there's two changes since last summer worth getting photos of: the completed
Riverwalk
bridge between
Diamond Teague Park
and the
Yards Park
, and the clearing of the
Florida Rock site
. And, since my 2007 "before" shots are from the time that Potomac Avenue and First Street were being reconstructed, and long before the waterfront started getting spiffed up, the transformation is pretty striking, though you can tell that I had my wide-angle lens in 2007 but had to settle for stitched-together images this time: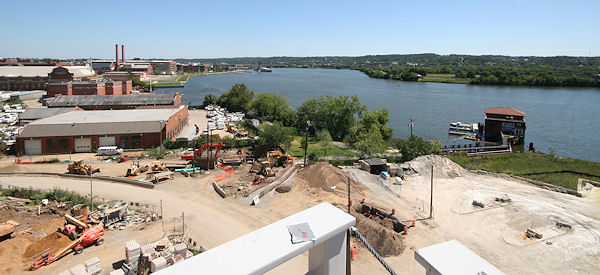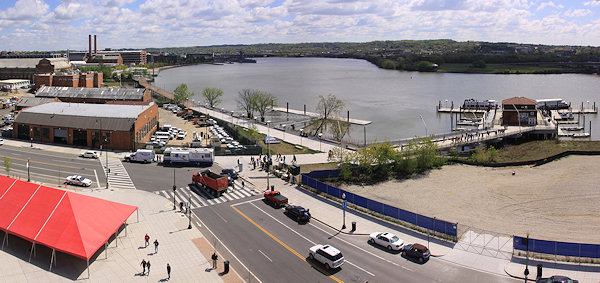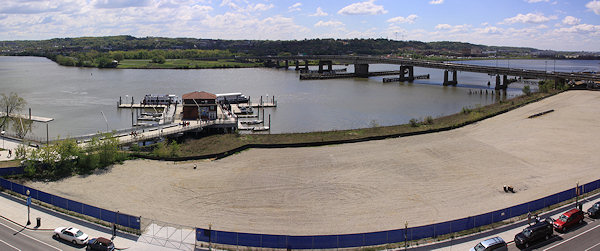 You can browse my many variations of these before-and-after Anacostia River views, both to the
southeast
and to the
southwest
. And, note at the top of these pages the links to other "on high" photographs from various rooftops around the neighborhood.
(PS: Apologies for the site's extended outage on Thursday--a botched move by my hosting company to upgrade the hardware of my shared server resulted in what to you was a nearly seven-hour outage but to me was the equivalent of a couple of ice ages.)
Tuesday Tidbits: Springsteen, Other Events, and Catching Up
Apr 17, 2012 2:25 AM
I didn't really intend to go completely off-grid for a long weekend, but a road trip to and from north Florida didn't leave me much time or energy for blogging. What did I miss?
* I assume everyone's heard by now that
Bruce Springsteen will be playing
at
Nats Park
on Sept. 14. Tickets go on sale on Friday, April 27 at 10 am at
tickets.com
. (If I'm not showing appropriate enthusiasm, I apologize, but Springsteen just hasn't ever really done it for me. I think I was permanently scarred by everyone around me going so crazy for him when I was in college, during the whole Born in the USA era. I just hid in my room and listened to R.E.M., and U2, and the Smiths, and Squeeze, and Elvis Costello, and....)
* The Nats' current homestand continues for the rest of the week, with tonight being the first
$2 Ticket Tuesday
of the season. Then there's
Neighborhood Night
on Thursday, April 19, followed by the season's first
Pups in the Park
game at 1:05 pm Saturday, April 21, and Kids Opening Day at 1:35 pm Sunday, April 22.
* If you're not availing yourself of tonight's $2 Ticket Tuesday, perhaps you might want to check out the Capitol Hill Chamber of Commerce's session on
real estate development in and around Capitol Hill
, which will be focusing on the areas east of South Capitol and south of East Capitol, which includes Near Southeast. Tommy Wells is scheduled to be part of the lineup. It's from 7 to 9 pm at the Meader Theater (NCC's new home) at 535 8th St., SE.
* Saturday, April 21 is
Lantern Making Family Day
at the
Yards Park
, as part of the lineup of events as the Cherry Blossom Festival comes to a close. There are two sessions, at 10 am and noon, followed by a parade/procession through the park.
* It's a bit outside my boundaries, but residents and others may be interested to know that the new
Anacostia Riverwalk Trail Bridge
crossing the railroad tracks just north of Pennsylvania Avenue
will be opening on April 24
.
And, some non-event tidbits:
*
Square 696
, the block bounded by I, K, Half, and First owned by DRI and Jamestown and originally branded as "
The Plaza on K
," is apparently
being relaunched as "Congressional Square,"
though that doesn't seem to have filtered down to any
web
sites
just yet. It's still an 825,000-square-foot office and retail project.
* On Opening Day, I noticed a lot of cars parked in the fenced-off lot on the
southeast corner of 1st and M SE
that belongs to the former National Geospatial Intelligence Agency building. I asked Forest City about it, and they said that they will offer parking in that lot for certain games where big crowds are expected, but aren't planning to make it available for daily use.
* In the 700 block of Virginia Avenue, the Miles Glass building and the auto repair shop next door are no more, but at least they are now permanently enshrined as entries #168 and #169 in the
Demolished Buildings Gallery
. A parking lot is expected to be built for temporary use, while the National Community Church works on its plans for a larger events space on the site.
Navy Yard Riverwalk Opening for Unlimited Public Access April 12
Apr 5, 2012 5:22 PM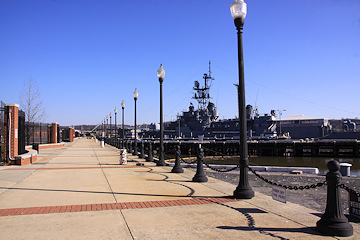 From a press release just sent to me:
"Beginning on Apr. 12, 2012 gates at the east and west end of the waterfront promenade (
Riverwalk
) at the
Washington Navy Yard
(WNY), will open for unlimited public access.
"The gates at both ends of the WNY Riverwalk will remain open for public access from dusk to dawn and will be open as a thoroughfare to facilitate access to the WNY and neighboring areas after sunset. There will be no loitering allowed between the hours of sunset and sunrise and the Riverwalk may close, without notice, to support WNY operations. [...]
"The Display Ship Barry, located along the WNY Riverwalk, will be open to the public with access directly from the Riverwalk during normal operating hours from 9 a.m. to 4 p.m. Monday through Friday and 10 a.m. to 5 p.m. on Saturday."
The release also quotes Naval Support Activity Washington commanding officer Cmdr. David Varner as saying that this is "supporting the community's desire to have a walkable riverfront."
The Navy Yard's portion of the
Anacostia Riverwalk Trail
runs from just next to the
11th Street Bridges
down to the
Yards Park
.
(Note that April 12 is also the day of the Nats' home opener.)
Could Old Outbound 11th Street Span Become Recreation Bridge?
Mar 12, 2012 12:15 PM
Via
TheWashCycle
, the city is apparently looking at the concept of transforming the downstream, soon-to-be-abandoned outbound
11th Street Bridge
into an "
11th Street Recreation Bridge
," calling it an "opportunity for a destination linking river trails and recreation amenities."
This
PDF from the Office of Planning
(interestingly, it has the file name "Constituent Request.pdf") has a couple of concept drawings, some graphs about development in the surrounding areas, and keeps mentioning a "proposed design competition" to generate ideas for how the span could be used after the new 11th Street Local Bridge opens this summer.
There's been back-room chatter for a while that Office of Planning director Harriet Tregoning has been interested in preserving one of the existing bridge spans as a potential "
High Line
" for Washington, DC, and there have also been calls from various residents (including Near Southeast's own
Man About Town David Garber
) to build some sort of pedestrian bridge linking the two shores of the Anacostia River.
WashCycle says
that DPW (? maybe OP?) is holding a meeting on March 28 at 6:30 pm on the concept, though I can't find any press releases or anything about it on dc.gov.
I'll be interested to see how it's proposed to get people up to it from the western shore, given that the approach to the old bridge is supposed to be demolished in order to complete the new 11th Street Local bridge's "arrival" at street level near
11th and O
, and then allowing two-way traffic to run on 11th Street by the Navy Yard.
I'm guessing there will be plenty of chatter about this to come!
A (Virtual) Walk on the Anacostia Riverwalk Trail's Western Side
Mar 7, 2012 9:48 AM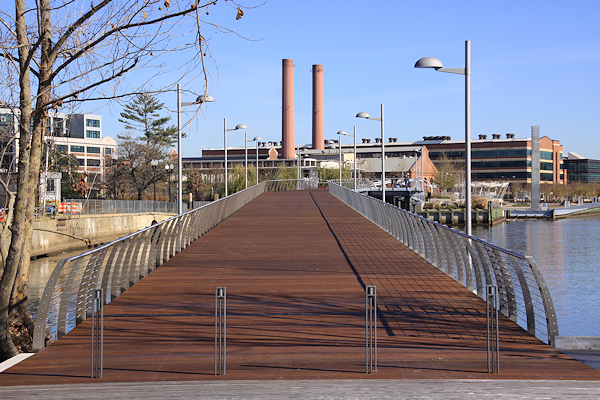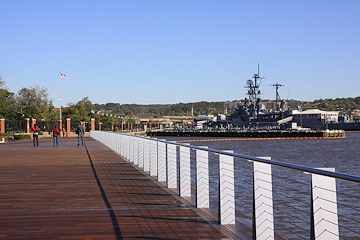 What a gorgeous spring day we appear to have on tap today! Wouldn't it be a lovely day for a nice stroll along a riverfront? Near Southeast, Southwest, and Capitol Hill denizens (plus a lot of the #bikedc crowd) are familiar with the neighborhood's portion of the
Anacostia Riverwalk Trail
, but now that the
bridge
between the
Yards Park
and
Diamond Teague Park
is complete, giving the main portion of the trail a connection to
Nationals Park
, non-residents should get a reminder to experience what is a path unlike any other in Washington.
So I've put together a
new page
covering the
Anacostia Riverwalk Trail (Near Southeast Portion)
that acts as a sort of virtual walk along the river, from 1st Street SE to the 11th Street Bridges and a little beyond. (If I weren't so lazy, I'd take on the entire trail, but maybe later.) There's also a few before-and-afters to remind people of how far the trail has come in a relatively short time.
A lot of the photos on this
new page
may be familiar from my other project pages, but I think it was worth it to give this amenity its own home. And there should be some updates over the next few months as the 11th Street Local bridge is opened and the work begins on the portion of the trail that runs beneath the bridges, not to mention the paths on the new bridge itself that will make for an even easier link to the trail's eastern side that runs through Anacostia Park. And I'll try to get some newer photos of the section from 11th Street to the Sousa Bridge, and perhaps beyond.
In the meantime,
browse the photos
or, even better, get down there and take a walk.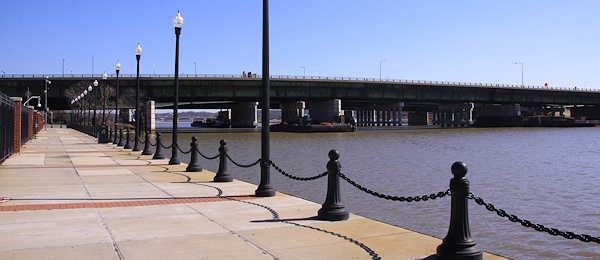 Photos from All Over, Feb. 2012 Edition
Feb 27, 2012 11:34 AM
Take a gorgeous Sunday, add an obsessive-compulsive need to document all the change underway, and what do you get? Nearly eight miles of walking and a shameful number of new photos.
The
Foundry Lofts
building is all but done, with only the retail spaces left to be built out, so I took a bunch of "after" photos that will probably last for a while. But that new Potbelly sign sure stands out! I also pressed my nose against the glass to peek inside the sandwich shop's space--it sure doesn't look far from opening.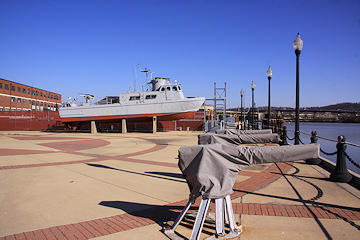 Embarrassingly, I haven't had a camera in hand on the Navy Yard's portion of the Anacostia Riverwalk since 2004. (I'm always worried they're going to toss me in the brig as a security threat, especially after a run-in a few years back where I was chased down by both a gate sentry and the DC police after taking photos of the Hull Street gate from across M Street.) But I pushed forward yesterday and got a bunch of new shots that I've added to my
Navy Yard page
, taking care to demonstrate to the many security cameras that I was photographing the river and not the installation. (Don't miss the especially cool before-and-after of the gate to the Yards Park.)
I will probably be creating a separate Riverwalk page before too long, but not today.
Along 11th Street at
N
and
M
, photos are more notable for what's not there anymore, as the demolition of the embankment for the old outbound RFK ramp is done, and the path of the new ramp from M Street for traffic headed to the outbound
11th Street Bridges
freeway traffic becomes more obvious. Also see
this picture of the work on the 11th Street Local bridge
, showing the demolition of part of the old outbound bridge approach, which has to be done before the new local bridge can hook up with 11th Street. (You can see it as well in my
O Street before-and-afters
, if you figure out what to look for.) Check my
11th Street Bridges photo page
for more images.
Then there's
Canal Park
, where I mainly took some new photos of the pavilion under construction near M Street, since photos of digging and ground work don't quite rise to the level of "interesting." I also hit most of the angles for the
Boilermaker Shops
, as well as for
Capitol Quarter Phase II
, where the security guard expressed concern about my actions (I need a laminated Photography Approved card or something). And I wandered the
225 Virginia/200 I
perimeter.
If you're a glutton for punishment, you can browse the
267 pictures from this trek
that are now in my
Photo Archive
, using the
links to see before-and-afters.
Comments
(5)
More posts:
11th Street Bridges
,
225 Virginia/Old Post Plant/200 I
,
Boilermaker Shops/Yards
,
Canal Park
,
Capper
,
Capitol Quarter
,
Foundry Lofts/Yards
,
Navy Yard
,
photos
, riverwalk,
The Yards
Yards/Teague Bridge: Let's Try This Again (Sunny Day Version)
Nov 25, 2011 12:55 PM
There was no way I was going to let those
gray, rainy photos
from Tuesday's
Yards Park
/
Teague Park
connector bridge opening stand. So,
give these a try instead
:
Yards/Teague Connector Bridge Rainy Opening Day Photos
Nov 22, 2011 3:02 PM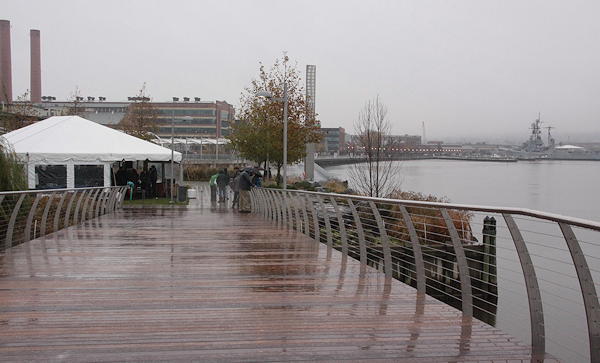 The weather was atrocious, and things got started late (as they so often do when overscheduled politicians are involved), but officials from the city, Forest City Washington, DC Water, and elsewhere gathered at the
Yards Park
today to officially dedicate the 627-foot-long bridge connecting the Yards with
Diamond Teague Park
, which is just across Potomac Avenue from
Nationals Park'
s grand staircase.
I wasn't able to hang around for the actual cutting of the ribbon (check
the Yards' Twitter feed
for a slew of photos of the festivities), but I did
take a gallery of photos
from my first time walking on the bridge, showing the view of the Anacostia riverfront in all of its gray, overcast, rain-spattered splendor. Needless to say, I'll be returning once the sun is out for a replacement set.
This bridge is part of the planned
Anacostia Riverwalk Trail
, which continues to open segment by (not necessarily contiguous) segment.
(One side note: Demolition appears to be underway on the concrete tower at
Florida Rock
, so the new bridge won't seem to be leading directly to that scenic structure for too much longer.)
New Yards Park/Teague Park Bridge Dedication Scheduled for Nov. 22
Nov 7, 2011 3:27 PM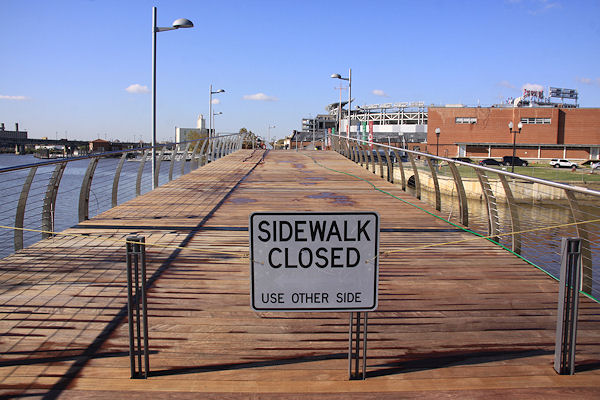 The word is going out that the official dedication of the new pedestrian bridge connecting the
Yards Park
and
Diamond Teague Park
will be held on
Tuesday, Nov. 22, at 1:30 pm
. The mayor is expected to be there, along with George Hawkins of DC Water (since the bridge runs right past the
main pumping station
) and I'm sure a slew of other dignitaries.
This is the bridge that will allow for an easier and more enjoyable stroll between the Yards Park and
Nationals Park
, depositing stadium-goers right across the street from the Grand Staircase/1st Base Gate at 1st Street and Potomac Avenue. And it will also allow water taxi customers disembarking at Teague Piers to get to the Yards Park without having to hike up to Tingey Street and then over a few blocks. (Eventually the Yards Park will have its own marina and water taxi piers, but not for another few years.)
It is part of the
Anacostia Riverwalk Trail
, and eventually will also connect to a larger public plaza adjacent to Teague Park, as part of the easternmost development of the
FloridaRock/RiverFront
project.
Hope they have good weather for the ribbon cutting!
Back from Across the Pond; Lots of Tidbits While I Recover
Jun 8, 2011 9:09 AM
I'm back in DC, having spent
11 wonderful days
in Madrid, Barcelona, and cruising across the Mediterranean to Pisa, Florence, Rome, the coast south of Naples, and Mallorca. Needless to say, while I checked in on the news back home from time to time and tweeted an item or two if the timing was right, I wasn't following developments closely, and I'm pretty out of the blogging groove at this point. So I'm going to start back slowly with some easy items.
*
Redistricting
: The city council voted Tuesday to approve a redistricting map that, as expected, keeps Near Southeast in Ward 6. This continues to make Marion Barry extremely unhappy, and the
Examiner reports
that he'll be "asking U.S. Attorney General Eric Holder to open a Justice Department review of proposed new D.C. ward boundaries because, Barry says, they violate residents' civil rights." There's still a final vote to be had on the plan, probably on June 21. As for the last-minute changes that ended up keeping much of Ward 6 intact (moving Reservation 13 to Ward 7 instead of other areas), you can read
Tommy Wells's blog
for more details.
*
Riverwalk
: The
Navy Yard
announced last week
that its portion of the riverwalk along the Anacostia River, running from the 11th Street Bridges to the
Yards Park
, will now be open from 5:30 am until "official sunset," seven days a week and including holidays; though there will still be closures as needed, which are announced on the
Navy Yard Riverwalk Twitter feed
. (I admit that I got a bit of a kick passing along this news
via Twitter
while riding on a train north of Rome.)
*
DPW Move
: The council passed
emergency technical legislation
on Tuesday that allows
Capper PILOT funds
to be used to build a new location for DPW operations in Northeast, which means that they should be moving from the 2nd and K site this fall (before "leaf season").
*
Ward 6 Family Day
: Tommy Wells's yearly event for Ward 6 residents will be held on
Saturday, June 25
, and will be at the
Yards Park
for the first time. It's from 1 to 5 pm, with "free food, live music, games and activities for the whole family as well as raffles featuring gift certificates from local businesses and sporting memorabilia from the Wizards, DC United and Washington Nationals."
*
ANC 6D
has its next meeting on Monday, June 13, at 7 pm at Arena Stage. The
agenda
is light on Near Southeast items, with only a resolution by David Garber about Near Southeast bike stations and requests by Cornercopia and Harry's Reserve to be exempted from the ban on the sale of "singles."
*
Food Truck Festival
: Bo Blair, the owner of the Bullpens and the organizer of Truckeroo on June 3, said in an e-mail that the event was a "massive, incredible success," with somewhere between 17,000 and 18,000 attendees and "zero problems." The next date for the event will be announced soon.
*
Construction and Destruction
: Construction has stalled on the Little Red Building v2.0 at
2nd and L
, which ANC commissioner Garber
says
is a "building permit issue that is in process of being resolved - construction should start back 'soon.'" Meanwhile, the "re-dressing" of
225 Virginia
is well underway, with the new exterior walls being hung on the north side of the building. And if it hasn't already happened, the
trailer
that was the original sales office for
Capitol Quarter
is being torn down, since construction of townhouses is now underway on that block. (Photos to come, at some point.)
*
The Yards on Facebook/Twitter
: I kind of stumbled across these (never saw any announcement about them), but the
Yards
now has an
official Facebook page
(which is available on
Twitter
, too) along with a separate one for the
Foundry Lofts
(its
Twitter account
is protected, though).
UPDATE:
And, since this just came across Twitter:
Dan Steinberg reports
that Shake Shack and the other new Nats Park restaurants will open next Tuesday, the beginning of the homestand vs. the Cardinals.
Comments
(28)
More posts:
225 Virginia/Old Post Plant/200 I
,
Alcohol/Liquor Licenses
,
ANC News
,
Fairgrounds/Bullpen
,
Capper
,
Capitol Quarter
,
cornercopia
,
Trash Transfer Site/DPW
,
Events
,
Restaurants/Nightlife
,
Foundry Lofts/Yards
,
Harry's Reserve
,
Little Red Bldg/Lot 38 Espresso
,
meetings
,
Navy Yard
,
redistricting
, riverwalk,
JDLand stuff
,
The Yards
Redistricting Latest; Navy Yard Riverwalk Hours; Singles; A Break
May 26, 2011 5:14 PM
A few tidbits going into the holiday weekend:
* Nothing changed for Near Southeast as a result of Thursday's Redistricting Committee meeting, but it certainly wasn't boring. Tommy Wells took some swipes at Jack Evans, Marion Barry threatened to sue, Harry Thomas, Yvette Alexander, and Muriel Bowser talked about the need for unity, and when committee chair Michael Brown refused to recognize Barry for a second round of statements, the two talked over each other for a number of moments while Phil Mendelson and Jack Evans tried to reach Barry's microphone. Finally, while Barry continued to talk, Evans called the motion, they voted to approve the
draft map
that keeps Near Southeast in Ward 6 (with some small changes on the Ward 2/Ward 6 border), the hearing ended, and the microphones were shut off. I don't often suggest council hearings for an On Demand Popcorn Special, but if you have an hour (or want to fast forward to the last 10 minutes), it should be available
on the OCT web site
soon. Here's
DCist's report on the hearing
, along with
Mike DeBonis's pre-hearing post
on the "Jackmandering" that has Tommy Wells unhappy. Next up is the public hearing on June 1 at 6 pm, which should be even more festive.
UPDATE:
No need to wait! TBD has the
video of Barry vs Brown
. And here is
a short Examiner piece
on Barry's lawsuit threat.
* The Washington Navy Yard Riverwalk's Twitter feed
announced yesterday
that, starting on Tuesday, May 31, their gates will open at 5:30 am instead of the current 8 am. The gates will still close at 5 pm, and this is still Monday through Friday (excluding holidays), and the area can still be closed at the WYN's discretion. The
Twitter feed
has been good at announcing when closures are planned. Perhaps this expansion on the beginning the day means that further expansions might someday come down the pike?
* Also on June 1, the ANC 6D Alcohol Beverage Committee will be taking up requests from both Cornercopia and Harry's Reserve for exemptions from the ban on selling "singles." The agenda says that this "will cover exemptions for 25 to 70 ounces of beer, NOT single beers from a six-pack, or miniatures, small pints." The meeting is at King Greenleaf Rec Center at 7 pm. Any recommendation to allow the exemptions would then taken up by the full ANC for approval at its monthly meeting on June 13.
And, with that, I'm going to take a bit of a breather. Between the flurry of high-emotion news items over the past few months, the upcoming holiday weekend, and some stuff on the boards in my "real" life, it's a good time to step back for a little while. I expect to be away from blogging all next week, and maybe a little past that. If really big news breaks (and I mean *really* big), I may try to put something up, but I definitely won't be operating at normal warp speed. I may do some not-very-timely
Tweeting
if I can't bear not to, but I really am going to try to take an actual break. There haven't been many of those in eight-plus years...
In the meantime, feel free to use this spot as an open thread on matters of neighborhood interest. But behave, because I'll still be reading....!
Thursday Tidbits: Bike to Work, New Tweeters, Crawfest, 55 M
May 19, 2011 12:26 PM
A roundup:
* Friday is
Bike to Work Day
, with the
Yards Park
being one of the morning "
pit stops
," from 7 to 9 am. If you're interested in joining in the fun, you need to
register
.
* The
Canal Park
folks have recently begun using their Twitter account,
CanalParkDC
. An update on the park's progress was
tweeted on Wednesday
, though it probably wasn't what park fans want to read: "Rain delays, water in our excavation preventing pouring foundations. Very frustrating!"
* The
Navy Yard
has
created a Twitter feed
for its portion of the Anacostia Riverwalk, to alert people to planned closings. This is in addition to the
web page they've set up
for hours and information about the riverwalk.
(I've added both of these feeds to my
Near Southeast Businesses/Organizations Twitter list
, which displays all the latest tweets in real time on the JDLand home page, for those of you who have remained blissfully outside of the Twitter vortex.)
* Louisiana State Society is having its
Crawfest
at the Yards Park on Sunday (May 22), with 4200 pounds of boiled crawfish, 150 pounds of jambalaya, sausage, corn, and potatoes, Abita beer, Louisiana music, and more. Society members get in for $45 per person, while non-members can pay $55 to attend. (Tickets for children 12 and under are $15.)
*
DDOT says
that its move out of the Reeves Center to Monument Realty's office building at
55 M
is almost complete.
* Speaking of 55 M,
it was named
"Best Urban Office over 150,000 SF" at the NAIOP Maryland/DC 9th Annual Awards of Excellence.
Late Tuesday Tidbits: Ribbon to Be Cut, Ground to Be Broken
May 10, 2011 10:26 PM
Just a few items to catch up on, though they've already been
tweeted
(Twitter really is the best friend of a lazy blogger):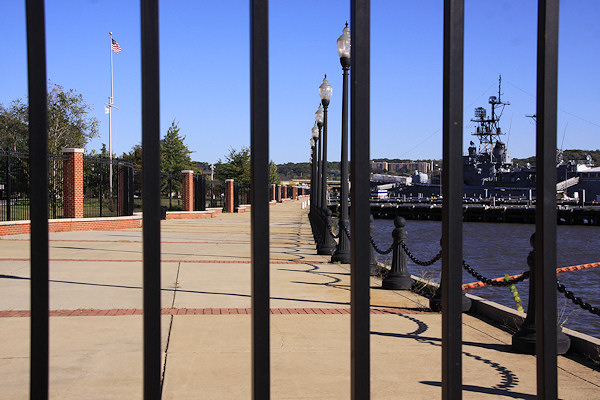 * The
Navy Yard
is having a ceremonial ribbon-cutting for its portion of the Anacostia Riverwalk Trail on Wednesday morning (May 11) at 11 am. It was on April 1 that the
Navy opened this long-completed but long closed off stretch
, which runs from just east of the
11th Street Bridges
to the
Yards Park
, though it is only open from 8 am to 5 pm Monday through Friday (excluding holidays) and is subject to closure if the Navy deems it necessary. (I finally took my first walk on it from the Yards Park and back recently, though I did it close to closing time and was imagining the hilarity that would have ensued if I had gotten locked in.) This ceremony also dovetails with the start of the BID's
Wednesday Lunchtime Concert Series
at the park, at 11:30.
* Will from
just across the way
reports that Camden is
having a ceremonial groundbreaking
on May 17 for
1345 South Capitol Street
, the 276-unit apartment building with ground-floor retail just across from
Nationals Park
that's been on hold since 2008. Though it's on the Southwest side of the DMZ and therefore in Will's territory (as spelled out in our meticulously negotiated Neighboring Blogger Treaty), I probably won't be able to completely prevent myself from taking photos of the progress from time to time, especially since I have a
full set of "befores."
But I'll be leaving the bulk of the coverage work to Will.
* The old fogies who were around in the 2004 to 2006 era might remember that a big part of getting the city council to approve the deal to fund and build
Nationals Park
was the "
Community Benefits Fund
," which would receive additional ballpark tax money and distribute it to libraries, schools, and other neighborhood developments. But
Mike DeBonis reports
that Mayor Gray's FY12 budget has a change that essentially makes the mayor and council decide every year whether the fund's money goes to the neighborhood projects or to "other spending priorities" in the city. Citizen groups are unhappy and council members are, too, DeBonis says.
Navy Yard Opening Their Riverwalk for 'Limited Public Access'
Mar 16, 2011 11:48 AM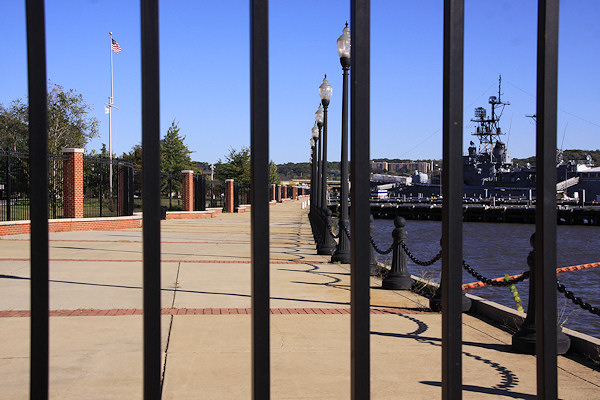 Just released from the Navy:
"Gates at the east and west end of the waterfront promenade (Riverwalk) at the Washington Navy Yard (WNY), will open for limited public access on Apr. 1, 2011. The WNY Riverwalk terminates at the
Yards Park
to the west and 11th Street SE to the east.
"The gates at both ends of the WNY Riverwalk will be open during base working hours, 8:00 a.m. to 5:00 p.m., Monday through Friday excluding Federal Holidays. Exceptions to these operating hours will be made when restricted access is necessary to accomplish Navy operations. The Navy may block or restrict access without notice for safety or operational reasons.
"The Display Ship Barry, located along the WNY Riverwalk, will be open to the public with access directly from the Riverwalk when the Riverwalk is open. The Display Ship Barry and the Navy Museum can be accessed through the WNY during normal hours when the Riverwalk is closed. Holders of valid Department of Defense (DoD) identification cards will be able to enter the WNY via turnstiles along the Riverwalk during operating hours. Access for non-DoD identification card holders will continue to be via the WNY visitors center, located at the intersection of O Street and 11th Street SE."
27 Posts:
Go to Page:
1
|
2