If it weren't pouring rain at my undisclosed vacation location, I'd be leaving these until Monday, but boredom is overtaking me.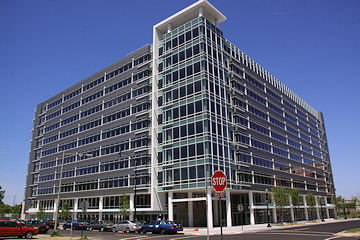 *
MORE NEW NEIGHBORS:
The move of CBS Radio to
1015 Half Street
, rumored in February, is now confirmed, both in my inbox and now
in WBJ
. Mayor Gray is holding a press conference with various officials at the building Monday mornng. The radio folks are taking about 33,000 square feet on the second floor, and WBJ says they "will also lease about 3,000 square feet on the building's ground floor for use as a performance studio to host talent planning to play other venues during tour stops in D.C." (Maybe passersby will get to press their noses up to the glass to see who's there!) CBS Radio will be joining the National Labor Relations Board at 1015 Half, which
announced its lease of 143,000 square feet in January
.
*
MORE BEVERAGES
: Today's DC Register has two notices of alcoholic beverage license applications of note, both at the Yards. One is for
100 Montaditos
, the Spanish small sandwiches restaurant coming to the
Boilermaker Shops
, and
TaKorean
, which will be bringing its Korean-style tacos to
Twelve12
. The apps say that Montaditos will have 74 seats, and TaKorean will have 60 seats, along with a 14-seat sidewalk cafe.
Now I shall return to watching the rain.