Near Southeast DC: Past News Items
Yards/Parcel A/NGA
Go to Full Blog Archive
---
16 Blog Posts Since 2003
Tidbits: Ice Rink Opening Soon, and Other Goings-On
Dec 5, 2013 8:29 PM
While I keep trying to get myself reacquainted with blogging (a process that clearly is not proceeding smoothly), I'm going to cheat and go with some Tidbits lists every so often, so that at least I can feel like I'm getting the spigot working better, even if it's still sputtering. Also, I have to get used to all these events, specials, and activities, which didn't used to be part of the Near Southeast blogging landscape.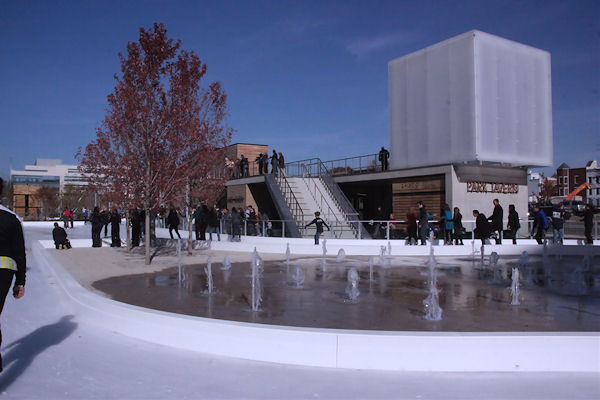 * The BID reports in its latest newsletter that the
Canal Park
ice rink
is scheduled to open on Monday, Dec. 16. And speaking of the park, if you haven't wandered by, you may not know that Christmas trees and wreaths are for sale there this year.
See the market web site for details
.
* On Saturday (Dec. 7), the
11th Street Bridge Park project
is holding two "community design meetings" that will provide an update about the project and break out attendees into smaller groups to work on ideas. A nationwide design competition for the project is expected to be launched early in 2014. The bridge park itself is expected to cost $35 million, which at this point is mostly unfunded. One meeting is at 200 I Street SE from 2 pm to 6 pm (details and RSVP
here
) but there is also
a morning meeting
. (via
DCist
)
*
ArtYards
has the
Chalk a Lot street art event
on Saturday and Sunday (Dec. 7-8) at the NGA parking lot, 1st and M SE. And see also
this Going Out Guide look
at the ArtYards project.
*
Osteria Morini
is now open for lunch, and
here's the menu
. Plus there's
Happy Hour specials now
, too, from 4 to 7 pm Monday through Friday. And Post food critic
Tom Sietsema took a First Bite
there earlier this week.
*
Bluejacket
is going big with
its first New Year's Eve celebration
. For your $160 ticket, you'll get an open bar for all Bluejacket brews, plus a DJ and "passed bites." Then there will be a champagne toast as part of the ceremonial midnight keg drop. (No, seriously.) And Bluejacket/Arsenal is now open for
lunch
, too, and is serving Sunday brunch from 11 to 3, but you probably already know these things.
*
VIDA Fitness
, coming to the
Twelve12 building
at the Yards in 2014, is
now offering membership pre-sales
. Their site says that the Penthouse Pool Club will open on July 1, 2014 and the VIDA Fitness itself on Aug. 25, 2014.
* If you want to look a little farther into the future:
WMATA
has scoped out
the subway alignments it would like to pursue
as part of its 2040 "core configuration" plan. How would you feel about a new Blue and Yellow line under 2nd Street from Union Station, turning west with a station at New Jersey and I before heading to Virginia? (It would also run under M Street NW from Georgetown to New York Avenue.) I can't wait to set out from my retirement home with my brain-embedded camera to take photos of this project.
Temporary Park, Trapeze School Move Sought for 1st and M
Dec 5, 2013 9:59 AM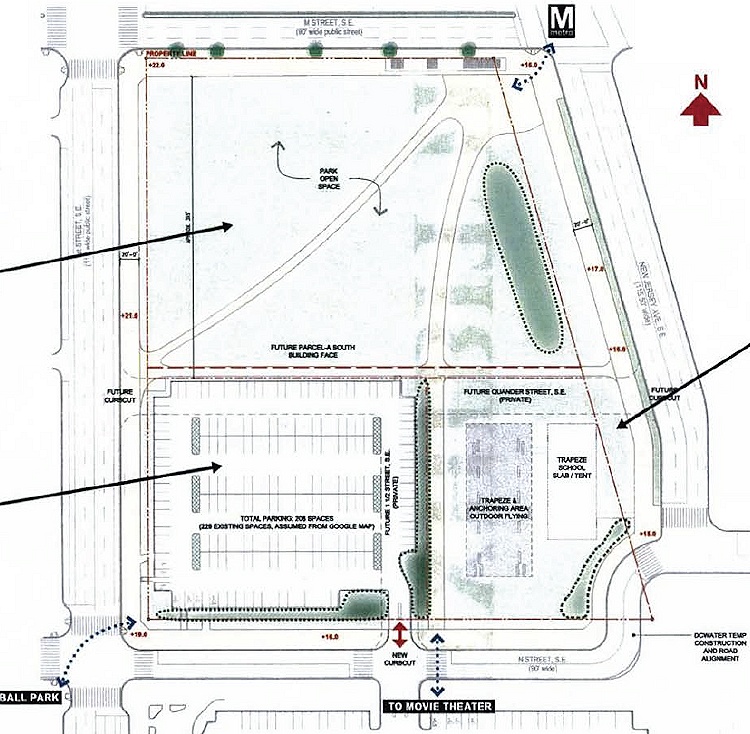 With the currently
be-muraled
former NGA building at 1st and M Street SE expected to be demolished early in 2014, Forest City Washington is making plans for temporary uses for that block while it works on longer-range plans to build office and retail space on the site, which is at the northwest corner of the
Yards
footprint.
To that end, the company has filed a request for the Zoning Commission's approval of a temporary (unfenced!) park/open space along M between New Jersey and 1st, as well as the relocation of the Trapeze School from its current location at 4th and Tingey to the northwest corner of New Jersey and N/Tingey.
There would also remain a parking lot on the site, but it would be shifted to just the southwest corner of the block, and would have 208 spaces instead of the 230 currently there. Access to the lot would be from N Street. (At the same time, because of DC Water's ongoing construction, the parking lot immediately to the south across N would be losing 50 spaces, down to 344.)
As you can (kind of) see in the
site plan
, there would be a path running from northeast to southwest across the park, making for a nice shortcut to the ballpark for fans coming out of the Metro at New Jersey and M. And it would give the four corners of this block a slightly different feel than the current vistas: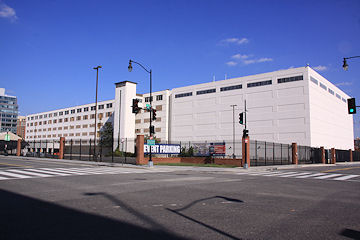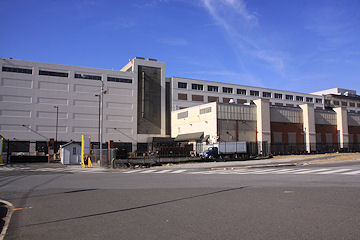 The filing says that the Trapeze School needs to be moved not only because the zoning order allowing it to be on its current site expires at the end of 2014, but also because development is planned for that 4th and Tingey site ("Parcel O") to be completed by 2016/2017. It also says that Parcel H, on the southeast corner of 1st and N where the Yards "tent" display and parking lot is, is expected to be developed beginning in 2015, and that an RFP process is currently underway to select an architect. This would be another residential building with street-level retail.
There is no timeline laid out for when this NGA block is expected to be fully developed, though it's always been expected to be part of the final phase of the Yard's planned 10-to-20-year timeline.
UPDATE:
Speaking of the be-muraled building and the ArtYards project going on at this block, there will be a "Chalk Art Street Festival" at the site this weekend (Dec. 7 and 8). There will be hot chocolate and treats, along with lots of chalk for kids of all ages to create their own masterpieces on the parking lot.
ArtYards Giving the NGA Building a Makeover
Nov 20, 2013 3:35 PM
Covering cultural events is not quite my forte (plus I've got some other stuff going on this week), but since people might wonder why the
former National Geospatial Intelligence Agency building
at 1st and M SE is suddenly awash in color, I'll pass along that it is an "Art Takeover" known as
ArtYardsDC
, running through Dec. 14.
Quoting from the official site (because I really *am* lazy), I can tell you that this project will bring "seven internationally renowned artists to turn the building and its surroundings into a massive, evolving canvas."
It officially started this morning, as many of you might have seen, when 111 gallons of paint were poured down the M Street facade, as you can see
in this photo taken from Gordon Biersch
and all manner of shots in the
Yards Twitter feed
and via the
#artyardsdc hashtag
.
As part of all of this, there is scheduled a two-night "
Silent Disco at the Yards
," this Friday and Saturday (Nov. 22 and 23) at 9 pm on the mezzanine level of the
Boilermaker Shops
. Everyone gets a set of wireless headphones and can choose their music from the three DJs working simultaneously. (You crazy kids and your crazy technology!) There is a $10 cover, which will be donated to BUILD Metro DC. It's a 21-and-over shindig, and there are cash bars.
There will be other numerous events as well, so keep checking the official web site for details.
And maybe I'll actually get down there and get some pictures.
This is all in advance of the NGA building being demolished sometime in early 2014. Which is the event I'm really waiting for!
Update on the Planned Demise of Spooky Building 213
Jun 5, 2013 9:38 PM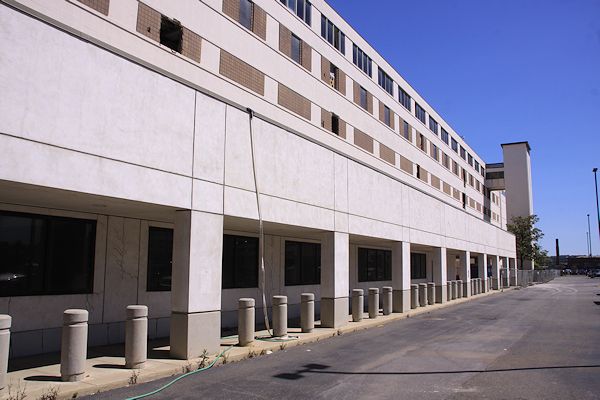 There's a bit of news on one of my favorite buildings to rag on over the years, the all-but-windowless
formerly armed encampment at 1st and M
that housed the National Geospatial Intelligence Agency and other spook-ish groups
over the years
before it was vacated in 2011.
You may have seen the
holes punched into the side of the building
recently, but if you're fearing that any work is a precursor to the brown-and-white structure being salvaged and redeveloped, don't worry your pretty little heads.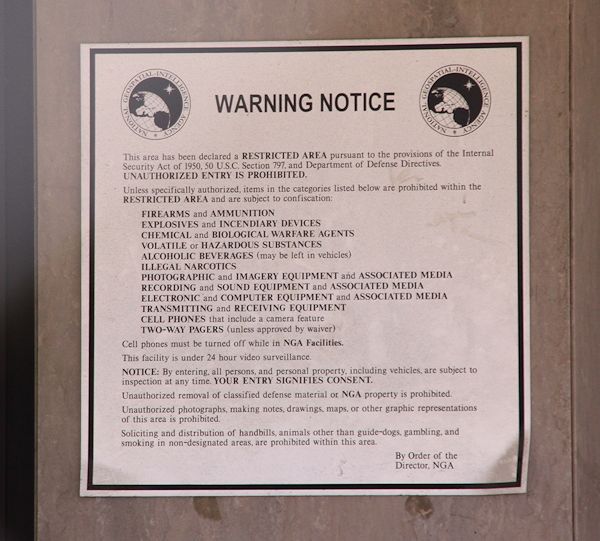 Yards developer
Forest City has passed along word that after the current environmental remediation is finished late this summer, the former Building 213 will then be going off to meet its maker. It will cease to be. Bereft of life, it will rest in peace. (Sorry, I'm a bit punchy tonight.)
Demolition, once started, is expected to take about six months.
As the northwestern edge of the
Yards
, this prime corner spot just northeast of Nats Park will eventually see new construction, most likely an office building.
But that's a good ways off--in the meantime there will continue to be parking on the site, and Forest City is also looking at maybe putting in some grassy areas both as open space and possible special events uses, though their plans aren't firm as yet.
And it also will be a bit different to be able to see well into the Yards when standing at 1st and M instead of looking at the remnants of a cloak and dagger operation.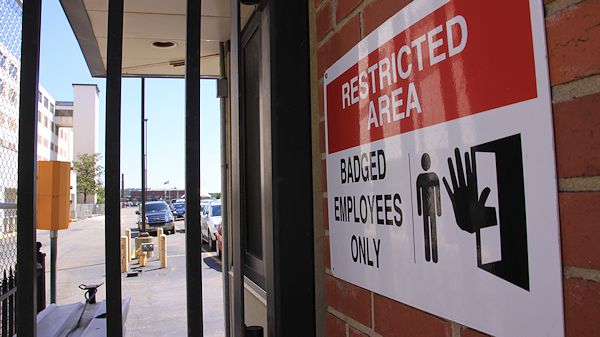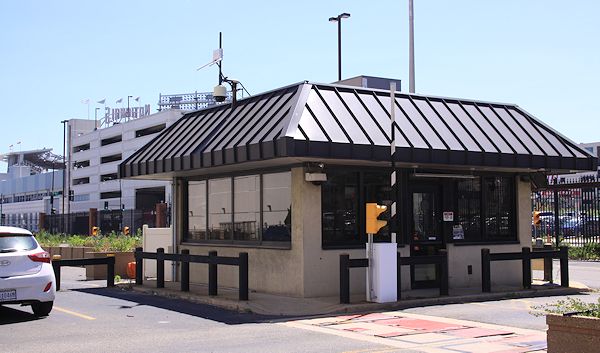 (And, for the record, I'm allowed to be snarky about this place. Back in 2005 the guards there called DC cops to chase me down on 1st Street when I was taking photos in the opposite direction of the building, never having once taken any shots of 213 itself. And I did get tired over the years of seeing them reach for their guns as I walked by their fence with camera in hand.)
Photos: Tearing Down, Filling In, Building Out, Building Up
May 27, 2013 9:54 PM
The showiest demolition in the neighborhood in years is coming to an end, and while I haven't been able to document it in the obsessive-compulsive way I would have liked, I did manage to make it to 11th Street this weekend to see the gator tail-like final remnants of the old flyover to the outbound
11th Street Bridges
before it completely comes down.
At the same time, I was able to check out the progress on the filling-in of the sunken eastern portion of the Southeast Freeway to build
Southeast Blvd
., and dang if they haven't already piled the dirt up so that 11th Street is now level with the "land" just to its west.
Needless to say, I had to create
a photo gallery of the remants and the progress
, where you'll also see that work is speeding along on the new flyover to the outbound I-695 bridge.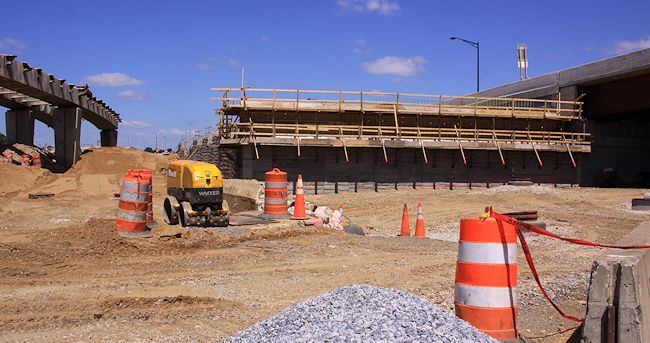 But I wasn't just interested in the tearing down and filling in, so I continued down to O Street, where not only is the 11th Street Local Bridge inching ever closer to getting all of its lanes and pedestrian path opened, but the new asphalt
Anacostia Riverwalk Trail
path to the river has been laid, which also takes you to the spiffy new landing just completed by the riverside. And from that landing you can see the spiffy new overlooks that reach out onto the old bridge piers from the new local bridge. (For the record, I could have easily sidestepped the construction barrels and ventured onto the overlooks, but I am a good little citizen.)
Lots of images of the new trail, the landing, the bridge, and the surroundings are in
a second new photo gallery
.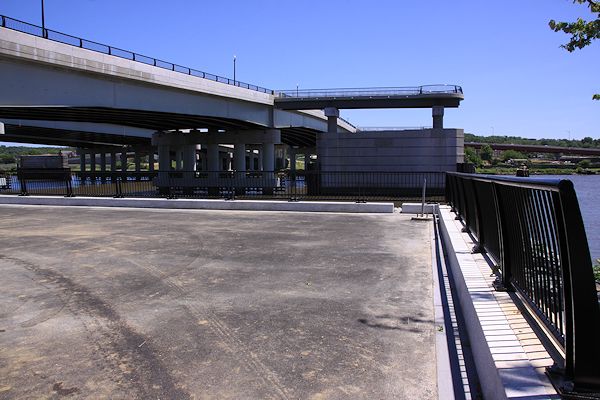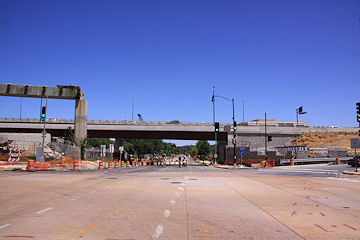 If these
two
galleries
aren't enough, you might take some time to browse my before-and-afters all the way down 11th Street, from the
freeway
to
L
to
M
to
N
to
O
to the
river
, as nearly four years of construction have altered the vistas from a maze of flyovers and embankments to, well, a completely
different
maze of flyovers and embankments. (But the new flyovers are a little lower on the horizon, at least.)
I also checked out the other projects that are in various stages these days, from
Twelve12
to the
Lumber Shed
to the leafed-out and fountain-ed
Canal Park
to the hole in the ground that will be the
Park Chelsea
.
There's new pictures on each of those pages, but I also couldn't help myself and
pulled together a third photo gallery
, with photos from those spots and a few others that were particularly photogenic on a particularly photogenic day. (It even includes my very first visit to the footprint of one of the neighborhood's most central locations. Where might that be?)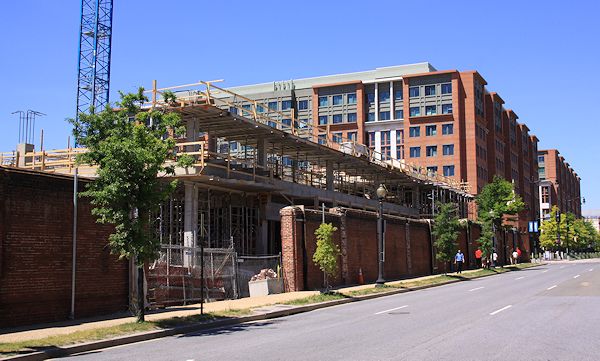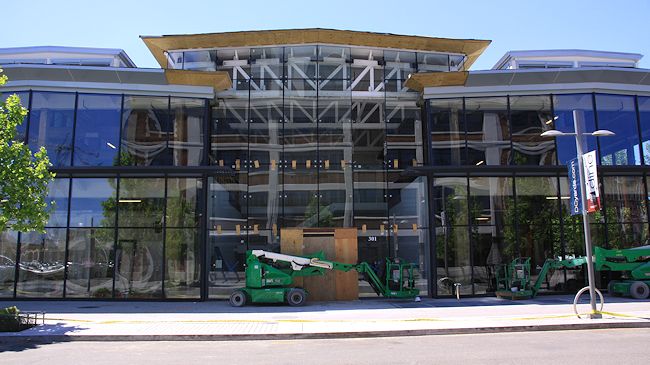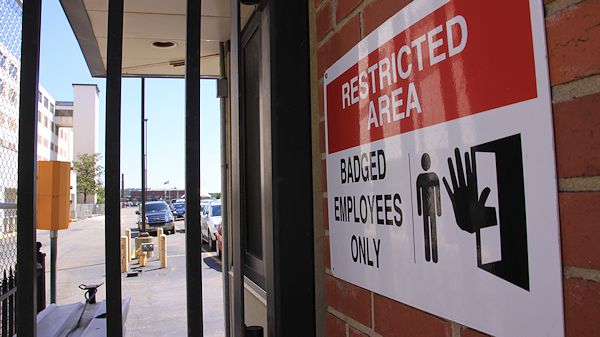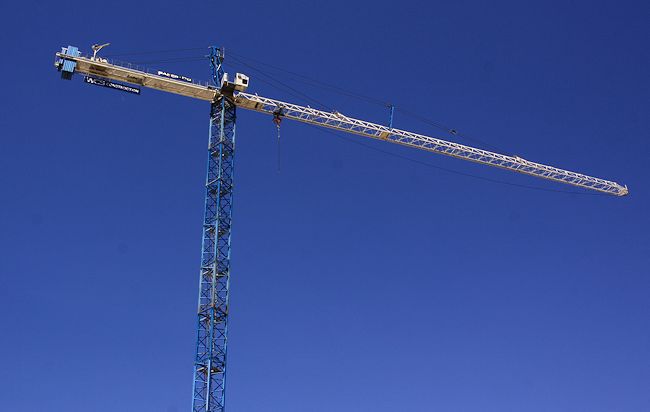 [A postscript: I truly think Sunday was the most perfect day for taking pictures in the 10-plus years I've been wandering the neighborhood, with the achingly clear deep blue sky perfectly matched with the late-May sun strength and positions. I ended up walking more than eight miles in three separate treks, and came home with a smidge more than 1,000 photos, about
300 of which are now in my photo archive
.]
Tuesday Tidbits: Springsteen, Other Events, and Catching Up
Apr 17, 2012 2:25 AM
I didn't really intend to go completely off-grid for a long weekend, but a road trip to and from north Florida didn't leave me much time or energy for blogging. What did I miss?
* I assume everyone's heard by now that
Bruce Springsteen will be playing
at
Nats Park
on Sept. 14. Tickets go on sale on Friday, April 27 at 10 am at
tickets.com
. (If I'm not showing appropriate enthusiasm, I apologize, but Springsteen just hasn't ever really done it for me. I think I was permanently scarred by everyone around me going so crazy for him when I was in college, during the whole Born in the USA era. I just hid in my room and listened to R.E.M., and U2, and the Smiths, and Squeeze, and Elvis Costello, and....)
* The Nats' current homestand continues for the rest of the week, with tonight being the first
$2 Ticket Tuesday
of the season. Then there's
Neighborhood Night
on Thursday, April 19, followed by the season's first
Pups in the Park
game at 1:05 pm Saturday, April 21, and Kids Opening Day at 1:35 pm Sunday, April 22.
* If you're not availing yourself of tonight's $2 Ticket Tuesday, perhaps you might want to check out the Capitol Hill Chamber of Commerce's session on
real estate development in and around Capitol Hill
, which will be focusing on the areas east of South Capitol and south of East Capitol, which includes Near Southeast. Tommy Wells is scheduled to be part of the lineup. It's from 7 to 9 pm at the Meader Theater (NCC's new home) at 535 8th St., SE.
* Saturday, April 21 is
Lantern Making Family Day
at the
Yards Park
, as part of the lineup of events as the Cherry Blossom Festival comes to a close. There are two sessions, at 10 am and noon, followed by a parade/procession through the park.
* It's a bit outside my boundaries, but residents and others may be interested to know that the new
Anacostia Riverwalk Trail Bridge
crossing the railroad tracks just north of Pennsylvania Avenue
will be opening on April 24
.
And, some non-event tidbits:
*
Square 696
, the block bounded by I, K, Half, and First owned by DRI and Jamestown and originally branded as "
The Plaza on K
," is apparently
being relaunched as "Congressional Square,"
though that doesn't seem to have filtered down to any
web
sites
just yet. It's still an 825,000-square-foot office and retail project.
* On Opening Day, I noticed a lot of cars parked in the fenced-off lot on the
southeast corner of 1st and M SE
that belongs to the former National Geospatial Intelligence Agency building. I asked Forest City about it, and they said that they will offer parking in that lot for certain games where big crowds are expected, but aren't planning to make it available for daily use.
* In the 700 block of Virginia Avenue, the Miles Glass building and the auto repair shop next door are no more, but at least they are now permanently enshrined as entries #168 and #169 in the
Demolished Buildings Gallery
. A parking lot is expected to be built for temporary use, while the National Community Church works on its plans for a larger events space on the site.
A Slew of Shots Snapped on a Sunny Saturday Sojourn
Dec 4, 2011 5:24 PM
Yes, it's time for another batch of updated construction photos. This is a tough stretch of year to take these--the sun never gets very high in the sky, so anything facing due south is about impossible to get without glare. And, for places like
Canal Park
, it's hard to even get some locations out of the shadows long enough to get a photo that you can decipher. But you can see (below left, and on the project page) a couple of shots of the progress on the park's pavilion where the
Park Tavern restaurant
will be housed, along with plenty of shots vaguely showing the other ongoing ground-level work. Meanwhile, at
Capitol Quarter
(below right), they continue to just zip right along, with framing now well underway on the north side of L and around up 4th, and prep work for foundations continuing in the project's final block, on the south side of L.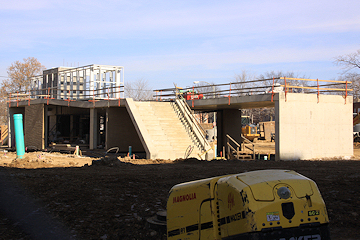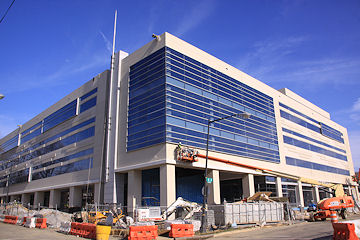 In the Renovation/Rehabilitation portion of the tour, we have a few updated images of the
Boilermaker Shops
(above left), another building that's tough to shoot in winter, even more so when there's not much of it other than steel beams at the moment (though they have recently been painted white). Meanwhile,
225 Virginia/200 I
is coming pretty close to the end of its exterior renovations, though work inside will continue in preparation for the arrival of three DC agencies later this year.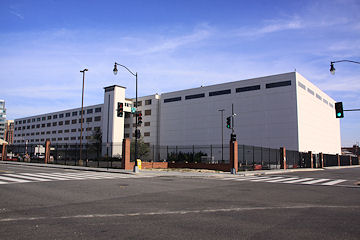 There isn't much new to see of
Lot 38 Espresso
(aka the Little Red Building 2.0, above left), which the grapevine says is now shooting for a mid-December opening. (But, really, at this point, it opens when it opens--the last batch of permits and approvals is always slow going, and I bet the owner wants it open even more than you do.) I also took a bunch of shots of the
former National Geospatial Intelligence Agency building
at 1st and M (above right), not because there's been any changes to it, but because I really enjoyed finally being able to aim a camera at it without having guards reaching for their guns. (Nyaah! Nyaah! Click! Click! Click!)
I came home with 438 new photos (yikes), and you can browse the 180-plus I decided to upload to the
online archive here
. (Yes, it's true, you don't actually get to see every photo I've ever taken. Which is probably for the best.)
Remember to click the
icon to see the entire range of photos for any location, while the project pages linked to above are your best bet if you're looking for paired before-and-afters and/or narrated tours.
And, in case you didn't see
my tweet
or my
late-night update
, the
residential/Teeter project at 4th and M
got all the dotted i's and crossed t's I mentioned in my initial post, and is officially now considered by Forest Ctiy as "commenced." (I just can't call it 1212 4th Street yet. Doesn't really make the location pop as well as "4th and M.")
Artomatic Looking for 2012 Space, Eyeing 1015 Half, 101 M SE
Nov 27, 2011 5:00 PM
Jonathan O'Connell has a piece in Monday's WaPo Capital Business
about Artomatic's search for a 2012 home
, and how the organization wants to replicate the success of
the 2009 version
at the then-vacant
55 M St., SE
: "This year's search is down to about four buildings, two near Nationals Park:
1015 Half St. SE
, an empty 414,000-square-foot building being purchased by Prudential Real Estate Investors; and the former offices of the National Geospatial Intelligence Agency, at
101 M St. SE
. Artomatic also is considering the People's Building in Northeast, and another location in Crystal City."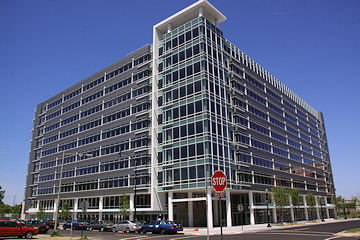 1015 Half Street
(left), on the site of the old Nation nightclub, is currently home to more than 400,000 square feet of Class A office space emptiness right now. The
NGA recently departed
1st and M (right), and while I would love for Artomatic to come to this spot merely for the chance to finally get inside the formerly armed encampment before its inevitable demolition as
The Yards
moves forward, I wonder how excited the organizers would be to have a building with almost no windows, except on the top floor. (I know that 55 M's
large windows and great views
of Nationals Park, Near Southeast, Southwest, and north to the Capitol were a big hit with 2009 Artomatic attendees.)
It was
in December 2008
that word first began to trickle out on the 2009
Artomatic
location, so perhaps the decision one way or the other won't be too long in coming.
Site Closure Ceremony for NGA at 1st and M SE Next Week
Sep 22, 2011 10:03 AM
A little birdie tells me that the
National Geospatial Intelligence Agency
folks are having a "site closure ceremony" sometime next week for their operations on the
southeast corner of 1st and M, SE
. (You know, the place with hardly any windows and the guys out front with guns.) As part of the Base Realignment and Closure (BRAC) process, their operations have moved to
swank new digs
down at Ft. Belvoir.
The closure ceremony is apparently for "cleared personnel only."
This site, officially known as Building 213 from the old Navy Yard/Southeast Federal Center days, is on the footprint of
the Yards
and as expected to be home to an office building someday, but not anytime soon.
In the meantime, maybe that parking lot will become available to the public?
New NGA Campus Done
Sep 16, 2011 10:59 AM
Clark Construction has delivered the new
National Geospatial-Intelligence Agency
campus at Ft. Belvoir, says
CityBiz Real Estate
.
(Not coincidentally, the federally legislated deadline for BRAC moves was yesterday.)
NGA Move From 1st and M to New Springfield Campus Underway
Apr 4, 2011 8:35 AM
It can be hard to get much information when you're dealing with one of the more cloak-and-dagger-y agencies of the US Government, but word is filtering out that the
National Geospatial-Intelligence Agency
has begun the BRAC-mandated move of its employees from the windowless fenced-off building at
1st and M SE
to its $1.7 billion new
Campus East
facility in Springfield.
According to
NextGov
, the first of NGA's 8,500 employees arrived at their new home in January with more continuing to make the move, and I've confirmed that this includes some employees from the Near Southeast location as well as NGA's other locations in Bethesda, Reston, and Ft. Belvoir. The moves are happening in a staggered fashion, working toward the required "fully operational" date of September 15 in Springfield. (You can see construction photos of the new campus
on Flickr
, or learn more about the history of NGA via
Wikipedia
.)
The 1st and M building, known as Building
123
213 in Southeast Federal Center parlance, is the northwestern-most portion of the footprint of
The Yards
, and the long-term plans for the site are for new office space with ground-floor retail. Perhaps once NGA has completed the move there will be a freer flow of information about the site (if the building will be torn down or used for other purposes in the interim, if the fence will come down, etc.). It also is more than likely that there are other somewhat shadowy outfits operating in this space as well, and I'm not sure whether they're heading for even more shadowy pastures elsewhere during this move.
But the departure of NGA is a step toward replacing the armed encampment one block from
Nationals Park
with something a bit more welcoming--and I'm sure the building's security folks aren't terribly unhappy about no longer being surrounded by red-clothed hordes (toting cameras! the horror!) 80 days a year. (I will admit to once starting to point a camera at a few of the guards behind the fence--without coming close to squeezing the shutter--just for the fun of showing the people I was with how quickly the guards would reach for their guns.)
It's not like there's ever been a whole lot of detail about the goings-on on this corner: the Post reported back in 1964 that the CIA moved into the renovated Naval Weapons Plant warehouse in January 1963 with "no announcement, no little ceremony, no welcome-to-the-great-southeast-sector fanfare." There also hadn't been any announcement in November 1961 when the GSA awarded a no-bid contract to get the building renovated.
(Current residents and observers will get a kick out of the Post's 1964 description of the building's surroundings as "liquor stores, run-down shops, a railroad spur, and, right around it, a formidable chain link fence topped by five rows of unfriendly barbed wire," which WaPo said made "the six-story cream-and gray building [...] positively glamorous" in comparison.)
If you look at
this map of the future layout of the Yards
, you can see the 1st-and-M site at upper left, with plans for three buildings and a new east-west street (which
this map
says will be called Quander Street) about halfway down the block, along with the new "1 1/2 Street SE" running north-south from Quander to N Place.
Catching Up the Newcomers: NGA Move
May 10, 2010 12:41 PM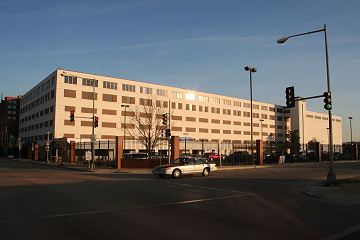 This Post story today
on the plans to move 19,000 defense workers out of the immediate DC area to Ft. Belvoir and to that big honking new building going up at I-95 and Seminary Road gives me an excuse to catch up readers who maybe haven't been reading about Near SE for years and years about the neighborhood's own
BRAC-mandated
move. The
National Geospatial-Intelligence Agency
, which occupies the lovely all-but-windowless building on the southeast corner of First and M, is scheduled to move to
a new campus at Ft. Belvoir
, with a legislated deadline move-in date of Sept. 15, 2011. According to their
FAQ
, NGA will be closing their existing sites (including other ones in Bethesda and Reston) "from late 2010 through 2011." Given how supersecret NGA is, I'm not sure we'll know exactly when they're moving until we see U-Hauls pull up to the back door. (Though if someone wants to
whisper any specifics in my ear
....)
So, at some point over the next 18 months, the operations will be moved out of Near Southeast, at which time the site will become just another section of
The Yards
awaiting redevelopment. (And then I'll be able to take pictures of it without having armed guards yell at me and/or call DC cops to have them question me.) The building and its parking lot are currently slated to become home to office space and retail in the
project's third phase
, the timing of which can probably best be described as "Not Anytime Soon."
Morning Roundup of Recent Little Items
Feb 4, 2009 8:49 AM
A couple small things from the past few days:
* For the second time in eight years,
Capitol Quarter's
EYA has been
named America's Best Builder
by Builder Magazine,
which cited
"its commitment to high-quality design, building in areas featuring life within walking distance, and industry leading results on homebuyer satisfaction and referral sales."
*
From WTOP
, news that the current occupants of the encampment at
First and M
are seeing the tab for their move escalate a touch: "The estimated cost of building a sprawling new complex at Fort Belvoir to house [the
National Geospatial-Intelligence Agency
] and its 8,500-strong work force will be $350 million more than prior estimates, according to a report from government auditors." It's mandated that they have to be moved into their new digs by September 2011, but the GAO report "warned that the agency's small window for delays means that 'any unmitigated disruptions can jeopardize' meeting the 2011 deadline." The price tag is now $2.44 billion.
Last Scheduled Weekday Afternoon Game in 2008; Big Pile of Neglected Recent Items
May 26, 2008 1:36 PM
*
The Post has an article
on how today's Nationals game against the Brewers is the second of only two weekday afternoon games at
Nationals Park
this season. " 'We love afternoon weekday games but had to hold off this year due to the uncertainty about daytime parking availability,' Nationals President Stan Kasten said. 'We'd certainly like to have more next season, but no decisions have been made about '09.' " The article also talks to hookey-playing grownups who miss these games. Given that it's a holiday, and the gorgeous weather, and Sunday's second-highest-of-the-season attendance (35,567), this final weekday game might see a pretty big pile of people.
And, catching up on a recent few links that I've been slow to post:
* Columnist George Solomon
Saturday's Post
has a brief preview of the upcoming
Congressional Bank Baseball Classic
, which will showcase the the first-ever, city-wide high school baseball championship game, at Nationals Park on May 31. Games begin at 9:30 a.m., with private schools St. Albans and Maret meeting, followed by the DCIAA's Wilson High facing McKinley. Tickets are $5, and kids get in free--
read more here
.
*
Dr. Gridlock hears
that using the Capitol South station on the Orange and Blue lines and then walking down New Jersey Avenue to go to games is a great idea. Yes, it certainly is, even if it isn't exactly a news flash. (But use the
JDLand Recommended Route
instead!)
In non-ballpark news:
*
Metro Weekly looks at the planned reopening
of Ziegfield's and Secrets on Half Street SW in Buzzards Point, a few blocks away from their original homes at Half and O SE (now shallow left field).
* The
Naval Historical Center
at the
Navy Yard
takes a bit of a beating in a
piece from Saturday's Post
, comparing it with the shiny new Marine Corps museum at Quantico.
* For those of you counting the moments until the armed encampment at
First and M
departs,
here's a May 14 story
from the Mount Vernon Gazette on the progressing construction at Ft. Belvoir of the new home for the
National Geospatial-Intelligence Agency
. It's expected to be completed by August 2011, with NGA employees from Reston, Bethesda, and the windowless white box on the old Southeast Federal Center
footprint starting to move in early in 2011. Eventually that First-and-M site will be redeveloped as office space as part of
The Yards
.
NGA's New Home Underway
Sep 26, 2007 9:03 AM
Geospatial Agency's New Home
Aug 16, 2007 8:17 AM
It was reported
in Wednesday's Post
that a contract has been awarded to build at Ft. Belvoir the new home of the
National Geospatial-Intelligence Agency
, the super-secret, don't-even-think-of-pointing-that-camera-at-
this-building
agency that currently occupies the windowless white box at First and M. As part of the Base Realignment and Closure (BRAC) plan, NGA must be moved to Ft. Belvoir by Sept. 15, 2011; and they actually have pretty
detailed page about the move
on their web site, if you want to know more. It estimates that workers at what's known as Building 213 at
The Yards
/Southeast Federal Center would be moving in late 2010 and 2011. Once they're gone, that very valuable lot at First and M would be redeveloped as office space as part of the later phases of construction at The Yards, presumably without the high fences and gun-toting guards.