Near Southeast DC: Past News Items
Toll Brothers Lots
Go to Full Blog Archive
---
5 Blog Posts Since 2003
Photos: Morini De-Wrapped, Turret Makeover, New I Street Forming
Nov 11, 2013 11:21 AM
With the news that the window coverings had come off of the
Osteria Morini
space in the
Lumber Shed
, I went racing down there with hopes of pressing my camera up against all that glass to get some photos of the opening-any-minute-now restaurant from Chef Michael White. Alas, I arrived during training, and so was THWARTED (because I'm way too shy to have just gone ahead and taken the up-close shots with 40 people staring at me).
I did get at least a couple of surveillance-type shots from a respectable distance, which
I posted in a new photo gallery
you should check out, but here's a preview:
The restaurant is expected to open next week, perhaps the 19th or the 20th, but at this point we know it will open when it opens.
The
photo gallery
also has a few other fun shots from the other projects currently under construction (residential buildings
Twelve12
,
Park Chelsea
and Toll Brothers's
River Parc
), such as the turret at 4th and M getting quite a makeover: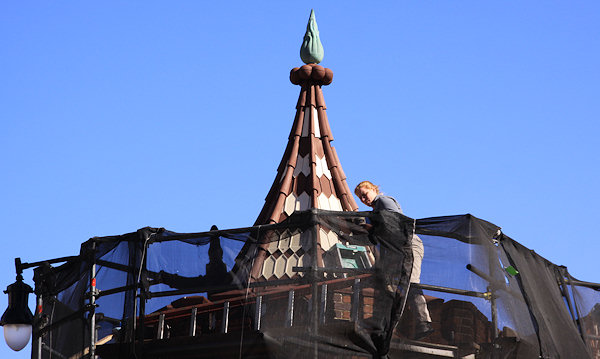 Plus, the
Park Chelsea
has gotten new signage, but more interesting is the outlines now forming of the new stretch of I Street that will run between 2nd and New Jersey when it opens (probably not any sooner than spring 2014):
But just go ahead and
check out the full gallery
.
Also, while they aren't terribly showy just yet, I have built two more of what I call my
Expanded Photo Archives
for both the
Park Chelsea
and
River Parc
projects, to bring together more before-and-afters from a wider/farther array of angles than I usually display on the project pages. (Yep, I'm partying like it's 2007.)
Toll Brothers Apartment Building Quickly Out of the Gate
Oct 27, 2013 2:41 PM
At
1st and K SE
, the neighborhood is getting a great demonstration of how quickly a just-started apartment building project can pop into view if the below-ground infrastructure is already completed.
Toll Brothers
bought the site
from the Cohen Companies last year, and because Cohen had originally planned a sister building to
Velocity
on the lot, it had gone ahead and built the garage and other underground necessities at the same time Velocity was built in 2007. But then, well, Phase 2 never actually happened, and the covered garage remained a
Tetris-like landscape
until Toll came along.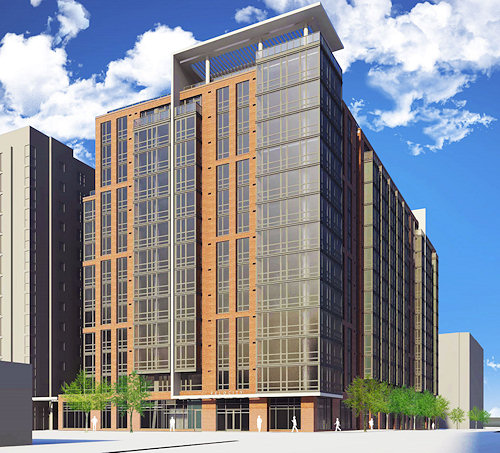 It was at the end of last month that nearby residents started seeing the
first hints of work
at the site, and now a few weeks later the ground floor of the building is already up, as you can see.
Toll is keeping details about the building pretty close to its vest--unless you're a Velocity resident. That group received a briefing in September and was told that the building will be called River Parc, will have 277 rental units, no retail, and is expected to start leasing next fall with completion in spring 2015.
And Velocity residents were even
shown a rendering
of the new building (thanks to
Jake
for grabbing a pic of the poster board, which I've straightened out a bit--
UPDATE:
and see below for two more).
This stretch of 1st Street between K and L used to be made up of small auto-related businesses, with the buildings facing K having a bit more tawdry offerings, such as the "In & Out Video 'and so much more'". All were demolished in Spring 2007, and now the vista looks a little different, not only on this block but elsewhere: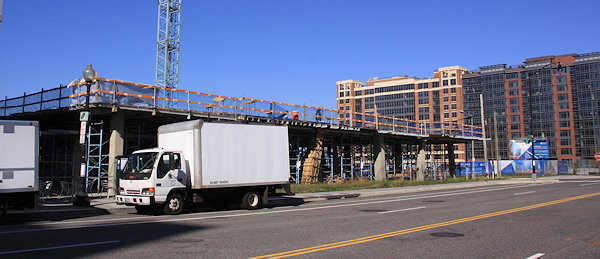 Catching Up on Photos - Toll Brothers
Sep 29, 2013 4:01 PM
Some work appears to be underway on the
southwest corner of 1st and K
, where Toll Brothers now has building permits for a 13-story, 250ish-unit apartment building. The Tetris-like boxes that have covered rebar and other infrastructure since work was completed on Velocity and the accompanying garage under what's now the Toll site are being removed:
This will allow Toll to begin work on their building more or less at ground level, rather than spending months on excavation and below-ground construction.
See more photos and information about the project
here
.
Toll Brothers Buys Second Square 699N Lot From Cohen
Oct 31, 2012 12:10 PM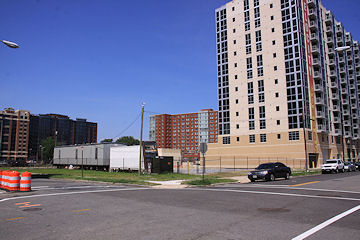 DC property records show that on Oct. 1, "Toll DC LP" paid $14.5 million to the Cohen Companies for the final empty lot on the
Square 699N
/Velocity block, running along the east side of Half Street SE between K and L, across from
1015 Half Street
.
With
Toll's $24 million purchase back in May
of the 1st and K portion of the same square with plans to build a 250ish-unit residential building, this now gives the company a second toe-hold inside the District, both on the same block.
There are rumors that the 1st and K site could see construction start in the spring, but there have been no announcements. (And I can't really even say "wait to watch for digging," since on that 1st and K site the garage and underground infrastructure was already dug and completed when the Cohen companies built
Velocity
.)
Toll Brothers Buys Velocity Sibling Site, Will Build Residential
May 2, 2012 11:08 AM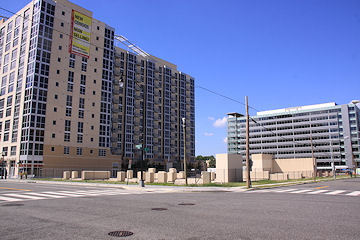 I've learned today that mega-developer
Toll Brothers
has purchased the Square 699N land directly north of the
Velocity Condos
building on 1st Street SE for $24 million, with the intention of building a 250ish-unit residential building.
This land has been owned by the Cohen Companies since their
purchase of the entire block
bounded by 1st, Half, K, and L in 2005.
In fact, the garage and below-grade structure for the Toll Brothers lot is already built--that's why you see all the funny beige boxes on the land, covering vent shafts and other infrastructure items. Cohen had planned to move forward with a sibling for Velocity soon after it completed the condo building, but that never came to fruition.
This would be Toll Brothers's first building in DC proper, I believe, but
they have plenty of offerings in the Metro area
. And, as I found out today, they don't just do single-family homes (
White Flint Station
is an example of a condo building of theirs in the area).
UPDATE:
SWill from across the way mentions in the comments that TB bought White Flint Station after it was completed and converted it to condos from apartments. Apologies for the assumption.
More to come on this, I'm sure. And it will no doubt be seen as another indication of the strength of Near Southeast's residential market.
[And I should add that Cohen still owns the third lot on the block, along Half Street.]