Near Southeast DC: Past News Items
Toll Brothers Lots
Go to Full Blog Archive
---
7 Blog Posts Since 2003
Finally, the weather and the calendar cooperated, and I spent Saturday taking a slew of photos around the neighborhood. To whit:
*
HAMPTON INN
: I can report that dirt is indeed being moved (if not necessary removed) from the site of the
Hampton Inn
on the northwest corner of 1st and N. This is the L-shaped hotel that will wrap around a planned two-story retail building right on the corner (which is not yet under construction). But, in case you weren't around pre-2008 and want to know what this hotel is "displacing," I give to you a peek at the hotel's N Street and 1st Street frontages in their previous lives: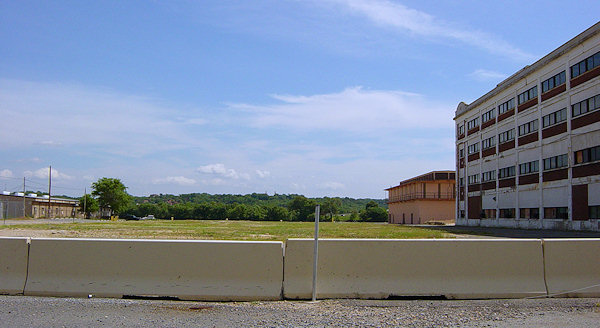 *
YARDS/PARCEL N
: Men in hard hats operating heavy equipment are now found on most of the block where
Forest City's next residential project
is planned, south of Tingey and west of 4th. The
new photos
aren't really all that interesting other than as another tick on the historical timeline, so how about a shot of what the
Parcel N lot looked like in 2004
(right), before any of the work on The Yards began.
*
PARC/PARK:
Toll Brothers's
River Parc
apartment building at 1st and K is almost topped out (below left). A couple blocks away, WC Smith's
Park Chelsea
has reached the halfway point of its vertical construction (below right).
* ST. MATTHEWS: While all sorts of newness is erupting around the neighborhood, there is one farewell worth noting, as St. Matthew's Baptist Church as New Jersey and L has left the neighborhood that had been its home since 1905 and the building that had been its home since 1972. Compare how it looked in 2006 (left) to today (right):
This site is part of the footprint for Donohoe's
1111 New Jersey apartment building
, and with a raze permit application filed, this corner will probably be emptied before too many months go by. The church has found temporary quarters in Ft. Washington as it looks for a new permanent home.
Comments
(0)
More posts:
1111 New Jersey
,
880 NJ/Park Chelsea
,
hamptoninn
,
parkchelsea
,
photos
,
Square 701
,
WC Smith/Square 737
,
stmatthews
, Toll Brothers Lots,
The Yards
,
yardsparceln
After not having a new high-rise residential project under construction in the neighborhood since spring 2009, it's sort of amazing to realize there are now three such buildings up out of the ground, with more than 900 new rental units in the pipeline for delivery within the next year to eighteen months. (And there could be another 650 units added to tally if both the
Yards/Parcel N
and
800 New Jersey/Whole Foods
projects get going as expected in the coming months.)
The farthest along is the
Twelve12
building at 4th and M, SE, at the Yards, which has its two residential towers topped out and its Harris Teeter space glassed in. Plus, it is also now seeing the
glass being hung
on the Vida Fitness/retail area at 4th and Tingey:
It will have 218 units, and the first move-ins are expected to happen by mid-year. This project is also where Sweetgreen and TaKorean will be located.
Meanwhile, the Toll Brothers building dubbed
River Parc
is racing right along, with five-plus of its 13 stories completed, helping to make the southwest corner of 1st and K look a teensy bit different than it did seven years ago: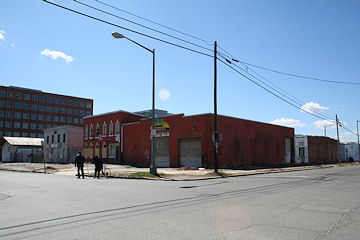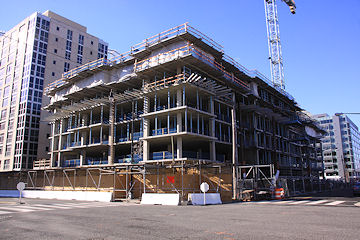 This building will have 277 units, and is expected to begin leasing toward the end of 2014.
And up near the freeway, at New Jersey and I, the
Park Chelsea
is moving along, though the vertical progress of this 433-unit building is a bit slower than its smaller brethren. But as of now neighborhood eyes are probably more fixed on the completed paving of the new block of I Street between 2nd and New Jersey, though when the street will actually open to the public is not being trumpeted. (Spring 2014? Late 2014? We shall see!)
I think that, of the three, the Park Chelsea will have the biggest impact on the neighborhood skyline, both from on the ground (as you can now start to see in the various vantage points in the project's
expanded before-and-after archive
) as well as when looking into Near Southeast from the freeway. (And then it won't be too long until the Chelsea's sibling 800 New Jersey sneaks in just to its north and tweaks the views even further.). The downside is that a lot of views of the Capitol dome from Canal Park and Capitol Hill Tower are going to be lost to progress....
For more information/renderings for each project, and for more photos showing how these construction sites looked before work got underway, check out the
Twelve12
,
River Parc
, and
Park Chelsea
project pages. And join in with me in looking forward to the days starting to get longer, so that I can stop having to deal with the rotten winter sun angle and shadows.
With the news that the window coverings had come off of the
Osteria Morini
space in the
Lumber Shed
, I went racing down there with hopes of pressing my camera up against all that glass to get some photos of the opening-any-minute-now restaurant from Chef Michael White. Alas, I arrived during training, and so was THWARTED (because I'm way too shy to have just gone ahead and taken the up-close shots with 40 people staring at me).
The restaurant is expected to open next week, perhaps the 19th or the 20th, but at this point we know it will open when it opens.
At
1st and K SE
, the neighborhood is getting a great demonstration of how quickly a just-started apartment building project can pop into view if the below-ground infrastructure is already completed.
Toll Brothers
bought the site
from the Cohen Companies last year, and because Cohen had originally planned a sister building to
Velocity
on the lot, it had gone ahead and built the garage and other underground necessities at the same time Velocity was built in 2007. But then, well, Phase 2 never actually happened, and the covered garage remained a
Tetris-like landscape
until Toll came along.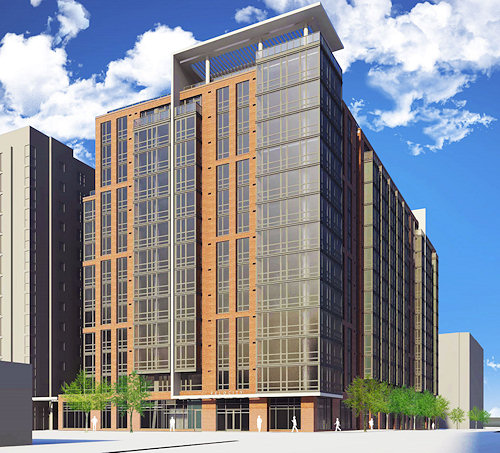 It was at the end of last month that nearby residents started seeing the
first hints of work
at the site, and now a few weeks later the ground floor of the building is already up, as you can see.
Toll is keeping details about the building pretty close to its vest--unless you're a Velocity resident. That group received a briefing in September and was told that the building will be called River Parc, will have 277 rental units, no retail, and is expected to start leasing next fall with completion in spring 2015.
And Velocity residents were even
shown a rendering
of the new building (thanks to
Jake
for grabbing a pic of the poster board, which I've straightened out a bit--
UPDATE:
and see below for two more).
This stretch of 1st Street between K and L used to be made up of small auto-related businesses, with the buildings facing K having a bit more tawdry offerings, such as the "In & Out Video 'and so much more'". All were demolished in Spring 2007, and now the vista looks a little different, not only on this block but elsewhere: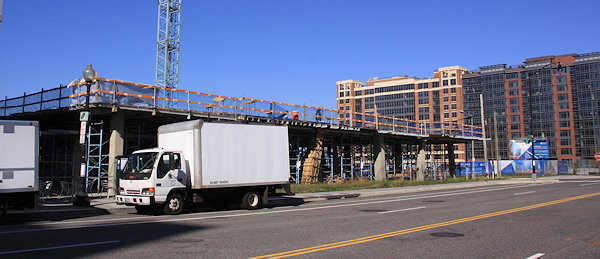 UPDATE: And now two additional renderings have fallen into my hands, showing the view that the Velocity folks will see across the courtyard (left), and the view coming up 1st Street from L (right):
Some work appears to be underway on the
southwest corner of 1st and K
, where Toll Brothers now has building permits for a 13-story, 250ish-unit apartment building. The Tetris-like boxes that have covered rebar and other infrastructure since work was completed on Velocity and the accompanying garage under what's now the Toll site are being removed:
This will allow Toll to begin work on their building more or less at ground level, rather than spending months on excavation and below-ground construction.
See more photos and information about the project
here
.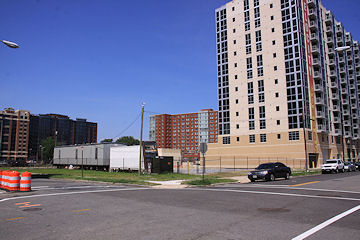 DC property records show that on Oct. 1, "Toll DC LP" paid $14.5 million to the Cohen Companies for the final empty lot on the
Square 699N
/Velocity block, running along the east side of Half Street SE between K and L, across from
1015 Half Street
.
With
Toll's $24 million purchase back in May
of the 1st and K portion of the same square with plans to build a 250ish-unit residential building, this now gives the company a second toe-hold inside the District, both on the same block.
There are rumors that the 1st and K site could see construction start in the spring, but there have been no announcements. (And I can't really even say "wait to watch for digging," since on that 1st and K site the garage and underground infrastructure was already dug and completed when the Cohen companies built
Velocity
.)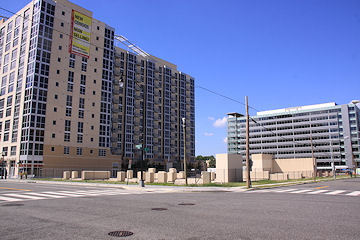 I've learned today that mega-developer
Toll Brothers
has purchased the Square 699N land directly north of the
Velocity Condos
building on 1st Street SE for $24 million, with the intention of building a 250ish-unit residential building.
In fact, the garage and below-grade structure for the Toll Brothers lot is already built--that's why you see all the funny beige boxes on the land, covering vent shafts and other infrastructure items. Cohen had planned to move forward with a sibling for Velocity soon after it completed the condo building, but that never came to fruition.
This would be Toll Brothers's first building in DC proper, I believe, but
they have plenty of offerings in the Metro area
. And, as I found out today, they don't just do single-family homes (
White Flint Station
is an example of a condo building of theirs in the area).
UPDATE:
SWill from across the way mentions in the comments that TB bought White Flint Station after it was completed and converted it to condos from apartments. Apologies for the assumption.
More to come on this, I'm sure. And it will no doubt be seen as another indication of the strength of Near Southeast's residential market.
[And I should add that Cohen still owns the third lot on the block, along Half Street.]