Near Southeast DC: Past News Items
800 NJ/Square 737
Go to Full Blog Archive
---
5 Blog Posts Since 2003
Whole Foods Makes it Official; Updated Rendering
Oct 23, 2013 8:48 AM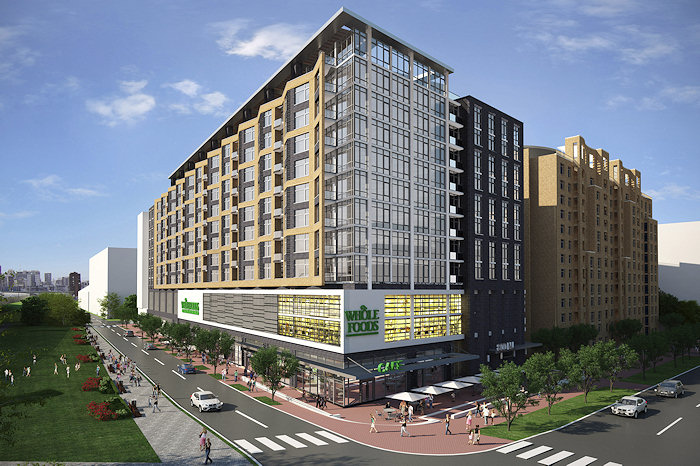 I guess Whole Foods figured that waiting another month for an official announcement after yesterday's flurry of news was a little unnecessary, because this morning there is an official release--and a new rendering, with all the appropriate signage (
click to embiggen
). The under-construction
Park Chelsea
is visible to the right, so this view is of the corner of New Jersey and H.
The William C. Smith release:
"Washington, DC - Developer WC Smith has signed Whole Foods Market to anchor the retail portion of its $443 million development in the District's Capitol Riverfront neighborhood. The 36,000 square foot store will be located on the first floor of the second of three residential buildings the company has in development on New Jersey Avenue SE, two blocks from the Navy Yard Metro station.
"'We are delighted to welcome Whole Foods to the Capitol Riverfront neighborhood,' said Chris Smith, chairman and CEO of WC Smith. 'Their dedication to healthy living and commitment to community dovetails with our mission of creating green, sustainable communities for residents of the District of Columbia.'
"The first component of the new development, a 432-unit luxury apartment building known as
Park Chelsea
, is currently under construction with a projected fall 2014 delivery date. Construction on the
second building
is scheduled to begin early in 2014, with a 2017 opening of the Whole Foods Market and delivery of 336 residential units. The residential units will offer 10 foot ceilings and a commanding view of the Capitol and the monumental skyline. Completion of the third Class A residential building will bring the unit total to over 1,100 for the development.
"All of the buildings will provide on-site parking and will be highly amenitized with club rooms, rooftop pools, and exercise facilities. Additionally, each site will offer a unique amenity space for use by residents of all three buildings. Those amenities include an indoor lap pool, an all-purpose gymnasium, a demonstration kitchen, and a 15,000 square foot courtyard. The development is within walking distance of both the Navy Yard and Capitol South Metro stations and adjacent to newly created Canal Park with water features, ice skating rink, public art, programmed activities, and Park Tavern restaurant."
UPDATE:
The separate joint release with Whole Foods is a little long to cut-and-paste, but there's this quote:
"'Washingtonians asked and we listened," said Scott Allshouse, Whole Foods Market Mid-Atlantic regional president. "People who live and work in Southeast have been requesting a Whole Foods Market for some time. We are thrilled about finding the right fit given the combination of factors that go into deciding on a new location.'"
Whole Foods Signs Lease for 800 New Jersey Avenue
Oct 22, 2013 9:55 AM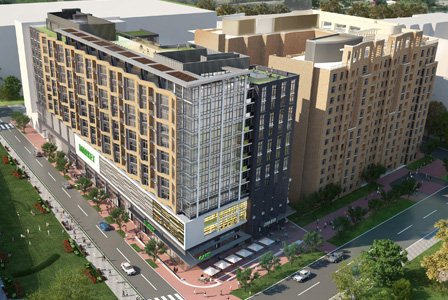 A mere 11 years after the notion was first floated, there is apparently finally
a signed contract
to bring a Whole Foods grocery store to
800 New Jersey Avenue SE
. Though the chain isn't expected to make an official announcement until next month, a representative of WC Smith told Monday night's ANC 6D meeting of the news.
Note that the store won't be at the
Park Chelsea
, WC Smith's apartment building currently under construction at 880 New Jersey. This will be a new apartment building just to the north, running along the
to-be-rebuilt H Street
between New Jersey and 2nd, immediately south of the freeway. It's expected to have 330ish units and all the usual amenities. But with construction not currently expected to start until spring 2014, and the timeline of the buildouts of both the building and the interior work for the store, you probably won't be buying your quinoa there before 2017.
Park Chelsea Financing Secured, Now Officially Underway
Nov 9, 2012 3:35 PM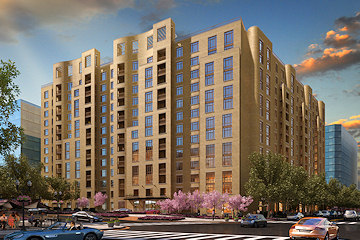 While there's been a lot of work going on at the site since the beginning of the year, it's only now that it can truly be said that work has begun on the
432-unit Park Chelsea apartment building
at New Jersey and I Streets, SE.
Developer William C. Smith has closed on a $100 million construction loan (which they are calling the largest one secured for a DC residential project this year), and if you look down on the site from on high, you can definitely see earth being moved, separate from the huge shafts built over these past few months to facilitate the relocation of deep infrastructure beneath the site. (There was also that whole
demolishing of the trash transfer station
just to the south of the project's footprint, since a small corner of that old building extended onto the Park Chelsea land.)
The cost of the entire project is pegged at $150 million.
The Park Chelsea is expected to deliver late in 2014, and will have three levels of below-grade parking, both indoor and outdoor pools, a rooftop garden with a dog park, an electric car charging station, and a "state of the art bike storage and maintenance area." It's also just the first phase of the development of the entire block bounded by New Jersey, 2nd, H, and I, which is expected to have 1,200 residential units and 75,000 square feet of retail when it is all completed; plus, H and I streets will be built through between 2nd and New Jersey. It's also just a few steps away from the
so-close-to-opening-you-can't-believe-it
Canal Park
.
The Park Chelsea is now the second new-construction multi-unit residential building to start in Near Southeast in 2012, along with
Forest City's Twelve12
apartment building (home also to Harris Teeter and
Vida Fitness
) at the Yards.
Landscaping Tip: Clearing Brush Can Really Make a Difference!
Jan 8, 2012 4:58 PM
New Jersey Avenue, south of the freeway, looking east, before and after the clearing of brush and trees that happened late last week: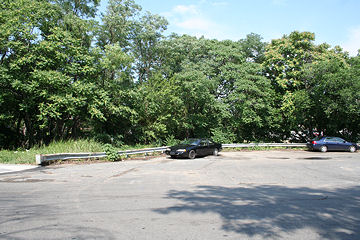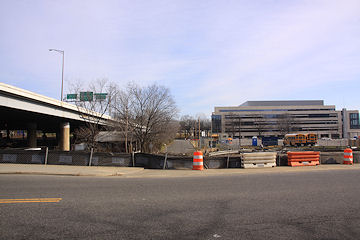 A slightly different angle, looking south-southeast: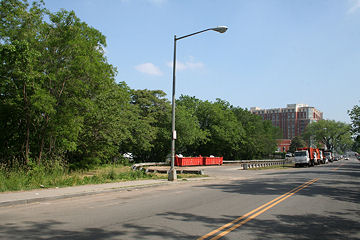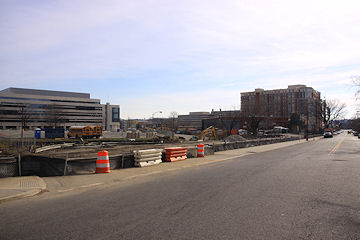 This appears to be the work that William C. Smith
mentioned would be coming
, as part of their preparations for infrastructure work in advance of their
880 New Jersey Avenue apartment
project.
More before-and-afters here
.
(That's
225 Virginia/200 I
in the background, if you're bewildered at what you're seeing in this new view.)
(This is the first in what will be an avalanche of new photos over the next few days, after I drove around for about two hours grabbing scads of shots that I have been guilt ridden about not getting to. Rather than trying to put them up in one overwhelming post, I'll be passing them along in manageable bites.)
Summer Doldrums Tidbits on All Sorts of Subjects
Jul 14, 2011 2:13 PM
All sorts of little items that you mostly already know about if you follow JDLand on
Twitter
or
Facebook
. But I'll start with some new items at the top:
* Still no word from Akridge about when they may get underway with their
700,000-square-foot mixed-use project on Half Street
just north of Nationals Park (where the Bullpen and its beergarden sibling Das currently reside), but I will note that in May they filed for building permits for two nine-story and one eleven-story building on the site, matching their
announced plans
. The permits haven't been approved yet, and once they are they are good for one year, but can then be renewed.
* William C. Smith told me a few weeks ago that they expect to be doing some infrastructure work on their
Square 737 site
this fall (sewer, water, etc) before starting on their
430-unit apartment building
there next spring, and I hear that the bidding process for that site work is now underway. (This also means to not get *too* excited when you see dirt getting moved there late this year.) And, speaking of 880 New Jersey, ANC 6D voted 7-0 on Monday night to support WC Smith's request for a circular driveway, a new curb cut on 2nd Street to access underground parking, and the general public space plan.
* Tonight (Thursday) is the
Congressional Baseball Game
at Nationals Park, Republicans vs. Democrats. The $10 tickets might be worth it just to see if there are any bench-clearing brawls.
* Friday (July 15) is the second
Truckeroo food truck festival
, along Half Street by the Bullpens. It runs from 11 am to 11 pm.
* The speculation is underway about the venues for upcoming baseball All-Star Games, with the
previous conventional wisdom
about
Nationals Park
being in line for perhaps the 2015 event taking
some
hits
, with the lack of development progress around the ballpark being cited as a prime reason.
* If you're all fired up to game out the new ANC/SMD districts, here's
all the data you might want
, from the Office of Planning. And remember that the
ANC 6D redistricting
"listening" session with the Ward 6 task force is on July 28 at 6:30 pm. There wasn't really much news out of the initial public meeting on Monday night, other than that while the 2,000-plus-or-minus-100 population levels per single member district aren't a legal requirement, there's still clearly a desire to have SMDs be as similar in size as possible. And, also, that an SMD can't be looked at in terms of how its size has changed (or will change) since the census data as of April 1, 2010 was recorded.
* I'm going to go ahead and post this now, but check back later today (or look for a Twitter heads up) for more Market Deli demolition photos, which I will wander down to get at some point.
UPDATE:
A moment of silence, please, as the Market Deli has now been added to the
Demolished Buildings Gallery
, as building number 161 and 162 that have been torn down since I started photographing the neighborhood. And the three garages on the north end of the block are in their final hours, with demolition underway on the southernmost one.