Near Southeast DC: Past News Items
square 740
Go to Full Blog Archive
---
20 Blog Posts Since 2003
A Few Photos Before Downshifting into the August Doldrums
Aug 1, 2011 3:31 PM
I'm anticipating that the next couple of weeks will be pretty quiet, at least the
Foundry Lofts
start their pre-leasing on Aug. 15, followed by the
Ward 6 Redistricting Task Force
release of its first draft of proposed new ANC/SMD boundaries on or about Aug. 18. So here's a bit of a potpourri, and then I'm going to probably take a blog-breather unless really big news breaks. (As always, I'll still be popping up on
Twitter
or
Facebook
with tidbits here or there.)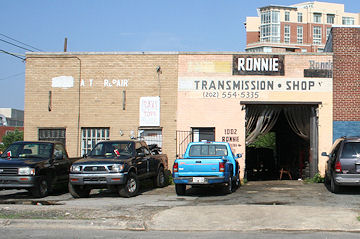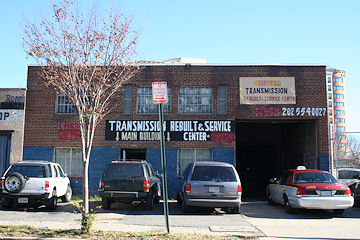 A smidge belatedly, I've added the three garages demolished a week ago on the southeast corner of 1st and K to my
Demolished Buildings Gallery
, as entries 163, 164, and 165. (It might soon be time to create a Not Demolished Gallery, which would be far far smaller.) I was surprised when digging in my archives to find a couple of photos of the garages still in operation (above), from 2006 and 2007. You can also see how that stretch of 1st has changed since 2003, looking
south from K
and
north from L
.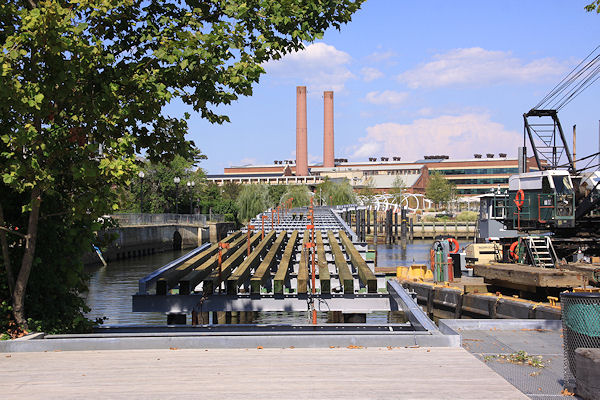 I also
grabbed a quick photo
of the progress on the new bridge bring built by the city that will link
Diamond Teague Park
to the
Yards Park
, scheduled to be completed this fall. (And I guess it's time to also officially get rid of the "floating bridge" nomenclature, because, as we've seen for months, there are big ole' piles in the river.) It'll be interesting to see if usage of the First Base Gate at
Nationals Park
at 1st and Potomac increases noticeably next season with this new riverside walkway available. (It will also make arriving at Teague Piers via water taxi to attend events at the Yards Park involve a much more enjoyable walk, compared to schlepping up to N Street and over.)
And, with people now moving into the first completed houses in phase two of
Capitol Quarter
, I updated my photos of
3rd Street between I and K
. And it reminded me how the intersection of 3rd and I has become quite an
illustration of change in all directions
, with not only new townhouses replacing old public housing but also seeing lots of new high-rises in the distance. (The White Monolith that was the old Post Plant on the northwest corner
getting a facelift
is an added bonus.)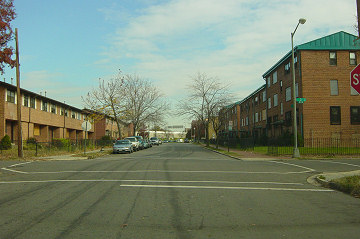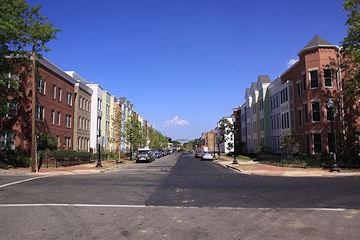 If you're looking for other links to help kill time over the next few weeks, take a look at the
JDLand Headlines
to be sure you haven't missed any big items lately.
Demolition of the Market Deli at 1st and L Underway; Other Photos
Jul 11, 2011 3:41 PM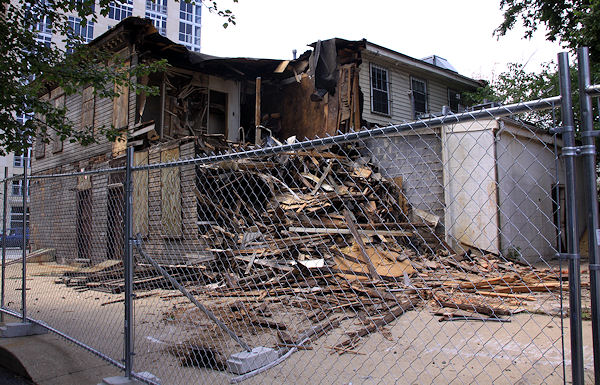 With raze permits for the old structures along 1st Street SE between K and L finally approved in mid-June, the days were truly numbered for the Market Deli and its neighbors, and today the demolition got underway, with most of the rear section of the Deli's structure knocked in.
Fences are up
all around the 1st Street structures, which are all owned by Akridge, and with this initial wrecking underway I imagine it won't be long until the five buildings are added to my
Demolished Buildings Gallery
, as entries 161 through 165.
There's
a few more images here
, showing that the demolition isn't quite so obvious from 1st Street (yet). Also, hopefully the folks who have been tending to the cats living in the abandoned building can report in as to their fate. (I heard a rumor that some kittens were removed today, but would defer to an update from anyone with more knowledge.
UPDATE
: In the comments of another post, reader jenniferp says that five very young kittens were indeed captured this morning, but there are several more still on the loose.) And, if you haven't been following along on the tale of the Market Deli for the past few years,
here's some enlightenment
.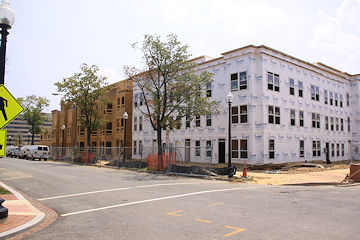 And, because it would have been silly to wander down there in the ghastly heat and humidity and walk past a whole lot of spots where I needed to take updated photos, you can see the latest progress at
225 Virginia
(aka 200 I Street)
and the
second phase of Capitol Quarter
, where framing is being completed on the last portion of its first block, along Fourth Street.
Historic Landmark Nomination Submitted for Market Deli
Mar 4, 2011 9:40 PM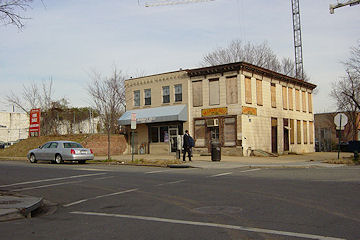 A Historic Landmark nomination was submitted on Friday for the Market Deli at 1st and L SE,
according to 6D07 rep David Garber
. Calling the nomination "potentially controversial" (perhaps remembering
this comment thread
from a few months ago), Garber says: "I am 100% pro-development, but stand by my support of this because I think saving pieces of our history will make our neighborhood stronger and more valuable in the end."
He describes the "humble" building as the only remaining wood frame corner store in existence south of the freeway. (The brick building next door, where the Market Deli operated in the last few years of its existence, is not part of the nomination.) He also says it "represents the scale and the history that our neighborhood had for most of its history until very recently." He also says that he did not submit the nomination himself, though helped prepare it (but doesn't say who did submit).
The building, constructed in 1885, is currently owned by Akridge (along with the rest of the block's frontage along 1st Street). There has been no public information on what Akridge plans to do with the block, but raze permits were filed for the Market Deli building(s) and the other buildings on the north end of the block
earlier this year
, which presumably is what kick-started this move. You can read about the city's Historic Landmark designation process at the
Historic Preservation Office's web site
. Readers may recall that the St. Paul's church at 4th and I
received a landmark designation
in November.
A slew of photos showing the Deli unchanging in the face of nearby development
can be seen in my archive
.
UPDATE, 3/7:
Here
is the nomination form
, submitted by Hayden Wetzel of "Historic Washington Architecture."
UPDATE, 3/11:
The hearing date at the Historic Preservation Review Board has been set for April 28; here's the
hearing notice
.
Raze Permit Applications for 1st Street Buildings
Jan 19, 2011 8:49 AM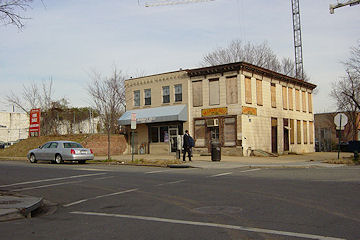 Within the past few weeks the city has received raze application permits for the five old buildings on the east side of 1st Street between K and L--the three little car repair shops on the
north end of the block
, and the Market Deli buildings on the
south end
. This stretch is all owned by Akridge, with these five buildings having been bought at various times in 2008 to go along with the mid-block empty lot with the Akridge sign that they've owned for a long time. (They also own the empty lot on the northeast corner of the block, at New Jersey and K, and at one time had an agreement to buy the lots on the southeast corner, at New Jersey and L, but that was allowed to expire with no sale.) There's so far never been any announcement from Akridge about what they plan to do with the site.
Razes aren't always immediate after the filing of a permit application, but keep your eyes out. And, if you feel like seeing the 160 buildings that have already been demolished in Near Southeast since 2003,
browse the gallery
.
Akridge Buys More Land on Square 740
Oct 30, 2008 3:29 PM
According to the city's land records, on October 7 Akridge paid $4.65 million for the three properties totalling about 7,000 square feet
on the south side of K Street between New Jersey and First
, all owned by the Cohen family. (Currently on these properties are a defunct garage and an empty lot, as seen in the photo at right). Akridge already owns the lots along First Street south of K down to the Market Deli at L Street; and, from what I can see in my very-unlearned reading of other land records, it also now has agreements with both the
Market Deli
and the cab garage on the
northwest corner of New Jersey and L
.
The only non-Akridge lots left on this block (known as Square 740) are two tiny lots directly behind the Market Deli on L Street and the buildings in the middle of the block along New Jersey where Positive Nature used to operate. (I'll also note, for those for whom this actually means anything, that the Positive Nature lots were the recipients of 52,000 square feet in transferable development rights earlier this year.)
This block is kind of the "last frontier" in the neighborhood, the only one without any sort of large development announced anywhere on it.
Positive Nature Leaves Near Southeast
Aug 22, 2008 4:37 PM
Rumor Patrol: Whole Foods on New Jersey Ave.?
Aug 22, 2008 3:00 PM
Rumors started flying in a few places lately that Whole Foods is coming to New Jersey and K, SE. I usually shy away from writing about rumors, but this one is persistent enough that it probably needs some addressing. It's not listed on their
Stores in Development page
, and no one's leaping to tell me this is or isn't true (which isn't surprising), but it's not completely out of the realm of possibility. There's been references here or there to "two grocery stores" coming to the neighborhood (with space for one set aside at the
The Yards
, coming in 2011 or later), and I've heard nonspecific Whole Foods/Near Southeast rumors a few times over the past year.
But I'm skeptical about it coming to the New Jersey/K intersection. There's only 6,000 square feet of retail in
909 New Jersey
(not enough for a grocery store), and the plan for the trash transfer station has always been for it to be part of the
Capper
Hope VI project, with an apartment building that probably won't start before 2011. That leaves the southwest corner, where the Cohen family owns the small lots along K between New Jersey and First; there's also the Positive Nature lot at 1021 New Jersey and one to its south owned by Potomac Development Corp., who it should be noted picked up 51,000 square feet of transferred development rights earlier this year. (Can someone at CHT look out their window and confirm that the Positive Nature sign is still there?)
So maybe the "
New Jersey
" part is right, but not the "K"? My gaze (and my betting dollars) might head north a block or two, to
800 New Jersey
(also sometimes known as 120 Canal), where for years William C. Smith has envisioned a grocery store as part of its planned 1.1-million-square-foot four-building development on the Square 737 block bounded by Second, H, New Jersey, and the eventually reconstituted I Street. No timeline for the start of this project has been announced, though. (In fact, there's so little information about the project that I haven't even felt compelled to build a project page for it.)
In other words, there aren't really any tea leaves to be read on this one, so if someone wants to spill the beans, I'm
always listening
.
Link Roundup - Catching Up Edition
Jun 18, 2008 1:47 PM
I'm back. Here are some news and links that came down the pike during my respite:
* Tonight (June 18) the
Capitol Hill Restoration Society
is having a community forum with DDOT director Emeka Moneme, at which DDOT staff will be "prepared to discuss all the various transportation initiatives that are being planned or implemented that affect Capitol Hill, including the Anacostia River and Reservation 13 areas, the 11th Street bridge expansion, H Street light rail, and other issues relating to streets, parking, commuter traffic, and mobility on Capitol Hill." The program will begin at 7:45 pm, after refreshments at 7:15 and CHRS business at 7:30. It's at St. Peter's Parish Hall at 2nd & C Streets, SE
*
The Post profiles
Robert E. Boone, the founder of the
Anacostia Watershed Society
, and looks at the strides that have been made in cleaning up the river over the past 20 years: "Boone did not make the Anacostia clean, but he made it visible again, reconnecting it with a city that had used the river and then forgotten it."
*
City Paper updates the status
of
Positive Nature
, the program for at-risk kids housed at 1017 New Jersey Ave., SE.
A few months ago
, legislation was introduced that would have exempted the property from real estate taxes as long as Positive Nature was there; but the bill has never had a hearing. Apparently the city is still looking for a space to move the program to.
*
The DCMud blog interviews
Capitol Riverfront BID executive director Michael Stevens about the changes happening in Near Southeast and the development planned for the area.
*
Voice of the Hill looks
at the changes to the parking rules along Pennsylvania Avenue and Eighth Street. And also brings up the problem with credit card transactions often not working with the multispace kiosks. Cellular transmission interference of some kind, DDOT says, with the hope that it should be fixed within a few weeks. (Those of you who receive CIA broadcasts through the fillings in your teeth might notice the same issues.)
* This weekend's Nats homestand against the Texas Rangers includes "Thanksgiving in June," the third-annual food drive in partnership with the
Capitol Area Food Bank
. Bring nonparishable food items (canned proteins, fruits and vegetables; pasta and sauces, soups, cereals, apple sauce, rice and flour) to Friday's, Saturday's, or Sunday's game, and drop them off outside the Center Field Gate. Heck, you don't even have to go to the game to donate.
* On the other hand, the planned Youth Jersey Giveaway at Sunday's game has been canceled due to circumstances beyond the Nats' control. But the first 10,000 children 12 and younger to attend the 1:35 pm game will receive a voucher for two tickets to any future 2008 regular season Nats game.
Positive Nature Getting Help from the City
Apr 16, 2008 9:54 AM
From
Bruce Johnson's blog
, word that the city council has introduced the "
Positive Nature Property Tax Exemption Forgiveness Act
," which will provide some temporary relief from the property taxes that have endangered the youth program's existence at 1017 New Jersey Avenue.
I've received a draft version of the bill (even though today is
Emancipation Day
and government offices are closed--good service!). It says that Lot 18 on Square 740 is exempt from real-property taxation as long as it is leased to Positive Nature. Further, "The Council orders that all unpaid real property taxes, interest, penalties, fees, and other related charges assessed against real property located at Lot 18, Square 740 for tax year 2008 shall be forgiven."
This is still just pending legislation at this point, of course, and is a short-term solution while (Bruce says) Tommy Wells, David Catania, and the Deputy Mayor for Planning and Economic Development search for new space for
Positive Nature
.
UPDATE:
And who did I just run into at 15th and K, NW--none other than Bruce Johnson himself, doing Man on the Streets about the pope. I took a minute to introduce myself as "that blogger whose photos of the ballpark
you've used
on your blog." He laughed, and apologized for not originally crediting the photo (and rightly noted that he did so after what I'm sure was an
avalanche
of feedback from JDLand readers), and we talked for a moment or two about this Positive Nature news. It's a small town....
Small Businesses Being Squeezed, Previous Stadium Openings, Plus Tuesday's Other Ballpark News
Mar 25, 2008 11:37 PM
* Wednesday's Post uses
the plight
of the
Positive Nature
youth program to look at how all the remaining small businesses near the ballpark are having a tough time dealing with their
skyrocketing tax assessments
. The cab company moving next week mentioned in the article is Merritt Cab at First and K, where DRI is planning its
800,000-sq-ft office and retail project
. There's also
an accompanying video
on Positive Nature; and it's interesting to note that Positive Nature arrived in the neighborhood in 2004, so it's not a long-standing business the way the Market Deli is, whose owner is now on the hook for $50,000 a year in property taxes.
* There's also a story that
looks back at the openings of DC sports venues
through the years, with highlights such as the Capital Centre getting its final inspection approvals just a few hours before the first Bullets game and the 15-mile backup on the Beltway that greeted the first game at FedEx Field.
* The Post's
special section
on the 2008 baseball season is also in Wednesday's paper, with plenty of mentions of the new ballpark, like these from
Tom Boswell
and
Dave Sheinin
.
Other ballpark stories from Tuesday (keeping in mind that
for now
I'm just pointing out pieces that have some slightly different angle from the eight billion other pieces):
* Bruce Johnson of WUSA
blogs about the police presence planned for the ballpark
, but I was unable to focus on the content after being greeted by
my own photo
from
Saturday's GW game
right at the top of his entry. Glad to know you're a reader, Bruce! Tell your readers and viewers about my site sometime!
*
WTOP continues
its ballpark-story-a-day regimen with word (and video!) that, while some of the new temporary surface lots *look* like they're dirt, they're actually a "mixture of compact concrete and other elements that help with drainage."
Positive Nature 'Bucket Fundraiser' Saturday and Sunday; Bus Garage Sales Office Closes Thursday
Mar 25, 2008 10:47 AM
Short items:
*
Positive Nature
, the program for at-risk youth that is in danger of losing its rented space at 1017 New Jersey Avenue because of a sharp increase in its property taxes, is looking for volunteers to help with a "massive bucket fundraiser" on Saturday and Sunday as fans arrive for the first games at
Nationals Park
. They have been working on raising $200,000 by the end of March. The fundraiser info, which came via e-mail, isn't posted on
their web site
yet.
* Metro says
via press release
that the sales office at the Southeastern Bus Garage will close on Thursday (March 27), in advance of the garage itself shutting down operations the next day. And WTOP is reporting today on the proposal to lease the bus garage and its parking lot to the Nats for parking, but you can find
far more detail about it all in my post from Friday
than you will in WTOP's blurb.
SE/SW Freeway 'Stadium' Signage; Exhibition Info; Sun Critic Likes It; Another Parking Lot Offer
Mar 24, 2008 10:59 PM
Just a few items to end your day (or start it, I guess):
*
WTOP makes sure
DDOT is planning to take down the old "Stadium" signs on the SE/SW Freeway that point drivers to RFK rather than
Nationals Park
. Meanwhile, tonight in front of the Zoning Commission, Gregory McCarthy from the Nationals said that new signs will soon be posted on the freeway indicating which exits fans should use for the ballpark based on the
color-coding of the parking lots
.
* A
press release from the Nationals
gives the basics on Saturday's 6 pm exhibition game against the Orioles, which is open to season-ticket holders and invited guests only. In one small change, the Nats Express shuttle from RFK will begin operating three hours before gametime, rather than 90 minutes. (The gates at Nationals Park will be opening at 3 pm as well, allowing fans to watch batting practice at 3:30.) A pre-game ceremony will begin at 5:30 pm, with remarks from city officials and a ribbon-cutting at home plate. And then they'll actually play some baseball. It's been said that approximately 25,000 people will be expected for this dry run, in advance of the Big Kahuna the next night.
* The Baltimore Sun's architecture critic
says nice things
about the place.
*
Last week I posted
that Splash car wash at 10 I Street SE will be offering both same-day cash lot and season-account parking for $35 per game; word now arrives that the owner of the little empty lot at First and L (next to the Market Deli) is also offering a few spaces (season-long accounts preferred), at $25 per game. Call (301) 279-7033 and ask for Marty Resnick if you're interested. These are separate from the lots
around the neighborhood
that the Nats have officially contracted with to provide parking for season-ticket holders (and perhaps sameday parkers somewhere down the line).
Roundup: Metro and Pope Day, Positive Force
Mar 13, 2008 8:06 PM
(News is getting so overwhelming that I'm having to go to two-a-day link roundups. And still, I feel like I'm missing stuff or giving it short shrift. I guess all that patience being pleaded for by the city and the Nationals and Metro needs to extend to JDLand for the next few weeks, too.)
* Today Metro
put out an expanded press release
(after a similar one
a few days ago
) with additional details on how they're planning to handle the April 17 Mass at
Nationals Park
, or as I call it, Pope Day. There's also stories on Metro's plans by
WTOP
("Forget about baseball, is Metro ready for the Pope?") and
NBC4
. In the meantime, Agence France Presse has a piece on
how huge the demand
for Pope tickets is.
* Via
City Paper
(which has taken the story to its bosom), a
report from Fox 5
on the
Positive Nature
youth program at 1017 New Jersey, which is struggling to stay afloat after the huge increase in property taxes that has accompanied the redevelopment of Near Southeast. Don't forget that they're having an open house (they're calling it a "
radical rally
" to keep their doors open) on
Saturday March 15 from noon to 3 pm
.
Positive Nature Rally/Open House on March 15
Mar 10, 2008 3:14 PM
Positive Nature
, the non-profit at 1017 New Jersey that works with at-risk youngsters, is having a "radical rally" on
Saturday March 15
from noon to 3 pm, an invitation to the public to tour the facilities and meet the participants as they try to save their program. You can read about their work and their struggle to remain at their New Jersey Avenue site as their property taxes have skyrocketed in this recent
City Paper article
.
Your Morning Ballpark Roundup
Feb 28, 2008 8:23 AM
* Washington City Paper's cover story this week is "
Inside Baseball
", a series of vignettes about "winners and losers" around the
ballpark
. It highlights neighbors such as the Market Deli at
First and L
and Positive Force around the corner on New Jersey Avenue (and former neighbors such as Ken Wyban, owner of the house at
Van and N
that was demolished), and talks about the "lost" views of the Capitol from many sections within the stadium. Plus there's quotes from a couple of residents of the nearby housing projects in Southwest that they've "been told" they're going to be moved out, despite vehement denials by the Housing Authority.
* A three-person arbitration board ruled unanimously that the Nationals and not the District should pay for "ancillary items at the new stadium, such as golf carts, fork lifts, and medical and office equipment," saving the city $4.2 million and keeping expenditures within the $611 million cost cap,
according to WTOP
.
* Links to the avalanche of stories about the
new on-street parking plan
around the ballpark are at the end of my
entry about it from yesterday
. Perhaps the saturation coverage--and the advertising campaign by the team scheduled to start next week--will indeed
drill into the noggins of the public
what's been said for months now: that really, truly, you're not going to find on-street parking, and traffic's going to be crazy anyway. So just
take Metro
. (And read this
Dr. Gridlock blog entry
and its comments to get a sense of the wide-ranging views of the public on using Metro. And have fun with the writer who discussed the "questionable neighborhood" the N22 bus goes through--you know, Capitol Hill.)
* And, what if nearby residents
start scalping their visitors passes
?
* But can we also drill into the collective conscience that there's not "only 1,200 parking spaces" at the ballpark? Yes, the ballpark footprint itself has only 1,200 spaces, but the team has contracted with close-by lots to cobble together more than 4,000 spaces. As we found out in
the Post
, those didn't even all get taken by season-ticket holders and in fact may now allow for a small number of spaces to be made available on gamedays to non-season ticket holders.
Market Deli and Neighbors On the Market for $11 Million
Oct 21, 2007 5:59 PM
Word has arrived that the
Market Deli at First and L
, the cab company at
New Jersey and L
, and the small empty lot between them have gone on the market as a joint sale, with an
asking price of $11 million
for the 9,000-plus square feet of land. It's one of the last spots in Near Southeast west of Eighth Street where the land is still owned by individuals and not developers, and anyone watching the corner shouldn't be surprised that this is finally happening--and given that behemoth Akridge owns most of the rest of that block's land along First Street, maybe they might be watching this offering with interest. The deal is being spearheaded by the Resnick family, which over the past few years has sold family land on both sides of the 1100 block of New Jersey, and on L Street where
Onyx
is now going up. (And their father once operated a 5&10 where the
Courtyard by Marriott
now stands.) In the meantime, they're talking with restaurants about perhaps renting some of the existing space to sell "quick food" for
ballpark
goers.
JPI Adds Project #4: 23 I Street
Jun 6, 2007 5:31 PM
The speed of events is leaving me breathless these days. Today JPI held a groundbreaking ceremony at
909 New Jersey Avenue
, where digging is about to get underway for the 237-unit residential building to be built on that block (former home of the Nexus Gold Club). You can see the obligatory photos of Dignitaries-With-Shovels
here
. (Yes, I did
get my invite
after all. Thank you!)
But there was
big news
tucked into the press release touting what JPI is now calling its "
Capitol Yards
" neighborhood along I Street (with
70 and 100 I Street
across the way from 909 New Jersey about to sprout out of their deep hole): the announcement of plans for
23 I Street
, a fourth JPI residential project on I Street, slated to have 421 residential units and as much as 35,000 square feet of retail space. Its location would be on the south side of I Street between Half and South Capitol, from Half over to (and including) the current
Wendy's lot
. (The moribund Exxon station does not currently appear to be part of the plans.) Construction wouldn't start before 2008. I haven't added it to my main map yet, but I've
put up a few boring shots
of what the block looks like as of now.
With that, the number of not-spoken-for lots in Near Southeast has just about dwindled to zero. Pretty much there's the block on New Jersey across from Capitol Hill Tower (though Akridge now owns a portion of it), the Exxon at South Capitol and I if JPI doesn't grab it, and the Metro Chiller Plant on the southwest corner of Half and L, which might not be made available anytime soon. (And I'm assuming that the rumors of Monument Realty picking up the Sunoco site at 50 M are true.) Everything else west of 7th Street is now spoken for. So if you were hoping to make your millions in Near Southeast and you haven't already staked your claim, your time's just about up, unless you can wrest some parcels out of some other developer's hands.
Post Piece on Near Southeast
Mar 19, 2007 1:02 AM
Monday's Post mines the changes in Near Southeast with another A1 story, "
The Far Side of Rebirth
." No new pieces of news, just interviews with people who've been in the neighborhood a long time, plus some new arrivals (hi Scott!). For those of you arriving here at JDLand.com after reading the article, you might want to visit my
Capper/Carrollsburg
,
Nats Ballpark
and
Capitol Hill Tower
pages for more information on the projects mentioned in the story, and you can also see photos of the
St. Paul's AUMP Church
, the
Market Deli
,
Bennie Meeks' firewood lot
, and even the
horse stables under the freeway
, and the changes occurring around them that I've been documenting since 2003.
Another Small Business Closes
Feb 6, 2007 2:34 PM
Sometime within the last few weeks another of the auto repair shops along First Street closed; this time it's the United Transmission Center, at 1004 First (the red brick building at right in
these photos
). The property was
bought in September
by
Akridge
, but the company hasn't announced any plans for the 11,000 sq ft of land it now owns on the east side of First (it doesn't own the Market Deli on the south end, nor the two other garages on the north end, but now owns everything in between). See my
North of M map
to see what's on the boards in the section of Near Southeast north of M and west of New Jersey--lots of land now owned by developers, but still waiting to see plans begin to move forward on most of the lots.
UPDATE:
I should note that the garage has moved to a new location in Northeast, so it hasn't shut down altogether.
Akridge Pays $7 Million For 1st Street Land
Nov 22, 2006 10:14 AM
The DC Property Sales database runs about six weeks behind the calendar, so it's only now reporting that in late September the
John Akridge Companies
paid $7 million for six properties totalling 11,145 sq ft on the east side of First Street between K and L, currently home to an auto repair shop and an empty lot. Akridge has owned since the late 1980s an empty lot totalling 3,934 sq ft on this site, so they now own everything in this block of 1st Street except for the Market Deli land on the corner of 1st and L and the two car repair shops on the corner of 1st and K. No announcement so far as to any plans for this land. See my
North of M map
to orient yourself--and note that the photo at the top of the North of M page shows the block in question, with the two beige brick buildings at left being owned by the William Cohen/Willco Construction Company, and the red brick building and the empty lots to its right now owned by Akridge.