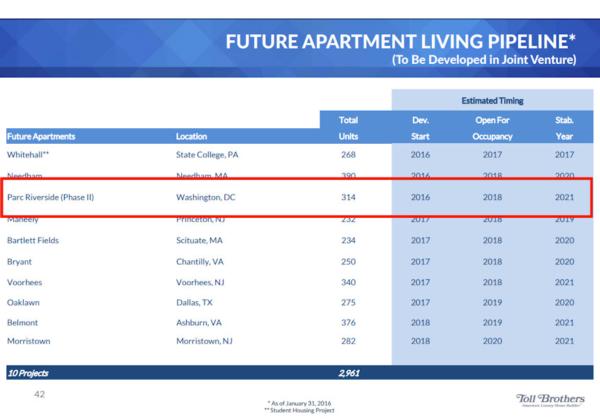 It appears that we can now add the second phase of Toll Brothers'
Parc Riverside
development to the lineup of projects that look likely to get underway in coming months, as evidenced from this page deep within a
recent Toll Corporate Profile document
that lists a 2016 start date and 2018 completion date.
This would be built just to the west of the Parc Riverside and
Velocity
, along Half Street SE between K and L.
The "Apartment Living" header does also seem to indicate that the planned 314 units will be rentals.
Just as soon as I found this, though, my digging was rendered unnecessary when representatives for Toll appeared at Monday night's ANC 6D meeting requesting support for a public space permit they are applying for.
I wasn't at the meeting, but my understanding is that while Toll said they are hoping to break ground in 2016, they are still in the design phase and are going to need a minor variance for some projected balconies and windows, which would then need to be followed by the usual building permit process.
As for the design, a rendering was shown that looks remarkably like the first-phase Parc Riverside. (I don't have permission to share it, alas.)
And there is apparently a fly in the ointment in that Toll is planning that the access to the Phase 2 underground garage will be through the Velocity garage, as was designed back when the entire block was going to be developed by its then-owner, the Cohen Companies. But Cohen, still the owner of Velocity, apparently disagrees that this access was part of the deal when
Toll purchased this lot from Cohen for $14.5 million in 2012
.
ANC 6D voted 6-0-0 to send a letter to DDOT recommending that the agency determine whether Toll should be able to use the Velocity garage entrance, but that even if it's decided that Toll does have that right, that "DDOT should still consider the traffic impact of allowing a large number of additional cars to use this garage entrance." The commission also supported the request for a curb cut for a loading dock, but "believes that K St. SE is a better location for a curb cut and loading dock because L St. SE already has numerous curb cuts," while recognizing that this switch "would require substantial redesign" for the project but with what it believes would be a "far superior outcome." (The letter also notes 6D's "general philosophical concern with projections into public space for bay windows.")
More information should be available once the variance is applied for, assuming that remains part of Toll's plan.