Near Southeast DC: Past News Items
816-20 Potomac
Go to Full Blog Archive
---
18 Blog Posts Since 2003
Raze Permit (Re-)Filed for Miles Glass Site, Plus 816 Potomac
Jan 10, 2012 9:07 AM
Back in February, the
National Community Church
applied for a raze permit
for the Miles Glass site on the
southwest corner of 8th and Virginia
that it acquired along with a number of adjoining lots on
Square 906
in
2010
and
2011
. However, perhaps something was not quite right, because two new raze permit applications for 733 Virginia are now in the city's database, along with a separate new one for the car garage next door at
701 Virginia
, the lot that
finalized NCC's footprint
.
Last week,
NCC representatives told ANC 6B's Planning and Zoning Committee
that they plan to have the demolitions completed by March, and will "then move to establish a temporary parking lot and community green space for an estimated two-year period" while the church continues to work on its final plans for the site, which in the past
have been described as
being a combination of coffee house, performance space, and church offices.
Any goings-on at the site, though, will be impacted by CSX's planned Virginia Avenue Tunnel construction, and
in October
NCC head Mark Batterson told the Washington Business Journal that "it doesn't make sense to do our project and then have them come through and rip everything up and make it difficult for us to even access our property."
Meanwhile, a couple blocks to the southeast, two raze permits have also now been filed for
816 Potomac
, the long-closed-up brown apartment building on the northwest corner of 9th and Potomac. This property is one of the lots on Square 930 that
Madison Marquette now co-owns
as part of its "joint venture" with ICP Partners.
Madison Marquette to Launch Blue Castle Redevelopment Process
Oct 28, 2011 1:44 PM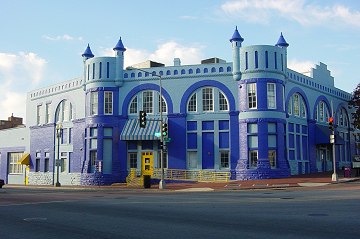 Today's
Washington Business Journal reports
(subscribers only, alas) that Madison Marquette, owners of the "Blue Castle" at 770 M Street SE and co-owners of a series of additional parcels across 8th, "will soon formally launch its Lower Barracks Row redevelopment process, hiring land use planners, wooing an anchor retailer for the historic car barn and tackling a range of hurdles that stand in the way."
It's that "range of hurdles" that the article focuses on--MM will need to figure out where will parking for the car barn be able to be placed and how much additional height can be added given not only historic and building height restrictions but the Navy Yard's concerns with having buildings that can look over their walls.
Then there's the looming
CSX Virginia Avenue Tunnel
construction, which could impact all of the landowners along Lower 8th given the disruptions that will no doubt ensue during the project. Mark Batterson of the National Community Church, which now owns
all of the properties along Virginia between 7th and 8th
and is looking to build a large coffee house/performance space and offices there, says in the article that their planning is very much tied up in CSX's timeline. "It doesn't make sense to do our project and then have them come through and rip everything up and make it difficult for us to even access our property."
Back in 2009 and 2010 there was a long
Lower 8th Street Vision Process
, which suggested allowing building heights of 65 to 85 feet on new structures 20 to 30 feet behind existing historic 8th Street structures. (The
process report
has a lot of drawings on how the 45-foot limit along 8th could co-exist with these potential greater heights further off the street.)
And, while not mentioned in the WBJ article, there's still the question of whether the Marines will end up
building a new barracks
in this area, as they have been hoping to do.
So, while the current Blue Castle leases are up in 2012, giving MM the opening to begin the process, the article makes clear that any makeover of Lower 8th will probably proceed slowly, at best.
Oh, and when it's all done, the Blue Castle probably won't be blue anymore:

(Rendering courtesy
Madison Marquette
. And maybe there's a hint in it of where they think the parking could go!)
Tidbits: ANC Redistricting, Canal History, Greenspace, 8th St. Deal
Jun 29, 2011 1:29 PM
After all the big news of late, downshifting into a Tidbits post doesn't really seem like much fun, and of course if you're following me on
Twitter
or
Facebook
(or checking out the Twitter box on the JDLand home page every so often), you've already been alerted to many of these. But, onward: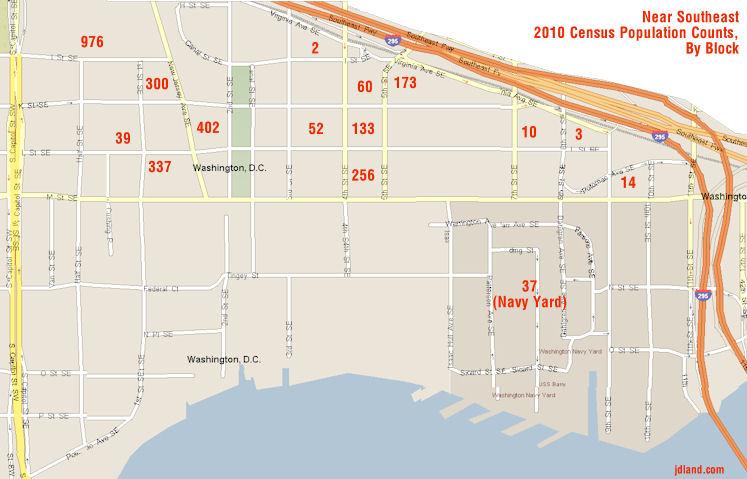 * If you're wondering how the ANC redistricting process will work (especially since the ward version was so much fun!), here's the
official memo
on the procedures going forward. As in previous years, ANC single member districts will have populations between 1,900 and 2,100 residents.
Census Tract 72
, which covers all of Near Southeast and so includes all of ANC 6D07 plus the small number of houses from 7th Street east to 11th that are in ANC 6B04, was counted at
2,794 residents
in the 2010 census.
The Office of Planning
has
the
census-block-by-census-block numbers
, but, ahem, I don't actually know which blocks are which, though if I had to guess by looking at the numbers and how the blocks are organized, I'd say that 6D07 probably came in at 2,743 and south-of-the-freeway 6B04 at 51. Ish. (Perhaps an ANC version of the GGW Redistricting Game isn't far off!) It isn't enough to split 6D07 into two single member districts, but it also can't stay as is. The question will also loom large as to whether new boundaries will split the neighborhood even more between ANC 6B (Capitol Hill) and 6D (Southwest), or move it all into one or the other.
UPDATE:
Thanks to IMGoph in the comments, I got a look at the map, and it appears the actual residential split is 2,767 to 27. Read my comment for details. I'll make a map at some point.
UPDATE 2:
And
here's a quick and dirty map
, showing block by block what the census folks recorded the neighborhood's residential population at, as of April 1, 2010. As I mention in the comments, the residential buildings west of 2nd Street SE add up to 2,054 residents, perfectly within the numeric requirements for an SMD. But how SMDs will actually be divvied up is anyone's guess right now, beyond the fact that there's no way the vast bulk of Near Southeast will continue to be in just one SMD.
Council members are supposed to appoint their ward task force members by Friday, with progress reports due on Aug. 1 and Sept. 1. The entire process has to be completed by the end of 2011.
*
The Hill is Home has posted
the first of a two-part look at the history of the Washington Canal, which used to run along where
Canal Park
is under construction. (Speaking of which, I grabbed a quick cellphone shot from above the park last week showing the
work on the southern block
, where the foundation for the pavilion is being built.)
*
Housing Complex writes
about the deal finally being finalized for
Greenspace
to move into the empty retail spaces in the
1st Street facade
of
Nationals Park
, creating a "12,000-square-foot center for green building and design." This has been in the works for
nearly two years
, but even though there was a "launch" of the space on Tuesday (which I didn't hear about until people at the event started
live-tweeting it
), Housing Complex says that the project won't come to fruition until Greenspace "is able to raise another $600,000 in cash and in-kind contributions, adding up to the $2 million necessary to build out what's currently a blank shell." Perhaps someday, when
Florida Rock
is built out to the south and later
Yards
phases along 1st Street are completed, the "real" retail envisioned for this portion of the ballpark will come to pass. Here's the
press release on the Greenspace project
.
* Madison Marquette, owner of the Blue Castle at
770 M St. SE
, has now apparently completed a joint venture deal with local landowners ICP Group for all
ICP's various properties
on the east side of 8th Street south of the freeway, including the gray building at 8th and Potomac that houses Quizno's and the other properties along the 800 block of Potomac, and others. No news as to what might be done on those blocks, though if the new
Marine Barracks site
search ever crops back up, a group owning all of the land on Squares 929 and 930 could conceivably submit a proposal for a public-private partnership.
Coming later today, an equally bulleted post highlighting the slew of upcoming events in the neighborhood, both for this holiday weekend and beyond.
More Property Moves on Lower 8th; The Visioning?
Feb 10, 2011 3:25 PM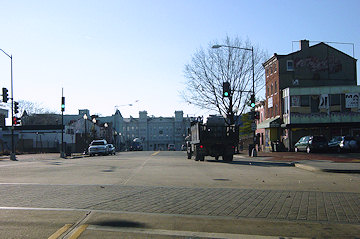 In my post about the
Bier Garden plans
for the northeast corner of 8th and L, SE, I promised a couple of extra tidbits about Lower 8th Street. To wit:
* Rumors abound that the
National Community Church
has acquired the auto repair garage at the
corner of 7th and K/Virginia, SE
, but despite someone saying otherwise at Tuesday's ANC 6B meeting, I'm told that no deal has been completed as yet. But even that at least confirms my not-terribly-hard-to-guess suspicions that NCC would be eyeing that lot for their new coffeehouse/performance space/offices, since they now own the land to both the
east
and
south
of the site. The garage's lot is 5,300 square feet, and was assessed in 2010 for just under $1.5 million.
*
Madison Marquette
, the developer who owns the Blue Castle at
770 M St., SE
and is also now a partner in the redevelopment of the Southwest Waterfront, is entering into a joint venture with the ICP Group, owner of the gray building (with Quizno's) at 8th and Potomac and
other Square 929 properties
that have been suffering from extended financing troubles.
WBJ reported on this in late January
, noting that those familiar with the deal "say Madison and its 'fairly deep pockets' will take over as lead developer for all the parcels." This also presumably gives Madison access to ICP's properties on Square 929, just across 8th Street from the NCC/Bier Garden block and to the north of the Quizno's block.
Squares 929 and 930 have been the subject of a lot of discussion as one of the sites that the Marines might be looking at as a location for their
new barracks
, because a development team could submit a proposal for a public/private partnership on that site if they controlled all properties on those two blocks. (This assumes the Marines do decide to go the public/private route; they could instead build additional barracks space on their existing land at 7th and L or manage to acquire some other government-owned site, such as the
old Capper Seniors/Square 882
site, which is owned by DCHA but which seems to be stalled in its attempts to get funding for the mixed-income apartment project on the north side of the block.) There's also the
Navy's potential plans
to expand outside their walls, which could include some of the close-by lots along 8th or maybe the old Exxon site at 11th and M.
In fact, in an e-mail to me last month, ICP President Leon Kafele referenced these possibilities by saying that the joint venture with Madison Marquette will "position [ICP's] assets to better respond to the Marines Corps and Navy Yard supply and demand for a BEQ, retail, and office space on or around lower 8th Street Barracks Row." And Madison has mentioned in public meetings that the Blue Castle could become home to some of the "shared uses" that the Marines are hoping to have be part of any new barracks venture.
So, with NCC and the Bier Garden making moves on Square 906, Madison Marquette increasing its presence by making deals on Squares 929 and 930, and the Navy and Marines in the mix as well, does this mean that Lower 8th is starting to perk up? And, how will any new projects tie in with the
Lower 8th Street Vision Report
developed by the Capitol Riverfront BID along with all manner of representatives of Barracks Row, the Navy and Marines, business owners, and local residents?
I haven't written much about the whole vision thing, especially once the discussion of the Marines' land needs began to focus south of the freeway and it became clear that until they decide what they're doing about their barracks, any real discussion of what Lower 8th may look like in the future is very much up in the air.
That said, the vision report has mostly general recommendations that aren't exactly controversial: "Encourage a Mix of Uses," "Historic Preservation is a Must," improve the underpass to encourage pedestrians to come down from north of the freeway, address parking/circulation issues, and others.
But there is one concrete suggestion in the report: increasing height and density limits on some of these squares. The current 45-foot limit on 8th would be maintained for new structures, but greater heights (65 to 85 feet) could then allowed 20 to 30 feet behind existing historic 8th Street structures.
You can see on page 17 of the
report
some drawings of what the Bier Garden corner at 8th and L would look like with a 45-foot building on the site, and there are other drawings depicting height changes on the following pages, including allowing the less-historic western side of the Blue Castle to be built up higher.
The Bier Garden's one-story-plus-roof-deck
design
would seem to be not exactly what the visioners envisioned, but the developer has said he anticipates it to be a temporary structure (though that's not a guarantee). There's been no public opposition to the Bier Garden from the BID or Barracks Row Main Street--but no letters of support, either.
It will be interesting to see what the National Community Church comes up with for their design, and whether it'll try to take advantage of the desire for larger building heights set out in the vision document, if that idea ends up being embraced by the city.
And, there's still the Marines' decision to look for, which could be the biggest driver of all for redefining Lower 8th.
Latest on the New Marine Barracks Location Search
Apr 23, 2010 11:36 PM
This week the Marines held a third community workshop as part of their quest to find a new location for their Bachelor Enlisted Quarters (BEQ), to replace the aged and un-secure "Building 20" at Eighth and I, SE. This session centered on visions/possible layouts of the five locations that the Marines are zeroing in on, all of which are in Near Southeast, now that Tyler Elementary has been knocked off the list. The people running this planning process deserve a lot of props for being very good about posting their meeting materials online, mostly because it obviates the need for me to go on and on trying to describe them. (Yay!)
While the
presentation slides
are good for an overview of the process, the real meat to chew on is the new "
Regions Forums
." (Though, a hint to the folks running the web site: I'd turn off the "Interactive Map" scroll that is the link to these Options slides, and maybe rename the link, because it's easy to miss and contains such important information.) This is a series of very detailed drawings of possible layouts (and pros and cons) for the locations they're studying, which include four that have been
previously discussed
(the current Barracks site on Virginia Avenue between Fifth and Seventh, DCHA's
Square 882
just to the south on L between Fifth and Seventh, the Exxon/Virginia Avenue Park site at 11th and M, and inside the walls of the Navy Yard), and a new location (Squares 929/930), which are the blocks between Eighth and Ninth and Virginia Avenue and M Street.
The 929/930 site seemed to get some interest from the sparse number of community members who attended the Wednesday night session I was at (I don't know about the response at Thursday's session), even though it would close L between Eighth and Ninth and would take a big bite of the Virginia Avenue Park (requiring the move of the community garden closer to the freeway). A representative of Madison Marquette--owners of the "Blue Castle" right across the street--said that they are very much in favor of this option, saying that it would help to "animate" lower Eighth Street. There was also some talk that perhaps the Navy Yard, in its quest for more space of its own, might then look at the Exxon site at 11th and M as an attractive location to expand to, giving that big stretch from Eighth to 11th south of the freeway a very military feel. There is of course a stretch of private homes along Potomac between Ninth and 10th where the homeowners might not be quite so interested in having military installations on three sides, and the Spay/Neuter Clinic at 10th and L might also end up needing to relocate. It would appear that the businesses along the east side of Eighth would get to stay (Port Cafe, Quizno's, Chicken Tortilla), but Dogma at Ninth and Virginia might lose out under this proposal.
As for Square 882, the Marines said that DCHA has said the location can remain on the "options" list even though the agency is actively working to secure funding for the apartment building they're planning for the site. It must be said that there does seem to continue to be a bit of a disconnect between how the Marines are characterizing the availability of this lot compared to what DCHA is indicating; also, Ward 6 planner Melissa Bird spoke up to say that the city continues to be very much opposed to Square 882 as a location for the Barracks.
But, blah blah blah, these few points are just a bit of atmosphere. Anyone who's interested in what the neighborhood may look like in a few years should be
looking at all of the location options
, as well as the "
Potential Shared Community Projects
" that the Marines see as what they can give back to the community in return for the land they will occupy. Readers should also make use of the "Comments" options that are available on each option page of the CIMP web site, as the Marines continue to stress that they truly have no plan at this point, and need the input of the community to help guide their final decisions. The next workshop, on "Consensus Elements," is scheduled for Saturday, May 22.
Tidbits From the Past Few Days (Foreclosure, Marines, WMATA Cuts, 11th Street Bridges, 1015 Half)
Jan 21, 2010 10:35 AM
Rounding up some new and
Tweeted
tidbits, now that I've recovered from cranking out the
State of the Hood
:
* (h/t "reader X") The
second foreclosure sale
held yesterday for the boarded-up apartment building and surrounding lots at Potomac, Ninth and L brought no bids above the $2 million starting point, so the properties will now return to the lender. An earlier auction
back in October
had brought a $2.461 million winning bid, but that deal fell through. The properties were originally bought by ICP Partners
in 2006
, along with the gray building at Eighth and Potomac, for $9 million.
* Via
ANC 6B03 commissioner Norm Metzger
, the Marines have created a web site for their "
Community Integrated Master Plan
." The site describes this planning process as evaluating "community-military development partnering options" because "[t]here are unmet facility needs and security requirements at Marine Barracks Washington and a potential to meet common community and military needs through the process" and that their goal is "to use a coordinated planning process to create a win-win in meeting the development needs of the local community and Marine Corps." Now that that's cleared up, you can go to the open house they're having on Jan. 27 from 5 to 8 pm in the North Hall of Eastern Market, to "assist the planning team in identifying issues, concerns, and potential opportunities for military-community development partnering."
* One of many
service reductions proposed by WMATA
to help close their FY2010 budget gap is to shut down one of the two entrances to the Navy Yard metro station on weekends. (They don't say which one.) The public hearing on their various proposals is Jan. 27 at 5:30 pm.
UPDATE:
From Michael Perkins, in the comments, it would be the west entrance, at Half and M. I wonder if this would only be when there are no stadium events?
* Via the
Capitol Hill Chamber of Commerce's Twitter feed
, there will apparently be one more
Lower 8th Street
visioning session, on February 22. After this final session, the group will forward its recommendations to the Office of Planning on what sort of development should be emphasized for these blocks south of the freeway.
* In Sunday's Post,
Dr. Gridlock took a look
at the
11th Street Bridges project
, telling drivers what to expect as the construction unfolds, and that the "new bridges will forge a link between Maryland, the District and Virginia that has been missing since the original highway plan for the District was abandoned decades ago. And it will create a new link between neighborhoods on both sides of the Anacostia while relieving them of some of the commuter traffic that spills onto local streets."
* As part of the start of work on the bridges, a raze permit application has been filed to demolish the
old red brick buildings
between the current bridges that housed the Anacostia Community Boathouse, whose operations are now
moving up-river
to a temporary (maybe permanent) home at the Anacostia Marina.
* A little time spent trolling through public records shows that within the past month a bunch of the liens brought against Opus East when they liquidated and stopped work on
1015 Half Street
have been settled. No indications from the new owner (
Douglas Wilson Companies
) as to when construction might restart, despite their
statements back in October
that it would be happening soon.
Lots on Potomac/9th/L Back Up for Auction
Jan 15, 2010 12:47 PM
(thanks to reader C for the tip) If you are desperate to own the nine lots along Potomac Avenue, Ninth, and L that
were foreclosed on earlier this year
, you've got a second shot. They were picked up at auction
in October
for $2.461 million, but apparently that sale has fallen through, because the lots are once again on the Alex Cooper Auctioneers web site, scheduled to be
auctioned again on January 21
. The properties were owned by ICP Partners, who defaulted on a $2.3 million loan in 2009. ICP tried hard earlier this year to
drum up interest in these lots
plus the gray building at Eighth and Potomac that houses Quiznos (which is
not
part of this foreclosure), after a previous sale attempt in 2008 went nowhere. ICP paid $9 million for all 10 properties in 2006.
Nine Foreclosed Lots Net $2.46M; Weekend Green Line Closures; Ballpark Rules Fundraising Roost
Oct 7, 2009 2:20 PM
* The nine lots on Potomac Avenue, Ninth Street, and L Street formerly owned by ICP Partners were sold at auction on Tuesday; according to
the auctioneer's web site
, they went for $2.461 million. (The defaulted loan was for about $2.3 million.) I don't know yet who the buyer was. ICP still owns the gray building at Eighth and Potomac that houses the Quizno's.
* Metro is doing a ton of work this holiday weekend, which includes the closing of the Waterfront and Archives stations on the Green Line.
Tommy Wells's blog has the memo
that spells out what this means for Green Line riders. The short version? Walk to Capitol South! (UPDATE: The
WMATA version of the memo
also has a nice graphic.)
* Nationals Park beats out FedEx Field and the Verizon Center as the top location for political fundraising events,
says The Hill
.
Calendar Items (Confirmed, Cancelled, Moved)
Oct 5, 2009 2:40 PM
A few changes and confirmations to note:
* It appears that the
foreclosure auction of nine lots
along
Potomac Avenue and Ninth Street
is going forward,
scheduled for 12:15 pm tomorrow
(Tuesday, Oct. 6) at the Alex Cooper offices.
* From The BID: "Due to lowering fall temperatures, the BID has decided to cancel the rescheduled outdoor showing of Star Wars this Thursday, October 8th."
* And the
Lower Eighth Street Visioning
Community Input meetings originally scheduled for Oct. 7 have been moved to Oct. 20, at 8:30 am and 7 pm.
Foreclosure Notices for JPI's 23 I Street Lots, and Nine Potomac Ave./9th St. Parcels Owned by ICP
Sep 22, 2009 10:28 AM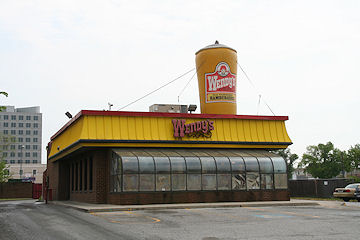 On Sept. 10 a Notice of Foreclosure Sale was filed for the two now-vacant parcels of land on the southwest corner of Half and I streets where the Wendy's used to stand. (Note that this doesn't include the adjoining Exxon land.) The lots, totalling about 47,000 square feet, were bought in July of 2007 by JPI for $28.6 million, with the intent of building
23 I Street
, the fourth of JPI's "Capitol Yards" residential buildings (along with
70/100 I
and
909 New Jersey
). JPI owes $25.1 million on the loan, which came due on Aug. 1 and which is held by
Ruben Companies
, owners of
1100 South Capitol Street
and 1101 across the street. The foreclosure sale is scheduled for Oct. 13.
JPI East pretty much fell apart over the past two years, with its principals taking what was left and
forming a new company in June
with bigwigs at Akridge; stories at the time mentioned their continued stake in 70/100/909, but said nothing about 23 I.
Another, smaller commercial foreclosure is happening further east, where nine parcels owned by ICP Partners
along Potomac Avenue between Eighth and Ninth
(including the brown boarded-up apartment building at Ninth and its parking lot) received a notice of foreclosure on Sept. 4, with a debt of $2.3 million on the properties. ICP tried hard earlier this year to
drum up interest in these lots
plus the gray building at Eighth and Potomac that houses Quiznos (which is
not
part of this foreclosure), after a previous sale attempt in 2008 went nowhere. ICP paid $9 million for all 10 properties in 2006; this foreclosure sale is scheduled for Oct. 6. (The properties are also on the
city's September Tax Sale list
.)
Whether the properties will actually go on the block, or if deals will be struck or lawsuits filed in advance of the sale dates, remains to be seen, but foreclosures are about to be a big part of the commercial real estate landscape throughout the US. (Spend a few days reading
Calculated Risk
if you want some insights into the predicted onslaught.)
As for the neighborhood's other "distressed" properties, Opus East's
100 M
and
1015 Half
office buildings are part of the company's liquidation proceedings, with
rumors flying
but no news of new owners yet. And the empty lot in the 1000 block of Seventh Street (across from the
Marines
), where a developer had been
planning an apartment building
, was sold in late July for $400,000 after a foreclosure; it had been purchased along with the two townhouses alongside it for $1.25 million in 2004. One townhouse was subsequently sold, the other was foreclosed on as well, though so far no evidence of a sale has turned up.
A Pile of Little Items
Mar 19, 2009 4:19 PM
All sorts of tidbits came down the pike in the past 24 hours. In no particular order:
* I didn't make Tuesday night's
Anacostia Waterfront Forum
, but the presentation slides ("
Economics of Developing the Anacostia River
")
have been posted
. The slides have a good batch of economic data and detail for those interested; it's estimated that there could be nearly $6.7 billion in public investment along the river over the next three decades. In addition, the February forum is now
available via streaming video
, and the next forum has been scheduled for April 21, with the topic being "
Green Waterfront, Green Jobs, Green Living in a Green DC
." (The
March "Waterfront Watch" newsletter
has these additional tidbits, plus stories on the DC streetcar project and the
Diamond Teague Park
groundbreaking
.)
* The WashTimes's Tim Lemke
gets a first peek
(along with suiteholders) of what new concessionaire
Levy Restaurants
might have in store for
Nationals Park
this season.
* Via the
eckington
blog, a list of the "
shovel-ready
" transportation projects in the district being funded by ARRA (aka "the stimulus package"). Apparently the demolition of the ramps connecting the
11th Street Bridges
and RFK were on the request list, but didn't make the final cut. DDOT's been saying for a while that this demolition would happen Any Minute Now. (Read more about DC and the stimulus package at
recovery.dc.gov
.)
*
Back in December
, the owners of the
810/816/820 Potomac Avenue
properties (the building that houses Quizno's, the abandoned apartment building, and the space between) announced a
sealed bid sale
for the lots. While some bids have been submitted (interest from hotels keeps getting mentioned in the communiques I've received from the landowner), the original March 15
deadline
has been
extended
by another 30 days.
* A link that I saw this morning that I've subsequently lost says that the
Circulator
route replacing the N22 from Union Station to New Jersey and M will begin on
March 30
.
* Two readers reported that the
55 M
construction cam
has been turned off. For the first time since 2006, there are no active web cams in the neighborhood. Waaah!
* Another reader reported that the sign put up in 2006 at the
corner of Second and M
advertising
250 M Street
("Delivery 2008") has been replaced with a new sign, minus any delivery date.
* I know that it's been a *long* time since I've posted new photos. I had grand thoughts of going out this morning, until I looked at the radar. I'm hoping to take some this weekend, though I have a very tricky schedule to work around. But at least know that I'm now feeling guilty about it.
Nationals Park Job Fair; Interest in Potomac Ave. Sale
Feb 26, 2009 11:53 PM
* From
Tommy Wells
:, an announcement of a Southwest Community Job Fair for Positions at
Nationals Park
, on Tuesday, March 3, from noon to 8 pm at the King-Greenleaf Recreation Center at 201 N St., SW. Applicants must be 18 or older;
see the announcement
for additional details.
* ICP Partners, the owners of the properties along Potomac Avenue between Eighth and Ninth, sent out a press release this week to announce that the
sealed bid sale
is "producing robust activity" in advance of its March 15 deadline: "The inquiries from various users for the site include a Navy Yard focused hotel and apartments, University Campus, retail and offices, and a childcare center for Navy Yard employees." They also put out a press release
earlier this month
to announce they had "signed [letters of intent] with a couple of the largest hospitality companies in the world to evaluate the feasibility of developing and managing hotels in certain urban markets, including 820 Potomac Avenue in SE Washington, DC."
A.M. Tidbits: 8th Street Lot, Anacostia Waterfront, N22
Feb 18, 2009 10:36 AM
* The folks at
Barracks Row Main Street
have passed along the news that today the chain link fences are being removed from around the parking lot under the Southeast Freeway at Eighth and I. New lighting has been installed, and once the parking meters and striping are complete, this lot that was formerly restricted to use by the Marines will become a 60-space public parking lot.
* I didn't make the
Anacostia Waterfront Forum
meeting last night; hopefully the DDOT folks will post any slides or other materials on the
Anacostia Waterfront web site
. However, yesterday WAMU did two reports on the initiative, with interviews with many of the people scheduled to speak at the forum: you can hear them
here
. (And, a PS to DDOT: it might not be a bad idea to have the
old AWC URL
redirect to the new web site instead of dc.gov.)
* A reminder that tomorrow (Thursday) is the
WMATA public hearing
on decommissioning the N22 Union Station/Eastern Market/Navy Yard bus line, so that DC can replace it with a shiny red Circulator bus. It's at 6:30 pm at Metro's headquarters, 600 Fifth St., NW.
* (h/t G St.) I have to admit I found
this
pretty funny, but only because I've been lucky enough to never discuss dog parks, nor have I come up with a "ridiculous acronym" for the neighborhood. (Though goodness knows plenty of other people are trying.) Plus, I was born on Capitol Hill, and really am a "DC Lifer." Nyaaah!
Landowners at Ninth and Potomac Talking to Hotels
Feb 9, 2009 2:32 PM
I've received
a press release
from ICP Partners, the folks who own the properties along
Potomac Avenue between Eighth and Ninth
(just north of M Street). Quoting: "The ICP Group, Inc. announces today that it will create an urban hotel index fund that will focus on developing and operating hotels in U.S emerging markets. As a benchmark, ICP has signed [letters of intent] with a couple of the largest hospitality companies in the world to evaluate the feasibility of developing and managing hotels in certain urban markets, including 820 Potomac Avenue in SE Washington, DC." This would be on the eastern part of the Potomac Avenue stretch of the block, the parking lot that wraps around onto Ninth Street. No word on who the hospitality companies are. Some may remember that this land (along with the building at Eighth and Potomac where Quizno's resides in the ground floor) was
put up for sale in a sealed bid process
back in December. More as I get it.
Sealed Bid Sale for Potomac Avenue Lots
Dec 4, 2008 12:46 PM
The owners of the series of lots along Potomac Avenue between Eighth and Ninth
have announced a Sealed Bid Sale
for the properties, with a due date of March 15, 2009. The
offering
, which includes the building at
Eighth and Potomac
where the Quizno's is located, the
boarded-up brown apartment building
at Ninth and Potomac, and all the land in between (totaling .81 acre), is being handled by an affiliate of Lincoln Property Company. The current owners are the ICP Group, which purchased all these properties
in early 2006 for $9 million
, and had
put them on the market earlier this year
, apparently without success. ICP are also the folks who tried to get the Admiral Condo project off the ground at Eighth and Virginia, but are now disentangling themselves from that project (now an office development) as well.
8th and Potomac Properties for Sale; Admiral Dying?
Jan 22, 2008 10:35 AM
The buildings along Potomac Avenue between Eighth and Ninth streets--the white corner building that houses Quizno's (810 Potomac) and the
boarded-up brown brick apartment building
next door at Ninth and Potomac--
are now up for sale
(asking price not listed). The current owners, ICP Partners, purchased the properties in February 2006 for $9 million; they're currently assessed at around $6.5 million. These owners are part of the group that has been trying to develop
801 Virginia Avenue
since 2005--and I imagine it's a sign of what might be happening with that project that the splashy
AdmiralCondo.com
web site that they launched
back in August
is now gone. Perhaps someone with better access to commercial property listings than I have might want to peek and see if the 801 Virginia lot (0929 0007) is up for sale as well?
(I should also note that the Dogma lot on the *other* end of the block from the Admiral, at 821 Virginia, is
apparently for sale
, for $4 million. Dogma's lease runs through 2014.)
UPDATE: Thanks to reader A. for letting me know that the 801 Virginia lot is indeed listed for sale, for $4.5 million.
ANC Doings
Apr 11, 2007 2:56 PM
Some very brief Near Southeast-related updates from two ANC meetings this week (I wasn't in attendance at either, so these are just quick summaries I received from Other Parties): At
ANC 6D
on Monday, the commissioners voted 3-2-2 to oppose a zoning special exception request (waiver of the rear yard requirement) for the planned office building at
1111 New Jersey Ave.
, the Donohoe project on the
west side of New Jersey between L and M
(on top of the eastern Navy Yard Metro station entrance); the Board of Zoning Adjustment
hearing is on May 8
. As always, the biggest sticking point appeared to be battle between the ANC's we-want-a-community-benefits-package-in-return-for-our-support stance and the developer's this-is-a-matter-of-right-project-we-don't-have-to-give-you-anything stance. (And you wonder why I avoid these meetings like the plague.)
Meanwhile, over at
ANC 6B
(which is in charge of the sliver of Near Southeast around
8th Street/Barracks Row
), the process is beginning about the possibility of razing the abandoned beige apartment building on
Potomac between 8th and 9th
and replacing it with a new four-story building with ground-floor retail and two levels of underground parking (though this is still just in the conceptual phase and may not be the final plan). A raze permit has been applied for, but because this small section of Near Southeast is part of the Capitol Hill Historic District, the
Historic Preservation Office
will be involved in the process. More later, I'm sure.
10 Potomac Ave. Lots Sold for $9M
Mar 7, 2006 11:59 AM
While we wait for the city council to get to the baseball stuff on today's agenda, I'll pass along this news item--according to the DC Land Sales database, on Feb. 3, "ICP PARTNERS POTOMAC 810 LLC" purchased 10 lots along Potomac Avenue between 8th and 9th streets for
$9 million
. This includes the boarded up apartment building on Potomac, the building on M Street housing Quizno's, and the lots along 9th and the eastern edge of L. No word yet as to what their plans for this spot may be, but it is a prime location, just across the street from the Latrobe Gate of the
Navy Yard
. (Note that ICP Parnters is part of 801 Virginia Avenue LLC group currently developing the
801 Virginia Avenue
project.)