Near Southeast DC: Past News Items
politics
Go to Full Blog Archive
---
33 Blog Posts Since 2003
Go to Page:
1
|
2
Council Restores Funding for Partial DC Water Relocation
May 22, 2013 3:25 PM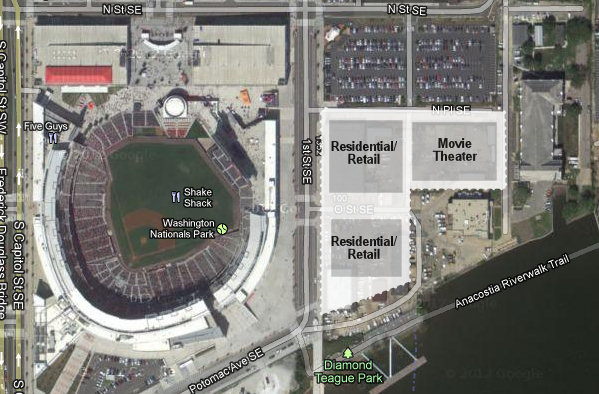 As part of a first vote today on the city's FY14 budget, the DC Council restored funds for the planned relocation of some of DC Water's functions currently at
1st and O SE
, monies that
had been moved to Ward 4 projects
by the council's Economic Development Committee chair Muriel Bowser (who happens to represent Ward 4, and who happens to be running for mayor).
The relocation, once completed, makes way for an expansion of the
Yards
footprint and the
potential addition of residential and retail offerings
, including a planned movie theater.
Originally $8 million was earmarked for the DC Water relocation--
according to the Post's Tim Craig
on Tuesday, $5 million of that money was to be restored. (I am working to confirm exactly what the final number is, and will update.)
UPDATE:
The restored funding is $6 million,
according to Charles Allen
.
(Note that DC Water will not be removed completely from this area--the
Main Pumping Station
will continue to operate in its lovely historic building. It appears to be mainly "fleet management"/parking operations that will relocate.)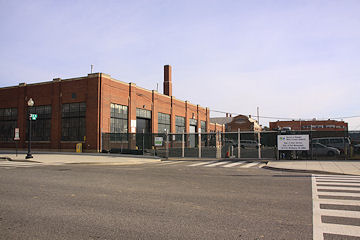 In a
press release
on the restoration, Tommy Wells (also running for mayor) is quoted thusly: "This is great news for the riverfront. I'm very glad we were able to restore these funds to keep this important project on schedule. Working with my colleagues, these funds will be used to create a project that develops new jobs and residences, and importantly, will serve as a critical link in the revitalization of the riverfront neighborhood."
Additionally, the press release quotes Forest City Washington president Deborah Ratner Salzberg: "Today's action by Council allows us to continue to work with DC Water to keep this project on schedule for the neighborhood and the city. This mixed-use component of The Yards is an important link for the overall project and its riverfront neighborhood – bringing jobs, residents and desired new amenities. We appreciate the work of Chairman Mendelson working with Councilmembers Wells, Grosso and Barry and the unanimous support of their Council colleagues to restore the funding and ensure the project moves forward on schedule."
Budget Moves May Delay Yards Movie Theater Project
May 10, 2013 4:01 PM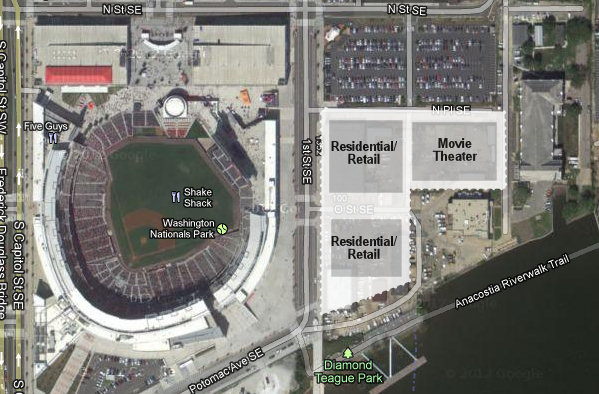 On Thursday, the news broke that the DC Council's economic development committee voted to shift $8 million of the city's 2014 budget from the planned relocation of some of the
DC Water facilities
at 125 O St., SE, to three projects that happen to be in the ward of the committee's chair, Muriel Bowser (who also just happens to be running for mayor).
This relocation is a step on the path to Forest City's
plans for a mixed-use development
including a
movie theater
on that site. The project is currently going through the zoning process, and is expected to have a hearing within the next few months.
Let's hand the narrative over to the
Washington Business Journal
: "Bowser described the D.C. WASA project, in the report, as a 'poor use of capital funding,' given that a replacement WASA site has not been identified. Later Thursday, the councilwoman said that she supports the relocation project and that she left enough money in the fund -- $1 million in 2014 and $9 million in 2015 -- to continue community outreach and relocation work.
"The WASA project, she said, will require extensive environmental remediation and can't possibly be done next year.
"'They can't use it,'" she said of the $9 million set aside in 2014."
As for how the mayor's office feels about the move? "'Stopping the Yards project -- who in their right mind thinks that's a good idea?' responded Pedro Ribeiro, Gray's spokesman."
This is not the final word in the budgeting process--the full council still needs to vote on the budget, and there could still be some maneuvers to come.
ANC Vote: Ed Kaminski Wins 6D02; Garber Re-Elected
Nov 7, 2012 12:06 AM
Elections are a very (very!) busy time for me in my "real" life, so I can tear away for just a moment to pass along the news that
Ed Kaminski
has won the race for the newly drawn ANC 6D02, with 485 votes to Damon Patton's 376. (So that's 54-42 if you don't feel like doing the math.) There were also 40 write-in votes, most of which presumably were for current 6D02 commissioner Cara Shockley.
David Garber
, running unopposed in 6D07, garnered (Garbered?) 642 votes, with 37 write-ins.
As for the rest of ANC 6D, commissioners Andy Litsky, Ron McBee, Roger Moffatt, and Rhonda Hamilton are all returning, and Donna Hopkins is now the new commissioner for ANC 6D01. (Grace Daughtridge, running against Moffatt, had
kind of a rough Election Day
.)
If you want to see vote totals,
here's the DCBOEE site
.
Now, back into my election cave for a little while longer....
ANC Elections: Meet the Candidates, via Questionnaires
Oct 30, 2012 11:54 AM
With all of the Sandy stuff of the past few days, it seems like the One Week to Election Day mark has arrived today without the normal fanfare. But here we are with seven days to go, and as much as I tried to be lazy and avoid it (semi-retired! semi-retired!), I'm posting today the questionnaires I sent out last week to four candidates for the two ANC districts that now cover Near Southeast.
Click through to read the responses I received from three candidates for the new ANC 6D02:
Ed Kaminski
,
Damon Patton
, and current 6D02 commissioner
Cara Shockley
, running as a write-in.
David Garber
, 6D07's current commissioner, is running unopposed, but wanted a questionnaire too, so I obliged.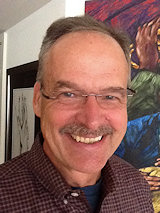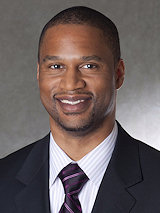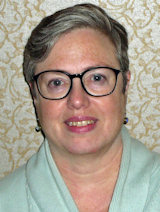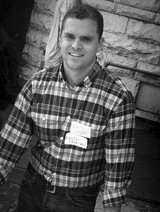 There are some questions specific to the two districts as well as general questions that all four candidates answered, along with one curveball (literally) at the end.
What do you think of the candidates' responses? Fire away in the comments.
ANC Races: Three Near Southeast Residents Running in Two SMDs
Aug 22, 2012 9:23 AM
If you weren't desperately refreshing the DCBOEE page during the past two weeks, you may not be aware that the
official list of candidates for ANC offices
came out while I was away. The lineup, pending any challenges that might knock someone out:
In 6D07 (in dark bluish purple in the map at right), incumbent David Garber is running unopposed after another potential candidate didn't return the required signed petitions before the deadline.
In the new cross-South Capitol ANC 6D02 (dark green on the map), the two
previously mentioned
candidates, Ed Kaminski and Damon Patton, both qualified for the ballot. This means that the single member district, which spans South Capitol between Southeast and Southwest and runs from I Street SE down to and including
Nationals Park
, will have a Southeast resident as commissioner, no matter who wins.
(Plus, of course, some enterprising pol could launch a write-in campaign if the current lineup doesn't measure up to said enterprising pol's standards.)
I anticipate that at some point between now and Election Day I will throw questionnaires at the candidates,
like I did in 2010
, to try to get past the general campaign-speak to find out some specifics about their positions on matters of interest in Southeast (and Southwest, for that matter).
Two More Potential Candidates for Near Southeast ANC Seats
Aug 1, 2012 6:48 PM
The DC Board of Elections
updates daily
the lineup of residents looking to run to election to the bajillion single member districts (SMDs) that make up the city's Advisory Neighborhood Commissions (ANCs), so it doesn't take much for me to tell you that two more potential candidates are now in the mix for the
two single member districts that will begin covering Near Southeast in 2012
, bringing the tally to four as of this evening:
*
Damon Patton
, a resident of 909 New Jersey, has picked up petitions for a run in ANC 6D02, the new cross-SouthCap ANC (in dark green in the map at right).
*
Florence Johnson Copeland
, a resident of the Capper Seniors building on 5th Street, picked up petitions to run today in ANC 6D07 (in dark blue).
*
Ed Kaminski
of Velocity had picked up his petitions early on to run in 6D02, and he has now gotten his 25 signatures to move forward with his candidacy.
* 6D07 Incumbent
David Garber
also picked up his petitions, and while he is not listed as having returned them, I would hazard a guess
he'll get that done
by the Aug. 8 deadline.
No sighting on the list yet of 6D02's incumbent, Cara Shockley, from Southwest.
The rest of ANC 6D, over in Southwest, is also looking pretty quiet with a week to go, with only one incumbent potentially being challenged, with Grace Daughtridge looking to run against Roger Moffatt in 6D05. Current commissioners Ron McBee, Andy Litsky, and Rhonda Hamilton are so far unopposed, while only one person is listed for 6D01, and it isn't incumbent Bob Craycraft, it's Ron Williams, Jr. And of these folks, only Moffatt has returned his petitions.
Anyone else going to run? Time's a wastin'!
More information on the races, how to sign up, qualifications, etc.,
in this post
.
ANC Elections: Petitions Available Monday, New Boundaries
Jul 6, 2012 9:53 AM
Presidential election not exciting enough for you? Lack of a mayor's race got you down? Need a bigger fix than just a council chair contest? Then you're in luck, because there will be
Advisory Neighborhood Commission
elections this November, as there are every two years.
The process kicks off Monday (July 9), when interested candidates
can pick up nominating petitions
at the DC Board of Elections. If candidates-to-be can round up signatures by Aug. 8 of at least 25 registered voters in the single member districts (SMDs) they wish to represent, and survive through the petition challenge period Aug. 11-20, they'll be on the ballot on Nov. 6. Candidates must be registered voters themselves and have lived in the SMD since June 9.
The biggest change for this go-round is there will now be two SMDs covering Near Southeast, necessitated by the swelling of the neighborhood's population well past the legislated SMD size of 2,000 plus or minus five percent. The
map at right
matches the
final boundaries as signed into law
, at least for Near Southeast (it shows
what Tommy Wells submitted to the council
to be the 6D SMD boundaries).
The changes? SMD
6D07
(shown in
purple
blue), the current Near Southeast district represented by David Garber that has long covered most everything east of South Capitol and south of the the freeway to 11th Street, has a big chunk taken out of it along South Capitol Street South of I and north of Potomac. That part of the neighborhood will now be in SMD
6D02
(dark green), currently represented by Southwest resident Cara Shockley, and it also includes areas of Southwest north of M Street and west of South Capitol. (The folks who live on or east of 7th Street SE north of M continue to be represented by ANC 6B04.)
So, If you live in
Jefferson/Axiom
,
Onyx
,
Capitol Quarter
, or the
Foundry Lofts
, or plan on moving into the
Park Chelsea
or any new buildings at the
Yards
or
Florida Rock
over the next 10 years, you are still in 6D07.
Residents of
909 New Jersey
,
Capitol Hill Tower
,
Velocity
, and any buildings that might pop up
in
the
blocks
north
of
Nationals Park
by 2022 will be voting in 6D02.
If you're looking to run and you pick up nominating petitions, feel free to
drop me a line
to let me know. And I imagine I will write about the races from time to time.
Ward 6 Dems Holding At-Large Candidates Forum Tuesday
Mar 19, 2012 8:27 AM
Unless you live and breathe politics (and who in DC does THAT?), you might not even be aware that DC is having its
primary election day on April 3
, and while Ward 6's council member Tommy Wells is not up for reelection this time around, Ward 6 residents do have the at-large council race to vote in (in addition to the presidential election and the DC delegate/shadow rep races).
To help get to know the candidates, the Ward 6 Democrats are hosting an
At-Large Candidates Forum
tomorrow, Tuesday, March 20, from 7 to 8:30 pm at Brent Elementary School at 301 North Carolina Ave, SE. The forum will be moderated by WTOP's Mark Segraves, and the event is free and open to the public.
Running are Vincent Orange (the current seat holder), E. Gail Anderson Holness, Peter Shapiro, and Sekou Biddle (all Democrats), Mary Brooks Beatty (Republican), and G. Lee Aikin and Ann C. Wilcox (Green Party).
Early voting for
all races
starts today (March 19) at One Judiciary Square. From March 24 to March 31, early voting expands to seven additional locations, including the King Greenleaf Rec Center at 201 N St., SW. For more information about the election, go to the
Board of Elections web site
.
ANC Redistricting: Hearing Today, New Map from Tommy Wells
Nov 29, 2011 10:01 AM
Today the council's Subcommittee on Redistricting is
holding a hearing
(
watch live
!) on the proposals for new ANC and single-member district boundaries. Late on Monday night,
proposed maps for all eight wards
were posted, with the Ward 6 maps being exactly the ones that the
Ward 6 Task Force submitted back in September
. However,
a Twitter discussion
with Tommy Wells's chief of staff has indicated that the task force maps are not what Tommy forwarded to the subcommittee, and Charles Allen was nice enough to pass along the ANC 6D portion of Tommy's map, seen below on the left, alongside the task force's recommended map (both can be clicked to enlarge):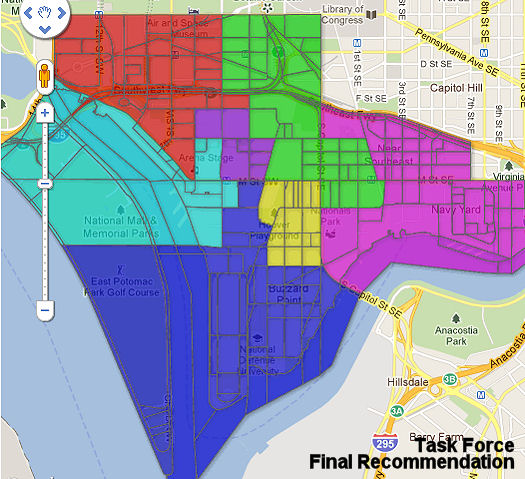 (The colors don't match up, so beware.) The two biggest differences for Near Southeast are that 1) 6D02 stretches all the way down to Nationals Park as part of its cross-South Capitol boundary, and 2) a pretty obvious notch has been drawn that happens to allow current 6D07 commissioner David Garber to remain within the SMD covering the vast majority of Near Southeast. (The populations of the block where Garber lives and the Capitol Hill Tower block are
nearly identical
, so a New Jersey Avenue boundary would have been easy enough to use, except that then Garber would be in an SMD with another sitting commissioner--and also wouldn't get to rule over more than about 15 blocks of Near Southeast.)
ANC Redistricting Task Force Listening Meeting in 6D Thursday
Jul 27, 2011 10:14 AM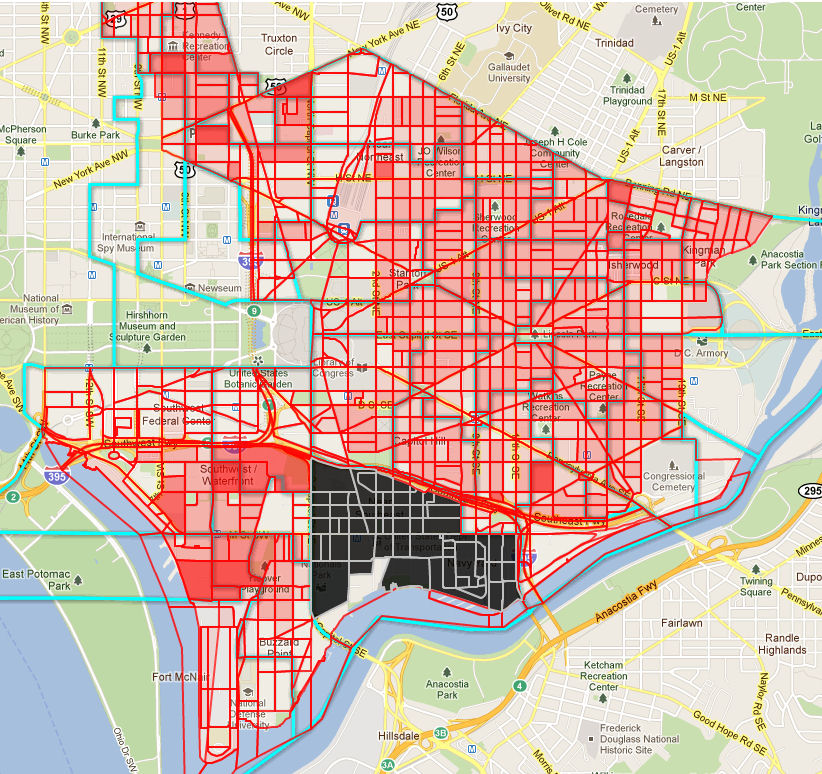 The
task force
put together by Tommy Wells to propose new boundaries for all of Ward 6's Advisory Neighborhood Commissions and their Single Member Districts will be coming to ANC 6D on Thursday night (July 28), for a "listening meeting" at 6:30 pm in the DCRA Hearing Room (E200) at 1100 4th St. SW.
Now posted on their blog is
a series of questions
that task force chair Joe Engler is asking to "account for the 'sense' of where residents associate their daily living." Among the questions:
* "Do the residents living around the baseball stadium believe their community "core" is located in: (a) Barracks Row, (b) Waterfront Mall, (c) both, and/or (d) neither?" (There is also a poll widget on the site where you can vote on this question.)
* "Is the freeway the proper east-west dividing line? For example, is there an opportunity to create SMD that use the Third, Fourth, Sixth and Eighth streets tunnels to "connect" the residents on both sides of the freeway?"
* "Should large residential buildings or complexes be dispersed among multiple SMDs?"
* "While needing to build SMDs with a population of 2,000 residents - are there any creative ways to account for the hidden census? Either those people that are now living in ANC 6D (around the baseball stadium for example) that were not there at the time of the census. Or those empty buildings or pending constructions that will drive a significant increase in density over the next few years?"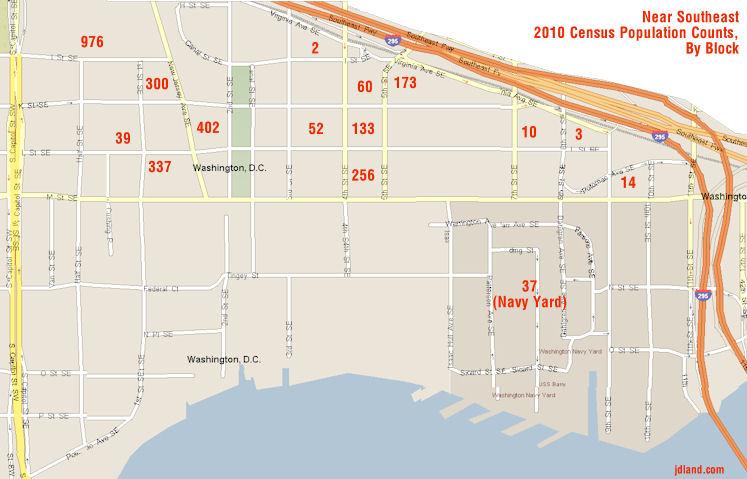 The last question is an interesting one, given that the census numbers come from
April 1, 2010
, and certainly another couple hundred residents have moved in since then. And with phase 2 of the
Capitol Quarter townhouses
moving along, the Yards'
Foundry Lofts
building about to start leasing, and likely construction of new residential buildings at
401 M
,
880 New Jersey
,
Florida Rock
, and along Half Street within the next five years, any SMDs drawn in Near Southeast based on 2010 numbers are going to balloon well past the target population size of between 1,900 and 2,100 residents. At the kick-off task force meeting a few weeks back, attendees were told that the 2,000-plus-or-minus-five-percent is not a legislated requirement, but is a goal, and that the task force can choose to have non-conforming SMD sizes if they feel it is necessary. But it was also clear that some of the task force members consider non-conforming SMDs a no-no, especially if they're used to take into account populations not reflected in the census numbers
As for the "core community" question,
a new map
suggested by ANC 6A02 commissioner Drew Ronneberg (but not endorsed by the task force) shows all of Near Southeast in a new ANC 6B, pairing the neighborhood with Barracks Row as its "core." Southwest would then be on its own in 6D, west of South Capitol Street.
You can use my
interactive Ward 6 map
to play with the numbers, especially if you want to see how keeping all of Near Southeast in 6D is a pretty tough nut to crack if the 1,900-2,100 population targets are inviolate. But then the question becomes whether the neighborhood gets split between 6D and 6B, or moved completely to 6B.
Somewhere far down the road, of course, Near Southeast when built out could be its own ANC, but in the meantime the realities of the numbers mean that it has to be grouped with either a large number of Southwest SMDs or a large number of southern Capitol Hill SMDs. Which one do you think makes more sense?
The
meeting
will run for 90 minutes, with time alloted for public input by ANC chairs/commissioners, community and neighborhood organizations, business and merchant associations, residents, and business owners; there will be a sign-in sheet for those wishing to speak. Written statements and comments will also be accepted at the meeting, or by e-mail for up to three days after the meeting (
ward6rd@gmail.com
).
The task force is scheduled to propose its first draft of new boundaries at a public meeting on Aug. 8, then forwarding the official draft to the ANCs on Aug. 18. The final draft would then go to Tommy Wells on Sept. 26.
Or, if you don't want anything to do with an ANC "listening meeting" Thursday evening, you can go on Tommy Wells's
South Capitol Street Bike Ride
, scheduled for exactly the same time as the redistricting session. Representatives from DDOT, the Washington Area Bicyclist Association, and Black Women Bike will be joining community members from Ward 6 and Ward 8 to discuss issues that affect pedestrians and cyclists on both sides of the river, focusing on improvements that can be had in the design of the
future Douglass Bridge
, which already calls for far wider sidewalks than the current bridge.
Details on Ward 6 ANC/SMD Redistricting Process Released
Jul 8, 2011 2:27 PM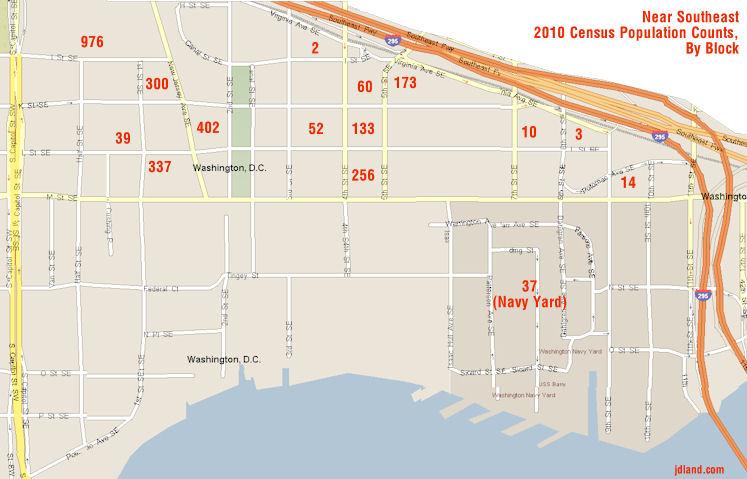 Ah, the lazy days of summer, when Washington all but shuts down so that its citizens can try to keep cool and take a bit of a break from politics--except this year, when July and August will be filled with a slew of public meetings as the redistricting process that was so much fun at the ward level now filters down to the Advisory Neighborhood Commissions.
Tommy Wells posted this afternoon the
first details on the process for Ward 6
, announcing (somewhat belatedly) that the
first meeting
of the task force will be on Monday, July 11 at 6:30 pm at Miner Elementary School (601 15th St. NE), which unfortunately overlaps with the
ANC 6D July business meeting
at 7 pm. (Which meeting do you guys want me at? All that's on the 6D agenda for Near SE is a public space permit for the new apartment building at
880 New Jersey
, which could possibly bring additional details from
what I posted recently on the project
, but which I think probably won't.)
There will then be "community listening" meetings in each of the ANCs, with 6D's scheduled for Thursday, July 28 at 6:30 pm, and 6B's on Monday, Aug. 1 at 6:30 pm. Then there will be meetings on the first draft of the new boundaries, which is scheduled to be sent to the ANCs on Tuesday, Aug. 18. The task force will then make the rounds of the September ANC business meetings, submitting a final draft to Tommy Wells by Sept. 26, which he then will submit to the council by the required Sept. 30 deadline.
The task force (which isn't yet finalized) includes lots of familiar Ward 6 names (including Near SE resident Tyler Merkeley), and is chaired by former ANC 6A chair Joe Fengler. The current list of names, along with the laying out of the process, is available in
this memo from Tommy Wells
.
As
I wrote last week
, The vast majority of Near Southeast has up to now been in one Single Member District (6D07), but with SMDs needing to have populations between 1,900 and 2,100 and Near Southeast
counted at 2,794
in the 2010 census, it's going to be split: the question is just how, and where. The
quick-and-dirty map
I posted of the numbers shows that the area west of 2nd Street has a population of 2,054, making it a perfect size for an SMD, but the rest of the population is not enough for a second SMD that is 100 percent south of the freeway, so there's going to have to be an SMD either crossing the freeway or crossing South Capitol Street. We shall see!
Redistricting Latest; Navy Yard Riverwalk Hours; Singles; A Break
May 26, 2011 5:14 PM
A few tidbits going into the holiday weekend:
* Nothing changed for Near Southeast as a result of Thursday's Redistricting Committee meeting, but it certainly wasn't boring. Tommy Wells took some swipes at Jack Evans, Marion Barry threatened to sue, Harry Thomas, Yvette Alexander, and Muriel Bowser talked about the need for unity, and when committee chair Michael Brown refused to recognize Barry for a second round of statements, the two talked over each other for a number of moments while Phil Mendelson and Jack Evans tried to reach Barry's microphone. Finally, while Barry continued to talk, Evans called the motion, they voted to approve the
draft map
that keeps Near Southeast in Ward 6 (with some small changes on the Ward 2/Ward 6 border), the hearing ended, and the microphones were shut off. I don't often suggest council hearings for an On Demand Popcorn Special, but if you have an hour (or want to fast forward to the last 10 minutes), it should be available
on the OCT web site
soon. Here's
DCist's report on the hearing
, along with
Mike DeBonis's pre-hearing post
on the "Jackmandering" that has Tommy Wells unhappy. Next up is the public hearing on June 1 at 6 pm, which should be even more festive.
UPDATE:
No need to wait! TBD has the
video of Barry vs Brown
. And here is
a short Examiner piece
on Barry's lawsuit threat.
* The Washington Navy Yard Riverwalk's Twitter feed
announced yesterday
that, starting on Tuesday, May 31, their gates will open at 5:30 am instead of the current 8 am. The gates will still close at 5 pm, and this is still Monday through Friday (excluding holidays), and the area can still be closed at the WYN's discretion. The
Twitter feed
has been good at announcing when closures are planned. Perhaps this expansion on the beginning the day means that further expansions might someday come down the pike?
* Also on June 1, the ANC 6D Alcohol Beverage Committee will be taking up requests from both Cornercopia and Harry's Reserve for exemptions from the ban on selling "singles." The agenda says that this "will cover exemptions for 25 to 70 ounces of beer, NOT single beers from a six-pack, or miniatures, small pints." The meeting is at King Greenleaf Rec Center at 7 pm. Any recommendation to allow the exemptions would then taken up by the full ANC for approval at its monthly meeting on June 13.
And, with that, I'm going to take a bit of a breather. Between the flurry of high-emotion news items over the past few months, the upcoming holiday weekend, and some stuff on the boards in my "real" life, it's a good time to step back for a little while. I expect to be away from blogging all next week, and maybe a little past that. If really big news breaks (and I mean *really* big), I may try to put something up, but I definitely won't be operating at normal warp speed. I may do some not-very-timely
Tweeting
if I can't bear not to, but I really am going to try to take an actual break. There haven't been many of those in eight-plus years...
In the meantime, feel free to use this spot as an open thread on matters of neighborhood interest. But behave, because I'll still be reading....!
Draft Redistricting Plan Keeps Near Southeast in Ward 6
May 25, 2011 8:32 PM
Within the past hour, council member Michael Brown released the draft redistricting map for the city (
available ward by ward
). To not bury the lede, as we say in the news biz, Near Southeast and Southwest
remain in Ward 6,
with no move across the river to Ward 8. And, in what appears to be a last-minute compromise, Eastern High School and Eliot-Hine Middle School remain in Ward 6, while the rest of the Hill East/Rosedale/Kingman Park areas east of 17th Street shift to Ward 7. Ward 6 also loses its half of Penn Quarter to Ward 2, while gaining a portion of Shaw as well as the section of Southwest south of Independence Avenue that had remained in Ward 2. (If you want to see the current Ward 6 boundaries,
here they are
.) And you can also
read the subcommittee report
, with all the reasonings behind the moves (and rejected moves).
This is not the final word on the new boundaries--the three-member redistricting committee will be meeting and voting on this on Thursday at 1 pm, and then there is a public hearing scheduled for June 1 at 6 pm. The full council will then vote on June 7. If the council members hear compelling arguments against these boundaries,the draft map can still be amended.
If you are interested in Thursday's redistricting committee meeting, you can watch it on DC Channel 13 or via live-streaming at
oct.dc.gov
. Plus I'll be following it on
Twitter
, along with all the other #reDC regulars.
(And apologies to
Facebook
and Twitter followers who were bombarded with messages tonight as word of the new maps came out. Breaking news can be high-volume sometimes!)
And then, once this is done, the ANC redistricting can begin!
Redistricting Update: ANC Resolution, Mendelson Meeting
May 10, 2011 2:48 PM
The
pushback
by Near Southeast residents against the idea of moving the neighborhood out of Ward 6 and into Ward 8 continues, with some evidence that their calls, e-mails, and petitions are having an effect:
At Monday night's ANC 6D meeting, two of the three council members that make up the
redistricting
committee came to speak to residents. Phil Mendelson (who said that he invited himself to the meeting) and committee chair Michael A. Brown
gave a short presentation
on how redistricting works, and then spent about 45 minutes answering audience questions. Neither of them took a position on whether Near Southeast or Southwest should be moved, and both also took pains to note that there is no official proposal yet, and that it is Marion Barry who is floating the idea. (They also indicated that Marion Barry's argument about how the move would improve the economic standing of Ward 8 wasn't quite resonating with either of them.) The initial map of the redrawn ward boundary lines should be released by the committee later this month, either on or after May 25 (when the FY12 budget stuff is wrapped up).
After the council members finished, the ANC quickly voted unanimously to support the
resolution to keep all of 6D in Ward 6
. Near Southeast commissioner David Garber has been tweeting his visit to the Wilson Building today to deliver the resolution and a 200-plus-signature
petition
, saying that
Jim Graham told him
that Near Southeast is "not in play" and that
Mary Cheh's office assured him
that "she supports keeping Near Southeast in Ward 6." (Cheh had made this known last week, when
she told Tommy Wells
to make the calls from concerned Near Southeast residents stop.)
Residents are continuing to press the council, with reports on the
Near Southeast mailing list
of multiple visits to council members' offices. And another meeting for residents on the subject has now been scheduled by Capitol Quarter resident and meeting-organizer-dynamo Bruce DarConte, this time with Phil Mendelson, on Monday, May 16, at 6:30 pm at the Capper Seniors building at 900 5th St. SE.
(People interested in this battle might also want to read Lydia DePillis's rumination on the optics of the fight, "
So Much for One City
.")
UPDATE, 5/12: Bruce DarConte has passed along that Jack Evans, the third member of the redistricting committee, has confirmed his attendance at the May 16 meeting at Capper Seniors.
Residents Meet to Plot Strategy to Fight Ward 8 'Annexation'
May 4, 2011 9:33 PM
A group of Near Southeast residents* met tonight to discuss the best way to fight
Marion Barry's announced desire
to take the neighborhood around
Nationals Park
out of Ward 6 and into Ward 8 as part of the city's redistricting process. Tommy Wells addressed the group, giving them a quick primer on
how exactly redistricting works
, emphasizing that one of the stated goals of the process is to not split up "contiguous" neighborhoods, and also making clear his feelings about Barry's plan (while never actually mentioning the Ward 8 council member's name): "I don't want to lose one inch of Ward 6," Wells said, because "Ward 6 works."
Saying that it's unfair that Ward 6 should be the only ward to give up residents, he said that he will propose a map that would return Kingman Park to Ward 6; he also suggested that the portion of Penn Quarter that isn't in Ward 2 could be moved there, allowing some of Ward 2 to be shifted to Ward 5 (which would then allow some of Ward 5 to be moved to Ward 7, and then some of Ward 7 shifted southward into Ward 8).
But the bulk of the discussion was advising the residents on how best to make their opposition to Barry's idea known to the council members who are in the forefront of the redistricting battles (some of whom are at-large representatives up for election next year). He spoke of the best ways to voice opposition in terms of mechanics, saying that petitions are a good idea (and there are two already circulating, an
electronic one
with more than 100 signatures and
a new one handed out tonight
by resident and meeting organizer Bruce DarConte), as well as group visits to councilmembers' offices and high volumes of phone calls to the Wilson Building.
But Wells also stressed that residents who want to fight this need to describe how such a move would negatively impact Near Southeast's "cohesiveness" with its surrounding neighborhoods, especially with Capitol Hill just to the north and with Southwest. (It would be interesting that, if the Ward 8 "annexation" were to happen, the residents of school-less Near Southeast would be sending their children to the "neighborhood" schools that would still in be Ward 6.)
He also emphasized that arguments against a move to Ward 8 move should not center on "personalities." That concept was not really expanded upon but, if you've
read the comments
on my post last week on this issue, you might infer it to mean "don't rant about how you don't want Marion Barry as your councilmember." Wells also said to not mention not being able to park elsewhere in Ward 6 as a reason for opposition, which did seem to come up an awful lot at last week's hearings, to the dismay of many in the DC Twitterverse. "This is about how you view your community."
Near Southeast's ANC commissioner David Garber mostly echoed Wells's remarks, and said that he will be drafting a resolution for next week's ANC 6D meeting that would show the support of all Near SE and SW commissioners for remaining in Ward 6. (Garber has also launched a
Near Southeast mailing list
that residents are using to organize their resistence to being "annexed.")
With the council set to unveil its suggested map of new boundaries within a few weeks, there will be a flurry of activity on this front--including the Ward 6 Democrats'
redistricting meeting tomorrow
(Thursday) at 7 pm at Chamberlain Elementary School. The final vote by the council on the new boundaries will be in July; and "there's a very good chance" Near Southeast can win the fight, Wells said.
[*I didn't take a head count; you know how much trouble the media gets in for crowd estimates! But the community room at the Capper Seniors apartment building was quite full.]
Barry Wants the Ballpark Area in Ward 8; Residents Mobilizing
Apr 28, 2011 3:47 PM
During a long hearing on Wednesday on the need to redraw the city's ward boundaries as a result of the 2010 census numbers, council member Marion Barry made clear his interest in moving parts of the western side of the Anacostia River out of Ward 6 and into Ward 8 to bring its population to the required level. Tommy Wells's chief of staff Charles Allen live-tweeted the hearing, and you can scroll to
read his many (many!) tweets
on what Barry and a number of people testifying said on the subject (I retweeted some of them as they came through, but he was lighting the keyboard on fire and I couldn't keep up!).
After mentioning both Near Southeast and the Southwest waterfront during the early part of the hearing, Barry eventually shifted his focus just to Near Southeast, saying (
according to Charles
) that the move is a "perfect solution" that "won't divide a community." Barry also said (again
according to Charles
), "Since no one from [Near SE] has come to testify against moving to Ward 8, I guess there's [no] opposition & we should move forward". Some commissioners from Southwest did get to the hearing to testify, but no Near Southeast residents or representatives ended up speaking on behalf of the neighborhood.
In the wake of all of this, some e-mailing and scrambling has commenced (judging by the way my inbox is lighting up, with people asking me if this is already a done deal). One example is that Near Southeast's ANC commissioner David Garber has today created his own
Near Southeast Google Groups/mailing list
, and redistricting is the inaugural issue being discussed, along with the additional issue of if and where the current ANC boundaries should be redrawn, which is also part of this redistricting process. (The question will also be whether Near Southeast even remains a single district, given that its population of 3,300 is well over the 2,000 mark that is the normal SMD size.)
Also, the group Ward 6 Democrats have
scheduled a public meeting
to discuss the redistricting plan as it impacts Ward 6. It's on May 5 from 7 to 8:30 pm at Friendship Public Charter School at 1345 Potomac Ave., SE, and the group has invited the three co-chairs of the council's special redistricting committee along with Tommy Wells (who already said
a few weeks ago
that he "will defend the riverfront").
The record from yesterday's hearing remains open until May 12, so written comments can still be submitted.
UPDATE:
Mike DeBonis has a piece about this
in Friday's Post
.
UPDATE II:
From the comments, there is now apparently also a Near Southeast community meeting, scheduled for Wednesday, May 4, at 6:30 pm at the Capper Seniors building at 900 5th St., SE.
2010 Census Numbers Quantify the Changing Near Southeast
Mar 24, 2011 9:42 PM
Numbers geeks rejoiced on Thursday when the
2010 census numbers
for DC were released, and of course I had to dig right in.
The population of
Census Tract 72
in 2010 is given as 2,794, an increase of nearly 1,000 residents from 2000 and which accounts for about 11 percent of the
entire Ward 6 population increase
. The demographic numbers are striking: Near Southeast is now nearly 60 percent white and 31 percent African American, compared to being nearly 95 percent black 10 years ago. It's also interesting that it found 95 percent of the population to be age 18 or older, compared to only 69 percent in 2000. There's also 1,459 more housing units counted in the neighborhood (and that number has certainly gone up since the census was taken).
Here are the numbers: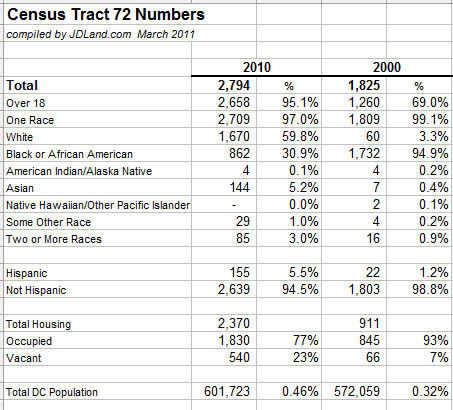 (You can see an expanded list with percentage change and some additional numbers
here
, which also shows that the neighborhood's population counted at 2,089 residents in 1990 and 2,994 in 1980.)
The Capitol Riverfront BID has estimated that the neighborhood population was around 3,300 at the end of 2010.
Even though the population of DC itself climbed by nearly 30,000 in the last 10 years, Near Southeast is now a larger portion of the overall population than it was 10 years ago, skyrocketing to a whopping .46 percent of the city's count.
"Tract 72"
covers
the area south of the freeway from South Capitol Street to 11th Street, but unless people are living east of 11th on their boats (or in a van down by the river), the boundaries would cover all of the residential areas of Near Southeast.
Of course, what future researchers looking at census numbers will never see is how much more the neighborhood emptied out through 2005 (when only 410 M and the private single-family homes were occupied). My guess would be that the population got down to around 400 during that time, if not lower.
Income-related demographic numbers for 2010 aren't yet released, but it's not hard to assume that those numbers will show an equally dramatic change.
And now that the city's numbers are out, the fun really begins with the need to
redraw the ward boundaries
, which will then beget a redrawing of the ANC boundaries. ANCs are supposed to have about 2,000 residents per single member district--will Near Southeast cease being covered by a single SMD? Or, for that matter, will all of Near Southeast remain in Ward 6, given the
noises Marion Barry is making
about the necessary redrawing of Ward 8's boundaries? "I'll defend the riverfront," is the quote from Field Marshall Thomas von Wells. (Hey, we kid because we love.) "Ward 6 should remain the same."
(Note: I wrote a slightly different summary of Near Southeast's census numbers
for the Post
; the numbers cited in that article use the Post's internal numbers by neighborhood instead of going purely by Tract 72. Not sure exactly where the different boundaries are, but I'll stay with Tract 72 here since it's easier to get access to those numbers publicly for checking and comparison.)
Garber Wins ANC 6D07 Race; Other 'Hood Results
Nov 3, 2010 1:38 AM
A mere five hours after the polls closed, DC's Board of Elections and Ethics decided to
let us know
who won the various ANC 6D races. (Presuming that the tallies they've posted are anywhere close to the final numbers.) By a comfortable margin (65-34% at this writing),
David Garber
has beaten 12-year incumbent Robert Siegel for the ANC 6D07 seat. With a whopping 556 of 1452 registered voters making it to the polls, this translates to a 332-171 victory (with 3 write-ins) in the current unofficial numbers (which don't include absentee ballots, provisional/same-day ballots, and curbside ballots).
All other ANC 6D incumbents who were running were reelected--chair Ron McBee appears to have had the closest race, up 54-42% on former commissioner Mary Williams, while Andy Litsky garnered a mere 96% of the vote in his unopposed race. 6D06 commissioner Rhonda Hamilton got 70% of the vote in beating two opponents, and Roger Moffatt also stays in his seat with a 66-33% win over Grace Daughtridge. Bob Craycraft has taken 6D01 (Jane Jorgensen's old seat) in an unopposed race, while Cara Lea Shockley appears to be winning David Sobelsohn's 6D02 seat, with 40% of the vote against 36% for write-in candidates and 24% for a candidate who withdrew(!).
I should also mention--as I pretty much never did during the entire race--that not everyone who lives south of the freeway votes in 6D07, as the residents from 7th Street east are in 6B04. And five--yes, FIVE--of those residents voted today, with one vote for incumbent Kirsten Oldenberg, three for Tim Casey, and 1 write-in. (Despite this, Oldenburg appears to have won her race against Larry Janezich.)
In terms of the other tallies for the evening in Near Southeast/Precinct 131, Vince Gray won 58% of the vote in the mayoral race, with 36% going to write-ins. Tommy Wells beat Near Southeast resident Jim DeMartino 75-25%, while Kwame Brown won 80% of the vote in his council chair race. The precinct went 81-19% for the amendment to make the Attorney General job in DC an elected position, and also voted for new Ward 6 Board of Education rep Monica Warren-Jones 60-38% (her ward-wide total is 67-32%).
Since these results don't include the absentee and other provisional ballots, the numbers will change, but no race appears anywhere near close enough that the outcomes would be in doubt. So, congrats to David Garber and all of the other winners. Between his
blogging chops
and his
Twitter feed
, I have no doubt that Near Southeast will be kept far more apprised of what their ANC commissioner is up to than has been the case over the past years. (Though perhaps this means I'm staring at my obsolescence!)
With this election season now thankfully over with, we can already start looking ahead to the redrawing of the city's ward boundaries as is done every 10 years after the census, as well as most likely seeing ANC 6D07 split up now that it's population of over 3,000 residents is well above the 2,000-resident standard for single member districts.
(And, if you want to get a flavor of my exasperation with DCBOEE's performance, wander through my
Twitter
feed. When it takes five hours to count 125,000 votes, and Maryland counted over 1.6 million in less than four hours, I think it's safe to say that there are some serious problems that need addressing. Get to work, Mayor-Elect Gray...)
Election Day 2010 Voting Info
Nov 1, 2010 11:59 PM
I can't imagine that anyone possibly needs a reminder at this point, but I guess I would be remiss if I didn't put together a
Tuesday is Election Day
post. (Do I sound completely worn down by election season?)
Near Southeast's polling location (Precinct 131) is at Van Ness Elementary, at 5th and M, SE. The polls are open from 7 am to 8 pm; you can check the
DCBOEE Precinct Status Page
to find out, um, status, I guess. Here's DCBOEE's
official voters' guide
(since there are in fact races going on other than on the ANC slate), and you can check out my questionnaires for 6D07 candidates
Bob Siegel
and
David Garber
if you haven't already. The
DC Board of Elections web site
also has scads of additional information, should you need it.
I'll be fulfilling the stringent requirements of Election Night Journalism in this day and age by
breathlessly tweeting
6D07 results (and probably other 6D results), starting after 8:30, when DCBOEE
says
it'll start posting the tallies.
And so, as we used to say when we lived in Chicago during the glory days of the Daley Machine, vote early and vote often!
Upcoming Events (Election Stuff, Ghost Ship Barry)
Oct 22, 2010 8:41 AM
With election time nearing, there's some events coming up next week that might/should be of interest. (Coincidentally, election time means that my "real life" gets a bit hectic, plus I have some other stuff going on, which means that things might be a bit slow around here, and I'm probably not going to be able to make any of these events. So you have plenty of notice that you'll need to attend them yourselves!)
* On Monday, Oct. 25, from 6:00 to 7:30 pm, the Ward 6 Dems are hosting a
Ward 6 School Board Candidates Forum
at Maury Elementary School, 1250 Constitution Ave., NE. The two candidates -- Melissa Rohan and Monica Warren-Jones -- will be suitably grilled about their plans and vision for Ward 6's public schools.
* Also on Monday the 25th, starting at 7 pm, the Southwest Neighborhood Assembly is hosting a "
Meet Your ANC 6D Candidates
" event at St. Augustine's church, on the southwest corner of 6th and M Streets, SW. You may have heard that Near Southeast has two candidates for its one single member district (SMD) 6D07--incumbent
Bob Siegel
and challenger
David Garber
--but there are six commission spots in Southwest up for grabs as well. (Just beware when parking next to the church on Water Street--this past Monday, for the first time in all my times arriving at St. Augustine's just before 7 pm for ANC meetings, I got ticketed at one of the meters, which never even occurred to me would still be active at that time of night. Maybe I should take up a collection!)
* At 6:30 pm on Wednesday, Oct. 27, is Presumed-Mayor-Elect
Vince Gray's Ward 6 Town Hall
, being held at the Atlas Performing Arts Center at 1333 H St., NE. If you follow various local reporters on Twitter, you've been pelted with Tweets from the other wards' town halls over the past few weeks, but now it'll be Ward 6's turn. Here's
the flyer with details
.
* For something a little less election-y and more spirit-of-the-season-y, on Friday Oct. 29 the Navy Yard is once again presenting the "
Ghost Ship Barry
" -- "Hundreds have served onboard but some never left." Boo! The hours run from 6 to 7 pm for kids 12 and under, and 7:30 to 9:30 pm for ages 13 and up. But note that they want you to RSVP first, by calling 202-433-0280. And then you can see what the Navy Yard's portion of the riverwalk looks like without having to look through the fence at the
Yards Park
.
33 Posts:
Go to Page:
1
|
2