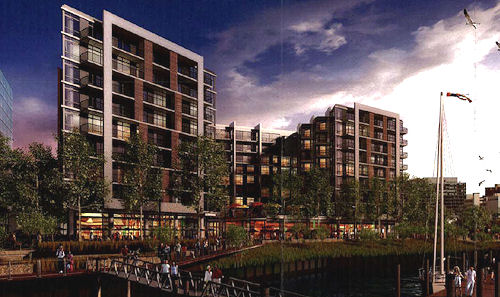 Well, I'll be darned: I've been given the heads up by the developers that construction is now underway on the
350
321-unit apartment building dubbed "The Riverfront" that's the first phase of
RiverFront on the Anacostia
, better known to all as
Florida Rock
. It will be built on the east end of the site, next to
Diamond Teague Park
.
The $65 million
construction loan for the project
was announced on Oct. 8, as was an expected delivery date of September 2016. I've been told there will be an official groundbreaking in the next few months.
It should also be noted that this is the first residential project in the neighborhood actually being built right on the west bank of the Anacostia River.
That's a smidge over 2,230 units in all, and close to 2,450 if you add the recently completed 220-unit
Twelve12
.
And that tally of non-single-family residential units begun since 2012 is a bit more than double the 2,340 units that were built in the neighborhood between 2004 and 2011. So get ready for a lot of new high-rise neighbors!
Having written
more than 100 posts on Florida Rock
over the years, I think I'll skip yet another full rundown other than to say that
the entire project
is designed as a four-building 1.1-million-sq-ft residential/office/hotel/retail project, with no timeline as yet for the rest of the development.
All of which looks a little different from these views of the Florida Rock footprint, seen first in August 2005 before the construction of Nationals Park (left) and in January 2012 (right), after the concrete operations were removed and demolished:
It's been a long time coming. And I can't wait for all the steps I'll get trudging down there to take pictures.
UPDATED 11/2
with what appears to finally be a definitive unit-count for the building--321 units in a 9-story building . There will also be 18,650 square feet of retail and 286 parking spaces on two below-ground levels. And the amenities will include "grand lobby with onsite leasing presence, ground floor level club/game room with billiards, bar area, and gaming, state of the art health club, rooftop swimming pool, Wi-Fi service and storefront business lounge, conditioned storage, bike storage, 24 hour front desk service and fully access controlled building." All of these tidbits from the
MRP Realty page for "The Riverfront."