Not much to report these days, but instead of digging digging digging looking for teeny tiny stuff to pass along, the reaction of someone who's been doing this way too long is "Hey! Extended vacation!" But here's a few items:
*
PARC RIVERSIDE PHASE 2
: These are "studies", with materials and colors subject to change, but the architects for the second phase of Toll Brothers' Parc Riverside apartments at Half and K passed along to ANC 6D02 commissioner Stacy Cloyd some images of what the building could look like. (And now you see why when I mentioned them in
another post recently
I said that Phase 2 doesn't look very different from Phase 1.) The middle image, as seen from Half and I, shows the two Parc Riversideseseses as one long facade, albeit with slightly altered treatments. The other two are views from Half and L.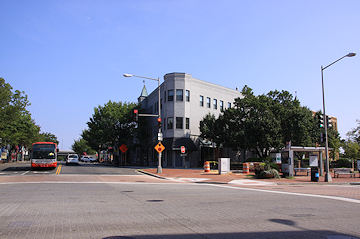 *
REHAB CENTER PROPOSED ON LOWER 8TH
:
Capitol Hill Corner reports
on a proposal to the Bureau of Prisons for a 300-bed resident rehabilitation center (aka "halfway house") to be located at 810 Potomac Ave., SE, across the street from both the Blue Castle and the historic Latrobe Gate to the Navy Yard. Council member Charles Allen and ANC 6B both have weighed in with strong opposition, listing all manner of reasons that this building at the corner of 8th and Potomac (and 8th and M, for that matter) "is not the right site," with 6B commissioner Kirsten Oldenburg quoted as saying, "This is an egregious thing to do to lower 8th, which is transitioning from being under-developed into a residential neighborhood."
UPDATE:
ANC 6D commissioner Meredith Fascett has posted on Facebook that
she is opposing this as well
, and says that MPD, Barracks Row Main Street, and the Capitol Riverfront BID are also in opposition.
*
COFFEE WITH CHUCK SLIDES
: If you want the latest update from the Virginia Avenue Tunnel,
here's the slides
from the May 18th neighborhood session. There's lots of photos of sections the new tunnel, including some that bloggers would probably be shot on sight for trying to get.
And, an addition a few hours later: