Near Southeast DC: Past News Items
Square 697n
Go to Full Blog Archive
---
30 Blog Posts Since 2003
Go to Page:
1
|
2
Ruben Companies Planning 400-Unit Apartment Building at Half & I
Feb 20, 2012 12:36 PM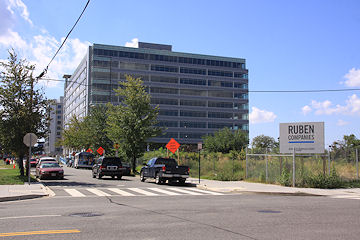 Another large apartment building for Near Southeast appears to be on the boards, with word filtering my way that
Ruben Companies
has begun working with
Shalom Baranes Architects
on designs for a 400-unit rental building on Half Street between I and K.
With the working name of "20 K," this building would be on the eastern portion of
Square 697N
, which Reuben
picked up via foreclosure
when JPI gave up on its plans for "23 I" on the site. There would be retail along the entire Half Street frontage, and Ruben is apparently looking around for any "organic markets" that might be interested. (Cue stampede of "OMG! OMG! OMG!" in the comments, but don't get ahead of yourselves, since there's no indication that That Particular Organic Market is displaying any interest in the site.)
Ruben owns the
rest of the block
as well, and envisions an eventual Phase II project along South Capitol Street (where the Exxon used to be) that could be residential, commercial, or a hotel, depending on what the market will bear.
No timeline at this point, so don't start packing up your things for a move just yet.
The up-tick in the development of mutlifamily residential properties in Near Southeast after a three-year lull during the Economic Difficulties is obvious: Forest City's 220-unit
1212 4th Street
is just underway at the Yards, William C. Smith's 430-unit
Park Chelsea
is on the boards to get started later this year, Akridge is "
hoping
" to move forward in 2012 with the 280-unit residential part of its
Half Street project
, and Florida Rock's developers have replaced a planned office building with a 300-unit residential offering for the
project
's first phase, which could get underway in 2013. (And it's worth noting, as mentioned in the comments, that every one of these is planned to be a rental building, not condos.)
And I wouldn't be surprised if there were more to come.
Ruben Companies Buys Two Exxon Sites on South Capitol Street
Jul 5, 2011 5:36 PM
Deeds have been recorded this afternoon indicating that the
Ruben Companies
has bought the two empty Exxon lots on South Capitol Street, at I Street SE and K Street SW.
The purchase of the 35,000-square-foot lot at South Capitol and I gives Ruben control of the entire block known as
Square 697N
; the company picked up the other 47,000 sq ft of the block
back in 2009
after developer JPI defaulted on its loan for what was then the site of a Wendy's restaurant.
The other lot Ruben bought from Exxon, just south of the Capitol Skyline Hotel at South Capitol and K streets SW, is about 31,000 square feet and also gives the company control of that entire block, known as Square 648, after Ruben bought the other two lots in 2005 and 2007.
This now makes four sizeable sites that Ruben owns on this three-block stretch of South Capitol Street, since the company also owns
1100 South Capitol St. SE
and
1101 South Capitol St. SW
across the street, both of which are being marketed as office buildings.
The South Capitol and I Exxon closed down back in 2006, when the station's operator
pleaded guilty
to
fradulently double-billing government contractors
more than $120,000.
I don't know any more specifics about the sales at this point, and it's unlikely any buildings will be immediately sprouting on either site. But it is yet another bit of commercial development news that would seem to indicate that the worst of the downswing is past.
No Bids at 23 I Foreclosure Sale; Land Now Owned by Ruben Companies
Oct 13, 2009 10:40 AM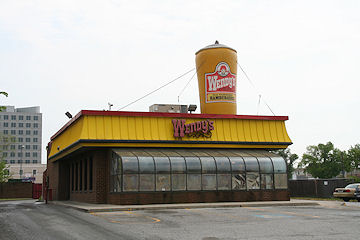 I attended my first-ever foreclosure sale this morning (yay...?), where the two lots at
23 I Street
(the old Wendy's site) that JPI had purchased in 2007 for $28.6 million were to be auctioned off after JPI defaulted on its $25 million loan. However, there were no bidders for the 47,000-sq-ft piece of land (which doesn't include the Exxon next door), and so the property is now owned by
Ruben Companies
, which bought the original note from Key Bank earlier this year.
Ruben Cos. also owns the
1100 South Capitol lot
(plus 1101 South Capitol, across the street and outside of my boundaries), and had at one point been working to purchase the St. Matthew's Church land at New Jersey and L before opting out.
The company has no plans to build anything soon on the 23 I lot--but if anyone's interested in renting the land for some interim entertainment use (
a la
Akridge's deal with the Bullpen on
Half Street
and even the
trapeze school
at
the Yards
), Ruben says they'd be willing to listen. Maybe the neighborhood could get a putt-putt course or something!
Closed Exxons at South Cap/I and 11th/M Demolished
Oct 1, 2009 3:33 PM
On Tuesday reader F. reported that the long-dormant Exxon at
South Capitol and I
was being demolished; and today
neighboring blogger DG_Rad
has
Tweeted
that the not-quite-as-long-dormant Exxon at
11th and M
is being torn down today. There's been no big movements that I've heard for either of these lots, both of which were "sold" by the main ExxonMobil Corporation to its nonprofit ExxonMobil Foundation. Perhaps the city's
recent blighted property tax doings
spurred the demos?
For those of you who haven't been around for the long haul,
let's revisit the tale
of when the South Capitol Exxon went out of business:
[Here's the]

link to a DOJ press release

[now dead, alas] from January detailing that the Exxon's owner pleaded guilty "to fraudulently double-billing government contractors more than $120,000. [Mahmud] Rashid, 46, of Raleigh Lane, Stafford, Virginia, entered a plea of guilty yesterday in United States District Court to one count of wire fraud. According to the terms of the plea agreement, Rashid could be sentenced to between 12 to 18 months of incarceration when he is sentenced before the Honorable Richard J. Leon on June 2, 2006."

Foreclosure Notices for JPI's 23 I Street Lots, and Nine Potomac Ave./9th St. Parcels Owned by ICP

Sep 22, 2009 10:28 AM

On Sept. 10 a Notice of Foreclosure Sale was filed for the two now-vacant parcels of land on the southwest corner of Half and I streets where the Wendy's used to stand. (Note that this doesn't include the adjoining Exxon land.) The lots, totalling about 47,000 square feet, were bought in July of 2007 by JPI for $28.6 million, with the intent of building

23 I Street

, the fourth of JPI's "Capitol Yards" residential buildings (along with

70/100 I

and

909 New Jersey

). JPI owes $25.1 million on the loan, which came due on Aug. 1 and which is held by

Ruben Companies

, owners of

1100 South Capitol Street

and 1101 across the street. The foreclosure sale is scheduled for Oct. 13.

JPI East pretty much fell apart over the past two years, with its principals taking what was left and

forming a new company in June

with bigwigs at Akridge; stories at the time mentioned their continued stake in 70/100/909, but said nothing about 23 I.

Another, smaller commercial foreclosure is happening further east, where nine parcels owned by ICP Partners

along Potomac Avenue between Eighth and Ninth

(including the brown boarded-up apartment building at Ninth and its parking lot) received a notice of foreclosure on Sept. 4, with a debt of $2.3 million on the properties. ICP tried hard earlier this year to

drum up interest in these lots

plus the gray building at Eighth and Potomac that houses Quiznos (which is

not

part of this foreclosure), after a previous sale attempt in 2008 went nowhere. ICP paid $9 million for all 10 properties in 2006; this foreclosure sale is scheduled for Oct. 6. (The properties are also on the

city's September Tax Sale list

.)

Whether the properties will actually go on the block, or if deals will be struck or lawsuits filed in advance of the sale dates, remains to be seen, but foreclosures are about to be a big part of the commercial real estate landscape throughout the US. (Spend a few days reading

Calculated Risk

if you want some insights into the predicted onslaught.)

As for the neighborhood's other "distressed" properties, Opus East's

100 M

and

1015 Half

office buildings are part of the company's liquidation proceedings, with

rumors flying

but no news of new owners yet. And the empty lot in the 1000 block of Seventh Street (across from the

Marines

), where a developer had been

planning an apartment building

, was sold in late July for $400,000 after a foreclosure; it had been purchased along with the two townhouses alongside it for $1.25 million in 2004. One townhouse was subsequently sold, the other was foreclosed on as well, though so far no evidence of a sale has turned up.

JPI East, Akridge Principals Form New Company

Jun 12, 2009 10:25 AM

From today's

Washington Business Journal

(subscribers only), news that Jim Butz and Greg Lamb of what was once JPI East have taken over what was left of that company (down to 22 employees from 380 a few years ago) and are partnering with Matt Klein and other principals at Akridge to create the Jefferson Apartment Group. Butz and Lamb "continue to hold a partnership stake in JPI [Multifamily]'s holdings," which includes

70 and 100 I

and

909 New Jersey

. The article says that Jefferson Apartment Group is "already targeting five properties" in DC, Philadelphia, and Boston, and "is in the early stages of planning and zoning new developments in Fairfax Count and Philadelphia," but doesn't mention what may be happening with

23 I

, the fourth JPI property in Near Southeast on the Wendy's site at Half and I.

A Slew of Tweets, Links and Little Items

Jun 2, 2009 9:41 AM

Some recent items of note, some

Tweeted over the past few days

and some I just lazily haven't gotten around to mentioning until now:

* Several readers wrote in to mention the awnings now in place at the

Cornercopia Deli at Third and K

, which were installed on Friday. Still no word on when it might open--but to make sure that I hear about it ASAP when its doors do open, I pledge to buy a sandwich there for the first reader who alerts me that the deli is open to customers.

* If you haven't been in the unit blocks of either I or K streets--the Wendy's (on the site of the on-hold

23 I Street

apartment building by JPI) is now completely demolished, and glass is now being hung on

1015 Half Street

. If you're wondering why the west side of 1015 Half is not glassed but has just a plain beige exterior--remember that that side will just be facing an alley, with

1000 South Capitol

someday rising between it and South Capitol Street. (Emphasis on the *someday.*)

* The

Obama Five Guys

on Second Street has seen a 50 percent jump in business since the president's visit on Friday, says

Politics Daily

. And plenty of people are ordering the "Obama Burger," a cheesburger with lettuce, tomato, mustard, and jalapenos.

* A little excitement at

USDOT

on Monday when a suspicious package

forced the evacuation

of the Fourth Street building. According to

DC Fire and EMS's Twitter feed

, it was a package leaking diesel fuel.

*

Greater Greater Washington spent some time

looking more closely at

the schematic

of the new

11th Street Bridges

that I posted about last week.

*

The Post had a good report

on Saturday's high school baseball Congressional Bank Classic at

Nationals Park

.

*

UrbanTurf.com took a look

at

Capitol Hill Tower

.

* "

Artomatic Moves to DC's Empty Ballpark District

."

* The Mayor wants to clean out the Community Benefits Fund funded by the ballpark to pay for 10 weeks of his summer jobs program,

says the Examiner

. Members of the council say that six weeks (the amount that can be paid for by the original amount budgeted for the program) is good enough, and that money should go to various projects they've earmarked. (

UPDATE:

The

council voted today

*not* to cut the program to six weeks.)

Comments

(0)

More posts:

1000 South Capitol

,

1015 Half

,

11th Street Bridges

,

23 I

,

artomatic

,

Capitol Hill Tower

,

cornercopia

,

Restaurants/Nightlife

,

Retail

,

square 697

, Square 697n,

Nationals Park

Pre-Holiday Roundup of Tidbits and Links

May 22, 2009 12:47 PM

For those of you still in town....

* As

Twittered

yesterday, reports are that the Wendy's on I between Half and South Capitol was being demolished yesterday (haven't gone to look for myself yet). This is the site of JPI's proposed

23 I Street

apartment building, though I've heard nothing about a timeline since its original Sept. 2008 start date came and went.

* If you didn't make Tuesday's Anacostia Waterfront Forum on "Waterfronts and the World's Great Capital Cities," here's Harriet Tregoning's

presentation slides

.

* If the

demolition of the RFK ramps

has you all excited about the

new 11th Street Bridges

(and I'll note that "excited" can connote either positive or negative energy), here's

a new schematic from design/builders

Skanska/Facchina showing their plans for the project. It says that 70 percent of the five-year project will be built "off-line," meaning away from the existing travel lanes. (

UPDATE:

But I should note that, upon closer inspection, this schematic seems to be missing a few components, such as the eastbound flyover and approach to the new bridges from the SE Freeway as well as the exit to I Street from the new inbound span.) In the meantime, I'm going to try to go get some photos of whatever's left of the RFK ramps this weekend.

Roundup: NatsFest, Wendy's, Yards Park, Teague Park, Lower Barracks Row

Jan 22, 2009 1:53 PM

Pulling together some reminders and other recent

Twittered

tidbits:

* This Sunday is

NatsFest

at the

ballpark

, from 1 pm to 5 pm. It's being held indoors in the various club areas, so if you've never gotten to see some of the lounges, or the conference center, or the clubhouse, this might be a good opportunity. Season-ticket holders get four free tickets; for the rest of the world it's $10 for adults and $5 for children under 12.

* Last week a raze permit was issued for the defunct Wendy's on I Street. No word on when demolition will actually occur. This is where JPI is planning its fourth Capitol Yards apartment building,

23 I Street

, but there's been no recent intelligence on when they might decide to get underway.

* Construction hasn't yet begun on the

Park at the Yards

, but some additional information and more detailed renderings should be coming to light over the next month. Forest City is scheduled to make presentations to the National Capital Planning Commission

on Feb. 5

, and the

Commission on Fine Arts

on Feb. 16, and possibly ANC 6D on Feb. 9.

* A reader is reporting this morning that a derrick crane is going up at

Diamond Teague Park

--perhaps that's to begin work on the water taxi piers. (Though note that there was already a crane of some sort there back in December

when I took these photos

.)

* Apparently the various property owners surrounding the section of

Eighth Street

south of the freeway have gotten together along with the Capitol Riverfront BID to start working on plans to perk up the area, using the

Connect Barracks Row

report by University of Maryland Urban Studies and Planning students as a jumping-off point. Look for public meetings in February-ish.

Comments

(1)

More posts:

23 I

,

Capitol Riverfront BID

,

8th Street

,

Restaurants/Nightlife

,

jpi

, Square 697n,

Nationals Park

,

Teague Park

,

Water Taxis/Riverboats

,

The Yards

,

Yards Park

Exxon Fences, Diamond Teague Event, Debates, and Register to Vote, Dangit!

Oct 6, 2008 9:05 AM

* I've had a couple people write in to note that construction fences have been put up in the past few days around both the closed Exxons at

South Capitol and I

and

11th and M

. I haven't heard anything about what might be happening at these sites--as of mid-September, neither lot had been sold, and with the public space and building permits data feeds still offline, there's no hint available from that end of things. (The underground storage tanks were removed from both locations right when they closed.) If anyone's heard anything,

drop me a line

.

* The

mayor's schedule today

has a "

Diamond Teague

Press Conference" scheduled for 3:15 pm at First and Potomac, on the grand staircase at

Nationals Park

. Alas, I can't be there, but perhaps it's some sort of status update on the construction of the park, which is supposed to get underway this fall.

* A little off-topic, but on Tuesday night (Oct. 7) there is a debate between the city's seven candidates for the two at-large council seats, at Tyler Elementary at 10th and G streets, SE. Then, after the forum, there's a

Second Presidential Debate Watch Party

being held at Finn Maccool's on Eighth Street.

* And, today (Oct. 6) is the last day to register to vote in DC for the general election. The

DC Board of Elections

office will be open until midnight. No excuses!

JPI East Lays Off Staff; Says I Street Projects Okay

Oct 3, 2008 2:22 PM

From today's print edition of the Washington Business Journal (

subscribers only

): "In response to the burgeoning credit crisis, local multifamily developer JPI East has reduced its development and production capacity, laying off half its development divisions. The company would not say how many people were involved, but insiders say it was fewer than 10."

As for JPI's projects in Near Southeast, including the almost-completed

70 and 100 I,

the under-construction

909 New Jersey

, and the in-development

23 I

? "The company still has 10 deals under construction in the region, including three luxury apartment projects in the Capitol Riverfront district near

Nationals Park

. All three have the debt and equity to go forward, [JPI East's president] says." It might be worth noting, however, that the previously announced September 2008 start date for 23 I has come and gone; and the Wendy's building is still standing, and I haven't so far seen any raze permits coming through the pipeline for it.

Updated Photos: First Frames at Capitol Quarter, Vertical Construction in the 1015 Half Street Hole

Aug 24, 2008 8:36 PM

I took a lot of photos today, but let's start with the ones showing new construction phases underway. First off, we have the first framing at

Capitol Quarter

(top), where the wood outlines of the first four houses east of the

Fourth and L intersection

are now up. (At least the photos are more exciting than the ones a few weeks ago of the concrete block foundations.)

Then there's

1015 Half Street

, the 410,000-sq-ft office building under construction on the old Nation nightclub site. The crane arrived within the past week or so, and I finally got to a spot where I could see down into the hole to confirm that the first pillars are underway. So, by Thanksgiving, there should be the beginnings of yet another new addition to the skyline.

More photos in the next few days.

Wendy's Now Closed

Jul 26, 2008 7:42 PM

Not sure exactly when this happened, but sometime within the past few days the

Wendy's

on I Street between South Capitol and Half streets, SE, has finally closed down, after being rumored to be coming Any Minute Now since May. JPI has announced plans for its fourth Capitol Yards residential building on the site, a 420-unit "loft-style" building called

23 Eye

that would also have ground-floor retail. Previous statements from JPI had pegged the start of 23 I's construction this fall--I haven't heard whether that's still the plan.

Wendy's Not Dead Yet - Now End of July?

Jun 30, 2008 10:16 PM

The fine folks working the Wendy's drive-through window this evening at South Capitol and I tell me that their closing date is now the end of July. At this point (this is the third date I've now heard, starting with end-of-May, then end-of-June), I'm just going to not say anything more about it until I see locks on the doors. The property is part of the footprint for JPI's fourth Capitol Yards apartment building,

23 I at Capitol Yards

, which JPI has said would be starting constuction this fall. We shall see....

New Photos from On Top of 20 M

May 9, 2008 2:01 PM

Since it's such a rotten day, I'll go back to when the sun was shining (Tuesday), and give you my first-ever photos

from the roof of 20 M Street

. (I've taken a few photos from inside the 10th floor going back to April of last year, but from the roof I don't have deal with the pesky glass reflections.) Here are

these new photos matched with the oldest ones

from the same angle, so you can compare 13 months' worth of changes easily; you can also

look at all the photos

if you want to watch the progression of changes. There's views to the north (above), showing the digging now underway at

1015 Half Street

along with the construction progress at

70/100 I

,

909 New Jersey

, and

Velocity

(plus the site-clearing at

23 I

). To the south is the increasingly-shiny

55 M

, as well as the ballpark, of course. I also tossed in some photos toward the west, showing the skyline of Southwest.

Small Photo Update (Along I and K)

May 2, 2008 3:17 PM

When I went out yesterday to get photos of the demolition getting underway at

23 I

, I also took a fair number of photos along the way on First, Half, New Jersey, I, and K, even though the weather was less than optimal. (Some day I'll get bright blue skies again.) The ones of

909 New Jersey

show how it's now almost three stories above ground, and they hint at how much this 12-story building is going to change the northern end of New Jersey Avenue.

You can see all the shots paired with their befores at these links:

New Jersey at I and K

,

First at I and K

, and

Half at I and K

(where those with xray specs might be able to make out the excavation work underway at

1015 Half

). The

icon is a bit misleading on some of these, because it's still showing for pics taken in April that I didn't update this time around (but perhaps you missed them in the ballpark whirlwind, anyway). And use the

icon to see the range of photos between the "before" and the "after." I hope to get some more photos this weekend, weather permitting.

Now, About that Retail..... (A Space Survey)

May 2, 2008 10:09 AM

With the

ballpark

now humming along like it's been here forever (Tom Boswell has a litany of good things to say

in today's Post

) , interest is starting to turn toward what sort of retail/restaurant options are going to come to the neighborhood, and

when

. For your Friday time-killing pleasure, I've tossed together a quick a survey of what's either available now or will be coming within the next two years. (I'm not including already existing retail; I'm just looking at where new stuff could arrive.) As of now, I've seen no announcements of tenants for any of these spaces, but maybe if residents, workers, and ballpark fans clap their hands and wish real hard....

*

20 M

- Completed in March of 2007, its 11,000 sq-ft of ground-floor retail space would seem to be an enticing location (just across the street from the Navy Yard subway station's ballpark exit), but so far there's been no takers. "Coming soon" signs that were in the windows last year for Wachovia and Kinko's are now gone.

*

Capitol Hill Tower

- A 7,000-sq-ft restaurant space in the ground floor of this co-op building has been advertised ever since the building opened in 2006, but no takers so far.

*

100 M

- The 240,000-square-foot office building at First and M is scheduled to be completed later this year, and

they're offering 8,500 sq ft

of "corner restaurant/retail space" with "great ceiling heights, storefront and outdoor seating." (There's no ground-floor retail planned for

Onyx on First

in the same block.)

*

55 M

- The first part of

Monument's Half Street

project is this 275,000-sq-ft office building now under construction at Half and M (it's the building on top of the subway station entrance). It has over 10,000 sq ft of retail spaces on Half, M, and Cushing, and should be completed by mid-2009. (See retail spaces 1 through 4

on this page

at the official web site.)

*

909 New Jersey

- For the folks who choose to walk from the Capitol South Metro station, the under-construction residential building at New Jersey and K is going to have 6,000 sq ft of ground-floor retail space when it's completed in summer 2009.

*

Velocity

- The ground floor of this 200-unit condo building at First and L will have retail (I can't find how much), and will be finished by late 2009.

*

The Yards

- By the end of 2009, the renovation of the

old Boilermaker Shop

at Third and Tingey into a 46,000-sq-ft retail space should be completed, and there is also 10,000 square feet of ground-floor retail space planned for the

Pattern Shop Lofts

building on the south side of Tingey, which should have its conversion into a rental building completed by the end of next year as well. Both of these are situated on the route that most Nats Express users walk along to get from the shuttle stop at 300 M to the ballpark. (But will the Nats Express run after this year?)

*

Half Street Part 2

- The southern part of the east side of Half Street north of the ballpark is going to be a combination of a 200-room hotel and two residential buildings totaling 340 units, with about 40,000-sq-ft of ground floor retail to entice the throngs that walk along Half Street before and after games. (See retail spaces 5 through 8

on this page

at the official web site.)

*

1015 Half

- Opus East hasn't yet committed to whether there will be ground-floor retail in this 410,000-sq-ft office building at Half and L, though about 10,000 sq ft of space will be there.

*

23 I

- If this 420-unit apartment building does indeed begin construction in September of this year, there could be 15,000 sq ft of retail available at Half and I by the end of 2010.

That's about 200,000 square feet of space to be filled within the next few years--and this doesn't include the retail spaces in the ground floor of the baseball stadium along First Street (who knows when those will be occupied). It's possible other buildings slated to have ground-floor retail could pop up between now and the end of 2010--

1111 New Jersey

and

250 M

are the main candidates.

And there will also could be more offerings at the Yards by 2011 (including that grocery store planned for

401 M

as well as the Lumber Storage Shed and other to-be-built pavilions at the

Waterfront Park

). And maybe the first building at

Florida Rock

, across from the ballpark's grand staircase, could be done by the end of 2011. But this is getting a little too far down the road....

Comments

(4)

More posts:

100 M

,

1015 Half

,

1111 New Jersey

,

23 I

,

250 M

,

909 New Jersey

,

Boilermaker Shops/Yards

,

Capitol Hill Tower

,

Florida Rock

,

Foundry Lofts/Yards

,

jpi

,

Monument/Half St.

,

Onyx

,

Retail

,

Square 743N

, Square 697n,

Nationals Park

,

The Yards

,

Twelve12/Teeter/Yards

,

Yards Park

Demolition Today at 23 I Street Site

May 1, 2008 12:48 PM

Thanks to reader E. for the tip that demolition work is underway today along Half Street between I and K, where the little gray Alpha Towing building stands; as of earlier this morning, the brick wall was apparently down. This is the site of JPI's planned

23 I Street

apartment building, which is expected to start construction by early fall. I don't yet know the fate of Wendy's next door, which is also part of the 23 I site and which was

supposed to be closed down as of today

. I will go check it out as soon as the rain stops. (This frickin' weather, I am so tired of it. And it scuttled plans I had today for something cool, which hopefully will happen next week--you'll have to wait to find out what it is. So do a sun dance!)

UPDATE: Yup, all gone.

Building #152

demolished since 2003. Wendy's is still open, though, and one of the workers there told me they're open through the end of June. I've added a few new photos on my

23 I page

to show the changed landscape as of this afternoon. (The sun appeared about 20 minutes later. Damn you, Old Sol!)

Raze Permits for 23 I Street Lots

Mar 5, 2008 9:22 AM

Raze permits have now been filed for the Wendy's at 23 I Street and its little gray neighbor at 901 Half Street on the corner of Half and I. These two lots totaling about 47,300 square feet were purchased in late July for $28.625 million by JPI, and the company is planning "

23 Eye at Capitol Yards

," a 421-unit residential building with up to 35,000 square feet of retail space. Late last year JPI was saying that 23 I would start construction this August--I haven't seen anything lately on whether that's still the case. I haven't had a chance to swing by Wendy's to see if they have a closing date, so if anyone thinks to ask while they're at the drive-through window, let me know. This project would be the youngest of the four Capitol Yards siblings, joining

70/100 I

arriving later this year just across the street and

909 New Jersey

coming in 2009 one block to the east.

Photo Update: N Street, 55 M, Willco, 23 I

Jan 28, 2008 11:02 AM

I wandered around on Sunday for a photo session, wishing that spring would hurry up and get here so that the sun will rise higher during the day and set farther west so that I can stop dealing with the damn glare whenever I face southward.

* I have new images along N Street

just north of the ballpark

between Half and First, which show the work at the entrance plaza at Half Street, including glass now being installed on the ground floor of the western parking garage, as well as the structures that will make up the entrance gates.

* In fact, I updated

all 12 angles of the Half and N intersection

, which now that it has its new wide sidewalks, curbs, streetlights, and an initial paving job, is really a

stunning testament to 24 months of change

, not only on the four corners of Half and N but the blocks to the north as well. It's definitely worth a look.

* I took a lot of photos of the

now-demolished Willco stretch

along First Street (and gave the project its own page as well), and of course I got

all the usual angles

of

55 M Street

.

* On Half Street between I and K, where JPI's

23 I Street

residential project is expected to start this year, a pile of red-and-black advertising banners have been hung on every available surface, and a "JPI Permit Parking only" sign has appeared on the entrance to the former towing company's parking lot on that block. I'm guessing JPI's purchase of the property just closed. I haven't heard anything about potential start dates for this project, or when the Wendy's might close.

* If you

browse all the photos I took yesterday

, you'll also see a smattering of

70/100 I

and

100 M

shots as well as images of the

two blocks along Third Street

where temporary surface parking lots are going in (so now my pictures of those blocks have changed from post-demolition views of nothing to pre-blacktop views of nothing). And the always popular shots

from the SE Freeway at South Capitol

are updated, too.

And don't forget to click on the

icon wherever you see it to see all photos in the archive of a certain location.

Comments

(0)

More posts:

100 M

,

23 I

,

70/100 I

,

Capper

,

Capper New Apt Bldgs

,

jpi

,

Monument/Half St.

,

Square 743N

, Square 697n,

staddis

,

Nationals Park

,

Square 701

30 Posts:

Go to Page:

1

|

2