With my trip to the disabled list delayed thanks to a very-last-minute insurance snafu, I decided on Sunday to finally limp over to 8th Street for the first time in forever to see what has sprouted.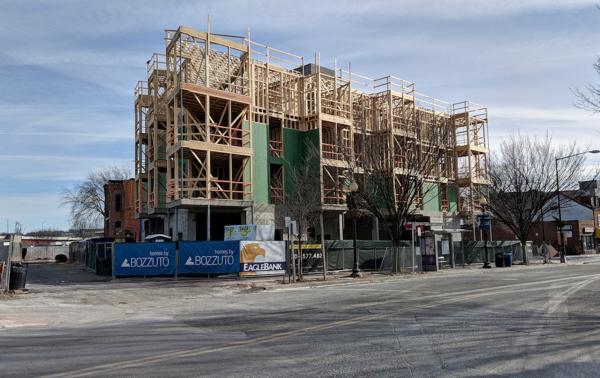 *
EMBLEM
: There's one obvious new sprout on lower 8th, and that is the nearly-topped-out construction of a new condo building on the southeast corner of 8th and Virginia. It's officially known as the
Emblem at Barracks Row
, a 20-unit building being built and run by Bozzuto. Every unit has a unique layout, according to the web site, and there will be six penthouse units, most with outdoor terraces. (And since it's only four stories tall, it's a sticks-and-bricks building, which we don't see many of in these parts.) There will also be 3,000 square feet of ground-floor retail space. Sales on the units should begin this year. (I do not know the price ranges.) A rendering of the finished product can be
peeked at here
.
*
LA MEDITERRA
: A new restaurant has opened south of L, next door to Las Placitas in the space once occupied by Ziaffat. It's La Mediterra Fusion Grill, serving kabobs, shwarma, and other Mediterranean offerings (and wings!), and it is open for lunch and dinner seven days a week. Here's
a peek at the menu
, if you have your x-ray specs handy.
* NAILS!: I think it's been there a few months, but Navy Nails and Spa is now in the ground floor of the gray building on the northeast corner of 8th and M.
*
POTOMAC AVENUE DOINGS
: Meanwhile, around the corner on Potomac Avenue between 8th and 9th, the long-vacant apartment building at 816 Potomac is now undergoing renovations to be a rental building with what now is targeted to be 19 units, if designs are approved. As for the empty lot next to that building at the corner of 9th and Potomac, the Board of Zoning Adjustment voted in December to approve plans for a four-story, 49-unit building at 818 Potomac, which would also be notable for plans to have a "parking elevator" garage that would allow 43 cars to be parked/stacked on one level. Both projects are being developed by the
Murillo Malnati Group
.