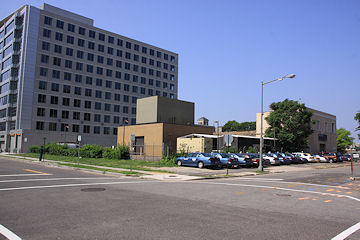 Metro announced today
that it has chosen MidAtlantic Realty Partners and CAS Riegler Companies to develop the agency's 14,000-square-foot lot on the southwest corner of Half and L streets, SE, known as the "
chiller plant
" site.
Plans are for a 126-unit condo building with 6,000 square feet of ground-floor retail, in addition to integrating the chiller facility into the building.
The deal still has to be approved by Metro's board of directors, but the press release says "construction is expected to begin in 2016."
The press release does not say if the team plans to also purchase the 7,700-square-foot lot next door, which is for sale (and which has
a bit of a history
).