When
this photo popped up
late Tuesday, it seemed like maybe Harry's Reserve at New Jersey and I would be open today, but
we're hearing now
that it'll be "a day or two," with a grand opening to come in two weeks. In the meantime, everyone's watching 2nd Street between I and M and reporting in about No Parking signs and stakes in the ground as construction on
Canal Park
seems to get ever closer. So, I guess I have to come up with
something
to post.

* With
all the land now in hand
that they were eyeing on Square 906, the
National Community Church
has filed for a raze permit for the old Miles Glass building at 8th and Virginia,
says WBJ
. Although the site is within the Capitol Hill Historic District, that in and of itself may not be an impediment to the building being torn down, the article says, since it was constructed in 1963 and "the vast majority of buildings deemed historic on Capitol Hill were erected prior to 1945." Not that any razing will happen anytime soon, but I'm still glad I went and got a
bunch of new photos
of it last week. (Though I still prefer the photo at right, from my first photo trek in January 2003, when the Miles Glass sign was still there.)
And,
in his blog post
about the final land purchases, NCC's Mark Batterson tells a story about how the acquired the car garage at 7th and K, given that the owner had refused all previous offers: "On September 15th our staff went over to the property and we laid hands on that auto shop. It felt like an impossible prayer, but we prayed for divine favor. [...] Then on January 15, four months to the day after we prayed on the property, we got a contract."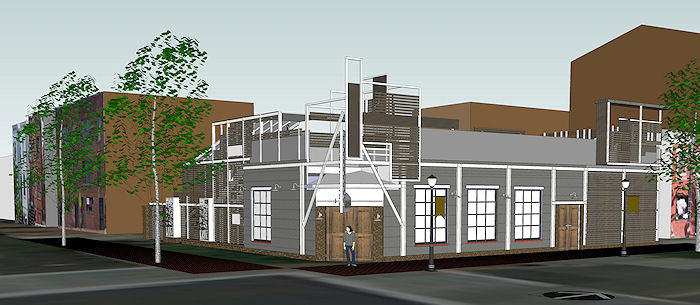 * Meanwhile, on the south end of the Saints and Sinners block, it looks like the
8th Street Beer Garden
will be back in front of the Historic Preservation Review Board on March 24, at least according to the
current agenda
. At last month's meeting, the designs were
described as being "very close,"
but revisions were requested and board members voted to look at them one more time. It sounded like some of the "busyness" was going to be simplified, so it will be interesting to see the revisions.
(I will say my mea culpas and admit that I sat on these links for way too long because I had grand dreams of getting project pages done for both the NCC and Beer Garden undertakings, but that hasn't happened. Yet.)