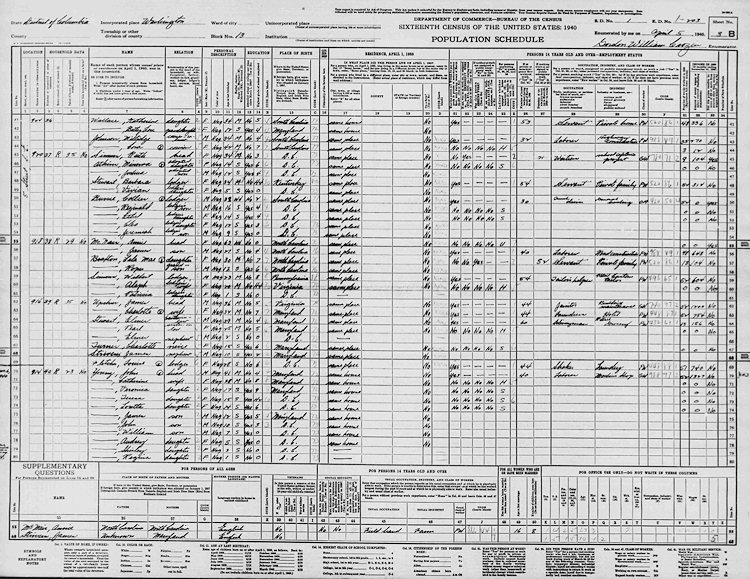 You may or may not be aware that this week the National Archives posted online the 3.8 million pages that made up the
1940 census
. They aren't yet searchable by name, but they are browsable by "enumeration district." This means that if you don't mind waiting for huge images to load, you can in essence wander from street to street and find out
all manner of information
about the people who lived there 72 years ago.
Please post in the comments anything interesting you find--you'll make an old lady historian very happy.
(And I guess I might have to dig up the same information for earlier censuses. Not tonight.)
After all the big news of late, downshifting into a Tidbits post doesn't really seem like much fun, and of course if you're following me on
Twitter
or
Facebook
(or checking out the Twitter box on the JDLand home page every so often), you've already been alerted to many of these. But, onward:
Council members are supposed to appoint their ward task force members by Friday, with progress reports due on Aug. 1 and Sept. 1. The entire process has to be completed by the end of 2011.
Coming later today, an equally bulleted post highlighting the slew of upcoming events in the neighborhood, both for this holiday weekend and beyond.
Numbers geeks rejoiced on Thursday when the
2010 census numbers
for DC were released, and of course I had to dig right in.
Here are the numbers:
The Capitol Riverfront BID has estimated that the neighborhood population was around 3,300 at the end of 2010.
Even though the population of DC itself climbed by nearly 30,000 in the last 10 years, Near Southeast is now a larger portion of the overall population than it was 10 years ago, skyrocketing to a whopping .46 percent of the city's count.
Of course, what future researchers looking at census numbers will never see is how much more the neighborhood emptied out through 2005 (when only 410 M and the private single-family homes were occupied). My guess would be that the population got down to around 400 during that time, if not lower.
Income-related demographic numbers for 2010 aren't yet released, but it's not hard to assume that those numbers will show an equally dramatic change.