Last night the
National Community Church
held its "All Church Celebration" at the Lincoln Theater, and, while I wasn't there for the "
big announcement
," I do know that lead pastor Mark Batterson told the assembly that the last of their land acquisitions on Square 906 (bounded by Virginia, 7th, 8th, and L) have been finalized.
As I've been conjecturing, this includes the auto garage on the corner of
7th and Virginia
. But it also includes a contract for the two small apartment buildings at 716 and 718 L Street, just west of the alley. Batterson tells me that they are leasing back the garage to the current occupants until July so that they can find a new location.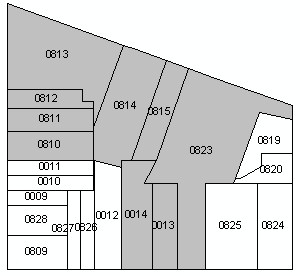 Combined with the Miles Glass site that
started it all
and the
empty lot on 7th
, this now gives NCC (the folks behind the successful Ebenezers coffee house near Union Station) over 26,000 square feet of land on a
somewhat T-shaped footprint
on which to build their combination coffee house/performance space/offices. As I've
mentioned previously
, Batterson wrote on his blog in mid-February that they are now "full-steam ahead with designs" now that the footprint is finalized, and that he is "looking forward to initiating meetings with Historic Preservation, ANC, Riverfront Bid, Barracks Row Main Street, Office of Planning, etc." It wil be interesting to see if the
zoning and height changes
that business owners are looking for along lower 8th get through, and whether NCC would be taking advantage of being able to build a bit higher as a result.
Of course, this isn't the only new activity on Square 906, since it's on the south end of the block where the
beer garden at 8th and L
is supposed to be going in once the design gets through its
historic preservation review
, a process NCC will have to undergo as well since the block is within the Capitol Hill Historic District. This Saints and Sinners stretch of 8th is definitely going be a focus of activity in 2011.