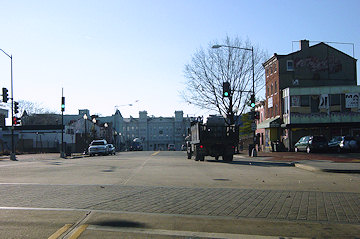 In my post about the
Bier Garden plans
for the northeast corner of 8th and L, SE, I promised a couple of extra tidbits about Lower 8th Street. To wit:
In fact, in an e-mail to me last month, ICP President Leon Kafele referenced these possibilities by saying that the joint venture with Madison Marquette will "position [ICP's] assets to better respond to the Marines Corps and Navy Yard supply and demand for a BEQ, retail, and office space on or around lower 8th Street Barracks Row." And Madison has mentioned in public meetings that the Blue Castle could become home to some of the "shared uses" that the Marines are hoping to have be part of any new barracks venture.
I haven't written much about the whole vision thing, especially once the discussion of the Marines' land needs began to focus south of the freeway and it became clear that until they decide what they're doing about their barracks, any real discussion of what Lower 8th may look like in the future is very much up in the air.
That said, the vision report has mostly general recommendations that aren't exactly controversial: "Encourage a Mix of Uses," "Historic Preservation is a Must," improve the underpass to encourage pedestrians to come down from north of the freeway, address parking/circulation issues, and others.
But there is one concrete suggestion in the report: increasing height and density limits on some of these squares. The current 45-foot limit on 8th would be maintained for new structures, but greater heights (65 to 85 feet) could then allowed 20 to 30 feet behind existing historic 8th Street structures.
It will be interesting to see what the National Community Church comes up with for their design, and whether it'll try to take advantage of the desire for larger building heights set out in the vision document, if that idea ends up being embraced by the city.
And, there's still the Marines' decision to look for, which could be the biggest driver of all for redefining Lower 8th.